This post will walk you through restoring the default options for the Galaxy A53's accessibility features. Here's a quick guide on how to reset accessibility settings on Samsung Galaxy A53 5g.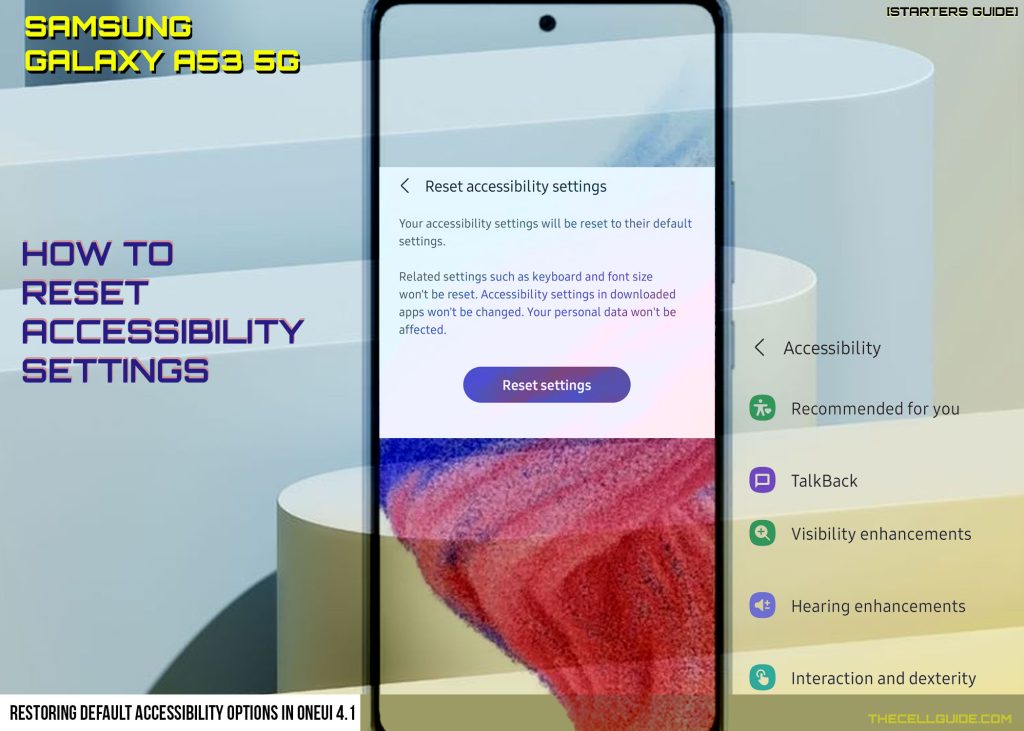 Samsung Accessibility Settings Reset
As the name implies, accessibility features in Android devices are mainly used to aid smartphone users with special needs, making them able to interact with their respective devices easier through touch and spoken commands.
Accessibility features in recent Samsung smartphone series are typically made for hearing impairment, visual impairment as well as dexterity and mobility issues.
Features that are tagged in the latest One UI accessibility menu include the screen reading voice assistant, high contrast mode, font size and color adjustments, captions and more.
Each of the said features are customizable according to every smartphone user's special needs and preferences.
And since not all custom options yield positive outcomes, a reset command is also made accessible for users to tap on whenever the need to restore the default options and values arise.
In Samsung devices running in Android 12 with One UI 4 and later OS version, a dedicated reset command is available to restore the default accessibility options. This reset is called reset accessibility settings, tagged among other reset options from the main reset menu of the phone.
If you're new to the One UI/Android platform and need some input on how to access and trigger this reset command on your Galaxy A53 5g smartphone, then you can refer to the outlined instructions as follows.
Steps to Reset Accessibility Settings on Samsung Galaxy A53 5g
Carrying out the following steps will restore the default values for the A53 accessibility features including TalkBack, Visibility enhancements, Hearing enhancements, Interaction and dexterity and other relevant options.
It does not affect any saved user data from the phone's internal storage so no important files and apps will be deleted.
You may go ahead and start whenever you're all set to reset your phone's accessibility functions.
Step 1: First, tap Settings from the Home screen or Apps viewer to launch the settings app menu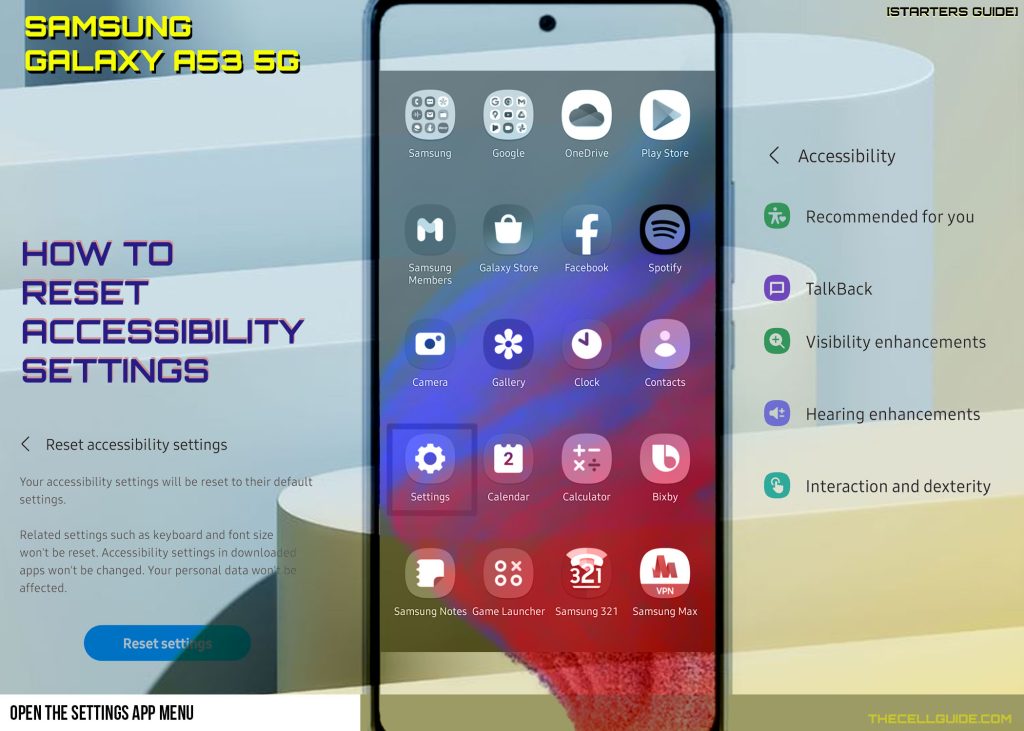 Step 2: While in the main settings menu, scroll to find and then tap General management.
Step 3: On the succeeding window, scroll down and then tap Reset. Different reset options will load up on the next screen.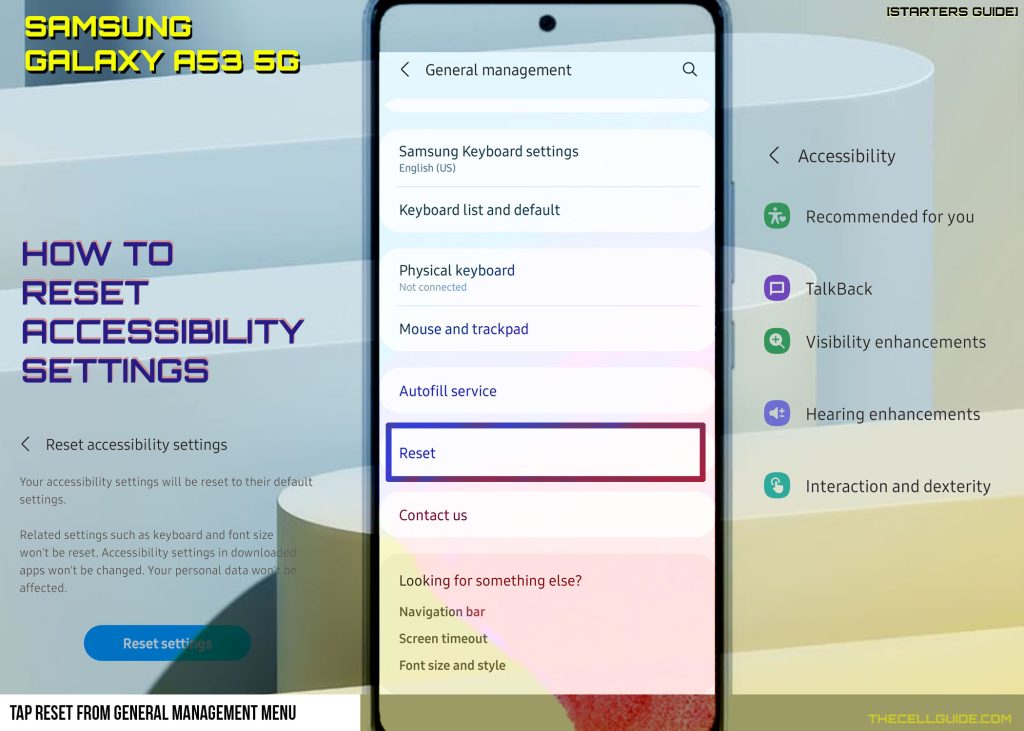 Step 4: Tap Reset accessibility settings to proceed. More details about the selected reset option will be displayed next.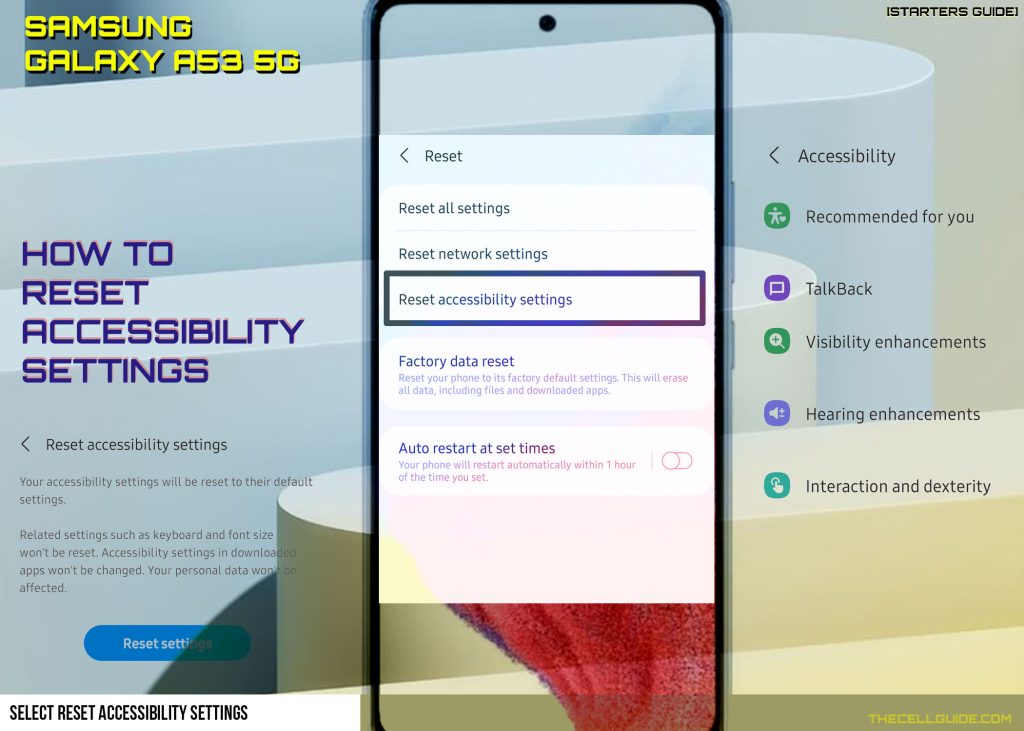 Step 5: Read the details and then tap Reset settings to continue.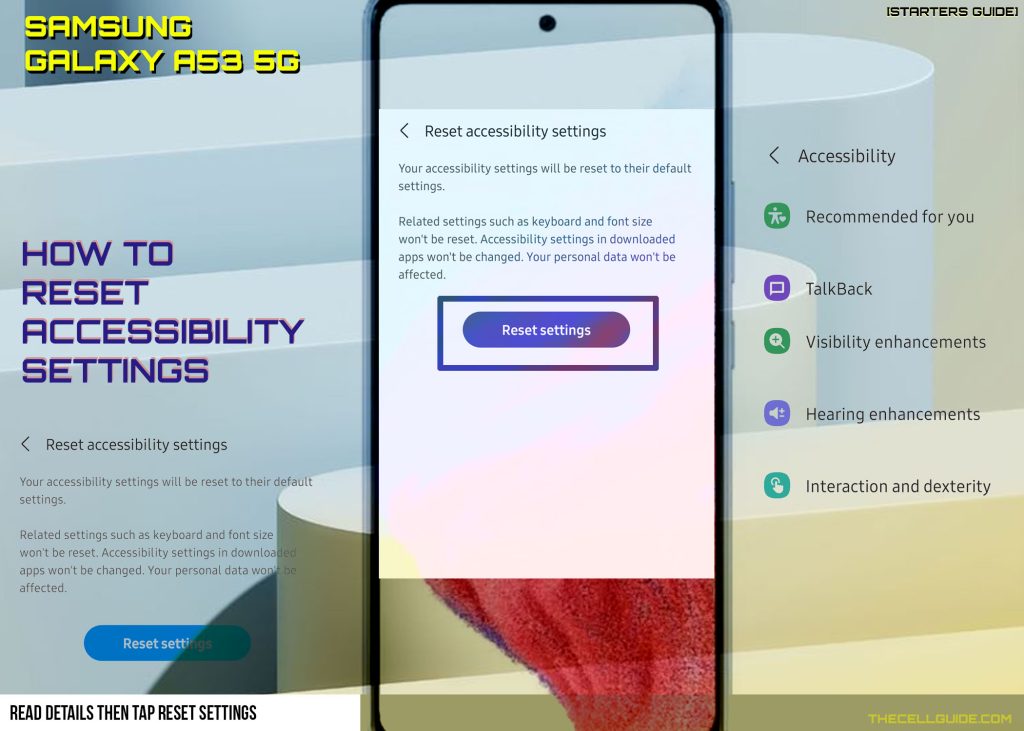 If prompted, enter your unlock PIN, pattern or password to proceed.
Step 6: Read the final warning and then tap Reset to confirm action. The phone will then instigate the reset process.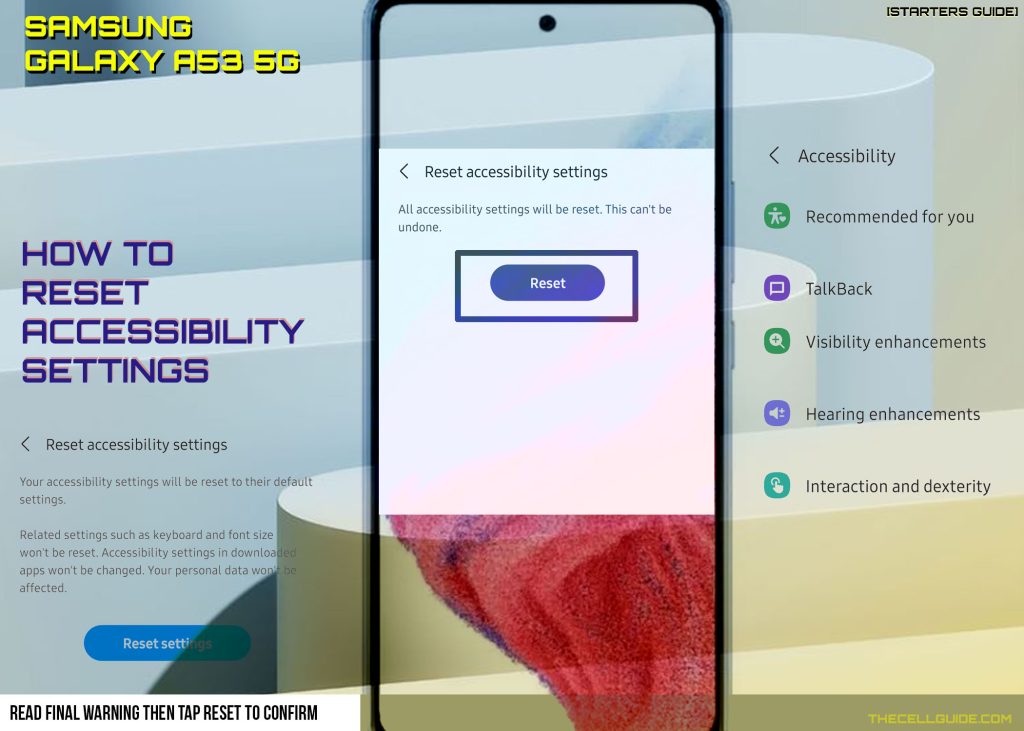 All accessibility settings on your phone will be reset and the default settings for accessibility features are restored. It's an irreversible process and thus it cannot be undone.
Relevant settings like keyboard and font size are not affected with this reset so the existing keyboard and font values aren't changed. The same thing goes with your personal data and your downloaded apps given that accessibility settings in third-party apps aren't affected with the accessibility settings reset.
The above steps are likewise applicable when restoring the default options for the built-in accessibility features in other Samsung Galaxy phones running on Android 12 with One UI 4 or later OS version.
Actual screens and menu items may vary between device models and network operators so there may as well be some slight differences on the actual user interface of every device.
When to reset accessibility settings on the phone?
Performing this reset is typically carried out whenever unexpected errors occur when using any of the preloaded accessibility features on the phone.
This reset is also deemed a potential solution when post-update problems occur while using the phone's accessibility functions. Erratic settings overrides, particularly on any of the One UI accessibility features are likewise rectified with this reset.
And that's all about restoring the default accessibility options on the Galaxy A53 5g smartphone using the built-in reset accessibility settings command.
Hope this helps!
Please check out our YouTube channel to view more tutorial and troubleshooting videos for popular iOS and Android devices.
You Might Also Want To Read: