This post will help you deal with a post-update no sound problem (iOS 15 no sound bug) on the new iPhone 13 mini smartphone. Read on to learn how to fix an Apple iPhone 13 mini with no sound after installing the latest iOS 15 update.
iPhone 13 Mini No Sound Issue
Seldom you'll encounter problems with a brand new iPhone but irksome things could happen unexpectedly. Thus, sound issues are bound to occur among iOS users regardless of the type of device owned.
Normally, your iPhone will render sound for notifications, SMS/MMS alerts, phone calls and other audio applications unless it's set to silent mode or muted. But there are also certain instances an iPhone refuses to render audio outputs even when not muted. Such instances are likely due to random software glitches affecting the iOS audio functions, if not a hardware damage on certain audio components.
If your iPhone has no sound even when it's supposed to have sound, then you're probably dealing with the iOS no sound bug.
There are many possible reasons as to why this happens. If the problem instigated after installing a new iOS update, then it's likely an iOS bug.
To give you additional inputs on what else to rule out when dealing with the no sound issue on your iPhone 13 mini, keep scrolling down for more information.
Possible Causes
When an iPhone suddenly loses sound after an iOS update installation, chances are that the recent system update has automatically overridden the phone's audio settings, resulting in muted audio features.
The same thing could happen if the recent update overrides the iPhone's current Bluetooth settings and automatically re-enabled prior Bluetooth pairings. As a result, the iPhone's audio functions are routed to its paired Bluetooth-enabled audio device like a BT speaker or headset.
Another possibility is that the recent update might have actually contained some undetected bugs that ruined the iPhone's normal audio functions. Some complex software bugs even inflict total audio malfunction.
In the case where the no sound problem occurs only when using a certain app, it's possible that the recent iOS update has caused that app to misbehave.
The worst possible cause is hardware damage. The fact that the problem only started after the recent update doesn't always mean that the software update is at fault. It's possible that your iPhone has already obtained some hardware damage and the symptoms only begin to transpire after updating.
Troubleshooting an iPhone 13 mini with no sound after iOS 15 update
Performing the following solutions will help eliminate software-related factors that often inflicted the iOS no sound bug. Don't forget to test your iPhone's audio functions after performing each solution to determine whether or not the problem is fixed. Try these before rushing to a service center.
Solution #1: Flip the ringer switch off and on.
An obvious reason as to why you're not hearing a sound coming from your iPhone is because the device is muted. This is such an inevitable occurrence given the fact that the ringer/mute switch is located on the left side of the device. The switch might have been flipped to the mute position and so sounds are muted.
It's also possible that the recent update has caused the ringer system to glitch and thus it stopped working as intended.
To clear this out, just switch the phone to mute and then back to ring mode. This should help refresh the ringer system.
So here's what you should do first.
Simply flip the ringer switch up and down. The ringer switch is located on the left side of your iPhone 13 right above the Volume buttons.
Be sure to position the switch to ring mode instead of silent mode.
After performing the first tweak, try to place a call or play audio files through an app on your iPhone 13 mini and then see if the problem is gone.
Solution #2: Soft reset or reboot your iPhone.
Another simple yet very effective solution to random system glitches including those affecting the iPhone's audio system after an iOS update is a soft reset or iPhone reboot. Doing so clears out temporary data and errant cached files that trigger minor audio system malfunctions.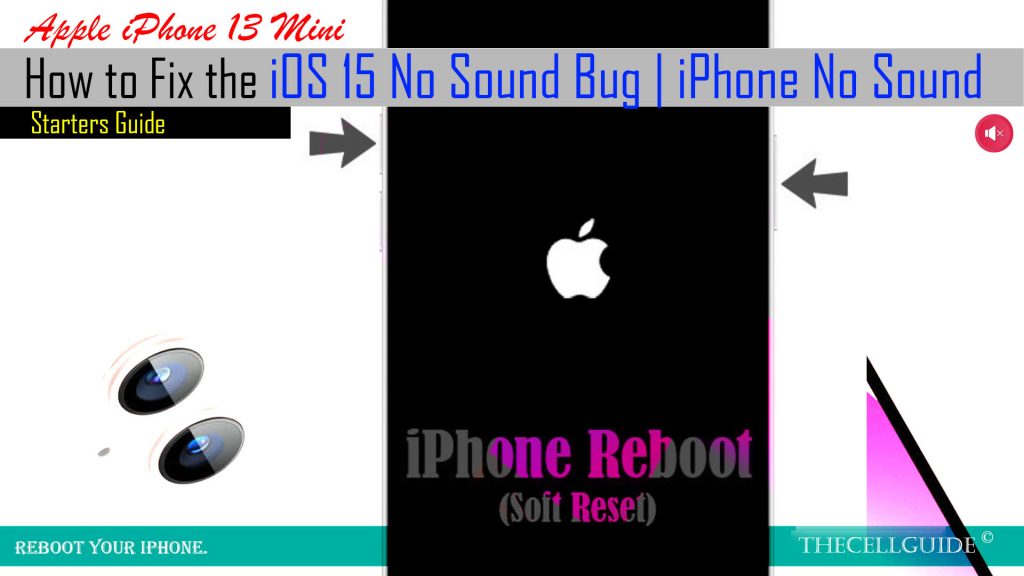 For starters, a soft reset on the iPhone 13 mini is carried out through these steps:
Press and hold the Side button and either Volume buttons for a few seconds and then release when the Power off slider appears.
Then, drag the slider to turn your iPhone completely off.
After 30 seconds, press and hold the Side button again until the Apple logo appears.
Alternatively, you can force restart your iPhone to forcibly end any background apps and services that went rogue from the recent update and eventually caused conflicts to your iPhone's audio features.
Performing a soft reset and force restart doesn't require backup creation beforehand because it doesn't affect any saved data on the iPhone storage. Thus, all your critical files are safe and untouched in the process.
Solution #3: Check and manage volume settings.
To rule out the possibility that the recent iOS update has automatically overridden your iPhone volume settings and reduced it to the lowest level, check the volume settings and make changes if needed.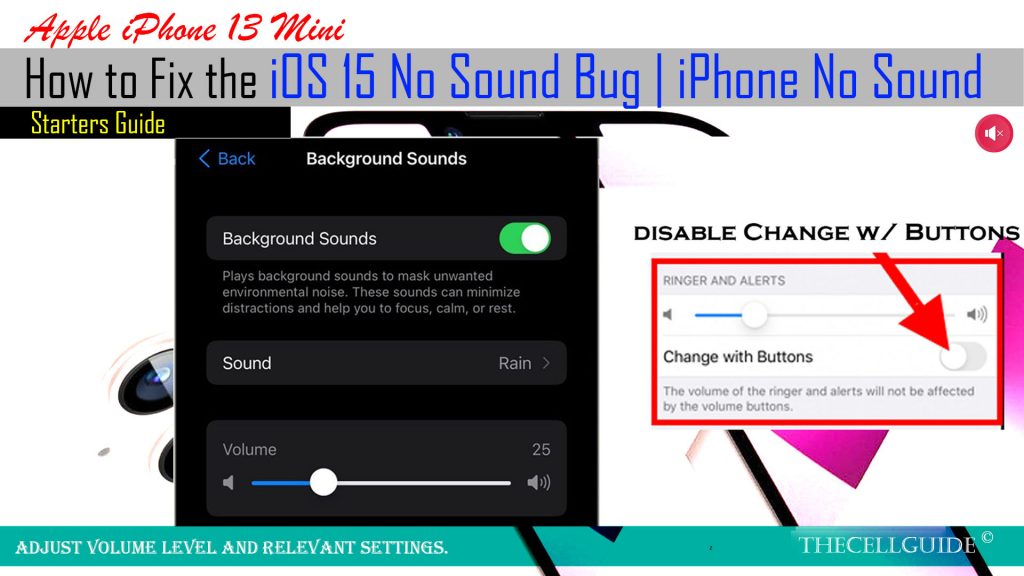 Here's how to get there:
Go to your Home screen and then tap Settings to open Settings app.
From the Settings app menu, tap Sounds & Haptics.
On the succeeding menu, drag the slider to increase the volume level. You can set it to the highest level to make sure you'll hear your iPhone sound.
After increasing the volume level, disable the option to Change with Buttons.
This will prevent accidental volume changes when the Volume Up and Down keys are pressed. Otherwise, you can keep the feature turned on so that you can easily adjust the volume level using the volume up and down keys on the side of your phone.
Solution #4: Manage Bluetooth and DND settings.
When the iPhone is currently paired to a Bluetooth audio device, the audio outputs are automatically routed to the Bluetooth device that's connected to your iPhone. As a result, you will hear no sound coming from your iPhone speaker.
To make sure that this isn't the underlying cause of the problem, go ahead and check your iPhone Bluetooth settings. If Bluetooth is enabled, then try turning it off and see if that solves the problem.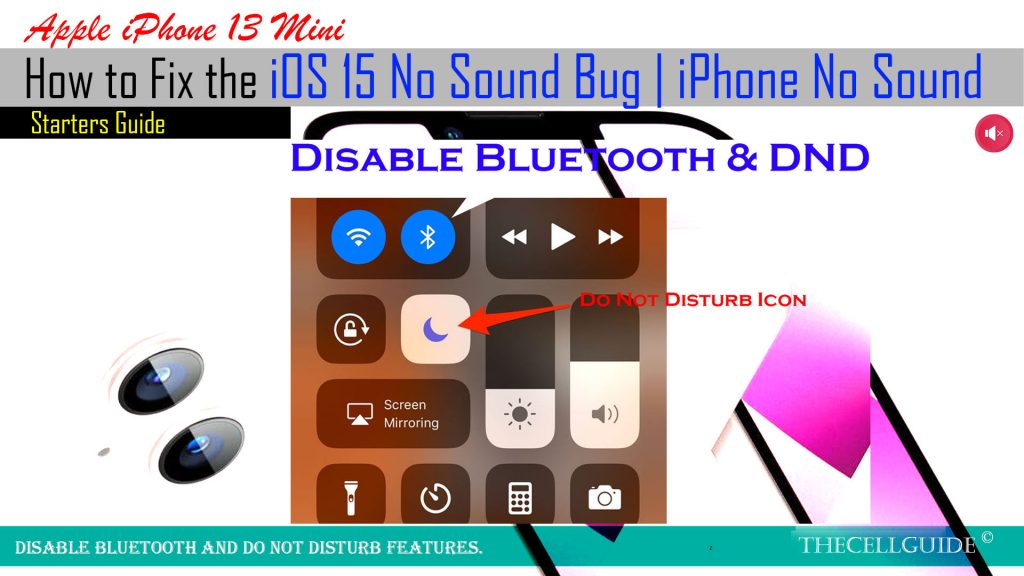 To turn off Bluetooth on the iPhone 13 mini, follow these steps:
First, tap Settings from the Home screen.
Next, tap Bluetooth.
Toggle the switch next to Bluetooth to turn the feature OFF. All Bluetooth connections will then be disabled.
Aside from Bluetooth, also consider verifying your iPhone's Do Not Disturb settings. As the name implies, DND feature mutes your iPhone notification sounds and ring alerts for incoming calls, texts, and other types of notifications when enabled. To clear this out, try to turn DND off on your iPhone 13 mini and see if it yields a positive outcome.
To disable DND mode on iPhone 13 mini, follow these steps:
Tap Settings from your Home screen to get started.
Next, tap Focus.
Then, tap Do Not Disturb.
Toggle the switch to turn the Do Not Disturb feature off completely. You can also set some exceptions if you want. Just configure your phone's DND settings and apply exceptions accordingly.
Alerts and notification sound will then be re-enabled.
Solution #5: Reset all settings on your iPhone 13 mini.
As mentioned earlier, automatic settings overrides from the recent iOS update are also among the underlying causes. Since tracing individual settings alterations following the system upgrade is apparently difficult, your best option is to use a built-in command to reset all settings on your iPhone.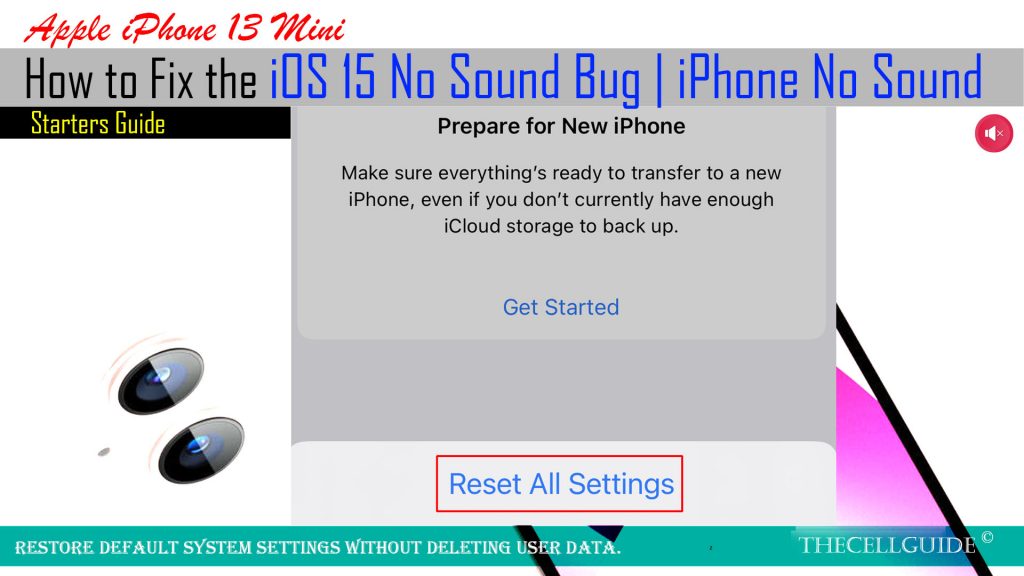 This reset will erase all custom settings including automatic update overrides that inflicted audio problems, particularly no sound bug on your device.
It doesn't affect any saved data on the iPhone storage so there's no need to back up files beforehand.
Just follow these steps if you wish to give this reset a try:
To get started, navigate to your Home screen and then tap Settings.
From the Settings app menu, tap General.
Then, scroll down and tap on Transfer or Reset iPhone.
Tap Reset and then select Reset All settings from the given options.
Enter passcode, if prompted to confirm reset all settings.
Follow the rest of the onscreen instructions to instigate all system settings reset.
When the reset is finished, your phone reboots automatically. As soon as it boots up, open any audio apps like YouTube or Spotify and try to play a video or audio file to see if the no sound bug is fixed.
Still hearing no sound from your iPhone?
Performing the above solutions is usually good enough to eliminate minor software bugs that might have caused sudden audio malfunctions on your iPhone 13 mini. But if the problem continues after applying all the suggested solutions, chances are that you're dealing with a complex iOS audio bug that requires more advanced solutions.
Should you wish to troubleshoot further, the next potential solutions you can try on would be an iOS restore. Doing so will wipe everything from your iPhone system including recent system glitches from the iOS update.
You may opt to restore your iPhone 13 mini to its factory defaults through a factory reset in iTunes or via settings menu.
A. Restore your iPhone to its factory state (factory reset).
To perform a standard iOS restore in iTunes, you will need to secure a Windows or Mac computer that has the latest iTunes app installed. Once you've got everything set, just connect your iPhone to your computer using the Apple-supplied USB/lightning cable. Open iTunes on your computer and select your iPhone when detected. To instigate an iOS restore, just click the Restore command in iTunes and follow the rest of the onscreen instructions.
B. Restore your iPhone in iTunes.
More advanced solutions to fatal iOS issues are a recovery mode restore and DFU mode restore. These restore methods are often used to deal with complex system issues including symptoms such as stuck on Apple logo, black screen of death, random system crashes, lags, app freezes.
Performing a recovery mode restore will restore your iPhone while in a recovery state through iTunes.
Performing a DFU or Device Firmware Update mode restore will restore your iPhone in a DFU state through iTunes. It basically puts your device in a state in which it's still able to communicate with iTunes without activating the boot loader or iOS.
Both of these methods result in total data deletion so expect to lose all your saved contents. Nonetheless, performing these iOS restore methods are only optional.
Additional Recommendations
Other factors that can adversely affect the iPhone's audio functions are third-party accessories such as protective cases. Some of these accessories aren't just a perfect fit for your iPhone and therefore have the tendency to block the iPhone ear speaker or speaker ports.
To rule this out, try to remove any protective cases from your iPhone 13 mini and see if that solves the problem.
Meanwhile, if the no sound bug only occurs when using a certain app, updating the problematic application will likely fix the problem. In this case, the problem is just isolated to an application. You can check, download and install pending app updates through the App Store, if necessary.
Seek more help
Visit the nearest Apple Genius bar in your place and have your iPhone thoroughly diagnosed by an authorized technician.
Your device might have obtained some sort of physical or liquid damage prior to updating and it just happened that the symptoms started to manifest after the recent update to iOS.
Contact Apple Support
You can also report the problem to Apple Support for further assistance and recommendations. This is also imperative to let them know that such a problem occurs following the most recent iOS update rollout.
Should this be validated and confirmed to be an iOS no sound bug, a dedicated fix patch or follow-up update should be rolled out soon.
Hope this helps!
Please check out our YouTube channel to view more tutorial and troubleshooting videos for popular iOS and Android devices.
You Might Also Want To Read: