This post will walk you through setting a new wallpaper for the iPhone 13 home and lock screen. Read on to learn how to set or change wallpaper on iPhone 13 smartphone.
One of the first few things a smartphone owner does upon getting a hold of a new device is to change the theme and wallpaper according to his/her preferences. This notion applies to both Android and iOS users.
Custom Home Screen iOS 15
The latest iPhone 13 models do integrate a number of cool wallpapers for you to choose from. In iOS 15, you can choose a new wallpaper from the Dynamic, Stills and Live categories.
That said, you can change the default iOS home or lock screen background with a new dynamic or still image. All you have to do is make a few changes to the wallpaper settings and end up with a revamped display.
Customizing the iOS 15 home and lock screen can be carried out either through the preloaded wallpaper feature or third-party application.
Tackled in this quick walkthrough is the former method, which is through the preloaded wallpaper feature.
If you're new to the iOS platform and need some input on how to customize your iPhone lock screen and home screen through wallpaper changes, then feel free to refer to the subsequent steps.
Easy Steps to Change Wallpaper on iPhone 13
The following steps are also applicable when setting a new wallpaper on other iPhone models that are running on the same iOS version with the iPhone 13.
Actual screens and menu items may vary between device models and carriers. Just start whenever you're all set.
Step 1: To get started, go to your Home screen and then tap Settings. Doing so will take you to the main settings menu of your iPhone.

Step 2: On the Settings menu, scroll to find and then tap Wallpaper. Another window opens with the current wallpaper settings and relevant information.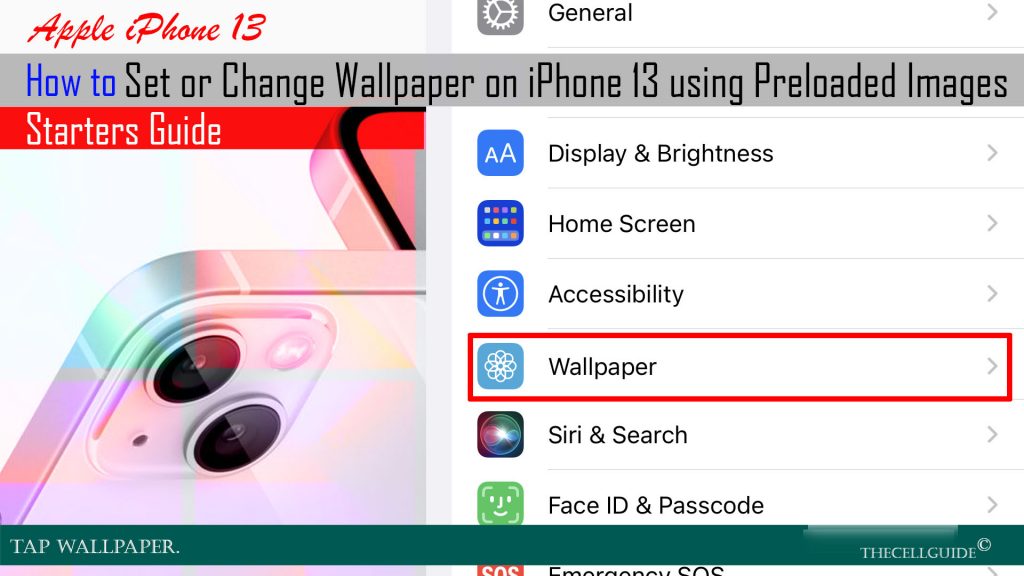 Step 3: Tap the option to Choose a New Wallpaper. Doing so will take you to another screen with all available wallpapers for you to select from.
Here, you can set a preset image from a group at the top of the display including Dynamic, Stills and Live.
If you don't mind utilizing more amount of power or battery life, you can go for a Live wallpaper. Otherwise, just choose stills.

Step 4: Select your preferred wallpaper and then tap the Set button to proceed.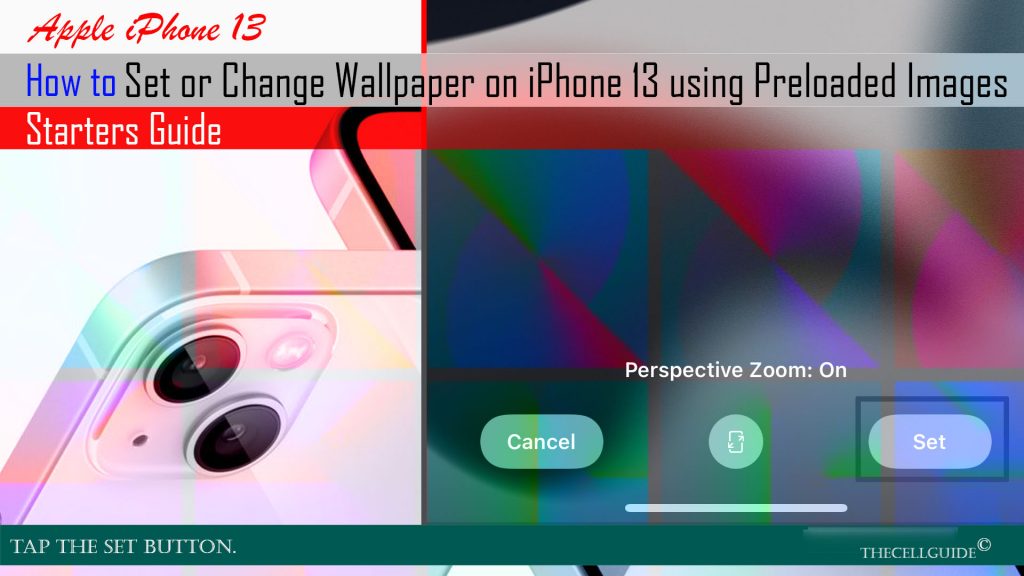 Step 5: If prompted, specify which screen(s) you'd like to use the new wallpaper for. Among the given choices include Set Lock Screen, Set Home Screen and Set Both.

The recent changes will immediately take effect and you can see them by locking and unlocking your device.
Set New Wallpaper from Saved Photos
You can also set a new wallpaper for your Home and/or Lock screen from your own photos. Just tap to open an album and then select your preferred photo.
The selected photo can also be repositioned, moved and pinch to zoom in or out.
Other Fun Features for iOS 15 Wallpaper
Perspective Zoom is a fun iOS feature that augments glee to your home or lock screen.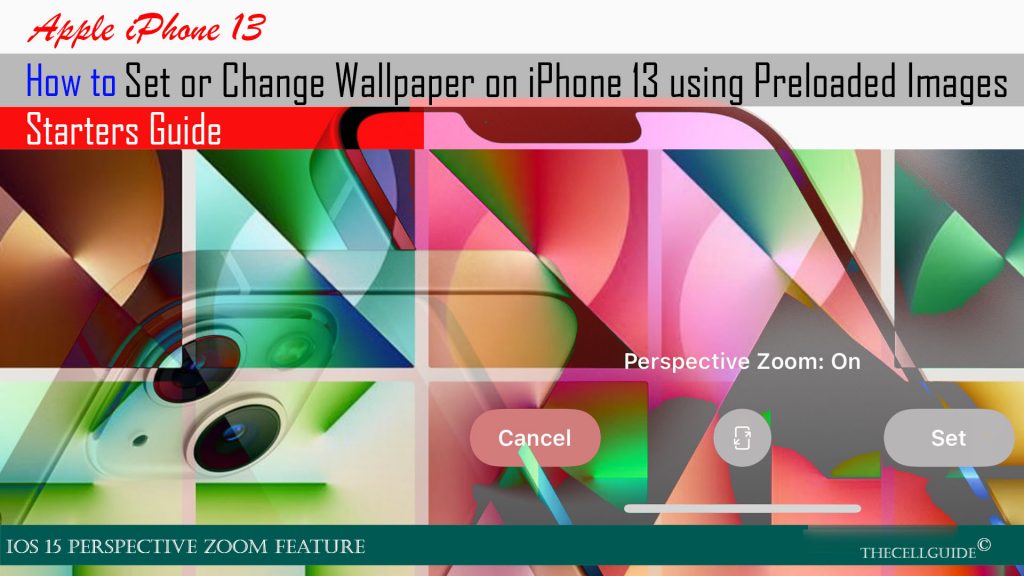 Should you wish to turn on Perspective Zoom for the new wallpaper you've set, just head over to your iPhone Settings-> Wallpaper menu and then tap on the image of the Lock screen or Home screen. Finally, tap Perspective Zoom.
When enabled, Perspective Zoom will add more motion and interactivity to your wallpapers using an almost 3D style effect.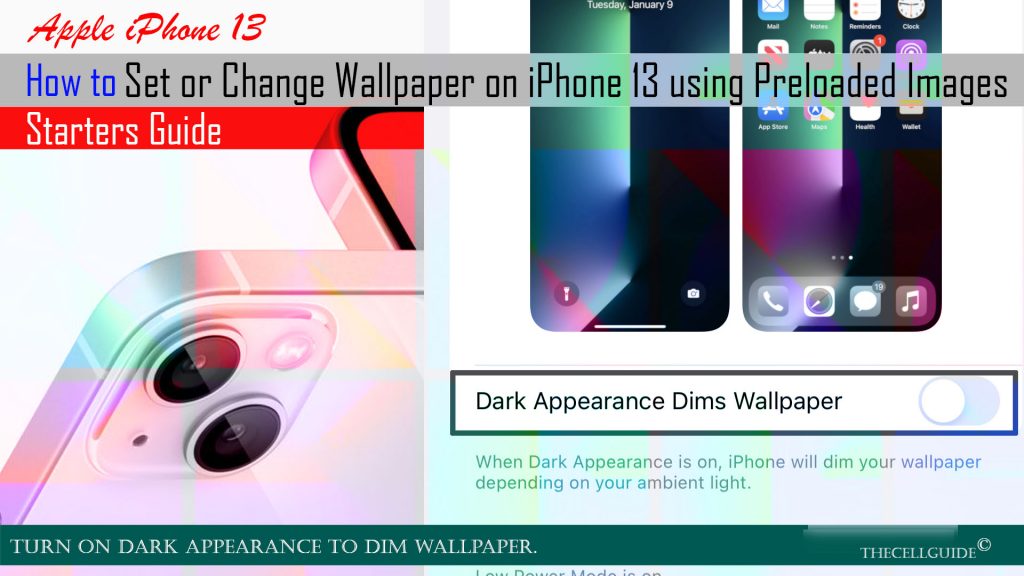 And if you prefer a darker set up, there's also an integrated option for you to enable Dark Appearance Dims Wallpaper. When enabled, your iPhone dims your wallpaper depending on the ambient light.
Third-party Wallpapers for iPhone 13
If you prefer to use other wallpaper options beyond those offered by Apple, then you can choose from a wide range of third-party apps or websites to download other stunning dynamic wallpapers and photos to personalize your home and lock screen.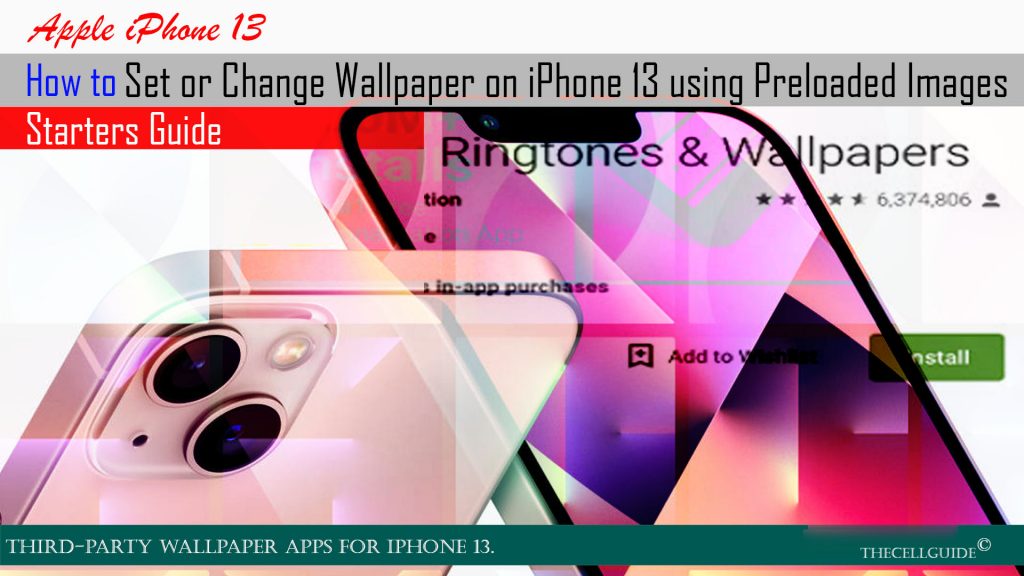 Among the best wallpapers apps for iPhone 13 from third-party software providers include Black Lite, WOW Pixel, Zedge, intoLive, Live Wallpaper 4K, Unsplash,Walli,Vellum and Atlas, to name a few.
These apps can be downloaded through the App Store for free or via one-time purchase. Just read the previous reviews to decide on which app to use.
And that's all about customizing the iOS 15 home and lock screen by setting a new wallpaper.
Hope this helps!
Please check out our YouTube channel to view more tutorial and troubleshooting videos for popular iOS and Android devices.
You Might Also Want To Read: