This post will walk you through personalizing your Samsung Galaxy S21's main display by altering the default wallpaper, theme and icons. Read on to learn how to customize Galaxy S21 home screen.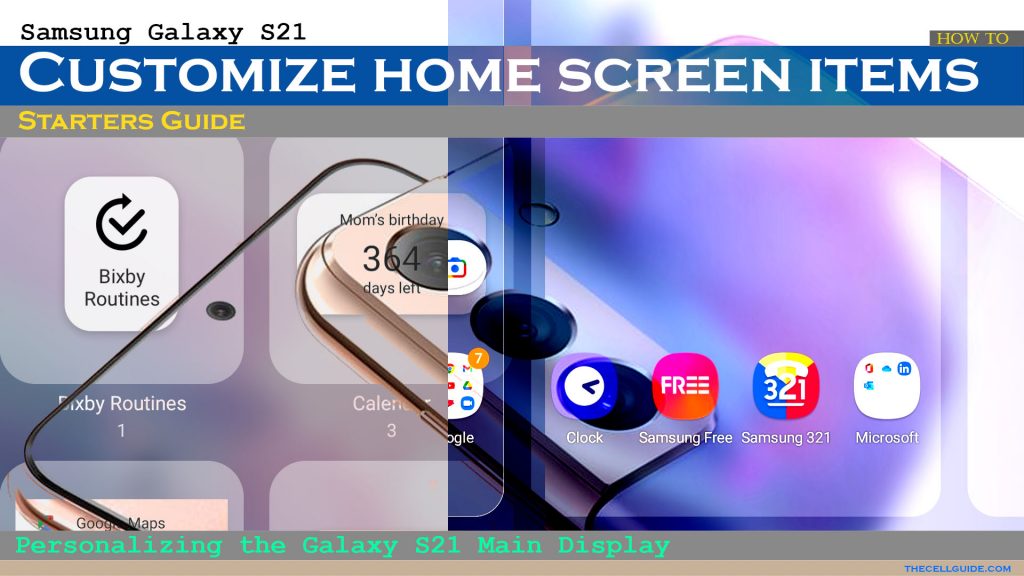 When someone gets a hold of a new smartphone, the first few things that usually come to mind is changing the default home screen wallpapers, themes and other display attributes. This is because the default home screen layout and setup doesn't meet some people's proclivity.
With that being said, most of the preloaded smartphone features are already designed to be customizable. This allows users to change things on their phones the way they wanted.
Galaxy S21 Home Screen Defaults
The Galaxy S21's default home screen layout typically consists of the preloaded app icons, folders and widgets.
While it already appears to be a decent setup, other people would still deemed it scarce and so they would do some screen revamps to make their respective devices more personalized.
Modern smartphones including the Galaxy S21 series do come with a customizable home screen. This allows users to change and re-organize everything shown on the display.
Customizing the home screen in modern Samsung Galaxy smartphones can be carried out in many different ways.
You can change the screen orientation, add or remove widgets, folders, app icons, themes, wallpapers and even add extra Home screens to house all your personalized apps.
As for the layout, you can arrange every item to make your device easy to navigate.
To give you some input on how to get started, I've mapped out the basic methods to make your Galaxy S21 look more personalized.
Easy Ways to Customize Galaxy S21 Home Screen
Depicted below are a few options to help you personalize the Galaxy S21 home and lock screen. These methods are also applicable on other Galaxy devices running on the same One UI version.
However, there might be some slight variations on the actual user interface considering that screen items and menu options vary between device models.
A. Changing the Galaxy S21 Wallpaper, Theme and Icons
The following procedures will help you customize your phone's home screen with a new wallpaper, theme and icons.
Set a NEW WALLPAPER
Step 1: Tap the Settings icon from the Home or Apps screen to launch the Settings app.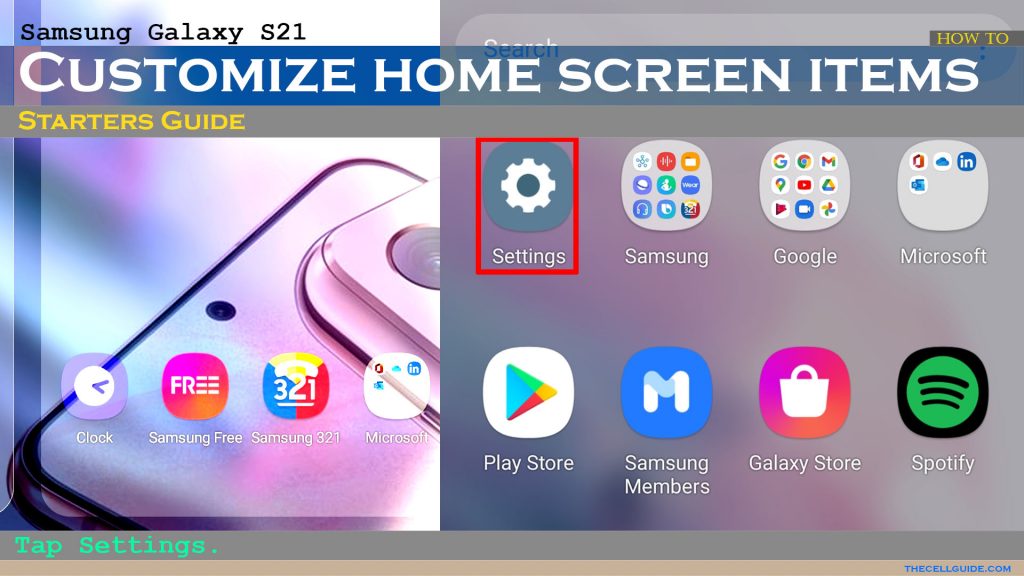 Step 2: While on the Settings menu, find and tap Wallpaper.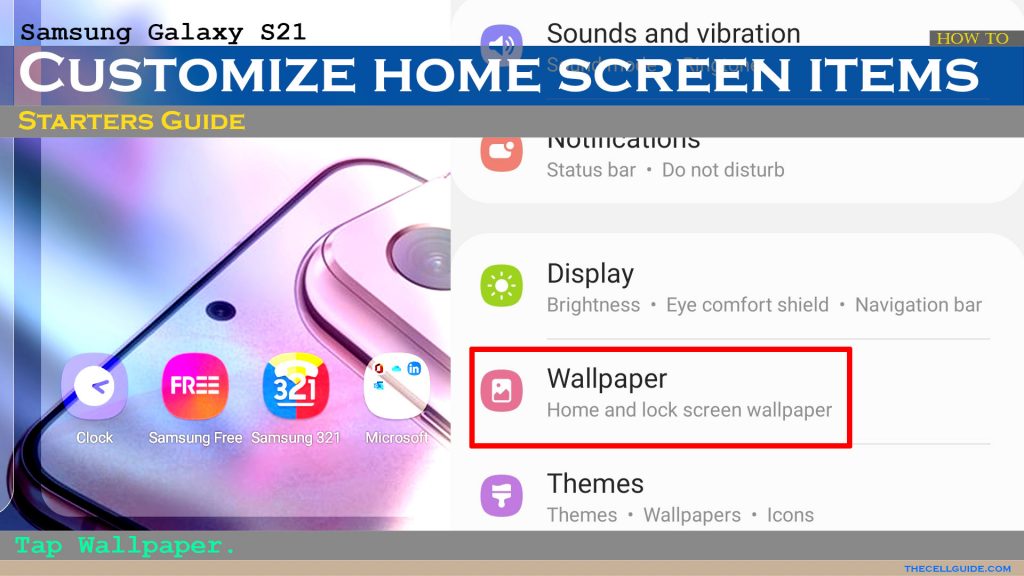 Step 3: On the succeeding menu, tap My wallpapers. Doing so will take you to the featured and downloaded wallpapers.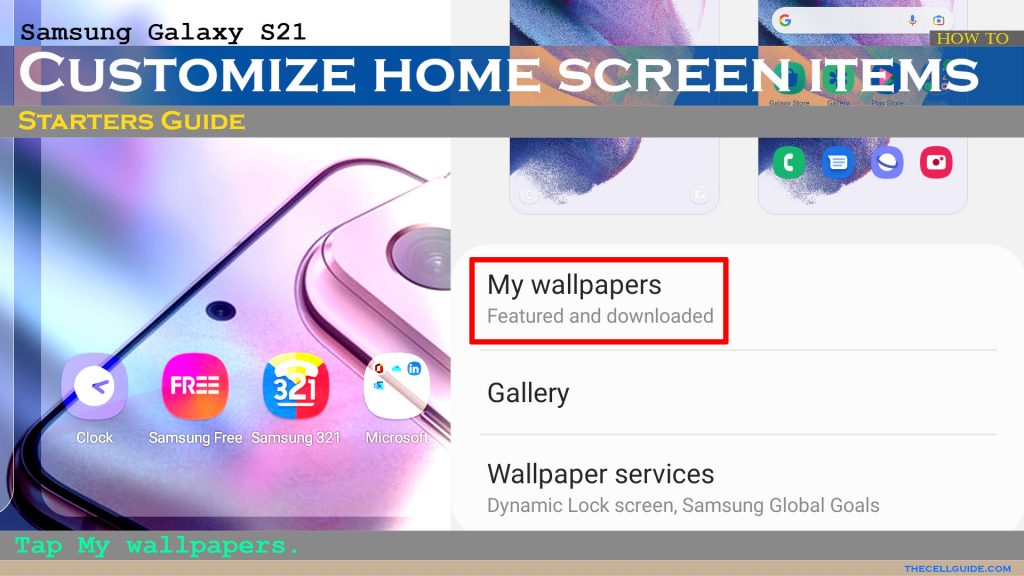 Step 4: To use a dynamic lock screen, tap Wallpaper services.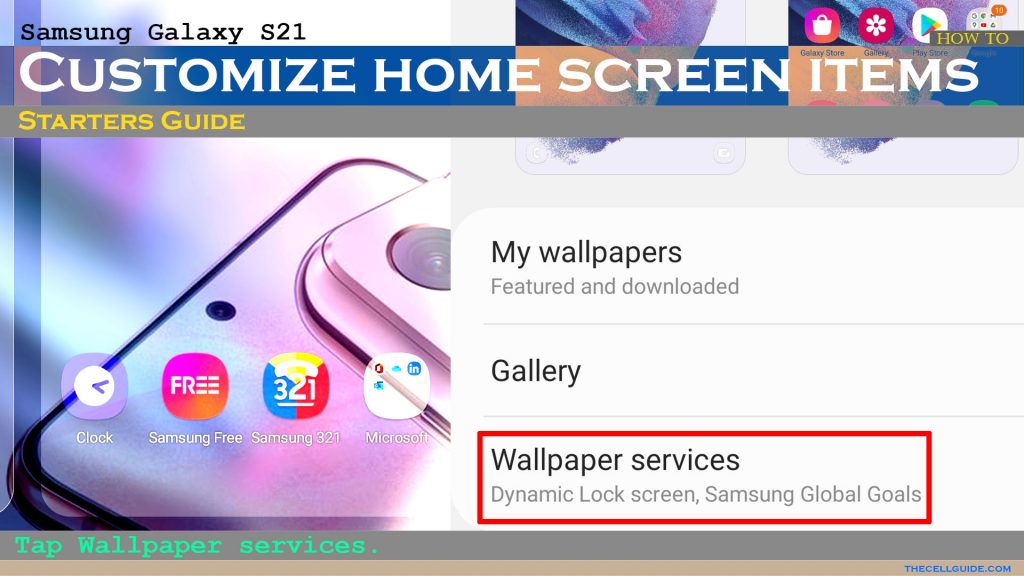 Step 5: Tap to mark the radio button before the Dynamic lock screen option and then tap Apply. Doing so will take you to another menu where you can choose and new lock screen wallpapers automatically and change it to something new the next time you.
Step 6: While on the Dynamic Lock screen settings, select your preferred categories. Just tap on the desired category to instigate download.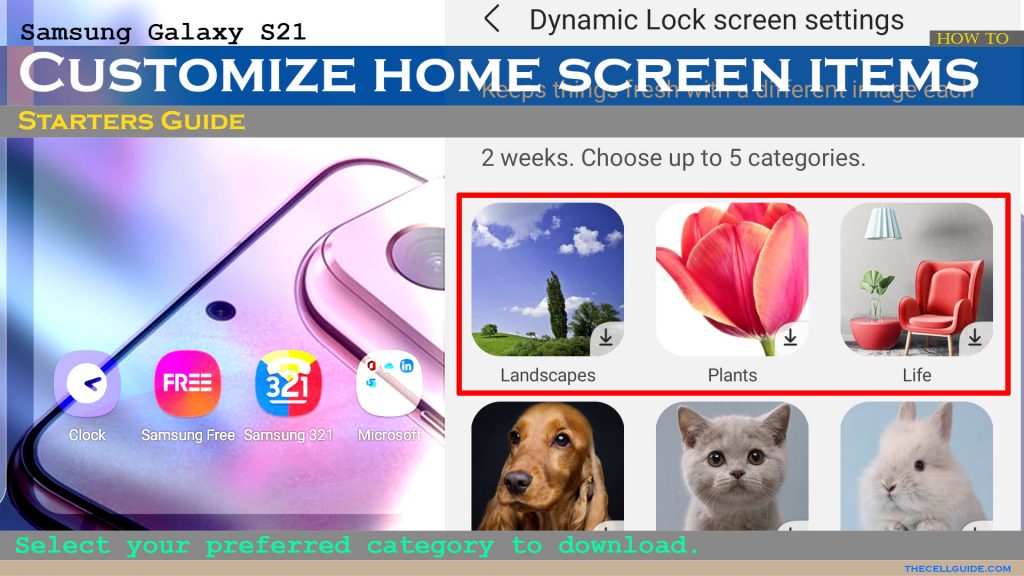 Step 7: If you want to use a new wallpaper from your saved photos, go back to the Wallpaper main menu and then tap Gallery.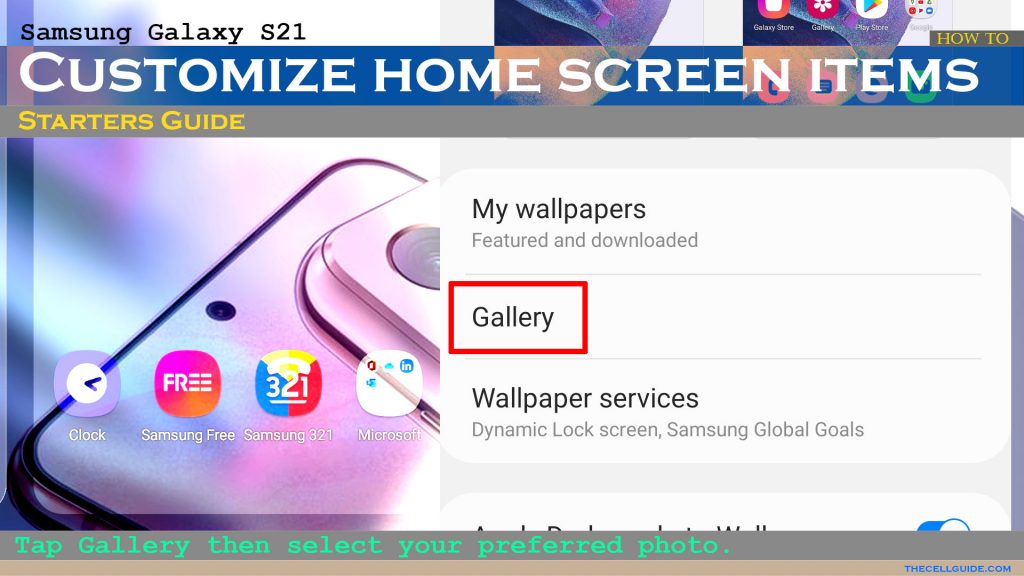 Step 8: Select any from your saved pictures or albums to set as new wallpaper. Then, follow the rest of the onscreen commands to save and apply the new wallpaper you've selected.
Set a New Theme
Step 1: Go back to the main Settings menu and then tap Themes. You will be routed straight to the Galaxy Themes app where various types of themes are offered.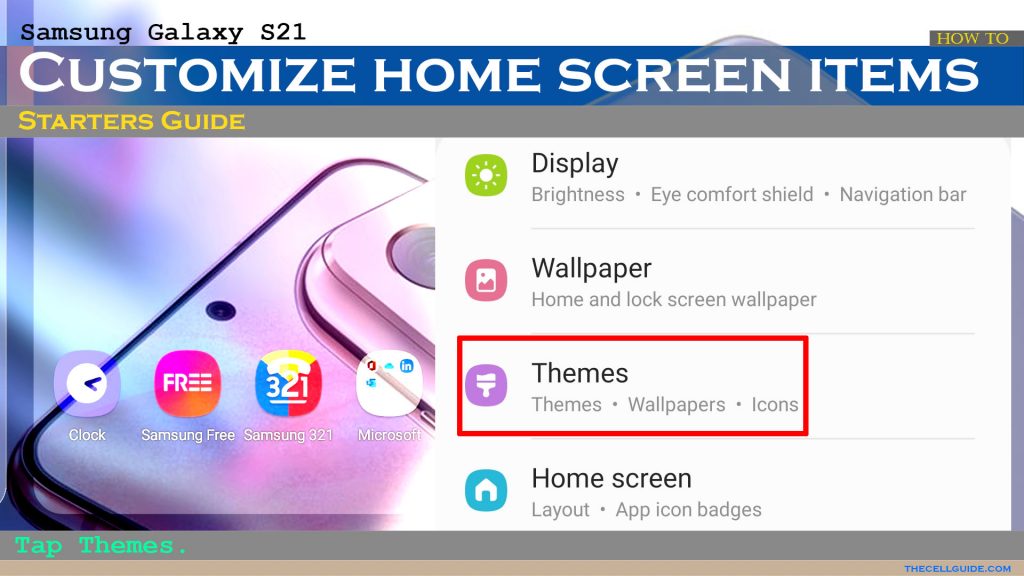 Step 2: Select Featured to view and select any from the featured wallpapers. Otherwise, select any from the top-rated themes.
Follow the rest of the onscreen instructions to save and apply the recent changes to your Galaxy S21's theme settings.
Set/Change Default Icons
Step 1: Return to the main Settings menu and then tap Themes to access the Galaxy Themes app.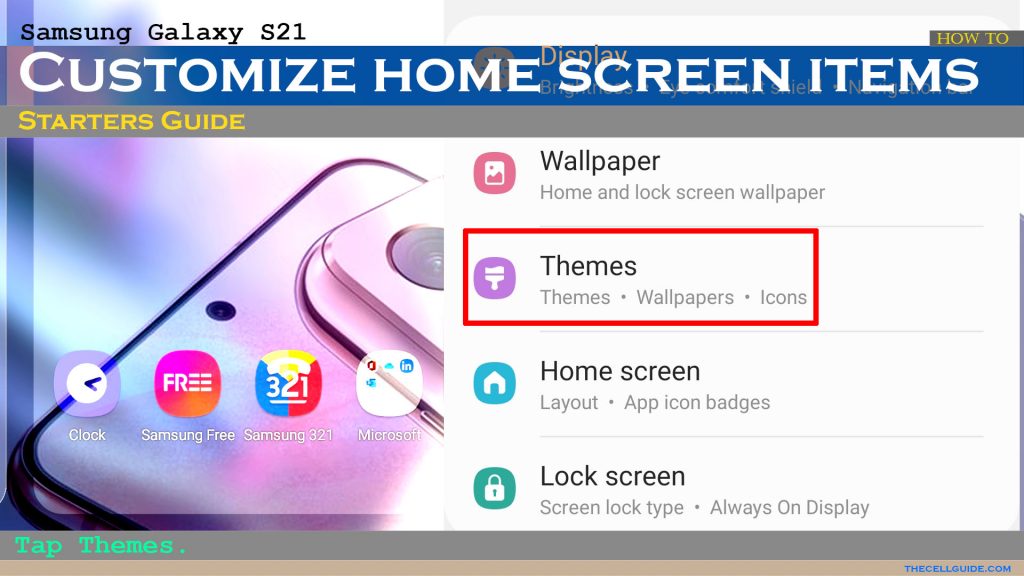 Step 2: While on the Galaxy Themes app, navigate to the bottom part of the screen and then tap Icons. Doing so will take you to a new screen, prompting new sets of icons for you to choose from.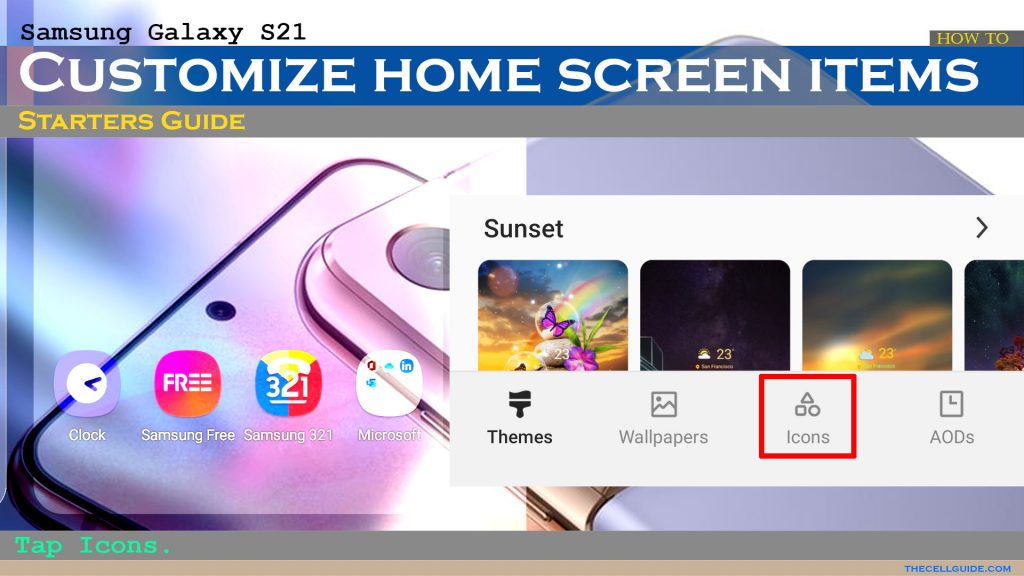 Step 3: Select any icons from the Editor's Pick, New Hot Icon, Premium Paid and more categories. Then, follow the rest of the onscreen instructions to apply the new icons you pick.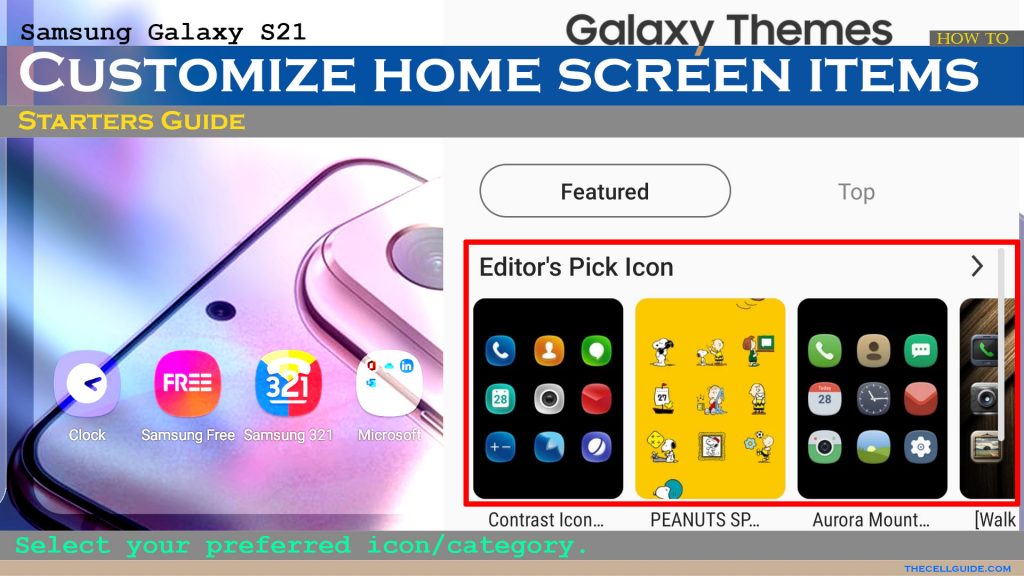 Aside from wallpaper, themes and icons, your Galaxy S21 home screen can also be customized by adding personalized widgets, apps and folders. Unwanted apps and widgets can also be removed. Feel free to refer to the succeeding walkthrough if needed.
B. Organizing the Galaxy S21 Home Screen
The items on your Galaxy S21 home screen can be moved or removed. This makes it easier for you to take out any unwanted items to make your Home screen neat and clean.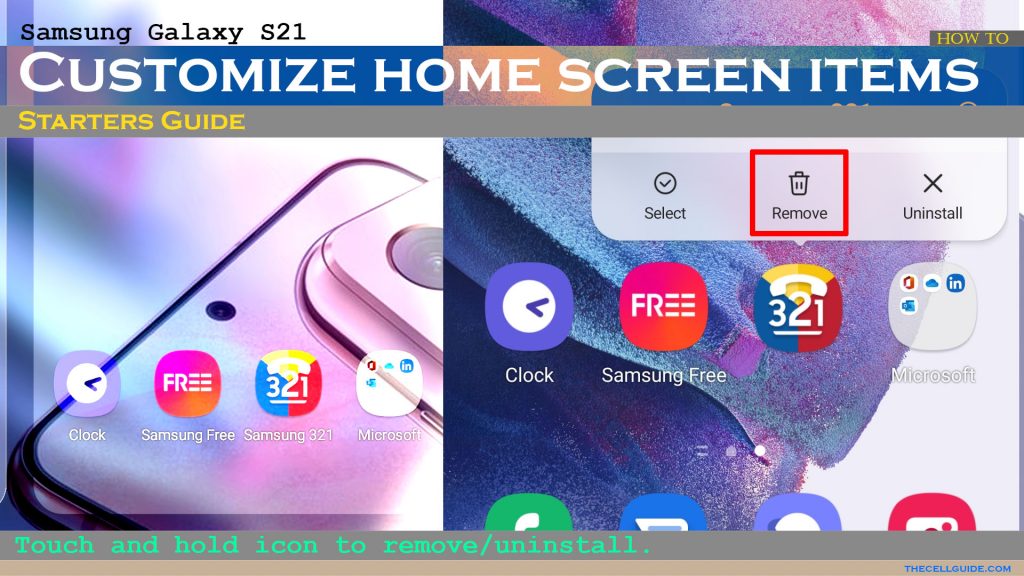 So here's what you should do then:
To remove unwanted apps from your Home screen, simply touch and hold the icon of the app to be removed and then tap Remove. Doing so will delete the app shortcut from your Home screen.
To remove the app from your device completely, just tap the Uninstall command instead.
Aside from removing app shortcuts, you can also drag folders onto your Home screen, place a group of app shortcuts into that folder and customize apps in any of the home screen folders.
C. Adding/ Removing Widgets on the Galaxy S21
Widgets are small programs that work as elements of the graphical user interface that shows information for a user to interact with certain apps and the operating system. Mini-apps or widgets residing on your phone's home screen can also be altered.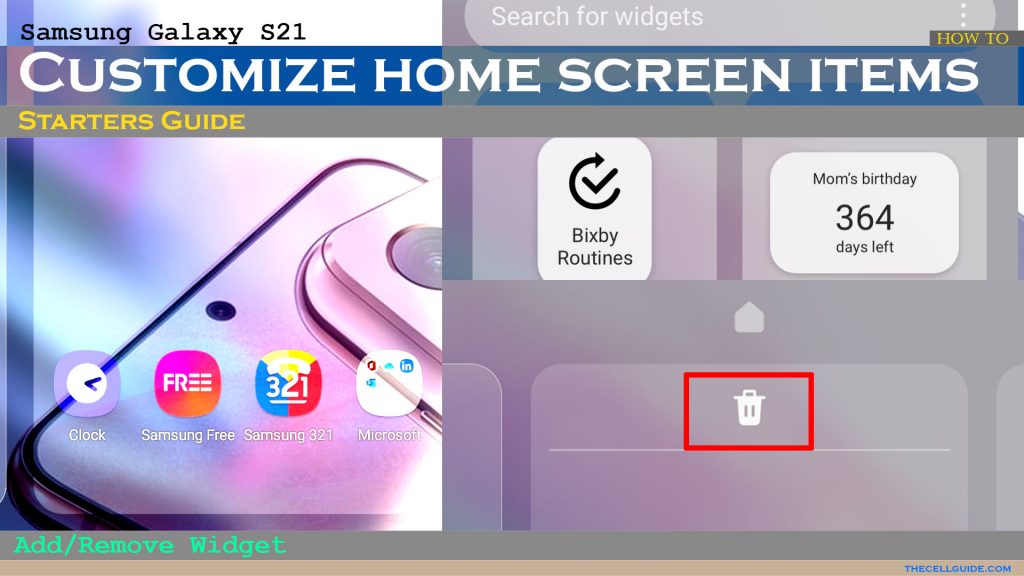 If you want to add or remove a certain widget on your Home screen, just follow these steps:
Swipe to any Home screen and then touch and hold on an empty area of that screen.
To add a new widget, tap Widgets, select your preferred widget and then tap Add.
To delete a widget, touch and hold the desired widget on the Home screen and then tap Remove.
Aside from adding and removing widgets, you can also resize, re-color and set the widget's transparency accordingly.
D. Changing/Locking the Galaxy S21 Screen Orientation to Landscape
By default, the Galaxy S21's home screen orientation is set to portrait while others are on auto-rotate. If you prefer to have a landscape display regardless of which app you're using, then you can just lock the screen orientation to landscape.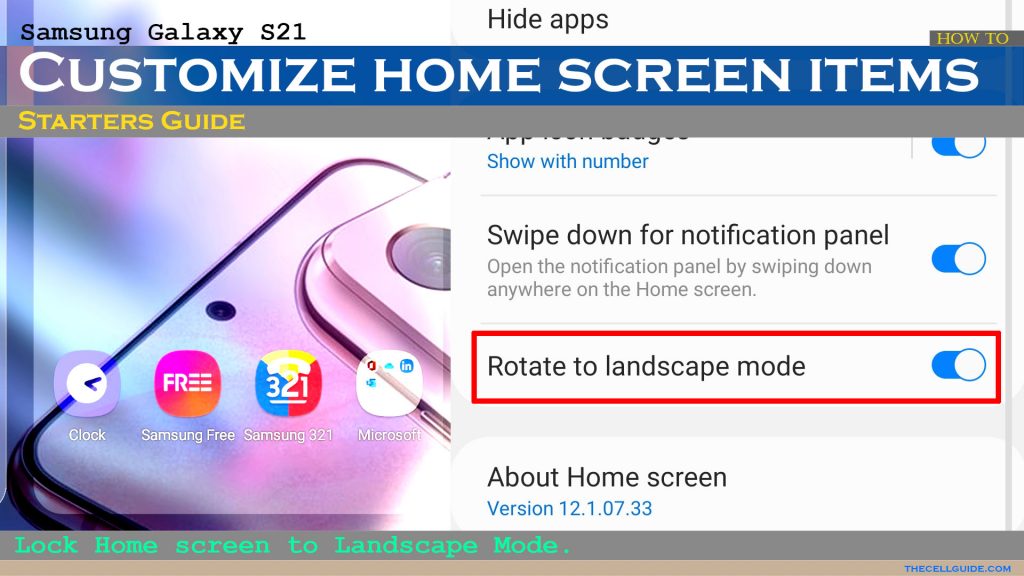 Here's how:
Go to Settings.
Tap Home screen.
Toggle to turn on the switch next to Rotate to landscape mode.
There is also an option for you to keep your Always on Display in Landscape orientation.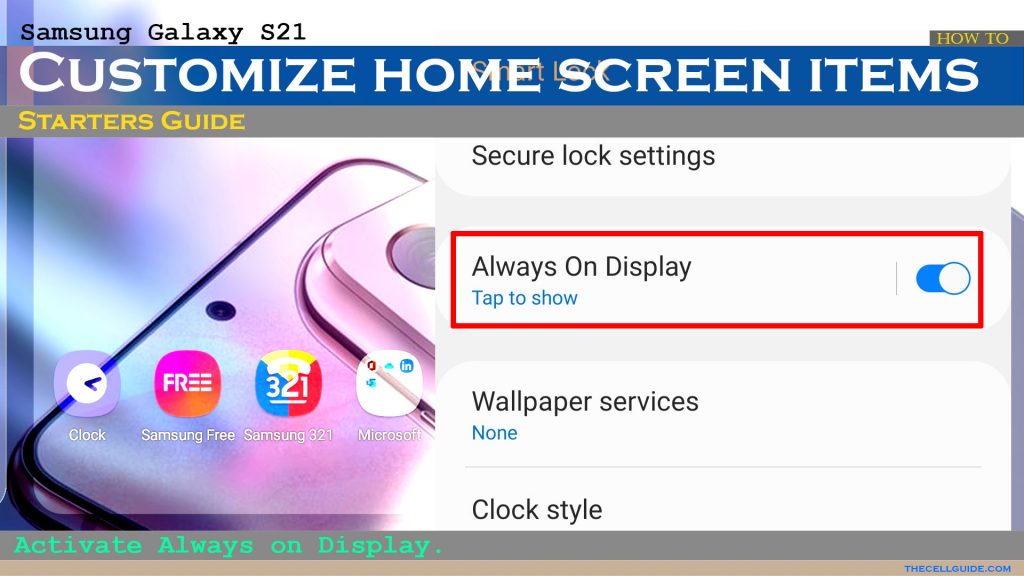 To do this, simply go to Settings-> Lock screen menu and then tap Always on Display. On the succeeding screen, tap Screen orientation and then tap Landscape.
That should make your phone's AOD stay in Landscape mode.
Restoring Default Home Screen Items
If by any chance you ended up having a messy home screen after performing a series of alterations, just tap the Reset Home screen layout command on your phone. Doing so will reset your phone's home screen back to the default, allowing you to start customizing the display from scratch.
Restoring the default home screen settings and layout is also deemed a potential solution to display-related issues following a software update or new app installation. Doing so effectively removes software bugs and glitches that might have ruined the phone's normal display functions.
And that's all about customizing the Galaxy S21 home screen with new wallpapers, themes and icons.
Hope this helps!
Please check out our YouTube channel to view more tutorial and troubleshooting videos for popular iOS and Android devices.
You Might Also Want To Read: