This post will walk you through restoring the default accessibility configuration on the new Samsung Galaxy Z Flip smartphone. Here's a quick guide to reset accessibility settings on the Galaxy Z Flip4.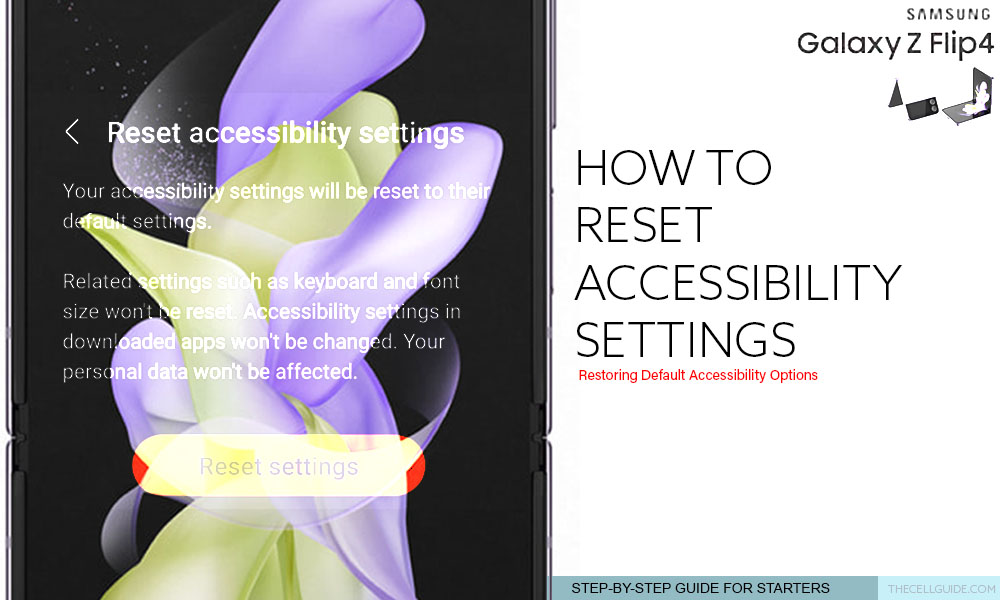 Samsung Accessibility Features
Every new Samsung phone comes with a special assistant menu under General management that contains a number of accessibility features for people with special needs like having limited sight, hearing difficulties and those who are having a hard time with dexterity and interaction.
Through these features, you can make the phone read messages aloud or light up whenever a startling noise is detected. These settings are also designed to be customizable according to every user's needs and preferences.
Available Accessibility features in modern Samsung phones including the newest Galaxy Z Flip4 device are TalkBack for voice assistance, Visibility enhancements to make fonts easy to view and read, Interaction and dexterity for touch interactions enhancements and custom switches.
There are also options for users to access more advanced settings to manage direct access features such as Power and Volume keys to make it easier and quicker for you to access Accessibility settings and other relevant functions.
Accessibility apps and services that you've downloaded and installed from the Google Play Store or Galaxy Apps Store can also be accessed through this section.
And if you're having trouble having to use any of these accessibility options like when any of them stops working as intended, there is also a reset button for you to tap.
Steps to Reset Accessibility Settings on Samsung Galaxy Z Flip4
Outlined below is a step-by-step process of resetting accessibility settings on the new Galaxy Z Flip 4 smartphone.
Feel free to start whenever you're all set to reset your device:
Step 1: To get started, access the Home screen or Apps screen then select Settings. Just locate and then tap on the Gear icon to launch the Settings app menu. You can also use the shortcut control from the quick panel to access the main settings menu of your device.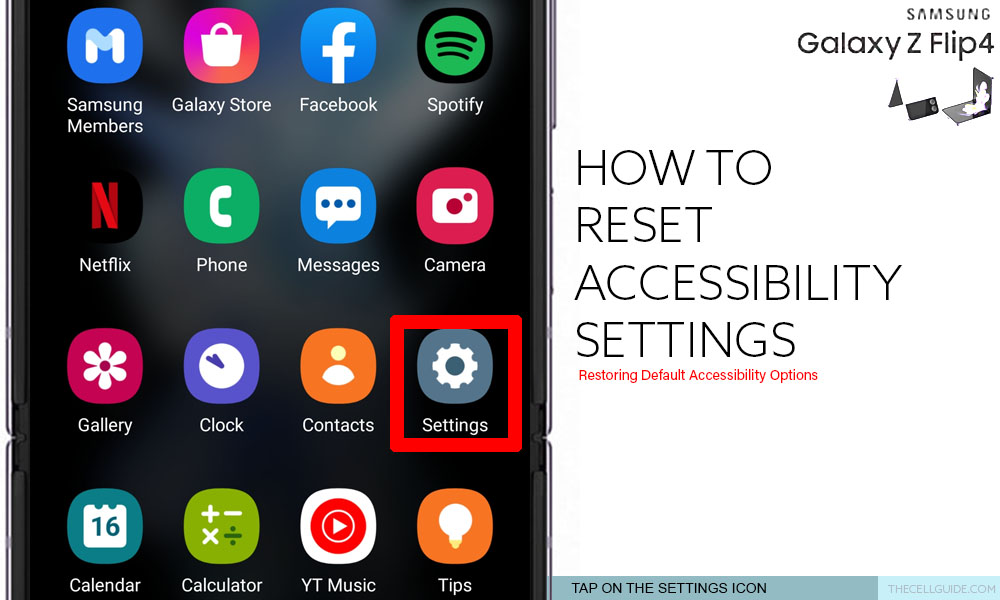 Step 2: While in the main settings menu, find and then tap General management. Doing so launches another menu with a list of system management features and relevant options.
Step 3: Scroll down to the bottom section and then tap Reset to continue.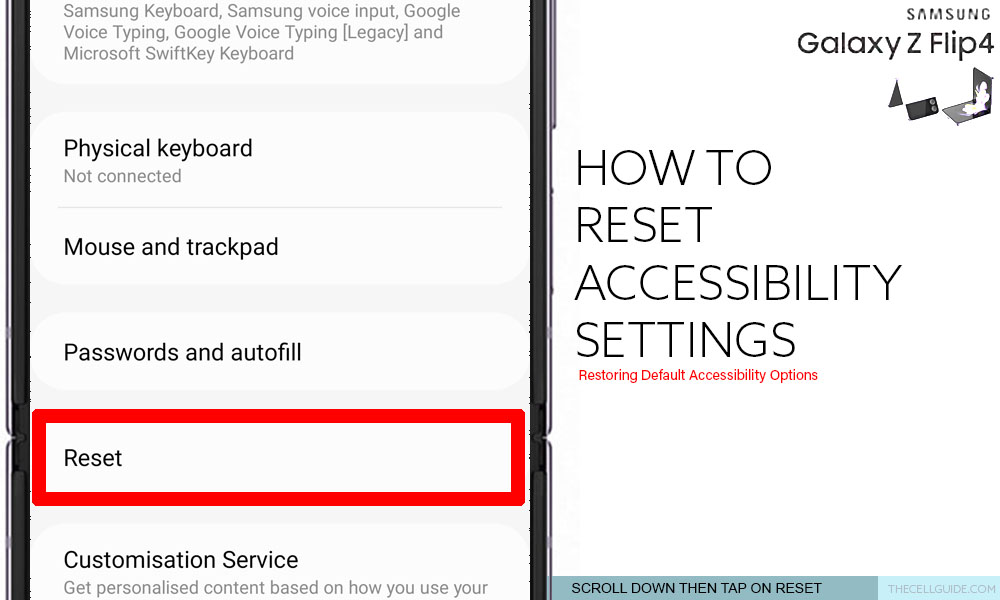 Step 4: Different system reset options will load up on the next window. Tap Reset accessibility settings from the given options to proceed.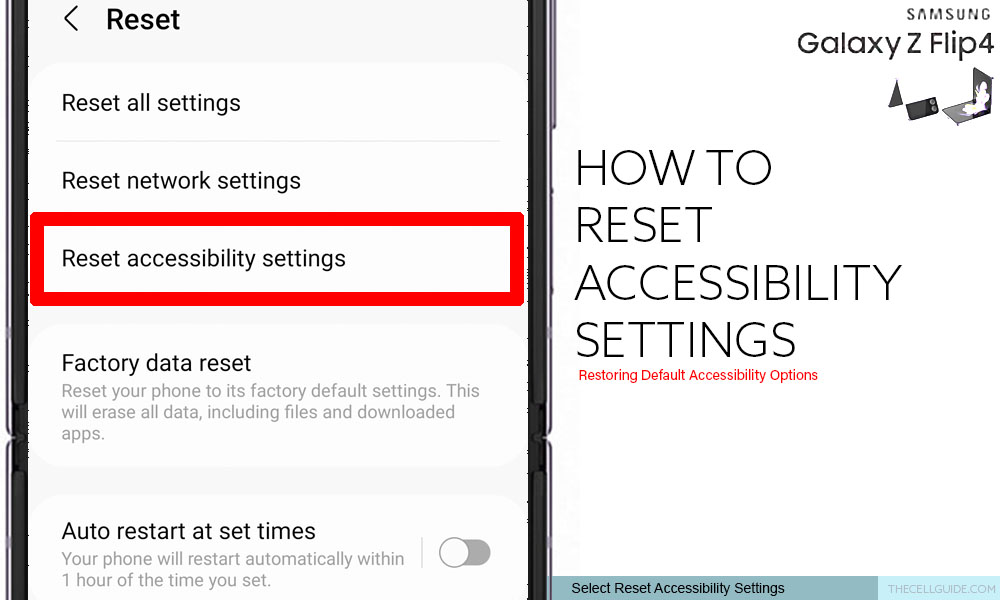 Step 5: Read the reset description then tap the Reset settings button.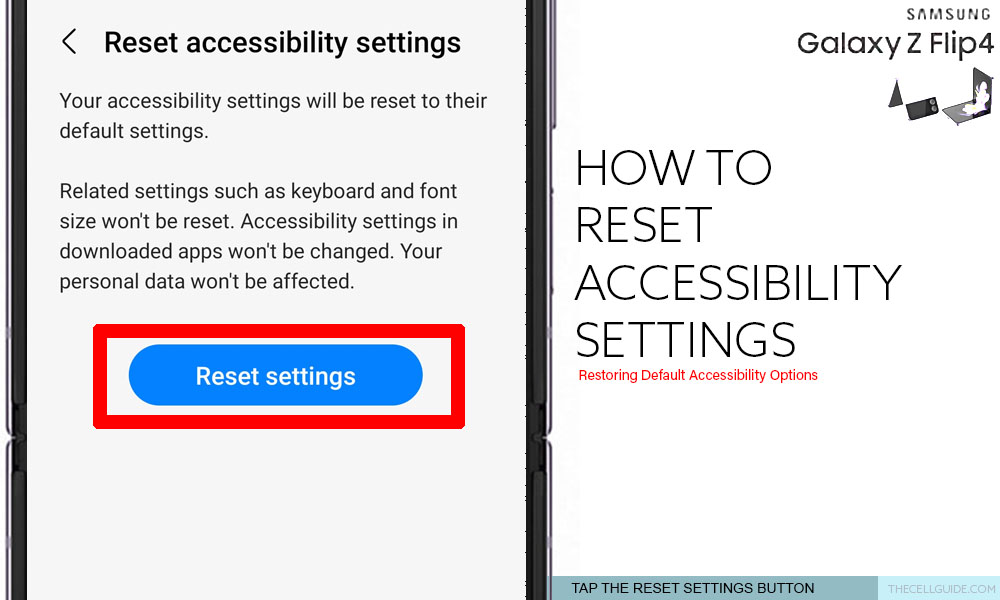 Step 6: Review the final message then tap Reset to confirm action.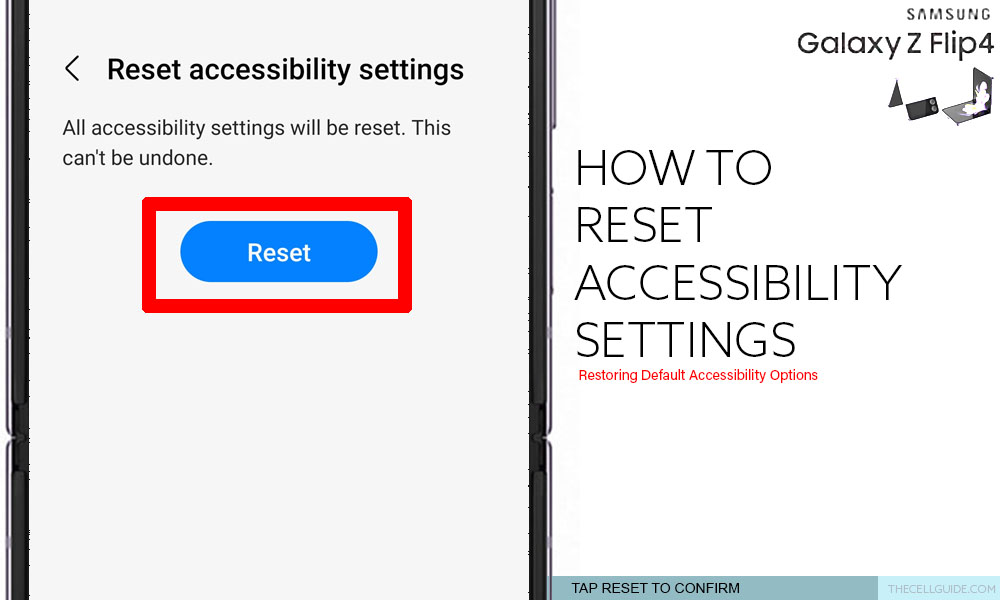 All accessibility settings on your phone will be reset and restored to their default values.
Relevant settings such as keyboard and font size won't be affected with this reset so all your current configuration should remain as is. The same thing goes for the accessibility settings in all your downloaded apps.
Just like other system reset options, resetting accessibility settings does not affect your personal data so you won't lose any important saved files and documents from your device storage.
Performing this reset can be considered among other potential solutions to random problems affecting the accessibility functions of the phone before performing a factory reset.
Similar to other resets, this action cannot be undone, so be sure to take note of all your important configurations before confirming.

Important Note:
These steps are also applicable when restoring default accessibility features and options on other Samsung phones running on the same OS version, particularly Android 12 with One UI 4.1.1. Just keep your device's operating system up-to-date to ensure all key features and menu items are present.
However, actual interface may still vary depending on the device models, software version and service providers so expect some slight differences on every device's user interface.
And that's how to reset Accessibility settings on the Samsung Galaxy Z Flip 4 smartphone.
Hope this helps!
Please check out our YouTube channelto view more tutorial and troubleshooting videos for popular iOS and Android devices.
You Might Also Want To Read: