This post will walk you through limiting headphone volume on the new Galaxy S Flip4 device by disabling its absolute volume feature. Here's a quick guide to reduce loud sounds on Samsung Galaxy Z Flip4.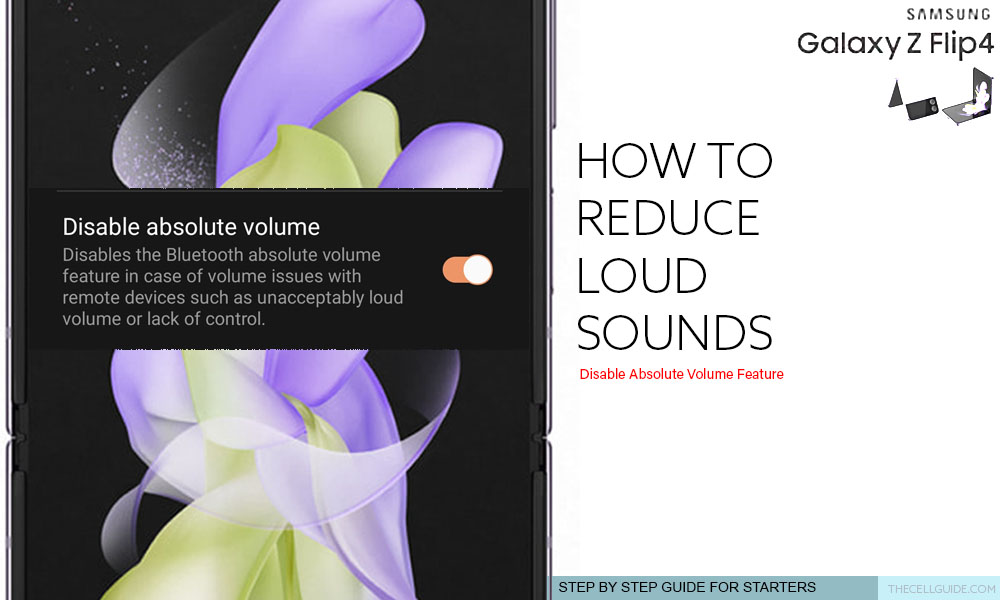 Samsung Hearing Safety Features
The integrated Bluetooth features in modern Samsung phones allow you to pair them with compatible Bluetooth headphones and speakers. In fact, Bluetooth pairing is now increasingly popular as more and more people take advantage of such a handless feature.
The updated Bluetooth audio settings on recent Galaxy devices also allows you to connect wireless headphones and adjust the sounds according to your preferences. You can also listen to audio from your Galaxy phone on separate speakers. Listening on two different headsets at once is also possible with the phone's inbuilt dual audio features.
And to ensure every user's hearing safety, Samsung also entrenched a dedicated feature that limits headphone volume when using a Galaxy phone with Bluetooth headphones or headsets. Such a feature is called Absolute Volume.
When enabled, Absolute Volume controls the volume on both the phone and the Bluetooth-enabled audio device it's paired with or connected to using a single Volume control.
Depicted below is the actual process on how to access this feature on the Galaxy Z Flip 4.
Steps to Reduce Loud Sounds on Samsung Galaxy Z Flip4 using Absolute Volume
In order to use the phone's absolute volume feature, you will need to unlock the Developer Options menu beforehand. You can refer to a separate walkthrough on how to enable Developer Mode on the Galaxy Z Flip4.
Once you've successfully unlocked the Developer options menu, you should be all set to use the hidden absolute volume feature.
Just follow these steps whenever you're all set to configure the developer options menu on your device.
Step 1: To get started, launch the Settings app by tapping on the Gear (Settings) icon from the Home screen or Apps screen.
You can also access the settings menu straight from the quick settings panel of your phone.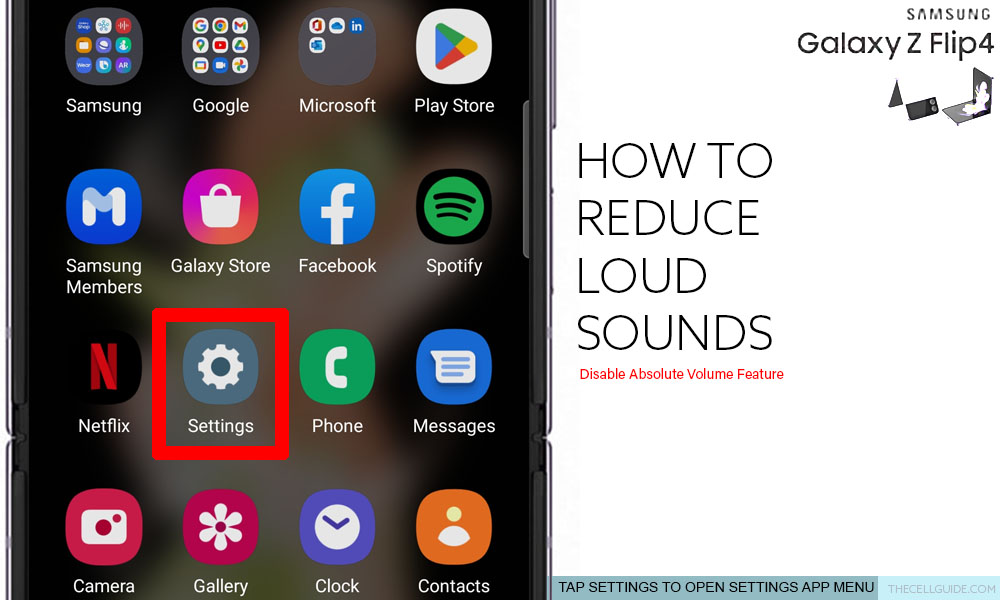 Step 2: While in the main settings menu, scroll all the way down to the bottom and then tap Developer options. If you don't see Developer options next to About phone, it means that the feature isn't unlocked yet. Just click on the hyperlink above in case you need help on how to unlock this secret menu on this Samsung flip phone.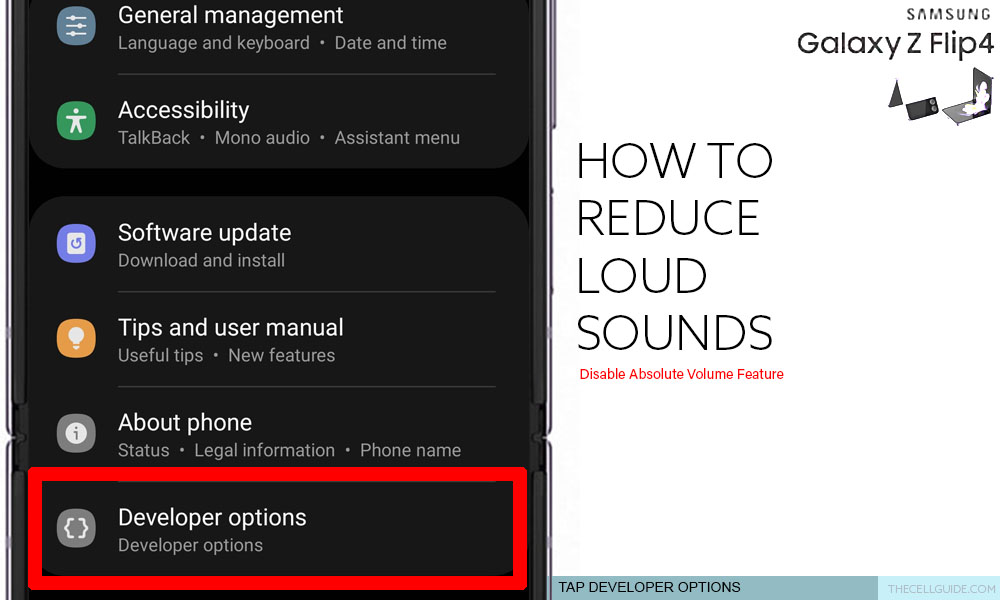 Step 3: In the Developer options menu, you will see a long list of different features. To save time from scrolling through various items, you can use the Search bar on the top-right corner then type "Absolute Volume" in the provided text field and tap Disable Absolute Volume from the search result.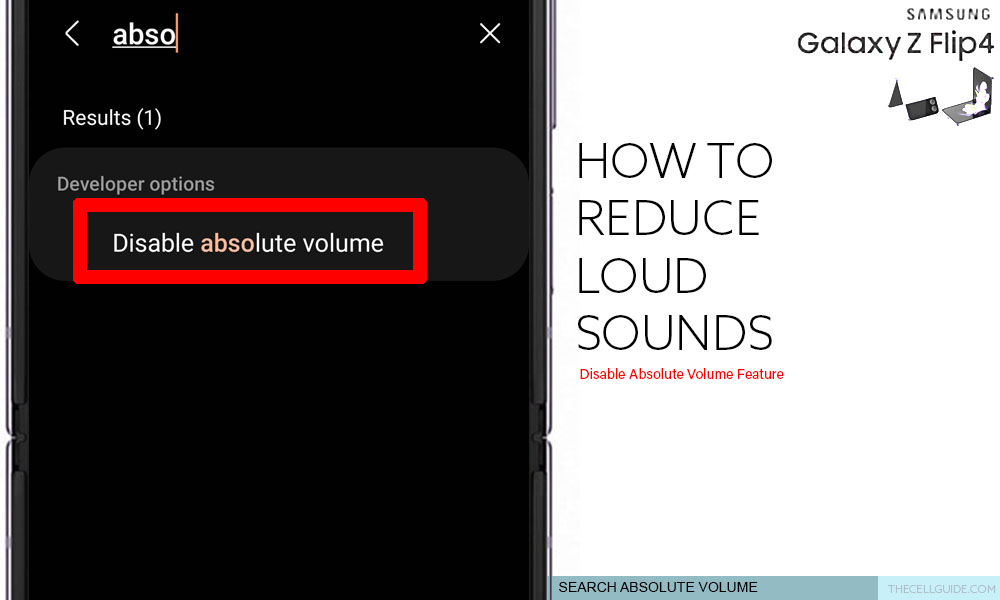 Step 4: To activate the feature that automatically reduces loud sounds when using a Bluetooth headphone or speaker, simply tap to turn ON the switch next to Disable absolute volume.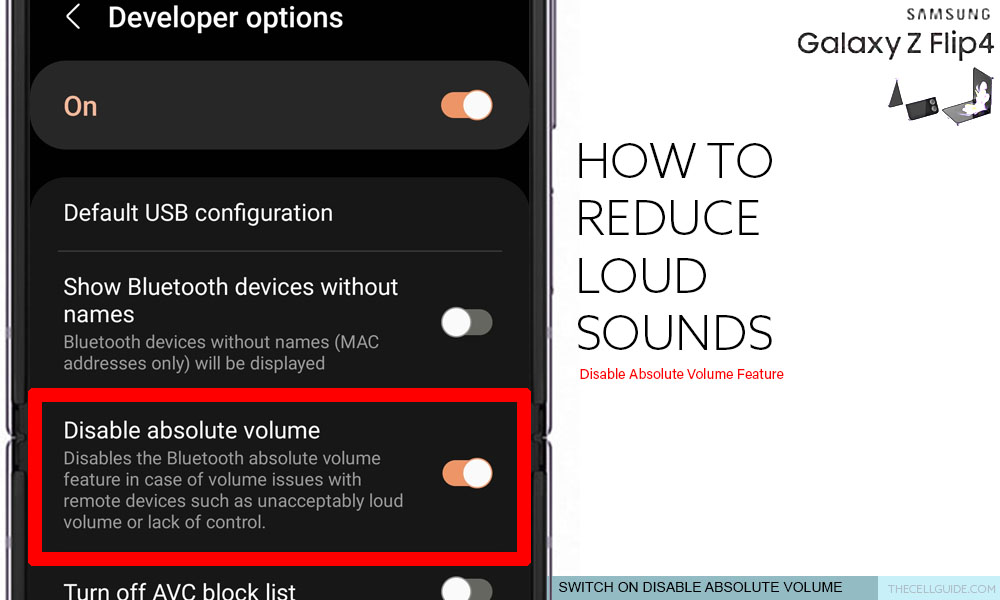 That should disable the Bluetooth absolute volume feature in case you're having some volume issues with remote devices, particularly unacceptably loud sound or uncontrolled volume.
You can always turn the switch OFF again whenever you don't use it again. Just repeat the same steps to head back to the Developer Options menu then search for Absolute Volume. Finally, tap to turn off the switch next to Disable absolute volume to switch the phone's Bluetooth settings back to normal.
Does Absolute volume work on all Bluetooth devices?
The answer is no. There are some Bluetooth headphones and speakers that are not specifically designed to use absolute volume. So if you happen to use any of these devices, there's a good chance that you'll encounter sound issues like too loud or uncontrolled volume even with the Absolute volume feature enabled on the phone.
Meanwhile, turning on the Disable absolute volume option may likewise yield the opposite result on other devices.
In fact, a number of Samsung phone owners have had complaints about very low sound coming from their Bluetooth devices. Should this be the case, turning the Disable Absolute volume switch OFF will likely solve the problem.
Adjusting the Bluetooth device's sound settings like increasing the volume level on the Bluetooth device through the volume controls may also help.

Hope this helps!
Please check out our YouTube channelto view more tutorial and troubleshooting videos for popular iOS and Android devices.
You Might Also Want To Read: