Are you experiencing the iPhone Messenger not working issue? This post will walk  you through resolving an issue about the Messenger login error on iPhone 13 in iOS 15.4. Read on to learn what to do if you encounter an error while attempting to log into your Facebook Messenger account.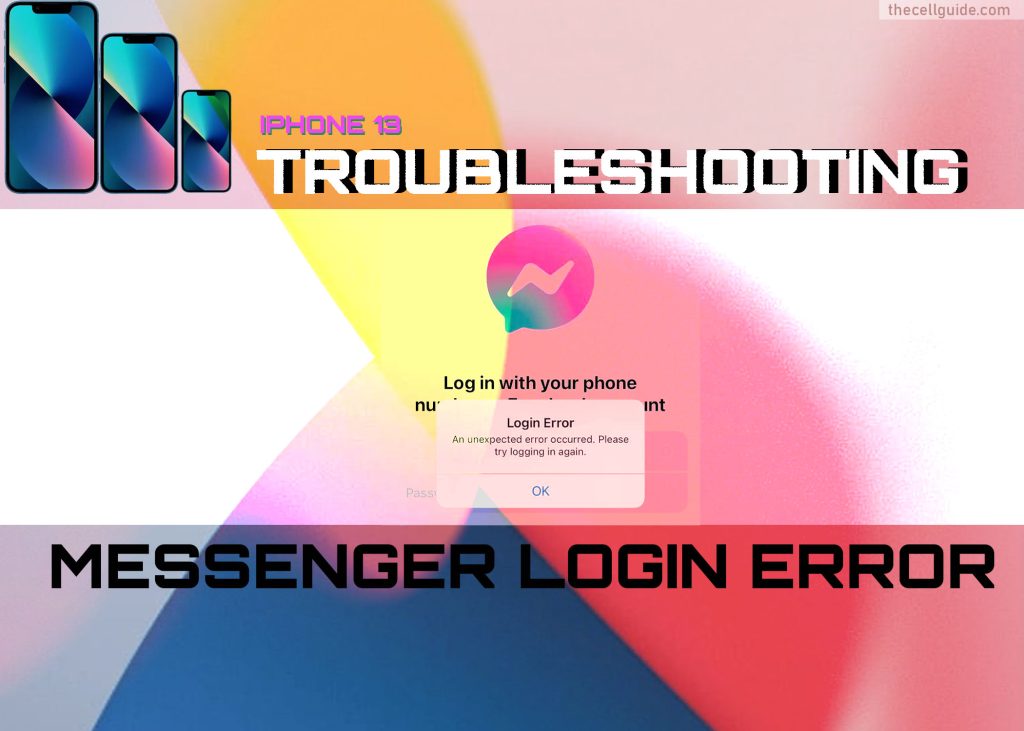 iPhone Messenger Problems: Troubleshooting Solutions When Not Working
The "iPhone Messenger Not Working" issue can manifest in various forms, from the inability to send messages to sudden app crashes and unresponsiveness. Often, users encounter error messages, delays in message delivery, or a complete inability to access the app's features. This disruption can pose challenges, especially in situations where timely communication is vital. Several factors can contribute to this issue, ranging from simple app glitches to more complex system-related problems.
What causes the iPhone Messenger not working issue?
One of the common problems raised by iPhone users is the Messenger login errors. For some reason, people just couldn't get to access their account as they couldn't get past the login page. Instead, they're greeted with an error message like "Error signing in," "Unable to communicate with the main server," "Login unsuccessful. Unexpected error occurred," and more. As a result, people are unable to sign into their accounts.
There are many reasons as to why these errors occur on an iPhone.
Network Connectivity Issues: Fluctuating network signals or poor internet connectivity can severely affect the Messenger app's functionality.
Software Glitches: In certain cases, the Messenger app might encounter internal software bugs or conflicts, leading to malfunctions.
Outdated App Version: Using an outdated version of the Messenger app can lead to compatibility issues with the operating system, resulting in performance disruptions.
Overloaded Cache Data: Accumulated cache data within the Messenger app can hinder its smooth operation, leading to potential malfunctions.
Potential solutions to iPhone Messenger not working issue
Performing the following solutions will help rule out common factors that might have prevented you from logging into your Facebook Messenger account and instead just getting an error prompt.
Prerequisites:
Before you begin, verify and ensure that you're entering the correct account credentials — username and password. This is imperative if you have multiple Facebook accounts as there's a chance of entering the wrong password.
Also care to check your iPhone's date and time information. Logging in issues in other online platforms are found to be attributed to an incorrect date and time settings on the phone so make sure that this information is properly set on your device. If you haven't already, set the date and time settings to automatic so the device will automatically sync and use the current date and time based on the time zone of your location.
Solution #1: End then relaunch Messenger.
If this is the first time you encounter an iPhone Messenger not working error while attempting to sign into your Messenger account, it's likely just due to a random in-app glitch. The easiest way to clear out random in-app glitches like this is to end and restart the problematic app.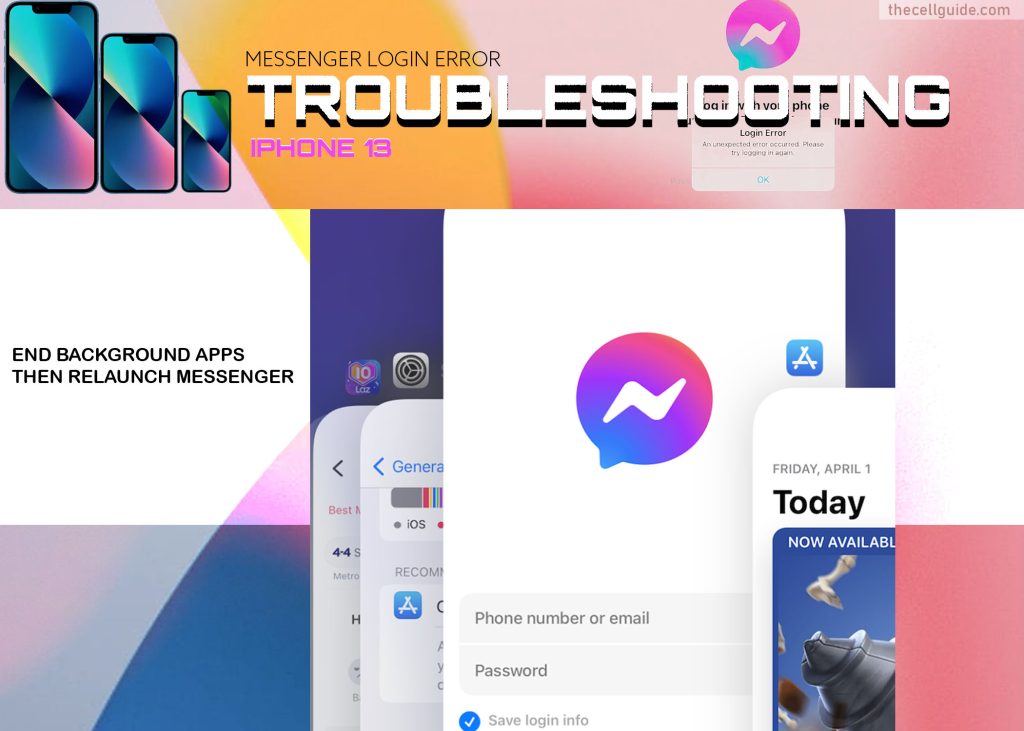 So here's what you should do first:
Swipe up from the bottom-left corner of the screen to launch the app switcher or multitasking menu that contains app cards or previews of the apps that you've recently used. These are the apps that you've recently used and left running in the background.
Find the Messenger app preview and then swipe it up to end or terminate the app.
If you see any other apps running in the background, be sure to end them all to prevent any of them from causing conflicts when relaunching the Messenger app on your device.
Background apps that have gone rogue may likewise cause trouble to other apps and system services so be sure to clear them out.
Solution #2: Reboot the iPhone (soft reset).
Another simple solution to random software bugs and glitches that might have prevented you from logging into Messenger is the soft reset or iPhone reboot.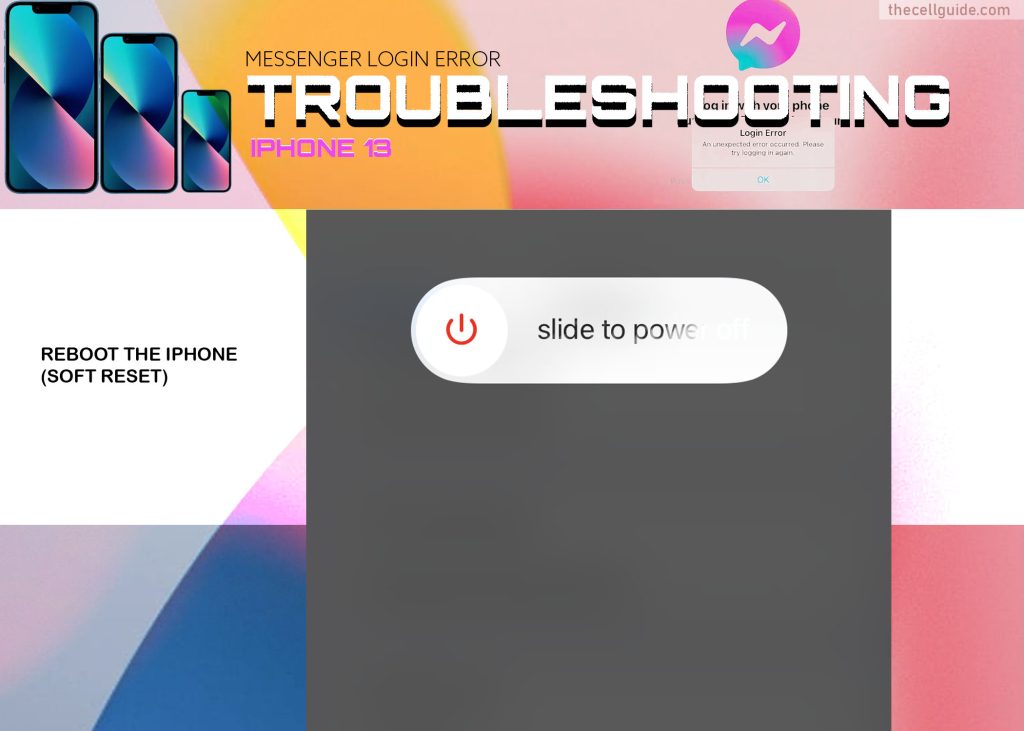 Just like computers, rebooting the iPhone from time to time is highly recommended to clear and refresh apps and system services. In iOS devices, restarting is also a way to clear cache and residual data from the system storage.
It does not affect any user data so you won't lose important files afterwards. Just follow these steps if you haven't restarted your iPhone yet.
Press and hold the Power/Side button and either Volume buttons for a few seconds and then release when the Power off slider appears.
Then, drag the slider to turn your iPhone completely off.
After 30 seconds, press and hold the Side button again until the Apple logo appears.
Alternatively, you can turn the iPhone off for a few seconds and then turn it back on again. Both of these methods work the same when it comes to rectifying minor system errors and random in-app glitches.
Solution #3: Refresh the internet.
Turning the Wi-Fi feature off for a few seconds is also found to be effective in rectifying random login errors in online apps like Facebook Messenger. This is usually needed to clear any minor network problems that might have halted the normal operations among internet-based applications.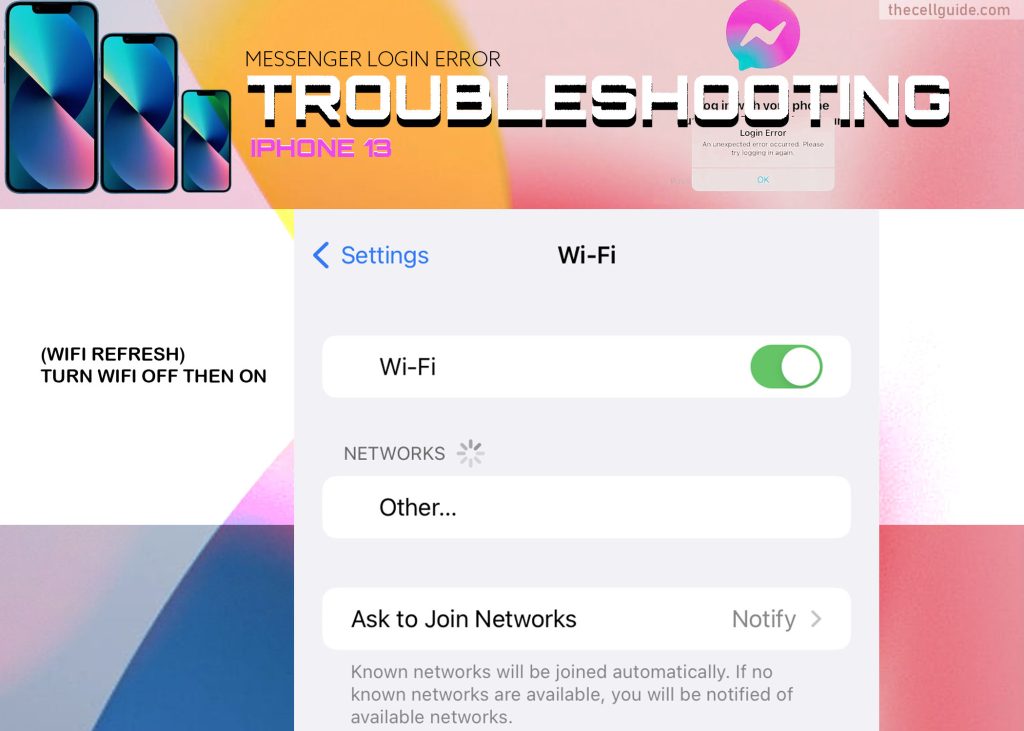 To do so, head over to Settings-> Wi-Fi menu then turn the Wi-Fi switch OFF. After about 30 seconds turn Wi-Fi back on and wait for your iPhone to reconnect to the Wi-Fi network.
If you're on cellular data, go to Settings-> Cellular menu then turn the Cellular data switch off for a few seconds and then turn it back on again.
Alternatively, you can try the Airplane mode tweak as it's also proven effective in resolving random errors affecting wireless features and services.
Just follow these steps:
Go to Settings-> Airplane mode menu and then tap to turn on the Airplane mode switch. Reboot the iPhone while Airplane mode is enabled.
As soon as the phone is finished rebooting, go back to the Settings menu and then toggle to turn the Airplane mode switch OFF again.
Allow your device to re-establish wireless network connections and reconnect to the Wi-Fi network or cellular data.
When it's back online, relaunch Messenger and try logging into your account to see if the error is gone.
Solution #4: Update Messenger (if applicable).
Software updates rolled out by app developers also embed essential fix patches that are programmed to get rid of certain bugs that are inflicting trouble to certain applications.
If you haven't enabled automatic app updates on your iPhone's App Store settings, then you will need to manually download and install pending app updates available including Messenger updates.
Just follow these steps:
Go to your iPhone Home screen or App library and then long-press on the App Store icon.
From the quick menu options, select Updates to view all pending app updates on the App Store app menu.
Tap the Update button next to Messenger.
If multiple app updates are available, tap Update All to update all apps at once.
In order to update apps successfully, fast and stable internet connection is required. Also ensure that your phone is sufficiently charged and has ample storage to allocate the new update files.
After updating apps, reboot the iPhone to apply the recent software changes and to refresh the apps following the upgrade.
Solution #5: Manually offload Messenger then redownload app.
In-app errors in iOS devices can likewise be rectified by offloading the problematic application. Doing so will dump the app from the system while all its data and relevant documents are retained.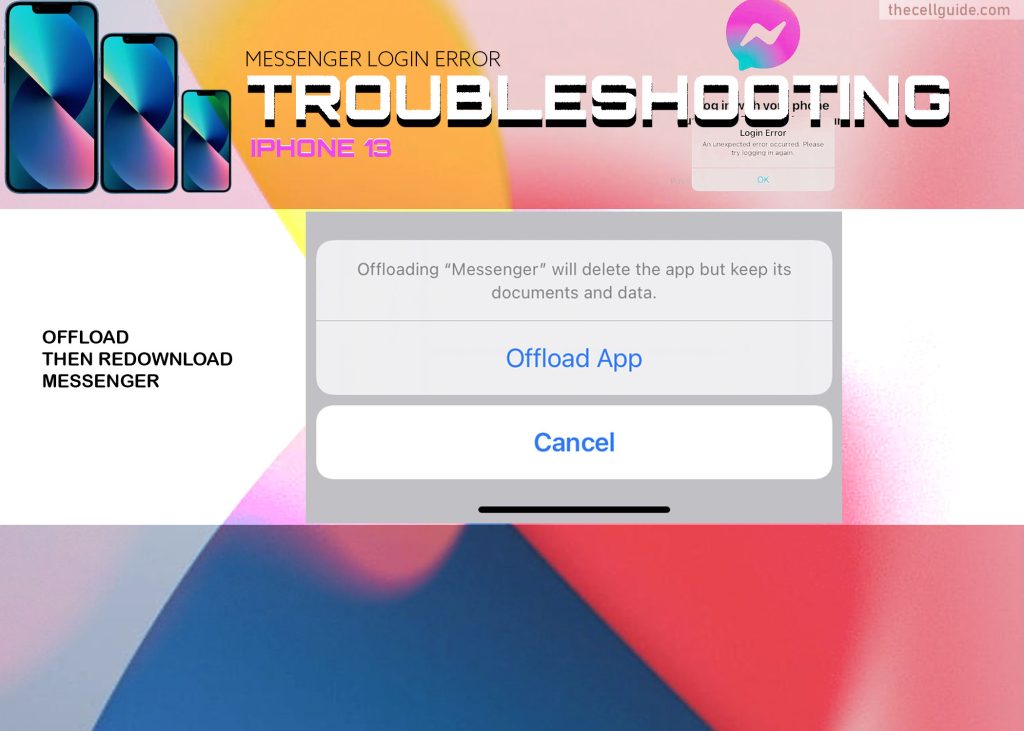 If you wish to give it a try, just follow these steps:
Open the Settings app by tapping on the Settings icon from Home.
On the succeeding menu, tap General.
Then, tap iPhone Storage.
Tap to select Messenger from the apps list and then tap the command to Offload App.
If prompted, enter your passcode and tap Offload App again to confirm.
After offloading the app, reboot the phone. As soon as the phone boots up and reconnects to the internet, tap on the offloaded Messenger app icon from the Home screen to redownload and install the app again.
When the app is finished installing, relaunch it and retry logging into your account to see if the error is gone.
Solution #6: Uninstall then reinstall Messenger.
A drastic solution to try next if the prior methods failed to resolve the issue is to uninstall Messenger from your iPhone. This is often needed if the app has been totally corrupted and no longer functional.
Unlike offloading, uninstalling will delete the app and all its associated files and documents. Any corrupted in-app data will likewise be cleared out in the process and thereby gives the app a clean start.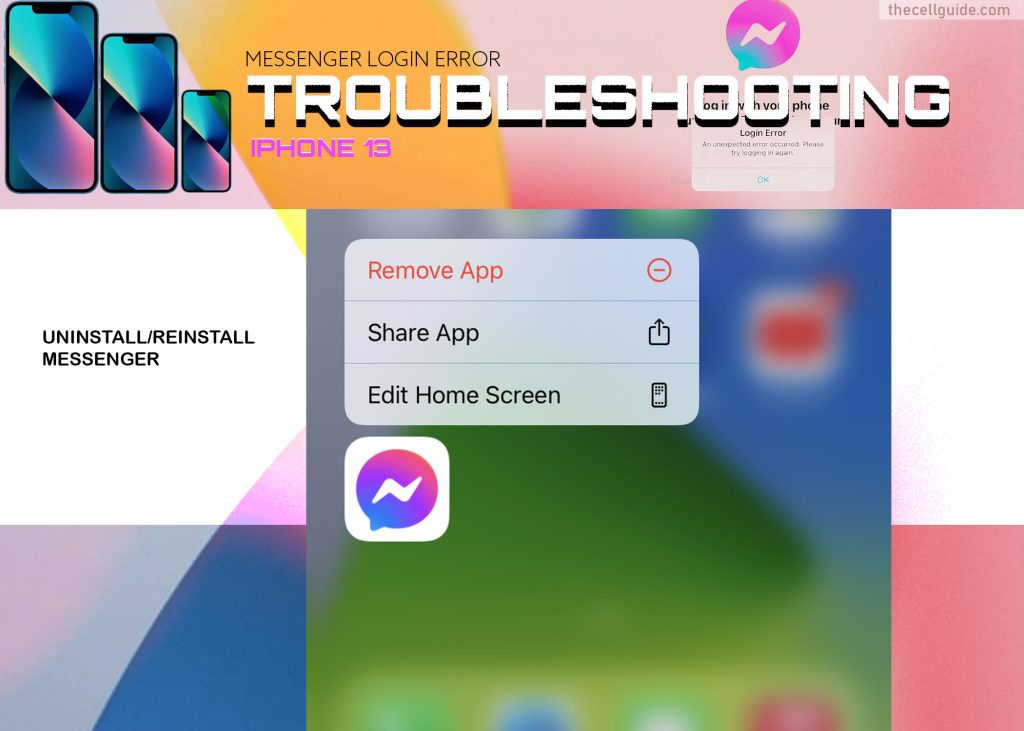 To uninstall Messenger from the iPhone 13, just follow these steps:
From the Home screen, find and then long-press (touch and hold) the Messenger icon for a few seconds until the quick menu appears.
On the quick menu, tap Delete or Remove.
Read the warning prompt then tap Remove app to confirm.
After deleting the app, reboot the phone and then launch the App Store to search for and redownload Messenger.
Just tap the Get button or Cloud icon next to Messenger to start the download.
Wait for the app to finish installing and then relaunch it to see if the login error is fixed.
Solution #7: Reset all settings on the iPhone.
As mentioned earlier, settings conflicts might also be the underlying cause of the problem. To clear this out, resetting all settings on the iPhone can help.
This reset deletes all custom settings and custom app options and then restores the factory default configurations.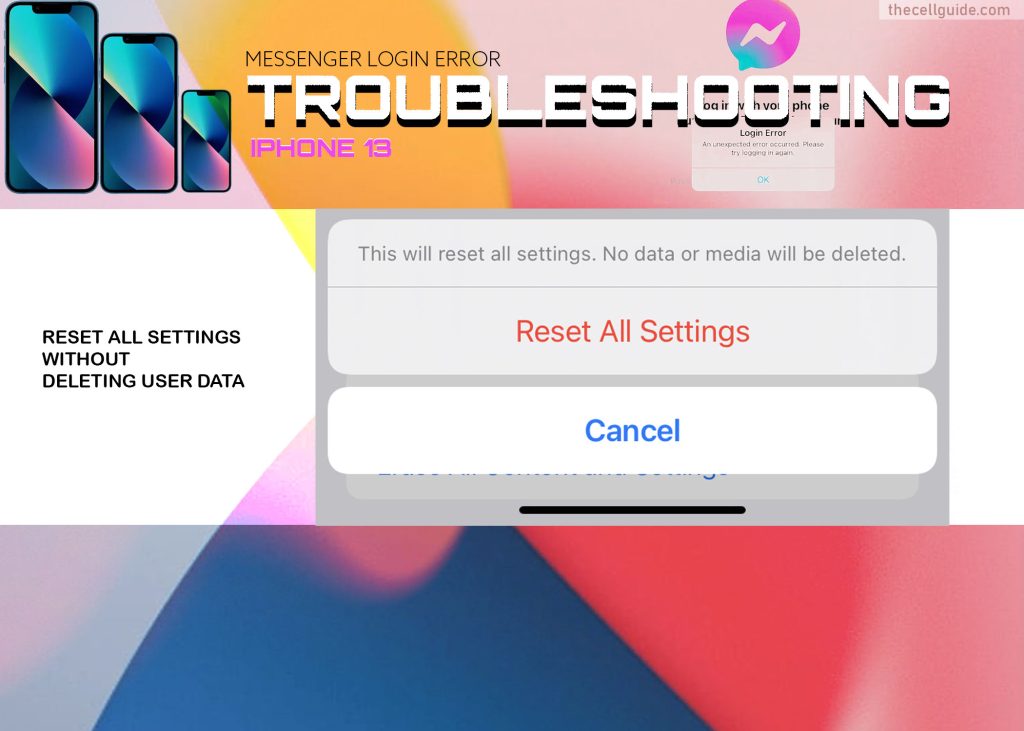 Similar to the reset network settings command, resetting all settings does not affect any user data from the internal storage so there's no need to back up files beforehand.
Just follow these steps whenever you're all set to reset all settings on your iPhone 13:
Tap Settings from the Home screen to open the Settings app.
On the settings menu, tap General.
Tap Transfer or Reset iPhone to continue.
On the next menu, tap Reset.
Then, tap Reset all settings from the available reset options.
Enter your device passcode if prompted.
Read the final warning then tap Reset settings to confirm.
Allow your device to finish resetting all settings. When the reset is finished, it reboots on its own.
By then you can start re-enabling necessary features and set default apps and preferences.
Still cannot log into your iPhone's Messenger account?
Performing the above solutions is usually enough to rectify random glitches that caused login errors in the iOS Messenger app. If the error continues, try these additional workarounds.
1. Manage app restrictions.
If Screen Time is enabled on your device, verify and ensure that the Messenger app is not restricted. To do this, you will need to access the Content & Privacy restrictions settings and view the list of Allowed apps.
2. Log into Messenger via web browser.
To determine whether or not it's an isolated issue with the Messenger app, try to log into your Messenger account through a web browser.
You can also try logging into your Messenger account via Facebook app.
If you still can't login, close the browser and then clear its cache and cookies. After clearing the browser cache, retry logging into your Messenger account.
3. Check Facebook Messenger (meta) server status.
Online apps and services may sometimes become unavailable due to unexpected technical difficulties transpiring on the main server. Usually you'll get a message saying that the service is currently down for maintenance or something similar.
Should this be the case, there's not much that can be done on your end but to wait until the Facebook Messenger app server is back up and running.
Seek More Help
If nothing else works and login still fails on both the web and iOS platforms, escalate the problem to Facebook Messenger support for further assistance. Your account might have been breached or hacked. If that's the case, it's possible that your account credentials, particularly the password has been altered.
Hope this helps!
Please check out our YouTube channelto view more tutorial and troubleshooting videos for popular iOS and Android devices.
You Might Also Want To Read: