This post will walk you through configuring a Samsung Galaxy phone to automatically mute sounds for a certain period of time. Here's a quick guide to enable temporary mute on Galaxy s22 and other Samsung phones running on Android 12 with One UI 4.1 OS version.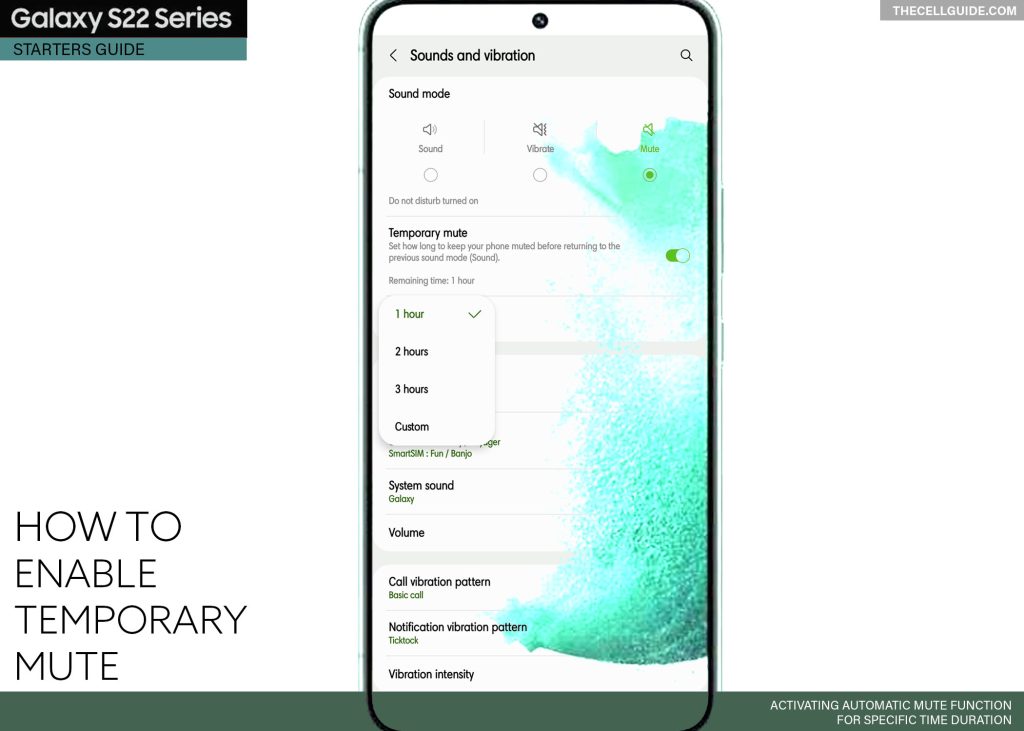 What is Temporary Mute and how does it work?
A typical way to avoid disturbances from smartphone alerts and notifications is to put the phone on mute or vibrate mode. When the phone is in vibration mode, it only vibrates for incoming calls and messages. When it's muted, you won't hear any ring alerts for incoming calls and messages at all. While this indeed meets your demand of avoiding sound interruptions, there are times that you would forget to put the phone back on ring mode. Eventually, this could result in missing some important calls and messages.
As an alternative solution, Do Not Disturb mode is created. With the DND feature enabled, sound notifications are disabled even when the device is in ring mode.
When Android Oreo was rolled out, another relevant sound feature was added. And that feature is called Temporary Mute.
With Temporary Mute, you can put your device on mute mode for several minutes or hours. After the elapsed time, the phone will automatically switch back to ring mode or vibrate.
If you're new to the Android platform and need some input on how to access and activate this feature on your Samsung Galaxy S22, you can refer to the step-by-step walkthrough as follows.
Steps to Enable Temporary Mute on Galaxy S22
Samsung phones are equipped with many advanced sound features including the one that automatically puts the device in silent mode for a specific time duration. Such a feature is called Temporary Mute.
Similar to Do Not Disturb, the Temporary Mute feature is disabled by default and therefore requires manual activation and configuration of the default options.
Performing the following steps will activate the One UI 4.1 auto-mute feature, putting your device in silent mode (mute) for a specific time duration. These steps are based on the updated interface of the Galaxy S22 series but also applicable when activating the same sound feature on other Samsung Galaxy phones running on Android 12 with One UI 4.1 OS version.
Feel free to start whenever you're all set to configure your device.
Step 1: Open the Settings app to get started. Just find and then tap the Gear icon from the Home screen or Apps tray of your phone.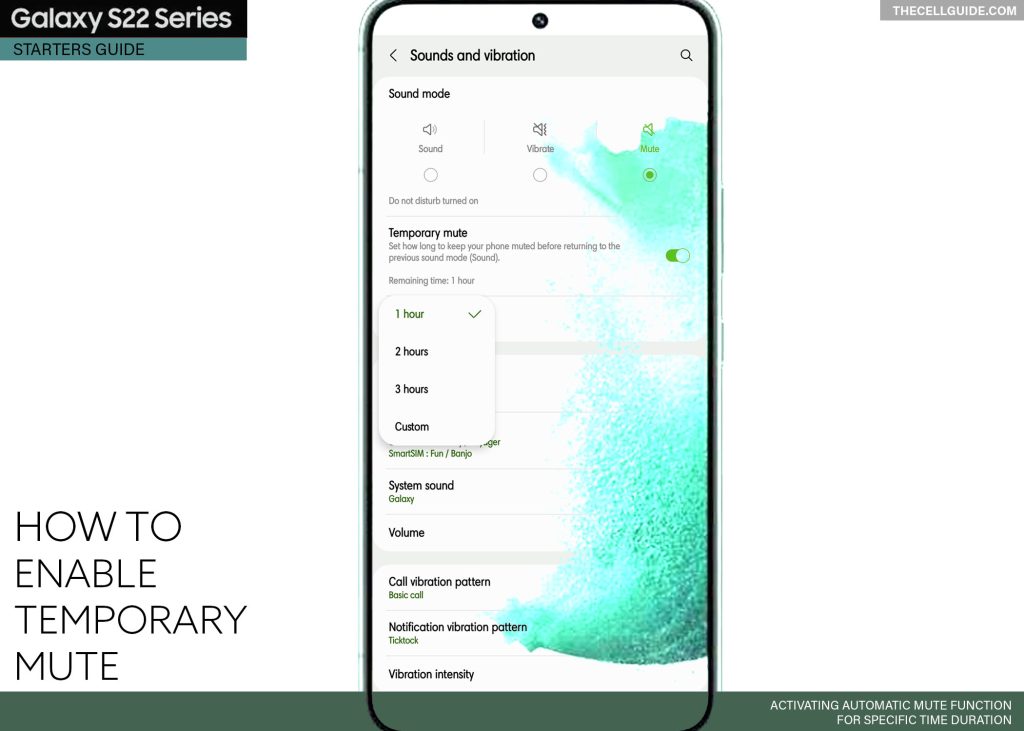 Step 2: While in the settings menu, find then tap Sounds and vibration.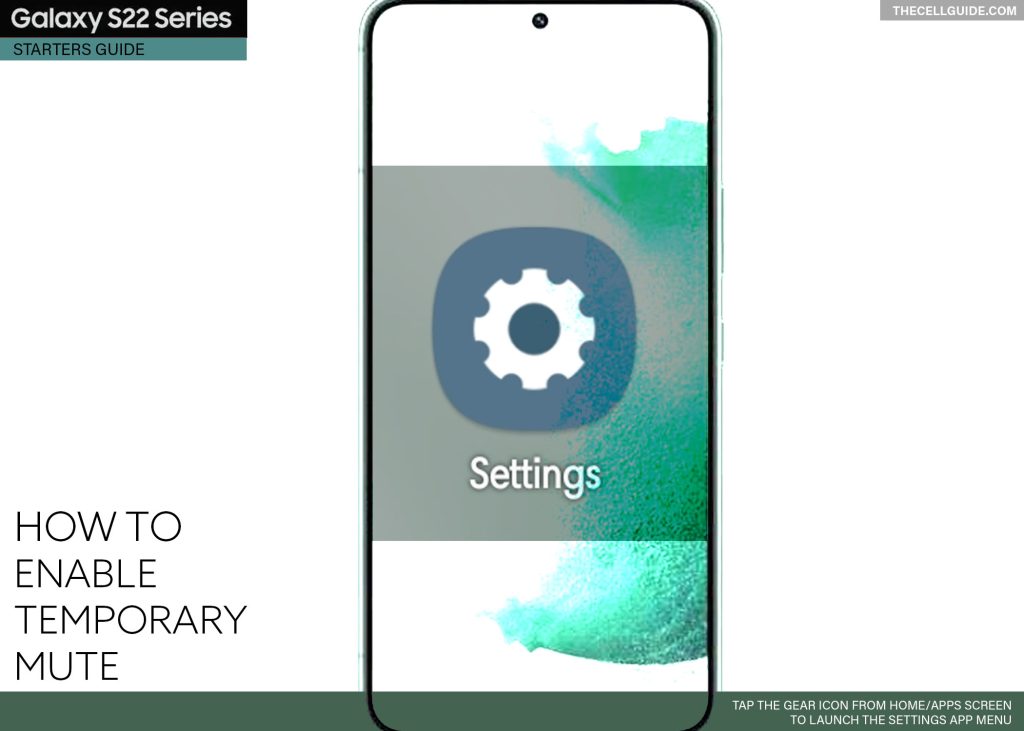 Step 3: On the succeeding screen, tap to select Mute under Sound mode. Enabling the Mute switch will unlock the Temporary mute option.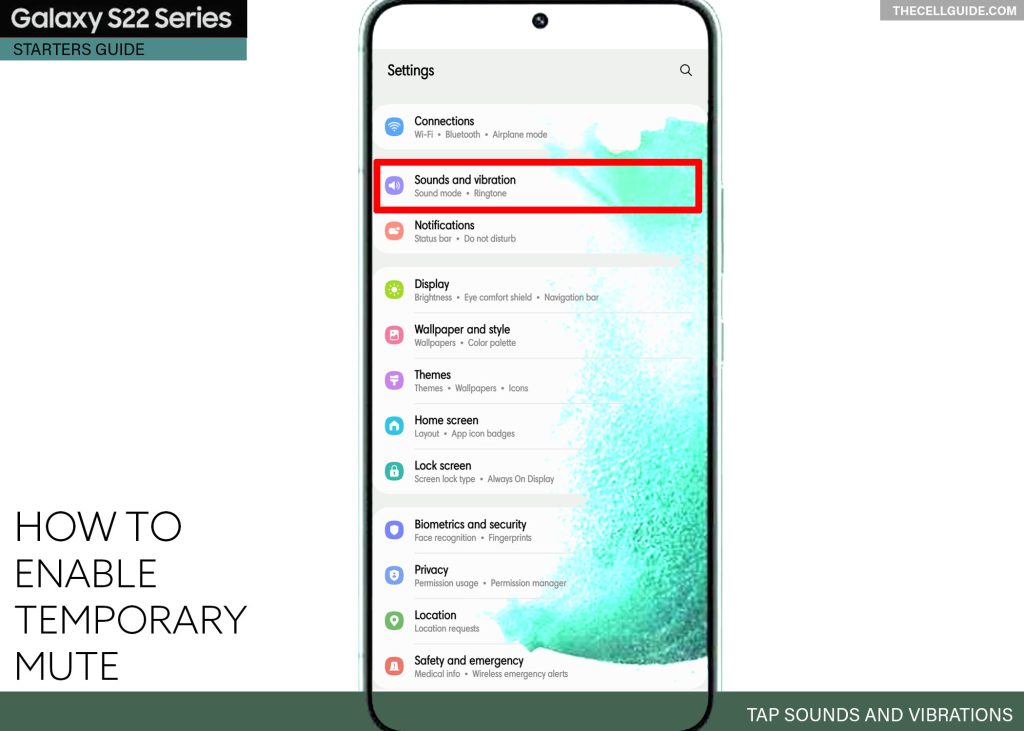 Step 4: To continue, turn on the Temporary mute switch. Doing so activates the inbuilt sound feature that allows you to set a specific period of time for your device to stay muted before switching back to sound mode.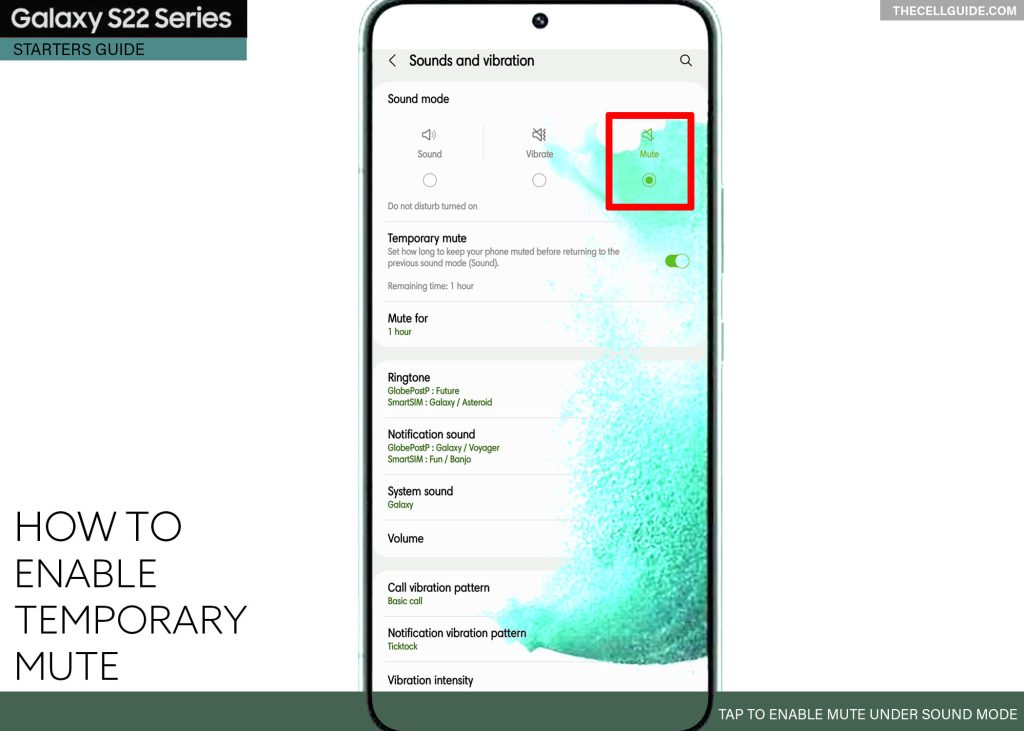 Step 5: To customize Muting Time, tap Mute for and then set the number of hours you'd like your phone to be muted.
Among the given time duration are 1 hour, 2 hours and 3 hours.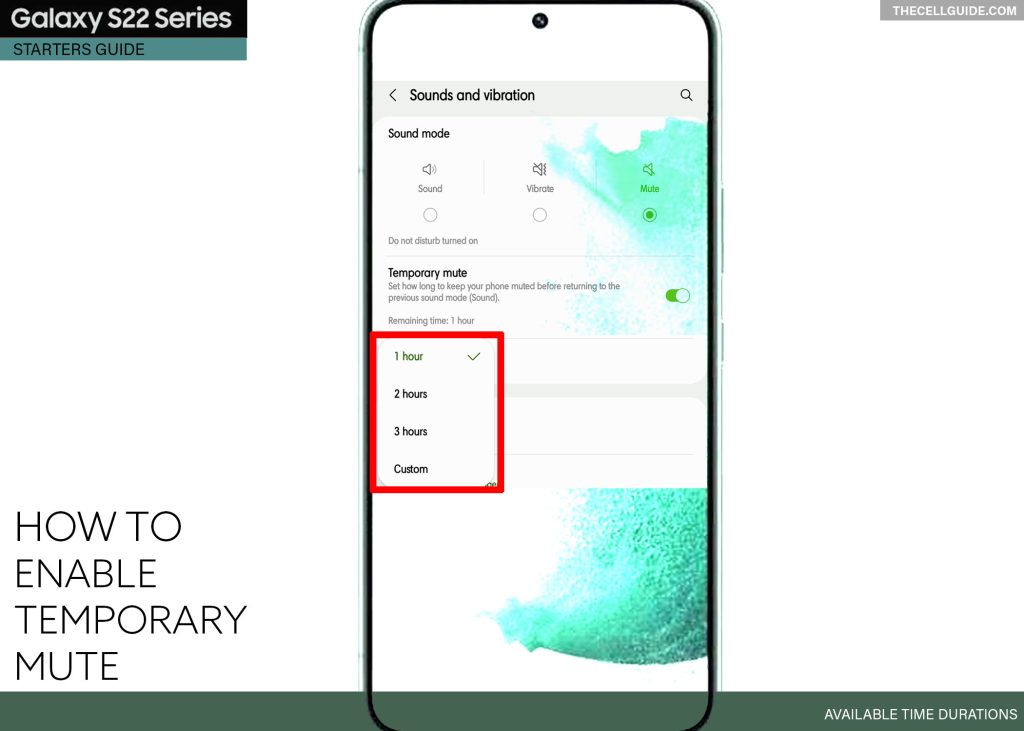 Step 6: You can also set a custom time if you'd like to mute your phone for a specific time duration. Just tap Custom to open the scheduler and then follow the rest of the onscreen instructions to set your own preferred mute time.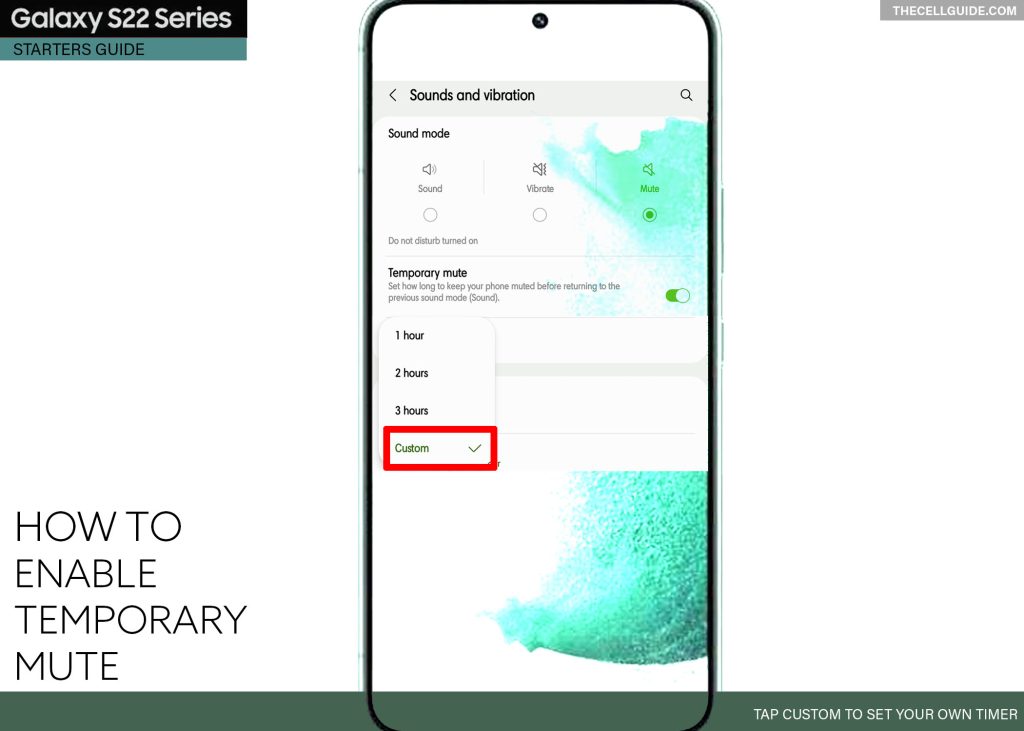 After adjusting the time and minute field, tap Done to apply the recent changes. The phone will be temporarily mute by then.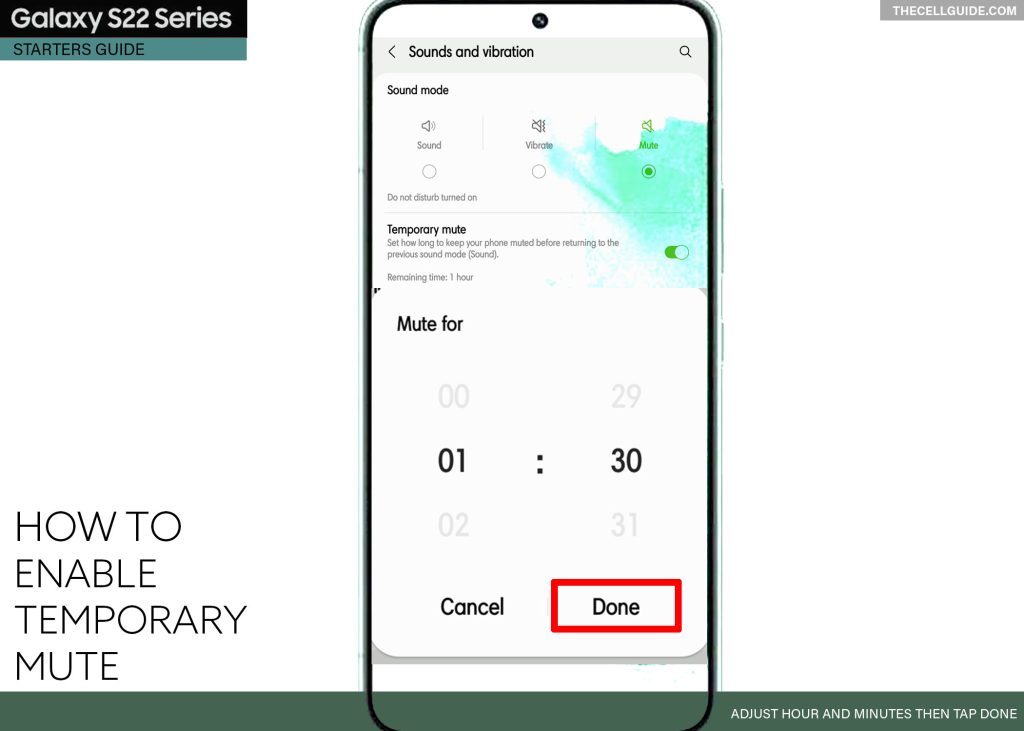 The Mute option will now be selected and your specified time duration alongside it.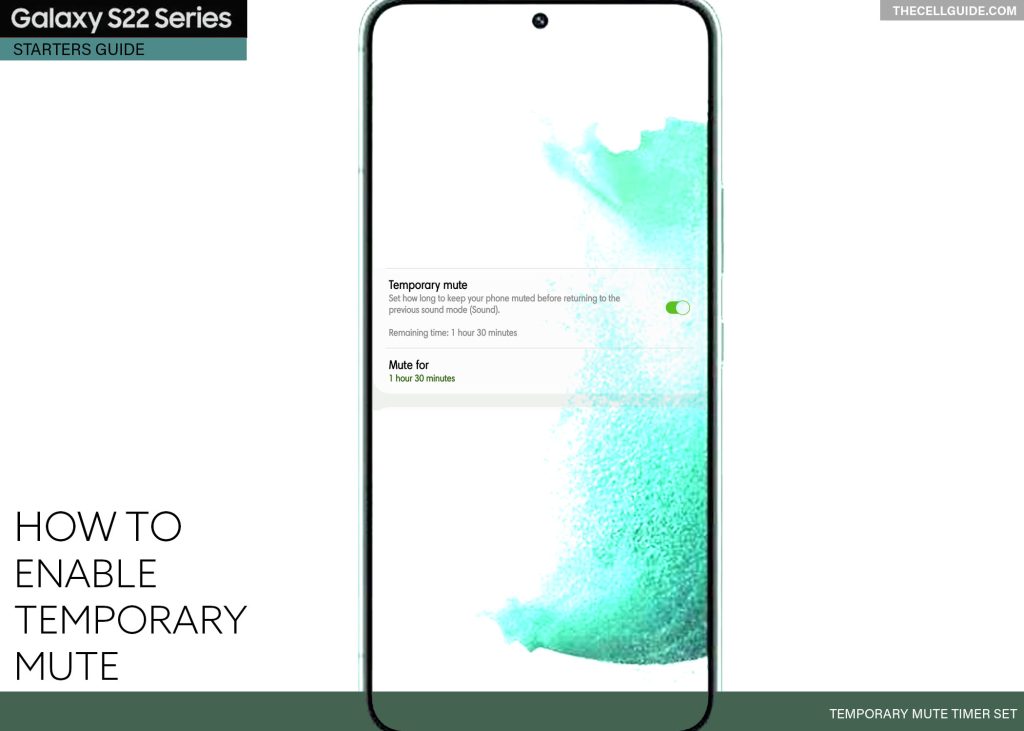 It will count down like a timer so you can always check how long the temporary mute feature is activated.
The countdown timer is typically found beneath the Temporary Mute section. This gives you a hint of how long your device would stay silent until it switches back to the previous sound mode.
Again, your phone will automatically switch back to sound or vibrate mode after the elapsed time. When that happens, expect to hear your phone ring for incoming calls and messages, unless you've previously set it to vibrate.
Temporary Mute works as a great alternative to the Do Not Disturb mode but simpler to configure than the latter.
Other Ways To Silence your Samsung Phone
You can also silence your phone by lowering the volume level. Just press the volume keys to adjust the audio of your device. You can also use the Volume slider for adjusting audio of your phone.
Creating a Bixby routine to silence the phone is also another option. To do this, you will need to create a routine that would enable Mute mode with a single tap on your own custom icon or shortcut control.
You can also make use of the Motions and gestures feature called Mute with gestures. Enabling this feature will allow you to mute incoming calls and alarms by putting your hand over the screen or turning your phone face down.
Hope this helps!
Please check out our YouTube channelto view more tutorial and troubleshooting videos for popular iOS and Android devices.
You Might Also Want To Read: