This post will walk you through activating a built-in eye safety feature that works the same as Blue Light Filter on the new Samsung Galaxy Z Flip phone. Here's a quick guide to enable eye comfort shield on the Galaxy Z Flip4 device.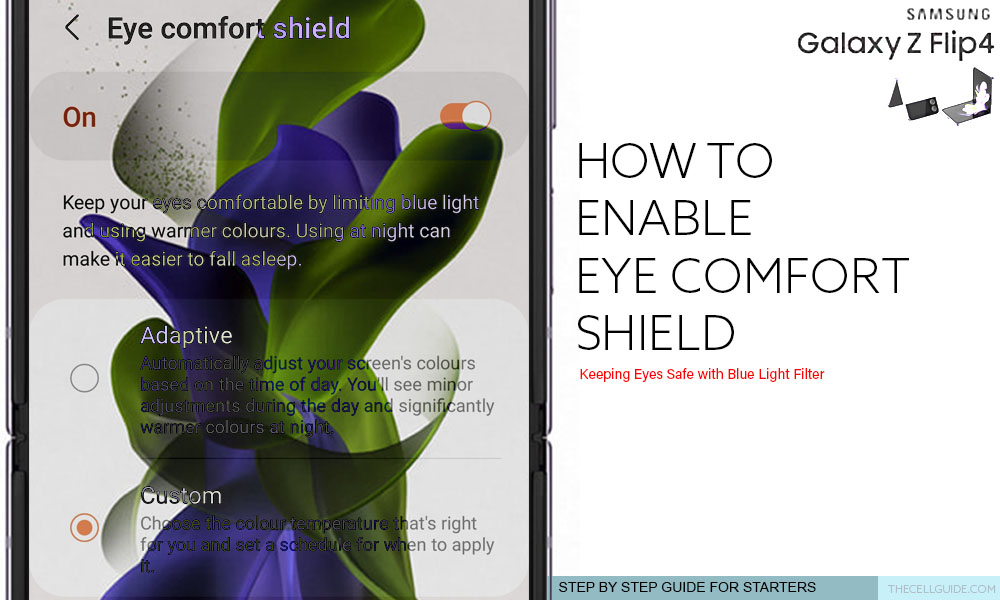 Samsung Eye Comfort Shield
Modern Samsung Galaxy smartphones including the recently released Galaxy Z Flip phone comes with a number of useful features that are designed to render safety and protection to individual users. One of these features is the so-called eye comfort shield, formerly known as regular blue light filter in earlier Samsung Galaxy models.
When enabled, your phone limits blue light emission from the display using warm colors to keep your eyes comfortable.
Enabling this feature is highly recommended when using the phone at night as it helps you fall asleep easier.
Similar to other Galaxy phones, enabling the eye comfort shield on the Galaxy Z Flip 4 can be carried out in different methods, particularly via quick settings panel and using the display settings.
Depicted below is a step by step process on how to enable and manage this feature on the Flip4 device. Feel free to refer to this guide whenever you need help using this setting.
Different Ways to Enable Eye Comfort Shield on Samsung Galaxy Z Flip4
As mentioned earlier, you can activate this feature using the quick settings panel or through the display settings menu of the phone.
Just follow the outlined steps below whenever you're all set to begin.
A. Enabling Eye Comfort Shield through Quick Panel
Step 1: To get started, access the quick settings panel. Just use your two fingers to swipe down from the top of the home screen to launch the quick settings panel.
Step 2: While on the quick settings panel, swipe left or right to locate the Eye Comfort Shield icon then tap on it to enable the feature.
Step 3: Should you wish to access the Eye Comfort Shield settings menu where you can adjust some options, tap Details.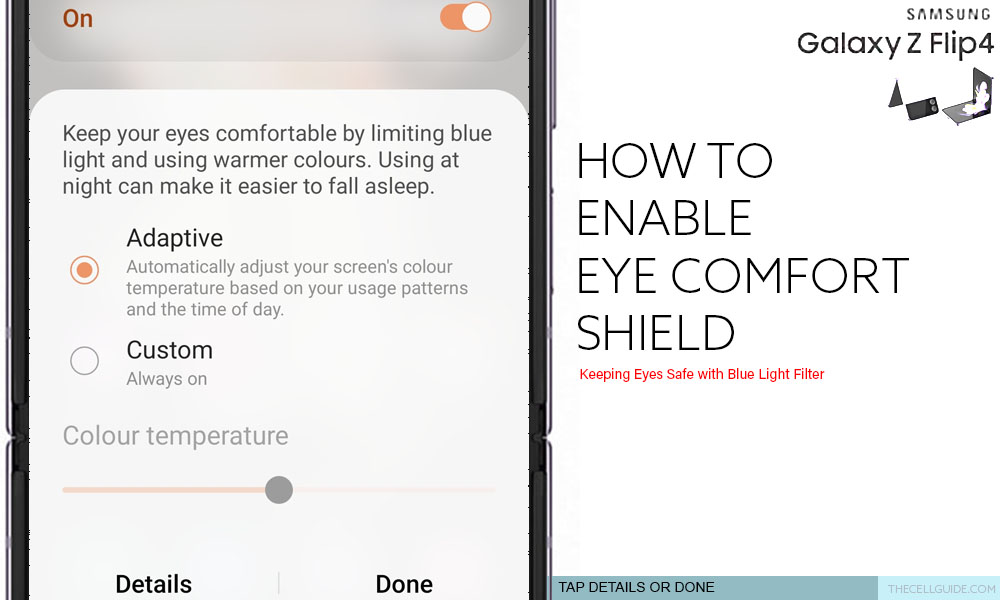 Step 4: Make necessary adjustments to the Eye comfort shield settings then tap Done to apply changes.
The icon turns blue when it's turned on. Otherwise, it will appear gray.

B. Enabling Eye Comfort Shield through Display Settings
Step 1: To get started, tap the Settings icon from the Home screen or Apps tray of your phone. Doing so will take you to the main settings app menu.
Step 2: In the Settings menu, scroll to find and then tap Display. Another screen launches with a list of all display features and relevant options you can manage.
Step 3: Turn on the Eye Comfort Shield switch by tapping on it. Doing so activates the feature using the default settings that is, Adaptive.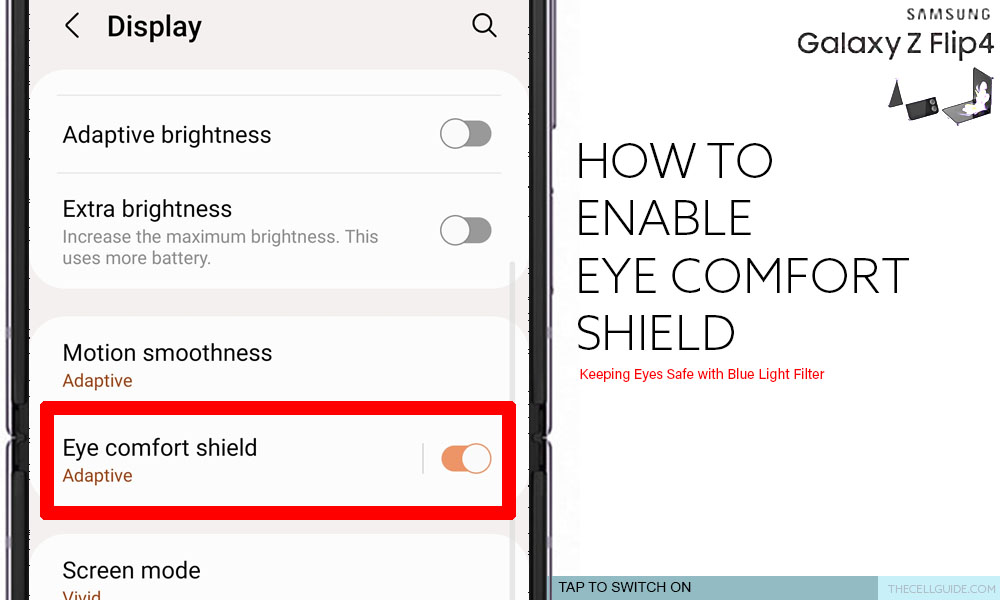 Step 4: To manage or change the Eye Comfort Shield Settings, tap Eye comfort shield from the Display menu then choose between Adaptive and Custom.
If you select Adaptive (default), the phone will automatically adjust the color of the screen based on the time of the day. Screen colors are significantly warmer at night.
Step 5: If you want to set a custom temperature, just tap Custom then drag the Color temperature slider left or right accordingly.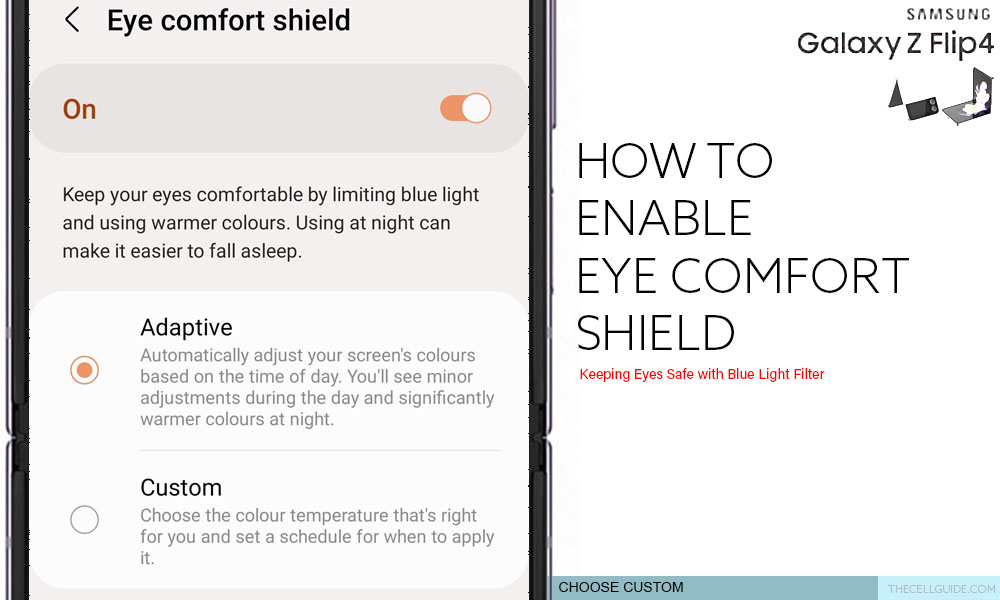 Step 6: You can also set a schedule for when you'd like the phone to activate the display settings. To do this, simply tap Set schedule then select your preferred time.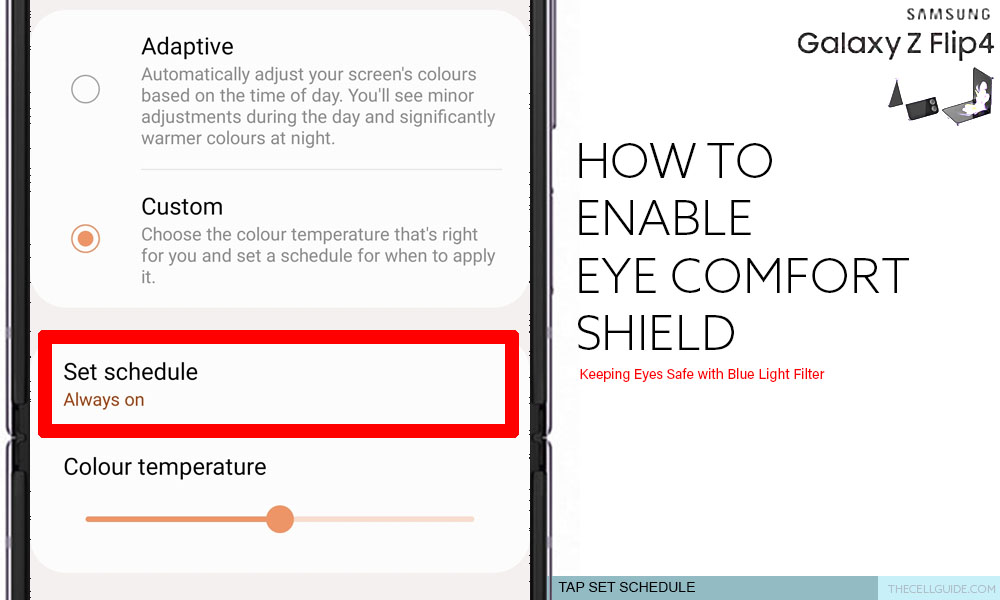 Step 7: Among the given options are Always on, Sunset to sunrise and Custom schedule. Just tap to mark your preferred option.
Step 8: Choose Custom if you want to set a specific Start time and End time for the Eye Comfort Shield feature to enable and disable automatically on your device.
Step 9: After making all necessary changes, tap Done.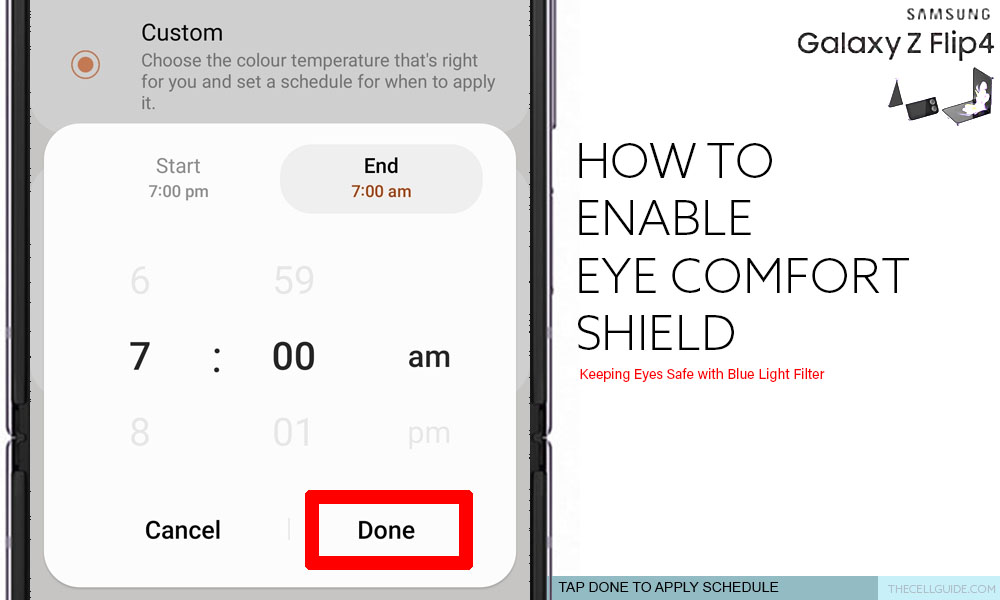 With this setting enabled, expect your device to automatically activate the eye comfort shield feature during the specified start time and turn it off during the set end time.
Hint:
You will notice the changes as your phone's screen color suddenly becomes warmer than usual.
If you don't find the need to use this feature, you can always disable it again using the same steps to access the display settings or quick settings panel then tap to turn the Eye comfort shield OFF.
Cannot Activate Eye Comfort Shield?
The Eye comfort shield or Blue light filter may not be available if the color adjustment or color inversion option is enabled in the Accessibility settings menu.
To ensure that this isn't causing an issue, navigate to your phone's Settings-> Accessibility-> Visibility Enhancements menu then toggle to turn the Color inversion switch OFF.
If you're using a color filter, tap Add color filter in the Visibility Enhancements menu then tap the switch at the top to disable the feature.
Turning off the color adjust settings may also help.
To do so, just tap Color adjustment or Color correction in the Visibility enhancements menu then turn the switch to disable the feature.
After disabling all these visibility enhancement options, retry heading back to your display settings and see if the Eye comfort shield is already available.
Hope this helps!
Please check out our YouTube channelto view more tutorial and troubleshooting videos for popular iOS and Android devices.
You Might Also Want To Read: