This post will walk you through activating a security feature on the Galaxy Z Flip 4 Play Store app to prevent any unauthorized app purchases. Here's a quick guide to enable biometric authentication for Play Store purchases on Samsung Galaxy Z Flip4.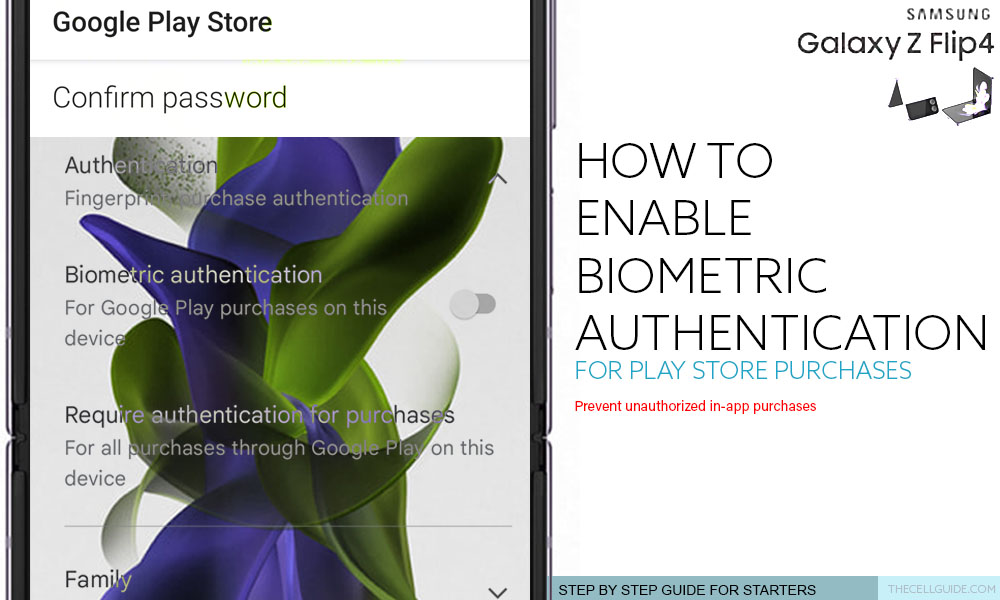 Google Play Store In-Purchases Authentication
The Play Store app has a security feature that you can use to prevent any unauthorized or accidental purchases on your Android device from games and apps that are offered outside of the Family section. Such a feature is called biometric authentication.
When enabled, your device, particularly the Play Store app will ask you to enter the correct password in order to make a purchase. In order to utilize this feature, it has to be enabled on your Google Play Store account beforehand.
If you're new to Android smartphones and need some input on how to access and activate this feature on the newest Samsung Galaxy Z flip series, you can make this post a reference.
Steps to Enable Biometric Authentication for Play Store Purchases on Galaxy Z Flip4
Outlined below is the actual process of configuring the Play Store account settings on the Galaxy Z Flip 4 smartphone to secure future purchases with biometric authentication.
Feel free to start whenever you're all set to configure your Play Store account's security settings.
Step 1: Open the Google Play Store app to get started. Just look for the Play Store icon from the Home screen or Apps screen then tap on it to launch the app.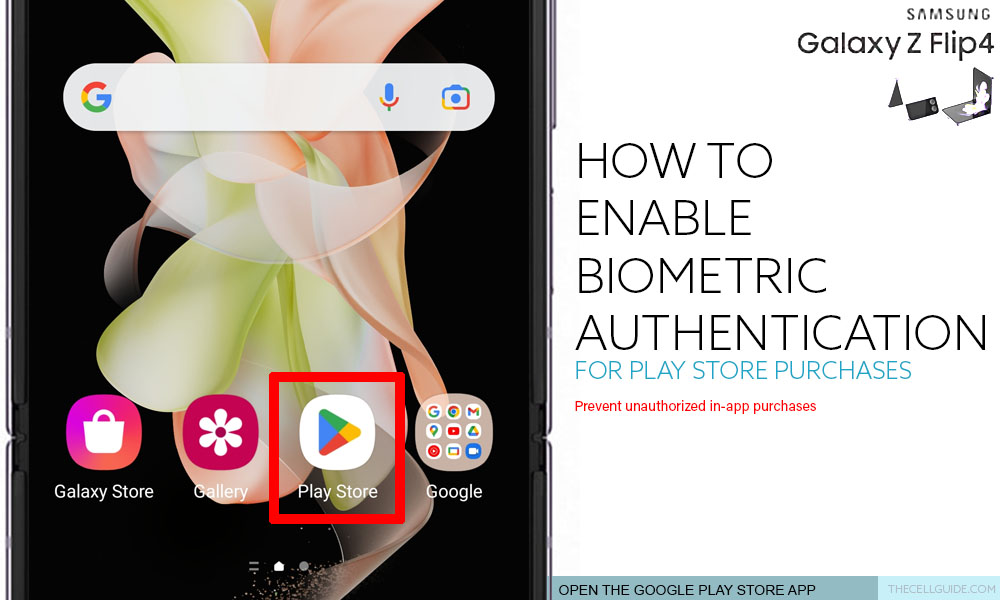 Step 2: In the Play Store app's main screen, tap on your account profile icon located on the top-right corner. A menu opens with a list of options for your account.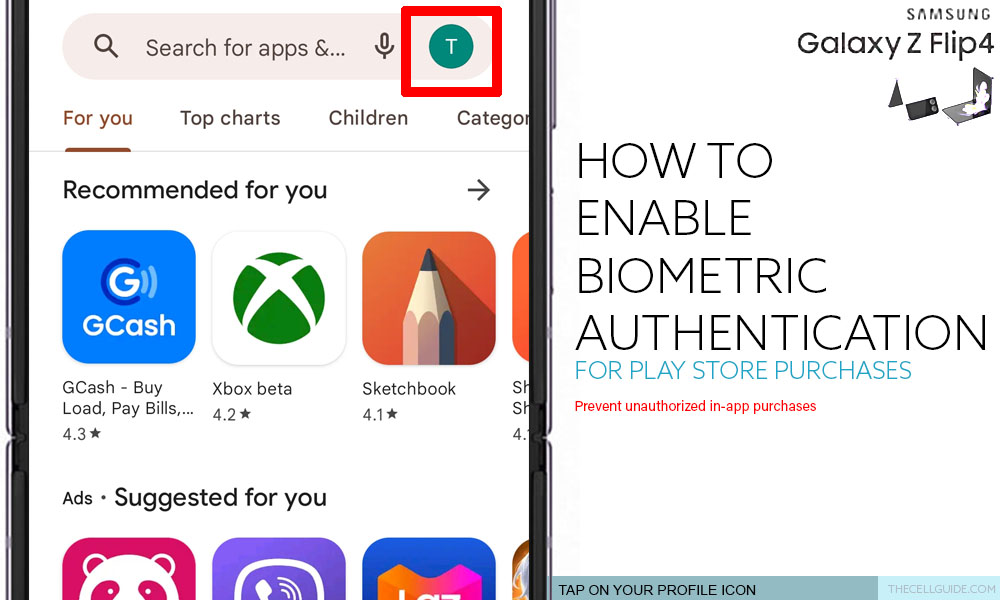 Step 3: Scroll down then tap Settings from the given options to proceed. Your Play Store account settings will load up on the next menu.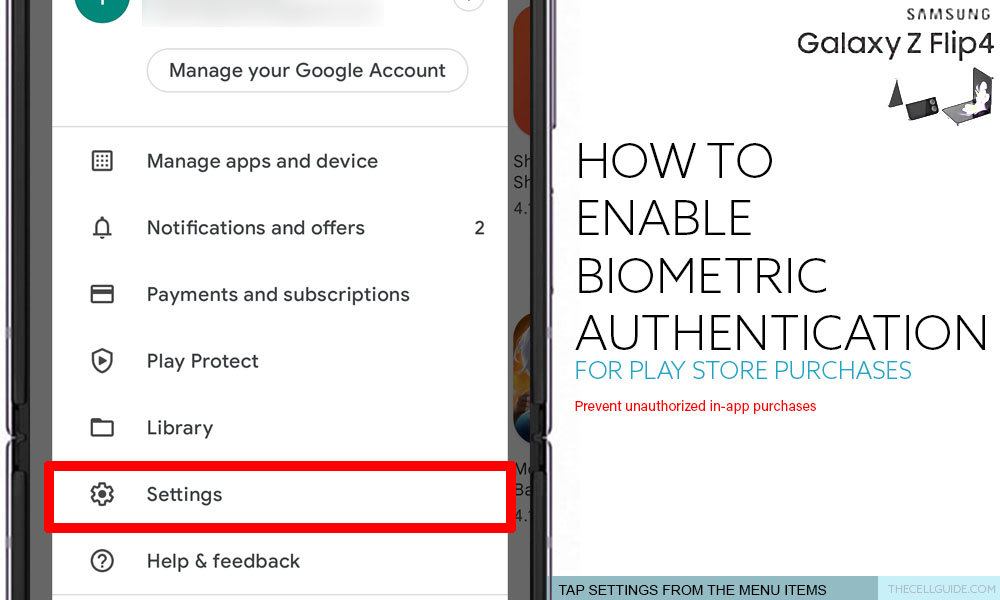 Step 4: To continue, tap Authentication. A drop-down menu opens with a list of sub-menu items.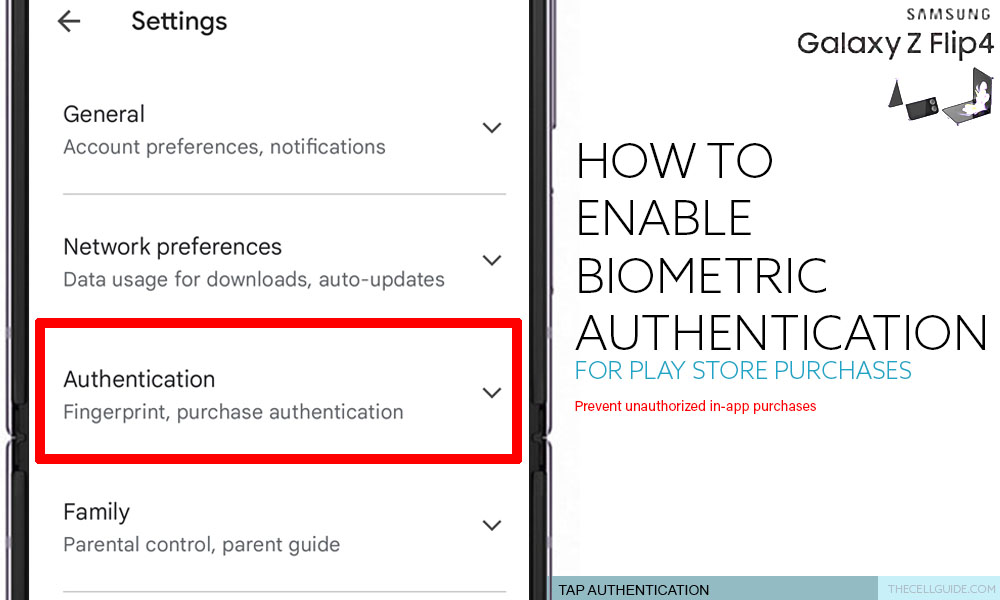 Step 5: Tap Biometric authentication to set up one for Google Play purchases on this device.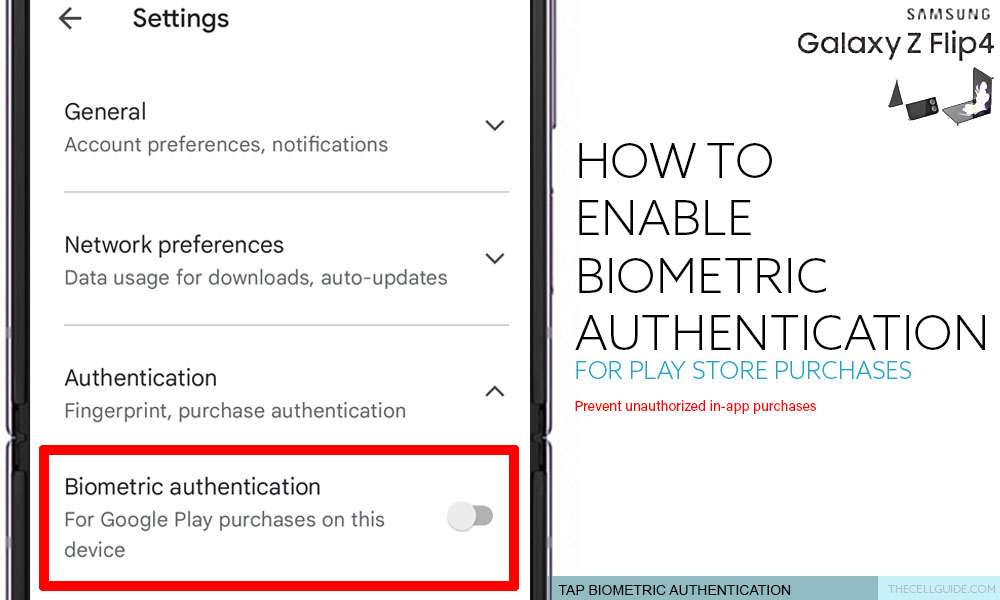 Enter your Google Play Store account password on the following screen then tap OK to confirm then follow the rest of the onscreen prompts to finish setting up biometric authentication on your device.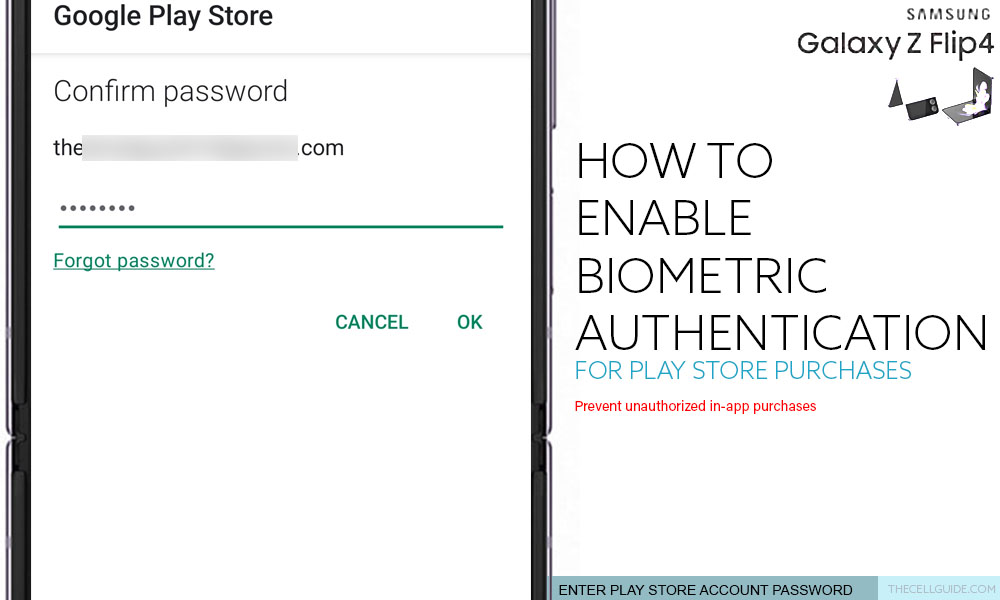 The above steps are also applicable when setting up biometric authentication on the Play Store app on other Samsung Galaxy phones running on the same Android with One UI OS version. Just ensure that you're signed into the correct Google account on your device.
What happens when Biometric Authentication is enabled on Google Play Store?
With this feature enabled, you'll get a message prompt saying, "Authentication is required" when trying to download certain apps or games from the Google Play Store. Just enter the requested authentication data such as face recognition, fingerprint recognition or password to download content or authorize in app purchases on your Android phone.
Does this setting apply to all your Android devices?
Please note that authentication settings only apply to the current account that's signed in on the device. This means that if you use your Google account on your other Android devices, you will need to enable biometric authentication for each device. Just repeat the same steps to launch your account settings on the Play Store app then follow the rest of the onscreen instructions to activate and set up biometric authentication on the device.
Need to change Play Store authentication settings?
Should you wish to change your authentication settings, be sure to provide the correct password for your Google account. If you don't remember your password, you can use Google's password recovery tool to reset your old password and create a new one.

Having problem with Play Store after changing the settings?
Like any other apps, the Google Play Store app may also succumb to some random in-app glitches that may result in atypical app behaviors and unexpected errors. To deal with minor problems like this, restarting the Play Store app is recommended.
If the problem continues after restarting the app, clearing cache from the Play Store app can be considered among the next potential solutions. Signing out from your Google Play Store account and logging back in can also help fix the problem should it be associated with account settings conflicts.
Hope this helps!
Please check out our YouTube channelto view more tutorial and troubleshooting videos for popular iOS and Android devices.
You Might Also Want To Read: