This post will walk you through setting up a lock screen security on the recently released Samsung Galaxy Z Flip smartphone. Here's a quick guide to set up PIN, pattern and password security on the Galaxy Z Flip4.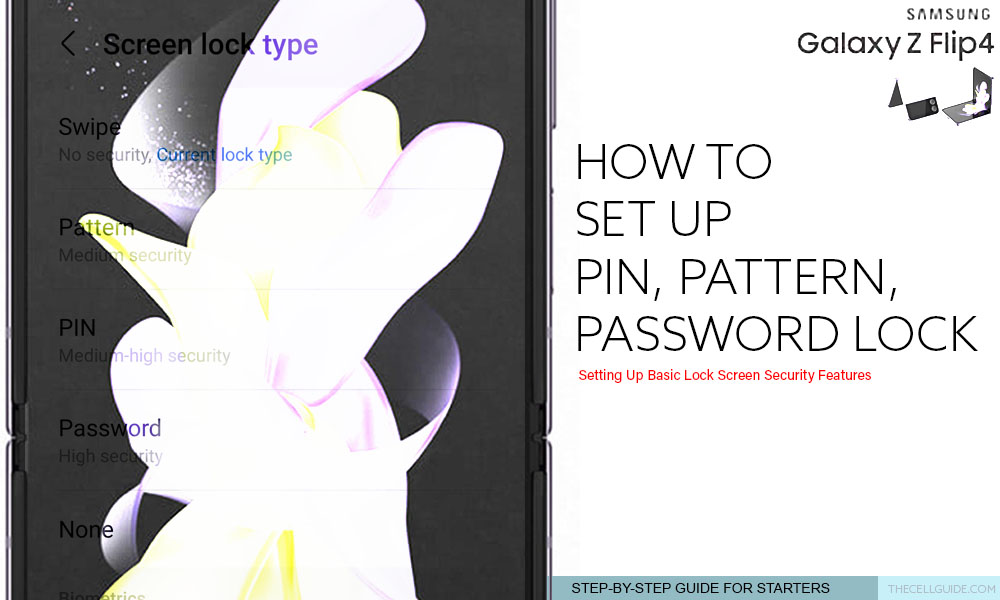 Samsung Screen Lock Types
Setting up a screen lock is one of the first things that you should do when you get a hold of a new smartphone. This is highly recommended to safeguard all your important information stored on the device, and thereby keeping it protected and private.
Every Samsung phone comes with a few different screen lock types that you can use to secure it. Among these are the basic screen lock types such as PIN, pattern, and password. More advanced security features also known as biometrics security are also available including fingerprint identification and face recognition. Using these advanced smart lock features would make it even harder for anyone to access your device.
Depicted below is a step-by-step guide on how to set up a basic phone lock screen on the new Samsung Galaxy Z Flip4 device.
You can refer to this guide if you need help ensuring your phone's security using a unique password, PIN or pattern.
Steps to Set Up PIN, Pattern, and Password Security on Samsung Galaxy Z Flip4
By default, the current lock type on the Galaxy Z Flip4 is set to swipe. This means that the phone has no security at all since it can easily be accessed by swiping the screen.
To change the default lock type, just follow these outlined steps.
Step 1: To get started, access the Settings app menu by tapping on the Settings icon from the Home screen or Apps screen. You can also launch the Settings menu using the settings app's shortcut control from the quick panel of your phone.
Step 2: While in the main settings menu, find and then tap Lock screen. The Lock screen menu opens next with a list of relevant options.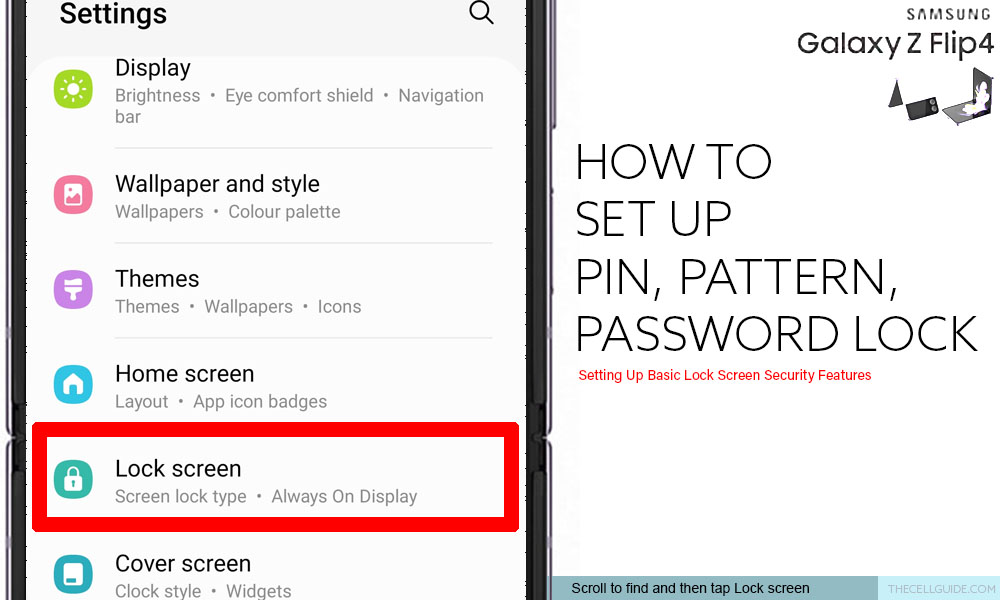 Step 3: To continue, tap Screen lock type.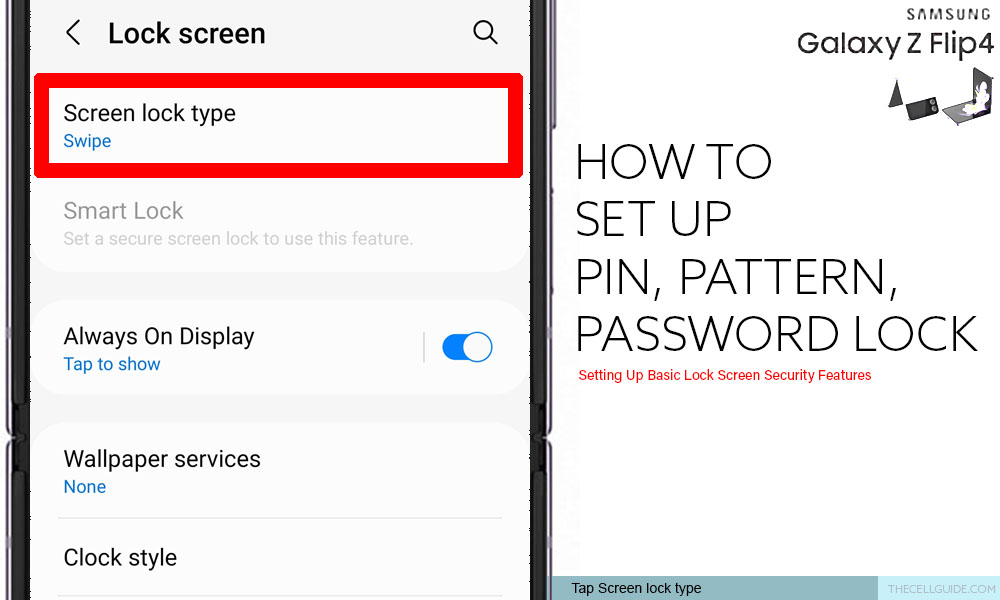 Step 4: On the succeeding menu, you will see a list of all available screen lock options including the default Swipe, Pattern, PIN, Password and Biometrics security.
Pattern Lock (Medium Security)
If you're all good with medium security, you can use a pattern. If you choose a pattern for your lock screen security, you will need to create a pattern that you draw on the screen to unlock the device.
To set up a lock screen pattern, tap Pattern then draw your unlock pattern on the next screen. After drawing your pattern, tap Next. On the following screen, draw the same pattern to confirm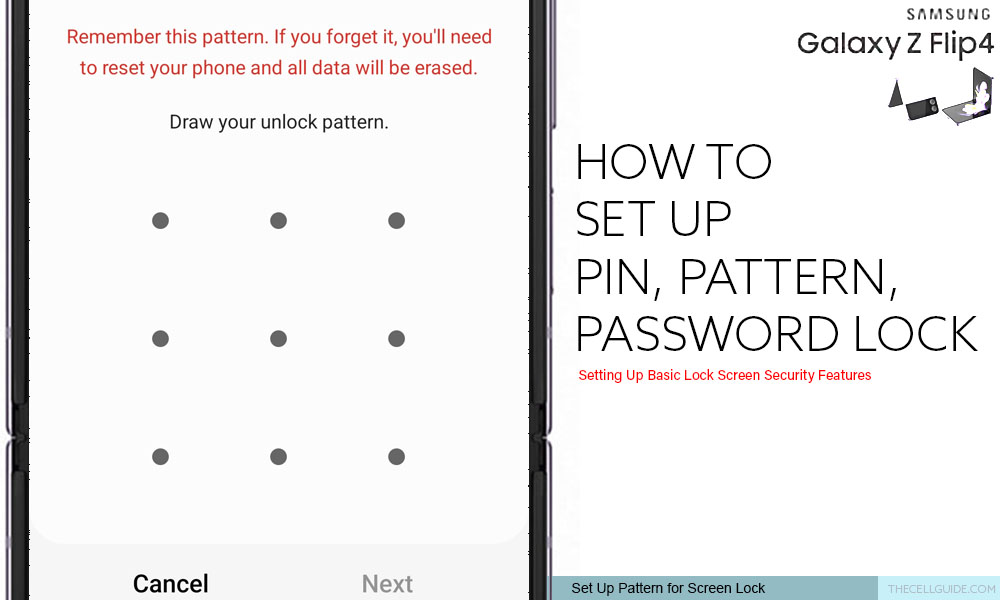 PIN Lock (Medium-high Security)
If you're okay with a medium-high security, you can use a PIN. To set up a PIN, tap PIN then enter a 4 or 6-digit unique PIN. If you want your phone to confirm entered PIN without having to tap OK, mark the radio button before Confirm PIN without tapping OK then tap Continue. Re-enter the same PIN on the next screen to confirm.
Password Lock (High Security)
For high-security lock, choose Password then enter a unique password of at least 4 characters including at least 1 letter. For an even higher security, use an alphanumeric password that's easier for you to remember but difficult for others to guess. On the next screen, re-enter your password to confirm.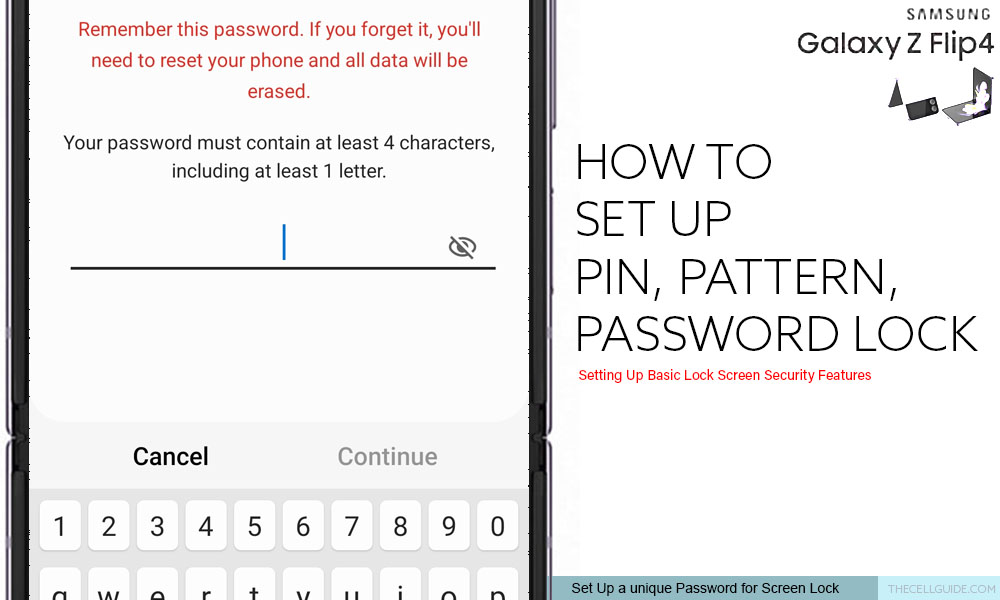 Test Unlock Samsung Galaxy Z Flip4
To check and see if your recently set up lock screen security works as intended, press the Side/Power key to unlock your phone and then press it again to unlock. Enter your unlock pattern, PIN or password and see if it goes through.
Be sure to enter the correct PIN, pattern or password to prevent your device from being locked out. If that happens, the only way to remove the screen lock security and access your device is to wipe it completely. This denotes performing a master reset (factory reset Samsung Galaxy) Z Flip4 via Android recovery mode or using a third-party Android recovery software.
Secure Device with Biometrics Unlock!
Now that you've already set up a lock screen pattern, PIN or password, you're all set to add biometrics security such as face unlock and fingerprint unlock. This is highly recommended to further augment security on your device.
The above procedure is also applicable when setting up lock screen security on other Samsung phones that have the same software version with that of the Galaxy Z Flip4 that is, Android 12 with One UI 4.1.1.
However, there may be some slight differences on every device's user interface given that actual screens and menu items may likewise vary between device models and carriers.
You can always change or edit your phone's lock screen PIN, pattern or password when needed.
Just repeat the same steps to head back to the Lock screen settings menu where you can view and manage your phone's current lock screen security type.
More Lock Screen Settings
Newer Samsung phones also offer extra protection through secure lock settings like an automatic screen lock when the device is idle for quite some time already. This feature can likewise be accessed and managed through the phone' Settings-> Lock screen menu. Just look for Secure lock settings then enter your current lock screen credentials to enable your desired secure lock settings.
You may opt to make your pattern visible, lock the screen instantly with the Side key or instigate automatic factory data reset after 15 incorrect attempts of unlocking your device.
Other features such as lock network and security, auto lock when screen turns off and show lockdown options are also available.
Hope this helps!
Please check out our YouTube channelto view more tutorial and troubleshooting videos for popular iOS and Android devices.
You Might Also Want To Read: