This post will walk you through registering a fingerprint for the Galaxy Z Flip4 Biometrics security. Here's a quick guide to set up fingerprint security on Galaxy Z Flip 4.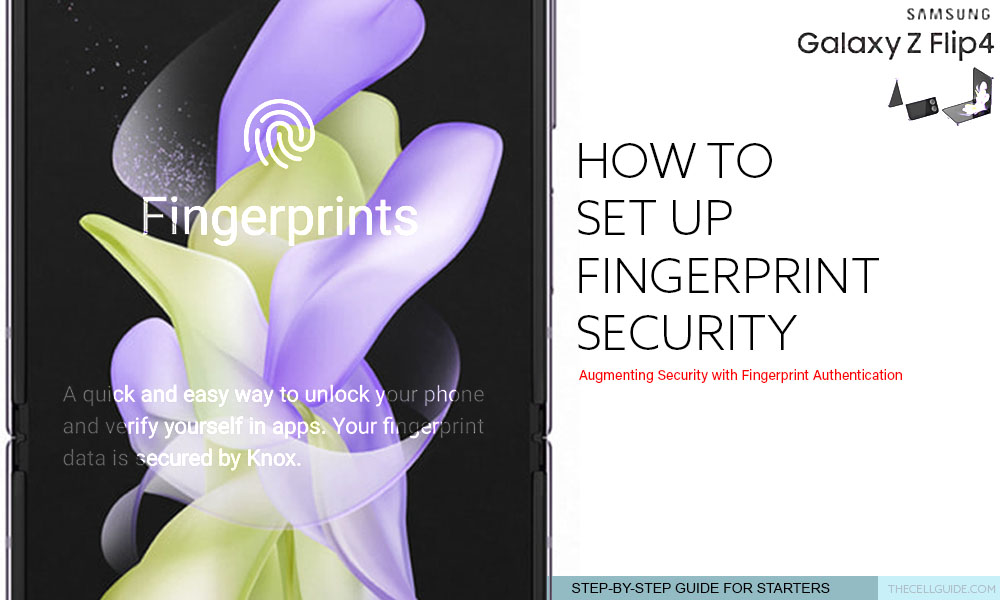 Flip4 Fingerprint Security
Recent Samsung phones are entrenched with ultrasonic fingerprint sensors or fingerprint recognition system. In some models, the fingerprint sensor is installed on the display (in-display fingerprint sensor) while others have it on the Side key.
Such is a biometric authentication feature that augments security on your Samsung Galaxy phone. Aside from augmented security, fingerprint authentication can also speed up the typical process of account logins and authentications procedures including Samsung Pay transactions.
In order to set up your fingerprint, your phone has to have the basic lock screen type set up beforehand because your device will ask you to enter your PIN, pattern or password before you can proceed with the fingerprint registration.
The fingerprint scanner on Samsung Galaxy Z Flip series including the newest Z Flip4 is located on the Side/Power key. So that's where you should position your finger to add it.
If you're new to this device and need some input on how to set up fingerprint security on it, then you can refer to this simplified guide.
Steps to Add/Set Up Fingerprint Security on Galaxy Z Flip4
Before you begin, remove any protective casing or cover from your phone as it may obstruct the fingerprint scanning process, considering the location of the scanner. You can install it back as soon as you're done scanning and setting up your fingerprint by then.
Once you've got everything set, you may go ahead and proceed with these steps:
Step 1: To get started, tap the Settings icon from the Home screen or Apps screen to launch the settings app on your phone.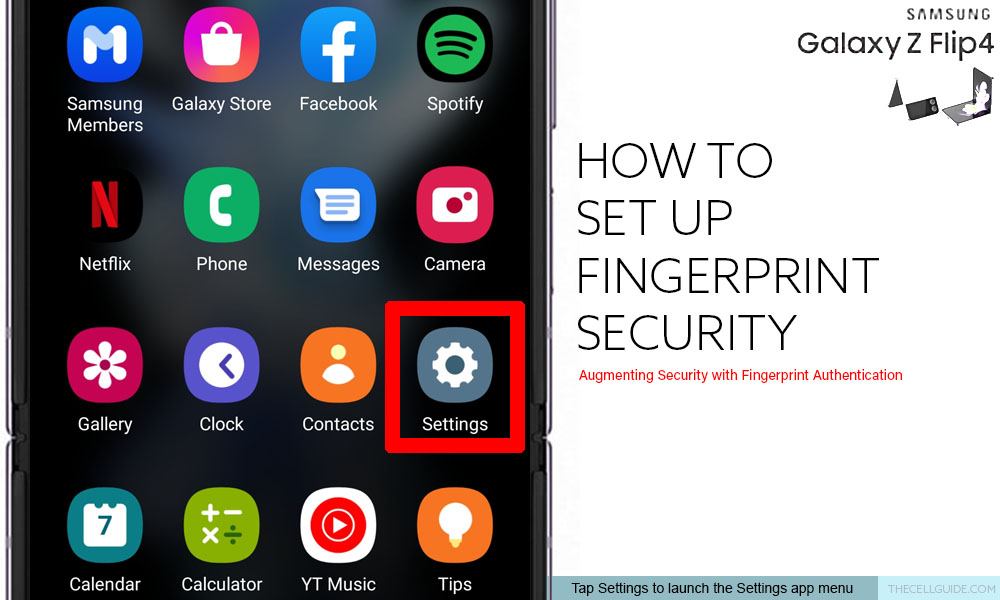 Step 2: From the Settings menu, scroll to find and then tap Biometrics and security.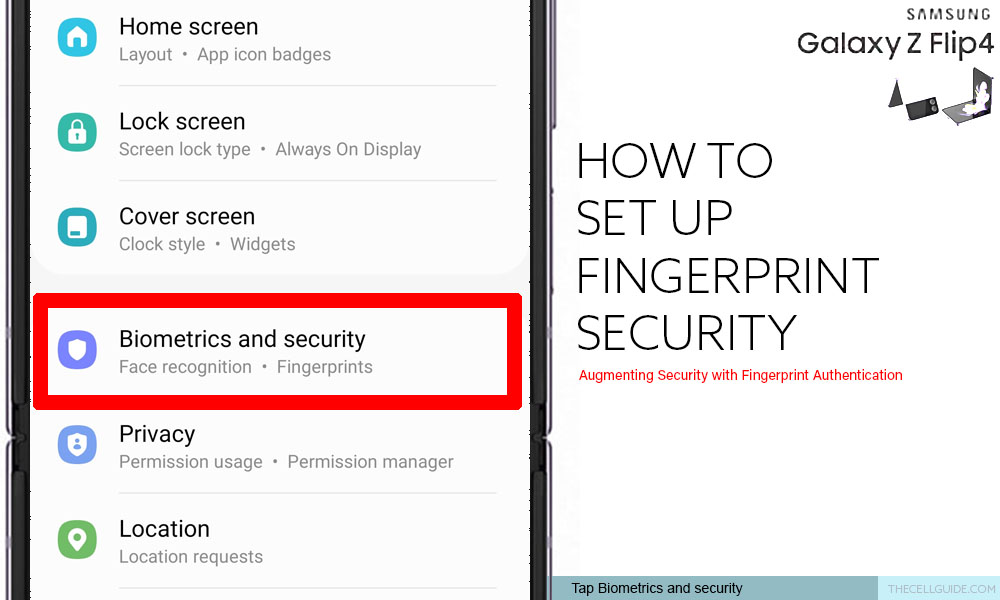 Step 3: On the following screen, tap Fingerprints.
Step 4: If prompted, enter your PIN, pattern or password to proceed and then tap Continue on the following screen.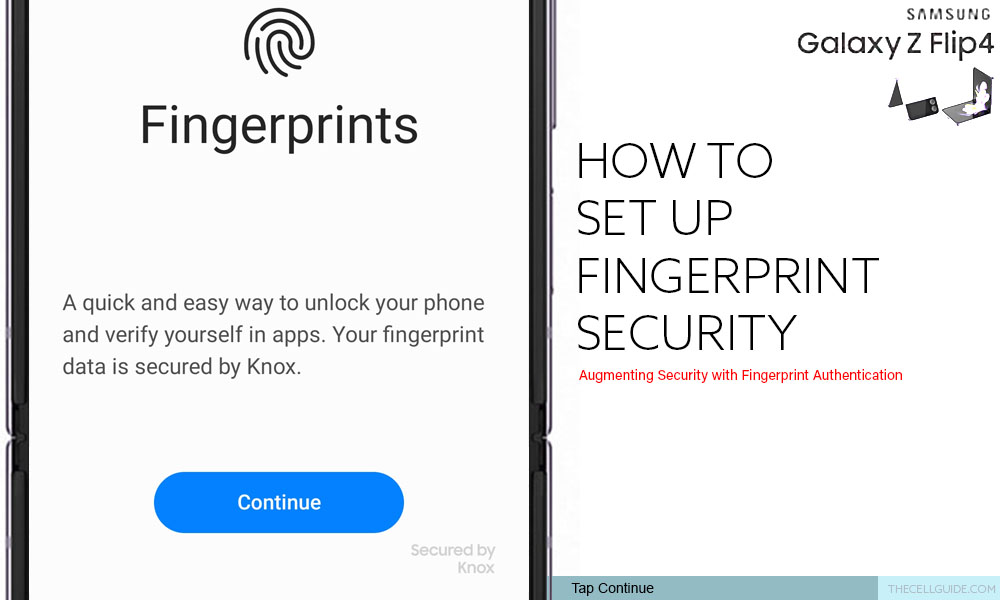 Step 5: Once the fingerprint scanning is complete, you will see a note saying that your Fingerprint is added. To add another fingerprint, tap Add. Otherwise, tap Done.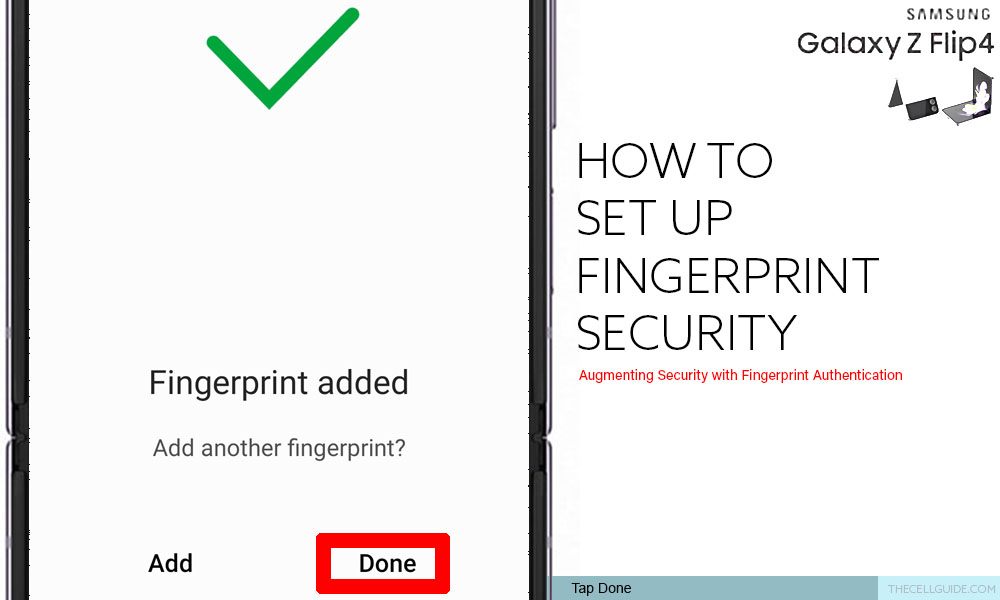 The recently scanned fingerprint will then be added and saved under the Fingerprints menu.
To edit it, tap Fingerprints under Biometrics and security menu, enter your basic screen lock, then manage your fingerprint.
You can change a custom label or assign a relevant name to your fingerprint for easy identification of your prints especially if multiple prints are already added. Just tap on the recently added fingerprint then enter a new name you'd like to use.
To check if your fingerprint works, tap Check added fingerprints, then place your finger on the scanner. After that, you should see a prompt saying Fingerprint match.
If it says fingerprint is not recognized, it's possible that you did not position the finger on the scanner properly. Just repeat the same steps then reposition your finger.
Enable Fingerprint to Unlock Phone
To use your fingerprint to unlock your phone, you need to enable Fingerprints from the Screen lock type menu.
To do this, just go to Settings-> Lock screen-> Screen lock type menu then turn on the switch next to Fingerprints under the Biometrics section.
By then, you will need to scan your fingerprint to unlock and access the Home screen. If fingerprint unlocking fails, then that's when you need to input your PIN, pattern or password instead.
Having trouble unlocking with your fingerprint?
Make sure that your finger is clean and dry. The fingerprint sensor may not be unable to read or recognize your print when it's dirty and/or wet. Clean your finger or wipe it dry if needed then retry scanning your print. If it still doesn't work, then you can unlock your phone with your basic lock screen type setup.
Deleting a problematic print and registering another fingerprint can also be considered among the last options if your existing print doesn't work as intended.
Deleting Fingerprint
If you've added multiple fingerprints on your device, there's a chance that one of your registered prints has been corrupted and therefore stops working as intended.
Should this be the case, re-adding your fingerprint might help. This also denotes removing the problematic print from your phone's fingerprint directory.
To remove a fingerprint, just head over to your phone's Settings-> Biometrics and security menu then tap Fingerprints. Enter your secure screen lock credentials if prompted then select the fingerprint that you'd like to delete. Once the fingerprint is selected, tap Remove twice to confirm.
After removing the fingerprint, you can set up another by tapping the option to Add fingerprint from the Fingerprints menu.
Follow the rest of the onscreen instructions to finish registering your fingerprint and you should be all set.
And that's how you set up and use the Galaxy Z Flip4 fingerprint unlock feature.
Hope this helps!
Please check out our YouTube channelto view more tutorial and troubleshooting videos for popular iOS and Android devices.
You Might Also Want To Read: