This post will walk you through restoring the default system settings on the Galaxy S21 smartphone without deleting user data. Here's a quick guide on how to reset all settings on Samsung Galaxy S21 and other One UI 4/Android 12 Galaxy devices.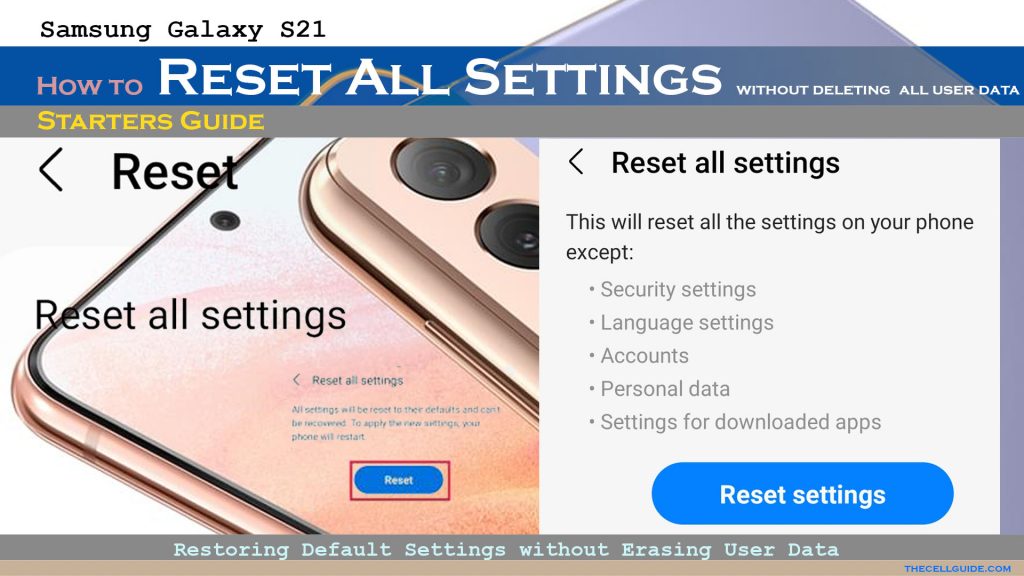 Need help resetting your Galaxy S21 smartphone without deleting all your saved files and downloads? The steps outlined below will help you do so. Read on to view more detailed instructions.
Android 12/OneUI 4.0 Reset All Settings
Just like iOS devices, Android smartphones also embed various types of reset commands for users to activate when needed. Among these is the reset all settings command.
This reset is often recommended before performing a factory reset or master reset as it doesn't erase your data from the phone.
Aside from restoring the default settings, this reset is also regarded as a potential solution to persistent bugs, errant apps, and detrimental malware that are lodging in some downloaded contents.
Restoring the default settings on your device also helps when the device crashes and reboots by itself or when any of your apps keeps freezing or lagging.
Feel free to refer to this quick walkthrough if you need some input on how to execute this reset on your new Samsung Galaxy S21.
Easy Steps to Reset All Settings on Samsung Galaxy S21 without deleting user data
The following steps are also applicable when resetting all settings on other Galaxy phones running on the One UI 4.0 or Android 12.
Actual screens and menu options may vary between device models and carriers so there might be some slight differences on the device interface. Just ensure that your phone software is updated.
Before you begin, be sure to have your phone sufficiently charged. This is highly recommended to ensure that the entire reset process is completed.
Once you've got everything set, you can go ahead and proceed with these steps:
Step 1: Open the Settings app by tapping on the Settings icon from the Home or Apps screen.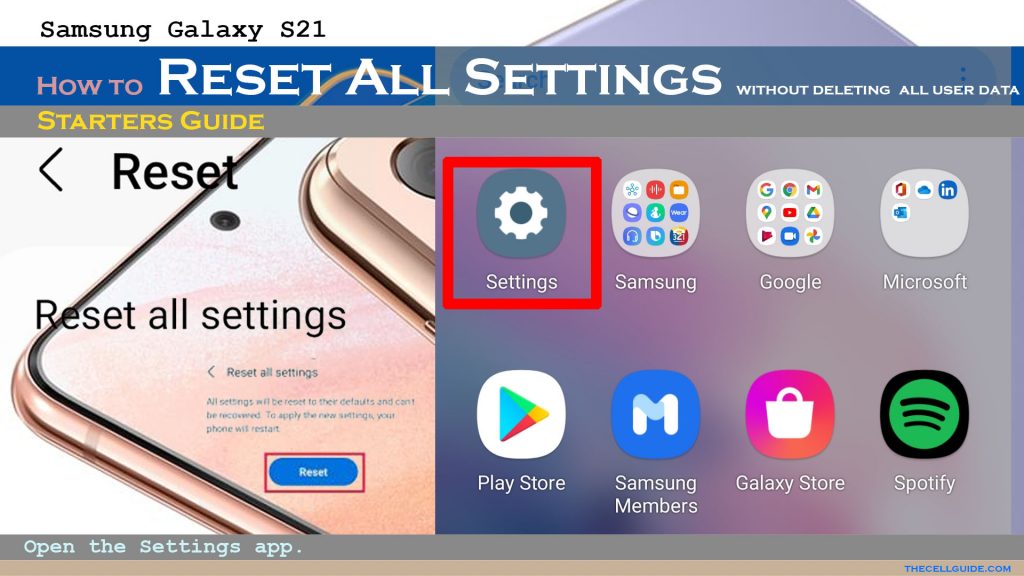 Step 2: While on the Settings menu, scroll to find and then tap General management.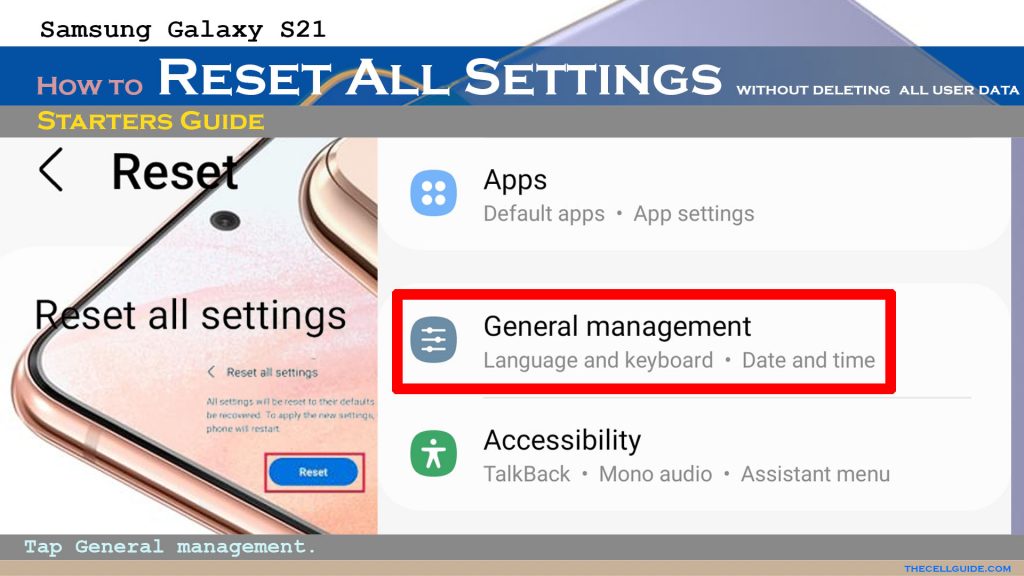 Step 3: Scroll down to the bottom section on the succeeding menu and then tap on Reset. Different reset options will load up on the next screen.
Step 4: Tap Reset all settings to proceed. More details about the selected reset command will be shown on the next screen.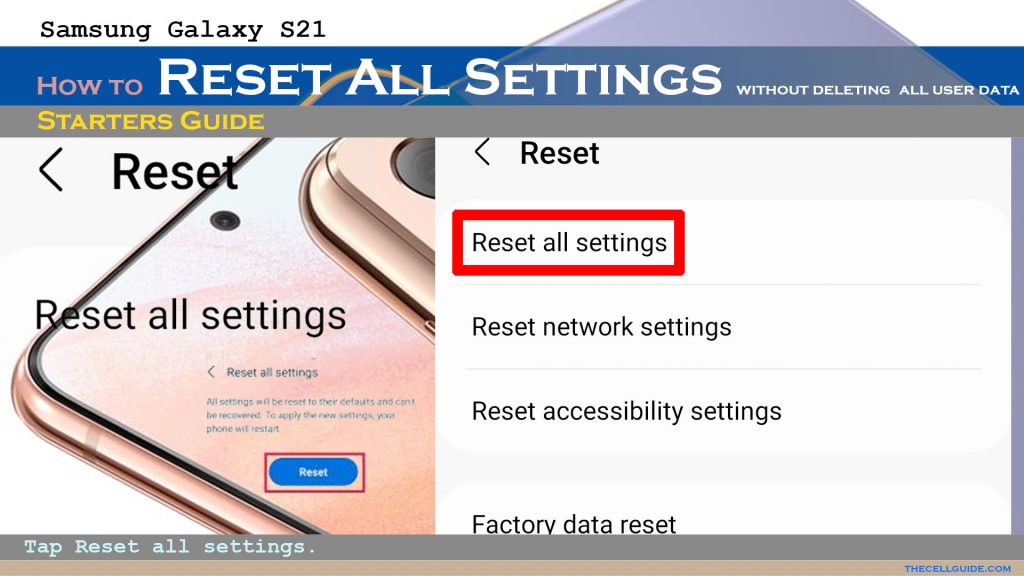 Step 5: Read and review the reset details and then tap the Reset settings button to proceed.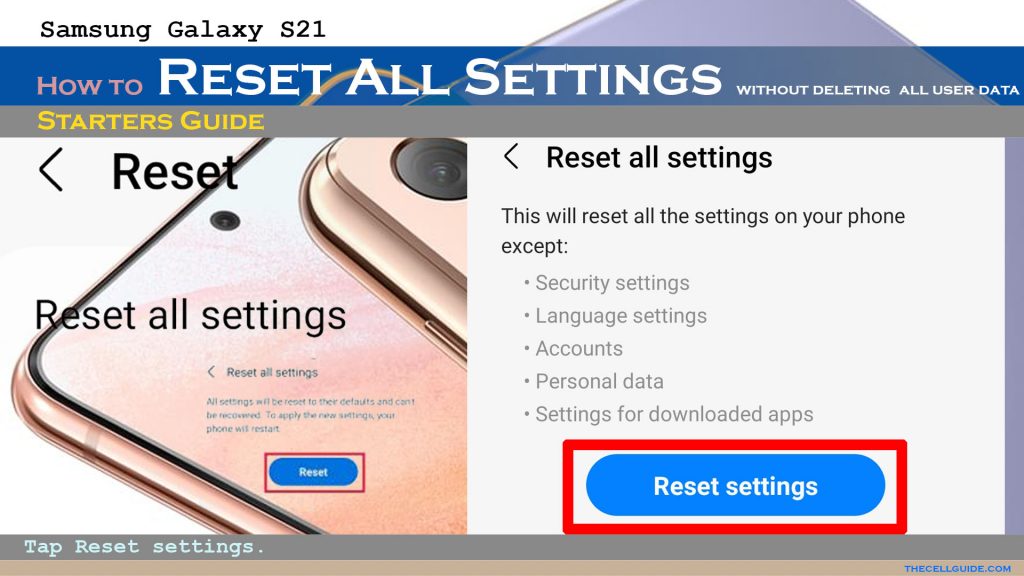 Step 6: If prompted, enter your device pattern, PIN or password.
Step 7: Read the final warning and then tap Reset to confirm.
Allow your device to finish resetting all settings. The entire process shouldn't take long so just wait and don't do anything on your device to avoid interrupting the reset sequence.
What happens after the reset?
All previous changes made to your device settings will then be deleted and the default values are restored.
Among the settings that are affected by this reset include custom ringtones, sound settings, and display settings and thus will be reverted back to their default values. This action cannot be revoked.
After the reset, your phone reboots automatically. As soon as it boots up, the new default settings are applied.
This reset does not delete any personal information from the internal storage so you won't lose any downloaded apps, documents, and multimedia content.
Aside from personal data, security settings, language settings, accounts, and settings for downloaded apps are also not affected by the reset.
And that's all about resetting all settings on the Galaxy S21 and other One UI 4.0/Android 12 Samsung phones.
Hope this helps!
Please check out our YouTube channel to view more tutorial and troubleshooting videos for popular iOS and Android devices.
You Might Also Want To Read: