This post will walk you through activating a OneUI display feature that improves touch sensitivity on the new Samsung Galaxy phone. Read on to learn how to increase touch sensitivity on Samsung Galaxy S22 when using screen protectors.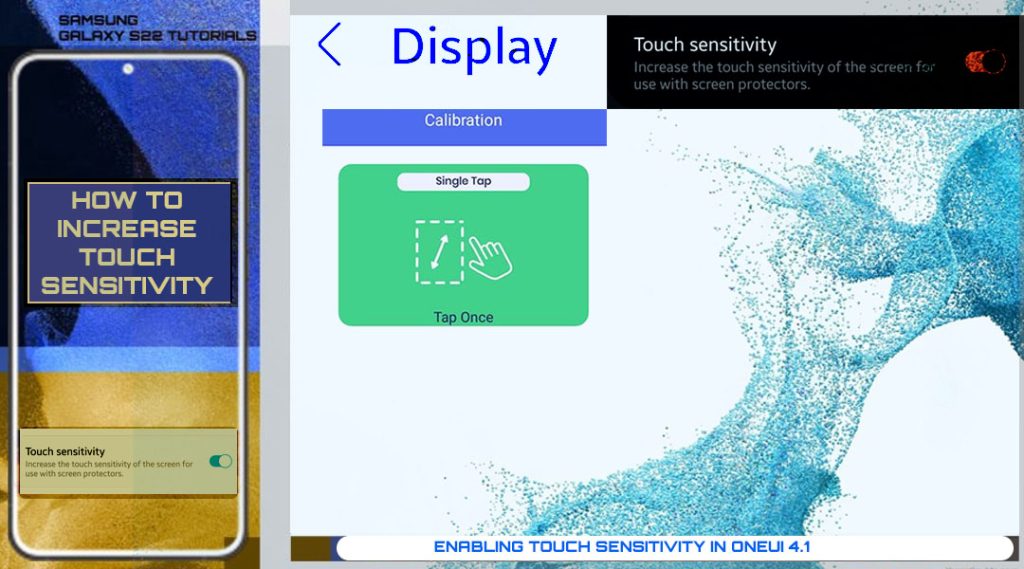 Is your new Samsung phone showing unusual screen behaviors like sudden freezes, late responses or ghost touches? That might be due to some random software glitches. If any of these symptoms arises after installing a new screen protector, then the recently installed screen protector is likely the trigger.
But before deciding to get rid of the screen protector, you can try activating a built-in display feature to improve the phone's touchscreen responses with a screen protector on.
Just keep scrolling to view more detailed instructions.
OneUI 4.1 Touch Sensitivity
Newer Android phones including Samsung's latest Galaxy S variants come with more advanced features for better and more responsive display. Such display features can be activated whenever the device's touchscreen may not function properly with a screen protector like a tempered glass or privacy protection film on.
This is precisely how the touch sensitivity feature works on the Galaxy S10, S20 and S21 devices.
Enabling the Touch sensitivity feature will help increase the screen's touch sensitivity. As a result, the device will still be able to respond promptly to touch input commands even with screen protectors.
If you're new to Android and need some input on how to access and activate this feature on your new Samsung Galaxy S22 smartphone, I've mapped out a quick walkthrough as follows.
Steps to Increase Touch Sensitivity on Samsung Galaxy S22
The following steps are also applicable when activating touch sensitivity on other Galaxy phones running on the same OneUI version with that of the Galaxy S22, S22+ and S22 ultra.
Actual screens and menu items may vary between device models and carriers so expect some slight variation on every device's user interface.
Just be sure to keep your phone software updated to ensure all menu options and settings are based on the most recent Android/OneUI system interface.
Feel free to start whenever everything is ready.
Step 1: To get started, go to the Home screen or Apps screen and then tap the Settings icon. Doing so will open the Settings app.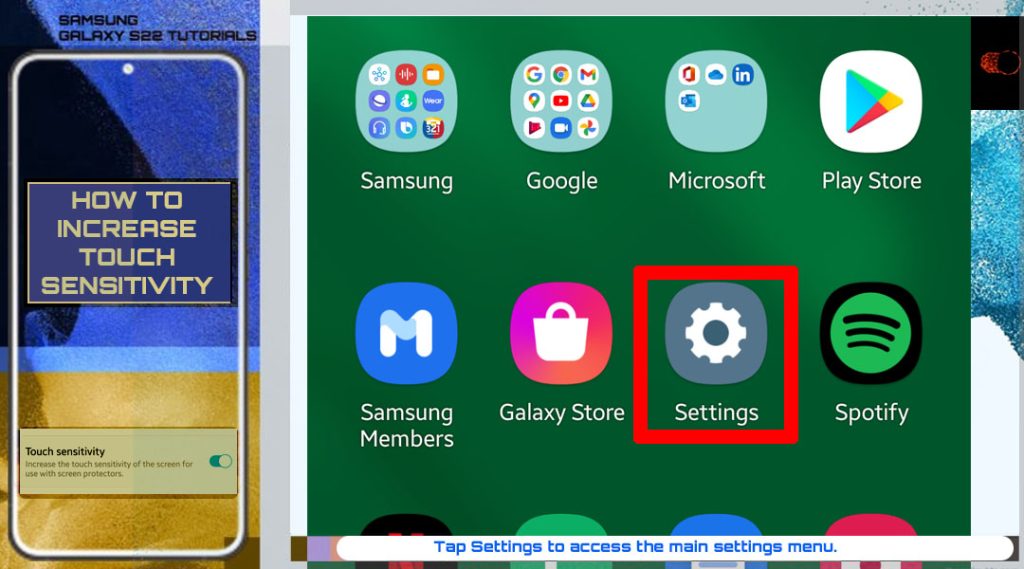 Step 2: While on the Settings app menu, find and then tap Display. Another menu opens with a list of display features and options.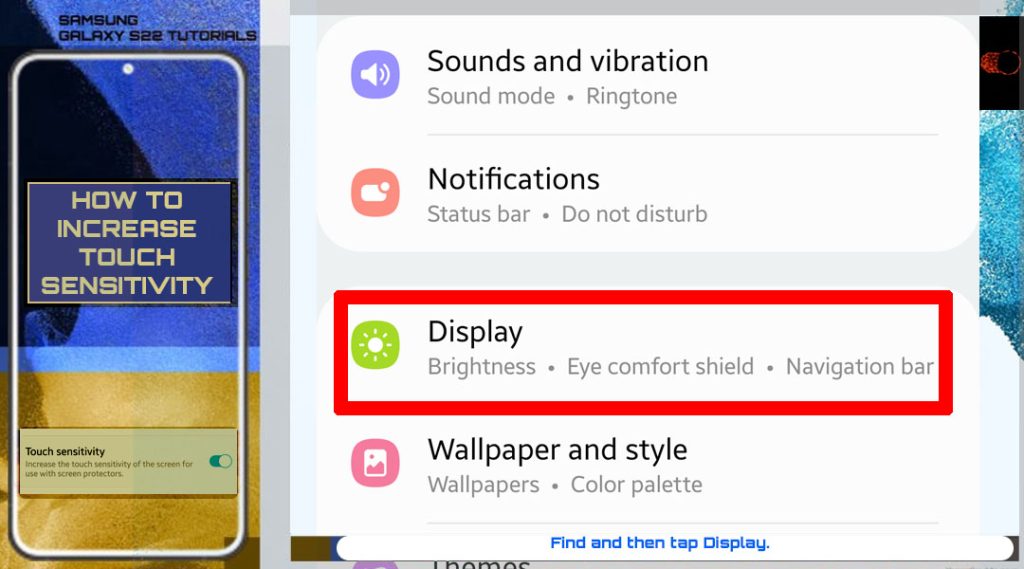 Step 3: From the given options, find and then toggle to turn the Touch sensitivity switch ON.
Doing so activates the OneUI feature that improves the phone's touch responses even with a screen protector installed.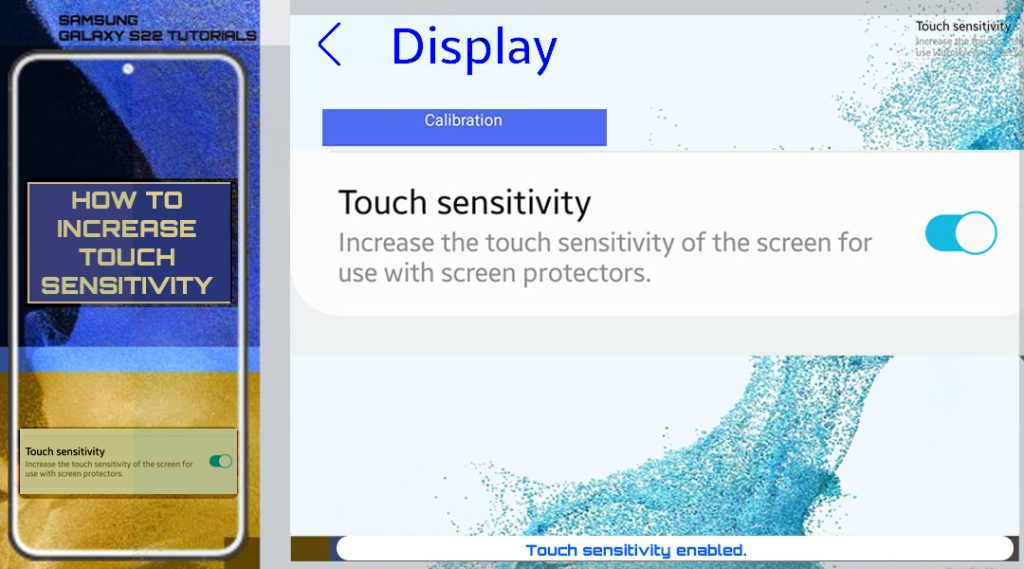 When to enable touch screen sensitivity on your phone?
Smartphones that encounter display-related issues such as delayed touchscreen response, ghost touch, or unresponsive touchscreen after an accidental dropping or liquid exposure are more likely to obtain some sort of physical or liquid damage that makes the display dysfunctional.
However, there are also some cases wherein a device would just succumb to a display problem and exhibit similar behavior due to some software glitch including rogue apps, bugs and malware that eventually ruined the phone's normal touchscreen functions.
To deal with software-related display issues, activating some built-in features including touch sensitivity is recommended.
The fact that manual screen calibration is not permitted in newer smartphones makes it a suggested workaround, especially when the symptoms start to manifest after installing a screen protector.
Before removing the screen protector, you can try activating the Touch sensitivity feature from your phone's display settings and see how your phone works while it's activated.
Also be sure to use genuine screen protectors like tempered glass screen protectors that are perfectly made for your Samsung phone. You can view a rundown of the best screen protectors for the Galaxy S22 from credible sites online before procuring one.
What to do if touchscreen problems continue while Touch sensitivity enabled?
If the phone continues to misbehave even when you enable touch sensitivity, then that's when you should consider resorting to some other potential solutions.
To save time and effort from performing unwanted troubleshooting procedures, try to think of when and what you did last before the touchscreen started to misbehave. For example, if it happens after installing a new app, then disabling the suspected app temporarily or uninstalling it permanently will likely fix it.
If the problem started after altering some settings, then it's likely due to some settings conflicts. In this case, reverting back the settings or resetting all settings to restore default values and options is recommended.
You can also try using some third-party touchscreen calibration app, if you really intended to perform manual calibration on your device.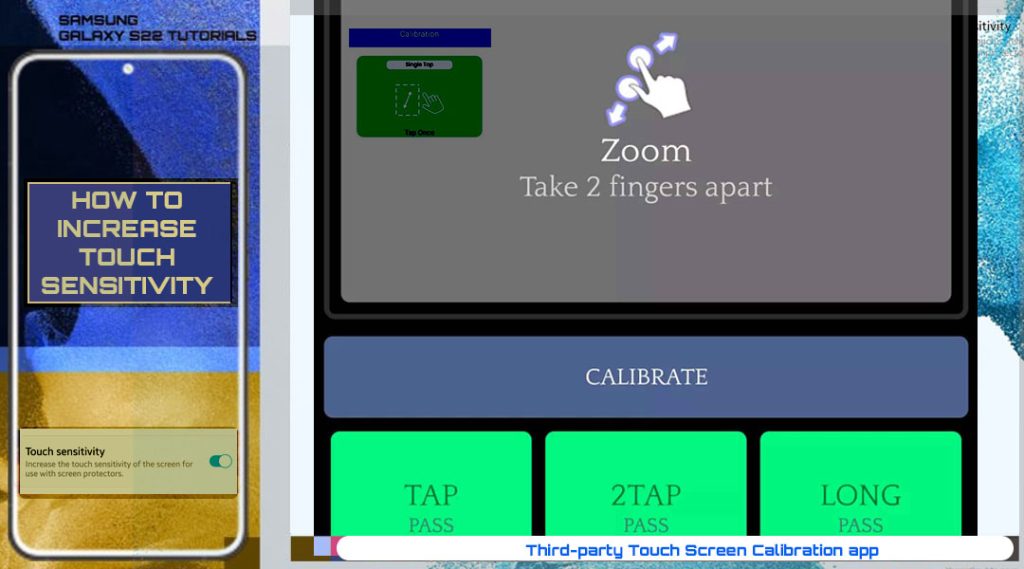 These apps typically come in handy whenever you want to figure out whether or not the current touchscreen abnormality on your phone is tied to a software or hardware issue.
Hope this helps!
Please check out our YouTube channel to view more tutorial and troubleshooting videos for popular iOS and Android devices.
You Might Also Want To Read: