This post will walk you through fixing a Galaxy S22 that's stuck on black screen and refuses to power up. Read on to learn how to deal with the Samsung Galaxy S22 black screen of death issue.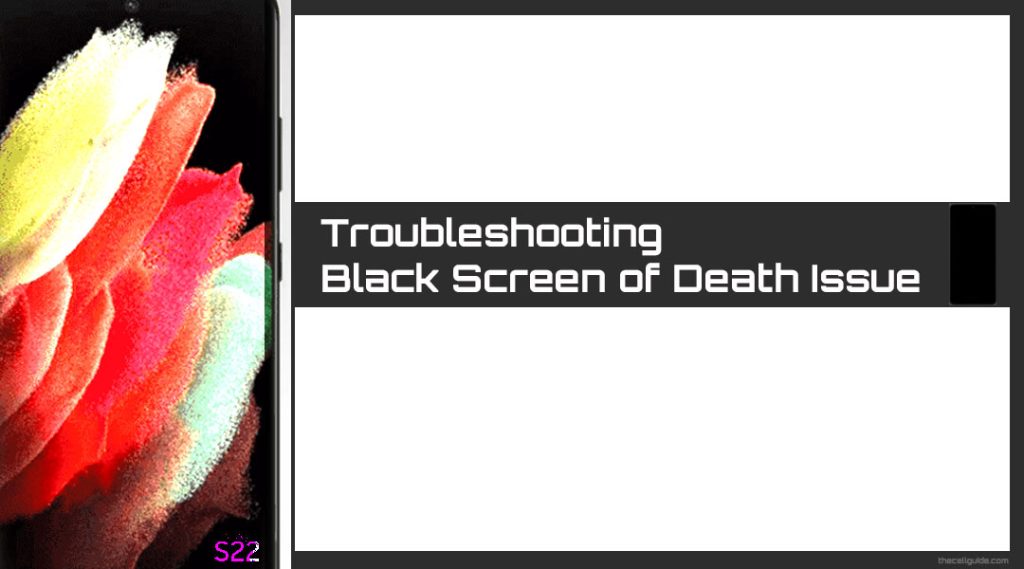 Having a problematic new smartphone is typically odd but it happens. Even high-tiered devices are no exception.
But on a positive note, most of the issues transpiring in new premium smartphones are software-related. That said, they are likely to be resolved on the user's end. All that's needed is to eliminate common culprits to make the phone work as intended.
One of the dreaded issues that may encounter is the black screen of death. This is when the phone screen is showing nothing but a black display.
Keep scrolling to get some input on what could trigger this issue and how to deal with it when it occurs on your new Samsung smartphone.
Possible causes of black screen of death
An apparent reason as to why a smartphone seems to be stuck on black screen and won't turn on is because of a totally drained battery. This is usually what happens if something in the phone is causing a massive power drain.
Aside from battery issues, software-related factors such as critical system errors, corrupted data, software bugs and malware are also among the possible causes especially if the problem is transpiring in new devices.
The worst possible cause of black screen issue on an Android phone is hardware damage. This is when the device has obtained some sort of physical or liquid damage from a prior incident of dropping or liquid exposure resulting in a broken screen.
Before rushing to a service center, performing some workarounds to eliminate software-related factors that make Samsung phones stuck on BSOD is highly recommended.
To give you some inputs on what to do in case you bump into the same issue wherein your new Samsung Galaxy S22 is seemingly stuck on black screen and doesn't power on, I've mapped out a few potential solutions you can try on.
Troubleshooting Samsung Galaxy S22 Black screen of death issue
The following are generic solutions to black screen of death issue among Android devices, including Samsung's latest Galaxy S models.
It's also worth noting that these are just generic solutions considering that the main cause is yet to be determined.
Rest assured, all these methods have long been proven effective to eliminate common culprits from within the software layer and therefore it's doable that any of them can make your phone working properly again.
First, charge your phone.
To get started, charge your phone. As mentioned earlier, any device won't be able to power on and therefore seems to be stuck on black screen of death due to an empty battery.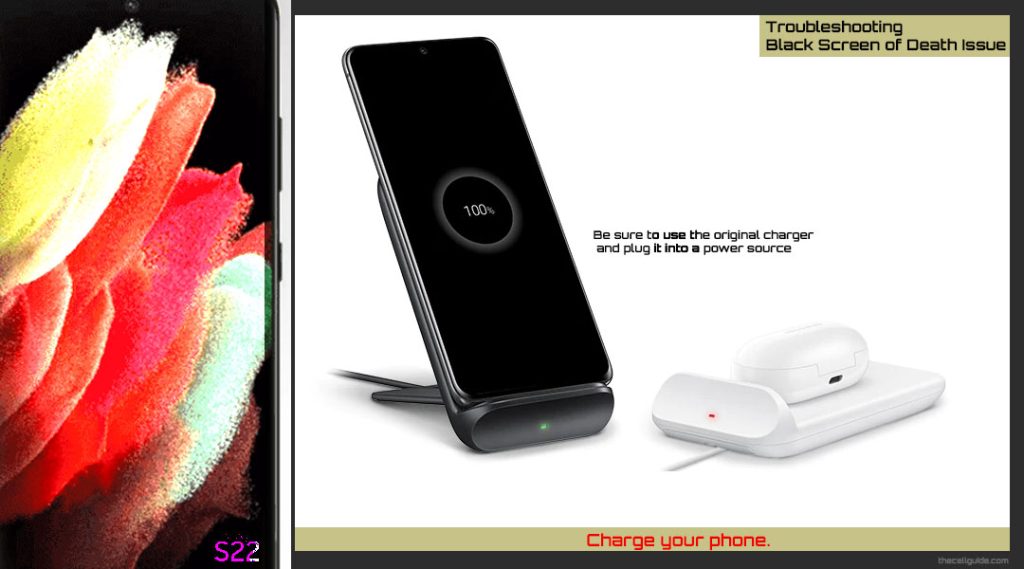 If necessary, give your phone enough time to recharge, like at least 30 minutes. By then, it should be able to accumulate sufficient battery life to power on as intended.
To test, try turning it on by pressing on the Power/Side key for a few seconds until the Samsung logo appears.
If the battery was totally drained prior to recharging, it may take a little longer for the logo to appear. That also means more time to press and hold the Power button.
If your phone doesn't charge or doesn't show any charging indicator, the battery might be the problem. In this case, battery replacement is necessary.
Also be sure to use the original charging accessories like the charging cable and adapter that came with the phone. If available, try to use a wireless charger to see if it works.
Force restart your Galaxy S22 while charging.
The next thing you should try if your phone remains stuck on black screen even when sufficiently charged is to do a force restart while it's charging.
That said, do these while your phone is connected to the charger.
Simultaneously press and hold the Power/Side button and Volume Down button for a few seconds.
When the Samsung logo appears, release both buttons and wait until the phone boots up to the Home screen.
A force restart works the same as the usual restart/reboot when dealing with minor software bugs on the phone. The only difference is how it's carried out.
Performing a force restart is also an effective solution to performance-related issues such as lagging, app crashes, freezing and unexpected rebooting (boot loops).
This method does not affect any saved data from the internal storage so you won't lose any important files and downloaded content.
DO THIS… if your Galaxy S22 powers on after doing any of the above methods
Install pending software updates. 
Rogue apps can likewise cause the entire system to crash. As a result, the phone suddenly shuts down or gets stuck on black screen.
Apps that are more prone to act up are the ones that are outdated. Thus, if your phone managed to boot up and work properly again after doing a forced restart, installing all pending updates is highly recommended.
Updates not only bring in new features but more importantly, they contain bug fixes to improve security and system stability.
Before updating, make sure that your phone is sufficiently charged, has ample storage and connected to the internet. If possible, connect your device to a Wi-Fi network.
To check for pending app updates on the Galaxy S22, just access the Play Store app with these steps:
Open the Play Store app.
Tap on your profile picture then tap Manage apps and devices.
Tap the Updates available tap to view all apps with pending updates.
If multiple updates are available, tap Update All to download and install all available updates simultaneously.
To check for new firmware updates, you will need to access the Software update menu through settings.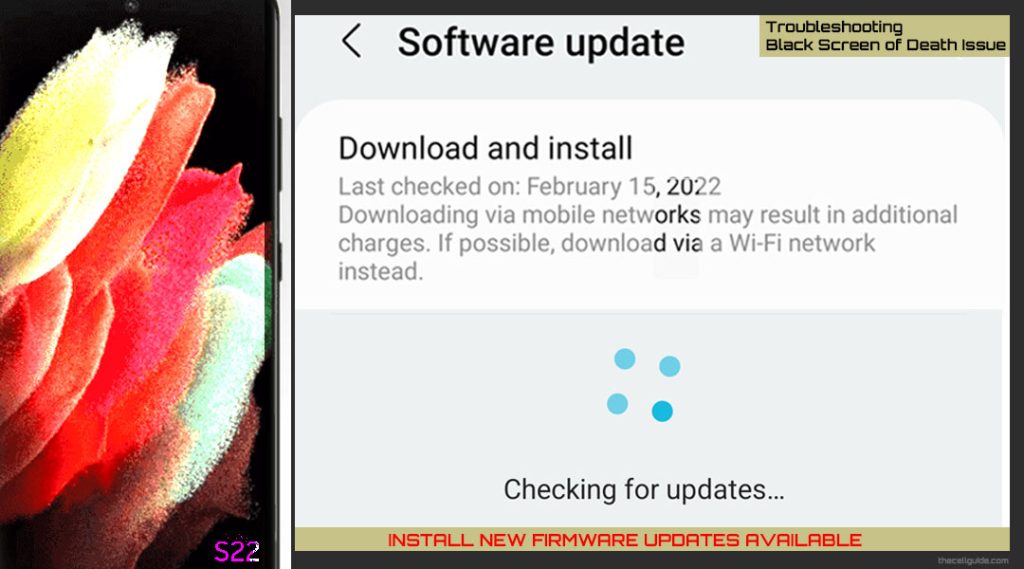 Open the Settings app.
Scroll to find and then tap System.
Tap System Update to continue.
Wait for the phone to check for available updates.
If available, tap Download and install then follow the rest of the onscreen instructions.
After installing software updates, reboot your phone to apply all recent software changes and to refresh the apps and system services.
Meanwhile, if the black screen of death started after installing a third-party app, there's a higher chance that the recently installed app is the trigger. In that case, try to uninstall the suspected app and see how the phone behaves afterwards.
Clear system cache/ Wipe cache partition.
Another helpful workaround to prevent the phone from getting stuck to black screen again is to clear the system cache. To do this, you can execute the Android recovery command called wipe cache partition.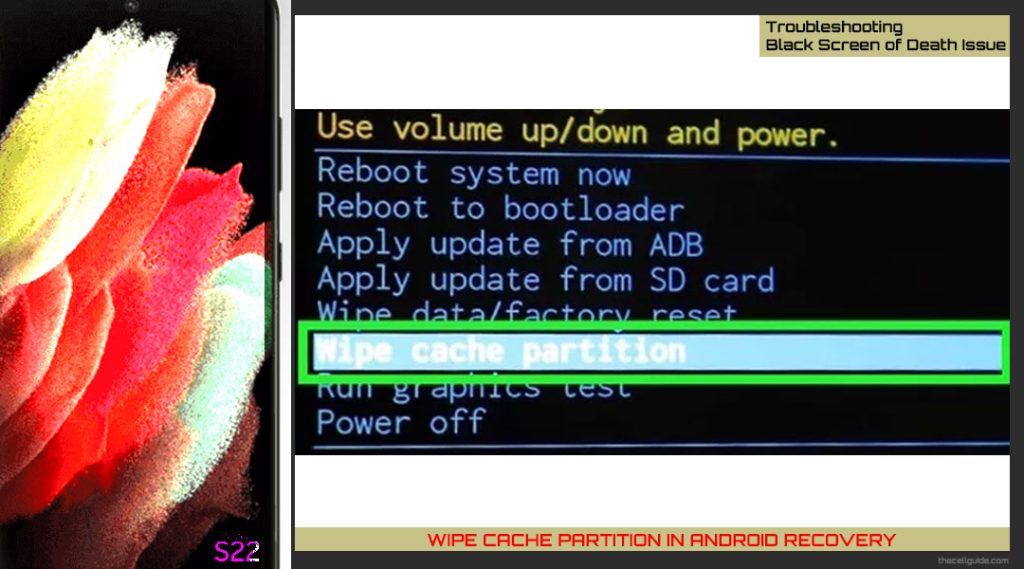 Again, make sure that your phone is sufficiently charged before wiping the cache partition. You can keep your phone connected to the charger to make sure it won't run out of power while wiping the cache partition.
Once everything is set, follow these steps to wipe cache partition on your Galaxy S22:
With the device powered off, press and hold both the Side/Power button and Volume Down button for a few seconds.
Release both buttons when you hear your phone vibrate and the Samsung logo appears.
The Android Recovery menu will open after the Installing system update message pops up shortly.
While in the Android Recovery menu, press the Volume Down button several times to highlight Wipe cache partition and then press the Power/Side button to select it.
On the next screen, press the Volume Down button to highlight Yes then press the Side/Power button to confirm selection.
The phone will then start wiping the cache partition. When it's finished, the Reboot system now option is highlighted.
Just press the Side/Power button to restart the phone by then.
The phone will then start with an empty system cache.
Reset all settings.
If the phone screen suddenly got stuck on black screen of death after altering some settings and options, chances are that the recent system modifications have resulted in some conflicts and eventually triggered a system crash.
The same thing can occur when installing new updates that contain unforeseen bugs, downloading online contents containing malware, or some critical system data has been corrupted.
To rule these out, restoring the default values and options will likely fix the device. To get this done, you can use the built-in reset command called reset all settings.
This reset is typically recommended before performing a factory reset as it doesn't delete any user data and documents.
Just follow these steps to reset all settings on the Galaxy S22: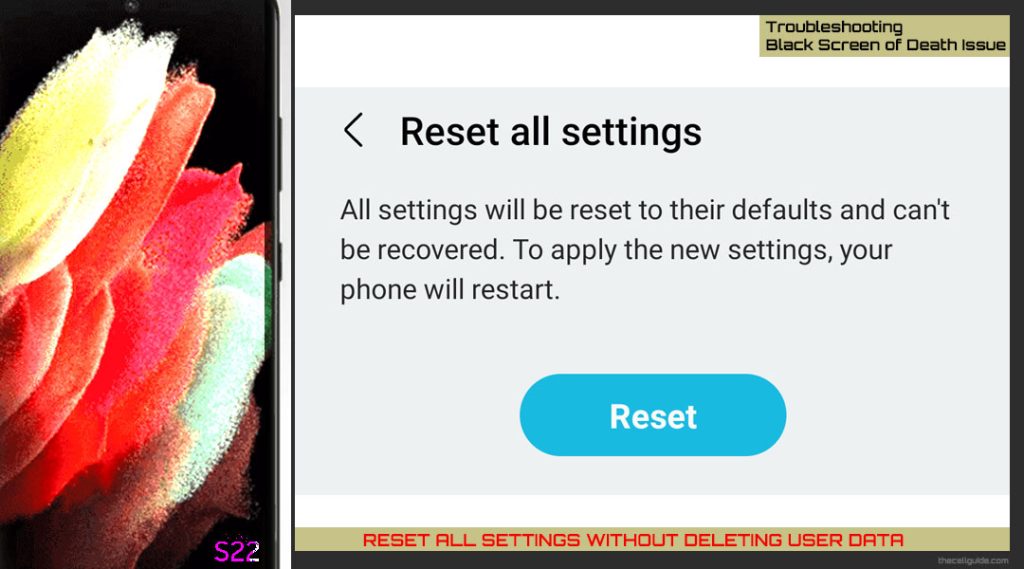 Open the Settings app then tap General management.
Tap Reset then select Reset all settings from the given options.
Read the warning prompt then tap Reset settings to confirm.
If prompted, enter the device PIN, pattern or password to authorize reset.
After the reset, the phone reboots automatically. Wait for it to finish rebooting and once it loads up to the Home screen, you can start reconnecting to the internet and re-enable necessary features, particularly those that are disabled by default.
You also need to set default apps to process specific files and data protocols, just like the first time you access and use them on your device.
What to do if your Galaxy S22 remains stuck on black screen?
If you've done all the above workarounds but to no avail, chances are that the black screen of death is directly attributed to hardware damage.
At this point, availing for warranty (if your device is still eligible for one) is highly recommended. Several instances wherein a new phone doesn't turn on and unable to render any display have been linked to factory defects.
Should this be the case, you should avail for a new unit replacement. Just ready the requirements stated by your device carrier or the store where you purchase the phone.
Taking a trip to the nearest Samsung store or authorized service center is also among the last options if you think your phone is damaged and that it is eligible for a service warranty.
Hope this helps!
Please check out our YouTube channel to view more tutorial and troubleshooting videos for popular iOS and Android devices.
You Might Also Want To Read: