This post highlights potential solutions to a Google Chrome error on a Samsung Galaxy phone that results in intermittent or unstable internet connection. Read on to learn what to do when faced with the ERR_CONNECTION_TIMED_OUT on Galaxy S22.
What does ERR_CONNECTION_TIMED_OUT mean?
Technically, the ERR_CONNECTION_TIMED_OUT occurs when something goes wrong with the local network connection. What usually happens is that the website you're attempting to visit fails to load and then your browser hangs until the connection terminates completely. As the connection drops, the error prompt appears with this error code along with the few details of what has happened.
The screen basically looks like this:
"This site can't be reached. Domain.com took too long to respond."
Beneath that are a few suggestions on how to fix it. There is also a reload button should you wish to try reloading the page and Details button to view more information about the error.
Further explanation behind this Chrome error is that the browser is not getting a response to its site query from the target server. Because of this, the browser terminates the communication attempt.
And since the browser ends, it wasn't able to load up and display any content but instead, only this standard error prompt.
There are many possible reasons as to why this error occurs but the underlying cause is most likely a poor internet connection. This is often the case when your phone is getting an unstable network signal resulting in frequent Wi-Fi drops or internet data connection (when on cellular or mobile data).
The use of security software such as antivirus and firewall as well as problematic VPN connection are also among other potential triggers. Generally, the main issue revolves on the quality of the phone's internet connection.
If by any chance you would bump into this error message when attempting to access a website on your Samsung Galaxy S22 with the Chrome browser app, you can try some tweaks to eliminate the usual triggers.
Troubleshooting ERR_CONNECTION_TIMED_OUT on Galaxy S22
Performing the following solutions will help you rule out common factors that can disrupt your phone's internet connection resulting in Chrome's failure to load up websites and pages. These steps are based on the interface of the Galaxy S22 device but can likewise be used when troubleshooting similar errors with the Chrome app on other Samsung Galaxy phones running on Android 12 with One UI 4.1 OS version.
Start whenever you're all set to troubleshoot your phone's internet connection.
Solution #1: Force Stop then restart Chrome.
If this is the first time you encounter this error message with Chrome, then it could be just a random glitch that makes the browser fail to connect to the target server or URL. Should this be the case, terminating and restarting the browser will likely fix it.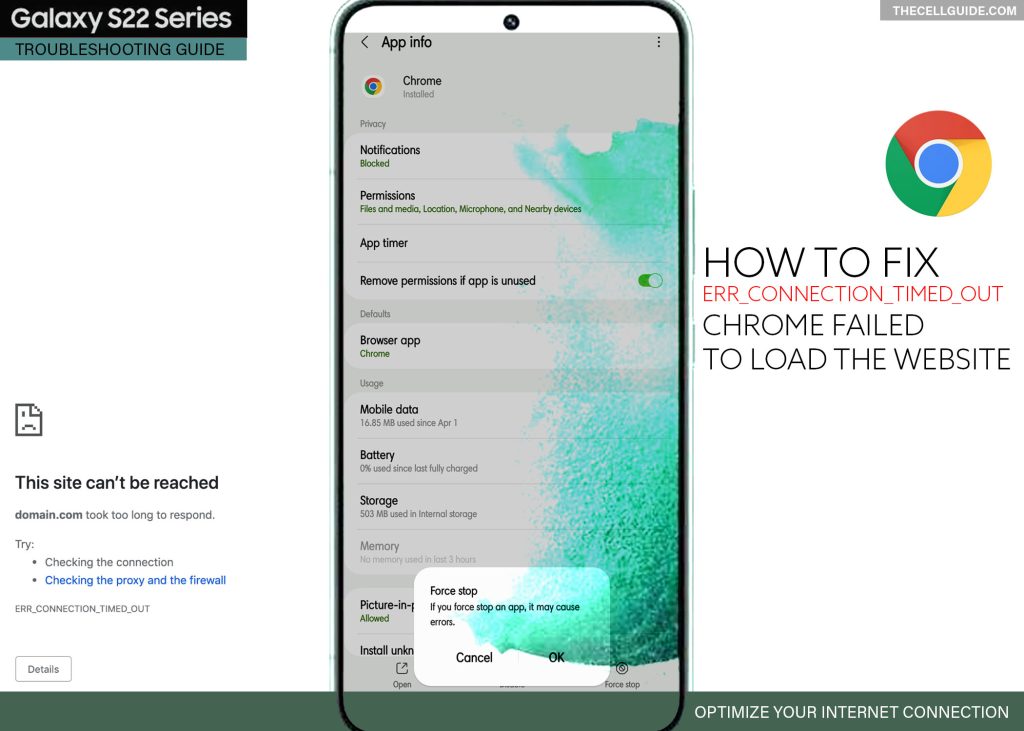 That said, the first suggestion is to force stop then restart Chrome app on your phone.
To do this, just head over to Settings-> Apps menu. Find and select Chrome from the list of apps. While in the Chrome App info screen, tap Force Stop and then tap OK from the pop-up window to confirm. That should force the app to end.
Alternatively, you can terminate Chrome and any other background apps straight from the Recent apps tab.
To do this, just tap the recent icon from the bottom-leftmost corner of the Home screen and then tap Close all to end all running apps including Chrome.
After that, relaunch the Chrome app then retry loading a website or page to see if the error is gone.
Solution #2: Restart the phone (soft reset).
If terminating and restarting the browser does not solve the problem, restarting the phone might help.
You can do the normal reboot if the phone is still responding properly. Otherwise, you will need to carry out a force restart, especially if the device freezes as Chrome stops loading.
To soft reset/reboot the Galaxy S22, just follow these steps:
Press and hold the Side/Power key for a few seconds and then release when the Power options appear.
Tap Restart to instigate system restart or tap Power off to turn the device off and turn it back on again.
To force restart the Galaxy S22, do these instead:
Simultaneously press and hold the Side button and the Volume Down button for a few seconds and then release both when the screen goes dark and the Samsung logo appears.
Wait for the phone to finish rebooting and then reconnect to the Internet. If your device does not connect automatically, then you should connect to the Wi-Fi or mobile data network manually. As soon as the internet connection becomes stable, relaunch Chrome and then try visiting the website or target URL to see if it's already working.
Solution #3: Optimize/refresh internet connection.
As mentioned earlier, a problematic or unstable internet connection is most likely the underlying cause of the problem. So if you think your devices are experiencing slow or intermittent internet connection, fixing the connection will likewise get rid of this Chrome error.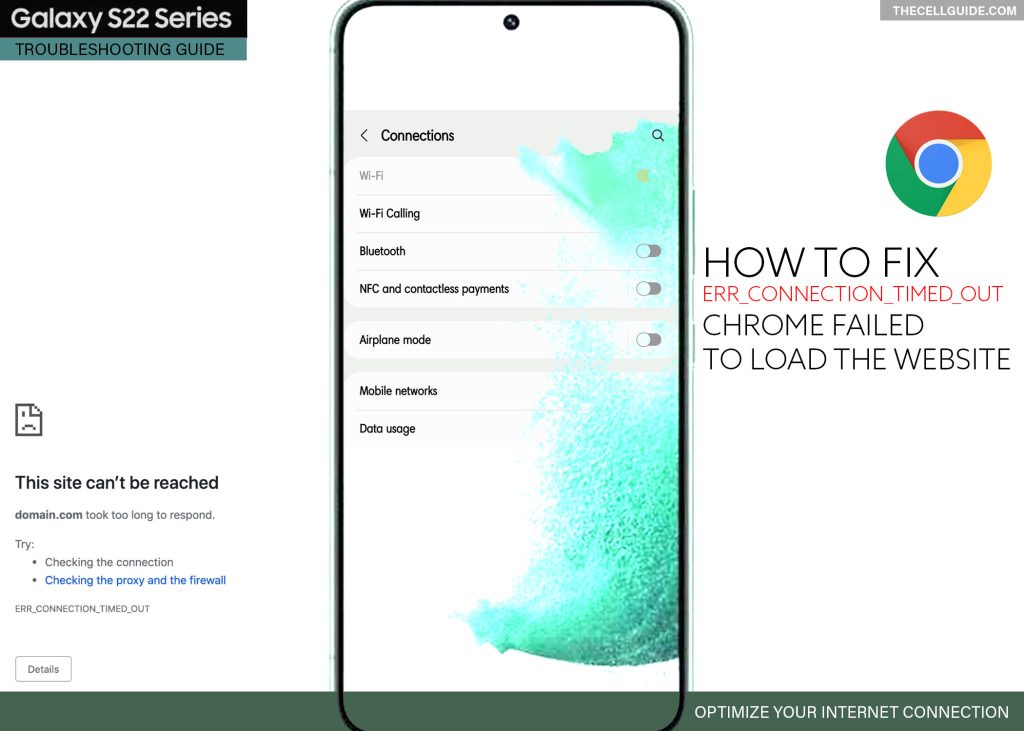 Among the basic tweaks you can do to optimize your phone's internet connection would include a quick Wi-Fi refresh if you're on a wireless setup. If you're connected via cellular data or mobile data, turning mobile data off for a few seconds and then turning it back on again can help.
Performing the so-called Airplane mode tweak is also another helpful alternative as it gives a simultaneous refresh to all wireless features and services including Wi-Fi and mobile data networks.
To do this tweak, just head over to Settings-> Connections menu then toggle the Airplane Mode switch ON. While Airplane mode is enabled, all wireless connections are turned off. At this point, restart (soft reset) the phone to clear and refresh system functions.
As soon as the phone reboots, go back to Settings-> Connections menu and then toggle the Airplane mode switch OFF again. Wait for your phone to reconnect to the Wi-Fi network or manually connect, if necessary.
As soon as the internet connection gets back and becomes stable, relaunch Chrome and then retry visiting the target website address/URL to see if it goes through. Be sure to enter the correct site URL to make your site query valid.
Solution #4: Clear browser cache and browsing history.
Browser cache and residual internet data that were corrupted can also trigger certain errors to occur when performing site queries.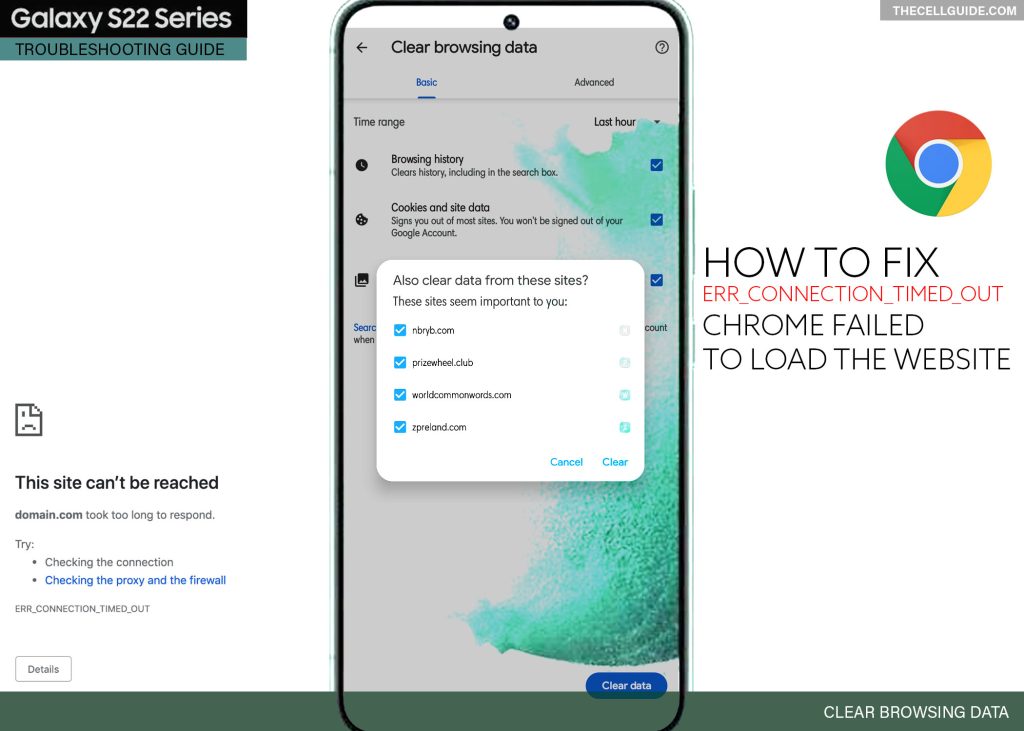 Similar to other browsers, Chrome also collects temporary internet files every time you visit a website. These files will be stored among other accumulated cached files in the browser storage for future usage. If any of these cached files gets ruined or infected by some malware, there's a tendency for the browser or any other relevant services to act up. When this happens, various types of errors could occur.
To make sure that this isn't causing the loading error on Chrome, clearing cache and browsing history from the Chrome app browser is recommended.
To do this, simply open the Chrome app on your phone. While in the Chrome app main screen, tap More then tap History.
On the succeeding menu, tap the option to Clear browsing data and follow the rest of the onscreen instructions to finish clearing the accumulated browser data during the specified time range.
Clearing the browsing history deletes web addresses (URLs) that you've visited as well as shortcuts to those pages. Address bar predictions for those websites are likewise removed.
Clearing the browser's cache may help resolve different kinds of problems including browsing errors, signing in problems and downloading errors.
Solution #5: Update Chrome to the latest version available.
Keeping apps up-to-date is highly recommended to ensure optimal and stable performance. If you haven't turned on automatic updates for your apps, then it's possible that you've missed some critical updates for Chrome and that eventually made the app vulnerable to software bugs and malware.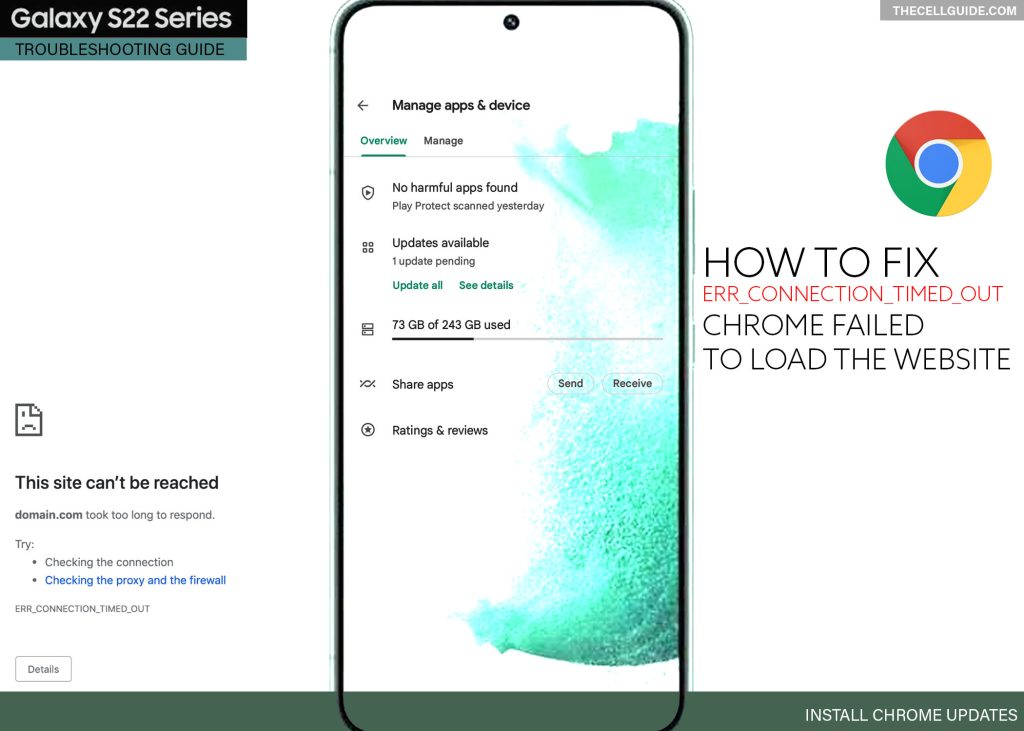 Should this be the case, manually updating the app on the Play Store is recommended.
To do this, simply launch the Play Store then tap on your profile icon. On the next screen, tap Manage apps & device then select Updates to load up all pending updates for your apps. From here you can either tap Update next to individual apps or tap Update All to install all pending app updates simultaneously.
Don't forget to restart/soft reset your phone after updating to ensure all recent software changes and in-app bug fixes are properly implemented.
Solution #6: Reset network settings on the phone.
Resorting to resets is usually deemed among the last options when dealing with recurring errors in mobile devices. The reset command being triggered depends on the type of error that's transpiring.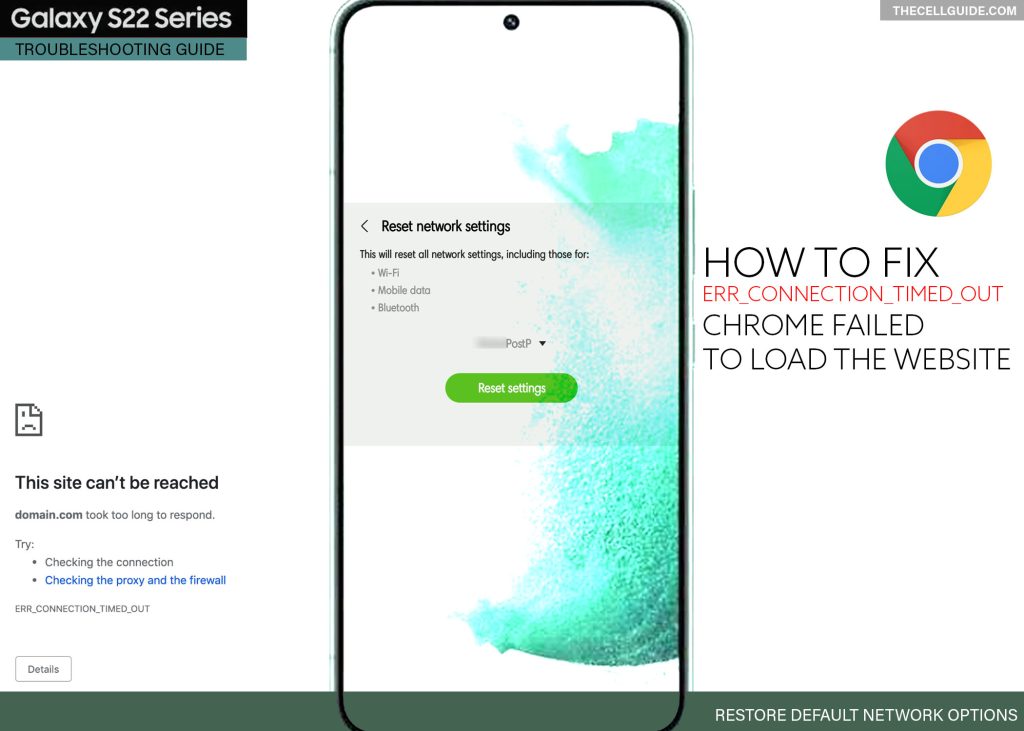 In this case, the transpiring error is relevant to the internet and thus, resetting the network settings on the phone is recommended. This reset deletes all your current network configurations including personalized networks, Bluetooth connections, cellular data options and other relevant information.
This reset however does not affect any user data from the internal storage so none of your saved apps and files will be deleted.
To reset network settings on the Galaxy S22, just open the Settings app then go to General management-> Reset menu and then select Reset network settings from the given options. Enter your PIN or passcode if prompted to proceed and then tap Reset on the succeeding window to confirm.
After the reset, the phone reboots on its own and then loads up the default network values and options. This denotes the need for you to set up your Wi-Fi network so you can join and connect to the network like the first time.
Still getting the same Chrome error?
The above solutions are usually helpful when dealing with software-related network connectivity issues in Android devices. If the error continues after applying all the given solutions, then there must be something else that we failed to rule out. At this point, your remaining options should you wish to troubleshoot further would be as follows:
Option 1: Disable VPN (if there's any).
The use of VPNs is beneficial when it comes to keeping a secure connection. However, conflicts may likewise arise when using it on your mobile phone.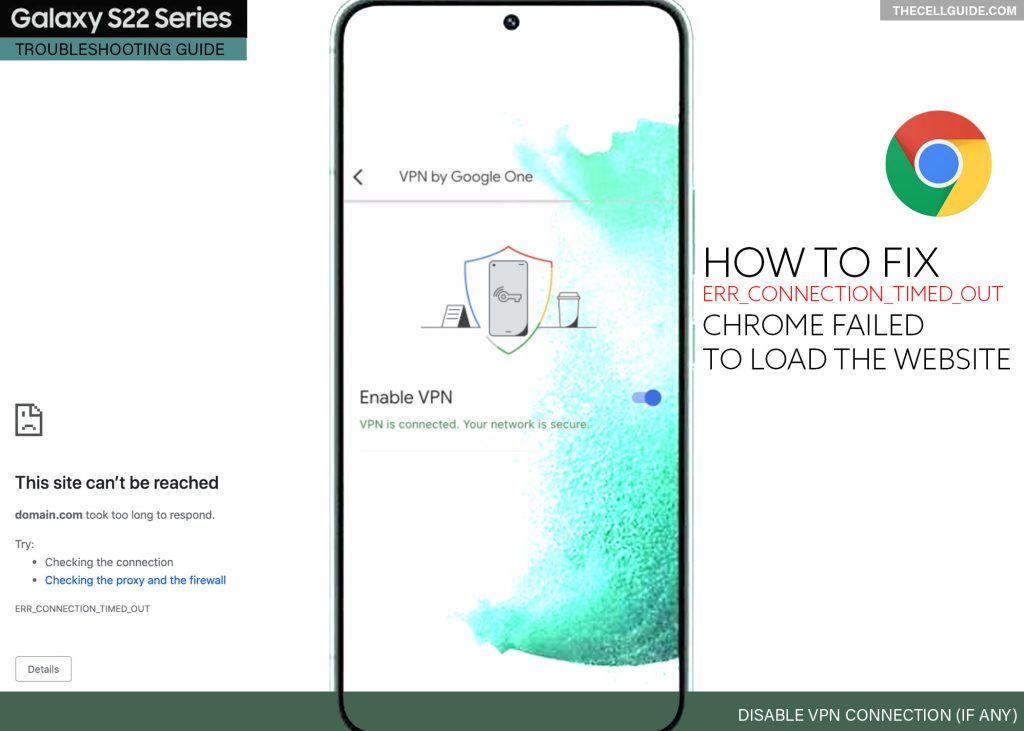 To make sure that this doesn't prevent Chrome from processing site/server queries, try to disable any VPN connections on your device and then see if that solves the problem.
Option 2: Change DNS settings.
Another option and temporary solution you can try is to change the DNS settings on your Galaxy S22.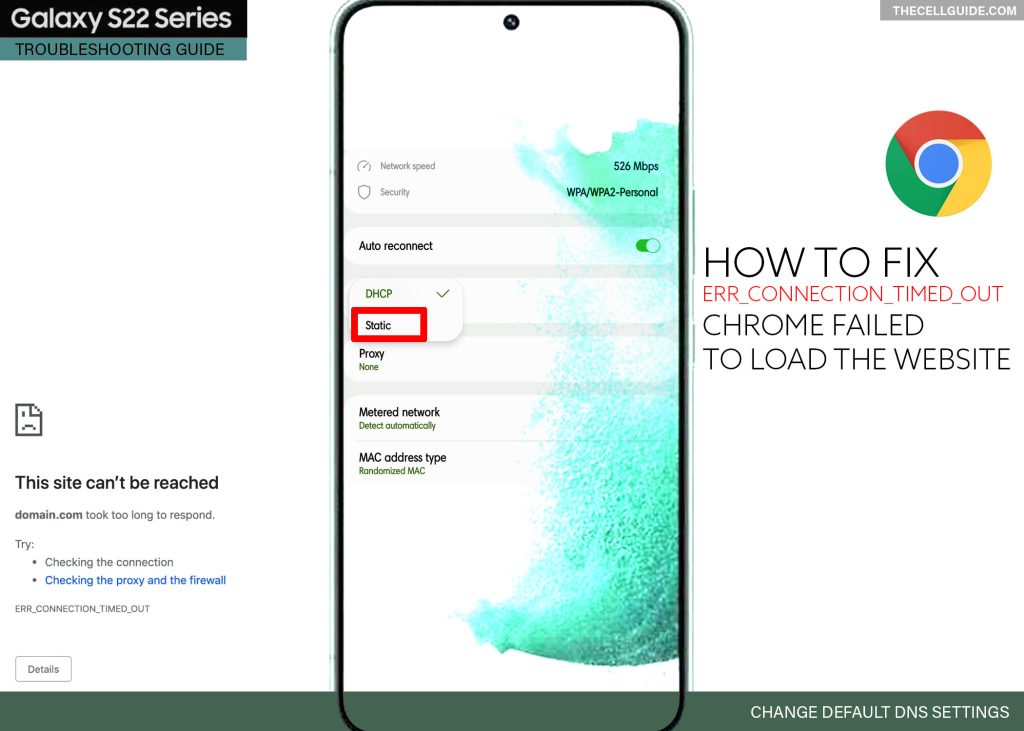 By default, all your connections use a DNS server provided by your internet service provider (ISP) but sometimes, this may appear to be slower and less reliable.
As an alternative, you can try using a certain third-party DNS such as Google DNS and Open DNS and see if that helps you access the website(s) you're having trouble loading in Chrome.
Should you wish to give this a shot, you can access the DND settings on your Galaxy S22, by heading to Settings-> Connections-> Wi-Fi menu. Tap the Gear/Settings icon next to your Wi-Fi network then tap View more on the next screen to show all available options. Tap IP settings then change it to Static. After that, change the DNS1 and DNS2 to your preferred third-party DNS settings. For example, 8.8.8.8 or 8.8.4.4 should you wish to use Google DNS.
After saving the recent changes, relaunch Chrome and see if the error is fixed. You can always switch back to the DHCP IP settings at any time you want.
If all else fails, then you can try using other browser apps instead.
Seek More Help
If none of the aforementioned solutions worked and the error continues, you may reach out to your Internet service provider for further assistance. Your internet connection might be temporarily unavailable and thus none of your devices are able to go online at the moment.
Ongoing service outages are likely the root cause of the problem if all your devices are encountering the same internet browsing issue.
Hope this helps!
Please check out our YouTube channelto view more tutorial and troubleshooting videos for popular iOS and Android devices.
You Might Also Want To Read: