Are you troubled by persistent issues with Facebook crashing on Android? This guide offers invaluable insights into the root causes of this problem and presents proven solutions to help you regain smooth and uninterrupted access to the social media platform. With these expert tips, bid farewell to the frustration of Facebook app crashes on your Android device.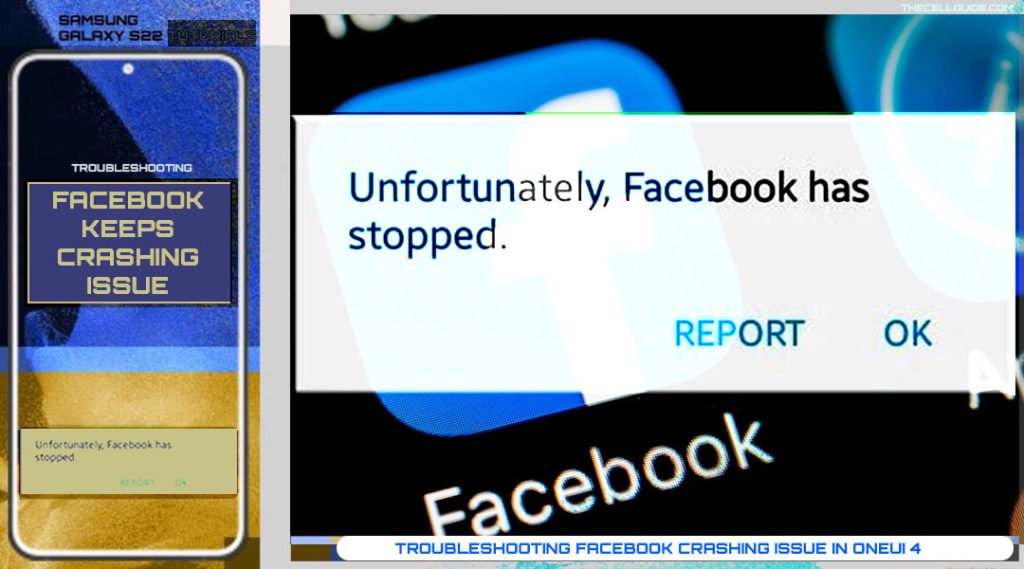 How to Fix Facebook Crashing on Android
Unexpected restarts, lags, and crashes are common performance-related issues in mobile devices. In isolated cases, any of these symptoms occurs when using certain applications and oftentimes the entire system gets affected.
Tackled in this post is an isolated issue on random crashes that occur when using Facebook on the new Samsung Galaxy S22.
Facebook is inevitably an attested mobile media application in both Android and iOS platforms. But it's good reputation doesn't spare the app from facing unexpected errors and instability from time to time.
There are many factors that can make apps like Facebook to suddenly misbehave considering it's an internet-based/server-based application.
Among the known factors that can cause problem to server-based apps like Facebook regardless of the platform they're on are as follows:
Internet connectivity issues. Facebook won't work if your phone has no internet connection. When the internet is slow or unstable, the app is also unstable. That being said, you can't expect the app to work as intended on any of the said instances.
Random software glitches. Other apps and services that are misbehaving can also cause conflicts and affect other app's performance. Even well-structured programs can succumb to some unexpected errors and the Facebook app for Android is no exception.
Settings conflicts. Settings alterations can also result in some conflicts. Say for instance, Facebook was working perfectly fine until you altered some settings on your device. It's possible that the recent settings changes result in Facebook conflicts.
Update bugs and malware. When Facebook suddenly starts crashing after installing a new software update be it a Facebook app update, other apps or or a firmware update, it's possible that the recently installed update contains some unforeseen bugs. These update bugs eventually ruined Facebook normal operations and thereby made the app unstable.
1. Force Stop Facebook app
If you've recently used Facebook and haven't closed it, chances are that it's still left running in the background and eventually got stuck. Should this be the case, you can start by forcing the Facebook app to stop so it will be able to have a clean launch.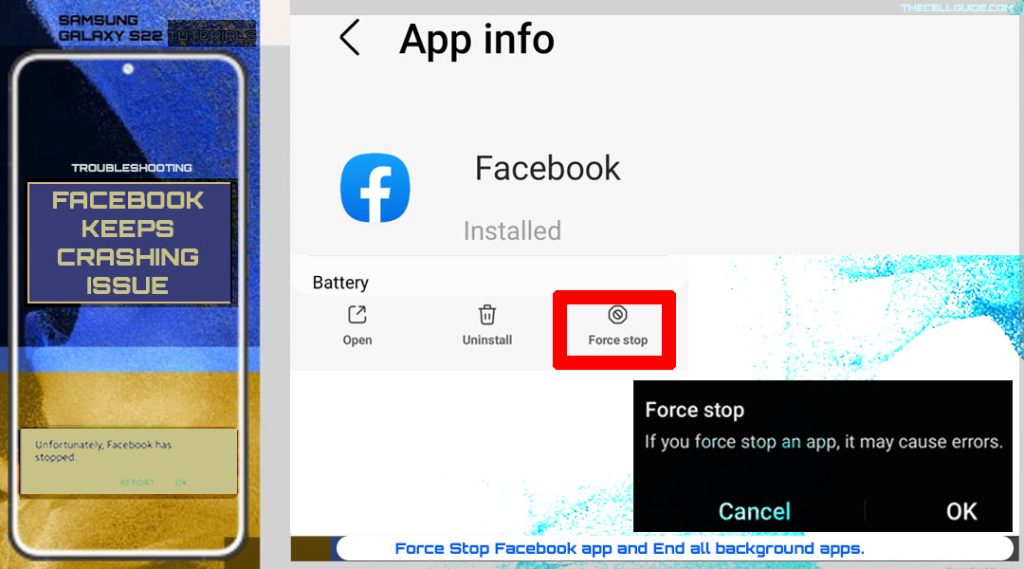 To force stop Facebook app on the Galaxy S22, just follow these steps:
Go to Settings-> Apps menu.
Select Facebook.
In the Facebook app info screen, tap Force stop at the bottom-rightmost corner.
Read the pop-up warning message and then tap OK to confirm.
Alternatively, you can terminate the app straight from the multitasking view. Simply tap on the Recent key at the bottom-left corner of the Home screen to view all recently used apps and then tap the Close all button to terminate all running apps at once.
After ending Facebook and other running apps, reboot your phone to refresh the RAM and to clear out any errant residual files from the system cache. You can do a force restart or soft reset. Then, open Facebook app and see if the problem is gone.
2. Clear app cache and data
Like any other apps, Facebook also has a dedicated directory for caching. Every time you open and use the app, it gathers relevant data and documents. This information is temporary and is stored purposely in the app's cache for future use.
However, residual files that are cached in Facebook may likewise result in some conflicts especially if any of them gets corrupted. And when this happens, adverse behaviors begin to manifest. This is when the Facebook app occasionally and/or frequently lags, crashes or freezes.
To fix the problem, clearing the app's cache and data is recommended.
And here's how it's done on the Galaxy S22:
Go to Settings-> Apps menu.
Find and then tap to select the Facebook app in the list.
In the Facebook app info screen, tap Storage.
To clear cache from the Facebook app, tap Clear cache at the bottom.
To clear the app's data, tap Clear data.
The Clear cache command deletes all temporary files stored in the Facebook app's cache without affecting relevant data and documents. But the Clear data command does.
Clearing the app's data will delete all your saved logins along with other temporary Facebook files and documents. This means you'll be logged out from your Facebook account.
The next time you launch Facebook, you will be asked to enter your Facebook account credentials and sign in to access and use your account like the first time.
3. Install app updates on Play Store
One way to make the apps stable is to keep them updated. Just like firmware updates, app updates pushed by app developers also contain essential patches to get rid of any existing bugs that may ruin the app's normal operations. And that applies to the iOS and Android version of Facebook app.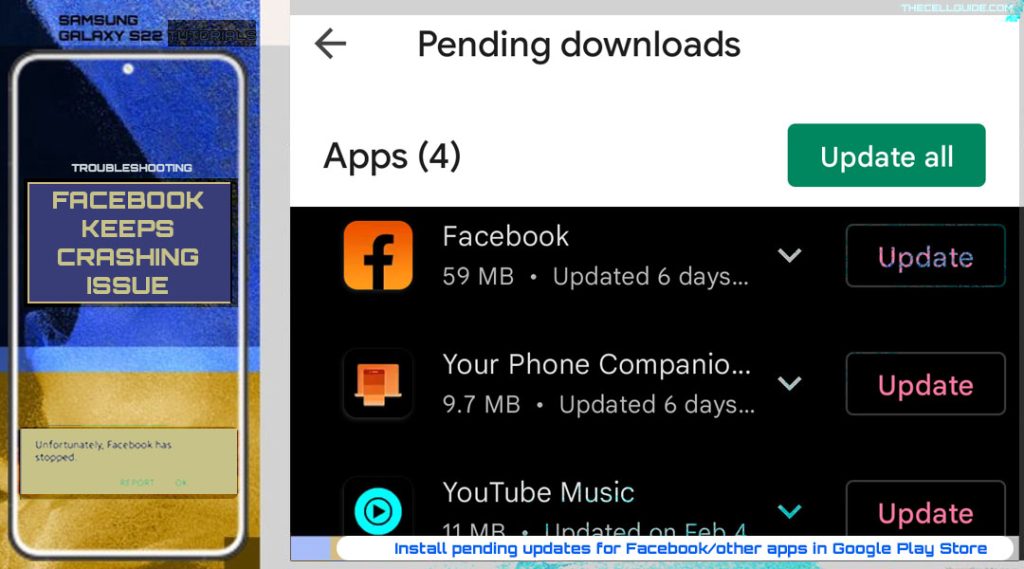 If you haven't enabled automatic app updates on the Play Store, then you will need to manually download and install new app updates available.
To manually check for new Facebook app updates on the Galaxy S22, just follow these steps:
Open the Play Store app then tap on your profile picture.
Tap Manage apps & device to proceed.
To view available app updates, tap Updates available.
From here you can tap the option to Update individual apps or tap Update All to install multiple app updates available at once.
Just make sure that your phone has sufficient storage space to allocate the new update files. And to avoid having problems while updating apps, make sure that the internet connection is stable and the battery life should be at least 50 percent.
4. Optimize internet connection
Again, internet connection is one of the key requisites for Facebook and other internet-based apps to work as intended. If your phone is having internet problems like slow connection, intermittent or no internet at all, then you need to deal with connectivity issues firsthand.
So this is what you should do next:
1. Refresh Wi-Fi network. Turning the Wi-Fi switch off and on is the first typical workaround that many people would resort to when dealing with random internet issues.
2. Airplane Mode trick. Performing the Airplane mode tweak is next. The process involves turning the Airplane mode switch ON, restarting the phone and turning the Airplane mode switch OFF again.
This trick has been proven effective when resolving minor errors affecting wireless services in mobile devices. It somehow gives a simultaneous restart to all the wireless features, which eventually clears out any transpiring network connection flaws.
3. Disconnect the current network then connect to another. Switching to another Wi-Fi network is also another potential solution, especially if the problem is tied to a corrupted Wi-Fi network in use.
And if all else fails, restoring network defaults is among the last resorts. This is done by triggering the built-in reset network settings command on the phone.
To reset network settings on the Galaxy S22, just go to Settings-> General management-> Reset menu. On the following screen, you will see different reset options. Find and then tap Reset network settings then tap Reset settings on the pop-up window to confirm.
If prompted, you will need to enter your device PIN, pattern or password to authorize the reset command.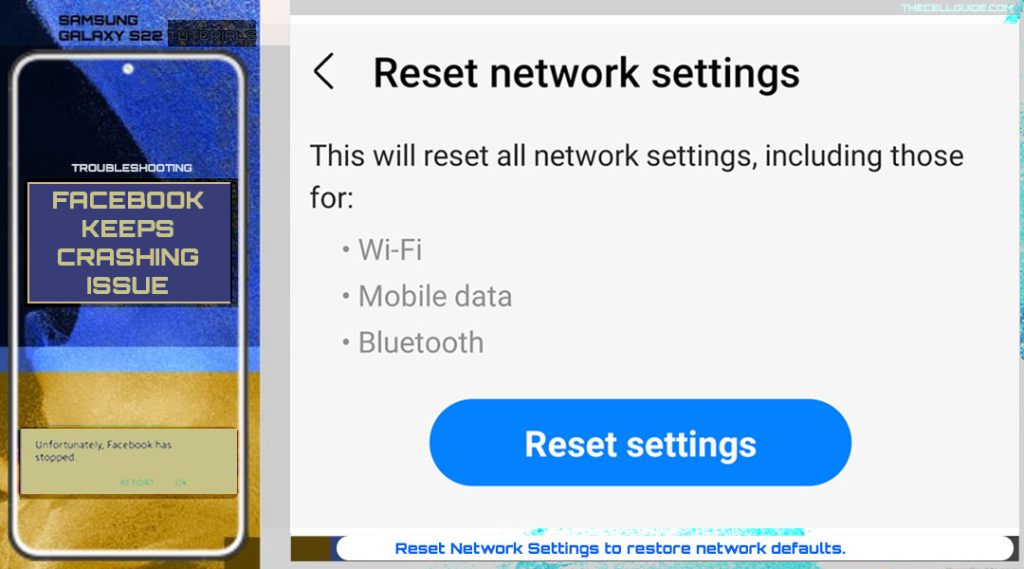 After resetting, the phone reboots by itself and then loads up all the default network options and values. This means the need for you to set up Wi-Fi and connect to the network like the first time you did.
5. Reset app preferences
If the problem started after altering app defaults and settings, it's possible that the recent changes result in some conflicts. Unless you figured out what exactly is at fault, restoring the default app settings would be necessary. This is when you can make use of the OneUI command to reset app preferences.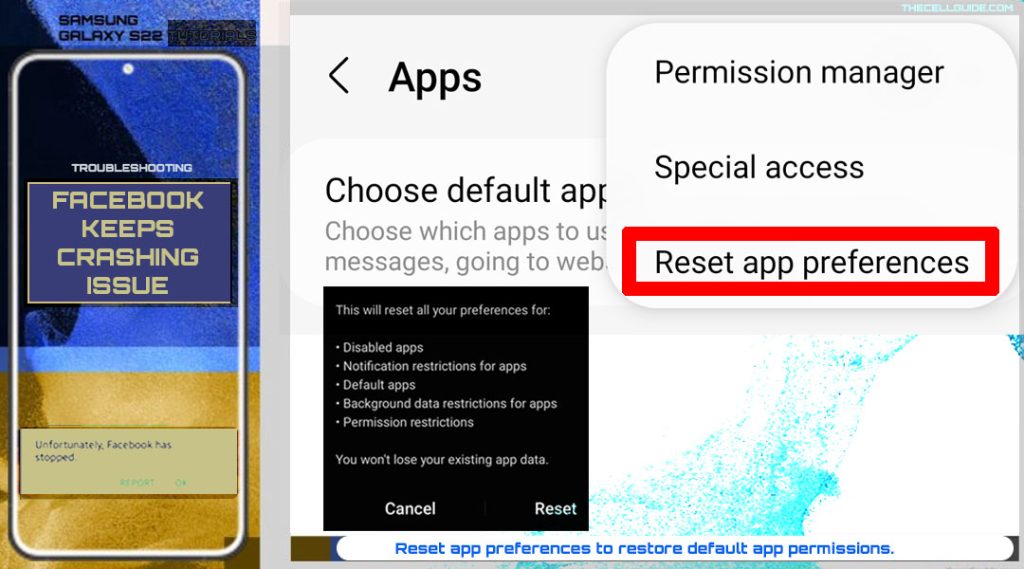 To reset app preferences on the Galaxy S22, just refer to these steps:
Open the Settings app and then tap Apps.
While in the Apps menu and then tap the triple-dot icon on the top-rightmost corner.
Tap Reset app preferences from the side menu options and then tap Reset on the pop-up window to confirm.
That should reset all your preferences for notification restrictions for apps, background data restrictions, permission restrictions and disabled apps without losing your existing app data.
Another reset option that you can use if the previous reset doesn't work is the reset all settings command. This reset deletes all custom settings and personalized app configurations. As a result, default values and options are restored.
Unlike a factory reset, the reset all settings command doesn't affect any user data so you won't lose important files and documents.
Just follow these steps if you wish to reset all settings on your Galaxy S22:
Go to Settings->General management-> Reset menu.
Tap reset all settings then tap Reset settings on the next screen.
Enter your device PIN, pattern or password if prompted and then tap Reset to confirm.
If restoring the default app settings doesn't solve the problem, then it might be due to some fatal in-app errors that made the app totally dysfunctional.
6. Uninstall then reinstall Facebook app
To clear out fatal in-app glitches that might have made the Facebook app corrupted, uninstalling the app is recommended. This will delete the app along with its data and documents permanently and thereby paves way for the latest version of the Facebook app installation.
Should you wish to proceed, just follow these steps to uninstall Facebook on the Galaxy S22:
Go to Settings-> Apps menu. Find and select Facebook from the list of apps.
On the Facebook app info screen, tap the Uninstall icon at the bottom.
Read the warning prompt then tap OK to confirm.
The Facebook app will then be deleted from the phone permanently. Give your phone a quick restart and then head over to the Play store to re-download and install Facebook app.
After a fresh install, Facebook should run seamlessly just like the first time it was first launched on your phone.
Is Facebook still crashing on your Galaxy S22?
More advanced potential solutions to random app crashes in Android devices include wipe cache partition to clear the phone's memory and system cache, installing the latest Android/OneUI software version, and a factory reset or master reset.
Problems with the Facebook app that are suddenly transpiring and keep recurring may also be due to some server issue. In that case, there's much that can be done on your end but to wait for the Facebook/meta server to be fixed. Facebook and other relevant services should be back up and running by then.
You may opt to escalate the problem to the Facebook help desk and ask for further suggestions on what to do next.
Hope this helps!
Please check out our YouTube channel to view more tutorial and troubleshooting videos for popular iOS and Android devices.
You Might Also Want To Read: