This post will walk you through activating the built-in voice commands on the One UI 4 Samsung camera application for hands-free image and video capture. Read on to learn how to enable voice commands on Samsung A33 camera app.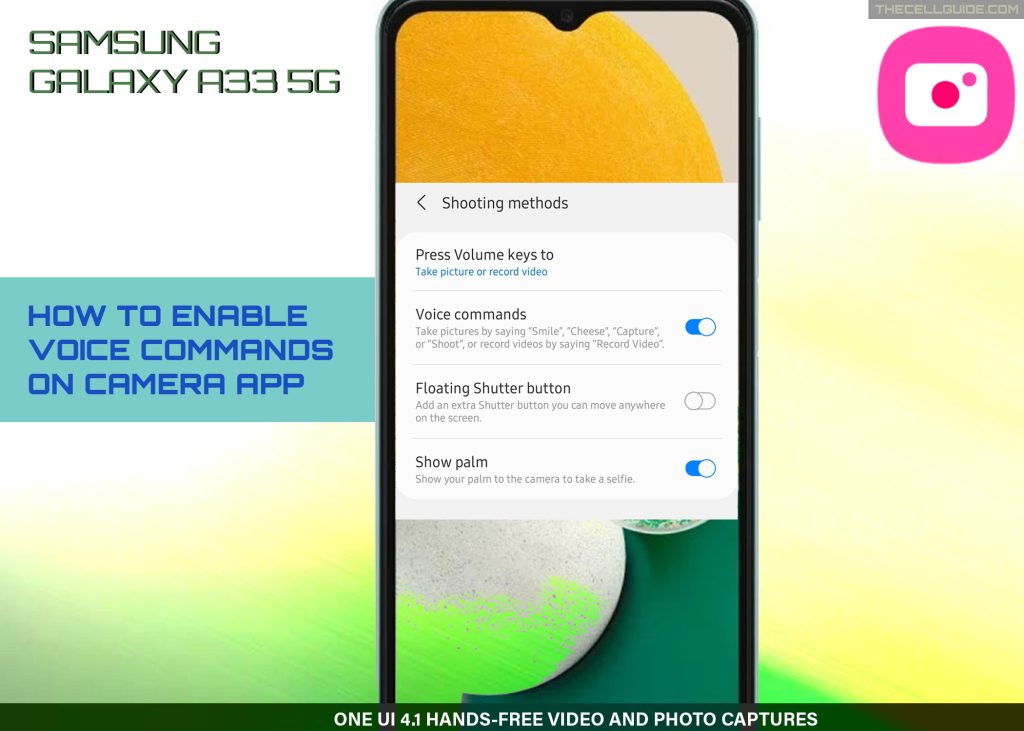 One UI 4.1 Voice Commands
Voice commands are among the latest trends in modern smartphones, making individual mobile phone experiences a lot better and more convenient.
As smartphone manufacturers continue to push updates, more and more advanced features are likewise added to every device.
Recent Samsung Galaxy phones for instance have an in-built intelligent voice assistant called Bixby.
With Bixby enabled, you can use your phone more conveniently as you can easily control it using preset voice commands.
Tackled in this post is a relevant feature specific to the One UI 4 Camera application on the Samsung Galaxy A33 device.
Similar to other Samsung phones with the same OS version, the Galaxy A33 also integrates a dedicated voice command feature to take photos and videos.
This serves as a better alternative to the traditional picture taking with the Volume buttons, floating shutter release, gesture or normal shutter release.
By default, the voice commands feature on the Samsung Camera app is disabled by the manufacturer. This means the need for users to manually toggle the switch to activate the function.
If you're new to Android and wondering how to get this done on your Samsung Galaxy A33 smartphone, you can refer to the outlined instructions as follows.
Steps to Enable Voice Commands on Samsung Galaxy A33 Camera
The following is the same method of activating the camera app's voice commands for hands-free image and video captures on other Samsung Galaxy phones running in Android 12 with One UI 4 or later OS versions. Actual screens and menu items may vary between device models and wireless carriers.
Start whenever you're all set to configure your phone's camera settings.
Step 1: To get started, open the Camera app by tapping on the Camera icon from the Home screen.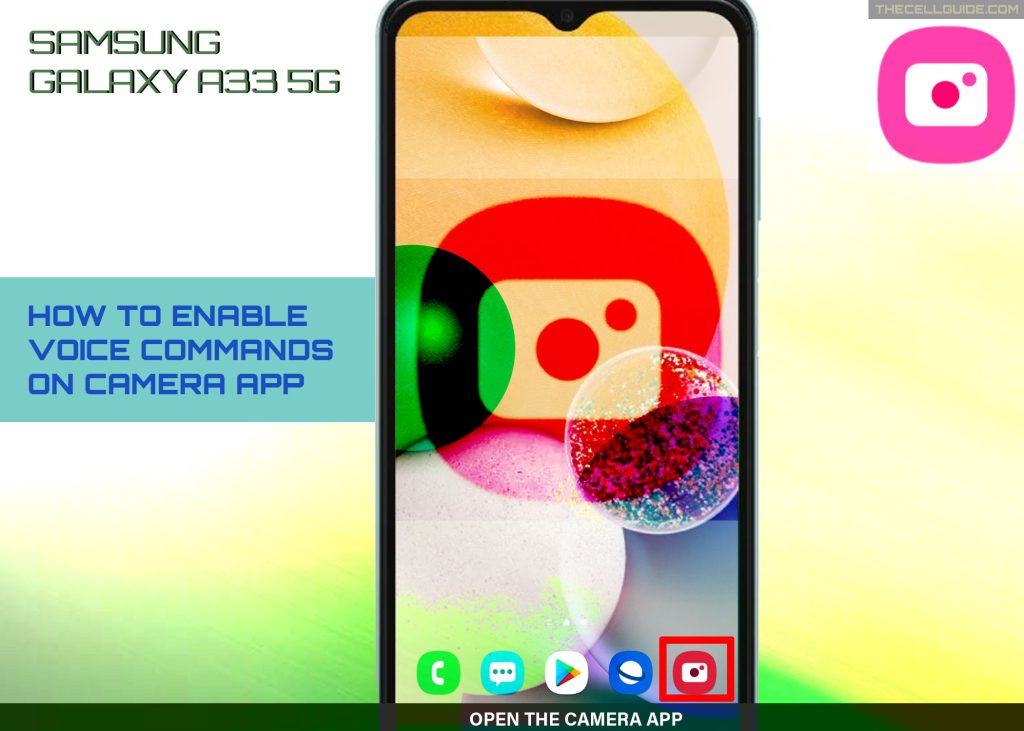 Step 2: In the Camera app's main screen, tap the Gear icon on the top-leftmost corner to view app settings.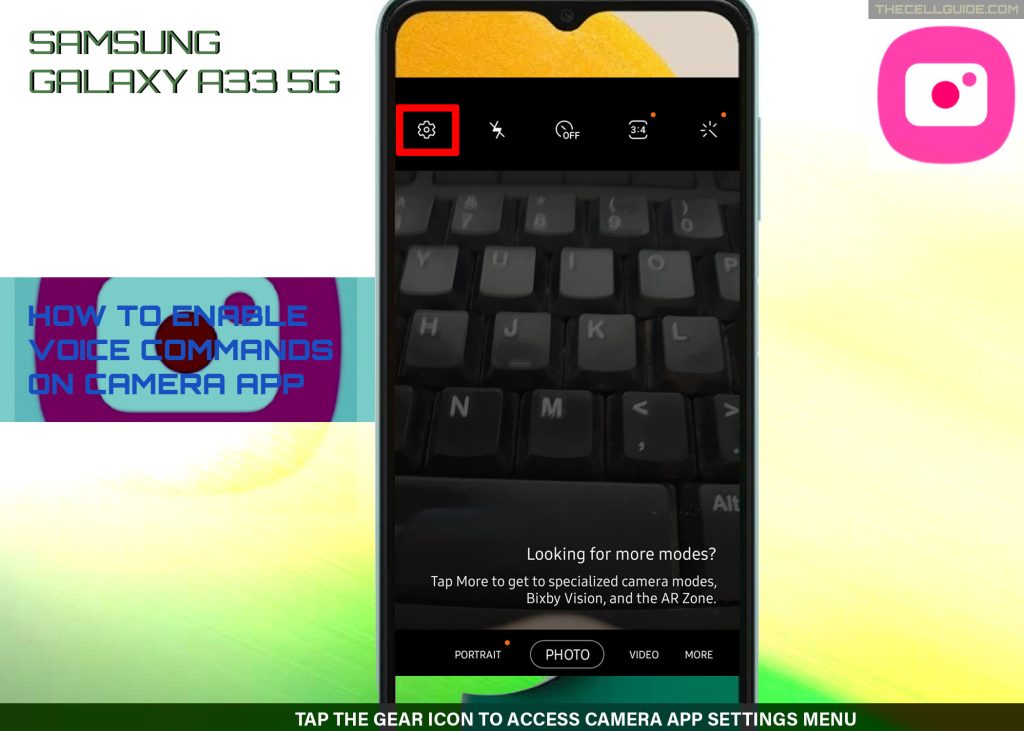 Step 3: Tap Shooting methods on the next screen to proceed. Available shooting methods will load up on the next display.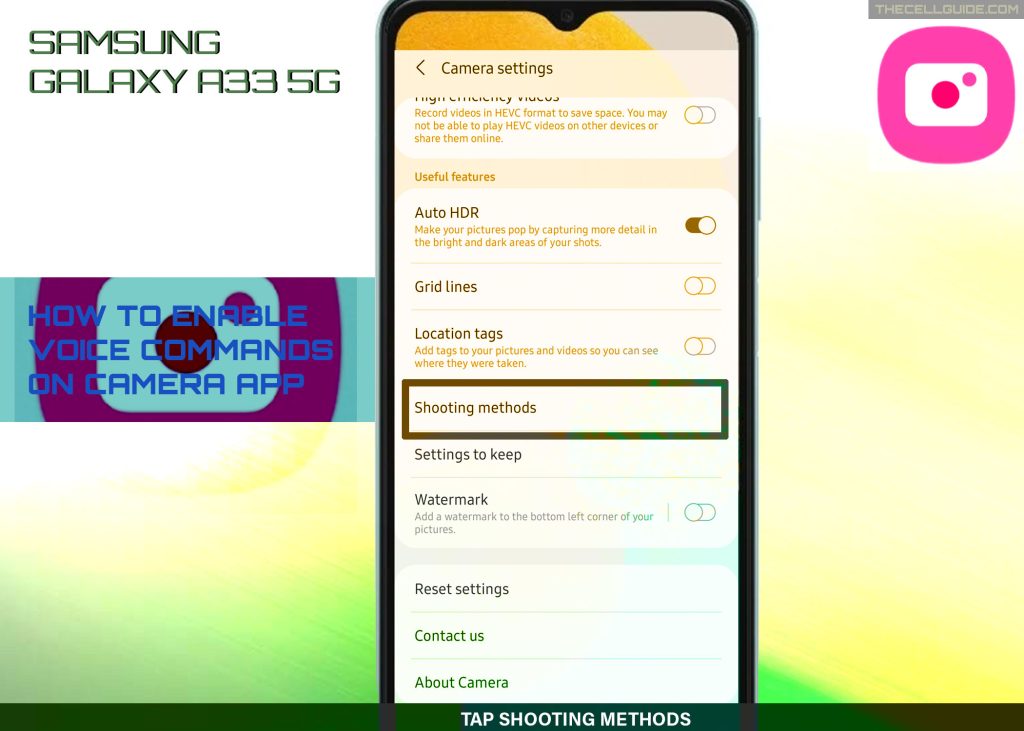 Step 4: Find and then tap Voice commands to enable it.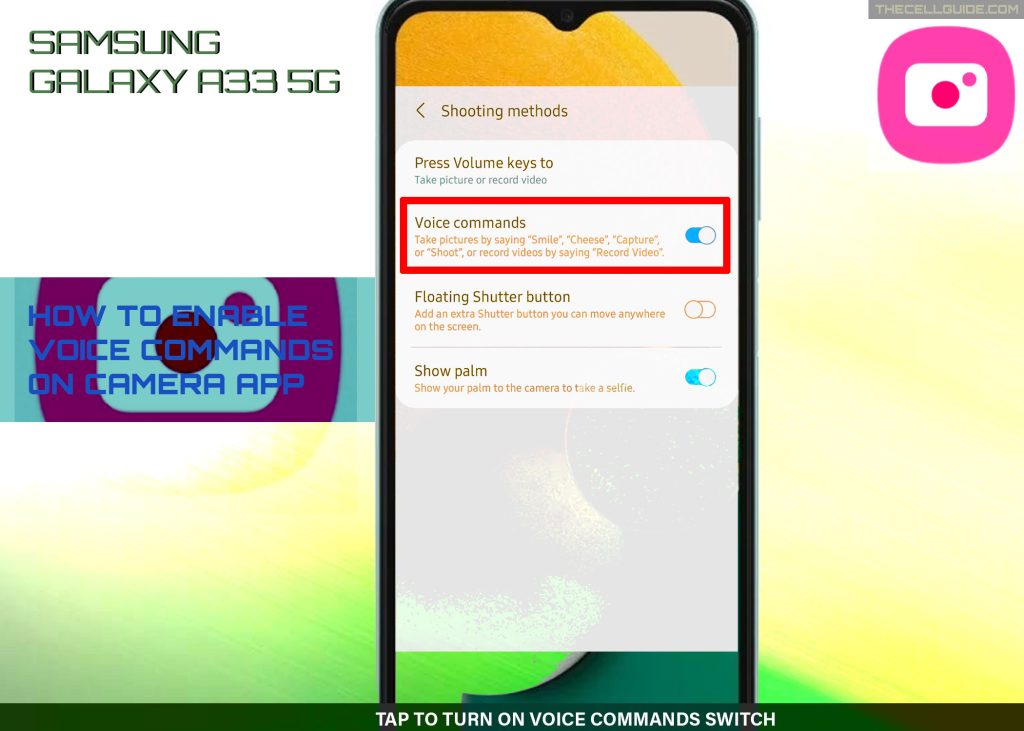 While enabled, you can start taking photos and recording videos using the preset voice commands.
Activating Voice Commands for Camera via Settings
Alternatively, you can access and configure the camera app's shooting methods and set it to voice commands through settings.
Here's how it's done on the Galaxy A33:
Step 1: To get started, tap Settings from the Home or Apps screen to launch the settings app.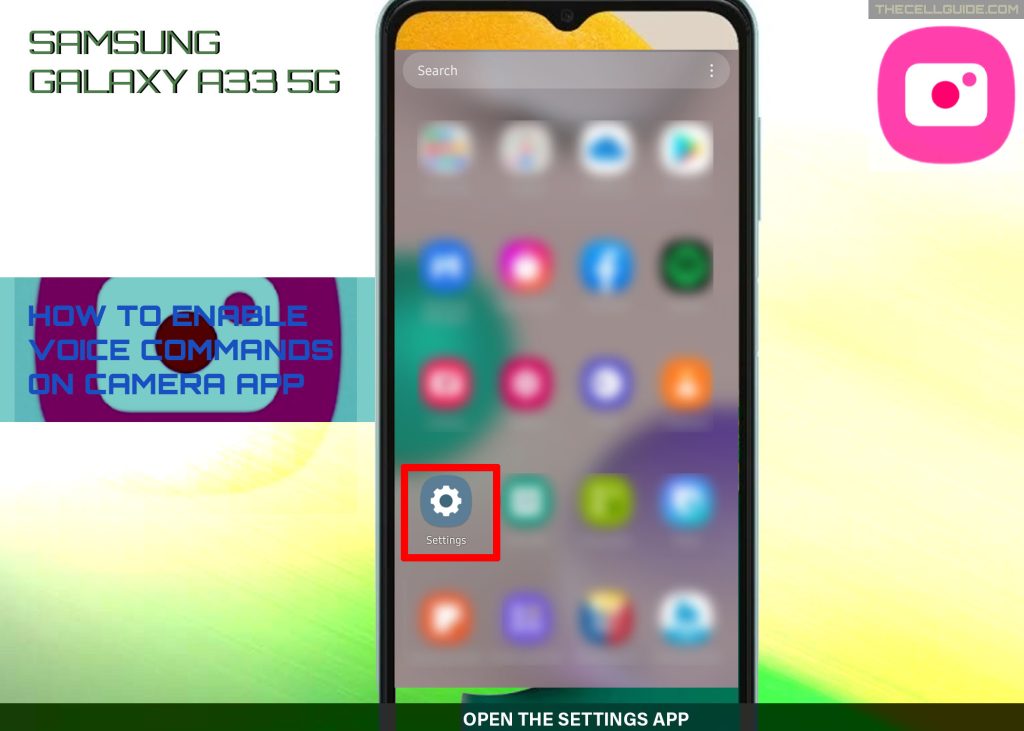 Step 2: In the Settings app menu, find and then tap Apps. A list of all downloaded and system apps will show up next.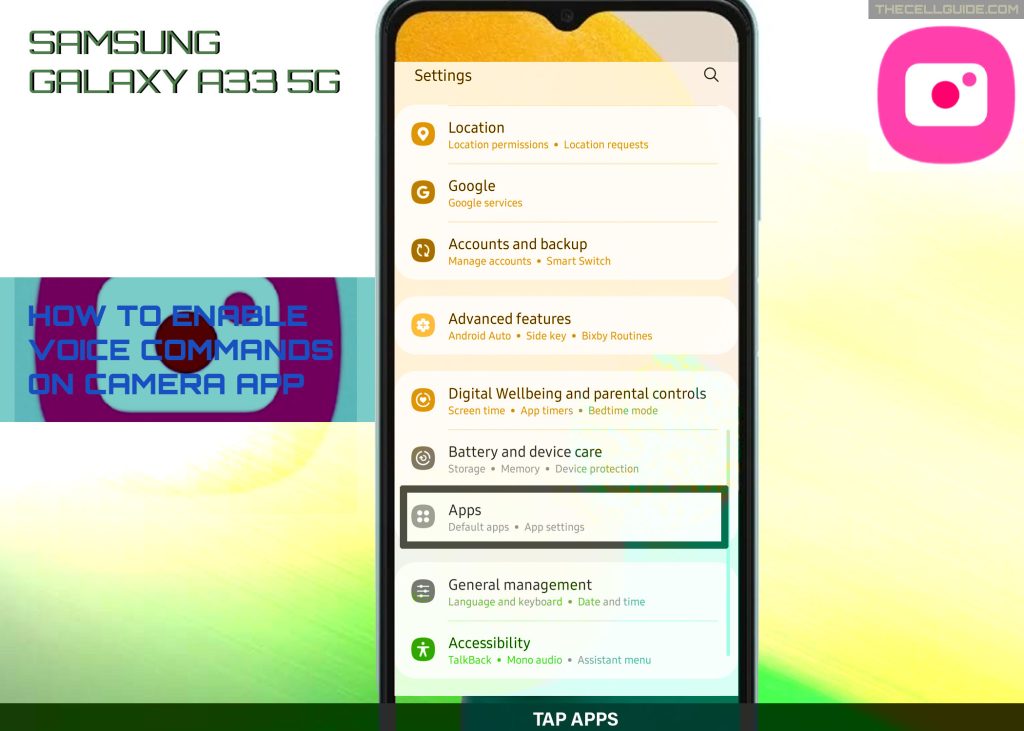 Step 3: Find and then tap Camera to proceed.
Step 4: While in the Camera App info screen, tap Camera settings. You'll be routed straight to the in-app settings with relevant features and options.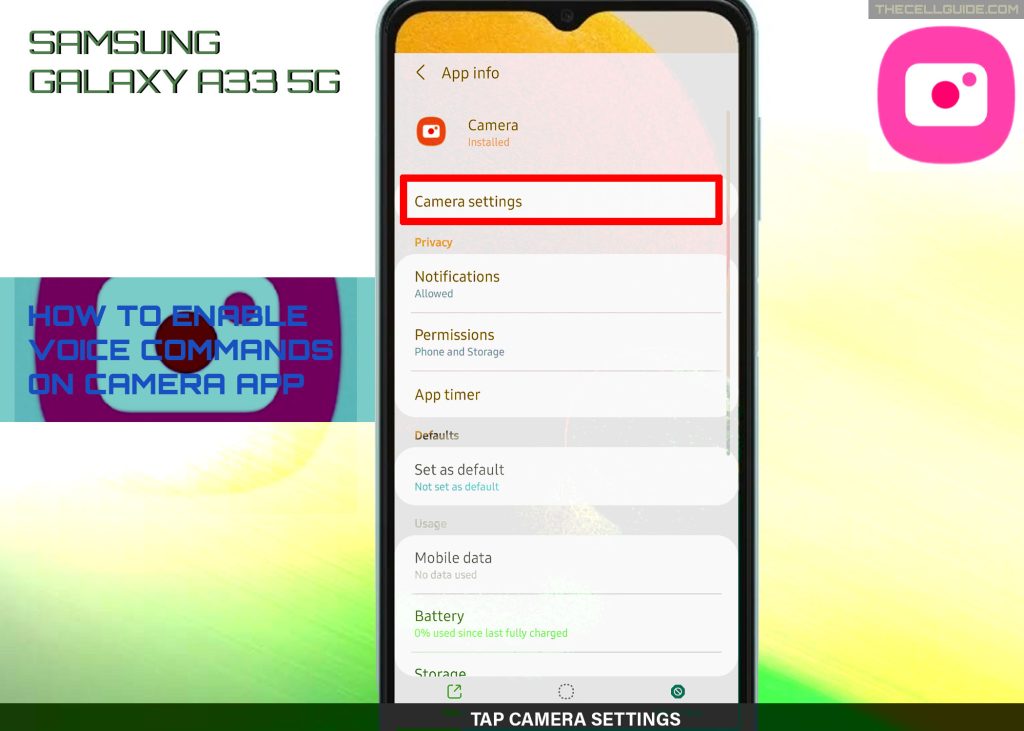 Step 5: Tap Shooting methods to continue. Available shooting methods will load up next.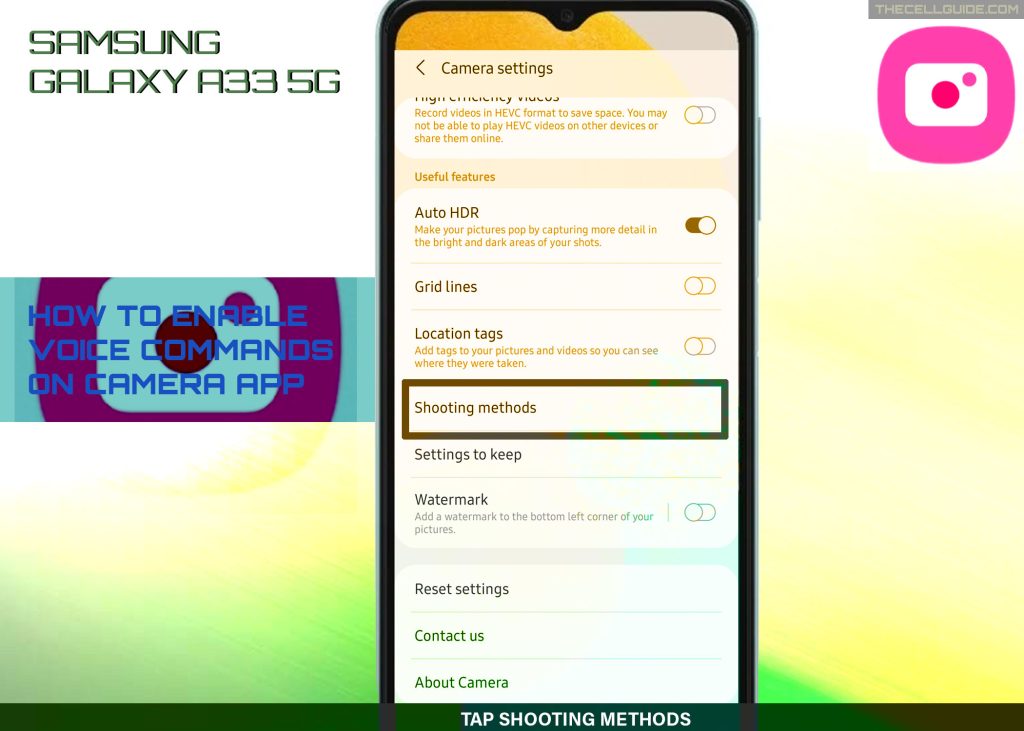 Step 6: Tap the Voice commands switch to turn the feature on.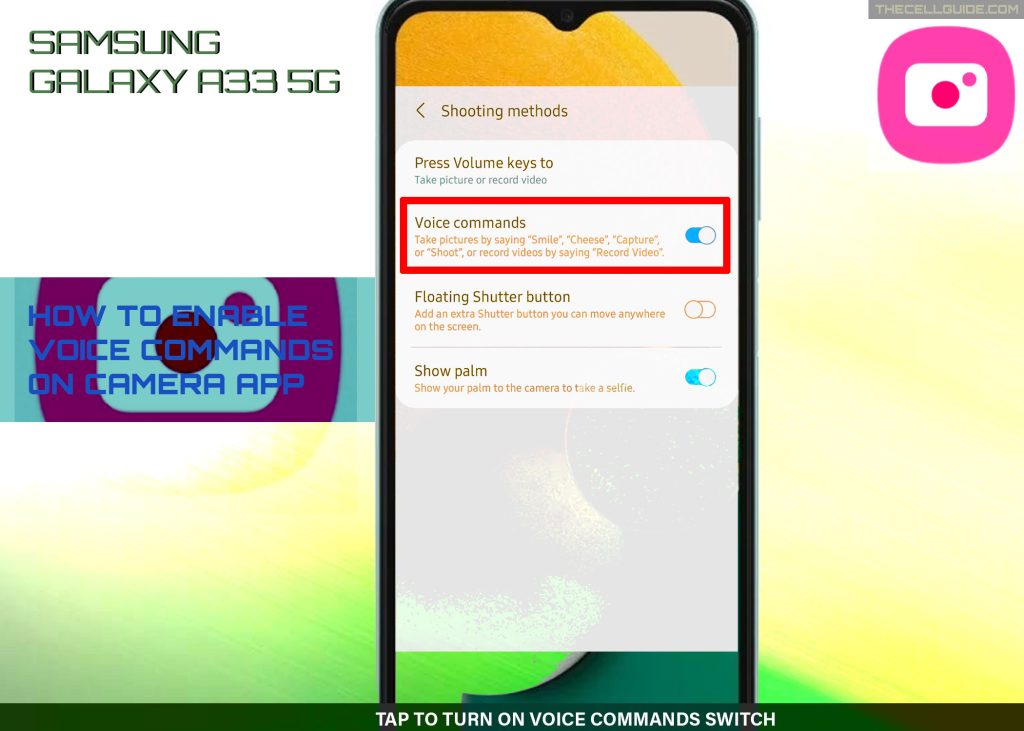 When the switch turns blue, it means that the function is activated. By then you're all set to take pictures using preset voice commands like Cheese, Shoot, Capture or Smile.
To record videos, just say Record Video or any other custom voice commands you've created and set.
Other Photo/Video Capture Methods
Aside from voice commands, you can also use other methods to take photos and record videos on your phone.
Among other options include floating shutter button, show palm and custom keys. For instance, you can configure the camera app to use the Volume keys to record a video or take pastures, use palm gesture to take a selfie, and the like.
And that's how to activate hands-free image and video capture with the Samsung Galaxy A33 camera app's in-built voice commands.
Hope this helps!
Please check out our YouTube channel to view more tutorial and troubleshooting videos for popular iOS and Android devices.
You Might Also Want To Read: