This post will walk you through getting new fonts on the Galaxy S22 series straight from the Galaxy Store's font directory. Here's a quick guide to download new fonts on Samsung Galaxy S22 and other Samsung devices running on Android 12 with One UI 4.1 OS version.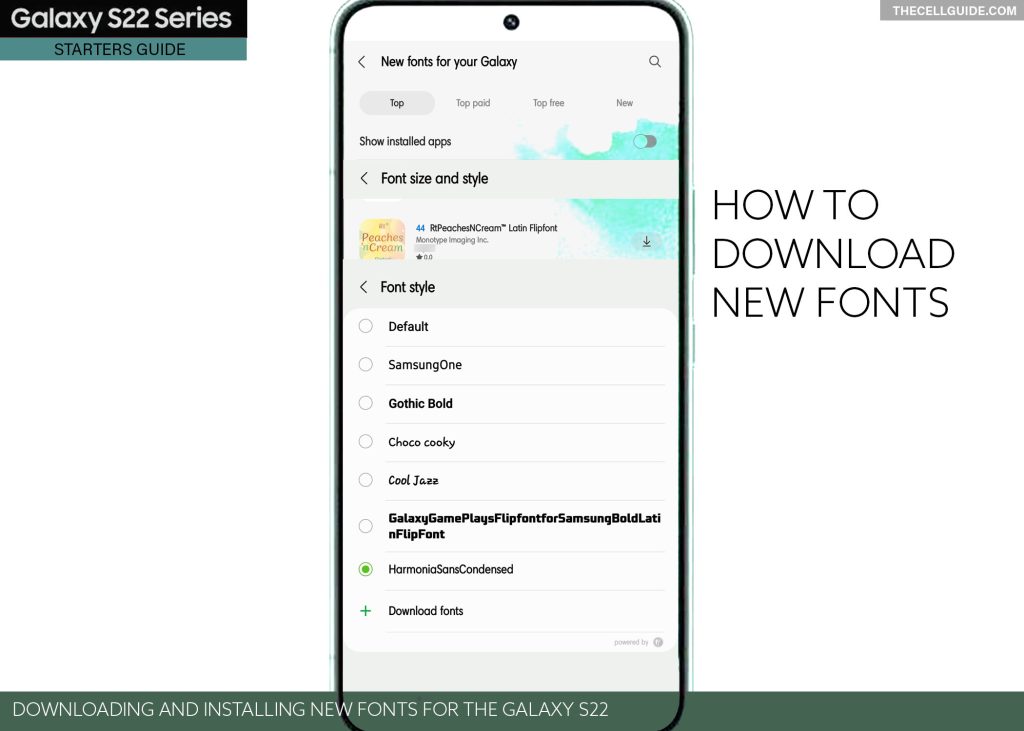 Samsung Galaxy Fonts
The Galaxy S22 font settings offers users an option to download new fonts.
Downloading fonts from the in-built settings menu requires an active internet connection either through a Wi-Fi or cellular data network.
When triggered, you will be taken straight to the Galaxy Store's font menu, with a wide array of many different fonts sorted by categories.
Most of these fonts come with minimal costs while some are for free.
The process of downloading fonts on a Samsung Galaxy phone is fairly simple.
If you're new to the Android 12 with One UI 4.1 OS version, a step-by-step walkthrough is outlined below.
Feel free to refer to this guide when needed.
Steps to Download New Fonts on Samsung Galaxy S22
Downloading new fonts on a Samsung phone is fairly simple. All you have to do is access the font settings menu wherein the new font downloading option is available.
Just follow these steps whenever you're all set to manage your Samsung phone's font settings.
Step 1: To get started, launch the Settings app menu by tapping on the Gear/Settings icon from the Home screen or Apps tray of your Samsung device.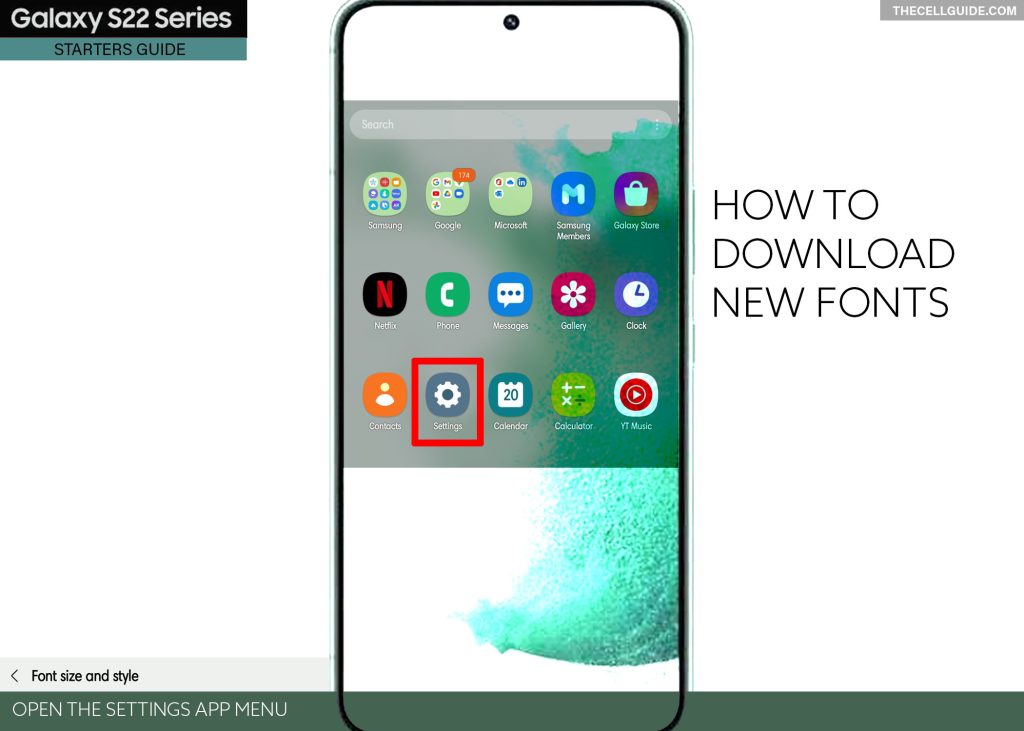 Step 2: In the main settings menu, find and then tap Display. Doing so launches display-related features and options.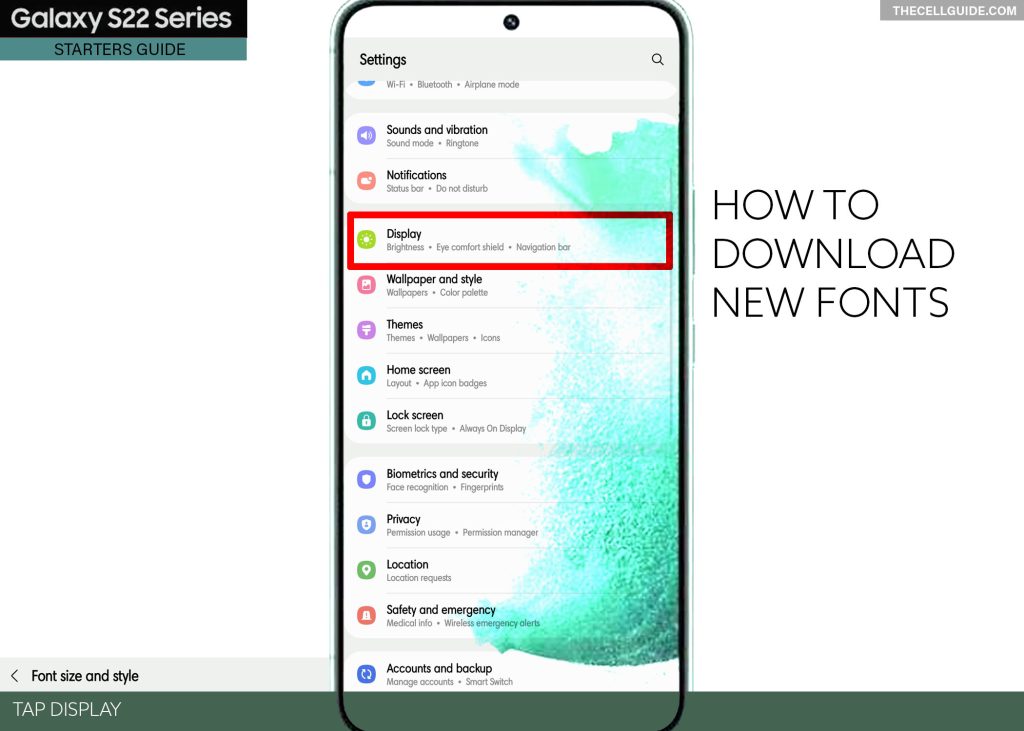 Step 3: Select Font size and style to proceed. More font settings will load up next.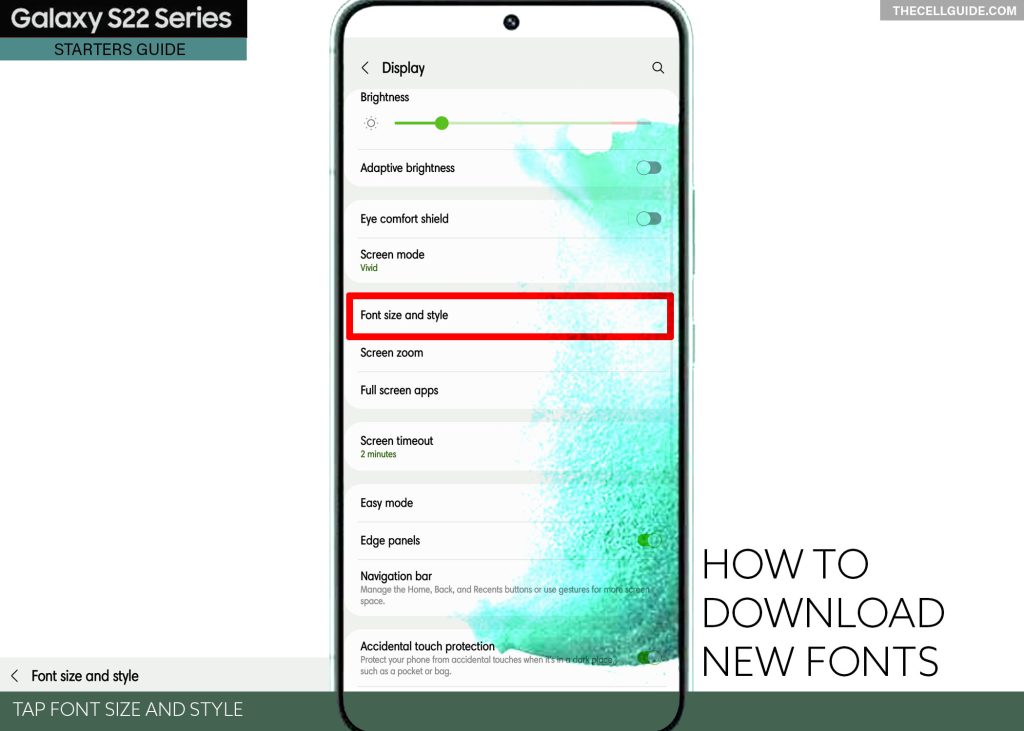 Step 4: To access and manage the in-built font directory, tap Font style. A list of preloaded fonts will show up on the next display.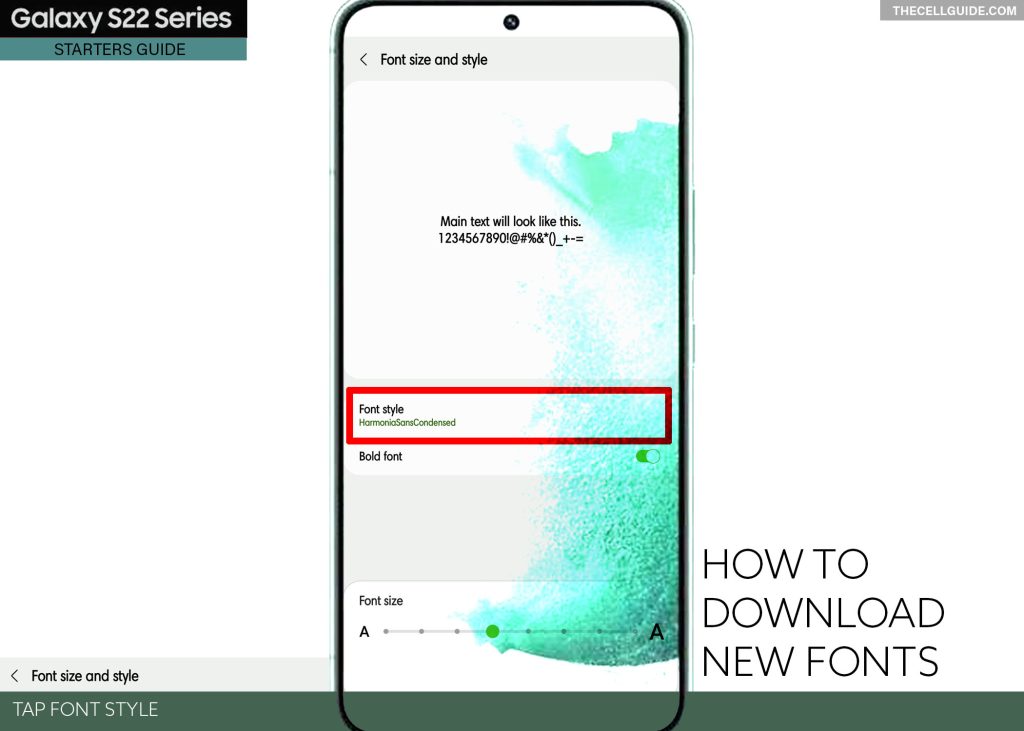 Step 5: Scroll down to the bottom of the list and you should see the option to Download fonts. Just tap on it to proceed.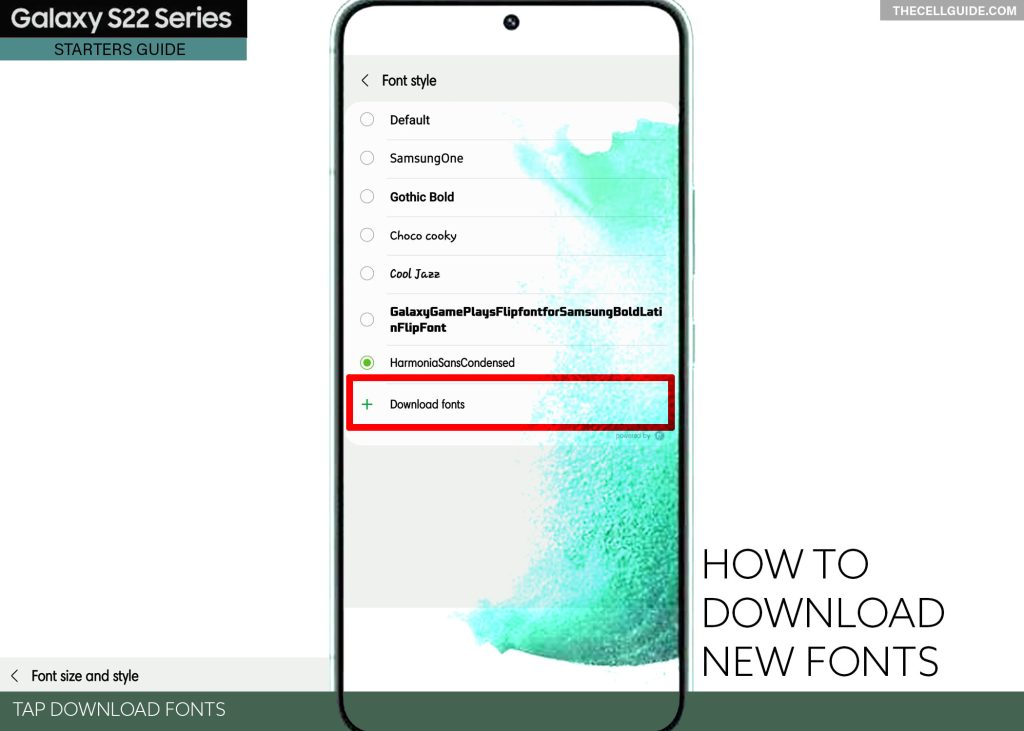 You will be redirected to the Galaxy Store, particularly on the Fonts menu. Here, you will see a number of different fonts for your Galaxy phone.
Step 6: To narrow down your search, you can select a specific font category. Just choose from Top, Top paid, Top free and New.
Step 7: After tapping on a category, relevant fonts will show up beneath. Just scroll down to find your preferred font and then tap on it to proceed. You can also speed downloading by tapping on the Download arrow next to the desired font.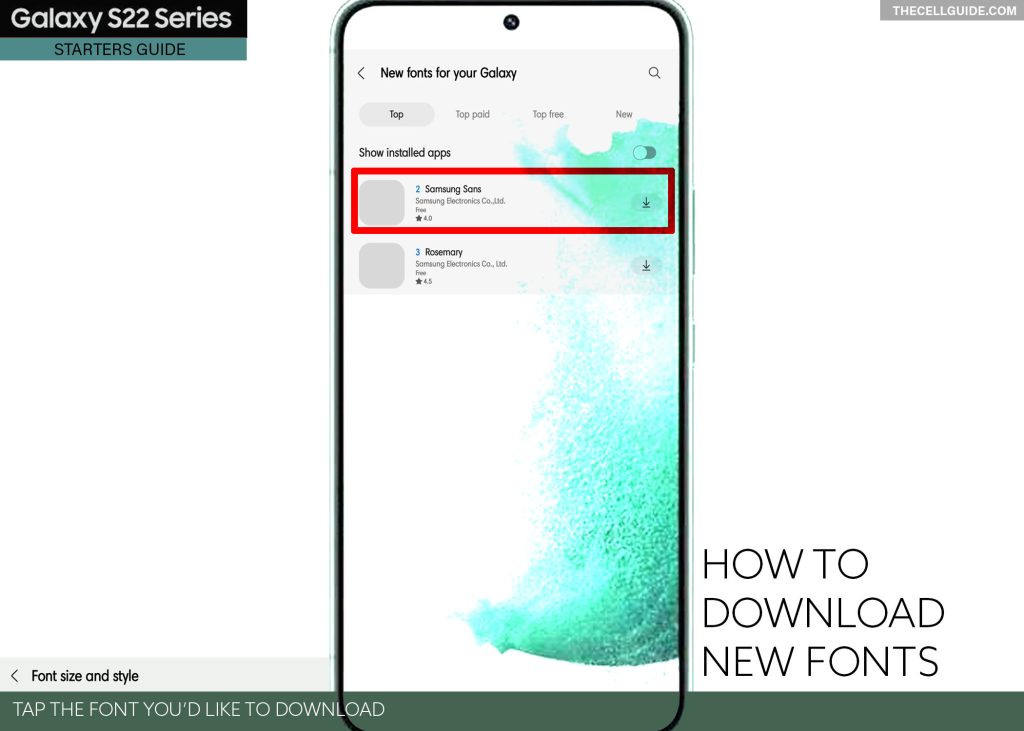 Step 8: On the following screen, tap Install.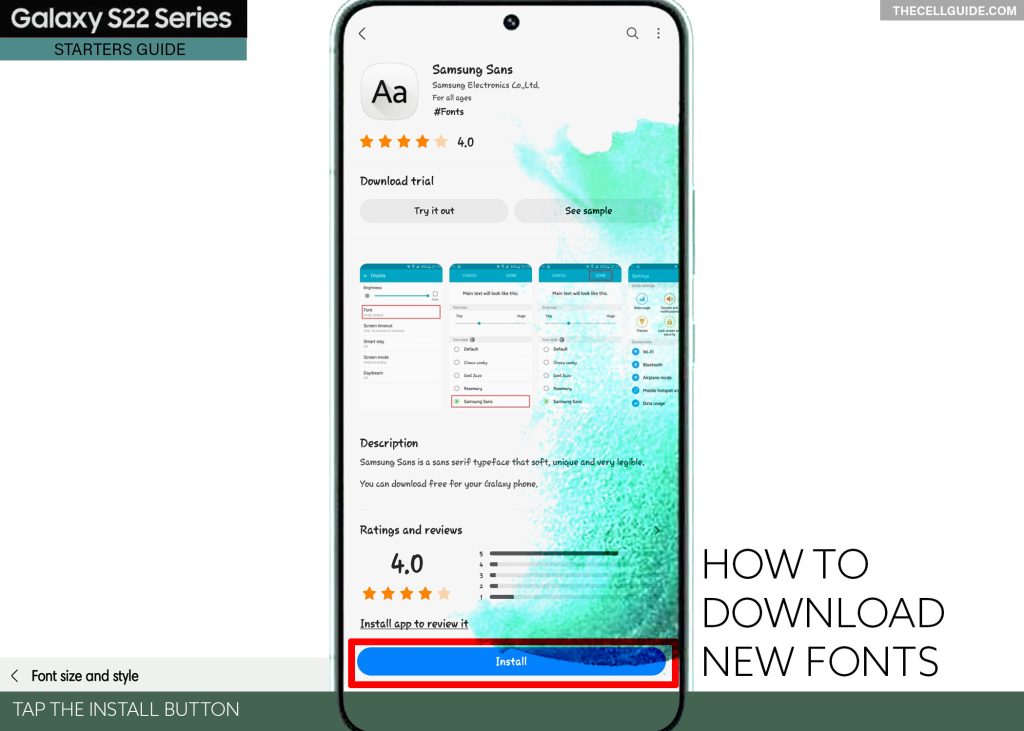 Step 9: When the font is finished installing tap Apply to use it as the new system-wide font for your Galaxy phone.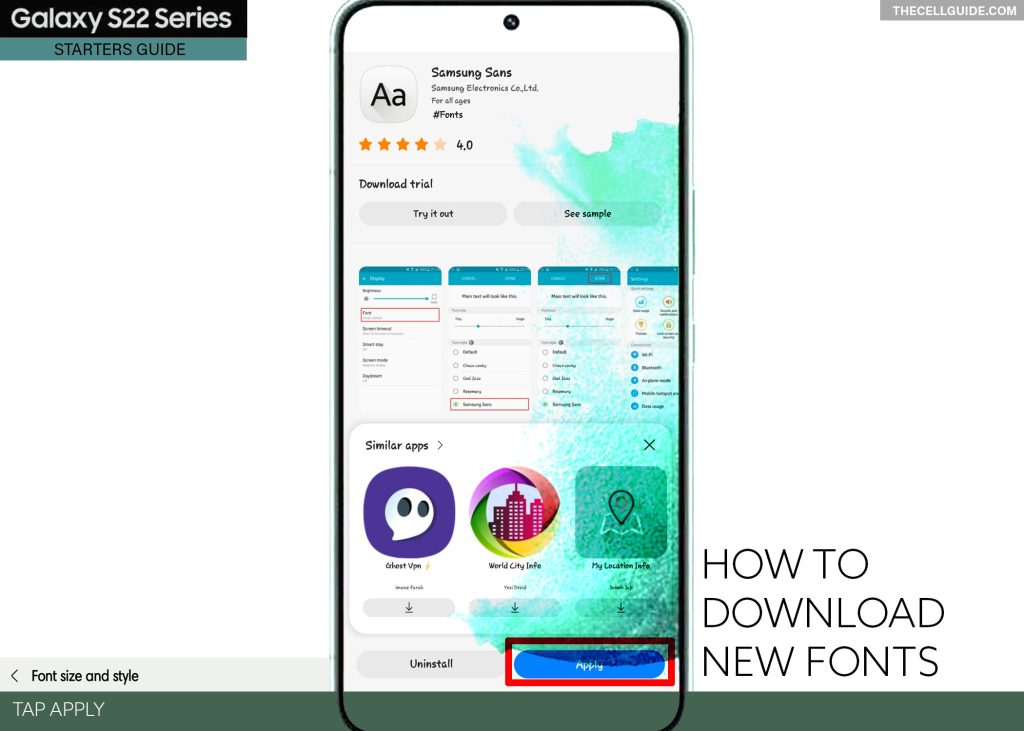 After applying the new font, you will notice that the default font style set on your device is changed and replaced with the new font you downloaded and installed.
To change this to another font style, just repeat the same steps to head back to the font size and style menu and then tap Download fonts.
Select your desired font then follow the rest of the onscreen instructions to finish installing and applying the new font in the system.
Other Means to Get New Custom Fonts
You can also pick any of the available custom fonts embedded from downloaded themes.
With Themes, you can apply a personalized design to your phone from wallpapers and icons to default apps. New custom fonts are also available.
To download new Themes for your Galaxy S22, touch and hold on an empty area on the Home screen and then tap Themes. Swipe up to view more available themes and then choose your desired theme to download.
Some themes are available for free while others via one-time purchase. After downloading your desired theme, you can start scouring for its embedded wallpapers, icons, AODs and custom fonts to apply.
Third-Party Font Downloaders
Aside from the Galaxy Store, you can also use third-party apps to get new fonts for your Samsung phone. Many of these apps have almost everything you would want to have on your Galaxy device including the latest and free fonts.
To do this, start by downloading the font that you'd like to install on your phone.
After downloading the desired font, navigate to your phone's Downloads app/folder/directory and then open it. There, you should see all your recently downloaded files including the font you just downloaded. Typically, the font is compressed into a ZIP file format. This means the need for you to extract the font file to begin the installation.
To extract the font, you will need to mark either the TTF file or OTF file in the ZIP file and then follow the rest of the onscreen instructions to finish extracting the downloaded font.
After extracting, the new font will be added as a custom font.
Hope this helps!
Please check out our YouTube channelto view more tutorial and troubleshooting videos for popular iOS and Android devices.
You Might Also Want To Read: