This post will walk you through activating an advanced intelligent wireless feature that allows your new Samsung Galaxy device to detect suspicious network activity. Read on to learn how to detect suspicious network activity on Galaxy S22.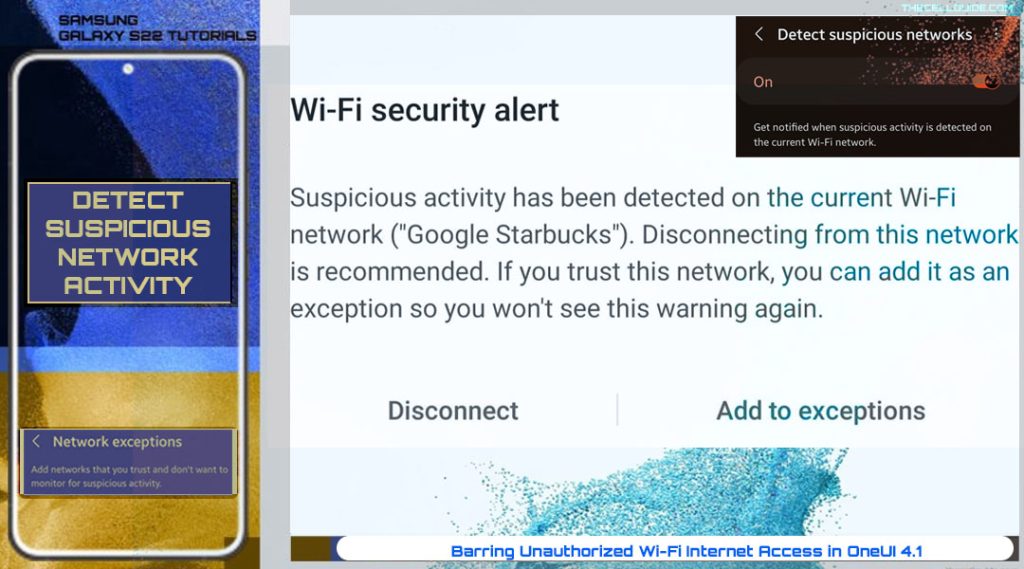 OneUI 4.1 Advanced Wi-Fi Features
With the constant system updates pushed by software developers, more and more advanced features are likewise added and made available for smartphone owners.
Tackled in this guide is one of the said features found in recent Android and Samsung Galaxy devices, particularly in the Wi-Fi category called "Detect suspicious networks." This feature is likewise available on other modern Android phone and Samsung devices.
Lined up among other items in the Advanced Wi-Fi section is an option to detect suspicious network activity. As the name implies, turning this feature on will prompt the device to analyze and identify any apprehensive activity transpiring on the current Wi-Fi network.
When enabled, your device will detect any suspicious activity that has been done on your Wi-Fi network and on all connected devices. Say for instance if the Detect suspicious network activity feature is enabled on your Galaxy S22, you'll promptly get alerts about any suspicious activity detected on your Wi-Fi.
Based on the alert details, you can gauge whether or not the detected activity is authorized or not. You can also set some exceptions to trusted Wi-Fi networks on your device so you won't get any pop-up alerts on future activities involving the exempted network(s) on your new device.
Steps to Enable Advanced Wi-Fi feature to Detect Suspicious Network Activity on Galaxy S22
The following steps are also applicable when enabling the feature to detect suspicious network activities on other Samsung Galaxy devices with the same OneUI version with the Galaxy S22, S22+ and Galaxy S22 Ultra.
Actual screens and menu items may vary between device models and carriers so there may be some slight differences on every device's user interface.
Just follow these steps whenever you're all set.
Step 1: Tap Settings from the Home screen or Apps viewer to open the Settings app.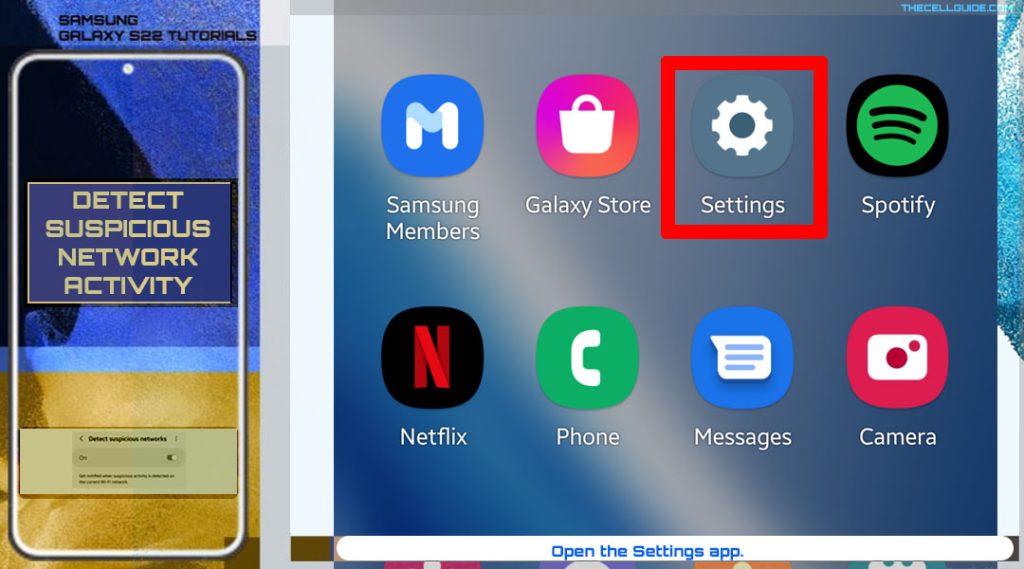 Step 2: On the Settings app menu, tap Connections. Relevant features will load up next.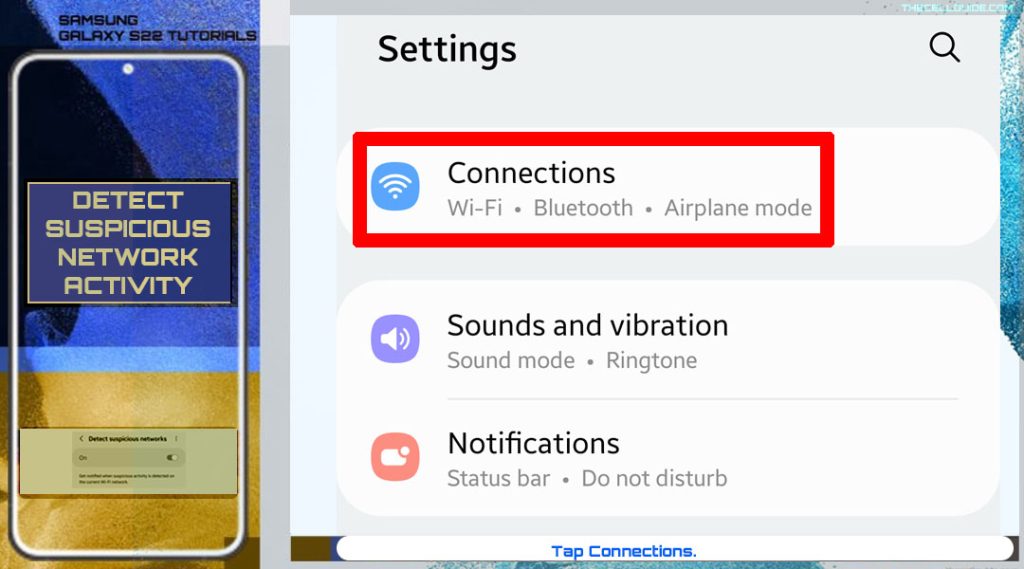 Step 3: Tap Wi-Fi to continue.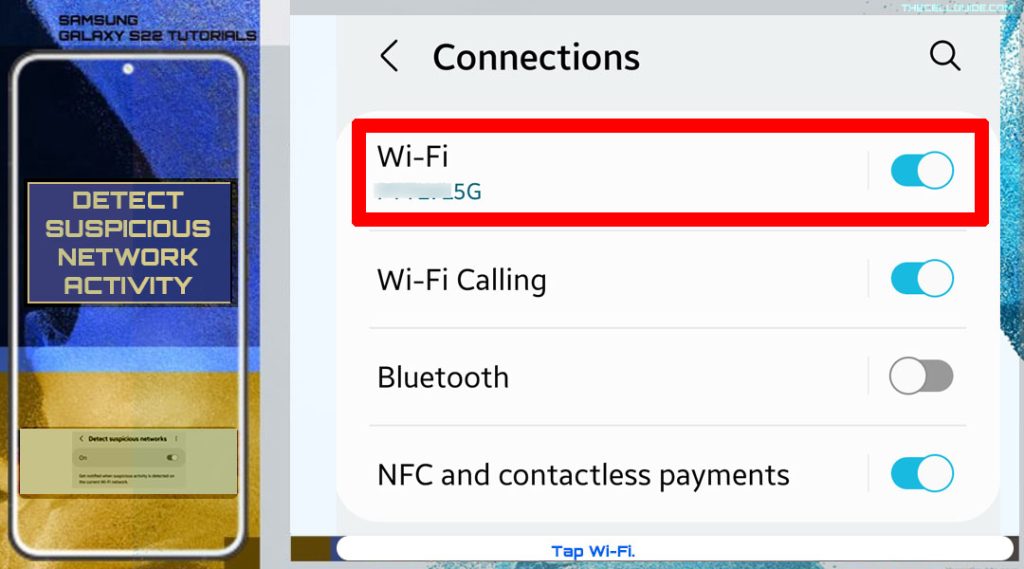 Step 4: On the Wi-Fi menu, tap the triple-dot icon on the top-rightmost corner. Doing so opens a side menu with more options.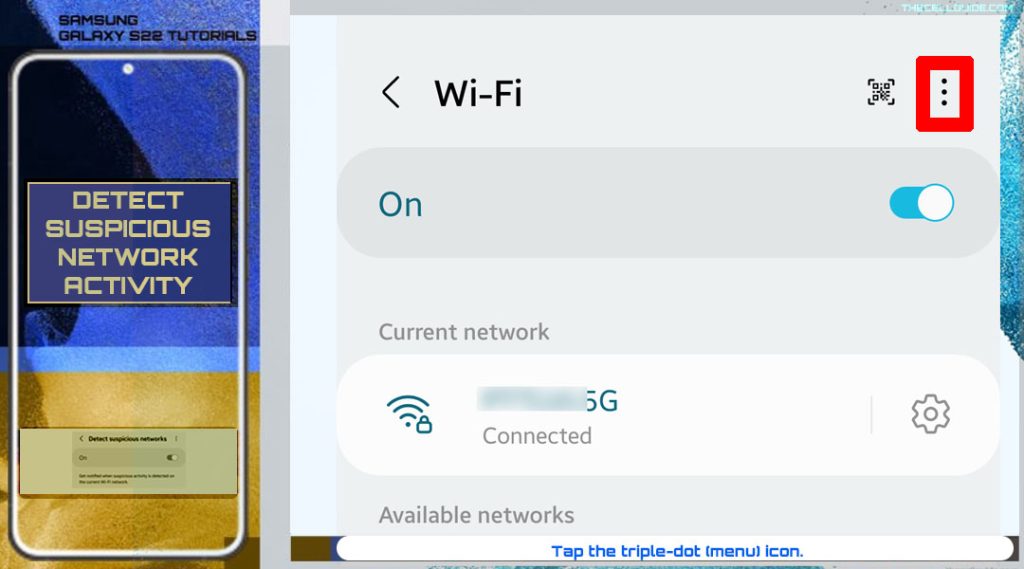 Step 5: Tap Advanced to proceed. On the next display, you will see a list of all advanced Wi-Fi features and settings.
Step 6: Find and then tap Detect suspicious networks.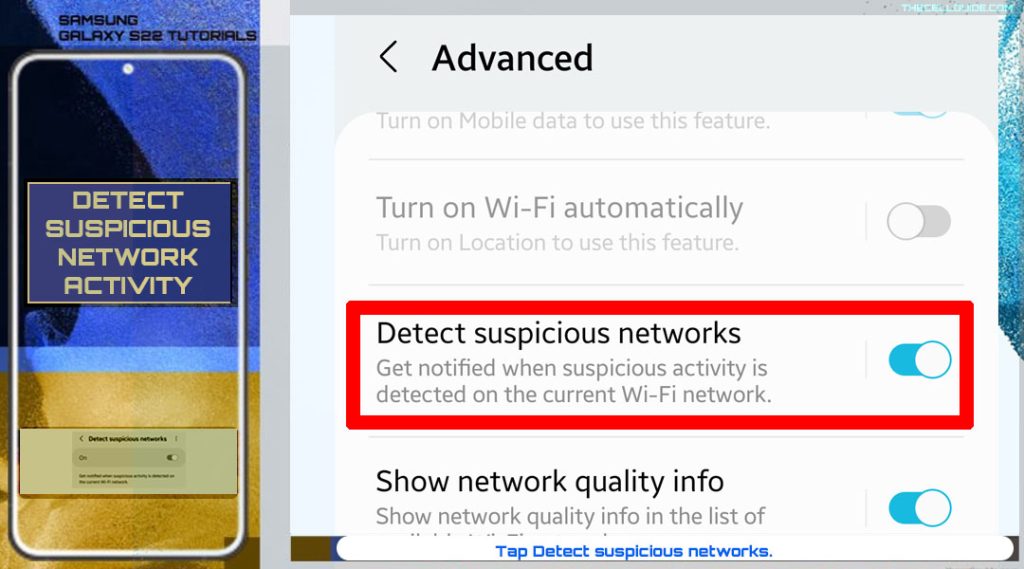 Step 7: On the next screen, toggle to turn the OFF switch ON. Doing so activates the feature to detect suspicious networks.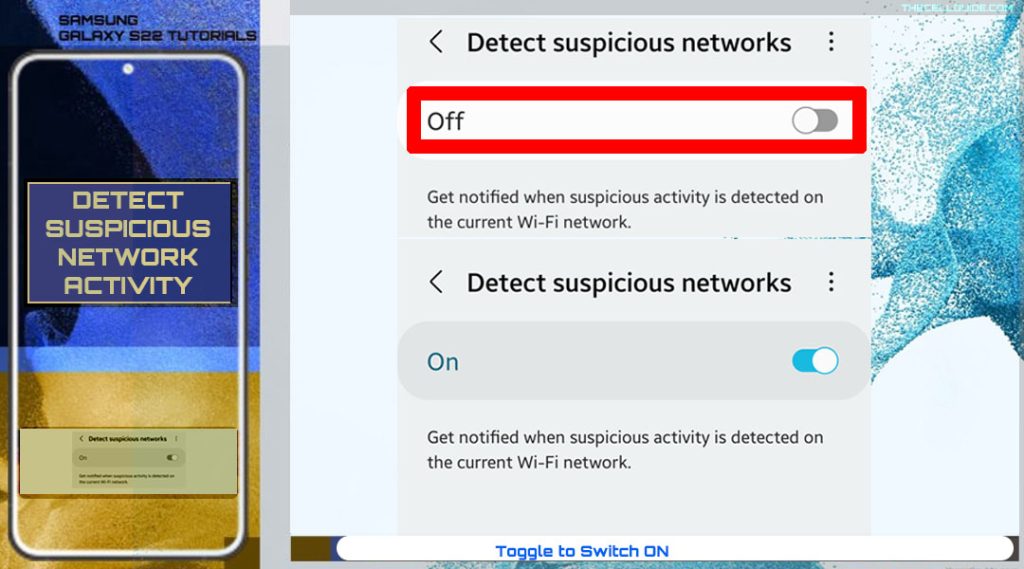 That then should prompt your Samsung Galaxy device to alert you whenever a suspicious network activity is detected on your current Wi-Fi network.
To set some exceptions to trusted networks, tap the triple-dot icon on the upper-rightmost corner next to Detect suspicious networks then tap Network exceptions and follow the rest of the onscreen instructions.
Why is it important to turn this Wi-Fi feature on?
Suspicious activities are defined by certain types and patterns of activity that imply "red flags" or possible unauthorized access to your current network.
Among the common scenarios include strange user access patterns such as failed login attempts, remote access and odd hours access to the network.
With the intelligent Wi-Fi features like the detect suspicious networks function on recent Samsung Galaxy phones, you can promptly respond to or act against any suspicious activity that has been detected on your Wi-Fi.
While this may not sound a "big deal" to normal/common users, enabling such features often yield benefits as it will safeguard your network equipment including your Wi-Fi router and all of the connected devices from any malware or hacking.
The fact that plenty of malicious software are now present makes your web traffic and connected device data more vulnerable to breaching. In fact, setting a password to the Wi-Fi network isn't enough to defend your phone.
What to do when suspicious network activity is detected?
If you see a message on the notification panel or any screen saying that "Suspicious network activity has been detected, " when using the internet or other tools, then it likely indicates a red flag and therefore you need to do something accordingly.
This is usually what happens when a certain file attempts to access your Wi-Fi network without a valid signature. A valid digital signature refers to an authentication method that validates authenticity of a file.
In this case, you will need to change or update your Wi-Fi password to make it more secure. Putting the device in Airplane mode is also deemed a temporary solution while figuring out the required action.
If your device suddenly shows atypical behaviors after you customize the network settings or from altering the Wi-Fi settings, try to reboot it first and see how it works. If the problem continues, then you may have to consider reverting back to the Wi-Fi settings.
Hope this helps!
Please check out our YouTube channel to view more tutorial and troubleshooting videos for popular iOS and Android devices.
You Might Also Want To Read: