This post will help deal with a performance issue on the Galaxy S21 that randomly stops responding and lagging following a software update. Read on to learn what to do if your Samsung Galaxy S21 randomly freezes and lags after an update.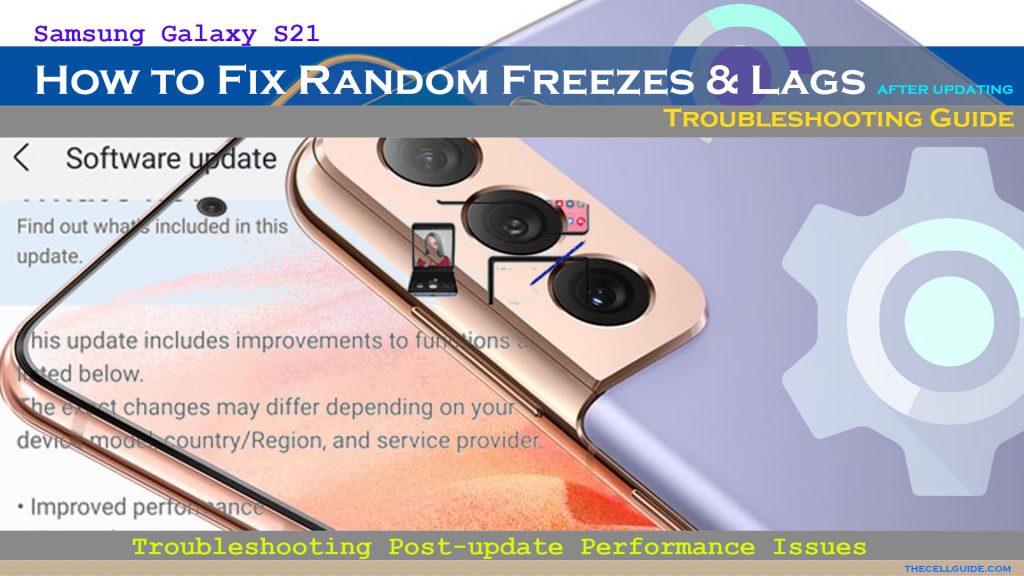 Post-update Performance Issues
Software updates are primarily aimed at optimizing system functionalities on the receiving devices. However, there are several factors that can trigger post-update bugs. That said, various types of post-update issues could emerge.
Just recently, newer Samsung Galaxy phones including the Galaxy S21 series received the latest Android 12 update accompanied by the One UI 4.0. The recent update brings in some new features and a number of system alterations that refresh the prior look of these Galaxy devices. However, not all of those who got the recent update ended up with such a good outcome as their respective devices turned out to be performing sluggishly.
What triggers post-update lags?
Oftentimes, third-party apps that misbehave from an update would cause the entire system to straggle. As a result, system functions would become unstable and sluggish. The same thing can happen when the recent update automatically overrides system settings as it could result in some conflicts.
If your phone storage is already running low, there's a chance that it would lag after updating due to low memory.
But on a positive note, the underlying cause is software-related and therefore rectifiable by end-users.
To help you rule out software-related factors that might have caused your Galaxy S21 to lag and freeze from the recent update, I've mapped out some quick fixes.
What to do if your Galaxy S21 randomly freezes and lags after an update?
Performing the following solutions can help eliminate software-related factors that would cause the phone to freeze and lag after an update. Any of these methods will likely get your phone performing better and faster again unless hardware damage is present.
Feel free to start whenever you're all set to troubleshoot your device.
Solution #1: Force restart.
If your phone stops responding and gets stuck, it's possible that any of the apps has gone rogue from the recent update and eventually halts crucial system functions.
Such is a common post-update occurrence that can easily be rectified by a forced restart.
Performing a forced restart will forcibly close all unresponsive apps and system services and prompts the device to instigate system reboot. Errant caches and system data will likewise be eliminated in the process.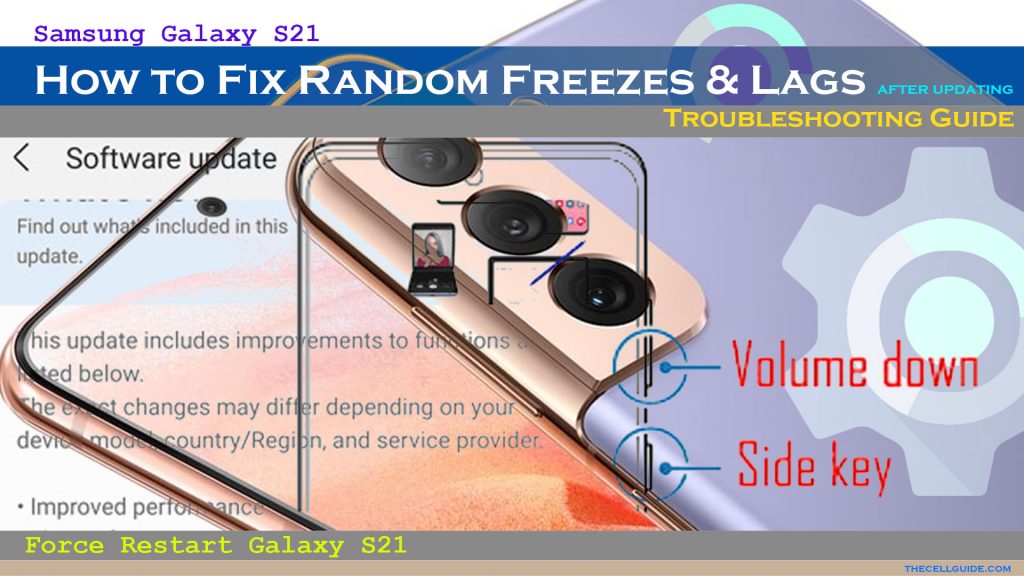 It doesn't affect any saved data on the internal storage so it's a safe process to begin with.
Just follow these steps to force restart your Galaxy S21:
Press and hold the Volume Down button and the Power key for 8 seconds. This will shut your device down and turn it back on.
When you see the Samsung logo, release both keys.
Wait for the phone to finish the boot sequence and then see how it works afterwards.
Solution #2: Update apps.
As mentioned earlier, third-party apps that have gone rogue from the recent update are often likely the main trigger. Thus optimizing these apps could potentially fix the problem.
To determine whether or not the problem is attributed to a faulty third-party application, you can try running your device in safe mode. When you put your phone in safe mode, all downloaded apps are temporarily disabled.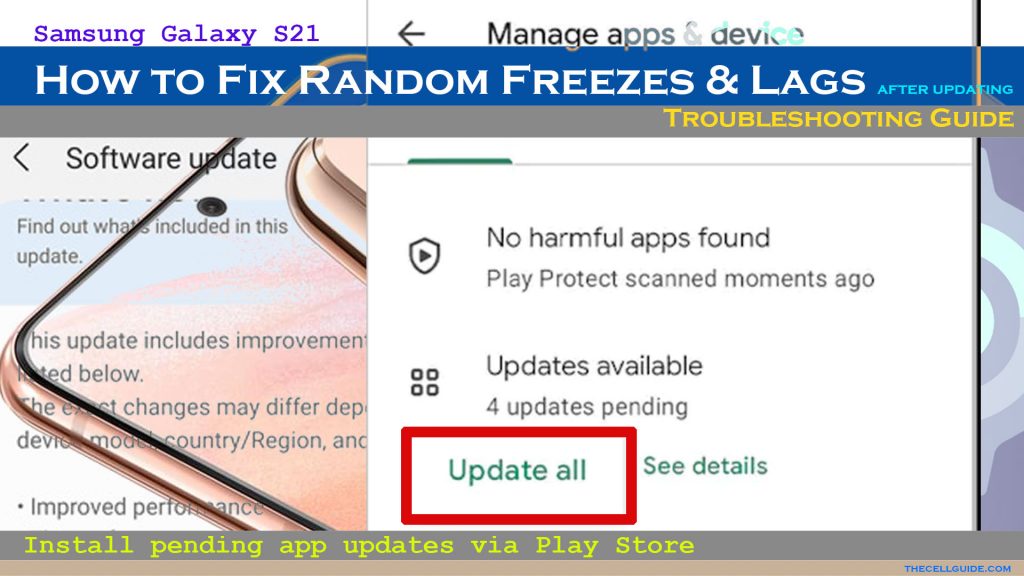 With only the preloaded apps and services left running, it will be easier for you to figure out whether or not the problem is isolated to a downloaded app.
Just follow these steps if you wish to try it:
Press and hold the Volume Down button and the Power key for a few seconds or until the Power menu shows.
Tap and hold the Power off option until it turns into Safe mode.
Tap Safe mode to restart your phone.
If your phone doesn't lag while in safe mode, then that's an indication that a third-party app is at fault. So here's what you can do next:
Install pending app updates. If you haven't set your apps to auto-update, then you will need to manually install pending app updates on the Play Store.
Clear app cache and data. Clearing cache and data for an app is also a potential solution.
Reinstall problematic apps. Individually uninstalling and reinstalling suspected apps can also help.
Permanently deleting errant apps is likewise highly recommended to prevent them from causing conflicts to other apps and eventually ruin the entire system.
Solution #3: Wipe cache partition.
Aside from clearing cache and data from an app, post-update performance issues can also be remedied by wiping the cache partition. Executing this Android recovery command will eliminate all temporary files and residual data accumulated in the system cache. This will likely solve the problem if corrupted cached files are the main culprit. It doesn't affect any saved information from the internal storage so you won't lose any important data in the process.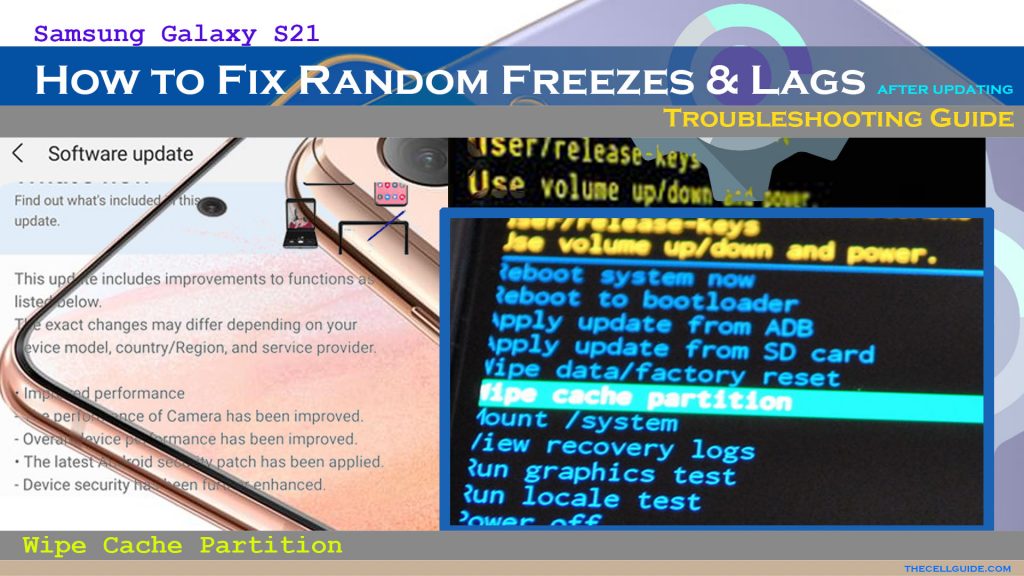 Just follow these steps if you'd like to wipe cache partition on your Galaxy S21:
Turn off the phone if you haven't already.
Press and hold the Volume Up key and the Side/Power key.
When the Android/Samsung logo appears, release both the Volume Up key and Side/Power key.
You will see the 'Installing system update' message appearing briefly before the Android Recovery menu options shows up.
Press the Volume down key several times to highlight Wipe cache partition option.
Once the wipe cache partition option is highlighted, press the Side/Power key to select.
Press the Volume down key to highlight Yes, then press the Side/Power key to select.
When the process is complete, Reboot system now is highlighted.
Press the Side/Power key to restart the phone.
Allow the phone to finish rebooting and then see if the problem is gone once it's back up and running again.
Solution #4: Optimize storage on your Samsung Galaxy S21.
Memory-related issues like low memory are also a factor that are linked to performance problems in mobile devices. This is often the case if you're fond of adding huge apps and multimedia content on your device. To rule out insufficient storage from the underlying cause, try to delete old and unwanted content.
To check and see how much storage is available on your phone, just head over to the device care menu with these steps:
Open the Settings app by tapping on the Settings icon from the Home screen or Apps viewer.
While on the main settings app menu, scroll down and tap Battery and device care.
Tap Storage to continue.
On the succeeding window, you will immediately see how much storage is used.
If the available storage is less than 3 gigabytes, deleting unnecessary content including old and unused apps, messages, videos, photos, documents and other media files is recommended.
Solution #5: Reset all settings on your Samsung Galaxy S21.
Samsung Galaxy smartphones that are running on the latest One UI or Android version come with various types of reset commands that you can use when needed. One of these is the reset all settings command.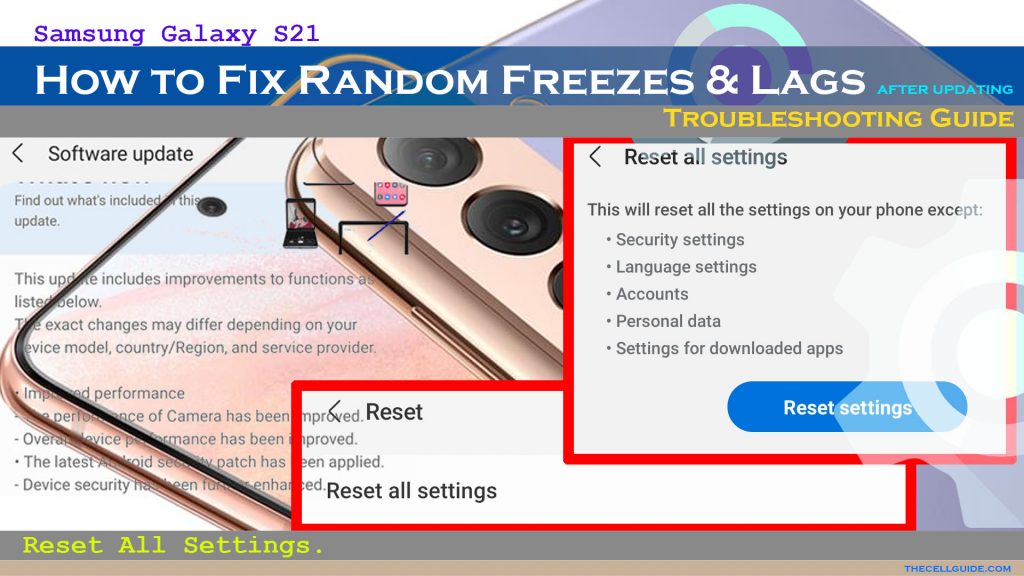 Performing this reset will delete all custom settings including network configurations, app permissions, as well as faulty app settings overrides.
This reset is recommended before performing a factory reset as it doesn't delete user data. Just follow these steps if you wish to try it:
From the Home/Apps screen, tap the Settings icon. Doing so will launch the Settings app.
While on the main settings menu, tap General management.
Tap Reset on the succeeding window to proceed.
Select the option to Reset all settings.
If prompted, enter your device passcode.
Read and review the reset details and then tap Reset settings to proceed.
Finally, review the warning message and then tap Reset to confirm.
After the reset, your phone reboots by itself and then loads up the default values and options. This means the need for you to re-enable necessary features, particularly those that are disabled by default so you can use them again on your phone.
Is your Samsung Galaxy S21 still freezing and lagging?
A drastic solution to complex system issues that cause random freezes and lags is a factory reset. This reset will restore your Galaxy S21 to its factory state and thereby allows you to set it up as new. Any stubborn system bugs including those that are coming from the recent update will likewise be eliminated and thereby allows your device to perform smoothly again.
But before you do this reset, be sure to back up all important files from your phone if possible. Otherwise, you will lose them permanently as they will all be deleted during the reset.
Once you've got everything set, you may proceed with a factory reset either via settings menu or through Android recovery.
Repair Options
If nothing else works, then that's the time when you should consider ruling out hardware-related issues on the phone. Although the symptoms instigated from an update, it doesn't always denote that the recent update is to blame. It's still possible that the device has previously obtained hardware damage from prior instances of accidental drops or liquid exposure.
You can take your phone to the nearest Samsung-authorized service center in your area for proper hardware check-up and/or repair.
Contact Samsung Support
Escalating the problem to Samsung Support is also recommended as it would inform them that such a problem occurs after the recent update. By then, they can look into it and develop a fix patch if needed.
Hope this helps!
Please check out our YouTube channel to view more tutorial and troubleshooting videos for popular iOS and Android devices.
You Might Also Want To Read: