This post highlights a few potential solutions to a slow internet or slow browsing issue on the iPhone 13 mini. Here's what to do when your iPhone 13 mini has a very slow internet connection.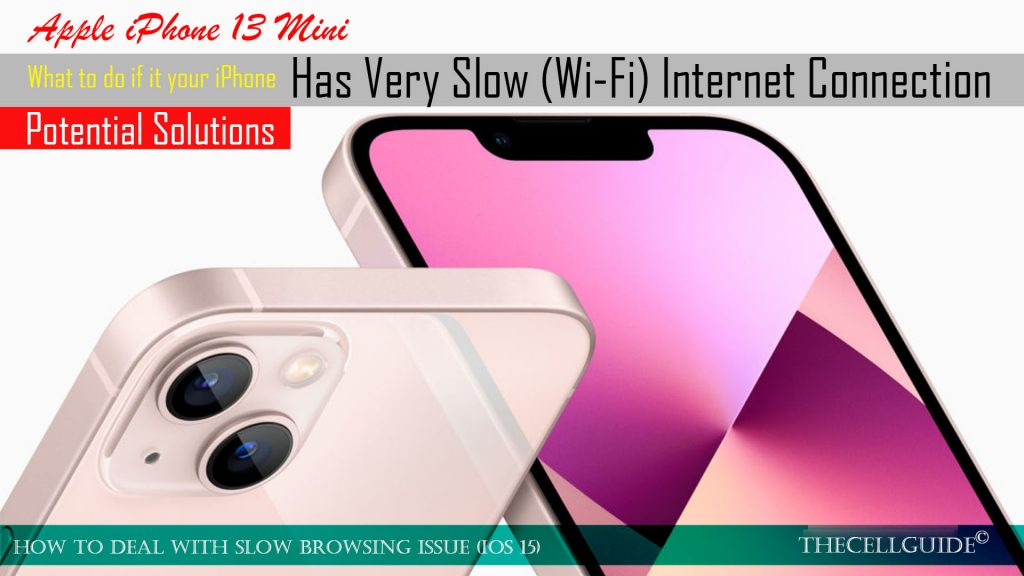 Slow browsing is one of the common internet problems manifesting in both computers and mobile devices. This is when your internet connection appears to be very slow as websites and online apps take too long to load up.
If you think this is happening on your iPhone 13 mini smartphone, then you can confirm it by performing a quick speed test. If your download/upload speed appears to be below the average internet speed for your data subscription, then that's an indication that you're experiencing a slow internet or slow browsing issue.
Possible causes of slow Internet browsing issue
There are many factors that can slow down the internet connection. Among the common culprits include corrupted browser cache or cookies, random network connection problems like unexpected outages, faulty updates, errant network configurations, and random software glitches.
In other cases, random firmware glitches transpiring on the wireless router or modem system appeared to be the underlying cause of the problem. The same thing can happen when a scheduled network system maintenance is conducted by your internet service provider.
Account-related issues are also among the possible causes. Some internet service providers would impose some sort of service limits to accounts with unsettled bills.
In worst case scenarios, a slow internet connection could also be a direct indication of hardware damage. This is usually what happens if physical or liquid damage is present on certain network-related components.
To rule out software-related factors that might have slowed down your iPhone's internet connection, performing the basic troubleshooting procedures is recommended.
What to do when your iPhone 13 mini has a very slow internet connection?
The following procedures are also applicable when dealing with a slow internet connectivity issue on other iPhone models that are running on iOS 15 and later versions. Actual screens and menu options may vary between device models and service providers.
Don't forget to test your internet connection after performing each method to determine whether or not the problem is solved.
Solution #1: Power cycle modem/router.
This is usually the very first recommended solution given by tech support people when calling for help with random internet connectivity issues. It's a very simple procedure that often works wonders when dealing with various internet issues such as slow internet, intermittent connection or no internet at all.
Important Note:
This method is only applicable if you're connected to the internet via Wi-Fi network.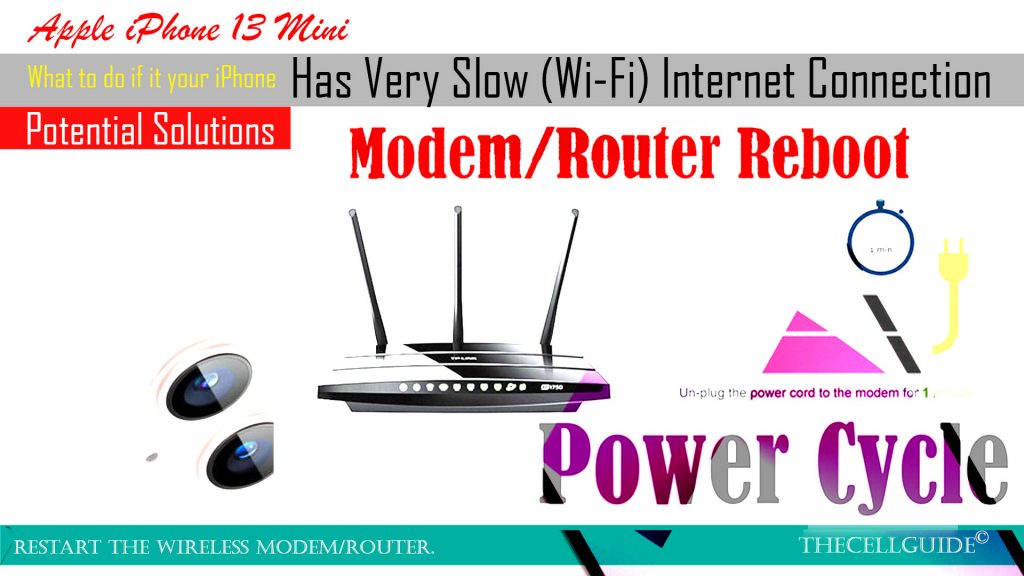 Should you wish to give it a shot, then here's how it's done:
Turn off the modem/wireless router by pressing the power button until the device shuts down completely.
While it's powered off, unplug its AC adapter from the power source and keep it unplugged for about 30 seconds to 1 minute.
After the elapsed time, plug it back in then turn it back on.
Wait for all the modem light indicators to become stable and your iPhone should re-establish Wi-Fi signal reception.
A modem/router power cycle effectively clears out minor errors inflicted by random firmware glitches affecting the modem/router system. It's like giving the wireless modem/router a clean fresh start.
Solution #2: Reboot your iPhone (soft reset).
Performing a soft reset or restarting an iPhone is also a simple yet very effective solution to minor internet problems inflicted by random app software glitches. This will likely solve the problem if it's due to a problematic browser or minor system bugs.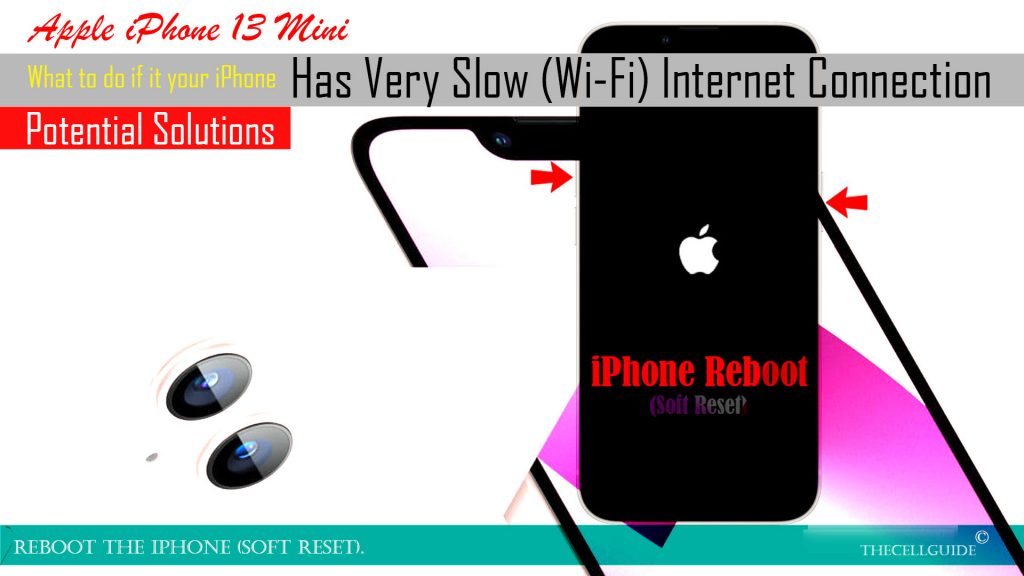 Performing a soft reset doesn't affect any saved data from the iPhone storage so you won't lose important files in the process. Just follow these steps:
Step 1: Press and hold the Side button and either Volume buttons for a few seconds and then release when the Power off slider appears.
Step 2: Drag the slider to the right to turn the iPhone off completely.
Step 3: After 30 seconds, press and hold the Side button again until the Apple logo appears.
Allow your device to reconnect to the Wi-Fi network and once the internet becomes stable, launch the browser app and do a speed test using any available platforms.
Solution #3: Refresh wireless internet features.
If slow internet persists after performing a modem and iPhone restart, then you can try optimizing wireless internet features on your device next.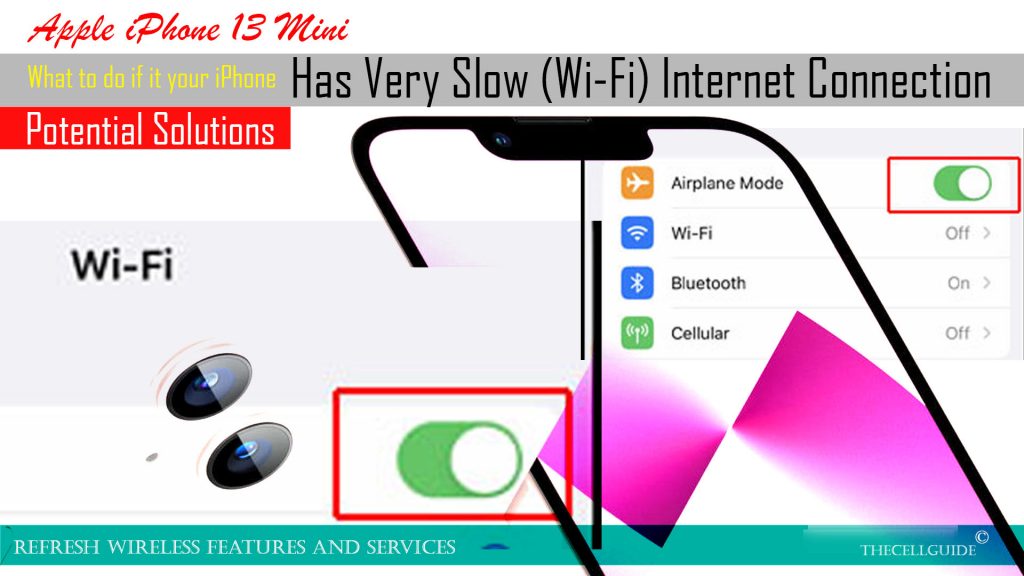 This can be carried out in many different ways as depicted below:
A. Wi-Fi Refresh
This is done by turning the iPhone's wireless features off and on. It's like giving a quick restart on the phone's wireless functions. Here's how:
Go to Settings-> Wi-Fi menu and then toggle the Wi-Fi switch to turn the feature off and on again.
For Cellular Data, go to Settings-> Cellular menu and then toggle the switch to turn Cellular Data off and on again.
B. Airplane mode trick
Performing the Airplane mode trick can also help clear out random errors affecting the iOS wireless network system.
Should you wish to give it a shot, just follow these steps:
Go to Settings-> Airplane mode menu and then toggle to turn the Airplane mode switch off for a few seconds and then turn it back on again.
Once your phone has regained wireless network reception, reconnect to your Wi-Fi network and then load up your browser app to check your connection speed.
Solution #4: Clear browser history and cache.
There are some instances when the problem is isolated to the browser app in use. For example, the internet browser might have been experiencing some minor glitch, which results in slow internet browsing. If you're using the preloaded Safari app browser and you're experiencing slow internet or slow browsing, clearing the browser's cache and cookies might be able to fix it.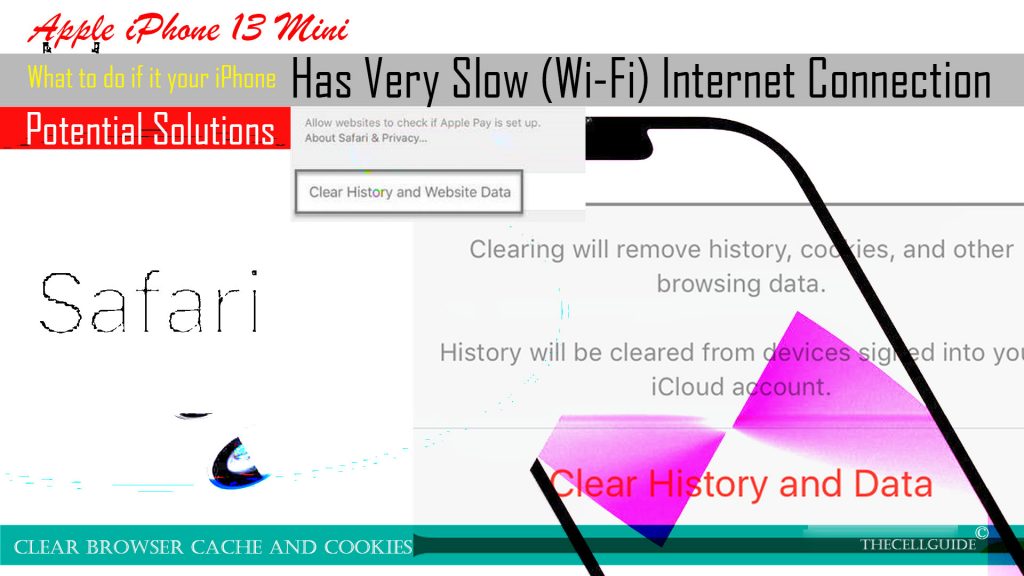 To clear your browsing history and cookies from the built-in Safari app browser, simply follow these steps:
Go to the Home screen and then tap Settings to launch the Settings app.
From the Settings app main screen, scroll down and then tap Safari.
On the succeeding menu, tap the option to Clear History and Website Data.
All saved information about your previous internet searches will then be deleted.
To clear cookies without deleting the browser's history, follow these steps instead:
Go to Settings.
Tap Safari.
Select Advanced.
Tap Website Data.
Finally, tap the option to Remove All Website Data.
After clearing cache and cookies, quit then restart the Safari app and see if your internet speed has improved.
Solution #5: Forget and re-add Wi-Fi network.
A corrupted wifi network can also be the underlying cause of the problem. There are a lot of factors that can make this happen. To deal with this issue, deleting and re-adding the corrupted wifi network is recommended.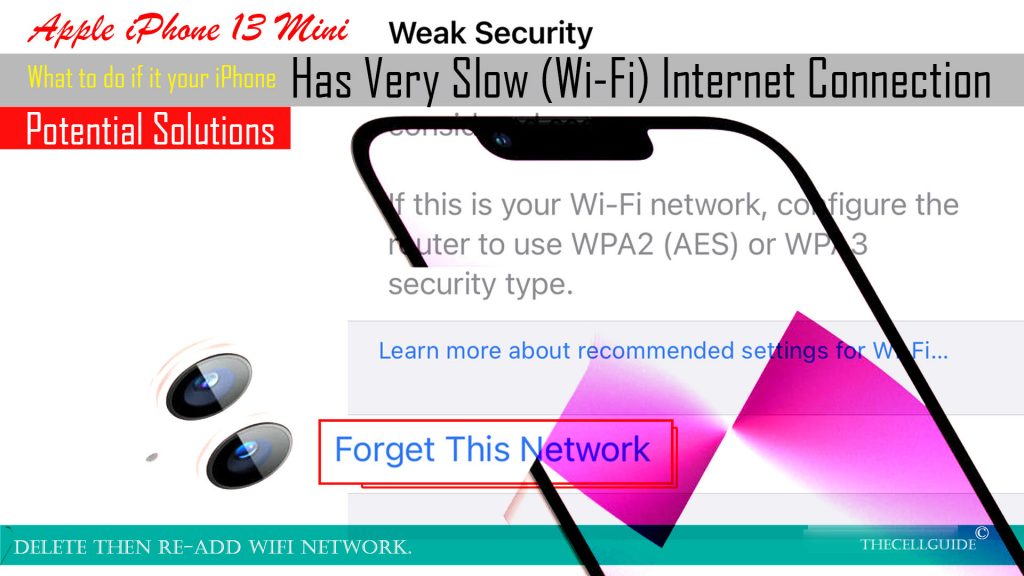 And this is how it's done:
Go to your Home screen then navigate to Settings-> Wi-Fi menu.
Make sure that the Wi-Fi switch is turned on.
Scroll down and select your Wi-Fi network.
Tap the information (i) icon next to the name of your Wi-Fi network (SSID).
Then select the option to Forget this Network.
If prompted, enter your passcode to proceed.
And then tap the option to confirm that you want to forget the Wi-Fi network. The Wi-Fi network will then be removed from your device.
Repeat the same steps to forget all other saved Wi-Fi networks that you're no longer using.
Forgetting saved Wi-Fi networks that are no longer used is also recommended to prevent your device from automatically switching between networks when the current network becomes unstable. If you've set your iPhone to auto-connect to a wifi network, switching between available networks could result in intermittent connection and other relevant symptoms.
Solution #6: Reset network settings on your iPhone 13 mini.
If the wi fi internet connection suddenly slowed down after installing a new iOS update or app update, it's possible that the recent update has ruined your current network settings and eventually resulted in relevant problems. To clear this out, performing a network reset or reset network settings can help.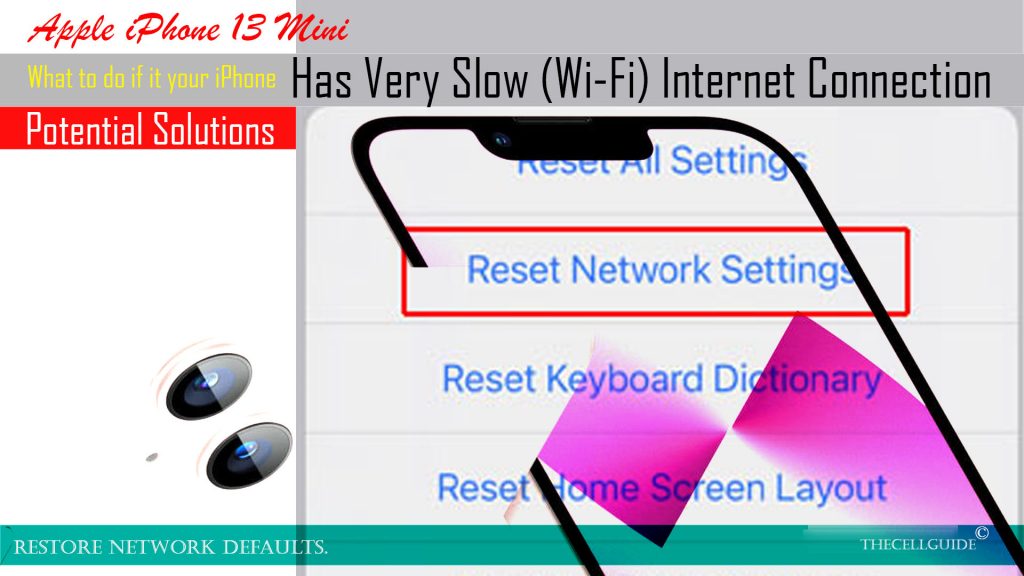 This reset deletes all your current network settings including custom network options, wifi settings and automatic settings overrides from a recent update. It doesn't affect any saved data from the iPhone storage so creating backups is not needed. Just follow these steps if you wish to proceed with this reset:
Go to your Home screen and then open the Settings app.
Scroll to and tap General.
Tap Transfer or Reset iPhone to proceed.
Then tap on Reset.
On the succeeding menu, tap Reset network settings from the given options.
Enter your passcode if prompted.
Tap the option to confirm network settings reset on your iPhone.
After the reset, your phone reboots automatically and then loads up the default network values and options. This denotes the need for you to set up the Wi-Fi network to reconnect to the internet, get back online and use internet-based apps and services.
By then you can check your wifi speed and see if it's already fixed.
Still having slow internet connection on your iPhone 13 mini?
If the problem persists and you wish to troubleshoot further, then you may resort to these two options.
Try other browser apps. If none of the given solutions worked and your iPhone is still experiencing slow internet connection, try to use another browser. Doing so will help you determine whether or not the problem is isolated to the Safari browser app. If your internet speed is better when using a different browser, then that denotes a browser problem which you need to troubleshoot.
Restore your iPhone 13 mini (factory reset). Performing a total system reset can also be deemed among the last options if nothing else works. This should be able to rectify complex system errors and stubborn bugs that might have slowed down your internet connection. Just be sure to back up all your critical files beforehand as this reset will wipe everything from your device. After the reset, your iPhone will be restored to its factory state.
By then you can set up everything on your device including Wi-Fi network as new.
Aside from a factory reset, you can also restore your iPhone 13 mini in iTunes either through a recovery or DFU mode restore.
If all else fails, you can either…
Contact your Internet service provider. There might be some ongoing maintenance or technical difficulties affecting internet services. To verify this information, calling your internet service provider is recommended.
Else…
Contact Apple Support. You may also opt to escalate the problem to Apple Support for further recommendations, especially if slow internet has instigated from an iOS update and that it persists. Reporting post-update issues is recommended to let Apple know that the recently rolled out update contains a bug that needs immediate patch.
If you're living close to an Apple-authorized service center, then you can just have it diagnosed by a technician instead.
Hope this helps!
Please check out our YouTube channel to view more tutorial and troubleshooting videos for popular iOS and Android devices.
You Might Also Want To Read: