This post highlights potential solutions to the iPhone 13 ghost touch issue. Read on to learn what to do if your new iPhone does something even when you don't touch the display.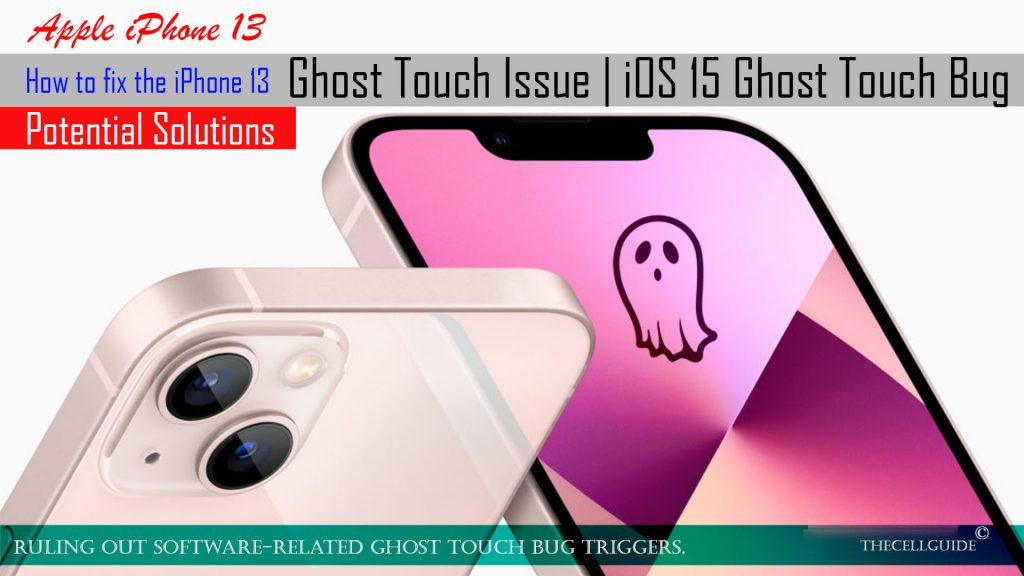 Ghost touch is one of the iOS display issues affecting both old and new iPhones. It's when the iPhone screen reacts or does something even when you don't touch the display. Indeed it's a weird symptom that can be linked to a software glitch if not hardware damage.
What causes the iOS ghost touch bug?
There are many factors that can trigger the iPhone screen to act on its own. In most cases, a faulty touch screen sensor is to blame. This is usually what happens when the phone has been dropped accidentally.
There are also some instances when a ghost touch bug occurs after installing a new software or iOS update. Apparently in such cases, the problem is software-related probably due to an iOS bug.
The ghost touch symptom may also occur among other performance-related issues on an iPhone, especially when the device is running low on storage.
Other factors that can cause ghost touch include third-party accessories including iPhone screen protector, protective cases
To rule out software-related factors that might have triggered the ghost touch symptom on your new iPhone 13, you can try a few workarounds and potential solutions mapped out in this troubleshooting guide.
Troubleshooting the iPhone 13 Ghost Touch Issue
The steps depicted below are also applicable to other iPhone models that are running on the same iOS version with the iPhone 13. Actual menu options and screen items may vary between device models.
Before you begin, verify and ensure that your iPhone has ample storage space. As mentioned earlier, the ghost touch bug can also be linked to memory problems. If necessary, free up space by deleting old and unwanted apps and other contents that occupy a huge chunk of storage.
If the ghost touch problem continues with an optimized iPhone storage, you can rule out other software-related factors with these subsequent tweaks.
Solution #1: Restart or force restart to fix ghost touch bug.
If this is the first time you encounter the ghost touch bug on your iPhone, it's probably just transpiring among other random glitches on the iOS display system. Should this be the case, performing a system reboot will likely fix it.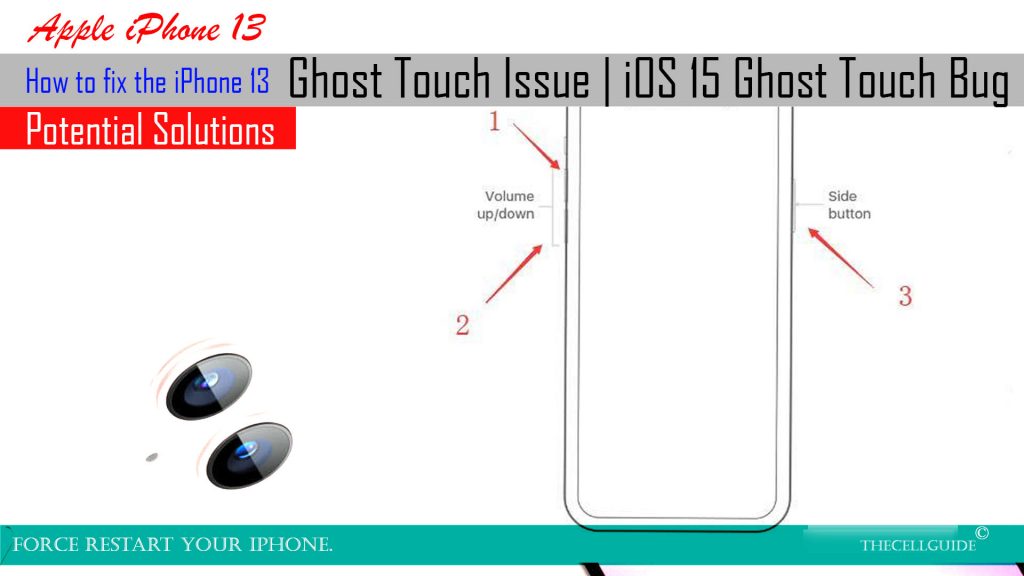 So if you haven't already, reboot or do a force restart on your iPhone 13 with these steps:
Step 1: Press and quickly release the Volume Up button.
Step 2: Then, press and quickly release the Volume Down button.
Step 3: Finally, press and hold the Side/Power button for a few moments and then release it when the Apple logo appears.
Give your iPhone enough time to finish the boot sequence and then see if the ghost touch bug is gone.
This process does not affect any saved information on the iPhone storage so you won't lose any critical files afterwards.
A force restart is also an effective solution to other software-related display issues such as being stuck on Apple logo, black screen and screen flickering.
Solution #2: Update/optimize apps to fix ghost touch bug.
Errant apps can also trigger adverse display symptoms to occur on your iPhone. This is usually the case if the ghost touch symptom occurs only when using a specific application. To deal with app-related ghost touch problems, app optimization is recommended.
There are many ways to optimize apps on your iPhone. This would include updating apps, clearing app cache and data, offloading and reinstalling apps.
To update apps on your iPhone 13 manually, just follow these steps:
Keeping apps up-to-date is recommended to ensure optimum app performance and software stability. Just follow these steps.
Launch the App Store.
While on the App Store main screen, tap on your profile picture on the upper-right.
Then, pull down to refresh the page and view apps with recent updates available.
To update individual apps, just tap the Update button next to the name of the app.
If multiple updates are available, tap Update All to simultaneously download and install all pending app updates on your device.
To offload apps on iPhone 13, follow these steps:
Offloading can help fix various types of app-related issues in iOS devices. This can be done automatically if you've enabled Automatic Offloading on your iPhone 13 via App Store.
If you haven't, then you can manually offload an app with these steps.
Open the Settings app by tapping on the Settings icon from Home.
On the succeeding menu, tap General.
Then, tap iPhone Storage.
Tap to select the app that you'd like to offload then tap the command to Offload App.
If prompted, enter your passcode and tap Offload App again to confirm.
To enable Automatic Offloading, just follow these steps:
Go to Settings.
Tap App Store or iTunes and App Store.
On the succeeding menu, tap to enable or turn on the switch next to Offload Unused Apps.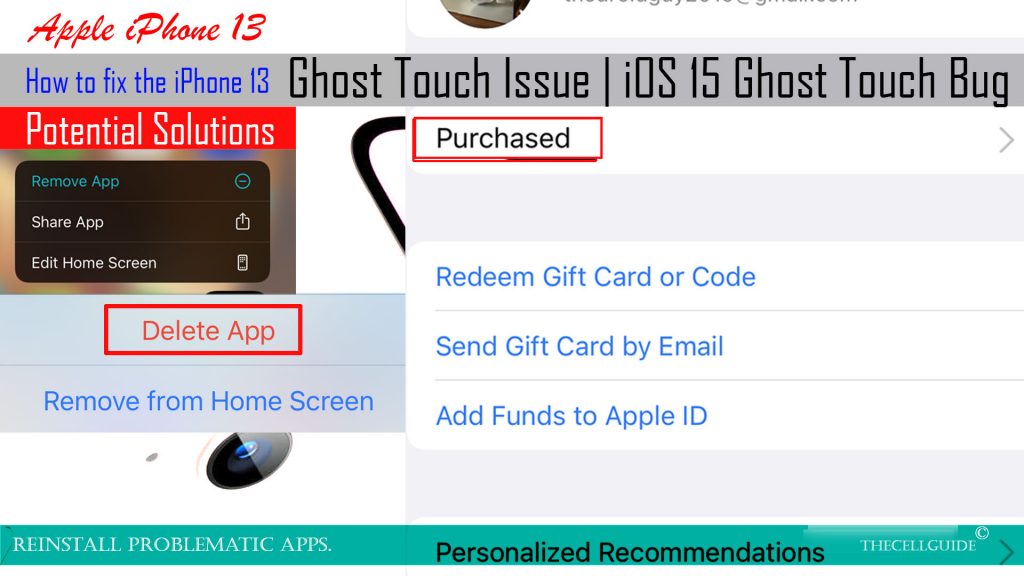 To uninstall and reinstall apps on iPhone 13, follow these steps:
Uninstalling an app can be deemed among the last options when dealing with fatal in-app problems in iOS devices. Just follow these steps:
Go to the Home screen and then touch and hold the App icon.
On the quick menu, tap Remove or Delete app.
After deleting the app, launch the App Store app.
While on the App Store, tap on your Apple ID profile picture then select Purchased.
Locate the app that you want to reinstall and then tap the cloud icon to instigate app installation.
Reinstalling an app is also a way to clear cache and data from an iOS application. App-related issues are often resolved with this workaround.
After performing the above procedures, reboot your iPhone to refresh the system and apply the recent software changes.
Solution #3: Install pending iOS update to fix ghost touch bug.
If your iPhone is not configured to auto-update, then you should consider checking for new iOS updates available. To manually download and install new updates, your iPhone must be connected to the internet, preferably through Wi-Fi network.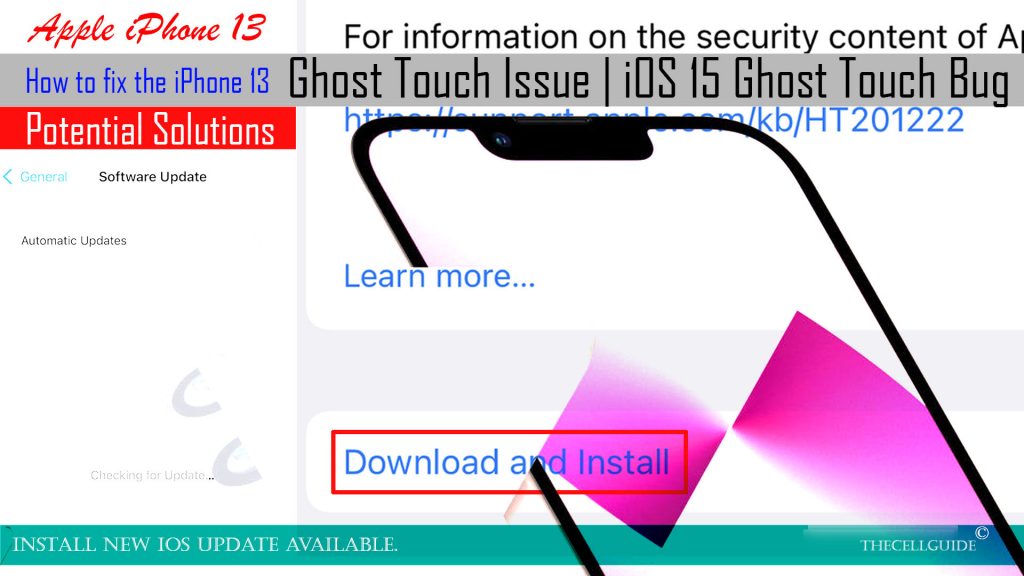 Also ensure that your phone is sufficiently charged and has ample storage space to allocate the update file.
You can manually check for updates through iTunes or through the iOS settings menu. And here's how to do the latter:
To get started, tap Settings from the Home screen to launch the Settings app.
While on the Settings menu, tap General.
Then, tap Software Update to proceed. On the succeeding menu, you will see software update details.
If a new iOS version is available, tap Install Now or Download and Install.
Enter your device passcode when asked to continue and then tap Install Now to confirm.
You can also configure your iPhone to automatically install new updates by enabling the Download iOS Updates feature. Here's how:
Go to Settings.
Tap General.
Tap Software Update.
Select Automatic Updates then toggle to turn on the switch next to Download iOS Updates and Install iOS Updates, respectively.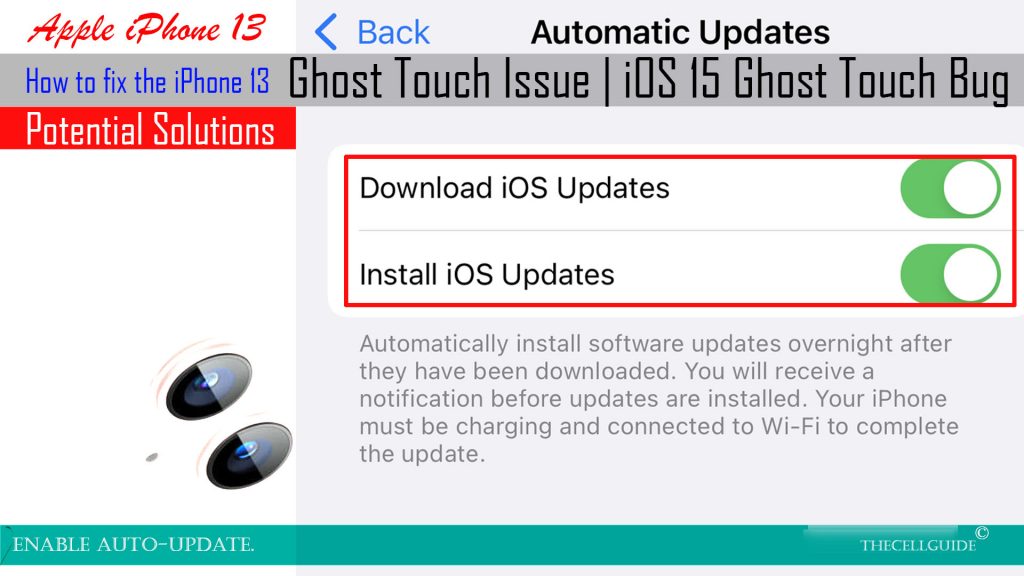 With these features enabled, your iPhone will automatically update to the latest version of iOS available. However, there are still some updates that require manual installation so better check your device from time to time.
Updating iOS with iTunes
If you prefer to update your iPhone through iTunes, then you will need to use the latest version of iTunes app on a compatible computer. Your computer must also have a stable Wi-Fi internet connection.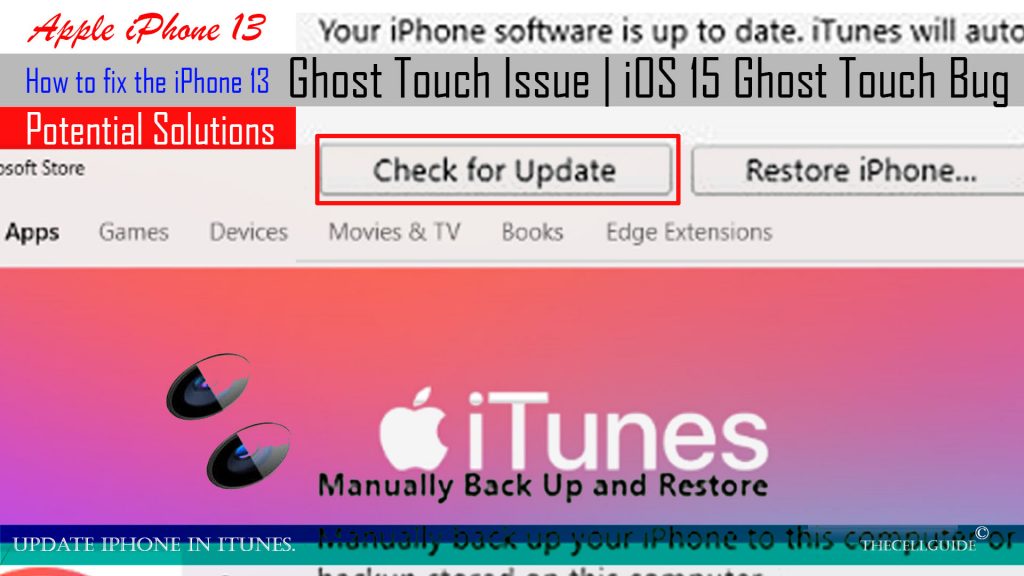 Once everything is set, just connect your iPhone to your computer via USB/lightning cable, launch iTunes and follow the rest of the onscreen instructions to manually download and install new iOS updates on your iPhone 13.
Solution #4: Reset all settings to fix iPhone ghost touch.
Restoring the default system settings can be regarded among the last options when dealing with recurring iOS issues tied to software glitches. Thus, the next recommended solution is reset all settings.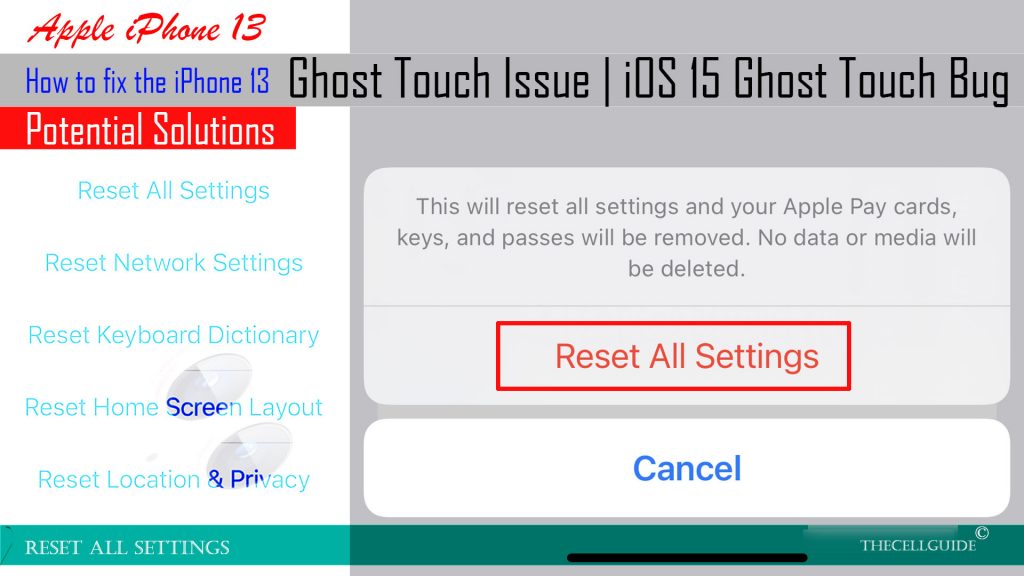 This reset works by deleting all current system settings including custom networks, display settings, app settings and preferences and other recent system changes you've made. After the reset, all default system options are restored. Any associated errors are likewise rectified in the process. It doesn't delete any saved information from the iPhone storage so all your files are safe.
Just follow these steps if you wish to proceed:
Go to your Home screen and then open the Settings app.
Scroll to and tap General.
Tap Transfer or Reset iPhone to proceed.
Then tap on Reset.
On the succeeding menu, tap Reset all settings from the given options.
Enter your device passcode if prompted.
Tap the option to confirm all system settings reset on your iPhone.
When the reset is finished, your iPhone reboots by itself and then loads up all the original settings and values.
By then you can restart re-enabling necessary features and configure some apps accordingly so you can use them again as intended.
Solution #5: Factory reset your iPhone 13 (via settings menu).
A drastic solution to major iOS issues including software-related ghost touch bugs is a factory reset or master reset. This reset will wipe everything from your iPhone storage so creating backups is recommended. All your apps, settings and downloads will be deleted along with their associated errors. As a result, your iPhone is restored to its factory state.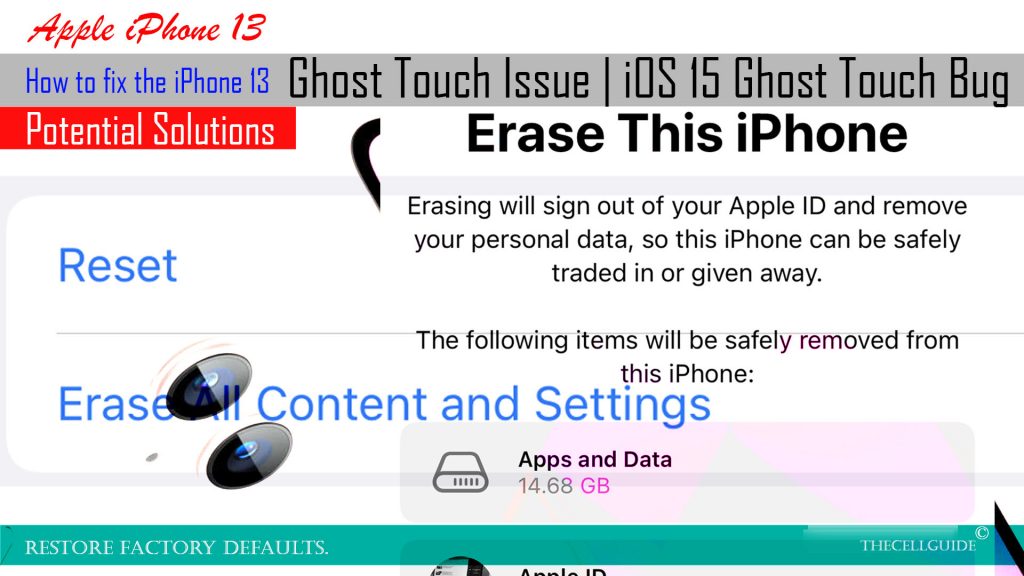 You can do a factory reset through your iPhone settings or using iTunes on a computer.
To factory reset an iPhone via settings menu, back up all important files and then follow these steps:
Go to your Home screen and then open the Settings app.
Scroll to and tap General.
Tap Transfer or Reset iPhone to proceed.
Tap Reset and then select Erase all Content and Settings option.
If prompted, confirm that you'd like to erase your device.
Wait for the phone to finish resetting and then restore all default values and options.
After the reset, you can proceed with the initial setup process and set up everything on your device as new.
Ghost touch not stopping?
Display problems like ghost touch tied to minor software glitches are typically addressed and rectified by the aforementioned procedures unless more complex system issues are the underlying cause. Should you wish to troubleshoot further, you can try these succeeding methods.
A. Use iTunes to fix the ghost touch bug.
Apple's very own iOS management application (iTunes) can also be used to deal with major iOS problems affecting an iOS device including software-related ghost touch bugs. If you have a Mac or Windows computer that has the latest version of iTunes app installed, you can use it as the final resort to fix the iPhone 13 ghost touch issue.
Among the possible iOS fixes you can do with iTunes include the recovery mode restore and DFU mode restore. These are the more advanced iOS restores that are used to deal with fatal system errors in various iOS devices.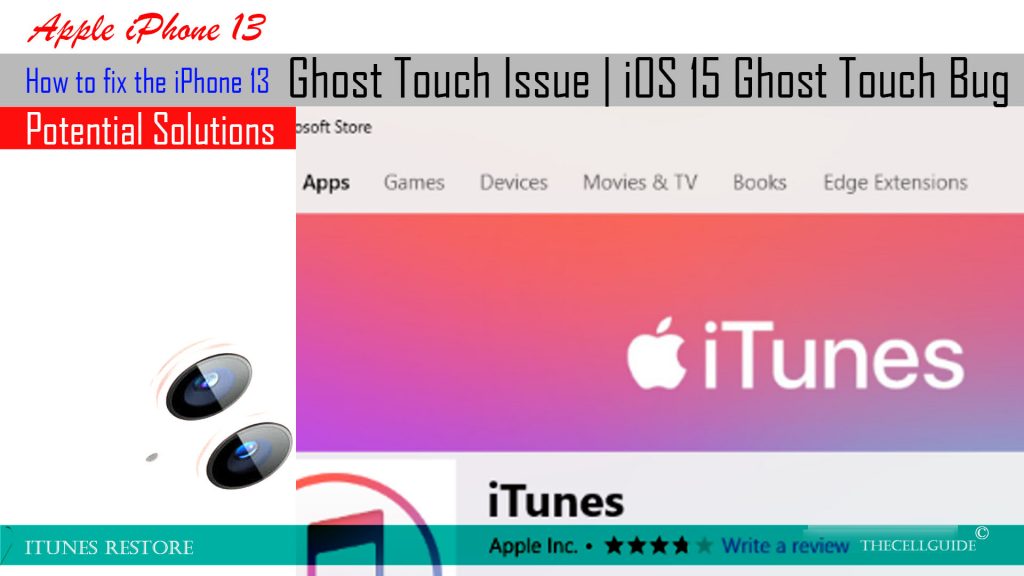 iTunes recovery mode restore puts your iPhone in a recovery state and then fixes any complex iOS errors through the built-in commands in iTunes.
A DFU mode restore on the other hand works by putting your iPhone in a state that's still able to communicate with iTunes even without activating the boot loader.
Both of these methods wipe everything from the iPhone storage and thus result in permanent data loss.
On a positive note, complex system errors are likely to get rectified and complex iOS issues are therefore resolved.
B. Third-party iOS repair tools.
If iTunes is unable to fix your iPhone, then you can try using third-party iOS repair tools instead. These tools are specifically programmed to resolve major iOS issues and symptoms including being stuck on the Apple logo, black screen of death, boot loops, system crashes and lags.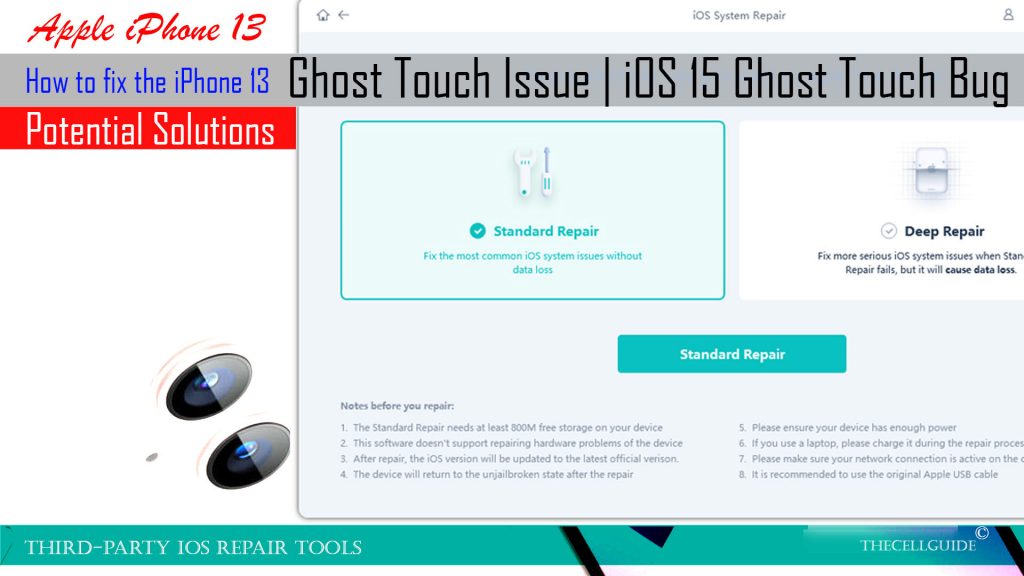 Just download and install your preferred software on your computer, launch it and use its built-in commands to fix your iPhone 13.
Among the top-rated tools for iPhone repair include Dr. Fone iOS System Repair, FonePawiOS system recovery, Phone Rescue for iOS, JoyoshareUltFix iOS System Recovery, and FoneLab iOS System Recovery, to name some.
One way to get the best iOS repair tool for your iPhone, you can refer to the actual reviews posted by previous users.
Remove any iPhone screen accessories to fix Ghost touch
If you've got some protective casing installed on your iPhone, try to remove them. A screen protector or other third-party cases and tempered glasses aren't actually a perfect fit for your device. Using these accessories will likely result in some adverse iPhone screen behaviors and relevant display symptoms.
Repair Options
If all else failed to fix the problem, chances are that hardware damage is present. At this point, opting for iPhone repair is recommended. You may visit the nearest Apple-authorized service center in your place for hardware assessment and/or repair.
If your iPhone is still under warranty, then you better avail the warranty either for service or new iPhone replacement.
Contact Apple Support
if this happens to be a post-update issue, then you can have it escalated to Apple Support for further recommendations.
Hope this helps!
Please check out our YouTube channel to view more tutorial and troubleshooting videos for popular iOS and Android devices.
You Might Also Want To Read: