Lags and freezes are smartphone symptoms that usually occur from wear-and-tear, typical after several months or over a year of regular usage. System malfunctions, memory issues and hardware depreciation are likely the underlying cause. Nonetheless, lagging and freezing symptoms can also occur in new devices. Rogue apps, software bugs, and malware are usually the triggers.
Many devices also encounter the same issues after installing new updates for apps and/or operating system. Even the highest-tiered smartphones can give in to these problems at an early stage. To give you some inputs on how to deal with sudden freezes and lags, I've outlined some helpful workarounds below for you to refer. Read further and learn what to do whenever your iPhone XR suddenly lags and freezes for no apparent reasons.
Before go any further, if you happen to find this post while looking for solution to a different problem, then visit our iPhone XR Help Guides as we have already addressed some of the most common issues with this device. There could already be articles on our site that could help you fix your problem.
Troubleshooting an iPhone XR that keeps lagging and freezing
Any of these subsequent methods can potentially fix the problem unless hardware damage is present on the phone. But if you have accidentally dropped or got your iPhone wet prior to the occurrence of these symptoms, taking a trip to a service center is likely needed. Even so, you still can attempt to troubleshoot the problem before opting for repair. You may start whenever you're ready.
First solution: Force restart your iPhone XR that keeps lagging and freezing.
A force restart is used to restart a frozen iPhone. Since the phone is stuck or unresponsive, performing the usual restart or soft reset won't be possible. Both these methods work the same though when it comes to dealing with minor software issues. Like soft reset, a force restart also clears out random software glitches and dumps cached files and temporary data from the internal memory including those that have been corrupted. This process won't affect any saved data on the phone memory so you don't need to create backups.
To force restart your iPhone XR, follow these steps:
Press and quickly release the

Volume Up button.

Press and quickly release the

Volume Down button.

Then, press and hold the

Power button

on the side of the phone for a few seconds and then release when the phone restarts.
Use your iPhone as you normally do after restarting and see if the symptoms reoccur or not. If your device continues to freeze or lag, try the next applicable solution.
Second solution: View internal memory usage and manage apps on your iPhone XR.
Lags and freezes are also among the symptoms of performance problems caused by memory errors on the phone. While your new iPhone is packed with bigger storage space, memory errors may still exist due to rogue apps and corrupted services. In that case, memory management is needed. To access and manage internal memory status of your iPhone XR, refer to these steps:
Go to

Settings

.

Tap

General

.

Then tap

iPhone Storage.

To view more information about an app storage, tap on the name of the app.
Offloading or deleting the app can be considered among the options to free up storage space on your device. Cached files and temporary data are automatically deleted when the iPhone needs more storage space.
Third solution: Update apps and iOS to the latest version available.
Installing updates can also be the key to eliminating the symptoms if they're inflicted by random bugs and malware. If the problem is isolated to certain apps, installing app updates can help. Follow these steps to manually check for and install pending app updates on your iPhone XR.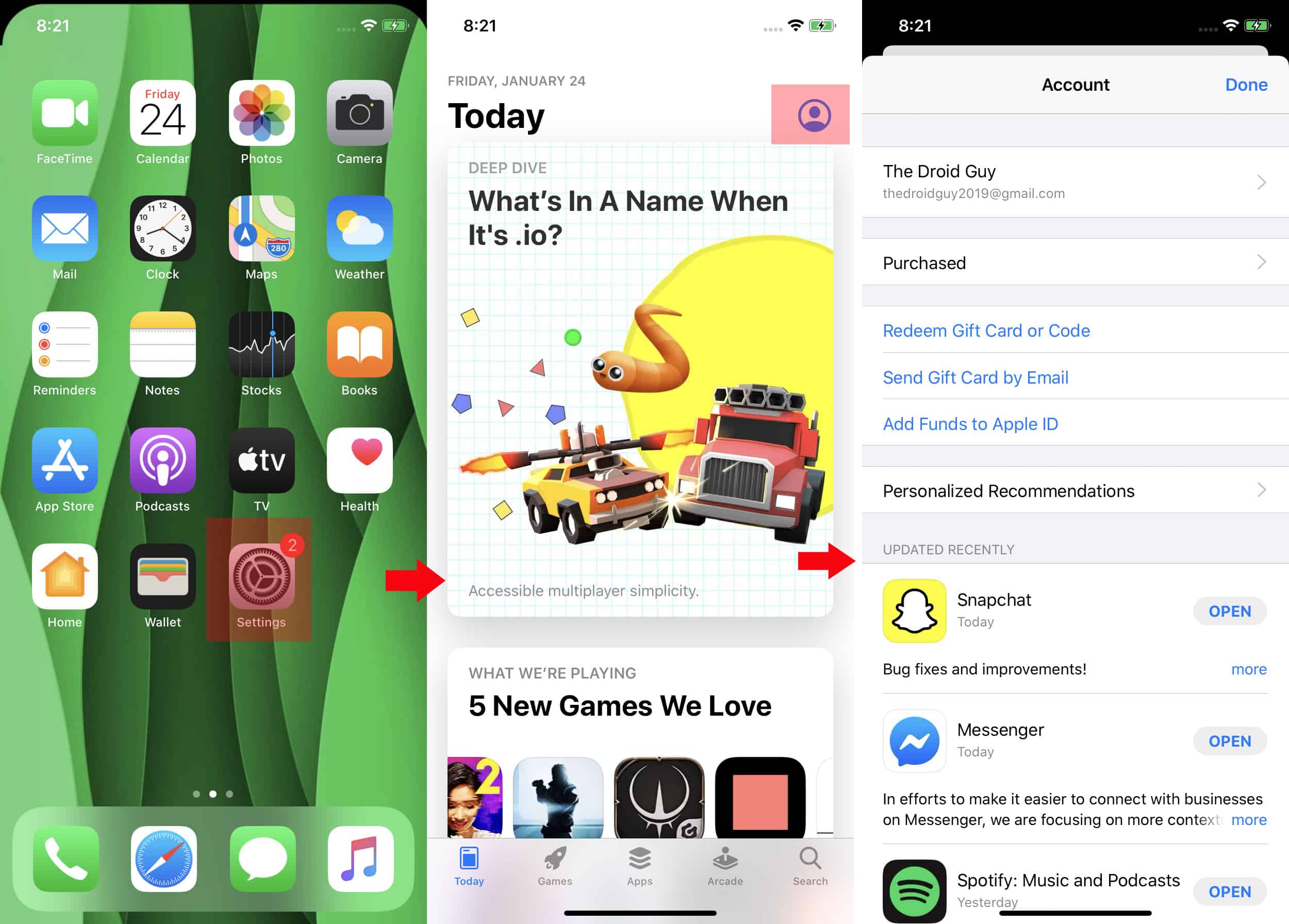 Open the

App Store

from your Home screen.

Tap your Apple ID profile located on the top-right corner of the App Store screen. Doing so will show up a list of third-party apps including those with pending updates.

To update individual app, tap the

Update button

next to the name of the app.

If multiple app updates are available, tap the

Update All button

to update all apps simultaneously.
Aside from app updates, installing the latest iOS version available for your iPhone XR is also an option. Apple usually rolls out new updates to offer bug fixes.
To check for new iOS update on your iPhone XR, go to

Settings-> General-> Software Update

menu.
After updating apps or your iPhone XR software, perform a soft reset or restart your phone to apply the new system changes and refresh the phone memory. Then see if that fixes the problem on lags and freezes.
Fourth solution: Reset all settings on your iPhone XR.
Your iPhone settings might have been messed up from an update installation or manual settings customization, and eventually triggered these symptoms to occur. To rule this out, revert the changes back to the previous configuration or simply follow these steps to reset all settings on your iPhone XR:
Tap to open

Settings app

from the Home screen.

Select

General

.

Scroll down to and tap on

Reset

.

Select

Reset all settings.

Enter the passcode to continue.

Tap the option to confirm all settings reset.
This reset doesn't result to data loss as it won't affect the internal data on the internal memory. All it wipes are customized settings from the phone and then restores the default values.
Fifth solution: Restore your iPhone XR to factory defaults (master reset).
Major software problems usually require full system resets, if not iOS restore as permanent solution. What you're dealing with could be a complicated system error, which could not rectified by prior methods. But there's a repercussion from doing so, and that is losing critical data you saved on the phone memory. If you wish to continue, back up files to iCloud or iTunes beforehand.
To master reset/factory reset your iPhone XR through settings, follow these steps:
Open the

Settings

app from Home.

Tap

General

.

Scroll to and tap on

Reset

.

Select the option to

Erase all content and settings.

When asked, enter your passcode.

Then tap the option to confirm master reset.
The prior method won't be applicable if your iPhone is freezing or constantly lagging. In that case, you can use the alternate reset method using iTunes. Here's how it works:
Get your computer ready. You can use either Windows or Mac computer that runs on a later or latest operating system and has the latest version of iTunes software installed.
Open iTunes on your computer then connect your iPhone XR using the supplied USB or Lightning cable.

If prompted to enter your device passcode or

Trust This Computer

, tap to confirm and follow the onscreen steps to continue.

Select your

iPhone XR

when it shows up in iTunes.

Navigate to the

Summary

section.

Then click the button to

Restore iPhone

.

If asked to confirm action, read and review the information then click the Restore button to continue.
Doing so prompts iTunes to start erasing your device and install the latest iOS version available. Your iPhone then restarts when the factory reset is finished. Factory settings are then loaded. By then you can set it up as new.
Major software problems are usually dealt with by a factory reset hence your iPhone XR should be working smoothly again at this point.
Is your iPhone still lagging and freezing?
If your iPhone XR continues to freeze or lag after performing a master reset through iTunes, then more advanced solutions would be necessary. As your next option, try performing a recovery mode restore on your iPhone XR using iTunes. And if that still failed to fix the problem, you may resort to performing the deepest type of iOS restore known as the DFU mode restore. These advanced restore methods are carried out using iTunes on a computer. For a step-by-step guide on how to perform a recovery mode restore or DFU mode restore, visit the iPhone XR Troubleshooting page then navigate to the Tutorials section and refer to the tutorial headers.
For other recommendations and repair options, contact your device carrier or Apple Support. Enduring the same problem after performing iOS reset and restore could denote that hardware damage is present. In that case, your iPhone XR needs service.
I hope that this how-to post has helped you one way or another. Please help us spread the word by sharing this post to your friends or people who may also have similar problems. Keep posted for more iPhone troubleshooting guides.
RELEVANT POST: Fix iPhone XS Max that keeps lagging and freezing after iOS 13.2