This post will walk you through activating the OneUI messaging feature that prompts the Galaxy S21 to send a delivery report when sending SMS using the preloaded Messages application. Read on to learn how to enable SMS delivery reports on Samsung Galaxy S21 in OneUI 4.0.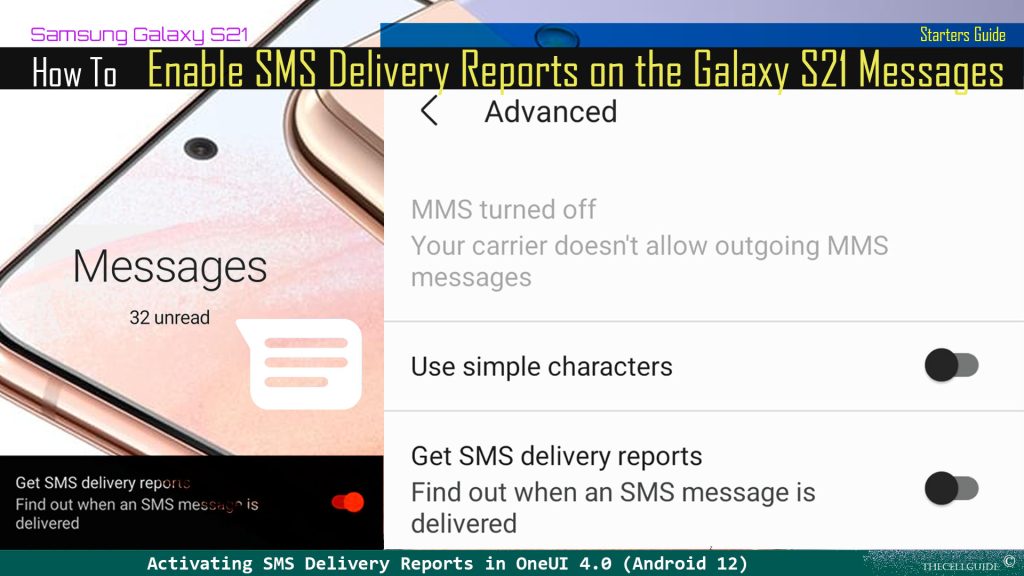 Wondering if all your SMS messages are successfully delivered to the recipients or not? The new Samsung Galaxy S21 series embeds an advanced messaging feature that is programmed to give you this kind of notification. If you own this phone, then just keep scrolling to view more detailed instructions on how to know the SMS delivery status on the Galaxy S21 device.
SMS Delivery Reports in OneUI 4.0
As the name implies, SMS delivery report works by telling you if the text message you sent was successfully delivered or not. This delivery report is generated by the Short Message Service Center or SMCS.
This feature has been around for quite some time even in basic phones, entry level and mid-range.
In recent Samsung Galaxy smartphones, the SMS delivery report is tagged among other advanced features that users can turn on or off through the stock Messages app.
When enabled, you'll be notified that your message sent from your phone is successfully sent to the specified recipient. It's basically a confirmation report about the SMS message delivery status.
If the delivery was not successful, you'll basically get an SMS delivery failed report plus a recommendation.
If you want to make sure that every SMS you send on your new Samsung Galaxy S21 will be successfully delivered to the recipients, then you can make use of the SMS delivery reports feature.
The SMS delivery report feature is disabled on the Galaxy S21 by default. If you need help on how to enable it, then you may refer to the step-by-step walkthrough below.
Easy Steps to Enable SMS Delivery Reports on Samsung Galaxy S21
The following steps are also applicable when activating the SMS delivery reports feature on other Samsung Galaxy smartphones that have the same OneUI version (OneUI 4.0).
Actual screens and menu items may vary between device models and network carriers so seeing some slight differences on individual device's interface is possible. Just keep your phone software updated and you should be all set.
Just refer to these steps whenever you're ready to configure the Messages app settings on your Samsung Galaxy phone.
Step 1: To get started, tap Messages to open the built-in messaging application on the Galaxy S21.

Step 2: While on the Messages app screen, tap the menu icon on the top-rightmost corner of the screen inside the text field. The menu icon is represented with a triple-dot image in the text field. Tapping this icon opens a side menu containing more options.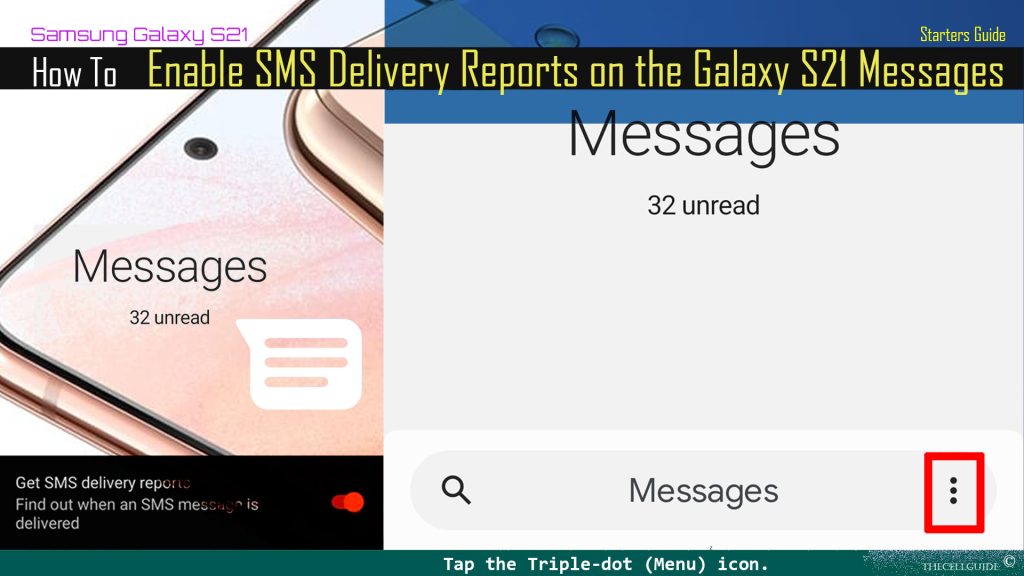 Step 3: Tap Settings from the given options to proceed. The Messages app settings menu will load up next.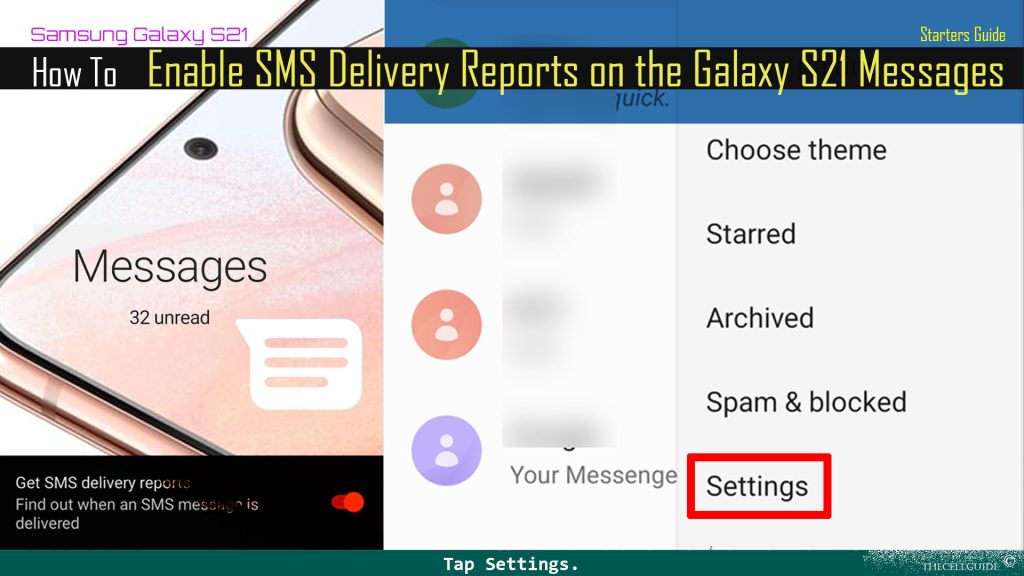 Step 4: While on the Messages app settings menu, scroll down and then tap Advanced. More advanced settings for messages will be displayed on the next menu.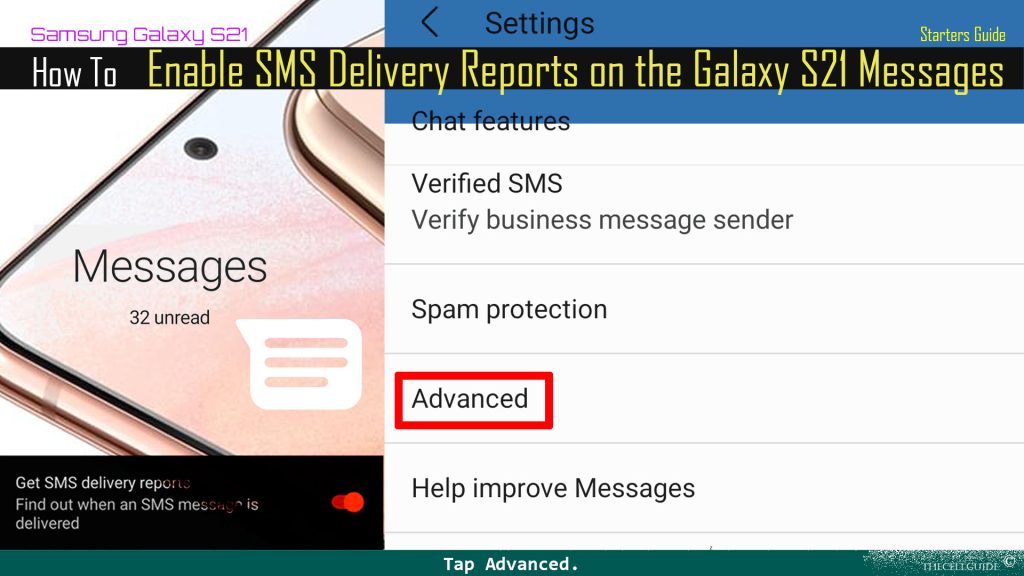 Step 5: Toggle to turn on the switch next to Get SMS delivery report. When the switch turns blue, it means that the feature is activated.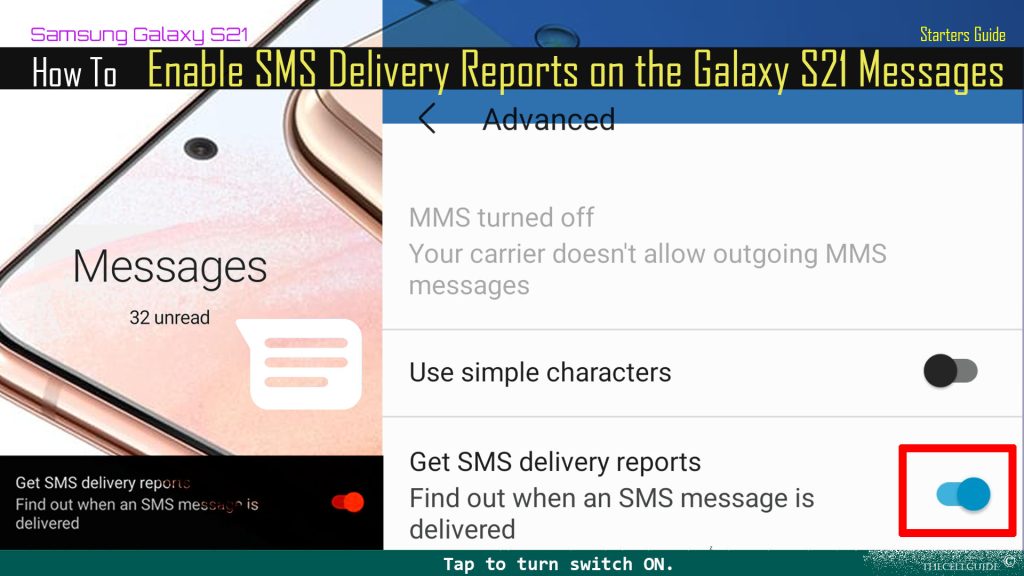 That should prompt your device to show a delivery report the next time you send a text message on your phone. This report will tell you whether or not the message is successfully sent.
If you realized that turning the option to get sms delivery reports is not necessary, then you can always turn the feature off again.
Just repeat the same steps to get back to the Advanced settings menu of the Messages app and then toggle to turn off the SMS/text message delivery reports switch. By then you will stop receiving notifications of your next SMS delivery status.
Hope this helps!
Please check out our YouTube channel to view more tutorial and troubleshooting videos for popular iOS and Android devices.
You Might Also Want To Read: