This post highlights potential solutions to a performance-related issue on the new Samsung Galaxy smartphone that's performing very sluggishly. Read on to learn what to do if your new Samsung Galaxy S22 keeps lagging in One UI 4.1.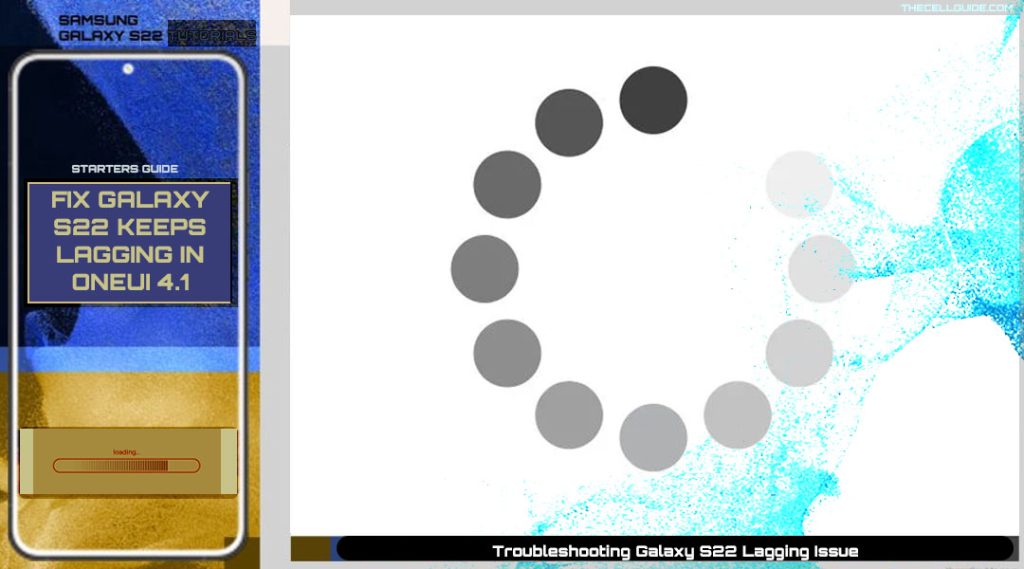 Why do smartphones lag?
Normally, performance issues including lags in mobile devices typically instigate after several months or years of regular use.
Contrary to what many people thought, performance issues aren't always tied to hardware damage. That said, ruling out software-related culprits is highly recommended.
Among the possible causes of performance issues in newer smartphones are errant apps, faulty updates, settings conflicts, data corruption, software bugs and malware.
In the case wherein sluggishness or lags occur only when using online apps, internet connectivity issues are likely the underlying cause. Performing basic tweaks to rule out common internet problems is therefore needed.
If prior incidents of dropping or liquid exposure occur, then lagging symptoms are more likely attributed to a damaged component from physical or liquid damage.
Before opting for hardware repair, you can try some tweaks to rule out the common software-related triggers.
To eliminate other possible causes from the device's software segment, you can try any of the outlined solutions applicable to your device.
Troubleshooting Samsung Galaxy S22 keeps lagging in One UI 4.1
The following procedures are deemed useful tweaks to rule out common software-related factors that often cause a smartphone to slow down.
The depicted steps are based on the actual interface of the Galaxy S22 that's running in OneUI version 4.1. These methods are therefore also applicable when troubleshooting the same performance issue in other Samsung Galaxy phones that have the same software version.
Prerequisites:
Before you begin troubleshooting, make sure that your phone is sufficiently charged. Note that lagging may likewise occur when using certain apps while the battery is low. Keep your phone's battery at around 50 percent or up.
To rule out network connectivity issues like slow internet connection, verify and ensure that your phone has a stable internet connection. You can refresh the phone Wi-Fi connections by turning Wi-Fi off and on or turning the Airplane mode feature on and off.
Once everything is set, you may go ahead and start eliminating common culprits with these simple tweaks.
Solution #1: Reboot the phone.
Always start from the basics and that is to restart the device. It is normal for a phone to slow down after several hours of operation, especially when multiple heavy apps like gaming and streaming services are left open and running in the background. Even power computers can succumb to problems with heavy RAM usage.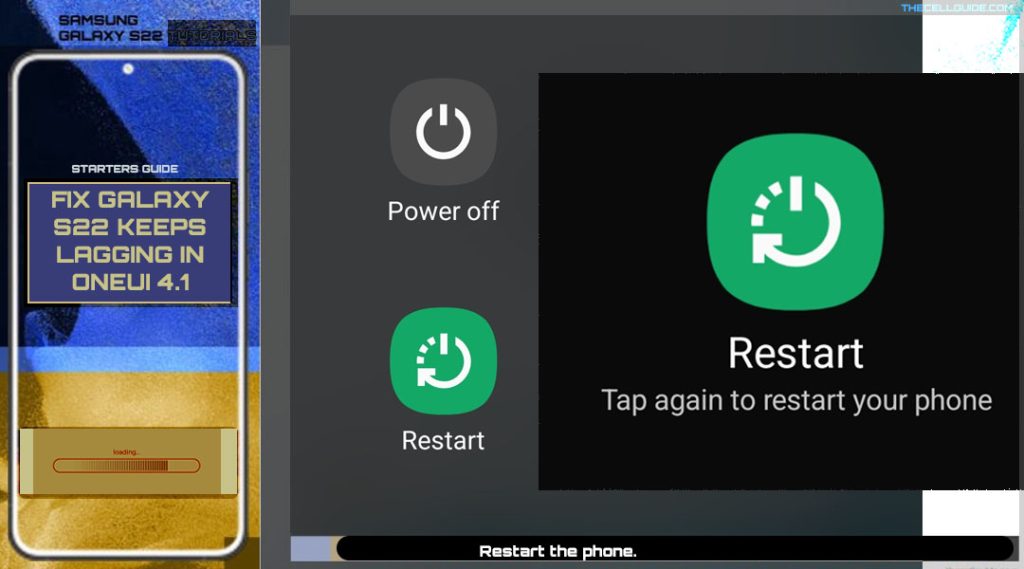 This is when giving your phone a quick pause and refresh is needed. That said, you should start by restarting your Galaxy S22.
Restarting an Android device can be done in two ways — soft reset and forced restart. Both methods won't delete any saved information from the internal storage so you don't need to back up files, for as you do it right.
To soft reset or instigate the usual reboot procedure on the Galaxy S22, just follow these steps:
Simultaneously press and hold the Volume Down and Side/Power keys for a few seconds.
Release both keys when the power options appear.
To instigate a system reboot, tap on the Restart icon.'
If the phone lags and then freezes afterwards, performing a forced restart would be necessary.
A force restart works the same as the soft reset when it comes to rectifying minor software errors and glitches that might have caused system conflicts and performance issues. It doesn't delete any user data from the internal storage so there's no need to back up files.
Here's how it's done:
Press and hold both the Volume Down and Side/Power keys for a few seconds and then release both keys when the Samsung logo appears.
All running apps and services are forcibly terminated as the phone instigates a forced reboot. Just wait for your device to finish the boot sequence and after that you can use it normally again.
Solution #2: Update apps.
Software updates pushed by app developers usually embed essential patches to get rid of any existing bug that might have caused problems to certain apps.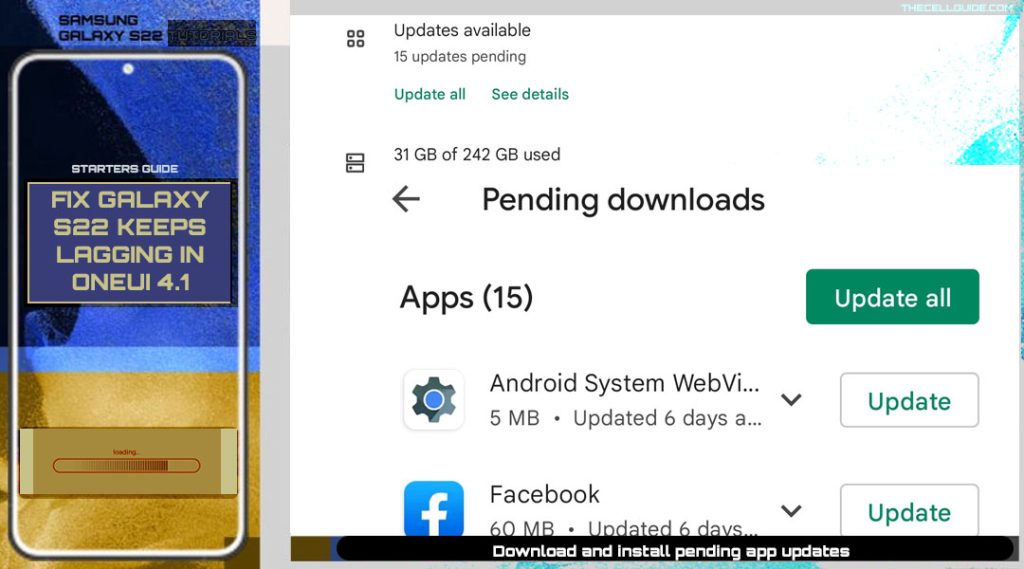 These updates can be implemented automatically by turning on the auto-update feature for the Play Store app. If auto-updates aren't enabled, then you will need to manually download and install pending app updates on your phone.
Here's how it's done:
Open the Play Store app.
Tap on your profile icon in the Play Store then tap the Menu icon (triple-dot).
Select My apps & games then navigate to the update section.
To update individual apps, simply tap the Update button next to an app.
To update multiple apps at once, tap Update All instead.
Keeping apps updated is highly recommended to ensure optimum performance and stability among third-party applications. This can also help keep random bugs and malwares at bay.
Solution #3: Wipe cache partition on the phone.
Smartphones typically gather temporary files and residual data from various sources every time you launch an app or browse the internet. These files are stored among other cached files in the system storage.
Although cached files may benefit in terms of faster reloading of similar information, accumulating more of them may likewise yield some unexpected issues in the long run. Just like other files, cached files also utilize a portion of the phone's storage.
So, the more cache files are kept, the bigger the storage space these files use up. In time, this could take a toll on the phone's overall performance.
This is when wiping the cache partition comes in handy. And here's how it's done on the Galaxy S22:
To get started, turn off the phone completely.
Press and hold the Volume Up key and the Side/Power key.
When the Android/Samsung logo appears, release both the Volume Up key and Side/Power key.
You will see the 'Installing system update' message appearing briefly before the Android Recovery menu options shows up.
Press the Volume down key several times to highlight the Wipe cache partition option.
Once the wipe cache partition option is highlighted, press the Side/Power key to select.
Press the Volume down key to highlight Yes, then press the Side/Power key to select.
When the process is complete, the Reboot system now option is highlighted.
Press the Side/Power key to restart the phone.
Just wait for your phone to finish rebooting and load up the Home screen.
Clearing cache and data for an app
If the problem occurs only when using a certain app, then that's likely just an isolated issue with that app. In this case, clearing the app's cache and data can help fix the problem.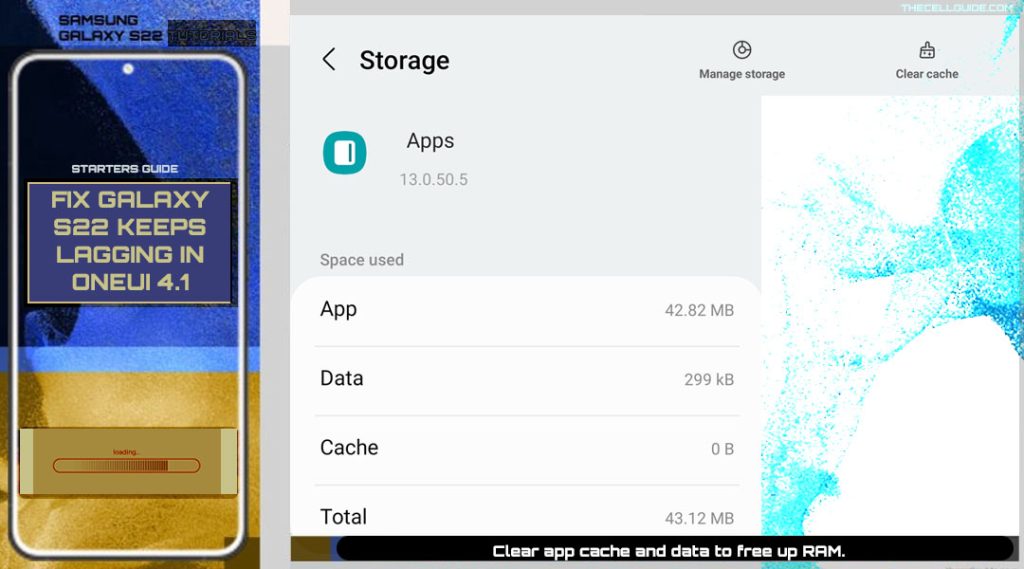 And here's how to get this done on the Galaxy S22:
First, tap Settings from the Home screen to launch the Settings app.
From the Settings menu, tap Apps and then select the problematic app.
On the App info, tap Storage.
Tap Clear cache at the bottom to clear cache from the app.
Tap Clear data to delete all residual data accumulated when using the application.
After clearing app cache and data, give your phone another quick reboot to refresh apps and system services.
Solution #4: Reset all settings.
Resorting to more advanced solutions like OneUI resets is usually needed when dealing with complex system issues that result in recurring symptoms of sluggishness and system instability.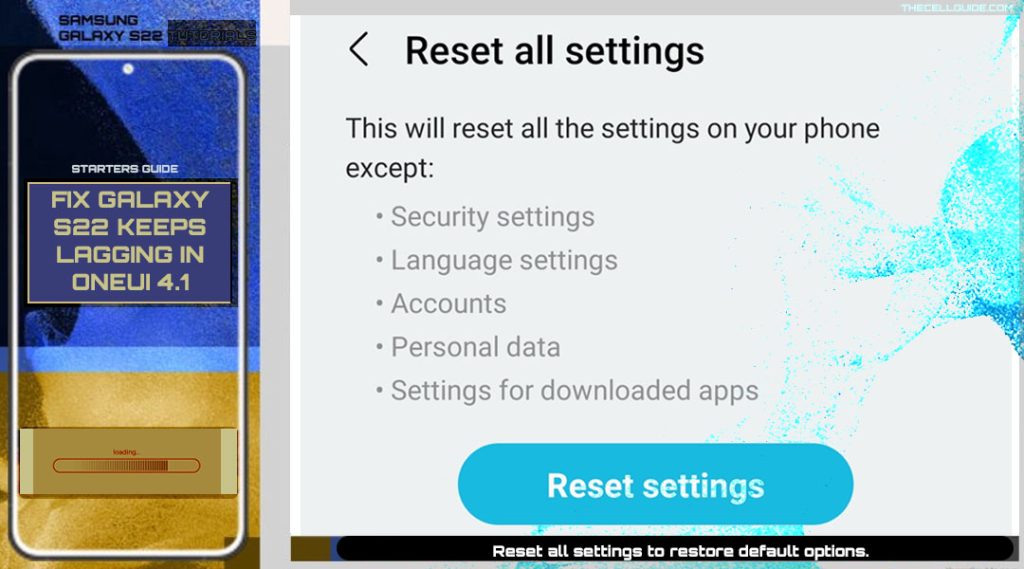 Just like iOS, Android phones also have different reset options that you can use for general system management.
To deal with software-related performance issues particularly system lags, resetting all settings is recommended.
As the name implies, this reset deletes all recent settings changes made to your Samsung phone including faulty overrides from recent updates and custom settings that result in system conflicts and errors.
This reset is recommended before performing a factory reset because it doesn't affect any user data from the phone's storage.
Just follow these steps, to reset all settings on the Galaxy S22:
From the Home screen, tap Settings.
Next, tap General management.
Scroll down and then tap Reset.
Select the option to Reset all settings.
Read the reset details and then tap Reset settings to proceed.
Enter your device PIN, pattern or password and then tap Reset settings to confirm.
After the reset, your phone reboots on its own and then loads up all the default values and options for network settings, app settings, app permissions and preferences.
In order to use necessary features that are disabled by default, re-enabling them like the first time is needed.
This means the need for you to set up and connect to the Wi-Fi network like the first time in order to get your phone back online.
Solution #5: Restore factory defaults (factory reset).
Deleting everything from the phone is typically deemed a drastic solution to complex system issues that could not be resolved by the basic solutions. This is when performing a factory reset comes in handy.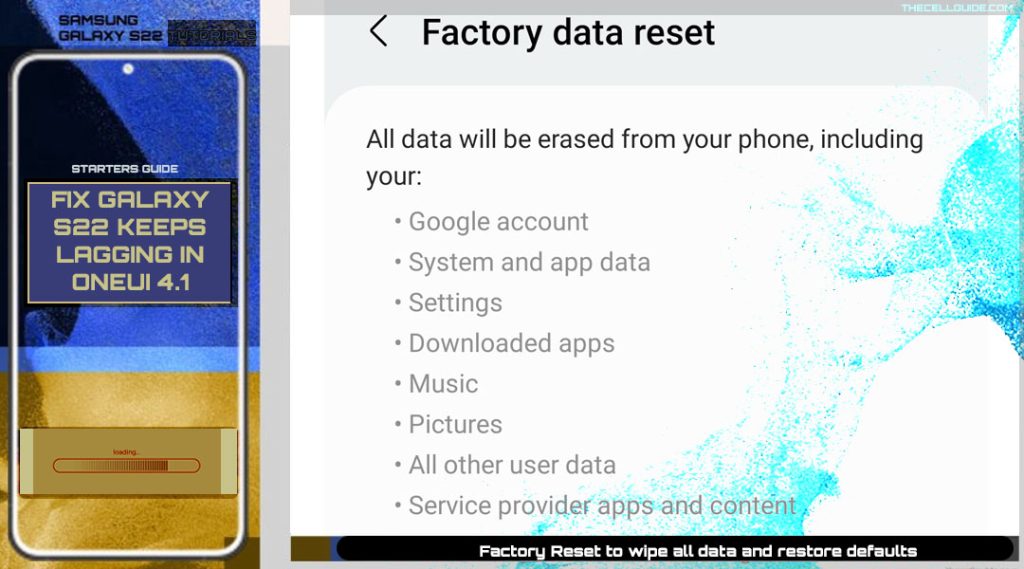 All your apps, custom settings and important files saved on the phone will be erased so be sure to back them up beforehand. You can back up files to your cloud account or to an external drive available.
Once all critical information is secured, you're all set to factory reset your Galaxy S22 through the settings menu. Ensure that your phone is sufficiently charged with at least 50 percent battery life before starting a factory reset to ensure the entire process will be finished.
Just follow these steps:
From the Home screen, tap Settings.
Next, tap General management.
Scroll down and then tap Reset.
Select Factory data reset from the given options.
Read the reset details and then tap Reset at the bottom to proceed.
Enter your device PIN, pattern or password to confirm and then follow the rest of the onscreen prompts to wipe your device.
Alternatively, you can restore your Galaxy S22 to its factory state through Android recovery. Just follow the above steps to access the Android recovery menu where you can find the option to Wipe data/factory reset and restore default factory settings on your device.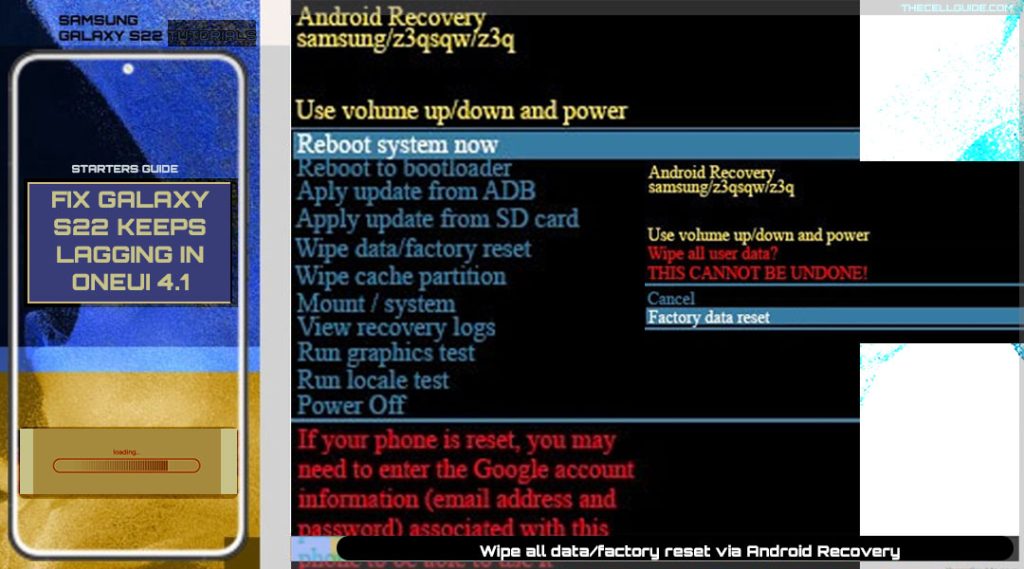 This method is recommended when dealing with complex system issues in mobile devices that result in unresponsive or frozen interface.
Is your Galaxy S22 still lagging?
Third-party Android repair software. Resorting to third-party Android repair apps may also be regarded among the last options before taking your Samsung phone to a service center.
There are plenty of software that are designed for this purpose. All you have to do is to pick, download and install your preferred software on a compatible computer. After installing, connect your Galaxy S22 to your computer via compatible USB cable, launch the software and start repairing your phone using the in-built commands.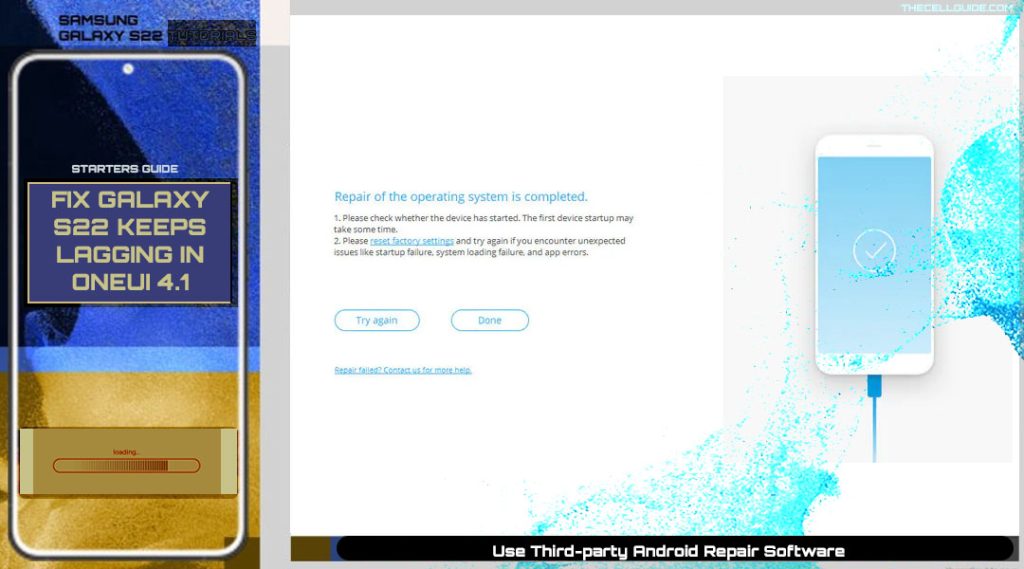 Among the widely used Android repair apps that you use include Dr. Fone – System Repair (Android), Phone Doctor Plus Android System Repair, Dr. Android Repair Master and more.
Repair Options
The last option you've got if nothing else works is to take your phone to the nearest Samsung-authorized service center for faulty hardware diagnosis.
Hardware-related factors including depleted components on the phone might be the underlying cause of the problem considering that all possible means to clear out software-related culprits have already been applied.
If your new Samsung phone is still covered by warranty, availing warranty would be a better choice.
Hope this helps!
Please check out our YouTube channelto view more tutorial and troubleshooting videos for popular iOS and Android devices.
You Might Also Want To Read: