This post highlights potential solutions to a software-related black screen issue on the latest Apple watch series. Read on to learn how to fix a new Apple Watch 7 that's stuck on black screen or black screen of death.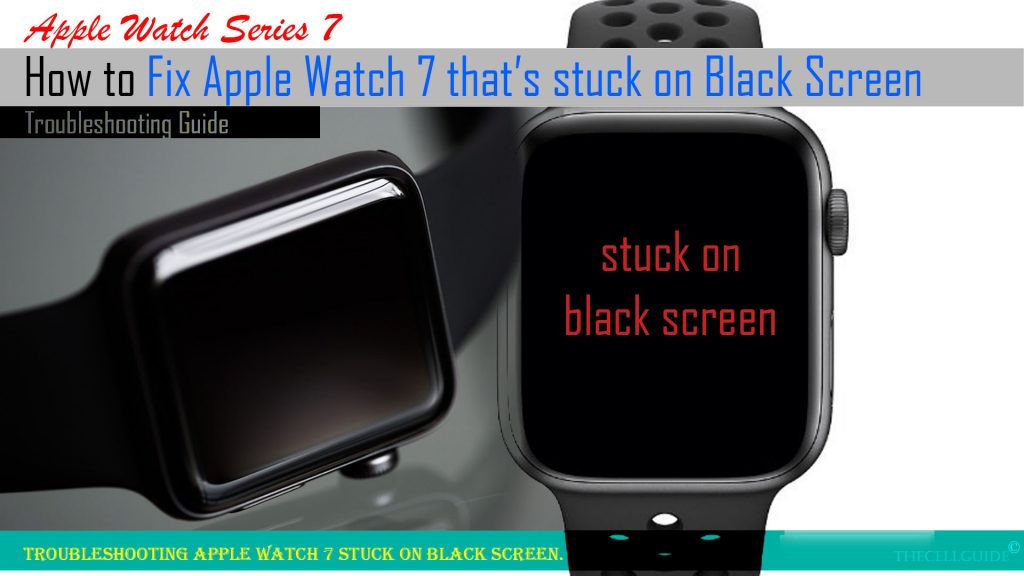 Black Screen Problem Overview
Black screen is typically tagged among other display issues in mobile devices and other electronic accessories like modern smartwatches. Contrary to what many people believe, the black screen issue isn't always due to hardware damage. In fact, many cases of black screen issues in smartphones and other smart devices are attributed to system errors. There are also some instances when what's thought to be a black screen issue is actually a battery-related or charging problem. This is when the device won't charge or when it experiences massive power drain.
What causes an Apple Watch to get stuck on black screen?
As mentioned earlier, the so-called black screen of death problem in electronic devices and smartwatches can be due to a software-related error, if not hardware damage.
If your watch was previously working fine and suddenly it gets stuck on black, then software-related factors are more likely the underlying cause of the problem.
Among the common software-related factors that can make a device stuck on black screen of death include but not limited post-update flaws, data corruption, messed up settings, errant apps, software bugs and malware from downloaded contents.
Meanwhile, if your watch gets stuck on black screen after you accidentally dropped or got it wet, then there's a higher chance that the problem is due to some damaged components from either physical or liquid damage.
Troubleshooting an Apple Watch 7 that's stuck on black screen
The following solutions are also applicable when dealing with the same issue on other Apple watch series running on the same watchOS version with that of the watch series 7.
Actual screens and menu items may vary between device models and carriers so expect some slight differences on the user interface.
Before you proceed, verify and ensure that your watch is sufficiently charged. If your watch shuts down from total power drain, then it wouldn't be able to power on unless it's recharged. Thus, plug your watch into its charger and give it at least 30 minutes to accumulate power. Be sure to use the OEM or Apple-supplied charger that came with your watch.
Also ensure that your watch is able to charge. If your watch is not charging, then you will need to deal with charging issues beforehand.
If it's charging but for some reason is still stuck on black screen and won't turn on, then you can start ruling out software-related factors that might have caused conflicts and eventually ruined the watchOS normal operation.
Solution #1: Force restart your Apple Watch.
The new Apple Watch series 7 has a non-removable battery, removing and reinserting the battery won't be applicable whenever it stops responding. Instead, you can perform a force restart to clear out random system errors that made it unresponsive.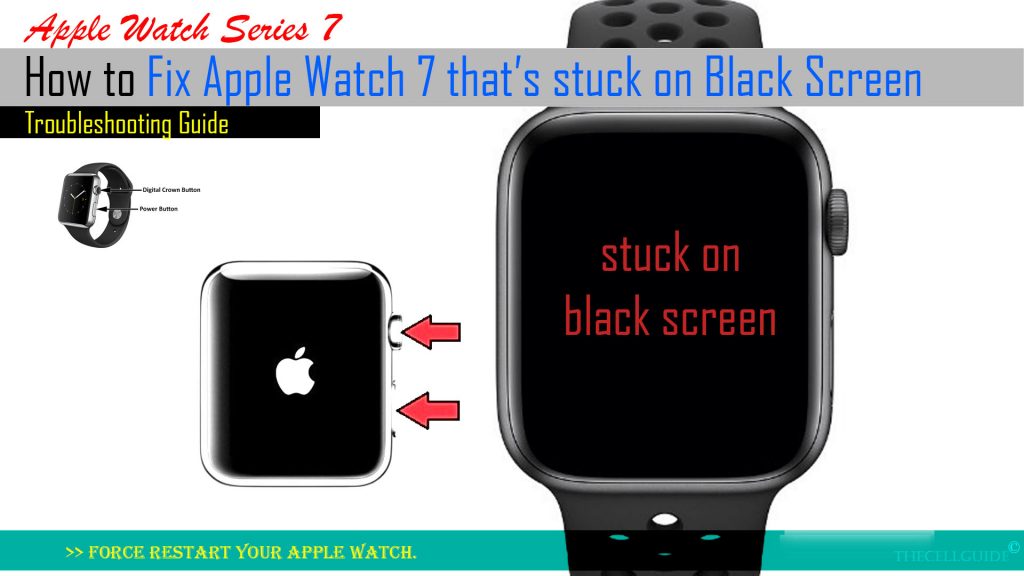 Performing a force restart on your Apple Watch forcibly ends any stuck apps and system services and then pushes a system reboot. This is often carried out when an Apple Watch suddenly becomes unresponsive or frozen after updating or installing a new app.
To force restart an Apple Watch Series 7, just follow these steps:
Press and hold both the Side button and Digital Crown for at least 10 seconds.
Release both buttons when the Apple logo appears.
Wait for your watch to finish rebooting and then load up to the Home screen.
This process does not affect any saved data on the device so you won't lose any important information afterwards.
Solution #2: Force restart your iWatch while charging.
Performing a forced restart while charging the Apple Watch is usually recommended to rule out software-related errors that might have prevented the device from recharging and turning on.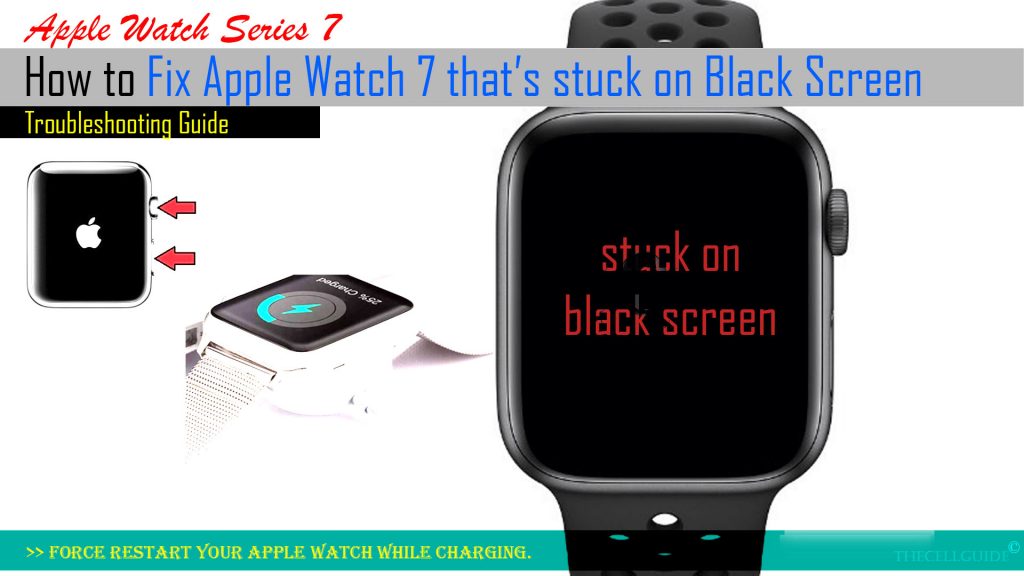 That said, plug your Apple Watch into the charger and give it about 30 minutes to charge up the battery. After the elapsed time, do a forced restart without unplugging your Apple Watch from the charger.
Just press and hold both the Side button and the Digital Crown for at least 10 seconds and then release both buttons when you see the Apple logo.
If the Apple logo doesn't show up after 10 seconds, just keep pressing on both buttons until the Apple logo appears.
Solution #3: Turn off Screen Curtain feature (if possible).
Screen curtain is an iWatch or watchOS feature that allows you to turn off the display for added privacy. Many users would opt to activate this feature to prevent the device from displaying sensitive information in public places or when they just don't need the display for device operation.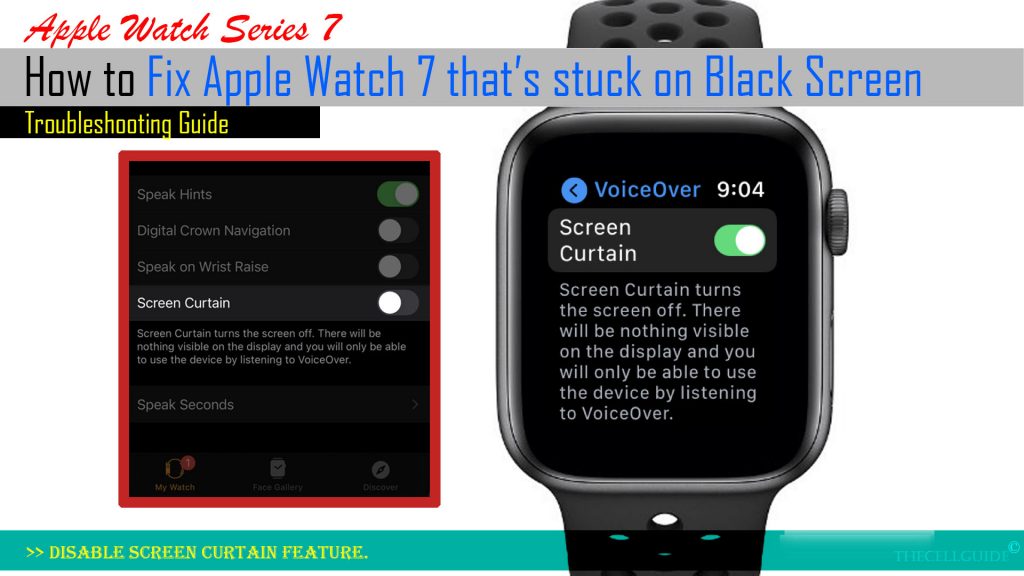 To make sure it isn't causing your iWatch to get stuck on black screen, try to disable it and see what happens.
If your Apple Watch is currently paired with your iPhone, then you can try turning the Screen Curtain feature on your watch through your iPhone's Watch app.
Just follow these steps to access and manage this watchOS setting on your iPhone:
Go to your iPhone and then open the Apple Watch application.
On the next menu, go to the My Watch tab.
Then, tap Accessibility.
Select VoiceOver and then tap Screen Curtain.
Turn off the Screen Curtain switch to disable the feature.
After changing the screen curtain settings, reboot or force restart your Apple Watch and see if it's already able to render a correct display.
Solution #4: Update your Apple Watch with your iPhone (if possible).
Updating your Apple Watch to the latest watchOS version available is also a potential solution especially if stubborn bugs and malware are the underlying cause of the black screen problem.
New software updates rolled out by Apple usually embed the latest bug fixes and security enhancements that will keep your device stable and optimized.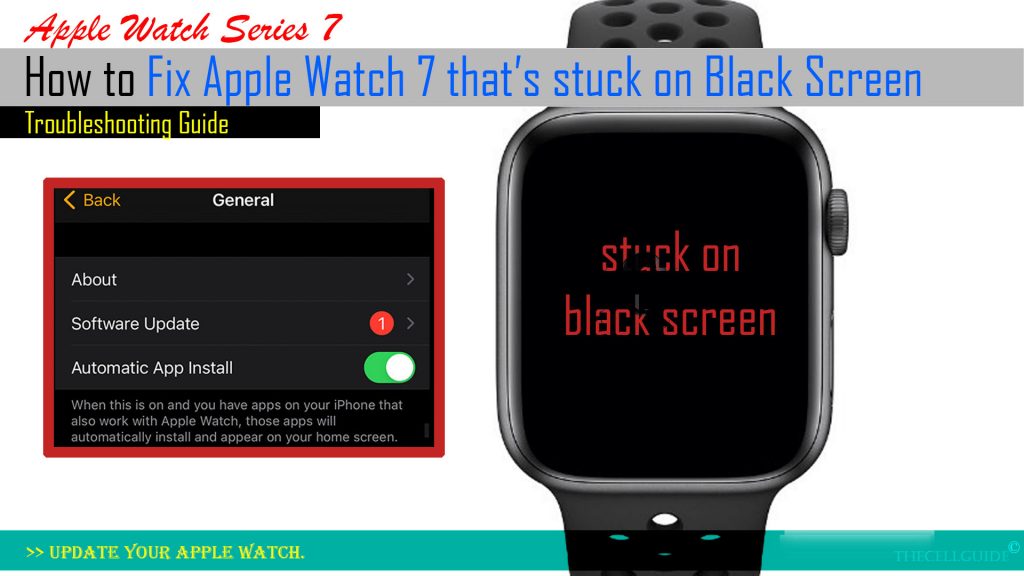 If your iWatch is paired and connected to your iPhone and your watch is at least 50 percent charged, then you can go ahead and try updating your watch through the iPhone Watch app.
To update your Apple Watch through your iPhone, keep your watch next to your iPhone and then follow these steps:
On your iPhone, open the Apple Watch application.
Tap the My Watch tab to continue.
On the succeeding menu, tap General.
Then, tap Software Update to proceed.
Download the update and entire your iPhone or Apple Watch passcode if prompted.
Wait for the progress wheel icon to show up on your Apple Watch and follow the rest of the onscreen instructions.
The entire process usually takes several minutes up to an hour so better keep your Apple Watch plugged into the charger to ensure that the update will be finished.
Also don't restart your iPhone or Apple Watch and don't quit the Apple Watch app while the update is still in progress to avoid data corruption.
When the update is finished, your Apple Watch should restart automatically.
Solution #5: Reset Apple Watch using your iPhone (if possible).
Deemed among the last resorts when dealing with recurring system issues in Apple devices is a factory reset or master reset. Performing this reset will erase your device and restore it to its factory reset. Any stubborn bugs and malware that are ruining core functionalities of the device will also be obliterated in the process.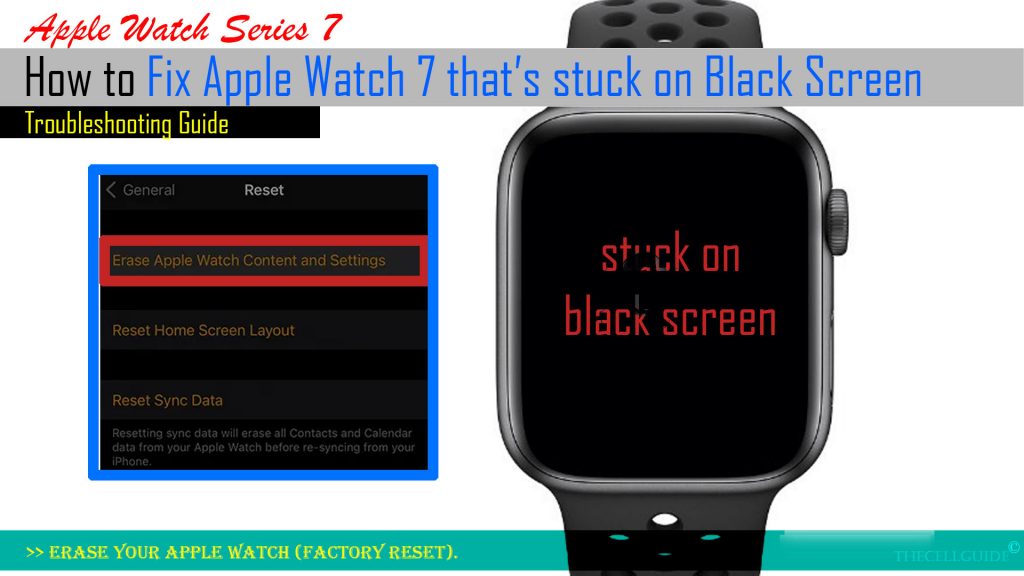 If your Apple Watch is currently paired and connected to your iPhone and you would want to resort to a full system reset, just follow these steps:
Make sure your devices are next to each other and sufficiently charged.
On your iPhone, open the Apple Watch app and then tap the My Watch tab.
On the next menu, tap General.
Then, tap Reset on the succeeding window.
Select the option to Erase Apple Watch Content and Settings.
If prompted, read the warning message and then tap Erase All Content and Settings twice to confirm.
All media and user data on your Apple Watch will then be deleted and all settings are restored to factory defaults.
Your Apple Watch will automatically restart after the reset and then load up to its factory state. Just wait until the Apple logo shows and the rest should follow.
By then you can set your iWatch again as new.
Is your Apple Watch showing a black display with a red bolt icon and time?
The Watch may be acting like a dead device while in reserve mode because many features and internal processes are temporarily disabled. As a result, the Apple Watch may be unable to unlock or doesn't respond with its paired iPhone.
If your Apple watch is showing a red bolt icon with the time, it means that it's on power reserve mode. Many features and services are shut down when the watch is on power reserve. This happens in order to save battery. Just recharge your watch and then do a force restart to exit power reserve mode.
Apple Watch Repair Options
If none of the aforementioned solutions worked and your Apple Watch remains stuck on black screen, there's a higher chance that the watch screen, battery, or other relevant components are broken.
Should this be the case, your next best option is to take it to the nearest Apple-authorized service center (Genius bar) in your area and have it diagnosed by a technician. Just let the technician know about what exactly has happened before your Apple Watch gets stuck on black screen.
If the Apple Watch black screen issue occurs after an iOS or watchOS update installation, escalating the problem to Apple Support is also recommended. Doing so will let the Apple support team know that such a post-update problem occurs and will take necessary actions.
Hope this helps!
Please check out our YouTube channel to view more tutorial and troubleshooting videos for popular iOS and Android devices.
You Might Also Want To Read: