This post will walk you through configuring the Galaxy S22 settings to prevent any accidental repositioning and/or deletion of Home screen items. Here's a quick guide to lock Home screen layout on Galaxy S22.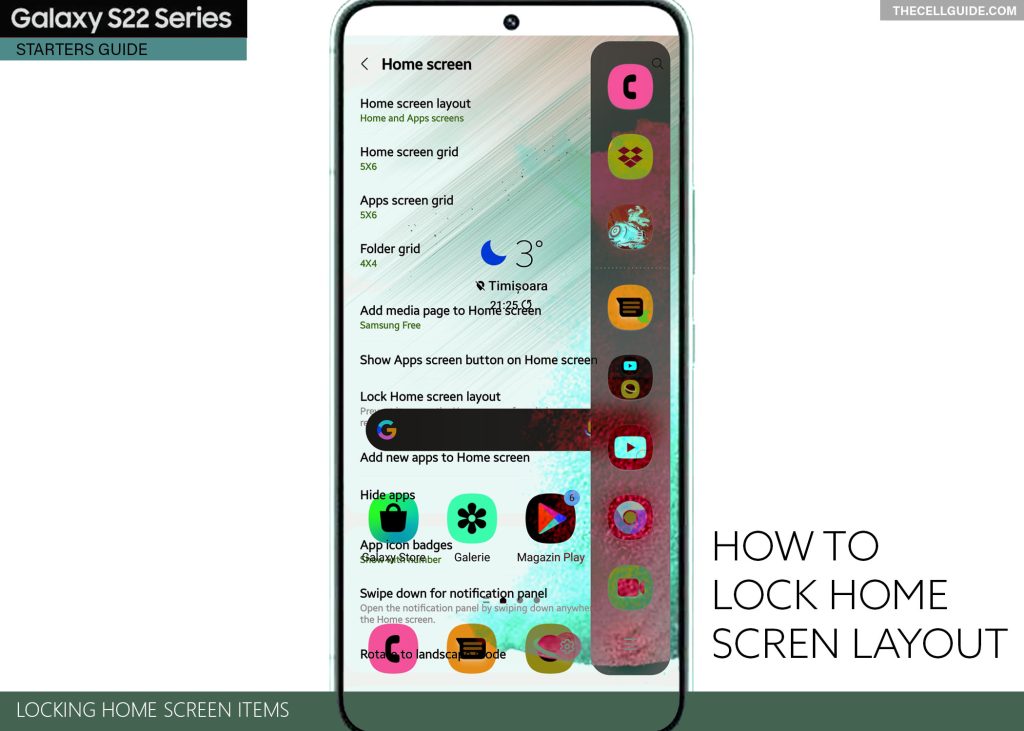 Home screen items serve as shortcut controls (app shortcut) to access different apps and system services on your mobile device. These items are represented by various icons lined up on the Home screen. In updated Android devices, touching and holding on a Home screen icon loads up a quick menu that contains shortcut commands to select, disable, or uninstall an app.
While this offers benefits in terms of speeding up the standard app management procedure, accidental app deletion is also possible. This is when locking the Home screen layout is recommended.
Depicted below is the actual process of activating this feature on the updated Samsung Galaxy S22 series. Keep reading for more detailed instructions.
Galaxy S22 Home Screen Settings
The Home screen settings of new Samsung Galaxy phones typically consist of the Home screen layout, Home screen grid, Apps screen grid, Apps button and more.
Aside from system lock, your Galaxy phone also has an option to lock its Home screen layout so that no unwanted changes are made to any of the current display items and controls. Such a feature is called Lock Home screen layout.
Considering the updated Home screen system among Android phones including Samsung Galaxy phones, unintentional deletion of apps is inevitable. This is because tapping on and holding on an app icon launches the quick menu that contains the uninstall command.
If the Home screen layout isn't locked, there's a tendency for an app to be deleted by accident by unintentionally long-pressing on the phone's screen.
To avoid facing such a dilemma, locking the phone's Home screen layout would be a good idea.
Locking the Home screen layout on a Samsung device is pretty straightforward. All you have to do is access the Home screen settings and turn on the Home screen layout lock toggle.
If you're new to Android devices and need some input on how to access and manage this setting on the Galaxy S22 series, then feel free to use this post as your reference.
Steps to Lock Home Screen Layout on Samsung Galaxy S22
The following steps will activate the One UI feature that locks the Home screen of your Galaxy S22 smartphone. These steps are based on the Android 12 with One UI 4.1 interface and therefore applicable to other Samsung Galaxy phones running on the same software version, too.
Just keep your device software updated to ensure that all important features and menu options are accessible.
Feel free to start whenever you're all set to configure your phone's Home screen settings.
Step 1: Tap Settings from the Home screen or Apps screen to get started. Doing so will launch the Settings app.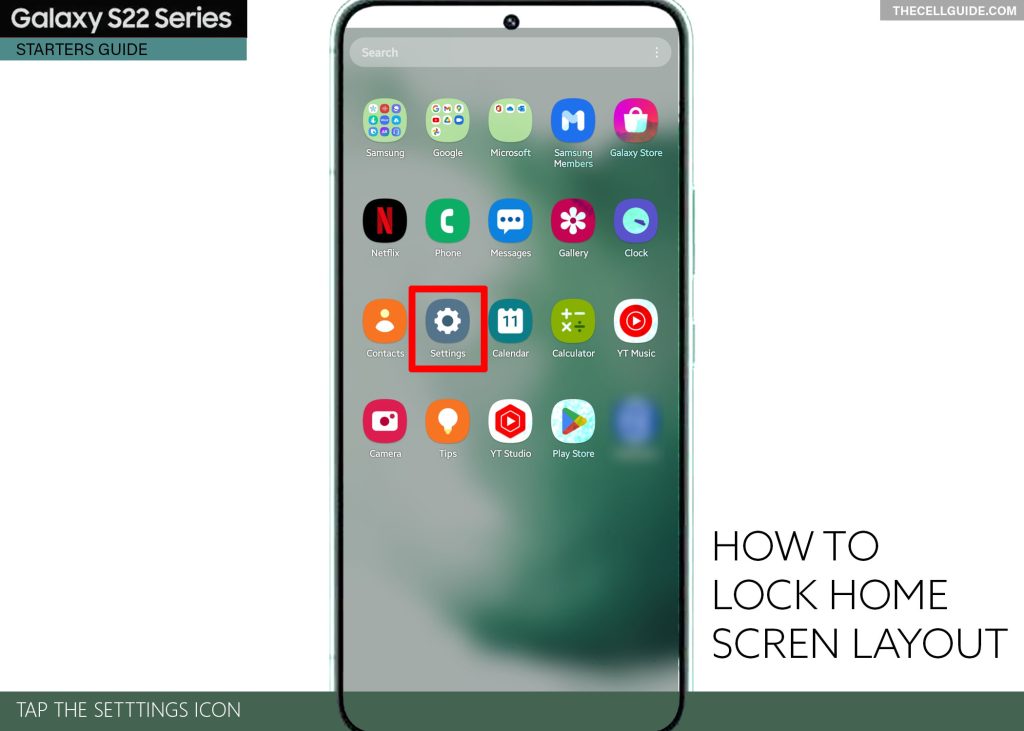 Step 2: While in the Settings app menu, find and then tap Home screen. The Home screen menu will load up next.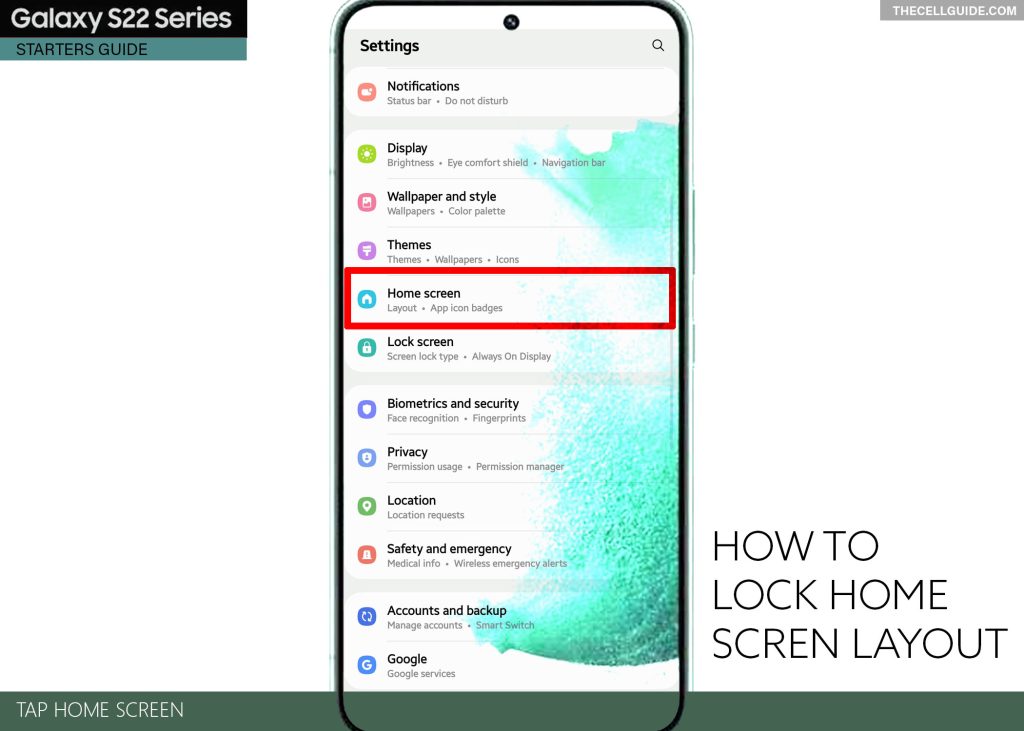 Step 3: To continue, tap to turn the Lock Home screen layout switch ON. Doing so enables the inbuilt Home screen layout lock system.
With this switch enabled, you can be assured that any items on the Home screen remain in its position despite any accidental long presses and touches you've made on your phone's display.
You can always disable this feature if you think locking your phone's Home screen layout isn't necessary. Just follow the same procedure to get back to the Home screen settings then turn the Lock Home screen layout switch OFF again.
More Home screen layout options
Should you wish to reduce the size of the icons and save space to display more apps on your Home screen, you can adjust the screen grid to a higher setting like 4×5 to 5×6, for instance.
This option can be accessed and managed through the Home screen settings of your phone.
To do so, simply head over to Settings-> Home screen menu and then tap Apps screen grid. By then, you can select any from the given options.
A preview of the selected grid will also be available when selected. This gives you a hint on which screen grid suits you best.
Don't forget to tap Save on the lower-right edge to apply all the recent changes you've made and to update your phone's Apps screen grid.
Rearranging icons and removing empty spaces are also possible.
Hope this helps!
Please check out our YouTube channelto view more tutorial and troubleshooting videos for popular iOS and Android devices.
You Might Also Want To Read: