This post will walk you through resolving an internet issue on the new Samsung Galaxy S22. Read on to learn how to deal with the Galaxy S22 slow internet connection issue in OneUI 4.1.
Possible causes of slow internet
Slow browsing or slow internet connection in mobile devices can occur at any time due to various reasons. Among the widely known causes include random software glitches affecting network services, data corruptions, settings conflicts, and faulty updates. Random firmware glitches on the modem/router in use and occasional outages are also among the possible culprits.
Internet services may also be disrupted when ISPs conduct scheduled network system maintenance. The same thing can happen when unexpected technical difficulties arise in the network base.
The worst possible cause is hardware damage either on the network equipment or the device itself.
Before rushing to a service center, performing basic tweaks to rule out software-related culprits is highly recommended.
Outlined below are basic solutions to a slow internet issue on the new Samsung Galaxy S22 smartphone. Feel free to try these methods if you need more inputs when dealing with the same issue on the same device.
Troubleshooting Samsung Galaxy S22 slow internet connection issue
Performing the following tweaks will help eliminate common factors that can slow down Wi-Fi internet access on the Galaxy S22 devices and other Samsung running in OneUI 4.1.
Before you begin, verify and ensure that your phone is currently connected to an active Wi-Fi network.
Once you've got everything ready, you may go ahead and start troubleshooting your phone's Wi-Fi connection.
Solution #1: Reboot the phone (soft reset).
Bumping into some random Wi-Fi issues in mobile devices is inevitable given that there are a lot of factors that can interfere with wireless connections. More often than not, the transpiring symptoms are just minor and can easily be remedied by basic solutions.
One of the basic yet very effective solutions that you shouldn't forget performing on your Galaxy S22 is the so-called soft reset.
A soft reset or device restart can help eliminate minor firmware glitches including those that inflict troubles with the OneUI 4 wireless features. This process does not affect any saved data from the internal storage so you won't lose any important information in the process.
Just follow these steps:
Press and hold the Side button and Volume Down button and then release both buttons when the Power options appear. Tap Restart to instigate system reboot.
Alternatively, you can do a force restart by pressing and holding both the Side button and the Volume Down button until the screen goes dark and then release when the Samsung logo appears.
Wait for your phone to finish rebooting and reconnect to Wi-Fi. When it's connected, relaunch your browser and see if the connection speed has improved.
Solution #2: Power cycle the router/modem.
Another simple implicit solution to various types of internet connectivity issues in mobile devices is the so-called modem/router power cycle.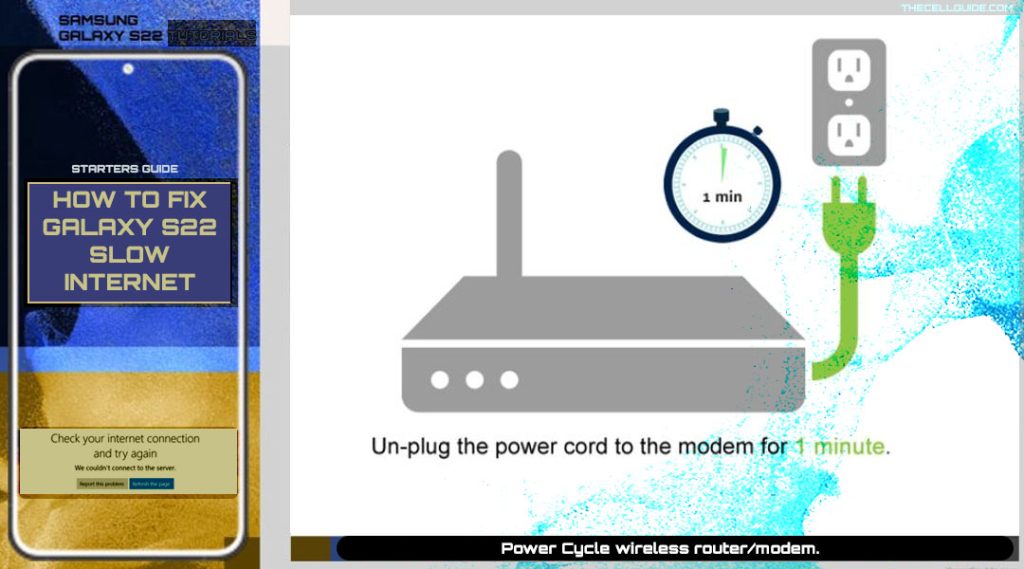 Internet service providers typically recommend restarting the wireless modem/router from time to time. This is imperative because just like other electronic devices, modems/routers also succumb to random firmware glitches. When this happens, the internet quality would diminish. And you will just realize that something is wrong because your internet connection is slowing down or becoming unstable.
Power cycling the modem/router allows it to refresh and re-establish a new connection to your Internet service provider. In fact, this is often the very first recommended solution by ISPs when dealing with sudden internet disconnects, limited connection and no internet. To get this done, you will need to access your wireless router or modem.
If you haven't done this yet, just follow these steps to power cycle your wireless router or modem for the first time.
Turn off your modem/router by pressing on its power button until it shuts down completely.
While the modem/router is turned off, unplug it from the power source.
After 30 seconds, plug it back in and wait for it to power on. If your modem/router doesn't power on automatically after plugging it back into the power outlet, then you'll have to power it on manually.
Wait for all the modem light indicators to become stable.
Your phone should then reconnect to the Wi-Fi network as soon as it becomes available. If it doesn't, then you'll have to connect to the network manually.
Normally, there shouldn't be any red indicators. If you see any, find out what the indicator is for.
A red light indicator on the modem/router usually denotes a problem either with the line of sight or the device itself.
Should this be the case, you'll have to contact your internet service provider for further assistance. You might need a new modem/router replacement. Otherwise, they can reset the modem/router remotely.
Solution #3: Clear browsing history and website data.
Slow internet connection can also be an isolated problem with the browser in use. This means that access to the internet through a certain browser app is slower than using other browsers.
This is when clearing cache, browsing history and website data on the problematic browser is necessary.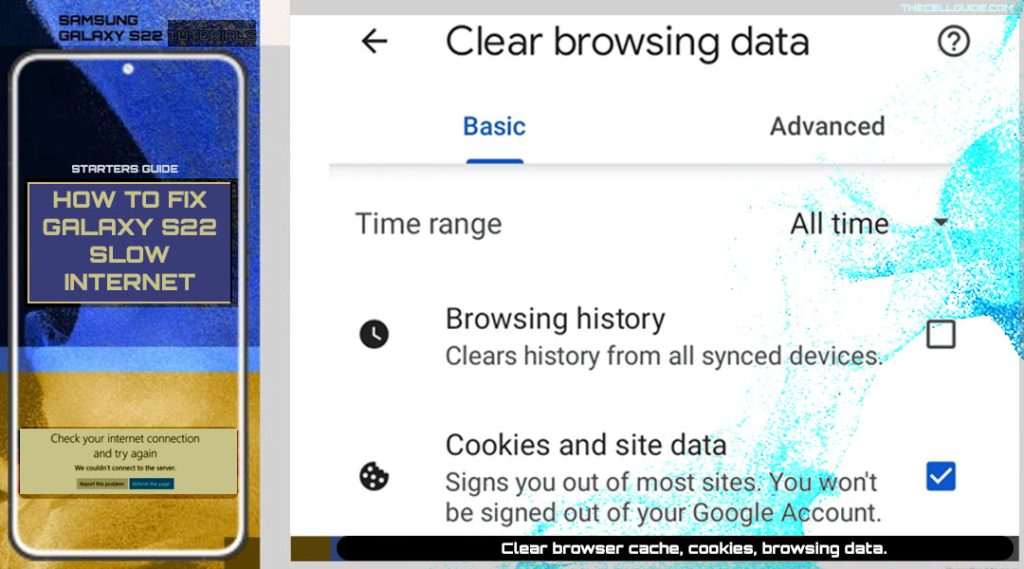 Browser apps typically save some temporary information from websites in its cache and cookies directory. And browsers do that every time you use them to browse the internet.
If any of these temporary files get corrupted, browsing issues may arise. As a result, loading of specific websites and pages become sluggish and other errors could arise.
To fix these problems, clearing cache and cookies from the browser is recommended.
The process of clearing cache and cookies may vary between browser apps.
If you're using Chrome, clearing its cache and cookies is carried out through these steps:
Open the Chrome app on your phone.
Tap the More icon represented by a triple-dot image.
On the succeeding window, tap History then tap the option to Clear browsing data.
You may opt to choose a time range or select All Time to delete everything.
Be sure to mark the checkboxes for Cookies and site data and Cached images and files.
After marking the boxes, tap Clear data.
If you're using other browser apps like Firefox, Opera or Microsoft Edge, you can visit their support pages for more detailed instructions.
Solution #4: Disconnect from Wi-Fi then reconnect.
Slow internet connection inflicted by minor firmware glitches can likewise be rectified by disconnecting and reconnecting from/to the Wi-Fi network. It's another way of restarting the phone's wireless features and internet connection.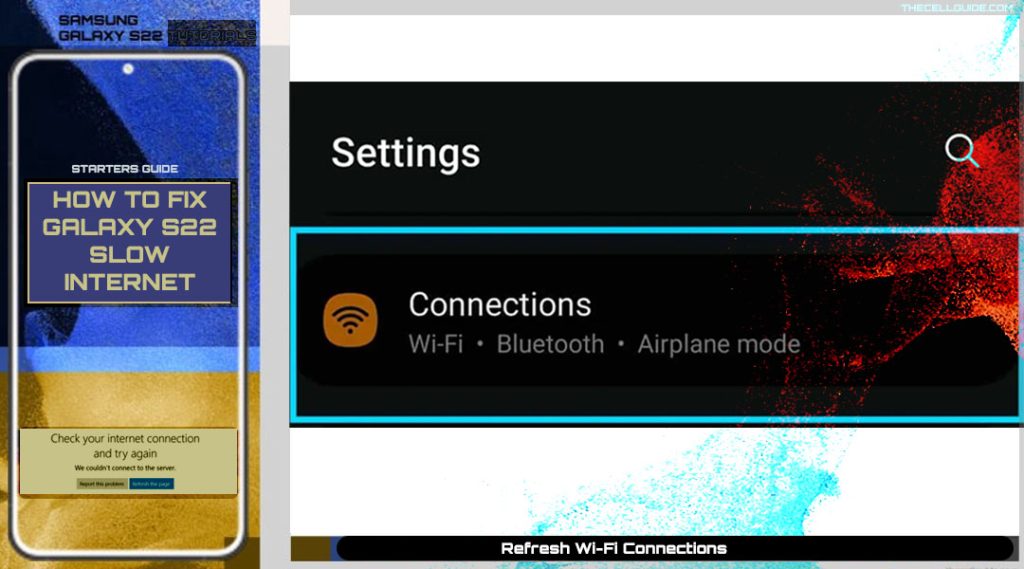 Disconnecting from and reconnecting to Wi-Fi can be carried out in different ways including the following:
A. Wi-Fi toggle. The traditional way to refresh wireless connections in smartphones is to turn the Wi-Fi switch OFF and ON.
To get this done on the Galaxy S22, just go to Settings-> Connections-> Wi-Fi menu and then tap the Wi-Fi switch off. After a few seconds, tap the switch to turn Wi-Fi ON again.
B. Airplane mode toggle. Performing the so-called Airplane mode tweak is also deemed a potential solution to various internet connectivity issues transpiring on a smartphone.
To do this tweak on the Galaxy S22, just go to Settings-> Connections-> Airplane mode menu and then tap the Airplane mode switch ON. All wireless features of the phone including Wi-Fi, Bluetooth, and cellular networks are disabled.
Restart the phone then go back to Settings-> Connections-> Airplane mode menu and then tap to turn the Airplane mode switch OFF again.
Wait for your phone to re-establish wireless access and then reconnect to the Wi-Fi network. When the network connection becomes stable, open a browser and see if the connection speed is back to normal.
Solution #5: Forget then re-add the network.
Consider checking your phone's Wi-Fi settings especially if you've set up multiple Wi-Fi networks and auto-connect is enabled. There's a chance that the phone automatically switches to another network available and disconnects from the current network.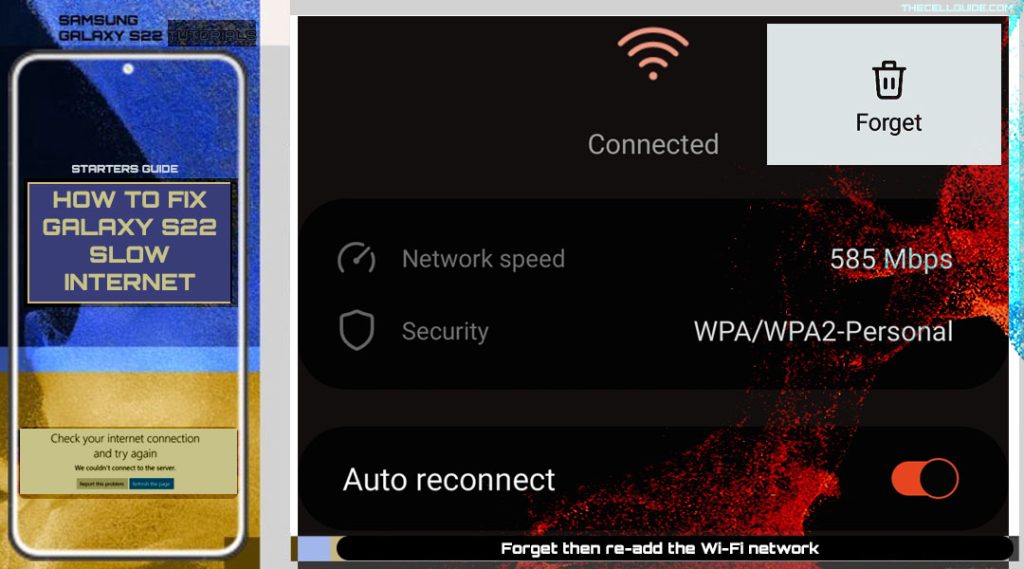 If the new network it switches to is not stable or the network reception is very poor, then that's likely the main reason why your internet connection is very slow.
To deal with slow internet connection attributed to a corrupted Wi-Fi network, forgetting and re-adding the network is recommended.
Here's how it's done on the Galaxy S22:
Go to Settings-> Connections-> Wi-Fi menu and make sure that the Wi-Fi switch is turned on.
Tap the Gear icon next to the Wi-Fi network that you'd like to delete and then tap Forget this network. Follow the rest of the onscreen prompts and then tap to Forget to confirm.
To delete other unused networks saved on the phone, go to Settings-> Connections-> Wi-Fi menu and then tap the Gear icon. Tap Advanced and then tap the option to Manage networks. On the following screen, select the network that you'd like to delete.
After deleting unused and problematic networks, restart your phone. By then, you can add and set up your Wi-Fi network as new.
Solution #6: Reset network settings on the phone.
If none of the prior solutions worked, performing a network settings reset can be deemed among the next options.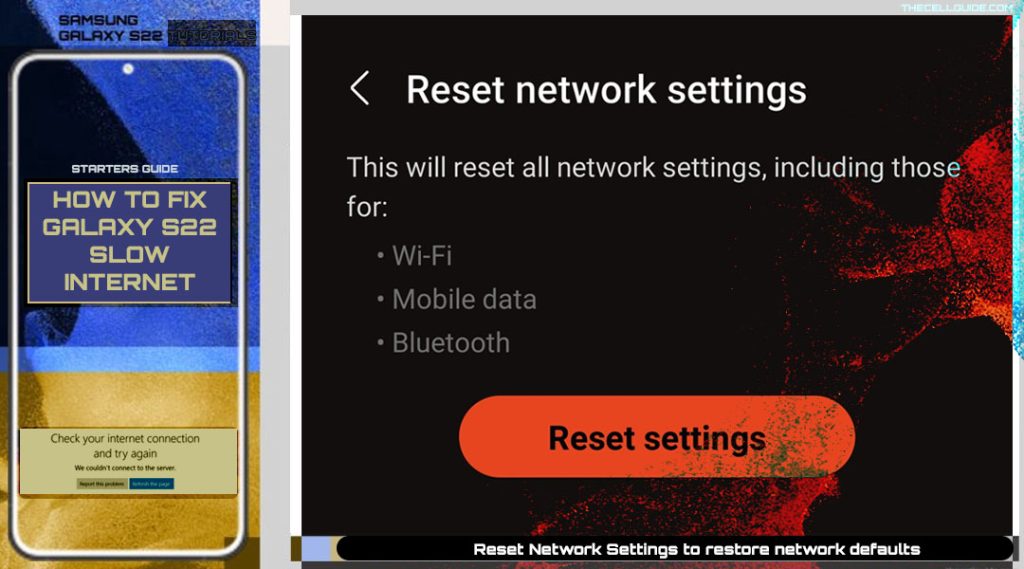 Android devices have different types of reset commands that users can trigger whenever the need to restore defaults arise. And one of these resets is the reset network settings, which is also available on the latest Samsung Galaxy S22 devices.
This reset works by deleting all current network-related settings and bringing back the network defaults. As a result, the network configurations of your phone would appear and work like the first time.
To reset network settings on the Galaxy S22, just follow these steps:
Go to Settings-> General management-> Reset menu.
Tap Reset network settings from the given options.
Read the warning prompt then tap Reset settings to proceed.
Enter your device PIN, pattern or password when asked to continue.
Read the final warning and then tap Reset to confirm.
The phone will then start deleting all current network settings including recent overrides from software updates.
After resetting the network settings, the phone reboots on its own. As soon as it's finished rebooting, you can set up your Wi-Fi network to join and connect like the first time.
Among the settings that will be deleted during the network reset include Wi-Fi, Bluetooth, VPN, and cellular connections. So basically, you'll have to set them up all over again afterwards.
The good thing is, this reset does not affect any user data so you won't lose any important files and documents from your phone's storage.
Resetting the network settings is often deemed a drastic solution to network connectivity issues affecting Wi-Fi, Bluetooth and Cellular services, particularly those that are tied to network configuration errors
.
Is your Internet connection still very slow?
Internet connectivity issues attributed to random software glitches are usually addressed by any of the above solutions. If the problem continues and your phone's internet speed is still very slow, performing more advanced drastic methods like a factory reset can be regarded among the last options.
If a new software update is available, then try updating your phone first. Software updates also embed essential patches to fix existing bugs including those that might have ruined the phone's wireless functions.
Seek more help
You may also opt to escalate the problem to your internet service provider for further assistance and official suggestions.
Should the slow internet connection issue be due to an ongoing network outage or system maintenance, your ISP will tell what to do next.
If you suspect that the problem is due to a defective modem/router in use, then you can ask your service provider for a new modem/router replacement instead. Your ISP will typically run some line test on their end to determine whether or not a faulty modem/router is the root cause of the problem. Once confirmed, a new modem/router will be sent.
Hope this helps!
Please check out our YouTube channelto view more tutorial and troubleshooting videos for popular iOS and Android devices.
You Might Also Want To Read: