This post will walk you through altering the default USB configuration on the new Galaxy device. Read on to learn how to change USB default on Samsung Galaxy S22 phone.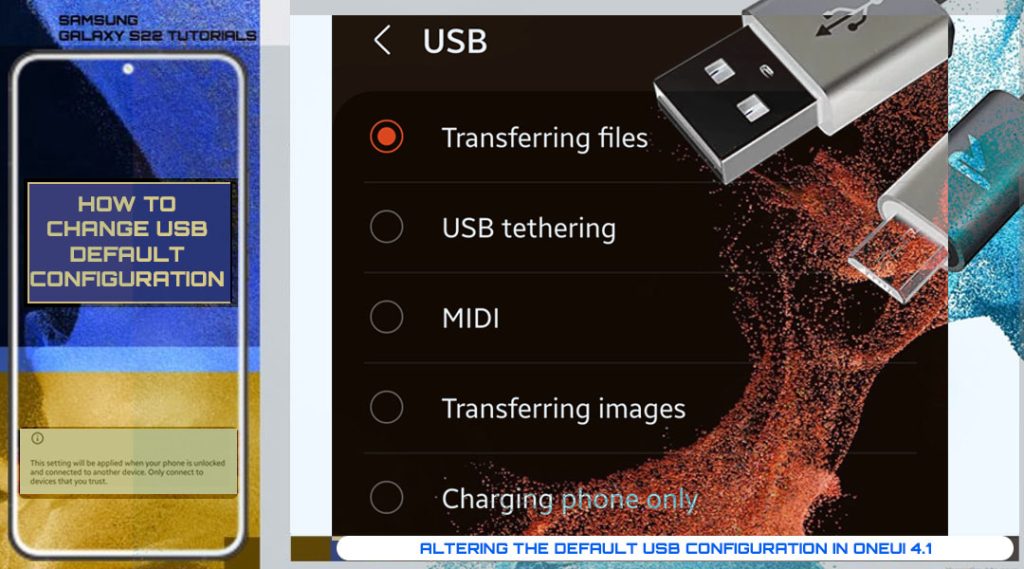 Does your new Samsung phone only charge and won't let you access the internal storage when you connect it to your computer via USB connection? If that's so, it's possible that the USB default option is set to "charge phone only."
To override the default action over a USB connection, you will need to access the advanced features from the developer options menu including USB debugging and USB default configuration.
Just keep reading to view more detailed instructions.
OneUI 4.1 USB Default Options
When you connect your Samsung phone to a computer via USB cable, it will automatically charge, instigate media transfers, enable USB tethering, open storage folders and more. These are preset actions that can be triggered over a USB connection depending on your phone configurations.
The newest Samsung Galaxy devices for instance allow you to change the USB default configurations to any of the available options that suits your demand. For example, if you want to make your phone's internal storage accessible through your computer when they're connected via USB, you can set the USB default option to Transferring files.
If you want to enable tethering over USB connection, then you will need to set the USB default option to USB tethering.
But here's a catch. USB Debugging and other relevant features in the debugging section or category are hidden on these phones and therefore not visible or accessible by default on the Galaxy S22 ultra and other lineup.
To manage the USB default options, you will need to enable the OneUI 4.1 developer mode. And to make this possible, you will need to unlock the hidden menu called Developer options.
In case you need some input on how to get this done on your Samsung Galaxy phone, I've mapped out a simple guide as follows.
Steps to Change USB Default on Samsung Galaxy S22
These steps are also applicable when altering the USB default configuration on other phones including the Galaxy S22+, Galaxy S22 Ultra and prior models including the latest Note, Galaxy S21 series. Just make sure that your device software is updated and has the same OneUI firmware version with the S22 variants.
By then, you can go ahead and start unlocking the hidden menu where you can alter the default USB configuration.
Just follow these steps whenever you're ready.
Step 1: To get started, verify and ensure that the Developer options menu is already unlocked on your device. If it isn't, then you will need to unlock it first by performing the Build number tweak from the software information menu. You can also refer to a separate guide on how to do it.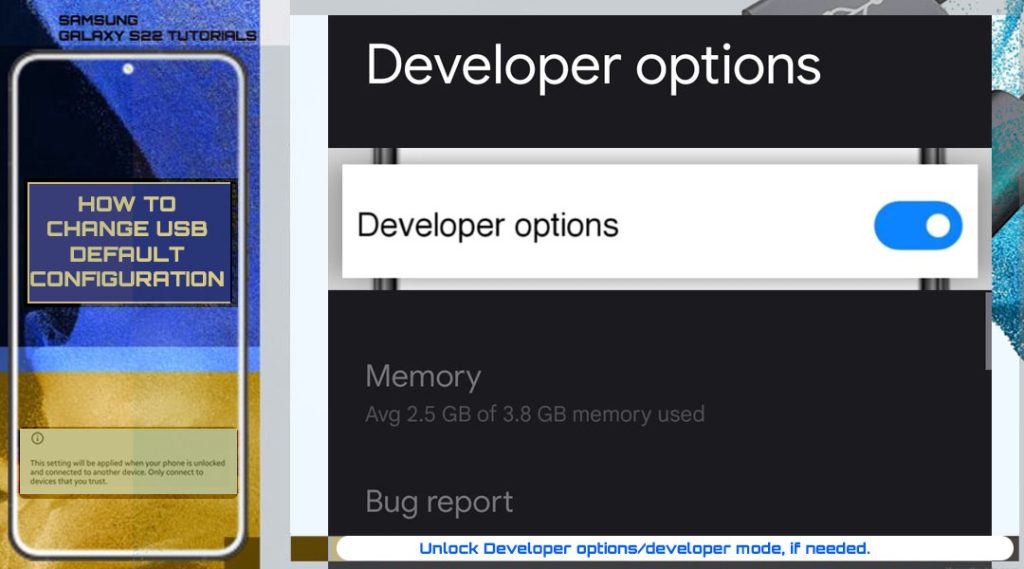 Step 2: After verifying that the developer mode is unlocked, open the Settings app by tapping the Settings icon from the Home screen. If the Settings is not visible from the Home screen, then it must be in the Apps viewer or apps screen.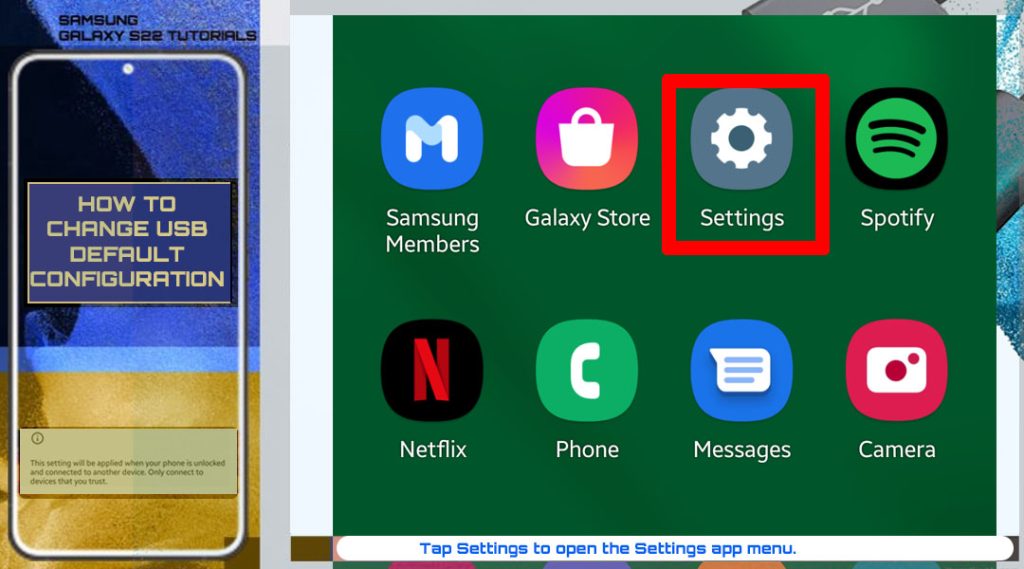 Step 3: While on the Settings app menu, scroll down to the bottom section and you should find Developer Options. Tap on it to open the hidden menu that contains a number of advanced features for software development and app debugging. These features are primarily intended for advanced users like software developers.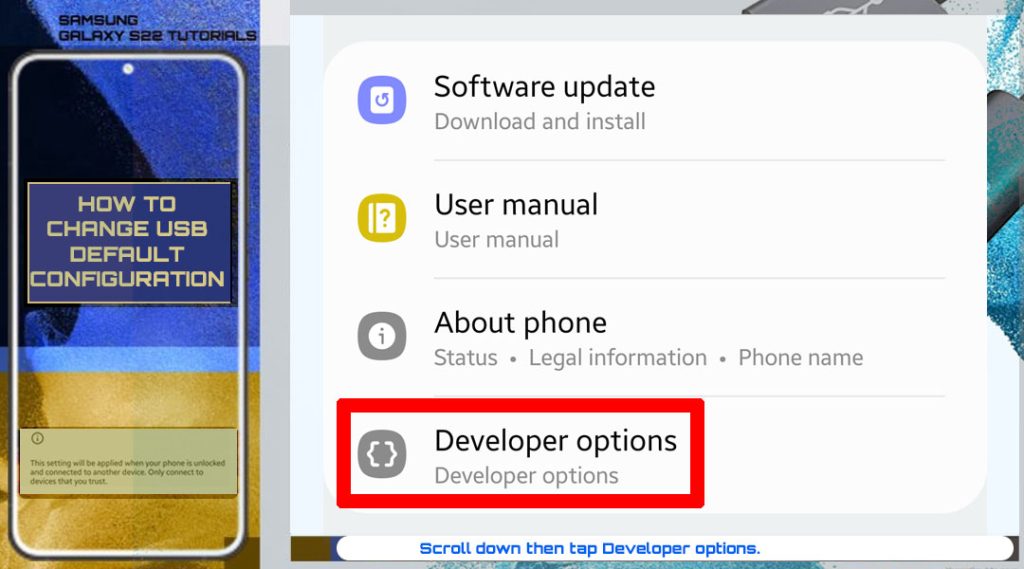 Step 4: In the Developer Options menu, scroll down to get past the debugging section, then find and tap Default USB Configuration. Doing so opens a separate menu that contains all preset actions the device is set to perform over a USB connection.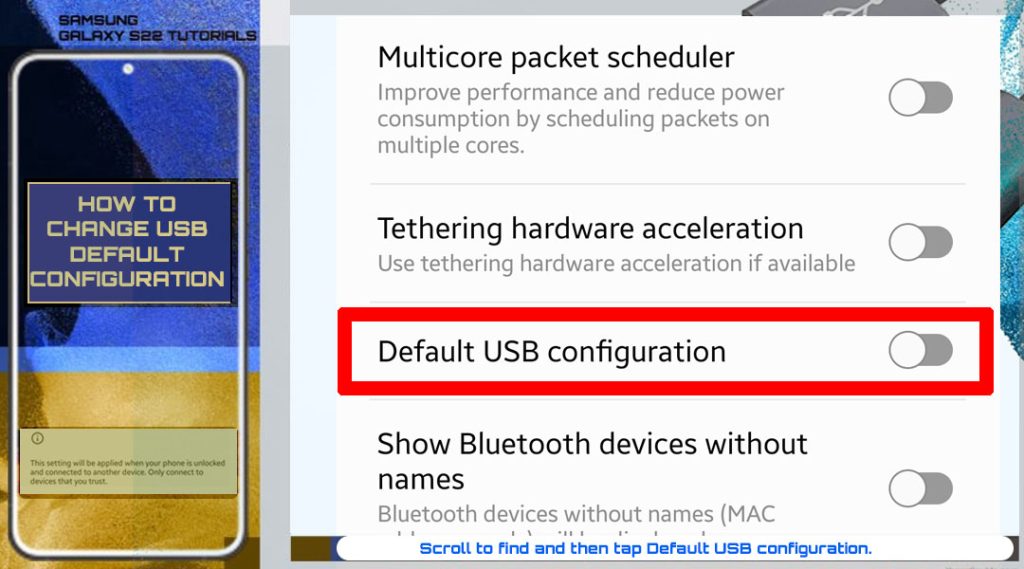 Step 5: The selected action has a ticked radio button before it. To prompt the device to automatically instigate file transfer when connected to a trusted computer via USB cable, tap to mark Transferring files. Do the same to set other actions like USB tethering, transferring images, and MIDI if you want to connect your phone to a MIDI device like a MIDI keyboard and use a synthesizer app to create music.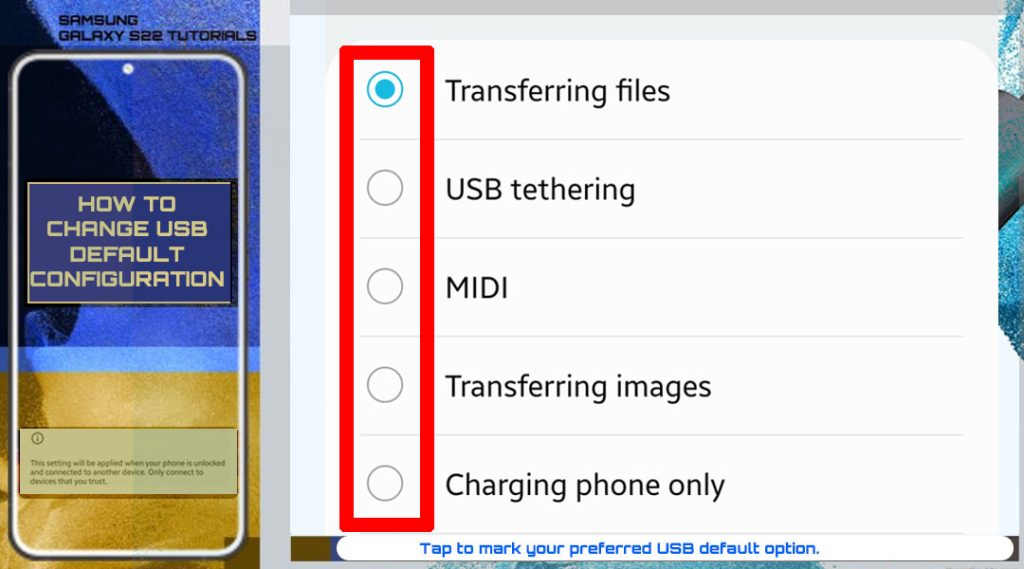 The recent selection will immediately be applied and utilized as the USB default option. That should be the basis of how your phone responds or acts when you connect it to other external devices like computers through a USB cable.
To check and see if it works, get a connect your Galaxy S22 to a computer using a compatible USB cable and see if the recent USB default selection is executed accordingly.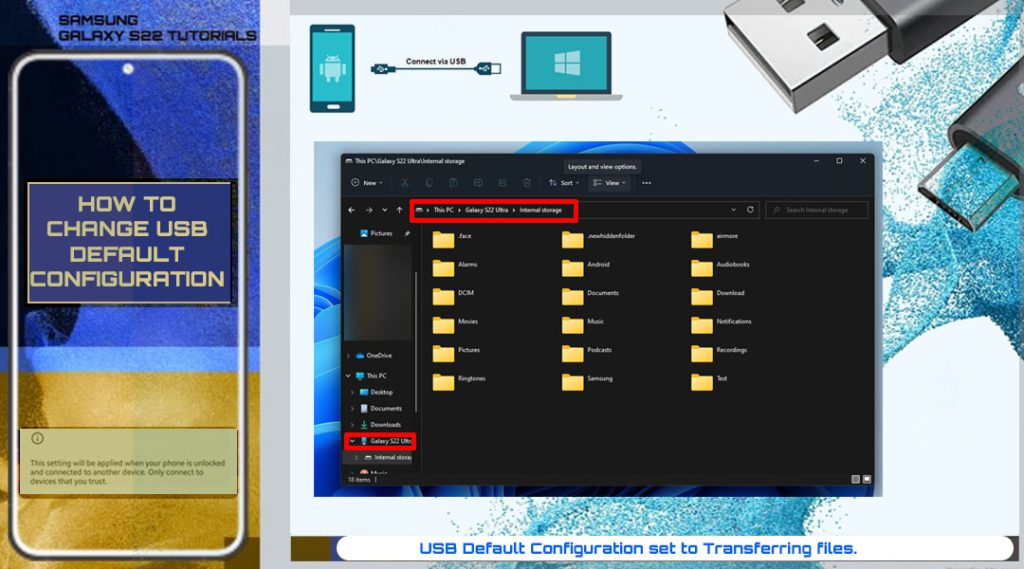 Should you wish to alter the settings and switch the default to any of the other options, just repeat the same steps to get back to the Developer options menu and change the Default USB configuration accordingly.
You can always revert it back to the default selection whenever needed.
Hope this helps!
Please check out our YouTube channel to view more tutorial and troubleshooting videos for popular iOS and Android devices.
You Might Also Want To Read: