This post will walk you through adjusting the Galaxy A13 settings that enhances the default refresh rate on the Galaxy A13 device to clear out afterimages and blurs from fast moving images. Here's a quick guide to change the refresh rate on Samsung Galaxy A13 5g.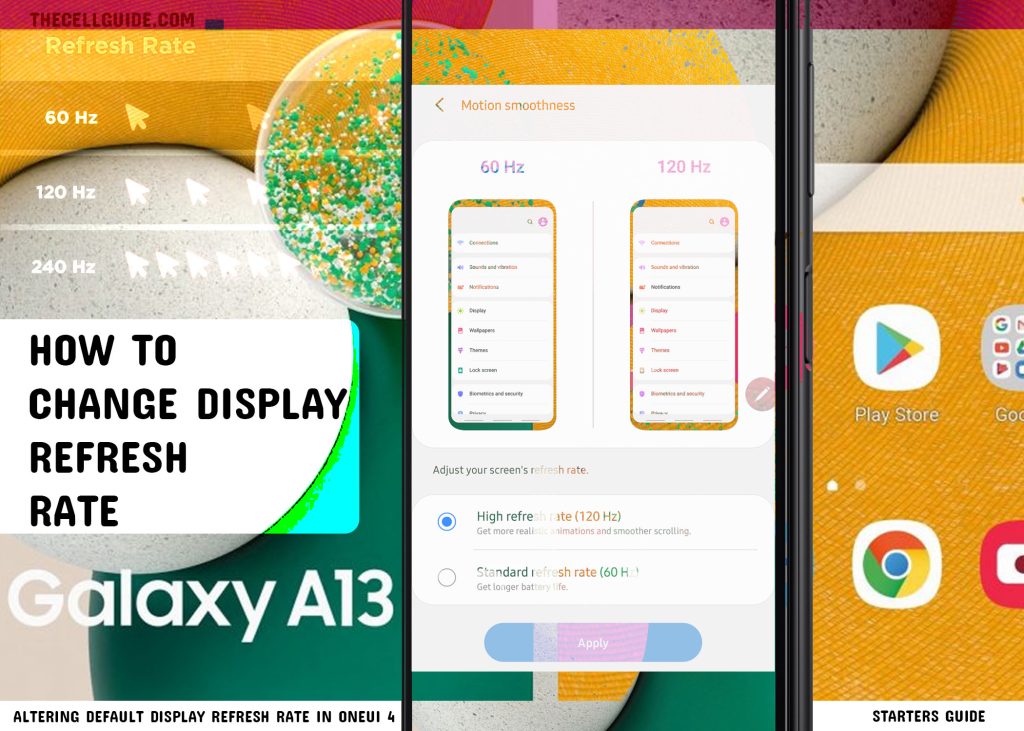 The Galaxy A13 5g phone is among the many Samsung devices that support higher refresh rate. It's by far one of the most affordable variant that comes with this motion smoothness feature. Read on for more information on how to change and manage this feature on your phone.
Refresh Rate Overview
Refresh rate refers to an instance where display panels update their content at regular intervals. It basically measures the period of time between the phone's display updates or how often and fast the screen content refreshes.
The number of the display fully refreshed every second is counted by the refresh rate and measured in Hertz (Hz). For example, a 60Hz display refreshes 60 times per second while 120Hz is 120 times per second. The higher the refresh rate, the faster and snappier the motion would become. That said, a 120Hz refresh rate is twice as fast as a 60Hz.
Gaming phones and computers typically have higher refresh rate displays for faster and smoother gaming. Using monitors and mobile devices that have higher refresh rate also means getting less eye fatigue. However, it's also worth noting that a higher refresh rate also means extra battery consumption.
But since most video and gaming contents push only 60 frames per second, many smartphones are programmed to use a 60Hz refresh rate display.
Samsung Galaxy A13 5g smartphone is one of the several devices that support 120Hz display refresh rate but is set to the standard 60Hz rate by default. A 60Hz refresh rate is efficient for power management and therefore recommended when using your device in normal situations to conserve battery life.
If you want to make everything on your phone's display look smoother and sharper, then you can switch it to a higher refresh rate.
Outlined below are the steps to change the default display rate on the Galaxy A13 device. Feel free to refer to this quick tutorial if you need help configuring these settings on your Samsung phone.
Steps to Change Refresh Rate on Samsung Galaxy A13 5g
The following steps will alter the default refresh rate of the Galaxy A13 5g from 60 Hz to 120 Hz for better motion/animation smoothness.
These instructions are also applicable when changing the refresh rate on other Samsung Galaxy phones running on the Android and One UI OS version. The actual interface on individual devices may vary between device models and service providers.
Just keep your phone's software up to date to ensure all key features and menu options are present.
Once you've got everything set, you may go ahead and proceed with these steps.
Step 1: First, open the Settings app. Just tap Settings from the Home screen or Apps tray on your phone.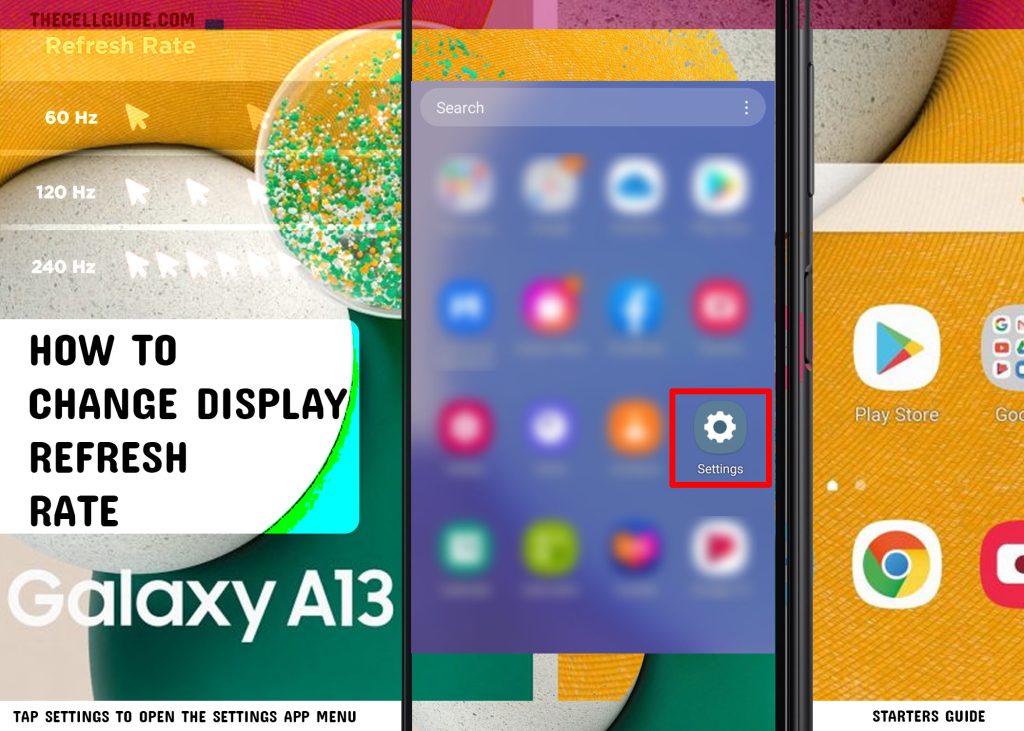 Step 2: While in the settings main menu, find and then tap Display. Another menu will launch with built-in display features.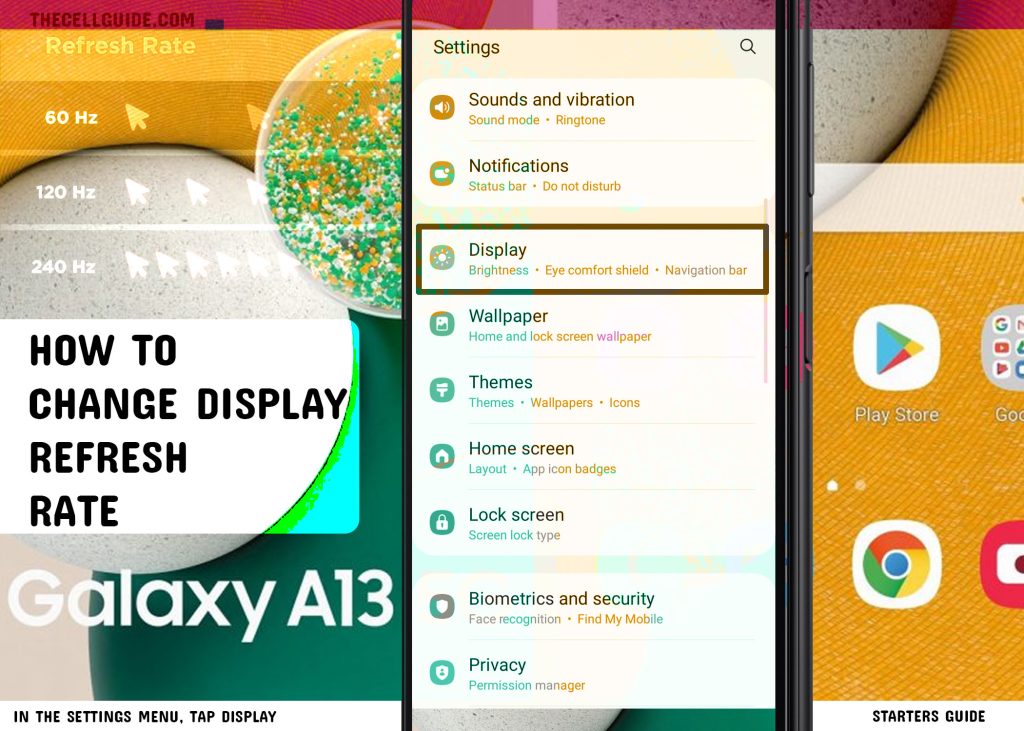 Step 3: Tap Motion smoothness to continue. On the succeeding menu, you'll see two refresh rate options with Standard set as default.
Step 4: To change the default refresh rate settings, tap Adaptive.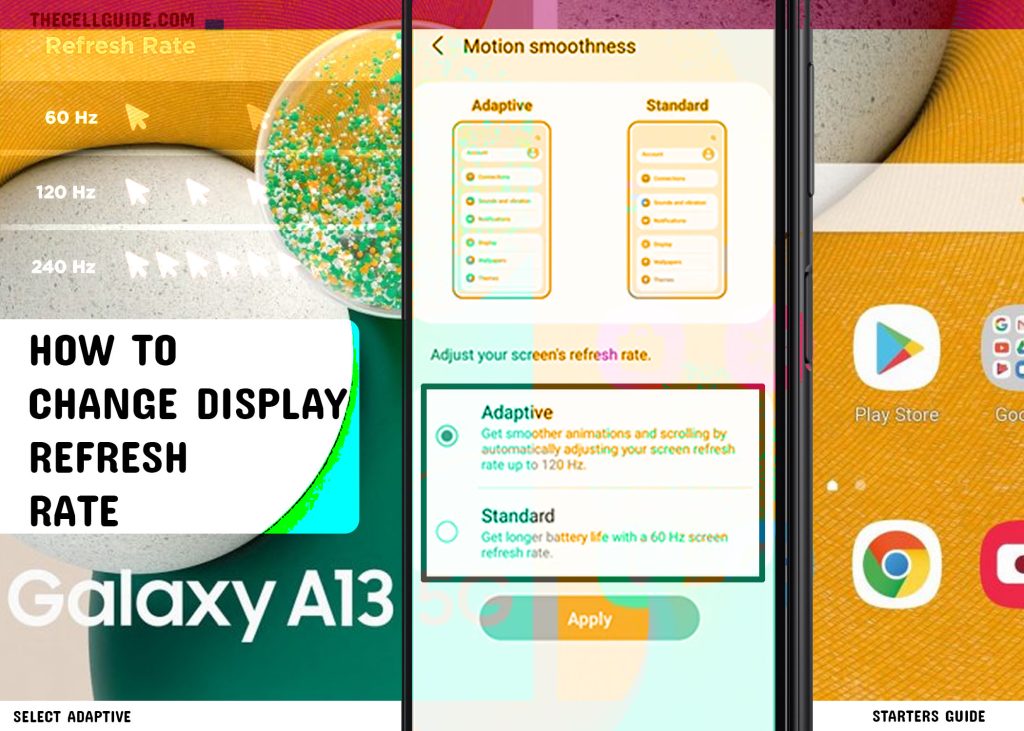 Step 5: Finally, tap Apply to implement the recent display changes.
With Adaptive refresh rate, you'll notice smoother animations and scrolling as the system automatically adjusts the display's refresh rate to 120 Hz.
New Samsung phones with higher refresh rate
Tagged among the latest smartphones with higher refresh rates include the Galaxy Z Fold 3 and Flip 3, Galaxy S20, S21 and S21 Ultra, Galaxy Note 20 Ultra, A72 and A52 variants, Galaxy F42 and F22, Galaxy M32 and M12 among other brands.
These phones typically have display refresh rates between 90Hz to 120Hz.
When to use higher refresh rate?
The higher the refresh rate, the faster your screen responds and refreshes.
Setting a higher refresh rate is highly recommended for mobile gamers as games will have less lags and stuttering with this display. Smoother animation is also experienced even when playing online. In addition, highly animated videos and movies also look more realistic.
Using a high refresh rate is also found effective when dealing with screen flickering issues when moving between screens. But the main downside is that more battery power is required as the display refreshes more times per second. This means that the battery is draining faster.
If for some reason unusual screen behaviors instigated after changing the phone's refresh rate, switching back to the default 60Hz is recommended. Just repeat the same steps to get back to the Display settings menu where you can switch the Motion smoothness value from Adaptive to Standard.
You can also restart the phone to clear out any errant system cache and to refresh the entire system, if needed.
And that's all about altering the default screen refresh rate on the Galaxy A13 5g smartphone.
Hope this helps!
Please check out our YouTube channel to view more tutorial and troubleshooting videos for popular iOS and Android devices.
You Might Also Want To Read: