This post will walk you through fixing Instagram on the iPhone 13 that suddenly keeps crashing after installing the latest update to iOS. Read on to learn what to do if Instagram crashes on iPhone 13 after iOS 15.2.1 update.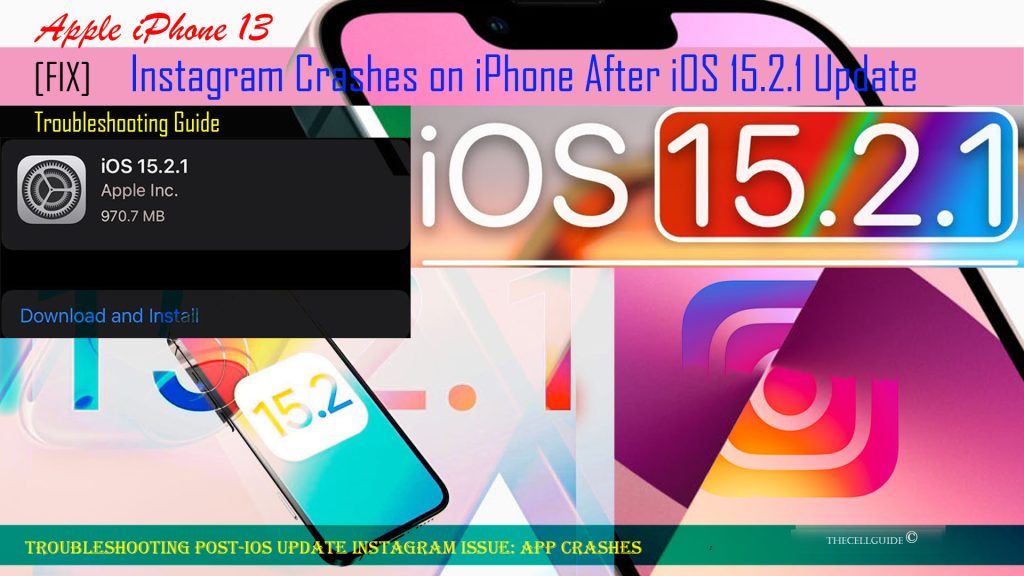 iOS 15.2.1 Update Overview
Early on the 12th of January this year, Apple rolled out the latest iOS version 15.2.1 update for all iOS 14-compatible devices. The new update contains bug fixes for iPhone Messages app that doesn't load photos sent through iCloud Link and third-party CarPlay apps not responding to input.
The new update is also aimed at fixing a vulnerability that allowed hackers to attack iOS devices via HomeKit.
Nonetheless, hours after the official release of iOS 15.2.1, some isolated issues also surfaced and among these are pertaining to some third-party apps that were suddenly crashing and misbehaving.
Why do apps crash after an update?
There are many factors that can trigger an app to misbehave from a system update. Among the common culprits include a software bug, system conflict from outdated apps, data corruption and messed up settings from automatic overrides.
Generally, the underlying cause is software-related and therefore rectifiable by end-users. All that's needed is to rule out individual factors that are likely causing conflicts.
If by any chance you're facing a similar issue, particularly on the iPhone 13 Instagram application, you can try any of the outlined solutions below.
Troubleshooting Instagram crashes on iPhone 13 after iOS 15.2.1 update
Mapped out below are potential solutions to post-update crashing issues affecting online apps like Instagram. These solutions are also applicable when troubleshooting a similar problem on other iPhone's running on the latest iOS version.
Don't forget to test run the Instagram app on your iPhone 13 after performing each of the subsequent solutions to figure out whether or not the problem is fixed.
Before you begin, verify and ensure that your iPhone is connected to the Internet preferably via Wi-Fi. Also make sure that the internet is working stable. Online apps won't be able to work properly if the internet connection is intermittent or slow.
Aside from the internet, also consider checking your iPhone storage. It's also worth noting that post-update crashing issues can also be directly attributed to low memory or insufficient storage. To evade any performance-related issue tied to low memory, your iPhone must have at least 3 gigabytes of available storage space.
If necessary, delete old and unwanted contents from your iPhone or move some of your important files to iCloud or computer drive.
Once you've got everything set, you may go ahead and try these solutions to fix Instagram that keeps crashing on your iPhone 13 after updating.
Solution #1: End all background apps.
If you've manually downloaded and installed the recent update with the Instagram and other apps open and running in the background, there's a chance that any of these background apps including Instagram has crashed or gone rogue.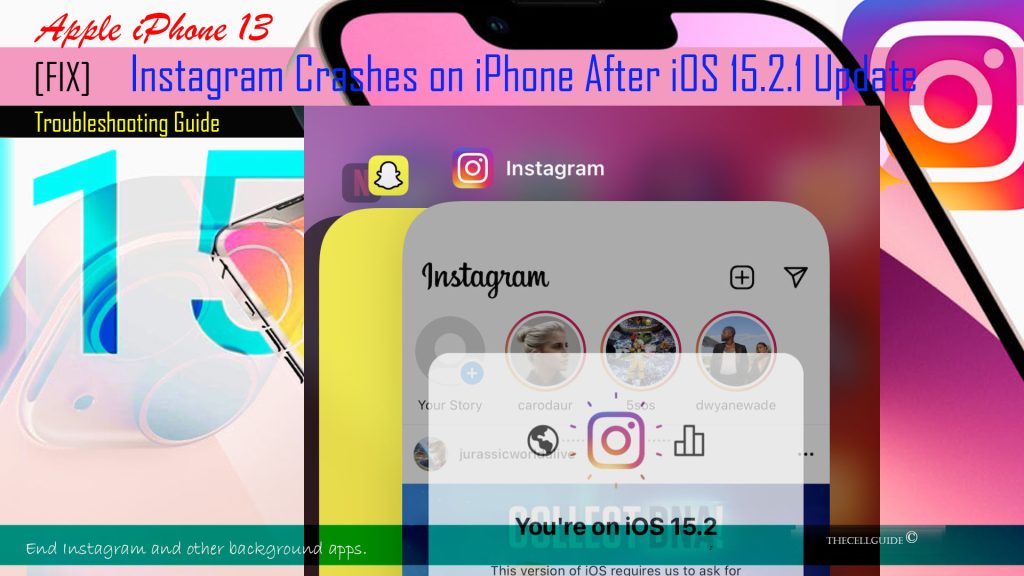 Should this be the case, these apps must be cleared out or terminated forcibly in order to have a clean launch.
So here's what you should do then:
Swipe up from the bottom corner of the screen to launch the multitasking menu containing previews of all running apps.
Find and then swipe up the Instagram app preview to close it.
If multiple apps are left open or running in the background, repeat the steps to close them individually.
After ending all background apps, relaunch Instagram and see how it works.
Logging out and signing back into your Instagram account is also recommended to rule out any possible login session errors.
Solution #2: Perform a soft reset (iPhone reboot).
Another simple solution to post-update app problems in iOS is a soft reset or iPhone reboot. Restarting the system is highly recommended to clear out any errant post-update cache and corrupted data that might have caused conflicts to other apps including Instagram app.
It doesn't affect any saved information from the iPhone storage so you can be assured that all your saved files and downloaded contents won't be deleted.
Just follow these steps to soft reset or reboot your iPhone 13:
Press and hold the Power/Side button and either Volume buttons for a few seconds and then release when the Power off slider appears.
Then, drag the slider to turn your iPhone completely off.
After 30 seconds, press and hold the Side button again until the Apple logo appears.
In the case where your iPhone stops responding or freezes as the Instagram app crashes, performing the alternative iPhone reboot called forced restart would be necessary.
It works the same as a soft reset when it comes to clearing errant cache and corrupted system files without affecting any user data.
To force restart an iPhone 13, just follow these steps:
Press and quickly release the Volume Up button.
Then, press and quickly release the Volume Down button.
Finally, press and hold the Side button for a few moments and then release it when the Apple logo appears.
Wait for your iPhone to reconnect to the network and once the internet connection becomes stable, you can retry launching Instagram and see if the problem is gone.
Solution #3: Offload Instagram app manually.
Another potential solution to random app crashes including those that are inflicted by post-update bugs is to offload the problematic app manually.
In iOS devices, apps can be offloaded automatically by enabling the offload unused apps feature on the App Store or manually through the app's menu from the iPhone storage.
To manually offload Instagram on the iPhone 13 with the updated iOS 15 platform, just follow these steps:
Open the Settings menu by tapping on the Settings app icon from Home.
On the succeeding menu, tap General.
Then, tap iPhone Storage.
Select Instagram from the list of apps.
On the succeeding menu, scroll down a bit and then tap the option to Offload App.
If prompted, enter your passcode and tap Offload App again to confirm.
Offloading an app removes the app but doesn't delete the app's data and other relevant documents. That said, you can retrieve all your data and documents for Instagram as soon as you redownload the app from the App Store.
This can help free up space and rectify in-app glitches including those that are caused by recent updates.
Solution #4: Install pending app updates via App Store.
Outdated third-party apps can also cause conflicts with other apps. In an attempt to evade unexpected problems while running apps from a recent system update, app developers also push regular app updates containing software enhancements and security patches. This is why keeping your apps up-to-date is highly recommended.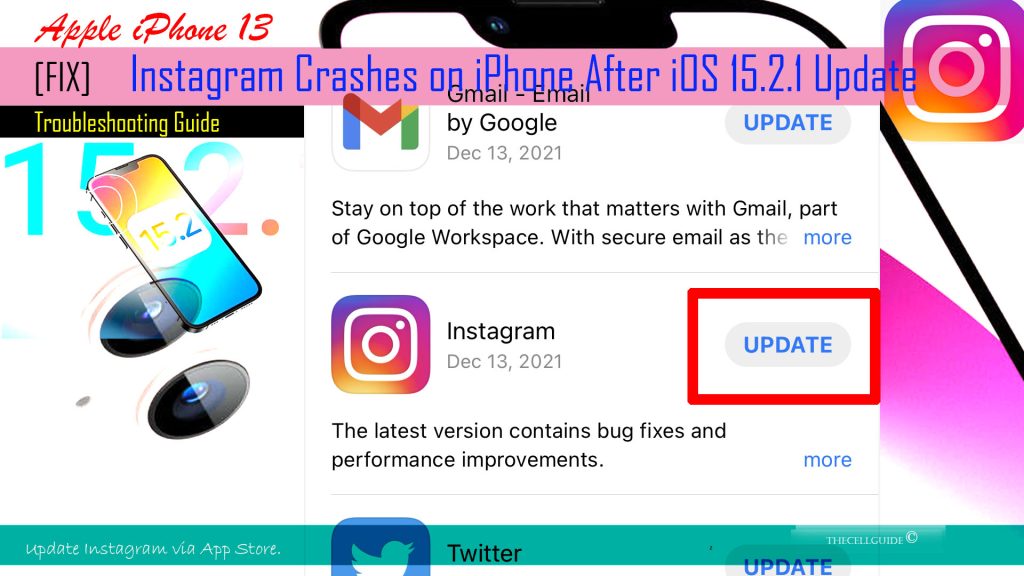 If you haven't set your apps to automatically download and install new updates, then you will need to update them manually instead.
And here's how to get this done on the iPhone 13:
Navigate to your iPhone's Home screen or App library and then touch and hold on the App Store icon for a few seconds until the quick menu appears.
Tap Updates from the quick menu options to update individual apps or tap Update All to update multiple apps simultaneously.
After installing all pending app updates, reboot/soft reset your iPhone to ensure that all recent software changes and bug fixes are properly implemented.
Solution #5: Reset all settings on your iPhone.
If the problem continues after performing all the above solutions, the next thing you may consider doing is to restore default settings on your iPhone 13.
To do this, you can execute the reset network settings or reset all settings command to delete all custom settings including those that might have caused conflicts to Instagram settings and preferences.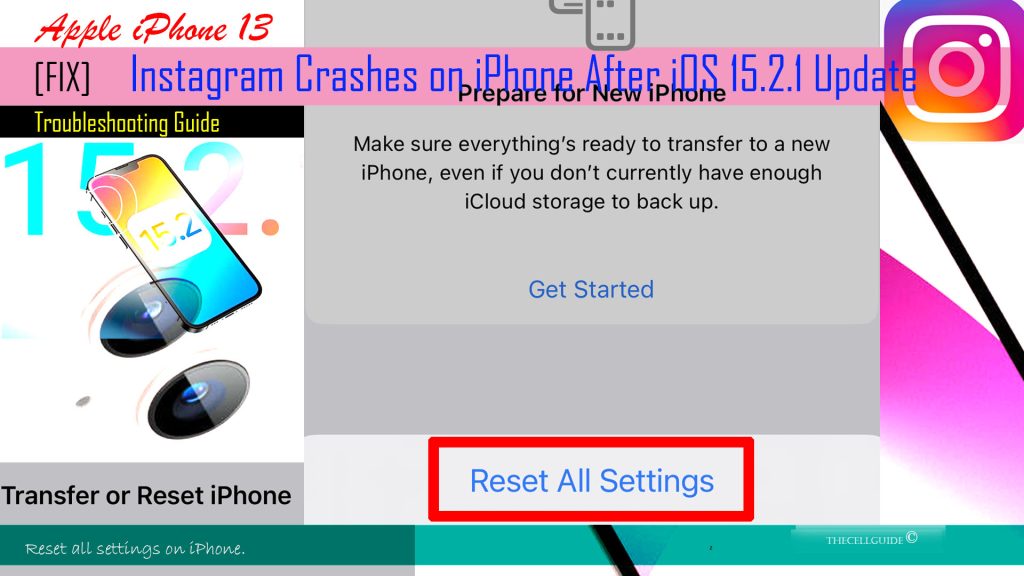 This reset is recommended before performing a factory reset because it doesn't affect any user data. All that's deleted are custom settings and app preferences. All your downloaded apps and files will remain as is.
Just follow these steps if you wish to proceed with this reset:
Go to your Home screen and then open the Settings app.
Scroll to and tap General.
Tap Transfer or Reset iPhone to proceed.
Then tap on Reset.
On the succeeding menu, tap Reset all settings from the given options.
Enter your device passcode if prompted and then tap Reset settings to confirm.
After the reset, the iPhone reboots automatically and then loads up all default app settings, permissions and preferences. This means the need for you to re-enable necessary apps that are disabled by default, and set a default app to process a certain file/data type.
Solution #6: Reinstall the Instagram app on your iPhone.
If Instagram continues to crash even after resetting all settings on your iPhone, there's a higher chance that the app has been totally corrupted from the recent update and therefore needs to be reinstalled. This also denotes uninstalling Instagram from your device.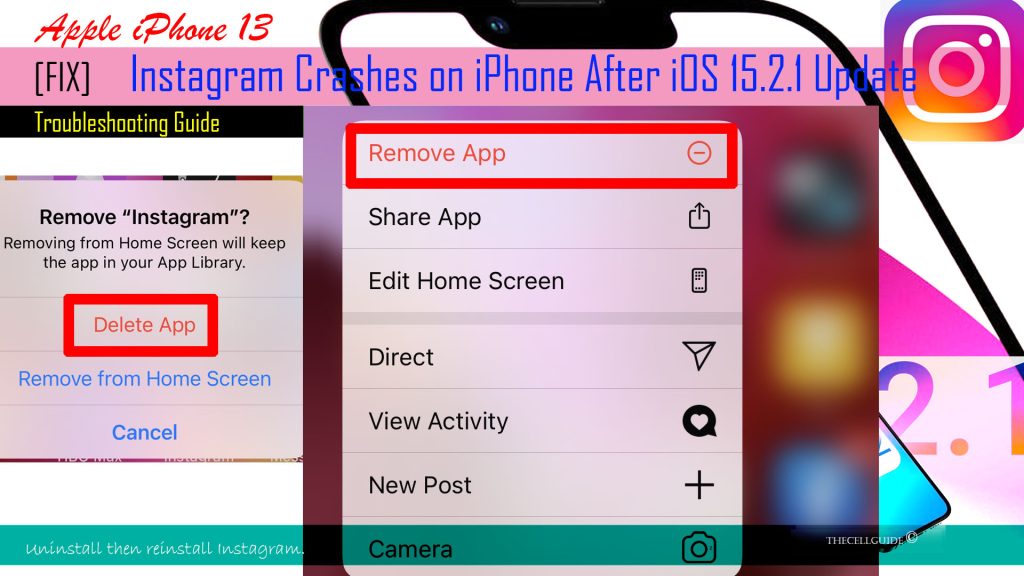 Just refer to these steps to continue:
Go to the Home screen and then touch and hold the Instagram app icon until the quick menu appears.
Tap Remove App from the quick menu options.
Finally, tap Delete App to remove or uninstall the app from your iPhone.
After uninstalling Instagram, reboot/soft reset your iPhone and then load up the App Store to redownload and install the app as new.
Make sure that your iPhone's internet connection is working perfectly as well.
Is Instagram still crashing on your iPhone 13?
Just like any other server-based apps, Instagram may also encounter unexpected downtimes due to some technical difficulties transpiring on its server or network base.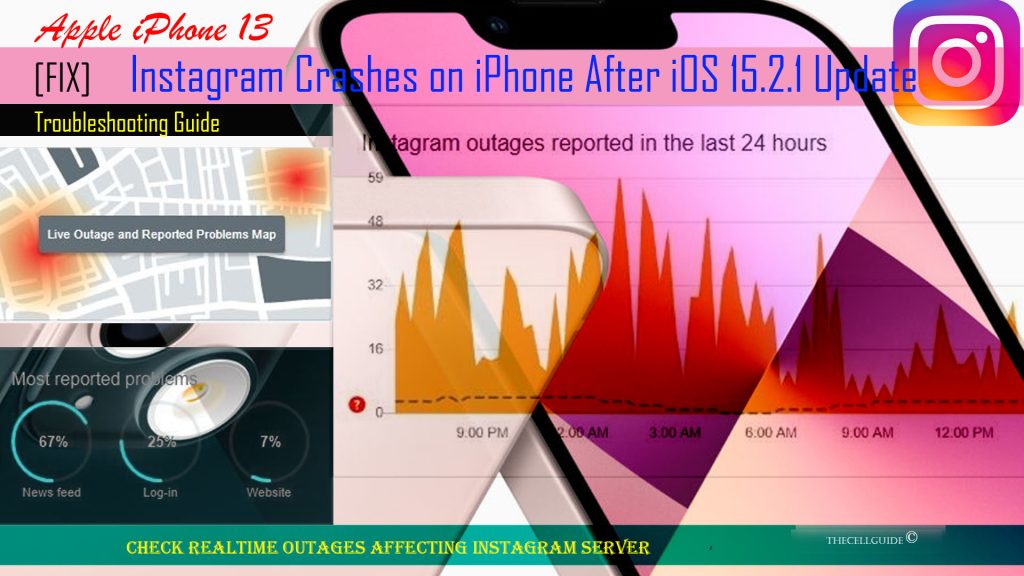 For more details about any ongoing outages or downtimes with Instagram, you can use online platforms like downdetector.
If an outage is transpiring, then there's not much can be done on your end but to wait until it's fixed. By then, Instagram and other relevant services should be back up and running properly again.
Hope this helps!
Please check out our YouTube channel to view more tutorial and troubleshooting videos for popular iOS and Android devices.
You Might Also Want To Read: