This post will help deal with an issue about incoming call reception on the latest Samsung smartphone. Read on to learn what to do if your new Samsung Galaxy S22 can't receive phone calls in OneUI 4.1.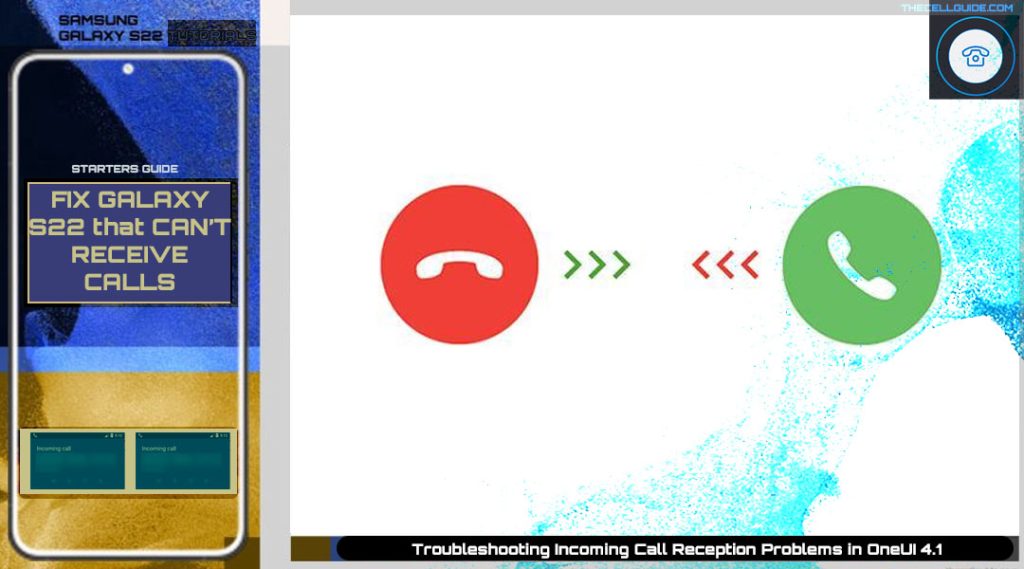 Possible Causes
There are many factors that can hinder incoming calls from reaching the recipient device. Oftentimes, random network problems such as unstable network reception, no signal or network coverage are found to be the underlying cause.
Aside from network-related factors, incoming call reception errors may also be directly or indirectly attributed to any of the following:
Software glitches. This is when the device encountered random firmware issues including in-app glitches. The thing about software glitches is that they can occur at any time, especially when triggered. And given the fact that everything in the phone system is connected, there's a higher chance that the transpiring software glitches would eventually cause conflicts to the in-built phone system. As a result, incoming and outgoing calls are adversely affected.
Settings conflicts. Aside from automatic update overrides, settings conflicts may also arise from customizing phone settings. So if incoming call reception has stopped working after altering the default settings, it's very likely that the recent settings changes are the root cause of the problem.
SIM card issues. Calling, texting and other cellular features of the phone may likewise be halted when SIM card problems are transpiring. Common errors that are linked to a faulty SIM card are No service, SIM card not detected, No network detected and the like. If any of these errors are shown on the phone's status bar, then it's expected that relevant services including texting and calling are also not working.
Other possible reasons as to why cellular services become problematic include unexpected outages, environmental factors and worst, hardware damage.
Before taking your phone to the nearest Samsung-authorized service center, you can try some workarounds to (at least) eliminate the common causes, particularly those that are attributed to the software.
Troubleshooting Samsung Galaxy S22 Can't Receive Calls in OneUI 4.1
Performing the following solutions will help eliminate the common factors that can interfere with incoming calls on your Samsung smartphone.
Before you begin troubleshooting, make sure that your phone has stable cellular signal or network reception. Otherwise, find another better spot where the signal strength is stronger and stable.
Solution #1: Restart the phone.
Unexpected system glitches can occur at any time and you'll just know that something went wrong because a certain app or feature suddenly stops working as it should. This is usually what happens with network-based apps and services.
If everything was perfectly working on your phone and then suddenly it's unable to receive incoming calls, chances are that the phone app is glitching or unexpected network flaws are transpiring.
To fix minor network inconsistencies like this, performing a soft reset or restarting the phone is recommended.
A quick system reboot can help fix various types of software-related issues including those that are ruining the normal cellular network functions of the phone.
For starters, performing a soft reset or typical restart on the new Galaxy S22 is done through these steps:
Simultaneously press and hold the Volume Down and Side/Power keys for a few seconds.
Release both keys when the power options appear.
To instigate a system reboot, tap on the Restart icon.
Wait for your phone to finish rebooting and then re-establish cellular network reception. Once the network signal becomes stable, place a test phone call to your Galaxy S22 using another phone and see if it's already able to get it.
If the problem continues, then continue to eliminate other factors with the next applicable solutions.
Solution #2: Toggle Airplane mode on and off.
Random cellular network issues can also be addressed by turning Airplane mode on and off. This tweak gives all wireless features and services a simultaneous refresh and it turns out effective in eliminating and rectifying minor flaws that might have made the network system unstable.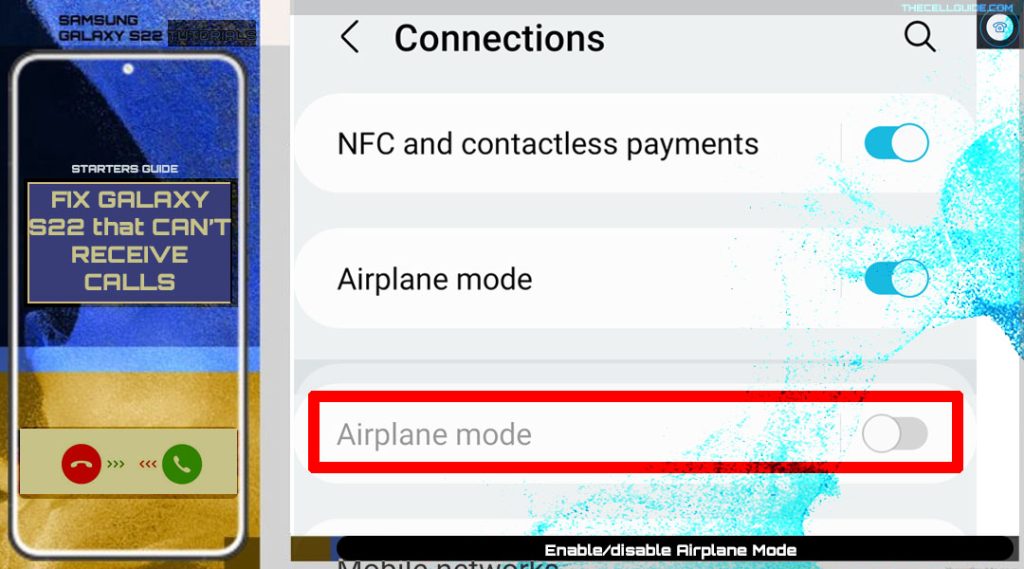 So here's what you should do next:
Open the Settings app then tap Connections.
Tap Airplane mode then turn the OFF switch ON.
Restart the phone while Airplane mode is enabled.
After rebooting, go back to Settings-> Connections menu and then toggle to turn the Airplane mode switch OFF again.
Give your phone a few seconds to re-establish wireless network connections. As soon as the cellular signal indicator becomes stable, place a test call to your Galaxy S22 using another phone and see if that call goes through this time.
Solution #3: Remove then reinstall SIM card.
The next thing you should rule out if the problem continues is SIM-related flaws. This is when reinstalling the SIM card on your Galaxy phone is recommended.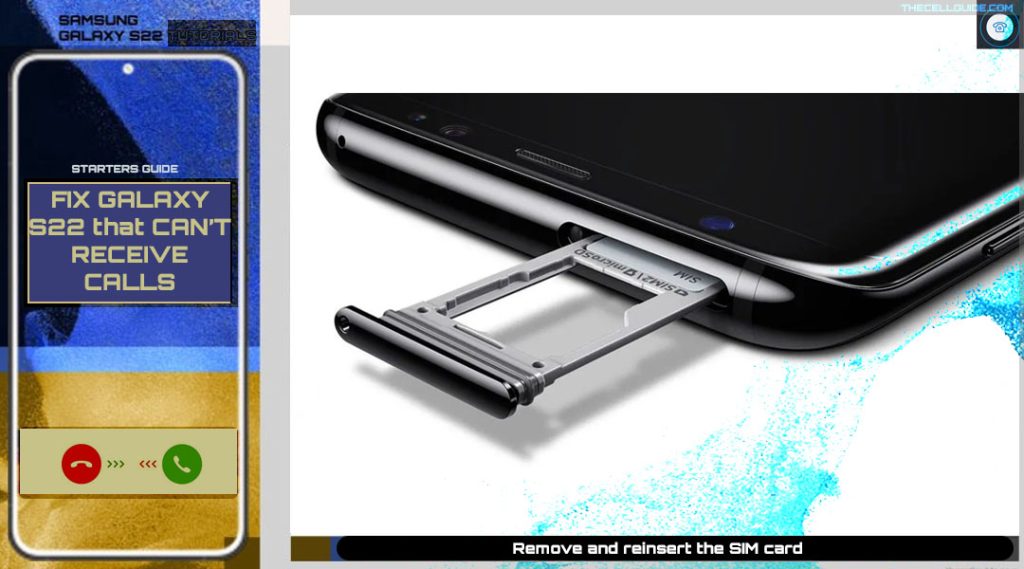 By reinstalling means, you'll remove the SIM card and re-insert it into the phone. Performing this tweak turns out to be effective in rectifying corrupted SIM card data that's halting cellular services.
Just follow these steps whenever you're all set to proceed:
Turn off your phone completely. This is highly recommended to ensure no damage to the SIM card and the phone itself.
While the phone is powered off, use the SIM ejector tool to pop the SIM tray open. This tool comes with your phone. If you don't have it right now, you can use a small bent paper clip as an alternative.
Once the SIM tray is open, take the SIM card out from the slot.
Carefully check the SIM card for any visible indications of liquid or physical damage.
If there's none, place it back into the tray in the same orientation before you remove it.
When the SIM card is back in place, gently push the SIM tray back into the phone until it locks.
By then you can turn your Samsung phone back on. As soon as the cellular network reception becomes stable, you can place another test call to see if the problem is fixed.
Solution #4: Reset network settings.
Resorting to the phone's in-built reset options is usually regarded among the last options when dealing with recurring system issues.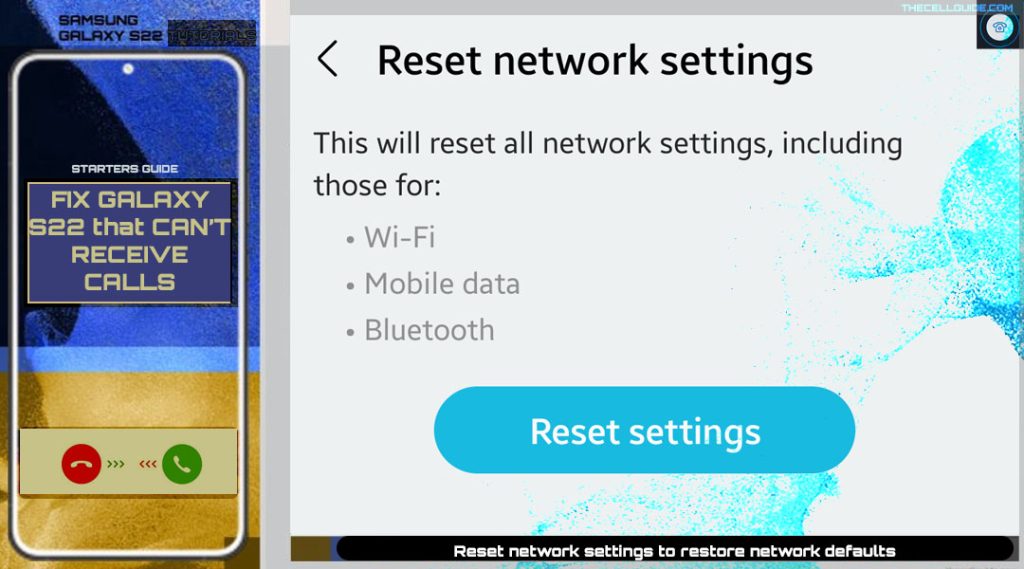 Since the problem is on the network services, resetting the network settings is recommended. As the name implies, this reset deletes all current network settings including saved Wi-Fi networks and passwords, Bluetooth connections, cellular data settings, APNs, VPNs and other relevant information.
This reset also clears out any errant system settings that are automatically implemented from recent updates.
It doesn't affect any user data from the internal storage so you won't lose any important files in the process.
Just follow these steps if you wish to proceed with a network settings reset on your Galaxy S22:
Open the Settings app then tap General management.
Tap Reset and select Reset network settings from the given options.
Read the reset details and then tap Reset settings to proceed.
If prompted, enter your current pattern, PIN or password then tap Reset to confirm.
After the reset, automatic system reboot instigates. When the phone is finished rebooting, all default network values and options are restored.
This means the need for you to set up Wi-Fi to reconnect to the network and get back online. As for cellular network services, they should become available again as soon as the phone re-establish a stable cellular network reception.
Solution #5: Reset all settings.
If the network reset doesn't solve the problem, you may go for another reset to delete all recent custom system settings and restore the default values and options. To do this, you will need to trigger the built-in command to reset all settings on the Galaxy S22.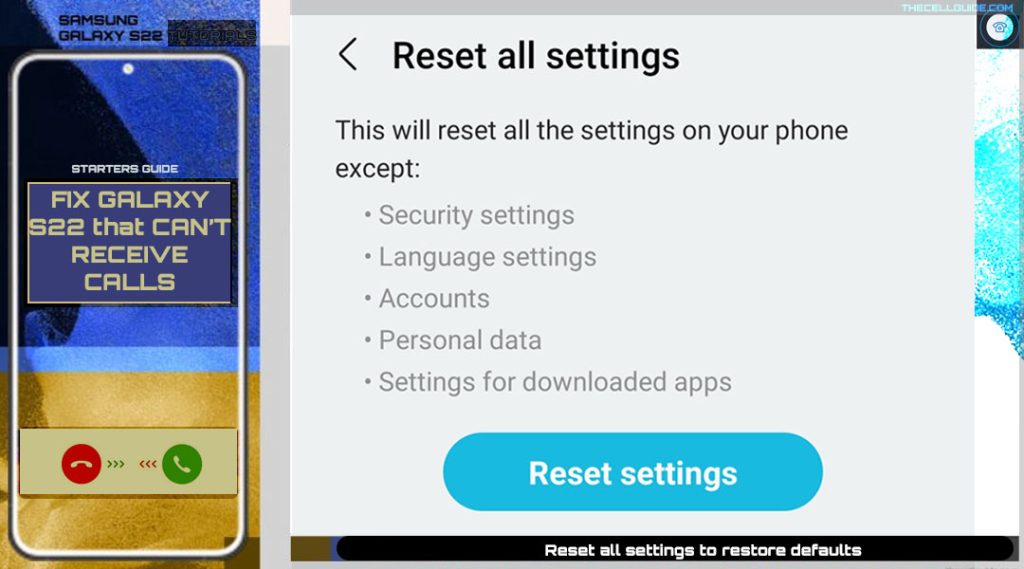 Unlike a factory reset, the reset all settings command does not delete any user data from the internal storage. That said, all your apps, downloaded files and documents are safe.
Just follow these steps whenever you're all set to proceed with this reset:
Open the Settings app then tap General management.
Tap Reset and select Reset all settings from the given options.
Read the reset details and then tap Reset settings to proceed.
If prompted, enter your current pattern, PIN or password then tap Reset to confirm action.
The phone reboots on its own after resetting and then restores all default values and options. In order to use necessary features that are disabled by default, you will need to re-enable them individually.
Setting your preferred app to process certain file types and data protocols is also necessary as default apps are restored. Any invalid custom settings are obliterated along with the errors and symptoms they've inflicted.
Still unable to receive phone calls?
The following are additional simple workarounds that are also proven helpful when dealing with incoming call issues in newer Android devices.
1. Clear phone app cache. Errant cached files piled up in the Phone app storage may also trigger some unexpected errors resulting in incoming call reception problems. To address this issue, clearing cache and data from the Phone app is recommended.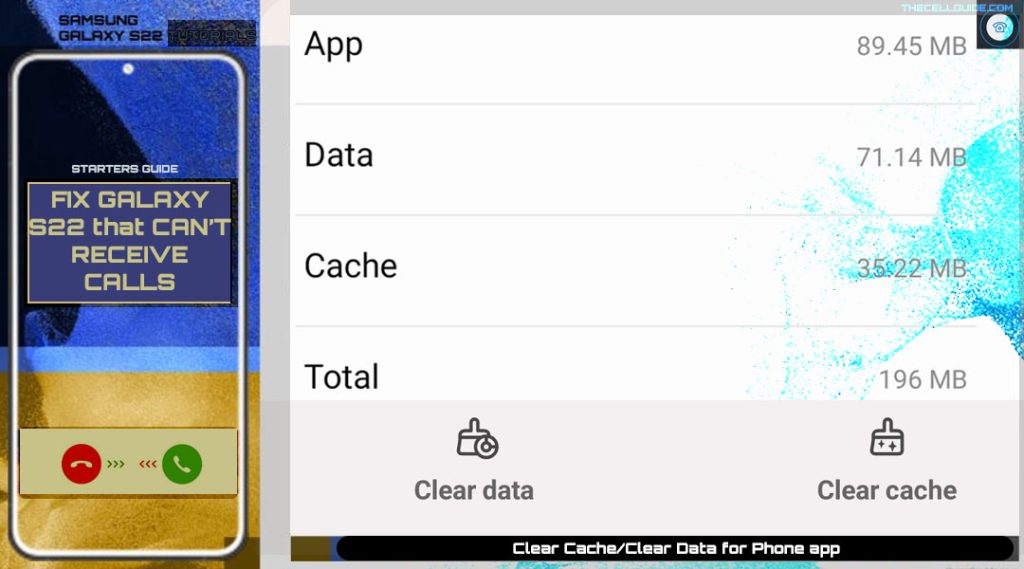 To do this, go to Settings-> Apps menu and then select Phone from the list of apps. In the Phone app info screen, tap Storage to access the app's storage menu. There, you will see the commands to Clear cache and Clear data for the app.
2. Check your blocklist. An apparent reason as to why you're unable to receive a phone call from a certain contact or phone number is because that number is likely block listed on your device.
To clear this out, check your phone's blocklist. If the number is listed among other blocked contacts, then you can just unblock it so you can start getting calls and texts from that number.
3. Disable Do Not Disturb. When enabled, Do Not Disturb mutes all sound alerts and notifications for apps, messages and phone calls. Unless you've set some exceptions, this may be the main reason as to why you're unable to receive, if not failed to answer incoming calls on your device.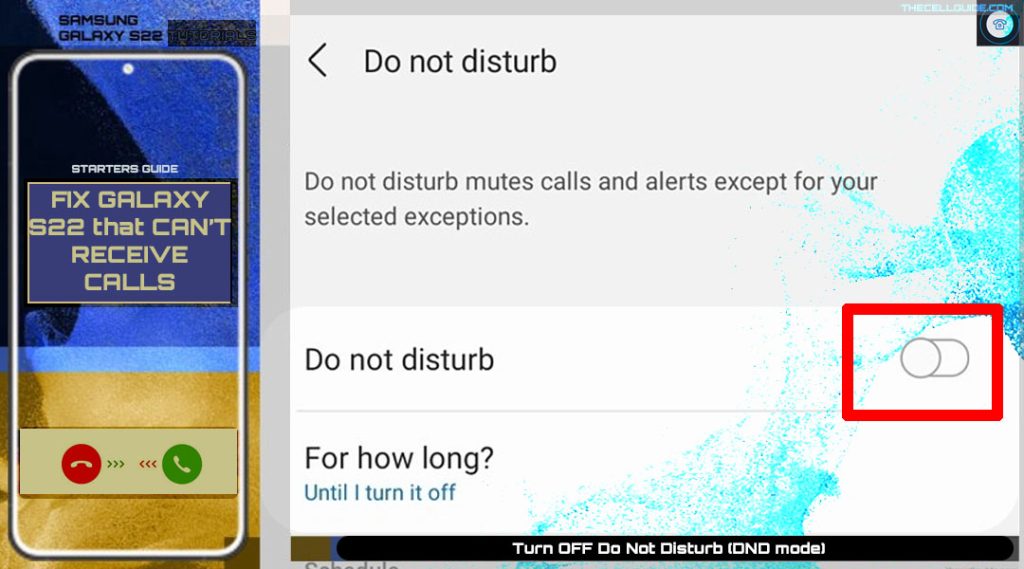 With that being said, try to disable Do Not Disturb on your Galaxy S22 temporarily and then place a test call to see if it goes through or not.
4. Try another SIM card. If you suspect that the problem is due to a faulty SIM card, try replacing it with another compatible card that's working. If you're on postpaid, contact your service provider to ask for a new SIM card replacement. If you're on prepaid, then you can just buy a new SIM card for your Galaxy S22 and load it up with sufficient credits to use cellular services.
Contact  your Network Service Provider
If all else fails to fix the problem and your phone is still not getting incoming calls, consider escalating to your network service provider for further assistance.
Should this be found to be a network outage, everything will go back to normal when the outage is over.
Hope this helps!
Please check out our YouTube channelto view more tutorial and troubleshooting videos for popular iOS and Android devices.
You Might Also Want To Read: