This post highlights potential solutions to Bluetooth pairing errors on the new Apple iPhone 13 smartphone. Read on to learn what to do if your iPhone 13 won't pair with Bluetooth headset or speaker.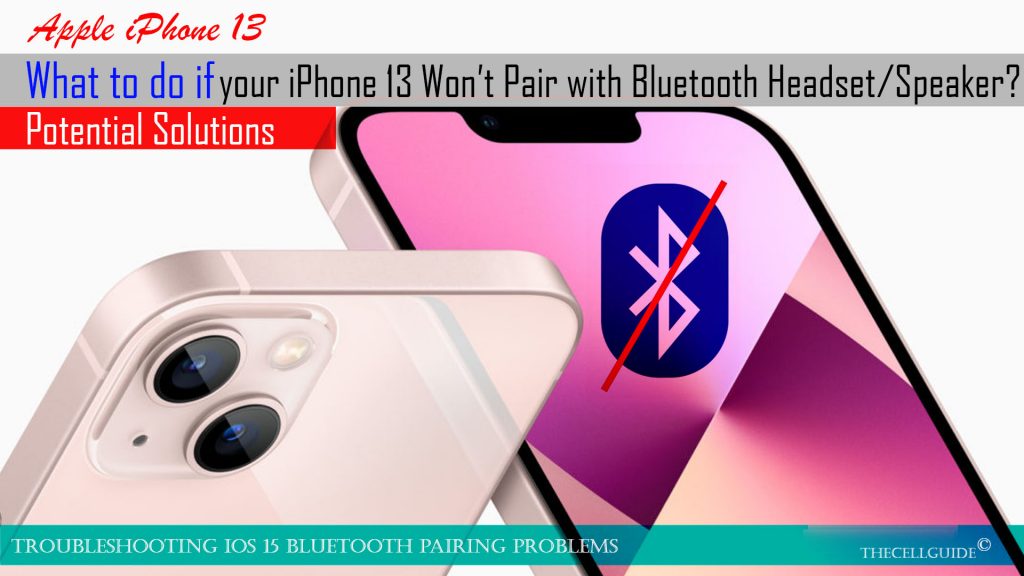 Bluetooth is by far deemed the best-selling wireless technology in the world nowadays. Apparently, the latest Bluetooth technology makes modern life a lot easier. With the incessant rollout of modern smartphones having Bluetooth features, sharing files between devices is just as simple as pairing them.
The latest Bluetooth version has an extended range of up to a hundred meters with a line-of-sight path. Actual range may vary entirely on the environment.
Furthermore, it incorporates new features that are programmed to detect and prevent interference at the band edges.
But despite the contemporary Bluetooth mechanics, there are still some instances where you wouldn't be able to pair your devices.
Why does my iPhone won't pair with Bluetooth?
One of the common factors as to why you'll be having trouble pairing Bluetooth devices is the proximity or range. The presence of other instruments that cause interference is also another factor to consider.
Aside from environmental factors, software-related attributes including minor and major system glitches, faulty updates, messed up settings and data corruptions are likewise deemed potential triggers.
Device incompatibility like when the devices don't support the same Bluetooth technology is also among the underlying causes.
Hardware-related problems like a broken Bluetooth component on either device to pair appear to be the worst possible culprit.
Easy Fixes for a problem on the iPhone 13 won't pair with Bluetooth Accessories
To eliminate software-related and other common factors that might have prevented your iPhone 13 from pairing with your Bluetooth headset or speaker, you can try the subsequent solutions.
Don't forget to test-pair your devices after performing each tweak to determine whether or not the problem is fixed.
Before you proceed, verify and ensure that your iPhone is compatible with your Bluetooth headset or speaker and vice versa. Doing so will rule out device incompatibility from the possible causes.
Other Bluetooth Pairing Requirements to meet:
Devices must be within the recommended Bluetooth range/proximity
Devices must be turned on and in discoverable mode.
Make sure your devices are up-to-date.
Remove any possible interference, if necessary.
Once you've confirmed that your devices are compatible and all Bluetooth pairing requirements are met, you may now begin to troubleshoot your devices.
Solution #1: Restart your iPhone and Bluetooth accessory.
Minor software glitches on your iPhone or Bluetooth accessory might have halted the pairing process and thereby results in an error.
To clear this out, restarting the devices is recommended. This should refresh your Bluetooth connection.
On your iPhone 13, you can do a soft reset or reboot the device with these steps:
Press and hold the Power/Side button and either Volume buttons for a few seconds and then release when the Power off slider appears.
Then, drag the slider to turn your iPhone completely off.
After 30 seconds, press and hold the Side button again until the Apple logo appears.
On your Bluetooth headset or speaker, find the power button and push it until the device shuts down. After a few seconds, push the Power button again to turn it back on.
Be sure to put both your devices in discoverable mode by enabling the Bluetooth switch on your iPhone 13 and your Bluetooth accessory powered on and within range.
Solution #2: Turn Bluetooth off and on.
Random system errors might have messed up the phone's Bluetooth system and therefore needs a quick refresh. This is when turning Bluetooth off and on comes in handy.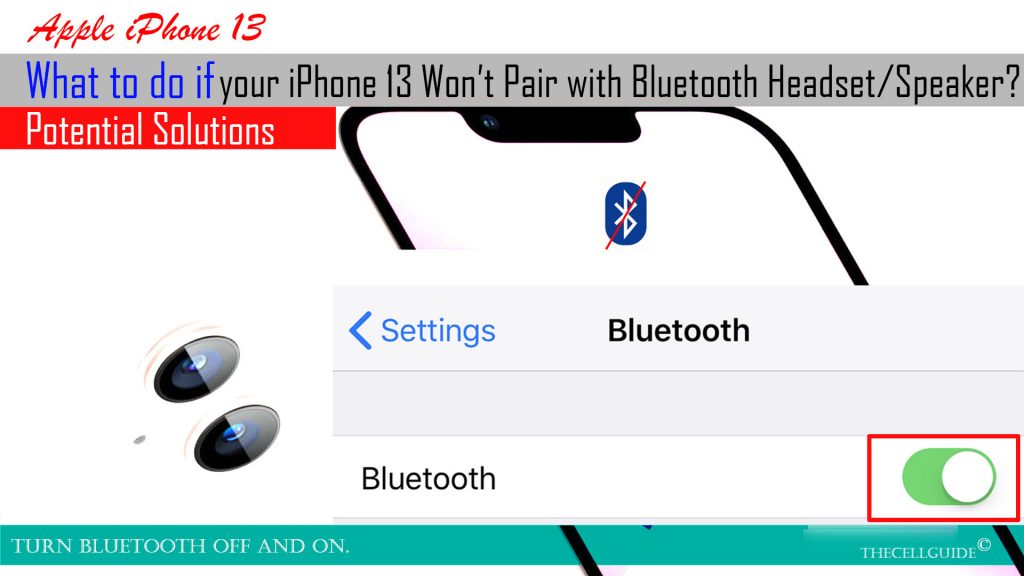 On your iPhone 13, just follow these steps to access and the Bluetooth settings:
From the Home screen, tap the Settings icon to launch the Settings app.
On the Settings menu, tap Bluetooth.
Toggle the Bluetooth switch OFF for a few seconds and then tap to turn it back on again.
Wait for your iPhone to re-discover and pair with the Bluetooth headset or speaker again. If Bluetooth pairing doesn't instigate, just pair the devices as new.
The Airplane Mode Trick
An alternative solution to Bluetooth pairing errors in iOS devices is the so-called Airplane mode trick. It works by simultaneously restarting and refreshing wireless features on your iPhone including Bluetooth. Any associated minor errors will likewise be cleared out in the process.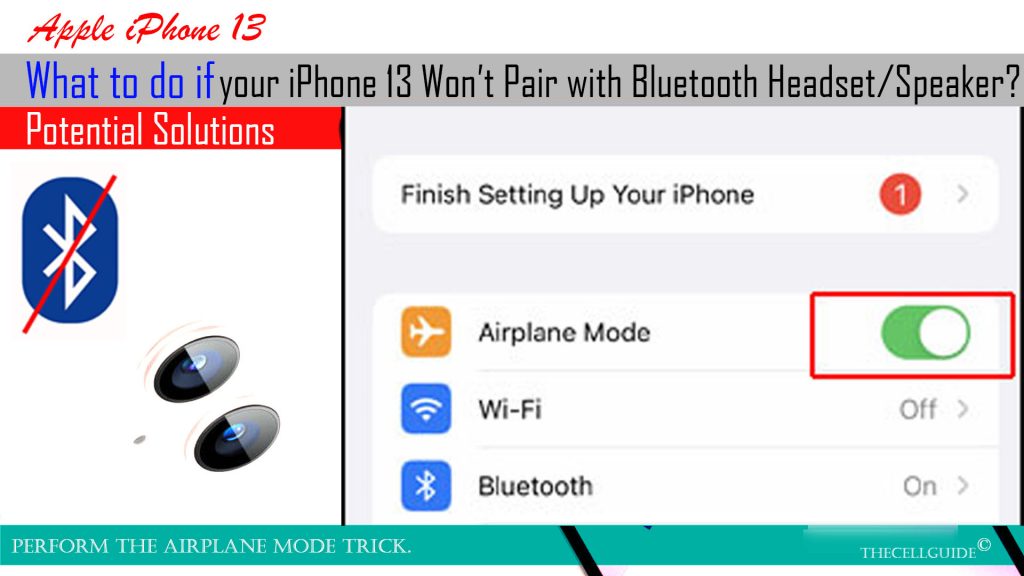 To do the Airplane Mode trick on your iPhone 13, just follow these steps:
Go to your Home screen and then tap Settings.
While on the Settings app main screen, tap Airplane mode.
Toggle the Airplane Mode switch to turn the feature ON. Doing so disables all wireless features on your iPhone.
While Airplane mode is turned on, restart/soft reset your iPhone.
After rebooting, go back to Settings-> Airplane Mode menu and then toggle to turn the switch OFF again.
After disabling the Airplane Mode switch, go back to Settings-> Bluetooth menu and then toggle to turn the Bluetooth switch back on and then retry pairing your devices.
Solution #3: Forget then re-add Bluetooth device.
Bluetooth pairing errors may also occur due to a corrupted Bluetooth connection. There might be some other saved Bluetooth devices that caused conflict with the recent pairing process and therefore results in an error.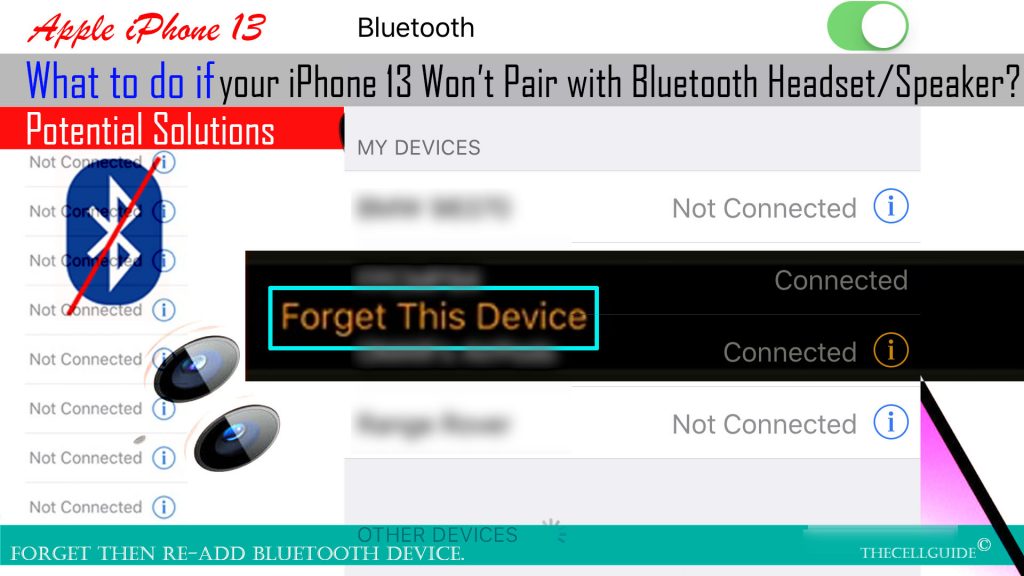 To clear this out, forgetting Bluetooth and re-adding the new accessory is recommended. Here's how:
From your Home screen, navigate to Settings-> Bluetooth menu.
Make sure that the Bluetooth switch is turned on. Otherwise, toggle to turn it on.
Scroll down and select your Bluetooth device.
Tap the information (i) icon next to the name of your Bluetooth device.
Then select the option to Forget this device.
If prompted, enter your passcode to continue.
Finally, tap the option to confirm that you want to forget the selected Bluetooth device.
If you're prompted to enter a Bluetooth password, just refer to the message prompt on either device to get all necessary information.
Solution #4: Reset network settings on your iPhone 13.
Performing a network reset is also deemed a potential solution if the Bluetooth pairing issue is inflicted by some faulty network configurations on your iPhone.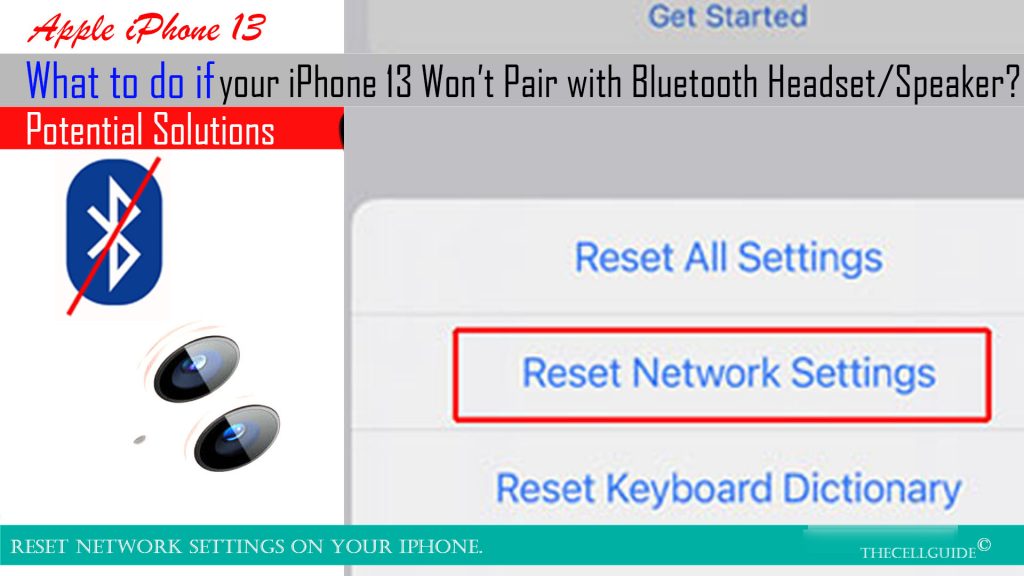 Resetting the network settings (reset network settings) will delete all recent network settings including saved Wi-Fi, Bluetooth devices, APNs, VPNs and other relevant information. It doesn't affect any iPhone data so there's no need to back up files beforehand.
To reset network settings on your iPhone 13, just follow these steps:
Go to your Home screen and then open the Settings app.
Scroll to and tap General.
Tap Transfer or Reset iPhone to proceed.
Then tap on Reset.
On the succeeding menu, tap Reset network settings from the given options.
Enter your passcode if prompted.
Tap the option to confirm network settings reset on your iPhone.
When the reset is finished, your iPhone reboots automatically. Just wait for it to finish rebooting then re-enable Bluetooth and pair your devices as new.
Solution #5: Reset all settings on your iPhone 13.
If a network reset doesn't fix the problem, you can proceed with the all settings reset or reset all settings on your iPhone. This reset deletes all custom system settings without deleting any saved data from the internal storage.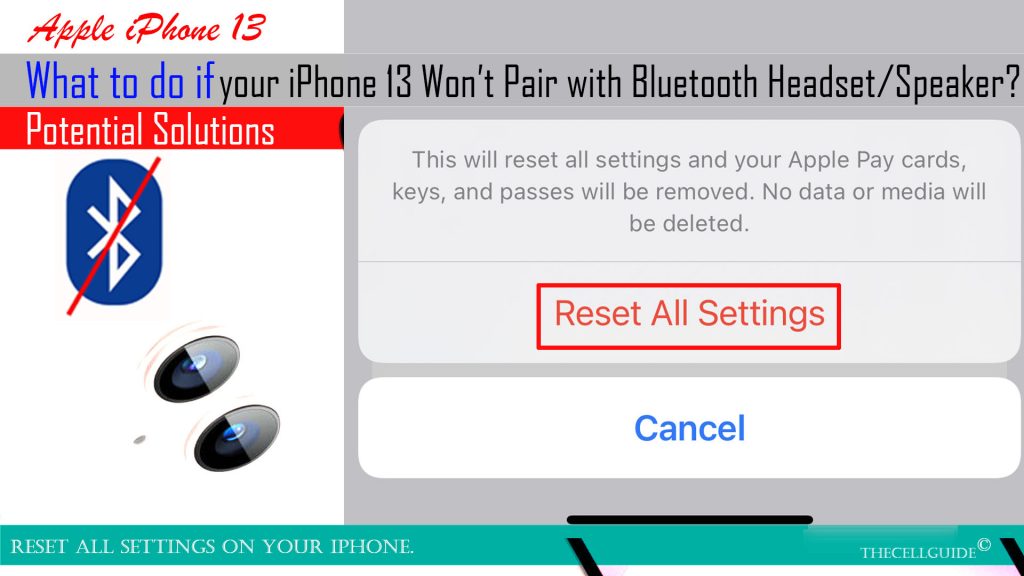 Here's how it's done:
Go to your Home screen and then tap the Settings icon to open the iPhone Settings app.
While on the Settings app menu, tap General.
On the next menu, scroll down and tap on Transfer or Reset iPhone.
Tap Reset to proceed.
Then, select Reset All settings from the given options.
If prompted, enter your device passcode to confirm action and then tap Reset settings to proceed.
Follow the rest of the onscreen prompts to reset iPhone settings.
After the reset, your phone reboots on its own and then loads up all default values and options. This denotes the need for you to re-enable Bluetooth and add your Bluetooth headset and speaker to instigate pairing.
Still unable to pair Bluetooth devices?
If Bluetooth pairing is still unsuccessful after applying all the above solutions, performing a factory reset on your iPhone or resetting the Bluetooth accessory can be deemed among the last options to fix iPhone 13 Bluetooth errors. A full system reset is usually needed if stubborn system bugs are to blame.
Just don't forget to back up important files on your iPhone beforehand so you'd still be able to recover them afterwards.
To determine whether or not the problem is isolated to your Bluetooth headset or speaker, try pairing your iPhone 13 with another compatible Bluetooth accessory.
If your iPhone successfully pairs with your other Bluetooth devices, the problem is with the headset or speaker.
You may refer to the device's instruction manual for troubleshooting or else better find another alternative Bluetooth headset or speaker that works best with your iPhone 13.
iPhone Repair
If the iPhone doesn't pair with any other compatible Bluetooth devices, then it's possible that something in your iPhone's Bluetooth system is dysfunctional.
To rule out hardware-related factors that might have caused Bluetooth pairing errors, you can take your iPhone to the nearest Apple-authorized service center and ask a technician to diagnose your device.
Contact Apple Support
If the problem appears to be a post-update bug like when your iPhone previously paired with Bluetooth devices and then suddenly it failed after an iOS update, then you can escalate the problem to the Apple Support for further assistance and suggestions.
Should this be found to be an iOS Bluetooth bug, a dedicated fix patch would be necessary.
Hope this helps!
Please check out our YouTube channel to view more tutorial and troubleshooting videos for popular iOS and Android devices.
You Might Also Want To Read: