This post will help you deal with a slow performance issue on the Apple iPhone 13. Read on to learn what to do if your iPhone 13 keeps lagging.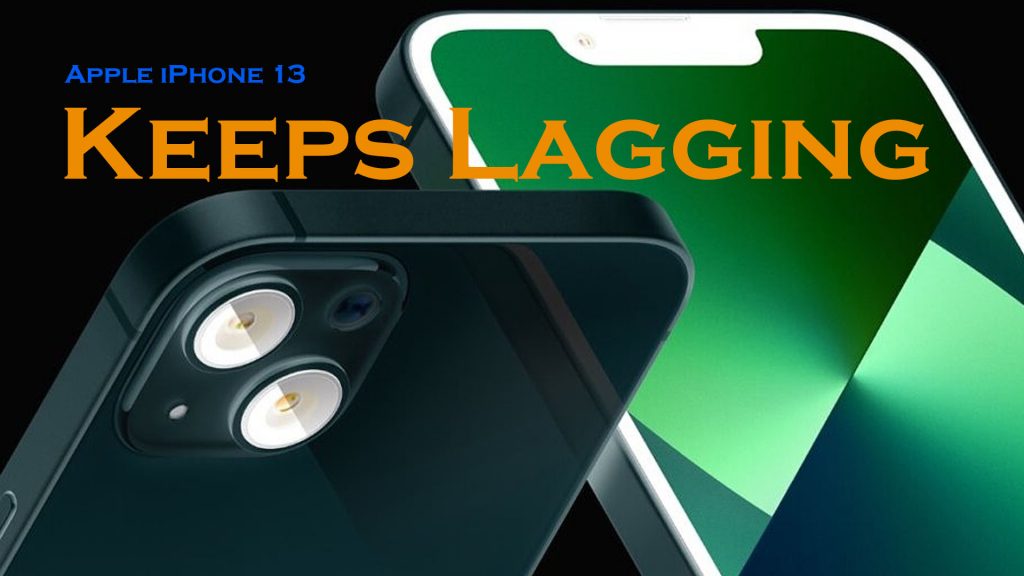 Lagging and freezing issues in mobile devices are common signs of deterioration. Thus, it appears to be a widespread issue in several smartphones after several months of usage. The occurrence of this issue however may vary between devices. Usually, it manifests earlier among entry-level and mid-range devices. But top-tiered models aren't totally exempted.
What makes an iPhone lagging and freezing?
Aside from deterioration, performance issues like lagging and freezing can also be inflicted by other factors from minor app glitches to fatal system errors. Lined up below are the usual culprits.
1. Erratic apps.
If your iPhone starts lagging and freezing after installing a new app, then that app could be the root cause. It's possible that the recently installed application is not properly installed, not supported, or just not that stable.
2. Data corruption.
Downloading and saving files is one of the things we commonly do with our smartphones. If some of these files contain some bugs, malware or corrupted data fragments, there's a higher chance that other existing apps and system services on the iPhone become adversely affected. As a result, performance issues including random lagging and freezing, stuck on Apple logo and system crashes begin to manifest. And constant lag is among them.
3. Low memory.
While new iPhones do come with bigger storage capacity, its storage space eventually shrinks once more apps and file downloads accumulate. And when this happens, the usual smooth and fast performance slowly deteriorates. If you're fond of downloading mobile video gaming apps and multimedia content such as videos and HD images, then be mindful of your iPhone's internal memory status.
4. Software bugs.
While software updates are thoroughly programmed prior to the official rollout, encountering post-update performance issues is still inevitable.
This is usually the case if your iPhone is suddenly performing sluggishly after installing a new update. Problems like this are usually due to some third-party apps that went rogue from the recent software changes. It's also possible the new update itself embeds a certain bug that messed up the system and caused the device to slow down.
5. Hardware issue.
A faulty hardware may also be the main reason as to why your iPhone 13 is unable to perform as expected. Although this is such a bizarre case especially when it comes to high-end models, it can happen.
Troubleshooting iPhone 13 that keeps lagging
If lagging is a software-related symptom, it can be rectified by performing some workarounds. If you've managed to determine the root cause of the problem, then you can immediately fix it by eliminating the culprit. Otherwise, it's going to be a trial-and-error process.
To give you some input, I've enumerated some of the highly effective tweaks used by many iPhone users. Feel free to try these methods to rule out software-related factors that might have caused your iPhone 13 to lag or respond very slowly.
First solution: Soft reset/iPhone reboot.
For first instances, random software glitches are highly the triggers. Background apps (apps that you've left open and running in the background) are usually the culprit, especially when any of them crashes, gets stuck or corrupted. Background apps are accessed through app previews.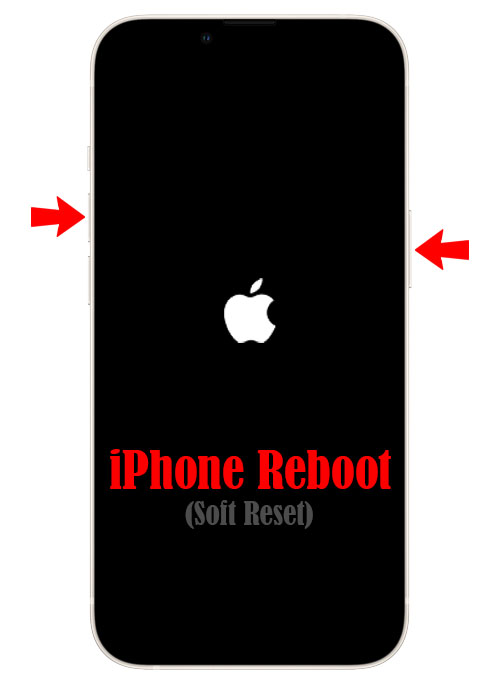 To deal with minor software flaws like this, performing a soft reset or restarting the iPhone is more likely what's needed.
So if you haven't already, reboot your iPhone 13 with these steps:
Press and hold the Side button and either Volume buttons for a few seconds and then release when the Power off slider appears.
Then, drag the slider to turn your iPhone completely off.
After 30 seconds, press and hold the Side button again until the Apple logo appears.
You can also use the Shutdown command through your iPhone settings to turn off and restart the device.
To do so, just go to Settings-> General menu and then tap Shutdown.
Your phone then turns off. After a few seconds, turn it back on as you normally do and then see if it still lags.
Performing a soft reset or reboot does not affect any saved data and thus, you won't lose any critical information in the process.
Any corrupted cache files or residual system data will be deleted, giving your iPhone a clean and fresh reboot.
Second solution: Install new updates.
Smartphone manufacturers and software developers do recommend keeping apps and devices up-to-date. Every new firmware version and app update rolled out do embed patch codes that are programmed to keep apps and system services bug-free and optimized.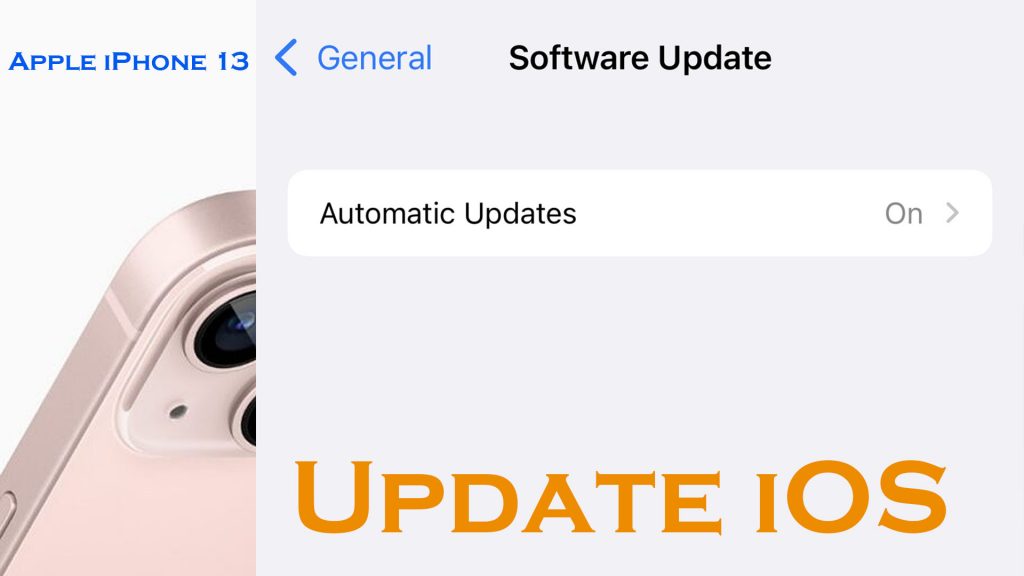 Manually Updating Apps in iOS 15
Out dated apps on the phone can also cause lags. If you haven't set your apps to auto-install new updates, then you will need to do it manually with these steps:
Launch the App Store app.
On the App store, tap on your profile icon on the top of the screen.
Then, scroll down to view pending updates and release notes.
To update individual apps, tap the Update button next to the name of the app.
If multiple app updates are available, tap the Update All button instead. Doing so will install all pending app updates simultaneously.
Just wait for the phone to finish updating apps. Once it's done, you can do a soft reset or reboot the iPhone and refresh the apps.
Manually installing new iOS updates (iOS 15)
Aside from installing pending app updates, also ensure that your iPhone is running the latest iOS version. Installing an iOS update can help fix various system issues including software-related lags.
The latest iOS update released by Apple for selected iPhones is iOS version 15.0.1.
This update includes bug fixes for your iPhone including an issue where users couldn't unlock the iPhone 13 models with Apple Watch along with other system enhancements.
If you haven't installed this update already, then you might as well consider getting it now.
To check for new updates on the iPhone 13 settings, make sure that your iPhone is connected to Wi-Fi and has stable internet connection. Then, follow these steps:
To get started, tap Settings to launch the Settings menu.
Tap General.
Then, tap Software update.
If you see a new update notification, tap Download and Install.
Enter your passcode if prompted and then tap Install Now.
Follow the onscreen instructions to finish updating and then restart your iPhone.
Updating iPhone with iTunes
To update your iPhone through iTunes on a Windows or Mac computer, follow these steps:
Connect your iPhone to the computer using the Apple-supplied USB/lightning cable.
Launch the iTunes app on your computer and then click the Device icon near the upper-left of the iTunes screen.
Click Summary to continue. Summarized details about your iPhone 13 will be displayed next.
Click the button to Check for Update.
Then, click the Update button to install an available update.
Wait for iTunes to finish updating your iPhone and once it's done, click the Eject button.
This is recommended to disconnect your iPhone from iTunes and the computer safely.
Again don't forget to reboot your iPhone afterwards to ensure that all recent software changes are properly implemented. This is also imperative to refresh apps and system services following the recent system alterations.
In the case where lagging occurs only when using a certain app, the problem is most likely isolated to that app. If updating the app doesn't solve the problem, then you may have to consider uninstalling and reinstalling it.
As much as possible, keep your iPhone free from problematic applications to keep it swift and smooth as intended.
Third solution: Optimize storage.
Usually, you'll get a notification when you're trying to download a new app or file and your iPhone is running low on storage. But just to make sure, you can go straight to the iOS settings to view the available amount of storage on your iPhone 13.
Tap Settings from your Home screen.
Tap General.
Select iPhone Storage.
On the next screen, you will see more details about your iPhone storage including storage used by individual apps.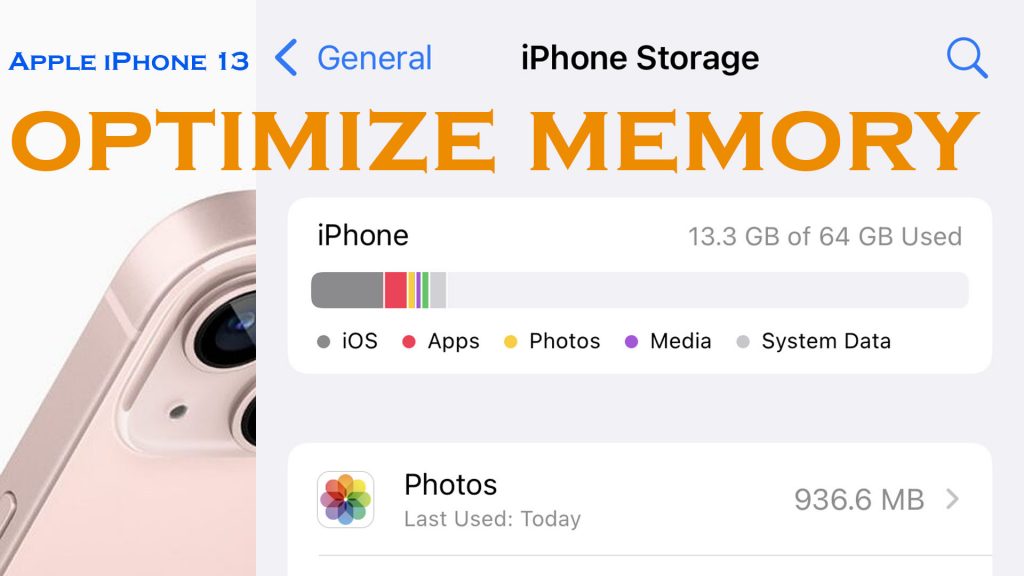 If necessary, delete old and unused contents including apps that you're no longer using. You can also transfer some of your important files to your iCloud account or to your computer's hard drive.
Fourth solution: Reset all settings.
Messed up settings can also affect the phone's entire performance, making things go sluggish. This is usually what happens when your iPhone settings are automatically overridden by recent updates, resulting in some conflicts.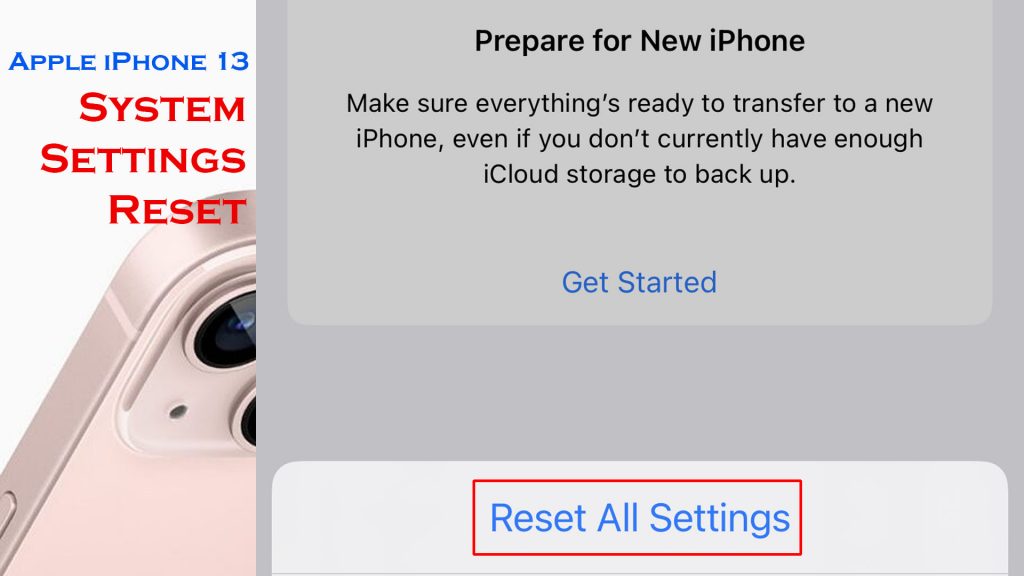 To fix this problem, you can use the built-in iOS reset command to reset all settings without deleting important files from the device. Here's how it's done:
Go to your Home screen and then open the Settings app.
Scroll to and tap General.
Tap Transfer or Reset iPhone to proceed.
Then tap on Reset.
On the succeeding menu, tap Reset all settings from the given options.
Enter your device passcode if prompted.
Tap the option to confirm all system settings reset on your iPhone.
After the reset, all system settings are restored to their original or default values. That said, you will need to reconfigure and re-enable necessary features particularly the ones that are disabled by default.
Reset all settings is typically recommended before performing a factory reset.
Fifth solution: Restore iPhone (factory reset/master reset).
A drastic solution to major system issues including system lags is a factory reset or full system reset. As the name implies, this reset works by wiping everything from the iPhone system including custom settings, downloaded apps and files. This will restore iPhone to its factory state.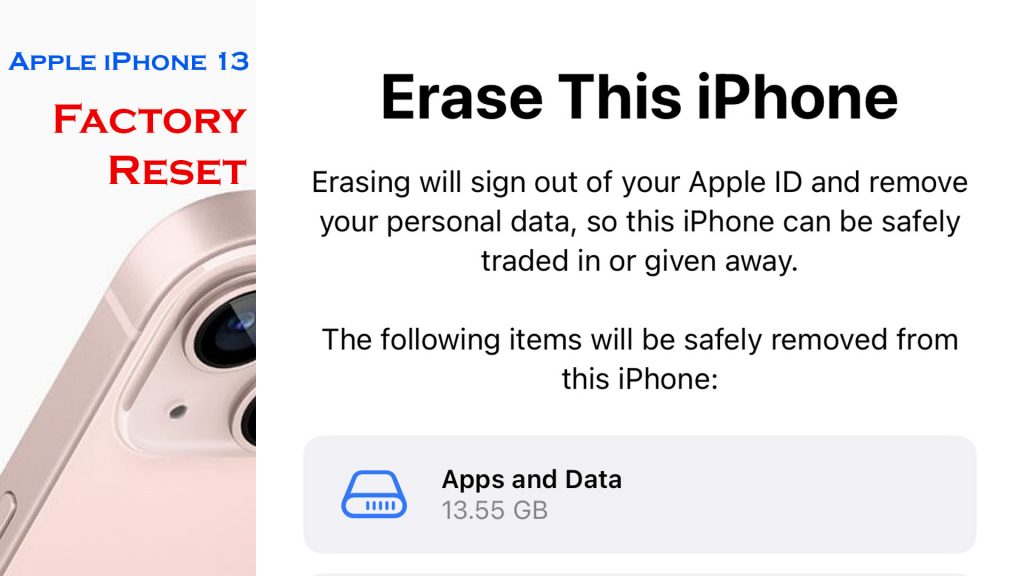 Before you proceed, be sure to back up all your important apps and data so you can just restore them afterwards.
Once you've got everything set, you may go ahead and start doing a factory reset through settings with these steps:
Go to your Home screen and then open the Settings app.
Scroll to and tap General.
Tap Transfer or Reset iPhone to proceed.
Tap Reset and then select Erase all Content and Settings option.
If prompted, confirm that you'd like to erase your device.
Wait for the phone to finish resetting and then restore all default values and options.
iTunes Restore
You can also use iTunes to restore your iPhone to its factory defaults. Go for this method if your iPhone is extremely laggy or unresponsive. Here's how:
Connect your iPhone to your computer using the Apple-supplied USB cable or lightning cable.
While your device is connected, launch iTunes on your computer and wait for it to detect your iPhone 13.
Your iPhone will show in the iTunes app when it's recognized. By then, just click the Device button near the top left of the iTunes window.
Then, click Summary.
To proceed with a factory settings reset, click the Restore button and follow the rest of the onscreen instructions.
All your iPhone settings and information will then be erased.
Once your iPhone is completely restored, you can disconnect it from iTunes. But before you do, be sure to click the Eject button to safely eject your device.
Any rogue apps, stubborn bugs and fatal system errors will likewise be obliterated, granting your iPhone another flawless performance.
Is your iPhone still lagging?
If lagging persists after applying the above solutions, then there's a higher chance that you're dealing with a major system issue if not hardware damage.
Should you wish to troubleshoot further before taking your iPhone to a service center, then you may go for a recovery mode restore or DFU mode restore. These are deemed more advanced solutions to deal with fatal iOS errors that caused recurring performance problems in iOS devices, including the new iPhones.
Both of these restore methods require the use of iTunes so better have the latest version of iTunes app installed on your computer. If you've got a Mac, then you're all set with the Finder app instead.
What about iPhone repair tools?
Using iOS/iPhone repair tools is also another option (and probably the last resort) you can go before heading to an Apple Genius bar. These tools work closely similar to (or even better than) iTunes when it comes to rectifying complex iOS errors that make an iPad or iPhone very slow.
There are actually a lot of labels you can choose from when it comes to iPhone repair tools. But emerging among the top-rated brands for newer iPhone models like the iPhone 13 are the Free UltFone iOS system repair, iReb, RedSnow, RecBoot, Tiny Umbrella and EasyiRecovery, to name some.
These tools can be downloaded on your Windows and/or Mac computer for free or via one-time purchase.
To gauge the efficacy of the individual software, reading previous users' reviews can help.
Seek More Help
If all else fails to fix the problem, you can always seek help from a professional. Just take a trip to the nearest Apple Genius bar in your area and have your iPhone diagnosed by an authorized technician. What your device needs at this point might be more than just a software solution.
Hope this helps!
Please check out our YouTube channel to view more tutorial and troubleshooting videos for popular iOS and Android devices.
You Might Also Want To Read: