This post will walk you through disabling the iOS feature that automatically prompts notifications and reduces the volume when you're listening to extremely loud audio for a long time. Here's a quick guide on how to turn off headphone safety on iPhone 13 in iOS version 15.4.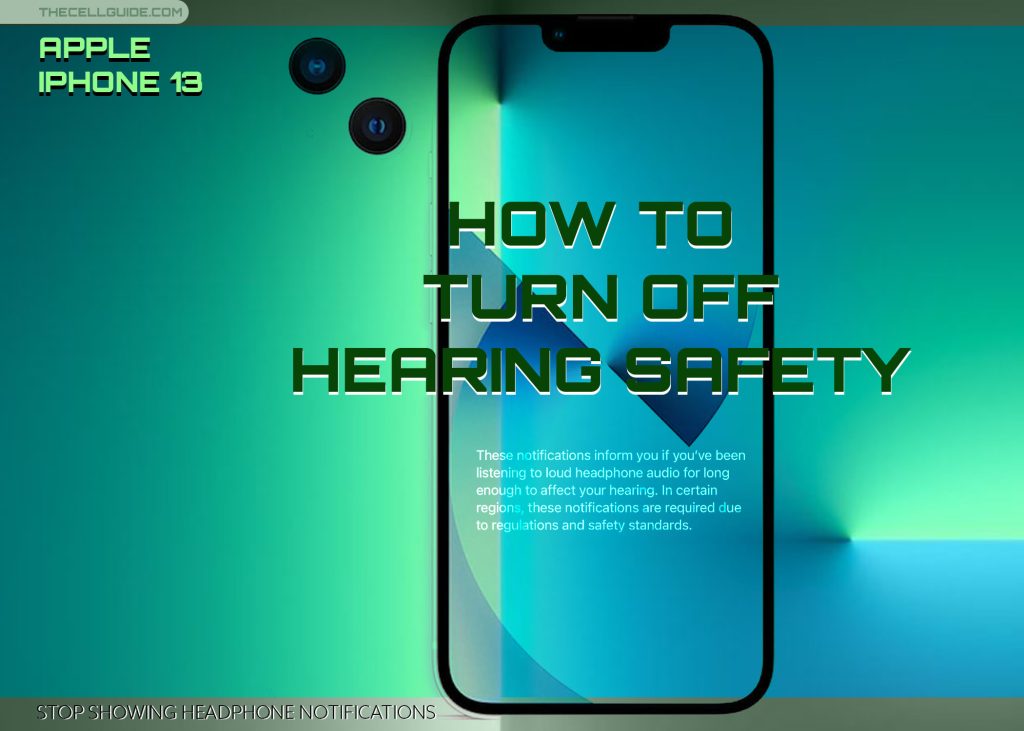 iOS 15 Headphone Safety Feature
Your daily smartphone routines may cause harm to your hearing. This is especially true if you're listening to loud sounds on your iPhone for a long period repeatedly.
In an attempt to protect your hearing, Apple entrenched a headphone notification feature called Headphone Safety.
When enabled, this feature will automatically show a notification telling you to turn the volume down as you've already reached the recommended 7-day exposure limit.
While such is deemed a safety feature, not all iPhone users found Headphone Safety nifty when enabled on their device. Thus, Apple schemed and tagged Headphone Safety among other adjustable features on an iPhone.
How does Headphone Safety work?
This feature is primarily designed to protect your hearing while using your iPhone. It works by measuring the headphone audio levels and notifies you if you've been listening to loud headphone audio for a long period of time.
The audio measuring system follows a 7-day window and sets limits based on a combination of time and loudness. The louder the audio you're listening to, the less time you can safely listen to it. This likewise makes you hit the limit faster.
If you think you're responsible enough to ensure hearing safety while using headphones with your new iPhone, then you can just disable this feature on your device.
The process of turning Headphone notifications off or on in newer iOS devices like the iPhone 13 series is pretty straightforward. All you have to do is navigate the iOS Sounds & Haptics menu.
If you're new to the iOS platform and need some input on how to get to the said menu, just refer to the outlined steps below.
Steps to Turn off Headphone Safety on iPhone 13
Disabling the Headphone Safety feature on or off in iOS devices (iPhone or iPod touch) running on the iOS 15 or later version is carried out through these steps.
Actual screens and menu items may vary between device models and carriers so expect some slight differences on every device's graphical user interface. Just keep your phone software up-to-date to ensure all key features and menu options are present.
Feel free to start whenever you're all set to configure your iPhone 13 settings:
Step 1: To get started, go to the Home screen and then tap Settings. Doing so will launch the main Settings app menu.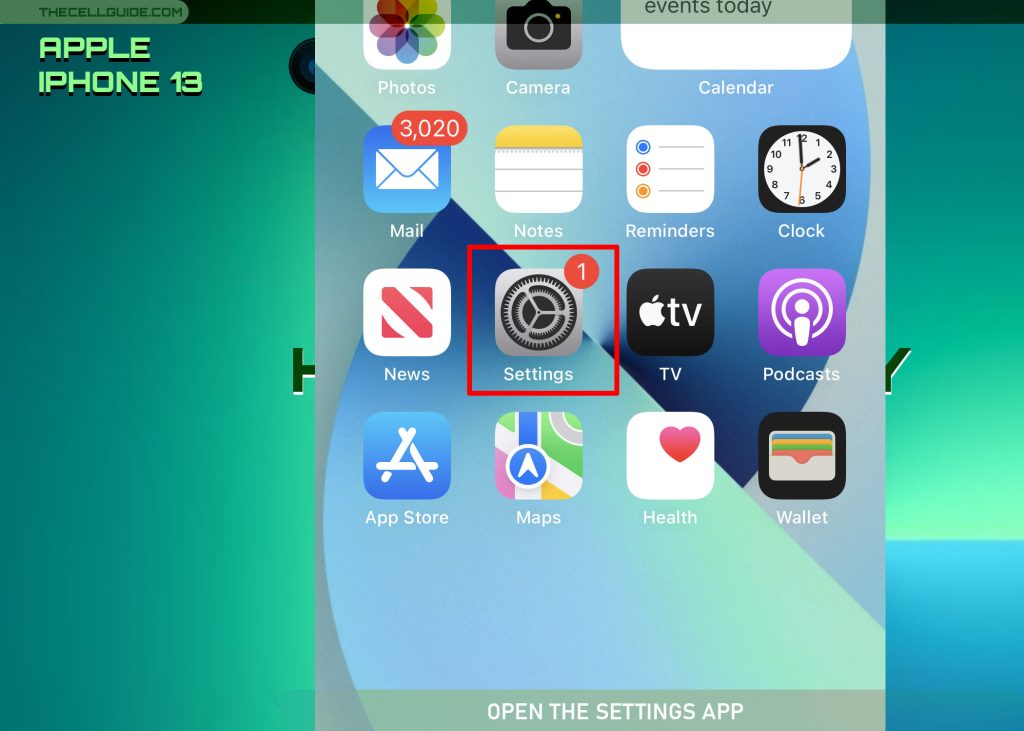 Step 2: While in the Settings menu, tap Sounds & Haptics. Another menu opens with relevant features and options to manage and customize.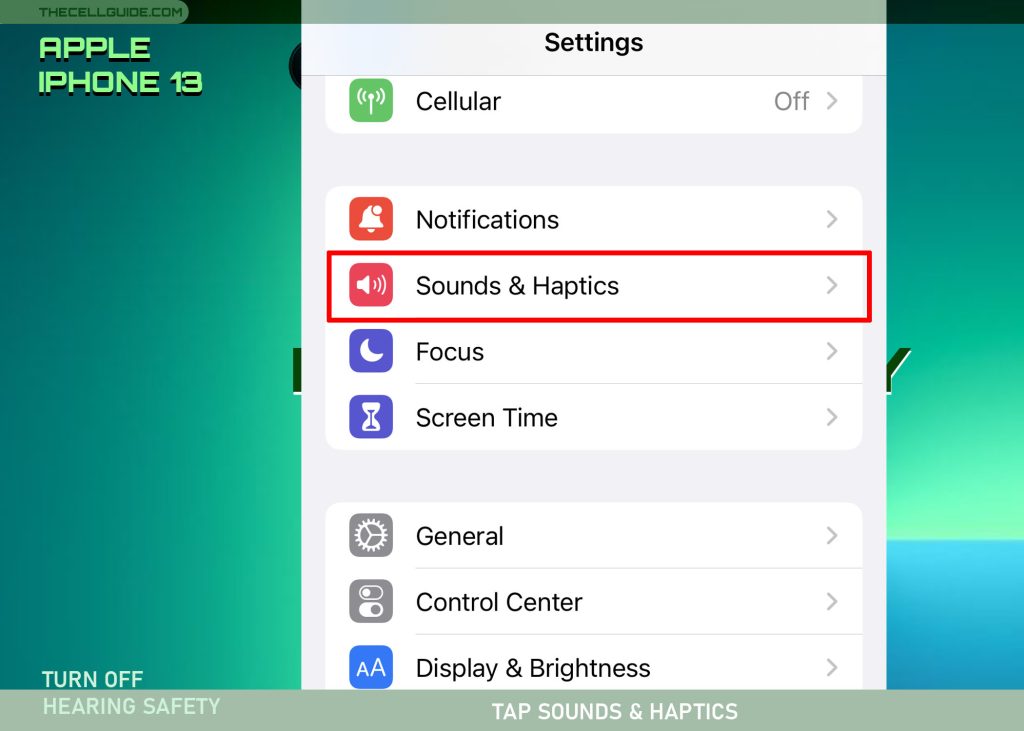 Step 3: Tap Headphone Safety to proceed.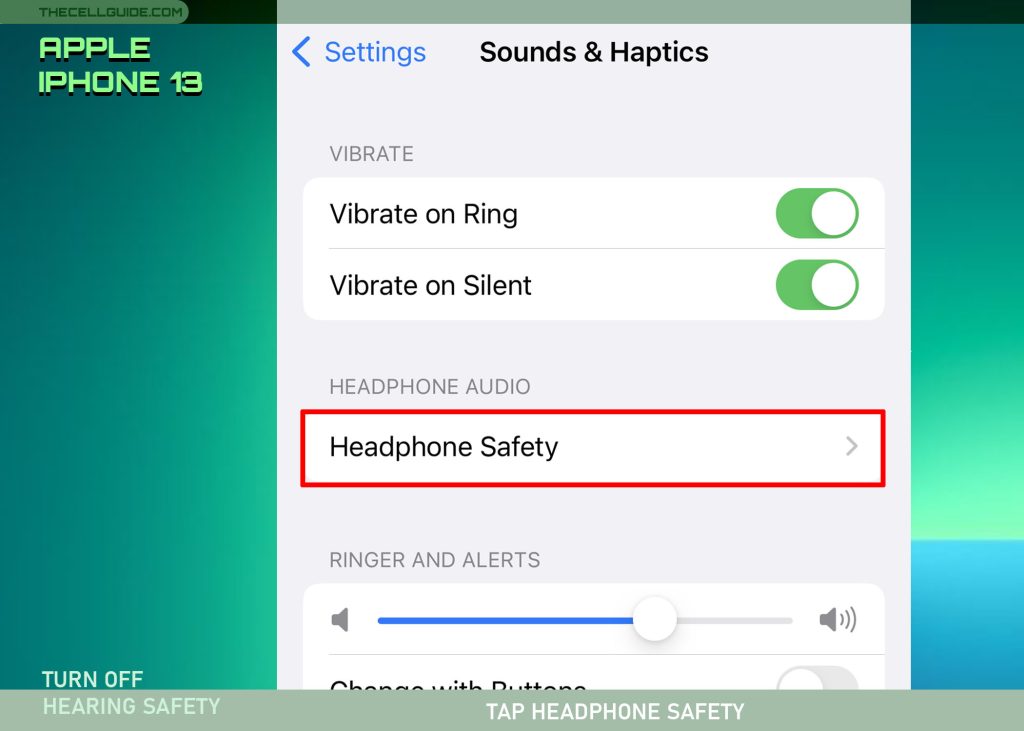 Step 4: On the succeeding menu, tap Headphone Notifications and then toggle to turn the switch OFF.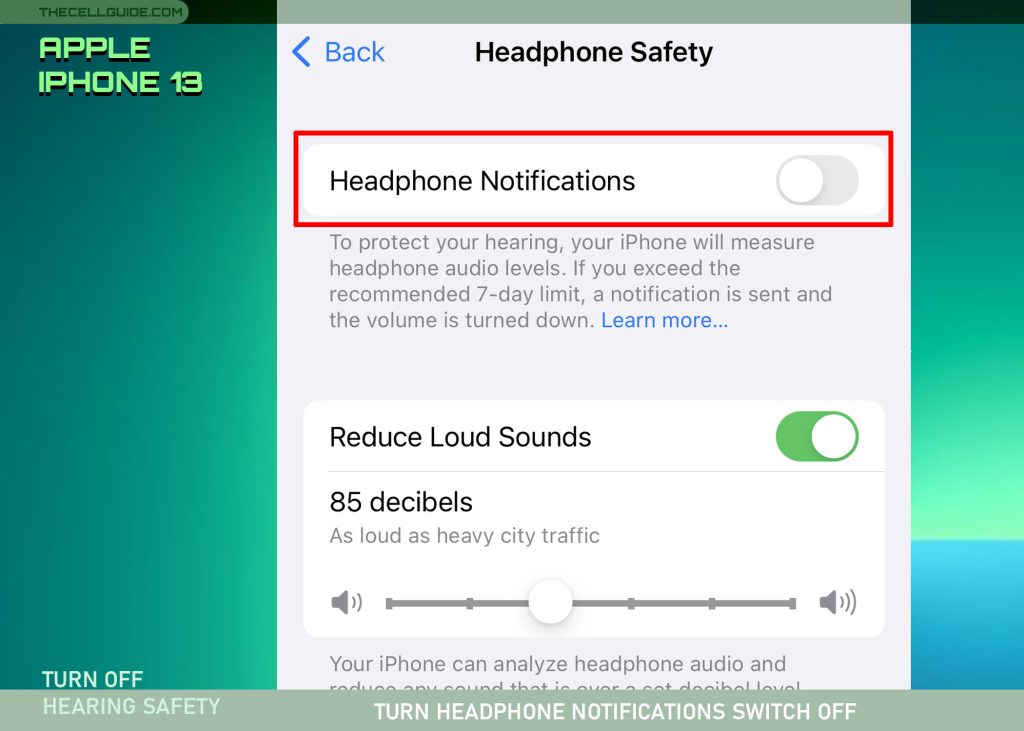 Step 5: To disable the iPhone's headphone safety feature, tap to turn the Reduce Loud Sounds switch OFF.
Alternatively, you can disable Headphone Notifications through the iOS 15 Accessibility menu. Here's how:
Open the Settings app.
Tap Accessibility.
On the next screen, scroll down to the Hearing section and then tap Audio/Visual.
Then, turn off Headphone Notifications.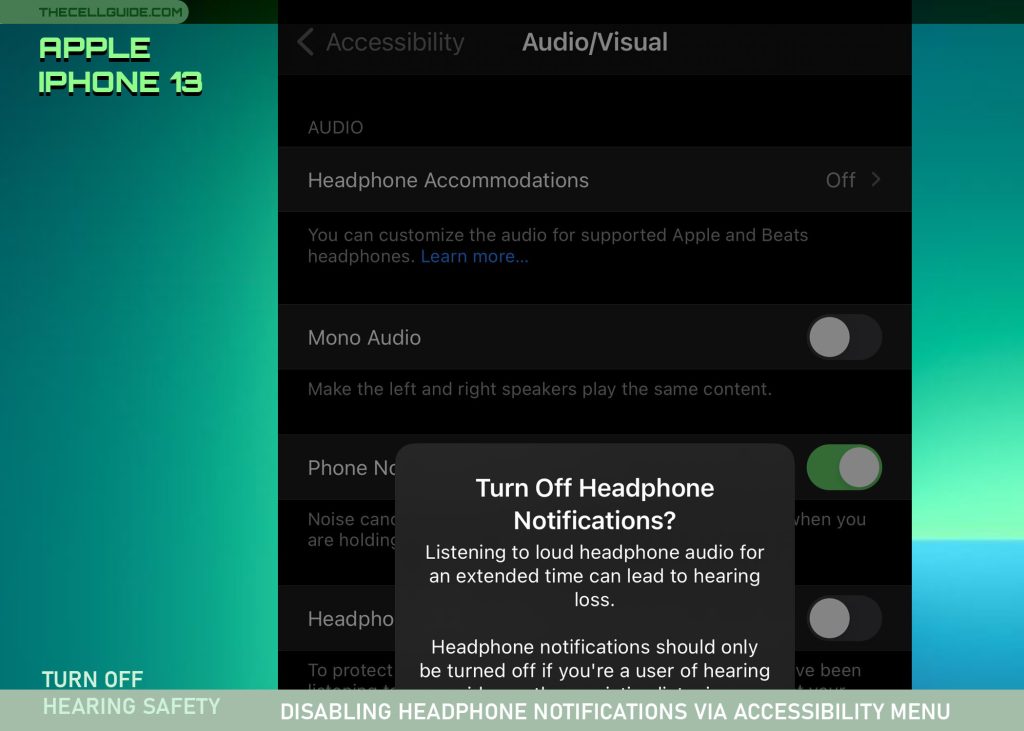 With these switches off, your iPhone will stop prompting loud volume notifications based on your audio exposure.
Should you wish to utilize this feature again, just repeat the same steps to get back to the Headphone Safety menu and then turn the Headphone notifications and Reduce Loud Sounds switch back on.
When to Disable Headphone Safety on your iPhone?
Disabling safety features on your iPhone including Headphone Safety is not recommended, especially if you frequently listen to loud music with your headphones. Exposure to loud music for an extended period of time will likely result in hearing damage.
However, there are certain instances wherein keeping headphone safety enabled isn't vital and thus, turning the feature off is deemed more practical.
And with that being said, Apple made the in-built Headphone Safety feature adjustable according to the user's preferences.
Thus, disable this feature if you're already bothered with the headphone safety notifications on your iPhone.
Cannot Turn Off Headphone Safety on your iPhone 13?
In certain countries or regions, the Headphone Safety notification feature cannot be disabled.
If you're living in any of the listed regions, then there's no way for you to disable the feature.
However, some iPhone users have discovered a tweak that somehow bypassed this regulation. And what they did was change the device type from Headphone to Other.
Altering the said option will stop headphone notifications from showing up and automatic reduction of the volume is also barred.
Should you wish to give this tweak a shot, just follow these steps to alter your iPhone's Bluetooth configuration:
Open the Settings app.
Tap Bluetooth.
Click the information (i) icon next to the Bluetooth device that you'd like to change.
Tap Device Type then select Other from the menu options.
You can always return the default settings by accessing the same menu when needed.
And that's how to disable the iPhone 13 Headphone Safety feature.
Hope this helps!
Please check out our YouTube channelto view more tutorial and troubleshooting videos for popular iOS and Android devices.
You Might Also Want To Read: