This post will walk you through restoring the default app settings, permissions and restrictions on the Galaxy S21. Here's a quick guide on how to reset app preferences on Samsung Galaxy S21.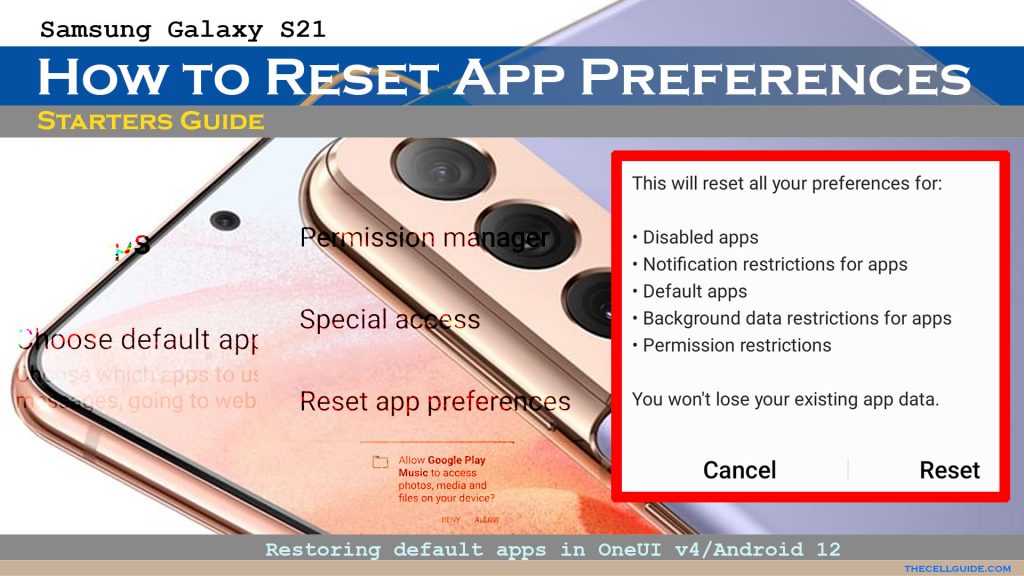 When you have multiple apps installed on your phone, chances are that you will be asked to choose a default application for a certain data type or file. For example, you will be asked to select which browser to use when accessing a certain page or which media players to use for music streaming online.
Please note that you are only allowed to set one app as the default for processing a file type or protocol.
If you see an action prompt asking to select the app you want to use for opening your selection with, that's an indication that you haven't yet set the default app for that protocol or file type.
And if things ended up bad or some apps are not working as intended after altering these settings, you can always put things back to their original or default configuration.
This is when the reset app preferences command comes into play.
Android 12 Reset App Preferences Overview 
Android devices have different types of reset commands that can be triggered whenever the need to restore defaults arises.
Among the said commands is the reset app preferences.
As the name implies, this reset works by restoring the default permission restrictions, notification restrictions, and background data restrictions for apps.
As a result, apps will go back to their default state and therefore work like the first time you launch it, prompting you to grant permission to access certain information on your phone.
Performing this reset is often deemed among the recommended solutions when dealing with app-related issues including random app freezes, lags as well as in-app errors and glitches.
If you're new to the Android 12 or One UI 4 platform and need some input on how to execute this reset on the Galaxy S21, I've mapped a step by step guide as follows.
Easy Steps to Reset App Preferences on Samsung Galaxy S21
The following steps are also applicable when restoring app defaults on other Samsung Galaxy devices running on the same One UI or Android version with that of the Galaxy S21 series.
However, there might be some slight differences on the actual interface given that screens and menu items vary between device models and service providers.
Just be sure to keep your device software up-to-date to ensure that all functionalities are upgraded.
Step 1: Open the Settings app by tapping on the Settings icon from the Home screen or Apps viewer.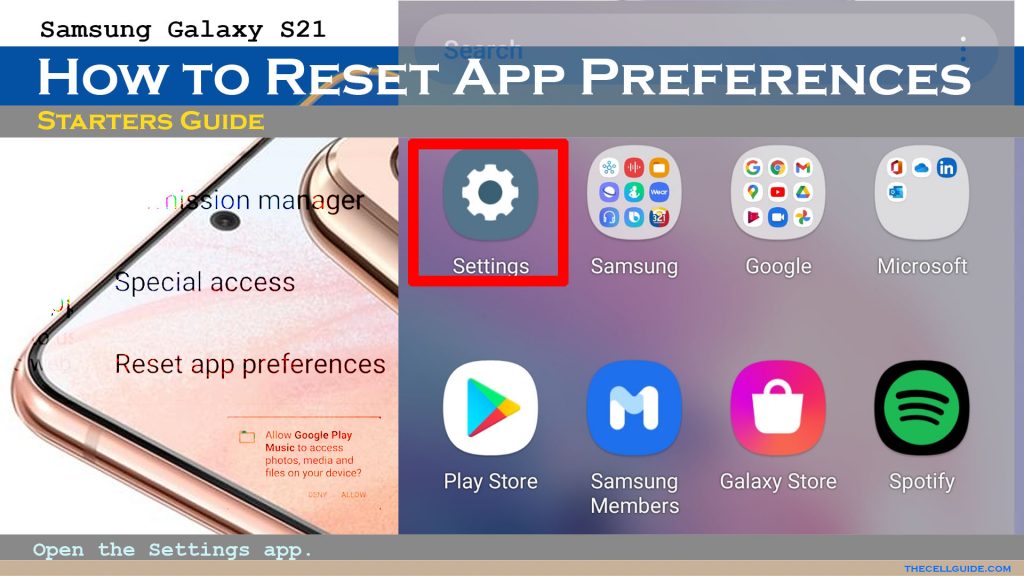 Step 2: While on the main settings menu, find and then tap Apps. A list of all your apps will load up on the next window.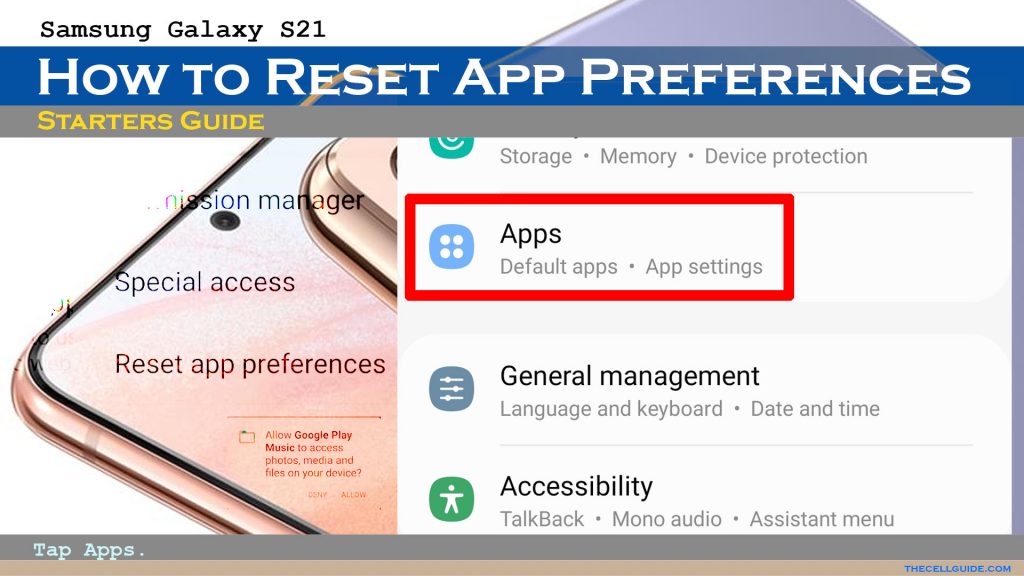 Step 3: Tap the triple-dot icon located on the upper-rightmost corner. Doing so will load up a side menu that contains additional options.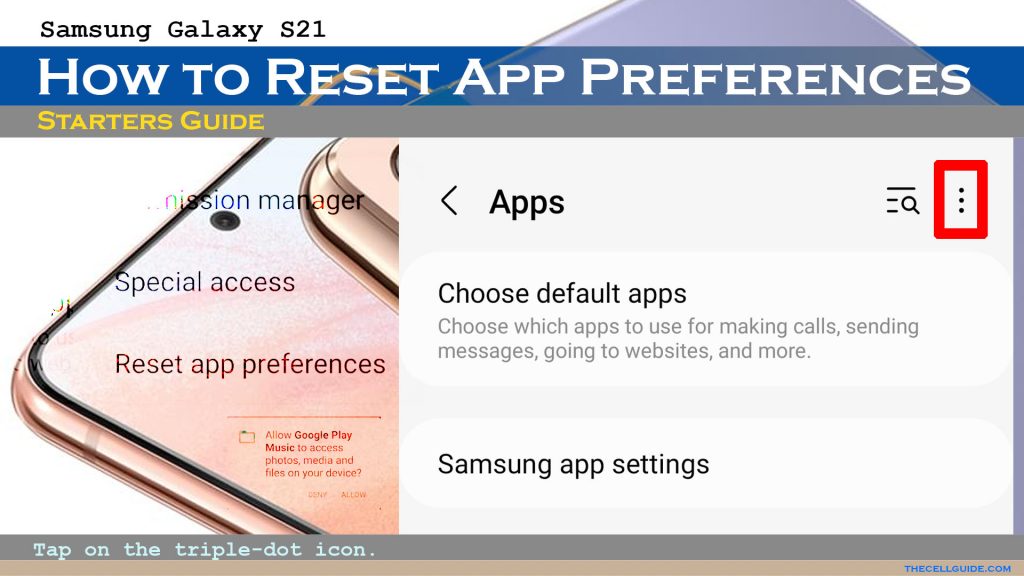 Step 4: Select Reset app preferences to proceed. More details about the reset will show up on the pop-up window.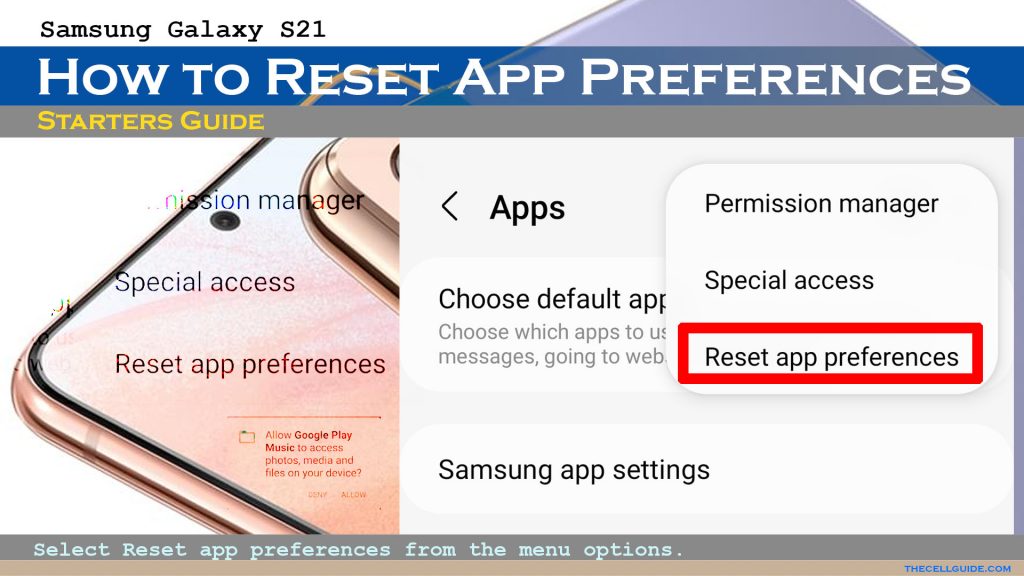 Step 5: Read and review the details and then tap Reset confirm.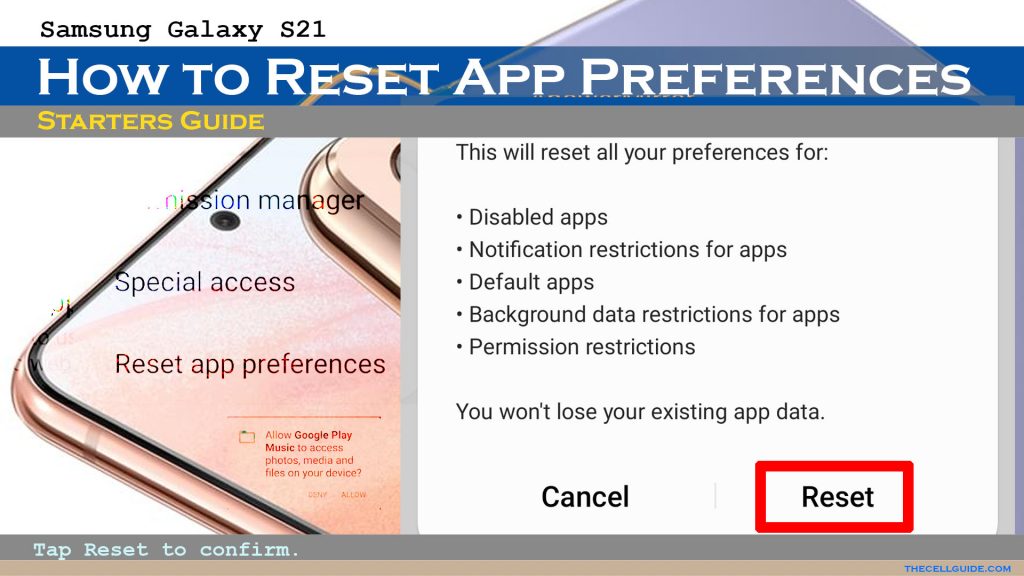 All your preferences for default apps, permission restrictions, disabled apps, notification restrictions and background data restrictions for apps will then be deleted and the original/default values are restored.
Performing this reset does not affect user data so you won't lose any personal information saved on your phone's internal storage. Downloaded contents will likewise remain intact.
And that's all about resetting app preferences on the Galaxy S21 and other Samsung Galaxy phones running on the One UI 4 (Android 12) platform.
Hope this helps!
Please check out our YouTube channel to view more tutorial and troubleshooting videos for popular iOS and Android devices.
 You Might Also Want To Read: