This post will walk you through restoring all default system configuration on the Samsung Galaxy A73 5g smartphone without deleting any saved user information. Here's a quick guide on how to reset all settings on Galaxy A73.
Is your phone acting up after altering the default system settings, downloading an app or online content, or installing a new update? It could be due to some complex system errors or a software bug that's causing conflict.
If the basic clearing of cache or rebooting the phone doesn't solve the problem, then resetting all settings might be able to fix it.
Read on to learn how this reset works and how it's done on the new Samsung Galaxy A73 device.
Galaxy A73 System Settings Reset
Every smartphone is preloaded with different reset options that users can tap on whenever they need to restore default settings.
Among the reset commands that recent Android phones integrate are reset all settings, reset network settings, reset accessibility settings and factory reset (hard reset), keyboard reset, app preferences and camera settings reset, to name some.
Each of these reset options has a dedicated scope or function. For instance, the reset network settings is for restoring network defaults, reset all settings for restoring system settings defaults, reset accessibility settings for restoring default accessibility options and factory reset for wiping all data and restoring factory defaults.
Outlined below are the steps depicting the actual process of resetting all settings on the Galaxy A73 5g smartphone.
Feel free to refer to this guide if you need help restoring the default system configuration on the same Samsung phone without deleting any of your downloaded apps and saved information.
Steps to Reset all settings on Galaxy A73 without deleting any user information
Performing the following steps will reset all settings on the Galaxy A73 except recent settings for security, accounts, language, downloaded apps and personal data.
To prevent any unexpected interruption due to insufficient power, make sure that your phone has at least 50% of battery life.
Once you've got everything set, you may go ahead and proceed with these steps.
Step 1: First, tap Settings from the Home screen or Apps viewer to access the settings app menu.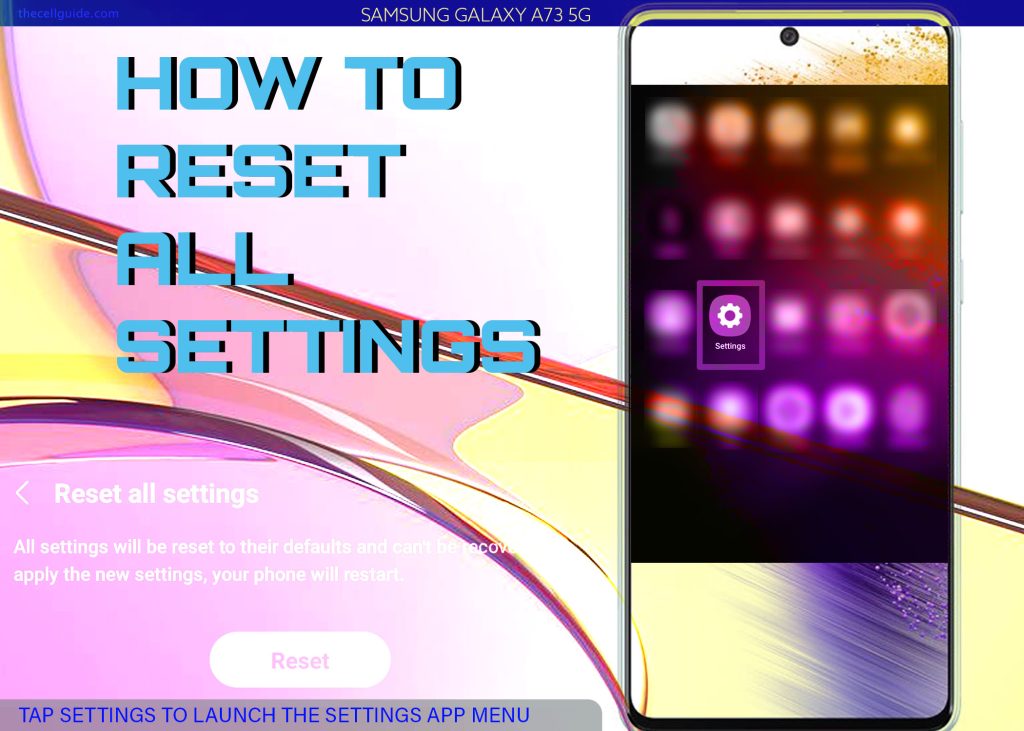 Step 2: While in the Settings menu, find and then tap General management. Another menu opens with the preloaded device management features of the phone.
Step 3: Scroll to find and then tap Reset. Different reset options will load up on the next screen.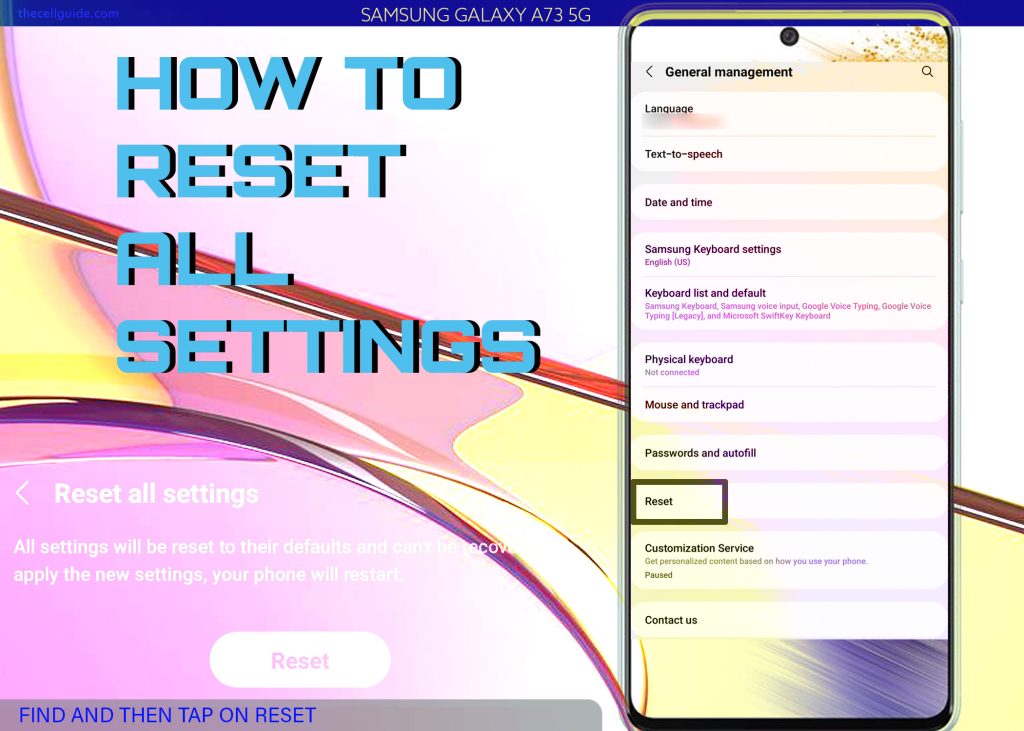 Step 4: Tap Reset all settings to proceed. On the following screen, you'll see more details about the reset command.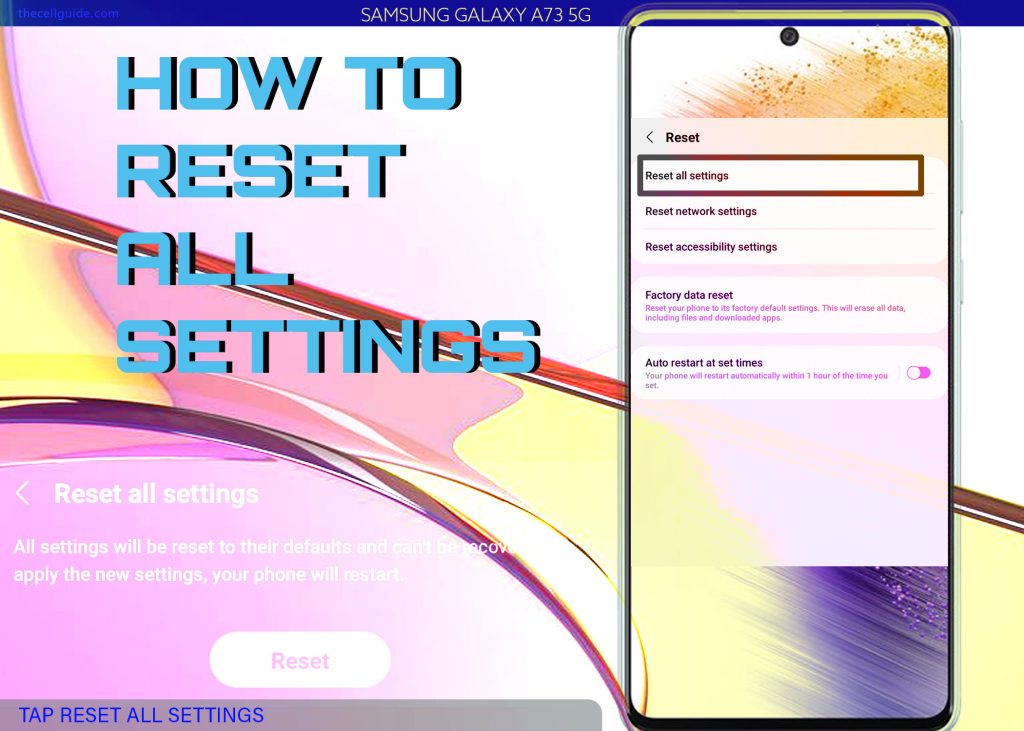 Step 5: Read the reset details and then tap Reset settings to continue.
If prompted, enter your phone's unlock pattern, PIN or password.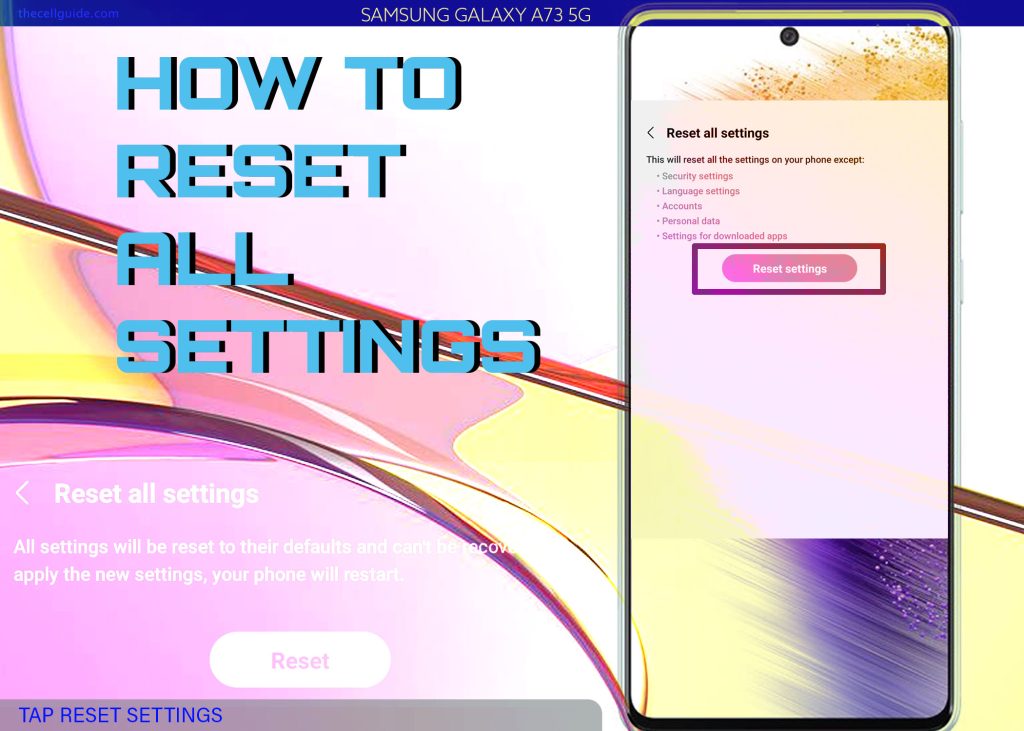 Step 6: Finally, read the final warning and then tap Reset to confirm action.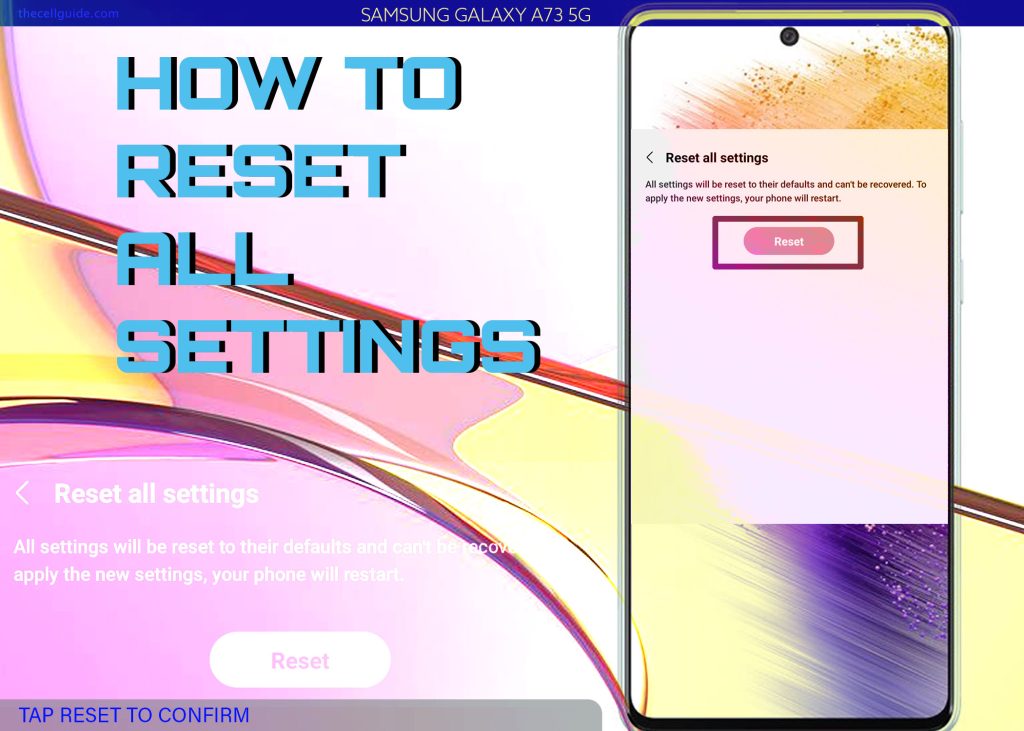 Soon after tapping on the reset button, all system settings will then be reset to their defaults and recent custom options and system configurations are removed.
After resetting, the phone will restart automatically to apply the new settings. Just wait for the phone to finish rebooting and once it's done, you can start enabling necessary features individually.
The above steps are also applicable when resetting all settings on other Samsung Galaxy A devices running on Android 12 with One UI 4.1 OS version.
Actual interface on individual devices may vary between device models and network service providers.
When to Reset all settings?
Many smartphone owners would resort to this reset whenever they encounter complex system errors with recurring symptoms following a series of settings alterations or after installing a new software update on the phone.
Among the common device issues that can be addressed by this reset include recurring in-app glitches resulting in app loading errors, random app crashes and unresponsiveness.
Performance-related issues such as system lags, freezes, crashes and unexpected reboots (boot loops) tied to complex system errors, stubborn bugs and malware can likewise be rectified with this reset.
Resetting all settings is often suggested before opting for a factory data reset as it does not delete any saved information on the device. This means that all your data are retained.
Carrying out this reset will return the phone's settings to the factory default settings without deleting data from the internal storage. Any customization you've applied on the phone including ringtone, defaults apps, app permissions as well as network configurations will be discarded.
This reset deletes all custom Home screen layout, keyboard dictionary, privacy settings, and location settings on the phone.
Temporary system data such as paired Bluetooth devices information and Wi-Fi passwords are also deleted in the process. This denotes the need for you to set these things up on your device afterwards.
And that's all about resetting all settings and restoring the default system configurations on the Galaxy A73 5g smartphone without deleting any user information.
Hope this helps!
Please check out our YouTube channel to view more tutorial and troubleshooting videos for popular iOS and Android devices.
You Might Also Want To Read: