This post highlights useful workarounds that will help you deal with a slow performance issue on the new iPhone 13 smartphone. Read on to learn what to do if your iPhone 13 becomes extremely laggy.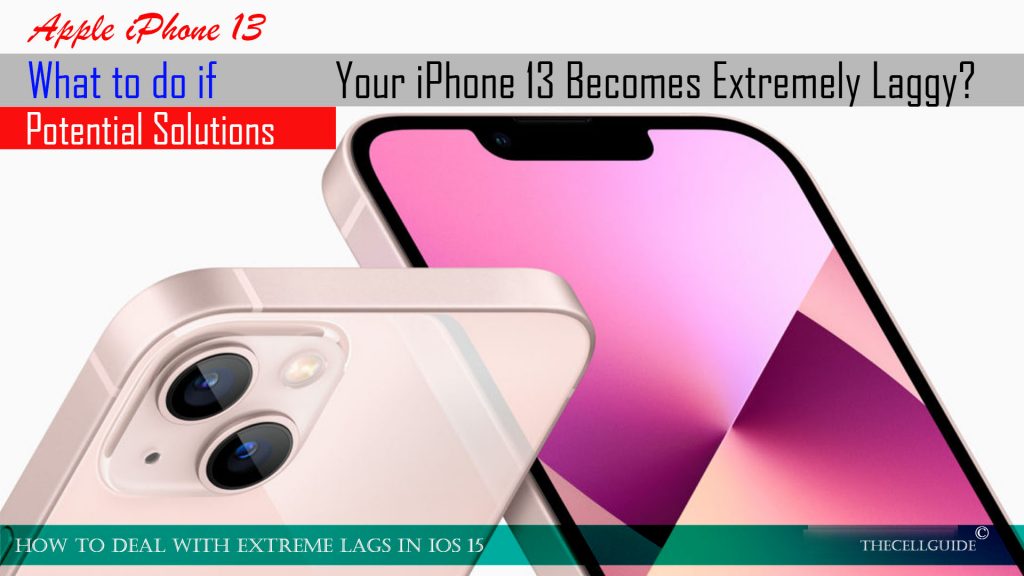 Seldom you'll hear of a top-tiered smartphone like an Apple iPhone that's performing very slow but it happens. Despite having a first class processor like the Apple A14 bionic chipset, 4-core graphics and hexa-core CPU, some iOS devices would still succumb to performance issues at some point. And you will just know that something's awry because your phone is working very sluggishly.
What makes your iPhone 13 slow down?
Several factors can affect an iPhone's standard performance. In most cases, the underlying cause is software-related.
Among the common culprits include random software bugs, errant apps, data corruption, memory problems, faulty updates and some malware.
There are also some instances wherein internet connectivity issues are to blame like when having an unstable internet connection. In such cases, the iPhone may appear to be extremely laggy when loading up huge online apps and files due to slow or intermittent connection to the internet.
In worst case scenarios, extreme lags can be directly attributed to a damaged component like when the physical memory or other circuit board parts is busted.
To deal with hardware-related performance issues on an iPhone, repair would be necessary. This likewise denotes the need for an iPhone technician's aide.
[Potential Solutions] iPhone 13 becomes extremely laggy
Performing the subsequent workarounds will help you eliminate software-related factors that might have caused your iPhone to become extremely laggy.
These methods are also applicable to the iPhone 13 mini, iPhone 13 pro max and other iPhone variants that are running on the same iOS version with the iPhone 13.
Solution #1: End all background apps and services.
If your iPhone suddenly lags after loading up several applications, it could be due to some background apps that got stuck or stopped working.
Any of these apps might have caused conflicts with other running apps and eventually affected the entire system functions. As a result, your device is slowing down.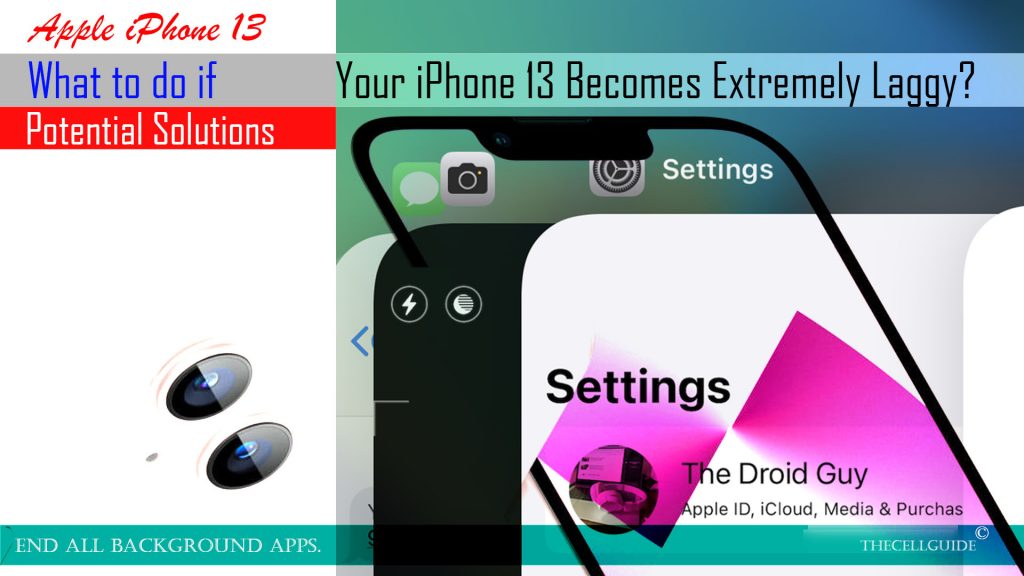 To rule this out, end all apps that are left open and running on the background of your iPhone 13 with these steps:
Swipe up from the bottom edge of the screen to launch the app switcher , containing the previews of all apps you've recently used and left open/running in the background.
To close individual running apps, just swipe up on the app preview or tap the Minus (-) icon on the top-left corner of each app preview.
See if the lagging symptom disappears afterwards.
Solution #2: Reboot your iPhone (soft reset).
For first instances of extreme sluggishness, errant apps and minor data corruptions are likely the triggers. To clear this out, performing a soft reset or iPhone reboot is recommended.
A simple reboot can fix various types of system issues including those that caused slow performance. It doesn't delete any saved data on the iPhone storage so you won't lose any important information in the process.
Just follow these steps to do a soft reset:
Press and hold the Power/Side button and either Volume buttons for a few seconds and then release when the Power off slider appears.
Then, drag the slider to turn your iPhone completely off.
After 30 seconds, press and hold the Side button again until the Apple logo appears.
If your iPhone eventually gets stuck from extreme lag, performing a forced restart is needed. As the name implies, it forces the system to shutdown and execute the reboot sequence.
To force restart an iPhone 13, just follow these steps:
Press and quickly release the Volume Up button.
Then, press and quickly release the Volume Down button.
Finally, press and hold the Side button for a few moments and then release it when the Apple logo appears.
Allow your device to complete the reboot sequence and then see if it still lags afterwards.
Solution #3: Update apps and iOS to the latest version available.
One way to ensure that your device is at its best performance is to keep all apps updated.
App updates not only bring in new features but also embed essential patches to eliminate certain bugs and malware. If your apps aren't configured to auto-update, then you can update them manually instead.
To do this, your iPhone must have a stable internet connection, ample storage and battery life.
Just follow these steps to download and install pending app updates on your iPhone 13:
Go to your iPhone Home screen or App library and then long-press the App Store icon.
Select Updates to continue.
If multiple app updates are available, tap Update All. Otherwise, tap Update next to each app to install new app updates individually.
Alternatively, you can view and install pending app updates by launching the App Store. Here's how:
While on the App Store main screen, tap on your profile picture on the top-right corner.
On the next menu, you will see all available app updates for you to download and install.
Keeping your iPhone software up-to-date is also recommended to ensure optimum performance and system stability.
To manually check for, download and install new iOS updates on an iPhone 13, just follow these steps:
To get started, tap Settings to launch the Settings menu.
Tap General.
Then, tap Software update.
If you see a new update notification, tap Download and Install.
Enter your passcode if prompted and then tap Install Now.
Follow the onscreen instructions to finish updating and then reboot your iPhone when the update is complete.
After rebooting, your iPhone should already be running on the latest iOS version.
Solution #4: Offload unused apps.
Offloading unused apps is an iOS feature that automatically deletes apps that have been left inactive or unused on your device for a certain period.
Triggering this command will likewise free up some storage space occupied by the unused applications. As a result, performance issues tied to low memory will also be resolved.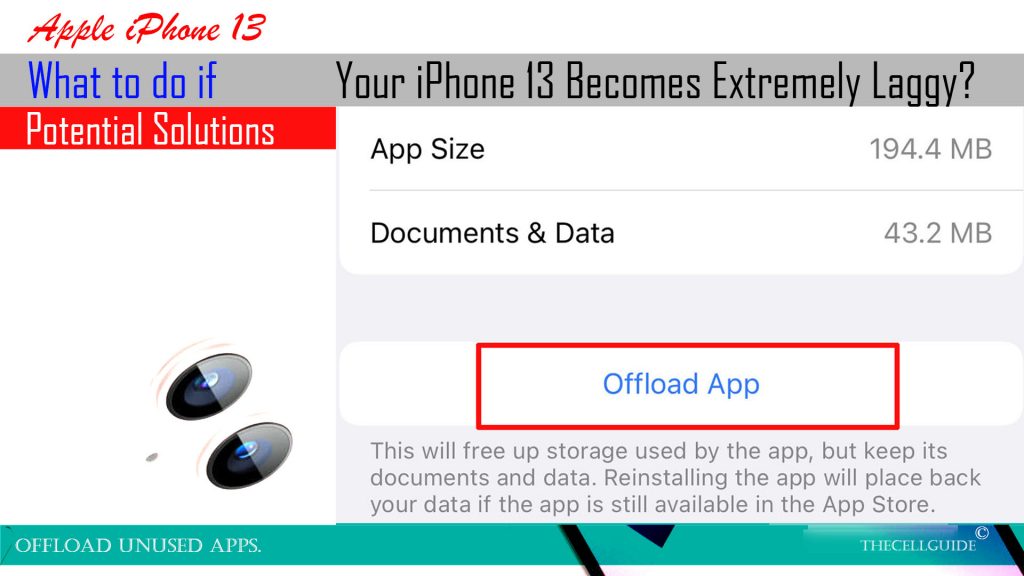 Offloading does not delete any data of the app so you can easily retrieve everything once the app is reinstalled.
To enable automatic offloading of unused apps on your iPhone 13, just follow these steps:
Go to the Home screen and then tap Settings to launch the Settings app.
Tap App Store or iTunes and App Store.
On the succeeding menu, tap to enable or turn on the switch next to Offload Unused Apps.
To manually offload unused app on your iPhone 13, follow these steps:
Open the Settings app by tapping on the Settings icon from Home.
On the succeeding menu, tap General.
Then, tap iPhone Storage.
Tap to select the app that you'd like to offload then tap the command to Offload App.
If prompted, enter your passcode and tap Offload App again to confirm.
After offloading unused apps, reboot your iPhone to clear system cache and to refresh system services.
Solution #5: Reset all settings on your iPhone 13.
The next potential solution you can try on if lagging continues is an iOS reset called reset all settings. This reset works by deleting all current settings including custom networks, wifi settings, wifi network, app restrictions, permissions and privileges.
After the reset, default system settings and values are restored. Any problems tied to settings conflicts will likewise be addressed.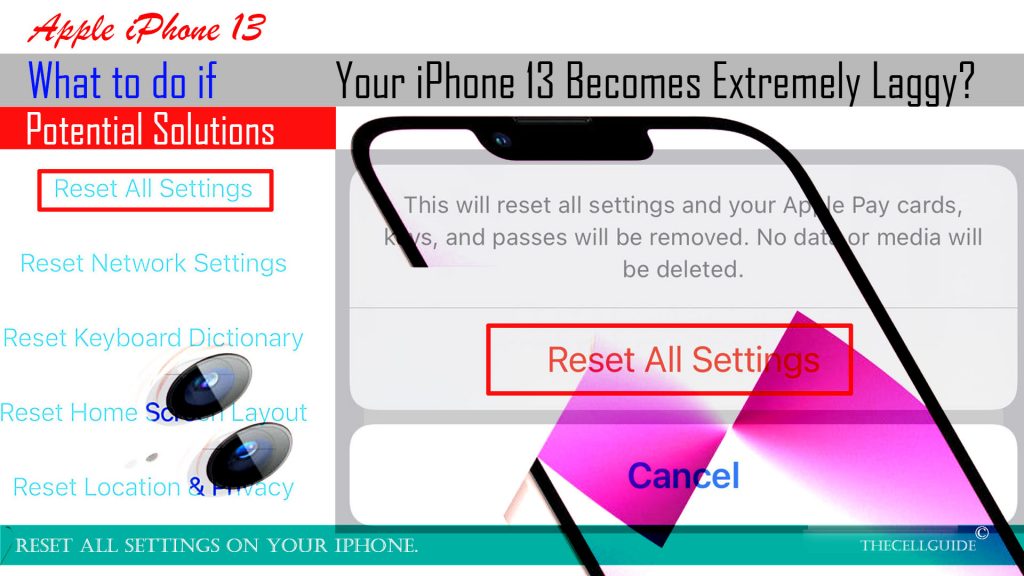 Unlike a factory reset, this settings reset does not affect any saved data from the internal memory so you won't lose important files and downloads.
Just follow these steps:
Go to your Home screen and then open the Settings app.
Scroll to and tap General.
Tap Transfer or Reset iPhone to proceed.
Then tap on Reset.
On the succeeding menu, tap Reset all settings from the given options.
Enter your device passcode if prompted.
Tap the option to confirm all system settings reset on your iPhone.
Wait for your iPhone to finish resetting and then reboot automatically.
After rebooting, all default options and values are restored.
To use necessary features particularly the ones that are disabled by default, you will need to re-enable them individually.
Solution #6: Restore factory defaults ( factory reset).
A factory reset is often deemed among the last options when dealing with recurring system issues in iOS devices.
This reset deletes everything from the iPhone system including downloaded apps, customized settings, saved files and other user data.
Stubborn bugs and malware are likewise obliterated.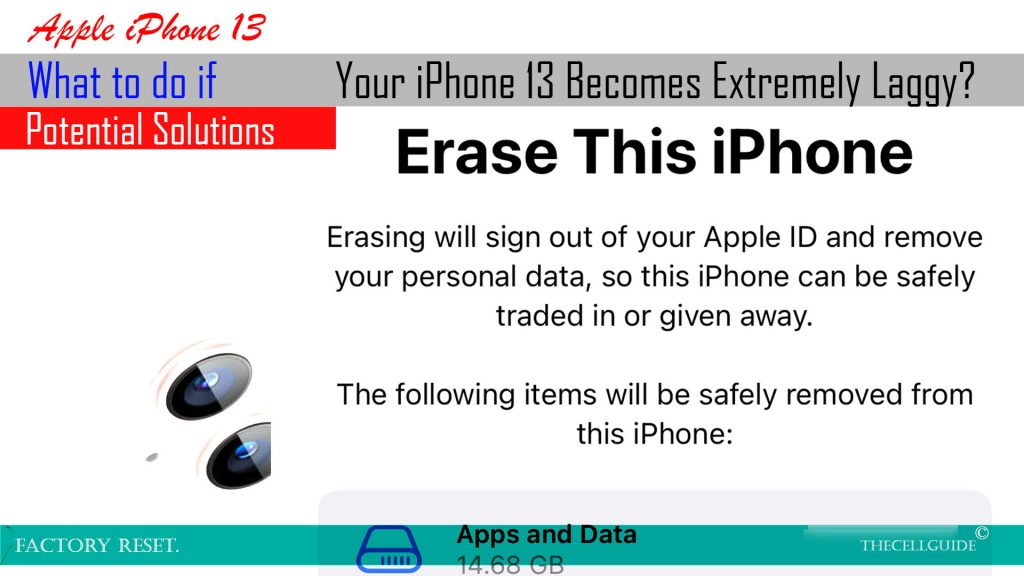 Before you proceed, be sure to back up all important data from your iPhone to your iCloud storage or iTunes.
Once you've got everything set, you can proceed with a factory reset through the settings menu with these steps:
Go to your Home screen and then open the Settings app.
Scroll to and tap General.
Tap Transfer or Reset iPhone to proceed.
Tap Reset and then select Erase all Content and Settings option.
If prompted, confirm that you'd like to erase your device.
Wait for the phone to finish resetting and then restore all default values and options.
After the reset, you can proceed with the initial setup process and set up everything on your device as new.
You can also use iTunes to restore your iPhone 13 on a computer. This can be regarded as an alternative solution if your iPhone lags and eventually stops responding.
Is your iPhone still lagging?
Major system issues including those that cause system lags are often resolved after performing a factory reset.
If your iPhone 13 remains extremely slow after performing the above solutions, it could be due to some fatal system errors. In these cases, performing more advanced procedures is necessary.
Should you wish to troubleshoot further, your next options would be a recovery mode restore and DFU mode restore. These restore methods are often regarded as the last resort when dealing with major iOS problems including those inflicted to some stubborn bugs and malware. Should you wish to proceed and carry out either of the said iOS restore methods, you will need to use iTunes on a Mac or Windows computer.
iOS Repair Tools
Some system errors may be just too complex for iTunes to handle. As an alternative solution, you may resort to some third-party iOS repair and recovery tools. These tools are purposely designed to deal with major iOS errors resulting in an iPhone being stuck on a black screen, white Apple logo and other performance issues such as system crashes, freezes and lags.
Just download and install your preferred tool on a compatible computer and once you've got it set up, connect your iPhone to the computer via USB/lightning cable, launch the tool and start diagnosing and repairing your iPhone using the built-in commands.
Repair Options
If all else fails and your iPhone 13 is still extremely laggy, then you should now consider taking it to a service center. Your device might have obtained some sort of physical or liquid damage from a previous liquid exposure or accidental drop. Should this be the case, hardware repair would be necessary.
Also, don't forget to avail of warranty if your iPhone is still covered. Just contact your carrier or Apple Support for further recommendations about availing warranties.
Hope this helps!
Please check out our YouTube channel to view more tutorial and troubleshooting videos for popular iOS and Android devices.
You Might Also Want To Read: