This post will help you deal with a post-update performance issue on the iPhone 13 mini following the most recent iOS update rollout. Read on to learn what to do if your Apple iPhone 13 mini keeps lagging after iOS 15.2.1 update.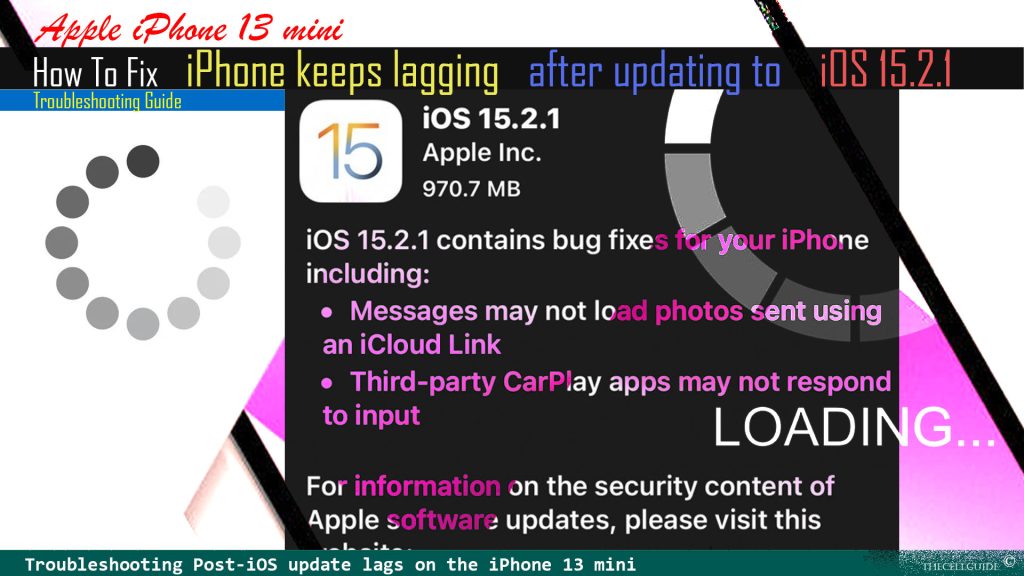 What makes an iPhone lag after updating?
When a new iPhone suddenly slows down from an update, corrupted apps are often the culprits. In older devices, memory-related factors are likely the underlying cause.
There are also a number of cases about post-update lags that are inflicted by some unforeseen software bugs.
Based on prior reports made by many iPhone users, software-related factors are the prime culprits unless hardware damage is already present on the device prior to updating.
If this happens to your iPhone 13 mini following the recent iOS update 15.2.1 rollout, then you can try some means to eliminate software-related culprits.
A few simple yet effective solutions are outlined beneath so you can use it as personal reference.
Troubleshooting Apple iPhone 13 Mini keeps lagging after iOS 15.2.1 update
Before you do any of the following solutions, reboot your iPhone. You can do either a soft reset or forced restart.
Rebooting your iPhone will help eliminate any corrupted software data segment and errant caches inflicted by the recent update and eventually cause your iPhone to slow down.
After rebooting, test your iPhone to gauge performance. If it remains slow, then you may go ahead and rule out other software-related culprits with these subsequent solutions.
Solution #1: Install pending app updates.
Third-party app developers regularly release app updates that contain software enhancements and security patches. This is one of their many ways to keep their apps performing smoothly and stable.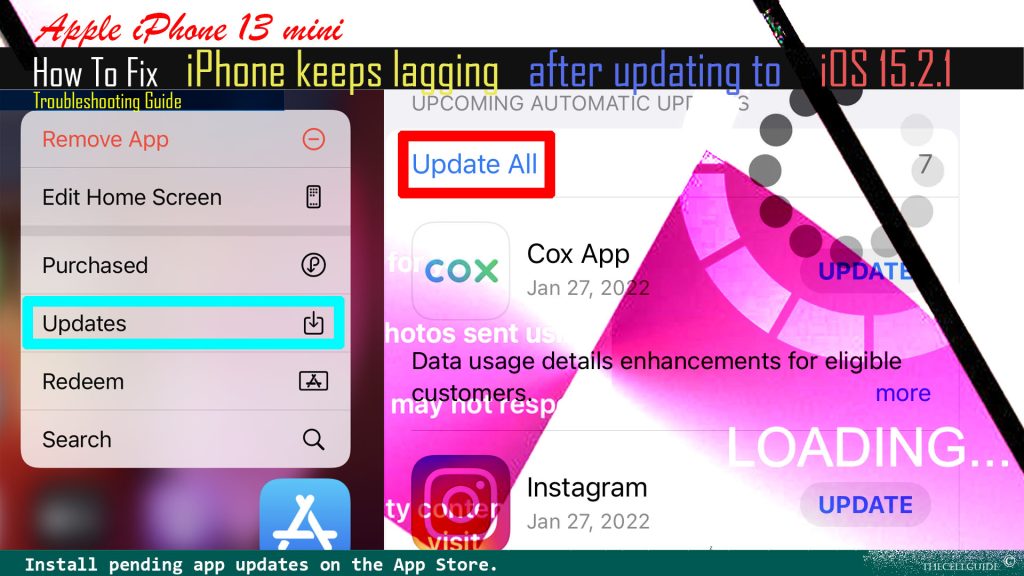 App updates can be installed automatically or manually through the App Store. If you haven't enabled the automatic updating feature on the App Store, then you will need to download and install pending app updates manually.
Before updating, consider checking your iPhone's storage or memory status. Make sure your iPhone has ample storage to allocate the update files. Having a stable internet connection preferably through a Wi-Fi network is also needed.
To manually install pending updates for your iPhone apps, simply refer to these steps:
Navigate to your iPhone's Home screen or App library and then touch and hold on the App Store icon for a few seconds until the quick menu appears.
Tap Updates from the quick menu options to update individual apps or tap Update All to update multiple apps simultaneously.
After updating apps, reboot/soft reset your iPhone to save and apply the recent software changes. It's also needed to clear out system cache including any erratic residual files.
Solution #2: Offload unused apps (manually/automatically).
If the iPhone lags only when using a certain app, then it's more likely an isolated issue with that app. This is often the case if a particular app gets corrupted or fails to meet the updated system requirements. In this case, updating or manually offloading the problematic app will likely solve the problem.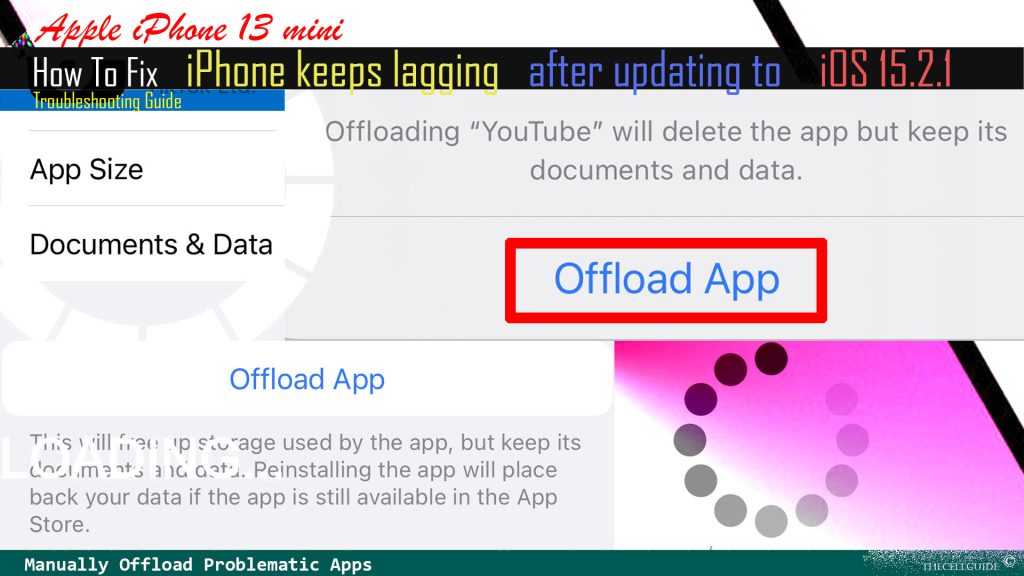 To manually offload an app on the iPhone 13 mini, just refer to these steps:
Open the Settings app.
Scroll to find and then tap General.
On the next menu, tap iPhone Storage.
Then find and select the problematic app that you'd like to offload manually.
On the App info screen, tap Offload App.
Read the pop-up warning message and then tap Offload App again to confirm.
The app will then be offloaded and the Offload App option is replaced with Reinstall App.
If there's no update available for that app and manually offloading doesn't solve the problem, then uninstalling and reinstalling it might help.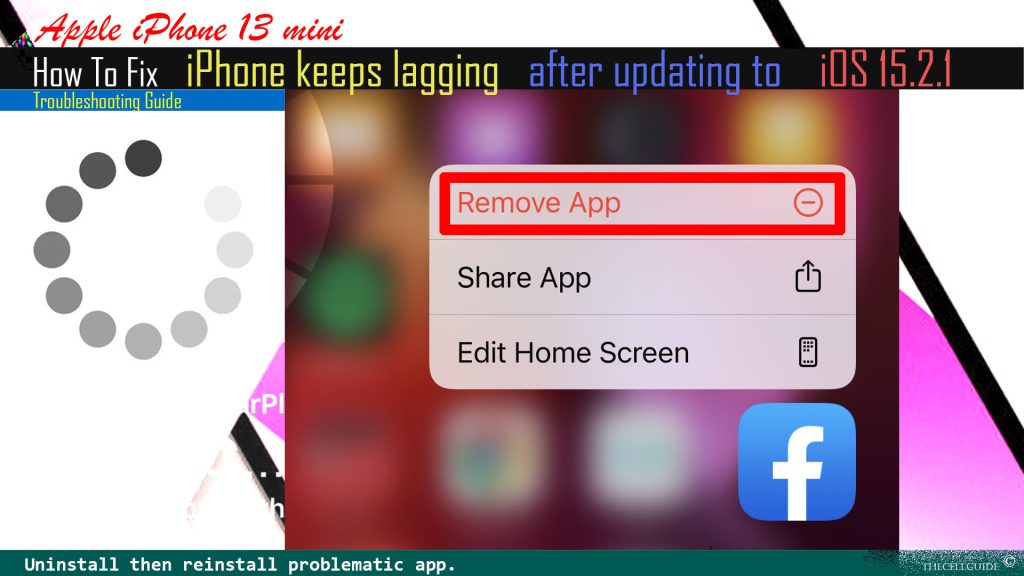 To uninstall an app in iOS 15.2.1, just follow these steps:
Go to the Home screen and then touch and hold the app icon until the quick menu appears.
Tap Remove App from the quick menu options.
Finally, tap Delete App to remove or uninstall the app from your iPhone.
After uninstalling the app, restart your iPhone to clear system cache and to refresh the internal memory. As soon as the phone boots up and gets back online, launch the App Store and then find the app to reinstall. The latest version of that app will then be downloaded and installed on your iPhone.
Solution #3: Optimize your iPhone storage.
As mentioned earlier, memory-related issues are also among other factors to consider ruling out when dealing with performance problems in mobile devices. That said, go ahead and check the current status of your iPhone's internal memory and ensure that the available storage space is not less than 2 gigabytes.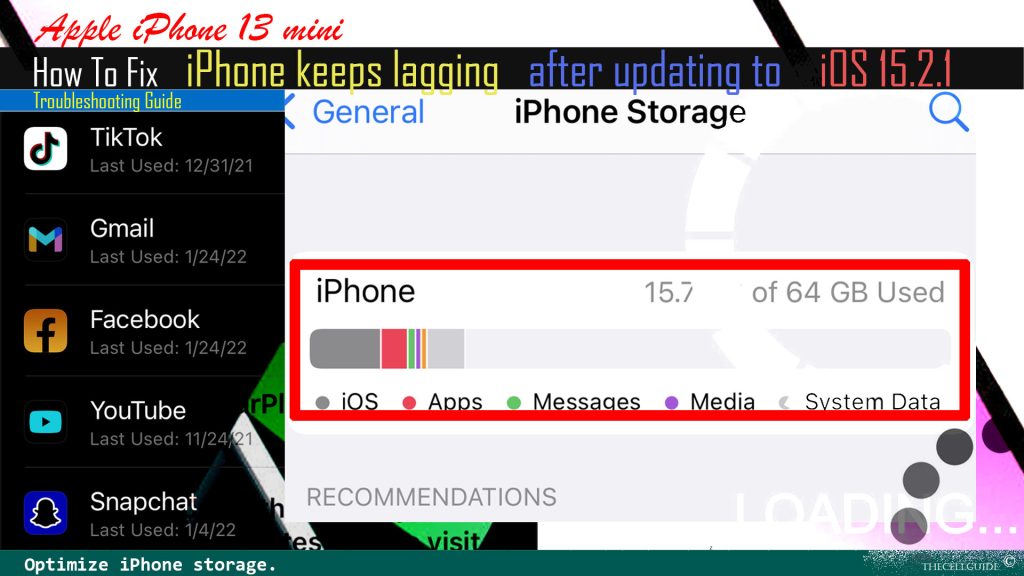 To access and manage your iPhone storage, just follow these steps:
Open the Settings app.
Tap General.
On the next menu, tap iPhone Storage.
Wait for the storage details to populate the next screen.
The available and used storage details are shown on the upper-right corner.
More options to optimize iPhone storage
Following the given recommendations can also help optimize your iPhone storage. Among the available options and features you can enable Auto-delete old conversations as it will let you save over 5 gigabytes of storage when all your old messages and attachments are automatically removed.
There is also an option for you to Offload Unused apps automatically. Enabling this feature will help you save almost 2 gigabytes of your iPhone storage. To activate offload unused apps in iOS 15.2.1, just follow these steps:
Open the Settings app.
Find and then tap App Store.
On the App Store settings menu, scroll down and then toggle to turn on the switch next to Offload Unused Apps.
Activating the automatic offload app feature is highly recommended when your iPHone is already running low on storage. All documents and data for the offloaded apps will be saved and so you can easily retrieve them once you redownload those apps.
If necessary, you can just delete old and unwanted contents including apps that are no longer needed, messages, photos, videos, documents and other unused files. You can also move some of your important data to your iCloud storage or to a computer drive via iTunes.
Solution #4: Reset all settings.
Some updates override the device's settings automatically. While this may not be a problem to other devices, some iPhone owners might have reconfigured their device's settings to make their phone work according to their preferences. If the recent update overrides those settings, it's possible for conflicts to arise. And when this happens, various symptoms can likewise be triggered.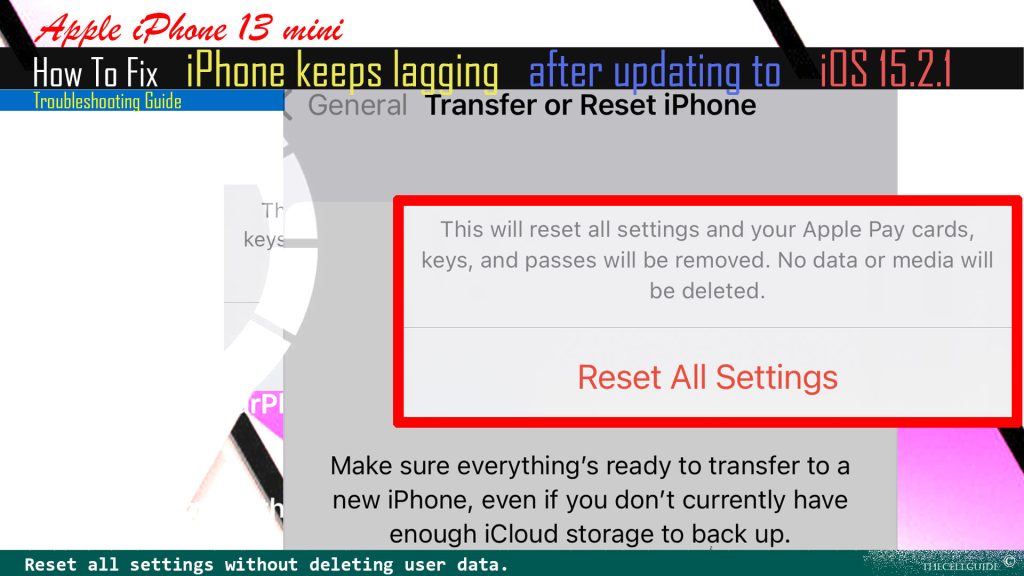 To clear this out, you can reset all settings on your iPhone to restore the default or original settings and values for your apps and system services.
Unlike a factory reset, this reset does not affect any user data so you won't lose any important files from your iPhone storage.
Just follow these steps if you wish to proceed with this reset:
Go to your Home screen and then open the Settings app.
Scroll to and tap General.
Tap Transfer or Reset iPhone to proceed.
Then tap on Reset.
On the succeeding menu, tap Reset all settings from the given options.
Enter your device passcode if prompted and then tap Reset settings to confirm.
Wait for your iPhone to finish resetting. Once it's finished, it reboots automatically and then loads up the default values and options.
This means the need for you to re-enable necessary features, particularly those that are disabled by default. You will also need to set a default app to process specific files types and data protocols.
Solution #5: Factory reset (erase all content and settings).
A factory reset is often deemed among the last options when dealing with complex system issues including those inflicted by a software update. This is often needed if the recent update tends to ruin the iPhone's normal system function.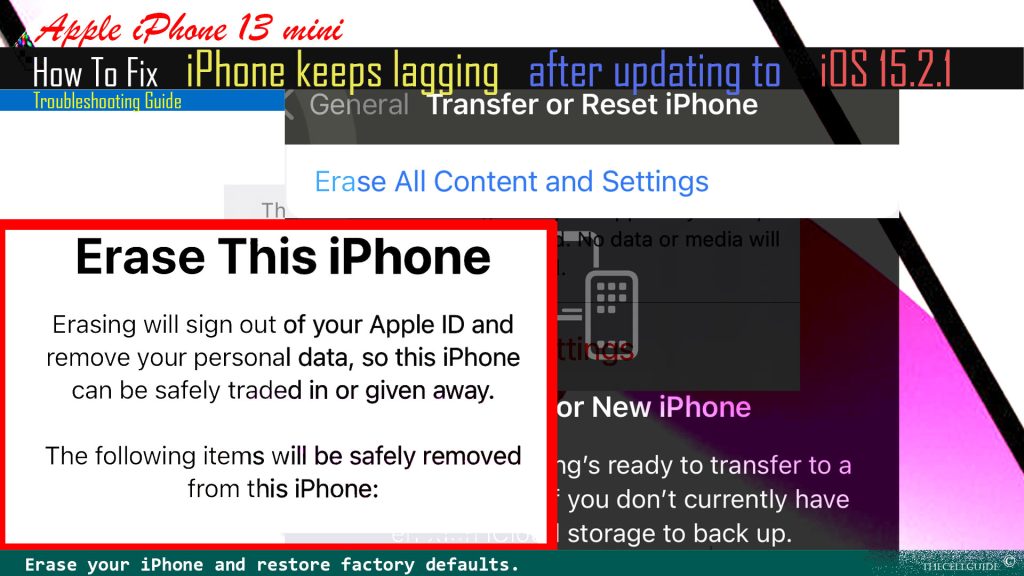 Performing a factory reset can also help eliminate stubborn software bugs and malware including those that caused your iPhone to slow down. But the main downside is that this reset wipes everything from your device including your downloaded apps, custom settings, saved contacts and other files.
That said, be sure to back up all your important data beforehand. Once you've secured everything, you can go for a factory reset straight from your iPhone settings.
Just follow these steps:
Open the Settings app.
Tap General.
Scroll down to the bottom of the screen and then tap Transfer or Reset iPhone.
On the next menu, tap Erase All Content and Settings.
Read the reset details on the next screen and then tap Continue.
If prompted, enter your device passcode and follow the rest of the onscreen instructions to reset your iPhone.
After the reset, everything will be deleted from the iPhone. As soon as the iPhone is finished rebooting, you can proceed with the initial setup and configure your device as new.
Alternatively, you can use iTunes to factory reset your iPhone on a computer. This is often needed if your iPhone is very slow to the point that it's unable to execute input commands.
To get this done, you will need to secure a Windows computer with the latest iTunes app installed or an updated Mac computer running on MacOS Catalina or later version. Then connect your iPhone to the computer using the Apple-supplied lightning cable. Wait for iTunes to recognize your iPhone and once your iPhone is selected, click the Restore iPhone command.
Follow the rest of the onscreen instructions for iTunes to finish restoring your iPhone to its factory state. By then, you can set up everything on your device as new.
Is your iPhone still lagging?
If your iPhone continues to lag even after performing all the aforementioned workarounds, then the problem might be due to a stubborn software bug that requires more advanced solutions.
Should you wish to troubleshoot further, then you may resort to a recovery mode or DFU mode restore.
Both of these methods require the use of iTunes on a Windows PC or Finder on a Mac computer.
Performing a recovery mode restore will put your device in a recovery state and then restore the system using the built-in commands in iTunes. You may then opt to restore your device from a previous iOS backup (if available) or do a clean, fresh iOS install to restore the device to its factory state and set it up as new.
A DFU (Device Firmware Update) mode restore on the other hand, will put your device in a state where it's still able to communicate with iTunes without loading the bootloader. Once the iOS device is in DFU mode, you can restore it from a previous iOS backup or do a fresh install.
Restoring from a previous iOS backup may be regarded as a system downgrade but this may be the only way for your iPhone to return to its usual performance unless Apple rolls out the needed patch.
Contact Apple Support
It doesn't hurt if you would escalate the problem to Apple Support or your carrier so that they will be notified that such a problem occurs after the recent update. Should this be found to be a widespread issue, then Apple must be obliged to develop a new update containing the required bug fixes.
Visiting the nearest Apple Store in your area can also be deemed among the last options so you can have your device checked by an authorized technician.
Hope this helps!
Please check out our YouTube channel to view more tutorial and troubleshooting videos for popular iOS and Android devices.
You Might Also Want To Read: