Smartphones won't be deemed "smart" if they can't execute basic functions like calling and texting. But since network problems are inevitable, facing random issues affecting basic calling and texting functions are likewise bound to happen. Problems like this can affect any device. And the new iPhones are no exception. Highlighted below are simple procedures and workarounds you can use whenever you bump into a similar issue in which your iPhone 11 Pro can't make any phone calls. Read on to find out why such problems occur and how to deal with them.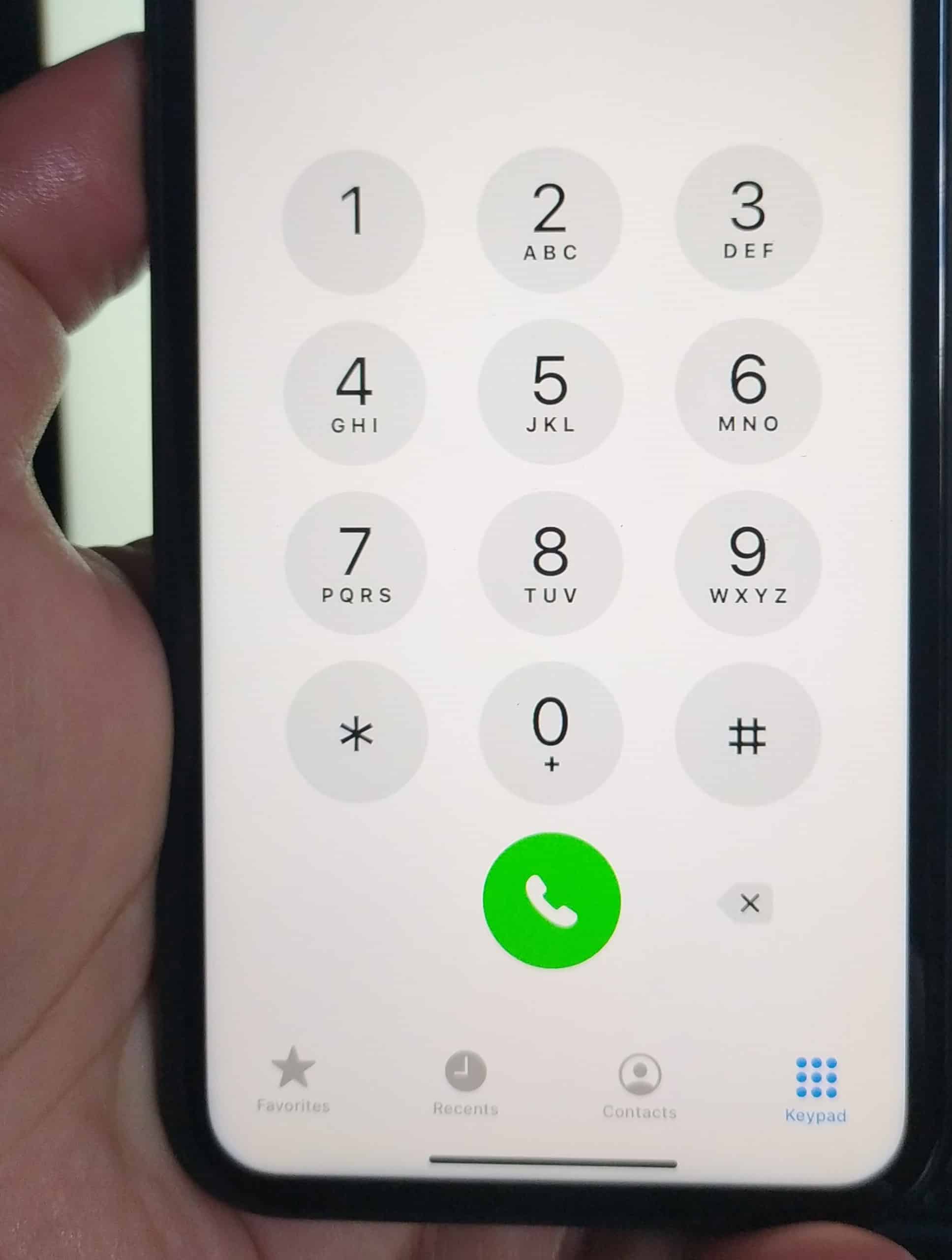 Possible causes
Knowing the root cause of the problem can help speed up troubleshooting. Hence, it's a good thing to start determining the common factors that can cause problems to your phone's outgoing services. Among the factors that you should consider looking into are as follows:
Signal issues. When your iPhone is not getting a stable cellular network signal, there's a higher chance that you can't place any calls. The same thing when the signal it gets is too weak.
Network outages. These are unexpected problems that are usually transpiring on the network base. That said, it can't be resolved on your end.
Account problems. When outgoing services are only the ones that are not working, chances are that your account is placed under a soft disconnect status. If this happens, you won't be able to make phone calls or send SMS and MMS messages but can receive.
Software-related issues. Random software glitches transpiring on the phone might have halted the Phone app and outgoing calls are affected.
SIM card issues. This is when the SIM card got dislodged from the tray or the SIM card system on your iPhone has become corrupted.
There are also some instances wherein the problem is not on your end but rather with the contact or person you are trying to call. The same thing can happen if your phone number is blocklisted by the person you're attempting to reach.
Troubleshooting an iPhone that can't make phone calls
Random calling issues affecting various iPhones are usually tied to minor software flaws. Thus, they can be remedied by end-users at home. The following procedures I demonstrate are recommended tweaks that have done wonders to many iPhone users who have dealt with the same problem on outgoing calls. Feel free to try any of these if you need more troubleshooting inputs.
If everything works fine and then suddenly you can't make phone calls on your iPhone, restart or soft reset the device. That should suffice if you're just dealing with some random system glitch. If that doesn't do any good, then try ruling out other culprits with these subsequent solutions.
First solution: Remove the re-insert the SIM card on  your iPhone 11 Pro.
Reinstalling the SIM card is usually needed if the problem is tied to a corrupted SIM card system, resulting in SIM card reading error and relevant symptoms. So here's what you should do first:
Start by turning your iPhone off.
While your iPhone powered off, gently insert the SIM ejector tool into the small hole on the SIM card tray found on the side of your iPhone. If you don't have the ejector, you can use a small paper clip instead.
Slowly push the ejector tool until the tray ejects.
Remove the SIM card from the tray and check for any possible signs of damage like scratches or dents.
If everything looks good, insert the SIM card back into the tray in the same orientation before your took it out.
Push the SIM tray back into the phone until it locks.
This method is also needed if the problem is due to a loose or dislodged SIM card on the tray.
Once the SIM tray is locked and secured, turn your iPhone back on and wait until cellular network signal is obtained. If the cellular signal bars become stable, launch the phone app then place a test call on your other devices and see if the problem is fixed.
Second solution: Turn Airplane Mode on and off.
Another simple yet effective solution to wireless issues including those affecting cellular services is the Airplane Mode trick. It works by simultaneously restarting and refreshing the phone's wireless features, obliterating any transpiring errors. And here's how it works:
From the Home screen, tap Settings.
Select Airplane Mode.
Toggle the switch next to Airplane Mode to turn on. Doing so simultaneously disables the wireless radios and relevant features of your iPhone.
While Airplane mode is turned on, restart or soft reset your iPhone to dump cache.
After your phone reboots, go back to Settings-> Airplane Mode menu.
Then toggle the Airplane Mode switch to turn the feature OFF again.
Wait for your iPhone to re-establish a stable cellular signal and then try placing a test call to see if it works.
Third solution: Install carrier settings update on your iPhone 11 Pro.
Carrier settings updates are rolled out by carriers to deliver new and enhanced network features and services. Some carrier updates are also intended to offer network patches to fix existing problems affecting network services. If your iPhone can connect to Wi-Fi internet, follow these steps to check for any available carrier settings updates you can download and install:
Tap Settings from your Home screen.
Select General.
Tap About.
Scroll down to the carrier section and see if an update is available. If there is, simply follow the onscreen prompts to implement the update.
Don't forget to reboot your iPhone afterwards. This is imperative to ensure that all recent carrier settings updates are properly implemented.
Fourth solution: Update your iPhone 11 Pro software to the latest version available.
Software updates rolled out by Apple periodically aren't only to cater new features but more importantly to deliver some dedicated fix patches to address widespread issues on iOS devices. To check for available updates, your iPhone must have a stable Wi-Fi internet access, ample battery life and storage space. Once you've met all these criteria, follow these steps to download and install new iOS update available for your iPhone 11 Pro:
From the Home screen, tap on Settings.
Select General.
Then tap Software Update.
A notification will show up if a new iOS version is available for your device. Read and review the software information then tap Download and Install to update your iPhone.
Fifth solution: Reset all settings on your iPhone 11 Pro.
Sometimes, incorrect system settings on the phone can cause conflicts to other built-in system services, including the phone app. To make sure this isn't the root cause of the problem, try to reset all settings on your iPhone 11 Pro with these steps:
From the Home screen, tap Settings.
Select General.
Scroll down to and tap Reset.
Select the option to Reset all settings.
Enter your passcode if prompted to continue.
Then tap Reset all settings again to confirm that you want to reset your iPhone's system settings to defaults.
This reset does not affect any saved information on your iPhone storage, hence it doesn't require backup creation. Rest assured, you won't lose any critical data from your iPhone in the process.
After the reset, you will need to re-enable necessary features, particularly those that are disabled by default to make them ready for reuse.
Last resort: Erase and restore your iPhone 11 Pro to factory defaults.
Symptoms that could not be dealt with by the previous methods usually require more advanced solutions as they're likely caused by complex system errors. If you wish to troubleshoot further, then this is when you would consider performing a factory reset. Doing so will erase everything from your iPhone system including major system flaws and then restores the factory defaults. Just be sure to back up all important files from your iPhone beforehand so you'd still be able to recover them later.
You can back up your iPhone to iCloud or iTunes, as you would prefer. Once you've secured the backup, follow these steps to factory reset your iPhone:
From the Home screen, tap Settings.
Select General.
Scroll down to and tap Reset.
Select the option to Erase all content and settings.
Enter your device's passcode if prompted to continue.
Tap the option to confirm factory reset.
Wait for your iPhone to finish wiping all data and then restarts by itself. After it reboots, you can proceed with the initial setup process to set up and enable necessary functions.
Still can't make phone calls on your iPhone?
Try placing  your SIM card to another phone that supports the same SIM card type (if you have one available). Then try placing a test call on that other phone to see if it works. If you still can't make a phone call on your other phone using the same SIM card, then it must be a SIM card issue. In that case, you'll have to contact your carrier or network service provider to report the issue and if possible, get a new SIM card replacement.
Also consider verifying your account status to make sure that all your outgoing services are active. Should your account be tagged with a soft disconnect status, you'll have to settle whatever account issues there is to deal with your service provider.
For further assistance and more advanced solutions, you can escalate the problem straight to Apple support.
ALSO READ: Dealing with Calling Problems after iOS 13.2.3 on iPhone X