An iPhone XR that won't turn on or can't start up can be fixed by performing a forced restart. If the problem still persists and you don't know what else to do, this post might be able to help you out. Keep reading for more detailed solutions.
Power-related issues are very common to electronic devices and your Apple iPhone XR is no exception. Some users have already been complaining that their units turned off and won't turn back on, in other words, unresponsive no matter what they do. If an iPhone not turning on, it could be a sign of a hardware issue or it could be just a very minor glitch in the system.

In this post, I will guide you in troubleshooting your iPhone XR that switching on. I will share with you a couple of procedures that have been proven effective in fixing this problem provided that your device doesn't have some signs of physical and/or liquid damage. So, continue reading as this article may be able to help you.
Before we move on, however, if you are looking for a solution to a different problem, then make sure to drop in on our iPhone XR Help Guides page for we have already addressed some of the most common issues with this device. We may have already published posts that could help you fix your problem.
Common Reasons why iPhone XR won't turn on
This problem can range from a minor firmware issue to a more serious hardware-related problem, depending on how it occurred. It's your iPhone and you should know first hand what happened to it leading to the occurrence of the problem.
If you dropped your iPhone XR on a hard surface and then this issue occurred, then it means that it's due to a physical damage. The first thing that you may notice immediately is the screen since it's very fragile. If it has cracks, then it is almost certain that the problem is with the display. Your iPhone may still be powering on but it does not display anything on the screen because it's broken. Or, it can also be that another component inside is damaged. Any force that can leave a dent on the outside might also damage some components inside.
Another possibility as to why your iPhone isn't switching on anymore is that there's a problem with some of its apps or even the firmware. For software-related issues, you can actually fix them on your own most of the time without bringing the phone to the Genius Bar. And if it's just due to firmware crash, then the solutions below should be able to help you.
ALSO READ: Fix cellular data that is not working after iOS 13.2 on iPhone XR
How to Fix an iPhone XR that's Not Turning On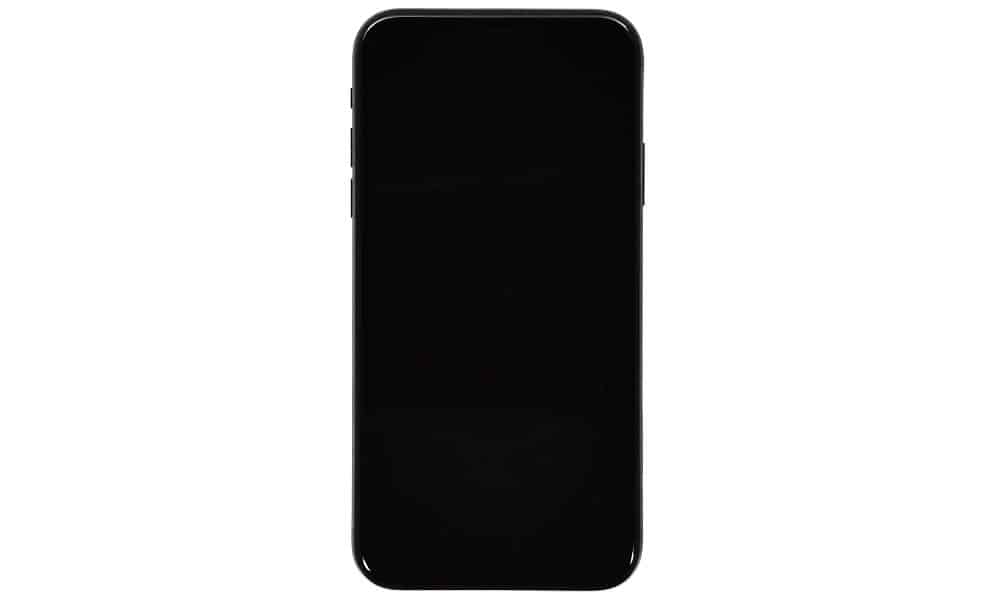 Now, going back to our troubleshooting, here are the things you need to do to fix your iPhone that not turning on.
Force restart your iPhone XR.

Charge iPhone XR and force restart while connected to the charger.

Try connecting phone to iTunes.
Forced Restart your iPhone XR.
Most of the time, as long as the phone hasn't been dropped on a hard surface and incurred physical damage or got submerged in water for too long, this kind of problem is just due to a system crash. A crash may occur from time to time and while there are times when you won't notice a thing when it happens, there are also situations wherein the phone will become unresponsive with a black screen or won't turn on. To rule out this possibility, you have to do this:
Press and quickly release the Volume Up key.

Press and quickly release the Volume Down key.

Press and hold the Side key until you see the Apple logo.
If it doesn't respond to it, try doing the same procedure a couple more times to make sure you're doing it right. But if it continues to be unresponsive and won't turn on, then you it's possible that the battery has been drained and resulted to a crash.
Try charging your iPhone and do the forced restart.
A drained battery is not really that serious of a problem and even the crash but if both issues occur at the same time, you will have a device that won't respond even if it's connected to the charger. Even if that's the case, I want you to connect your iPhone to its charger and do the following:
Plug the original charger to a working wall outlet.

Using the original cord, connect your iPhone XR to its charger.

Regardless whether it turns on or not, leave it connected to the charger for at least 10 minutes.

Now, press and quickly release the Volume Up key.

Press and quickly release the Volume Down key.

Press and hold the Side key until you see the Apple logo.
Basically, we're making sure at this point that your device has a stable power source before doing the forced restart. If it still not responding to this, then another possibility is that the screen is the issue.
The last thing you need to do by yourself before bringing the phone back to the Apple store or have an appointment at the genius bar is to find out if the problem is with the display. It's possible that the display is defective and therefore leaves an impression that it's powered off. By connecting your iPhone to iTunes you would know if it's powered on or not. But regardless whether it's on or not, you should have a tech take a look at it. The most important thing if you found that that it's powered on is that you can make a backup of your device so you could restore it once it's fixed.
ALSO READ: How to fix imessage that is not working after iOS 13.2 iPhone XR
Still having trouble turning on your iPhone XR?
If you were able to fix your device but the problem occurs from time to time, then it's a sign of a rather minor firmware issue that may be causing some inconsistencies in your iPhone's normal operation. For that, you have to reset it to give your device a fresh start. But before the reset, make sure to create a copy of your important files and data, then follow these steps to reset it:
From the Home screen, tap Settings. 

Find and tap General. 

Scroll down to the bottom of the screen, and then touch Reset. 

Tap Erase All Contents and Settings. 

Tap Erase Now. 

If prompted, enter your security lock. 

Tap Erase iPhone at the bottom of the screen.  

Tap Erase iPhone again to proceed with the reset.  

Now enter your Apple ID's password and wait until the reset is complete.
Once the reset is complete, set up your iPhone XR as a new.
I hope that we've been able to help you fix your iPhone XR that won't turn on. We would appreciate it if you helped us spread the word so please share this post if you found it helpful. 
Connect With Us
We are committed to helping our readers fix the problems with their phones as well as learn how to properly use their devices. If you have other issues, you may visit our Help Guide page so you can check by yourself the articles we've already published that contain solutions to common problems. Also, we do create videos to demonstrate how things are done on your phone. Visit our YouTube Channel and please subscribe to it. Thanks.