This post highlights potential solutions to a Wi-Fi issue on the Galaxy S21. Read on to learn what to do if your Samsung Galaxy S21 won't connect to Wi-Fi network.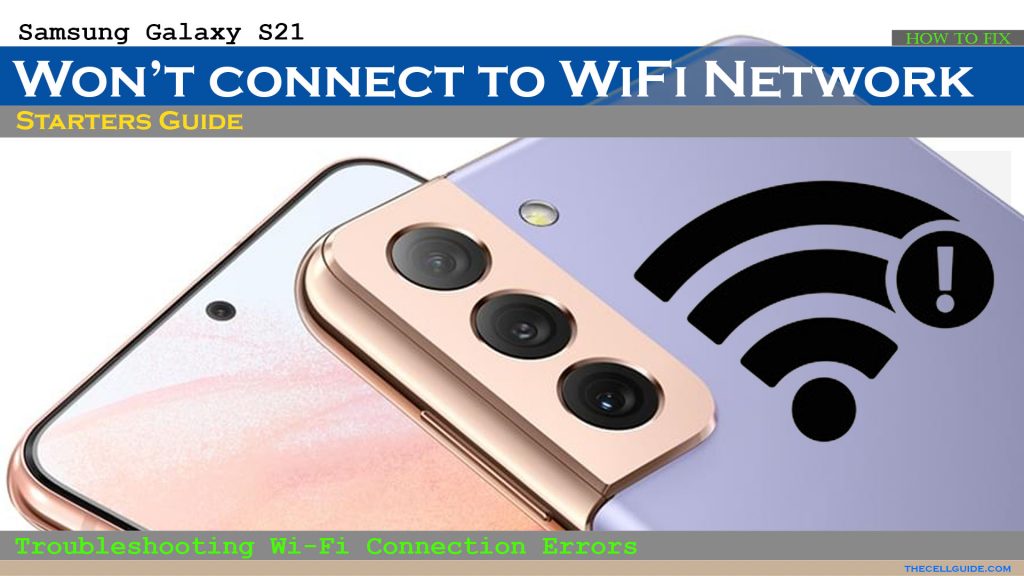 Normally, your phone will automatically connect to a Wi-Fi internet for as long as the Wi-Fi network is already set up and auto-connect is enabled for that network. However, there are many factors that can halt the auto-connect process and you'll just realize that something is awry because your phone has no Wi-Fi internet connection.
Possible Causes
Wireless connectivity issues in mobile devices are inevitable given the fact that there can be a lot of culprits including environmental factors and network server outages.
But in most cases, network problems transpiring randomly are tied to software glitches including buggy updates, errant apps, settings conflicts and the like.
In worst case scenarios, recurring network issues could be directly attributed to a problematic hardware like a damaged network component.
To eliminate software-related factors that might have halted your Galaxy S21 from connecting to the Wi-Fi network as intended, performing some workarounds can help. To give you some input, I've mapped out some of the most effective solutions below.
Troubleshooting problem on Samsung Galaxy S21 won't connect to Wi-Fi network
The following methods will help eliminate common software-related factors that cause Wi-Fi connectivity issues among modern Android smartphones, particularly the Galaxy S21 series. Try these tweaks before setting up a technician appointment or taking a trip to a service center.
Solution #1: Reboot the modem.
Internet service provider's technical support usually recommended a modem reboot among the very first solutions to internet connectivity issues affecting a wireless setup. This method is also referred to as modem power cycle.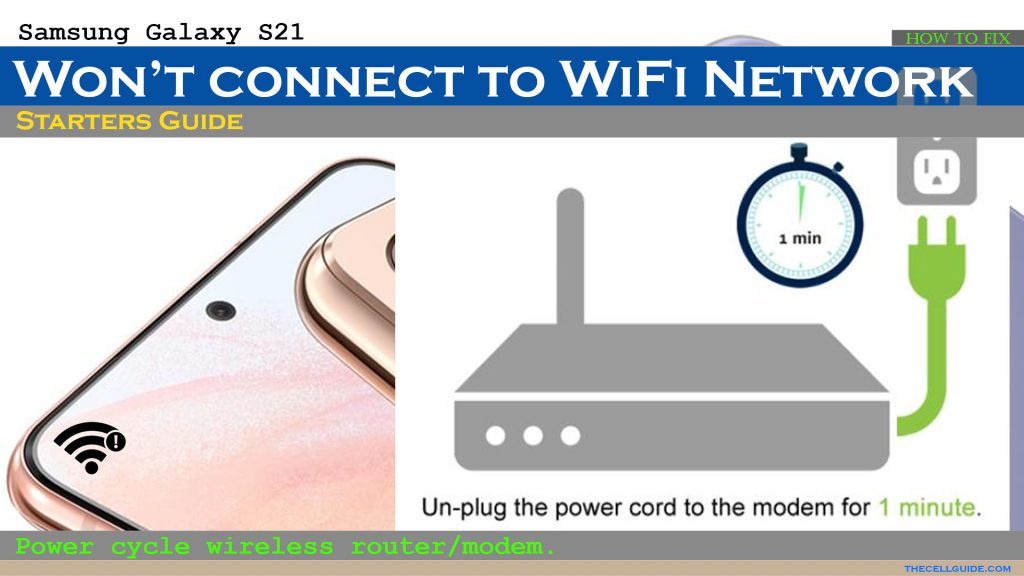 Just like other electronic devices, modems and routers also experience random firmware crashes. When this happens, various types of problems can occur to the internet connection and internet-based applications.
And it turns out that rebooting the modem or wireless router is the simplest and most effective solution to these problems.
So, if you can access the modem or wireless router right now, try power-cycling it first.
Here's how it's done:
Turn off the modem/wireless router as you normally do. It's usually done by pressing the Power key for a few seconds until the device shuts down.
While it's powered off, unplug its AC adapter from the power source and keep it unplugged for about 30 seconds to 1 minute.
After the elapsed time, plug it back in then turn it back on. The modem/router should then be refreshed.
Just wait for all the modem light indicators to become stable and your iPhone should re-establish Wi-Fi network reception.
If your phone does not auto-connect to Wi-Fi, then you should connect it manually instead.
Solution #2: Reboot the phone (soft reset).
Aside from a modem reboot, performing a soft reset or rebooting the phone can also help rectify wireless network issues that are triggered by random software bugs and glitches.
Restarting the phone also clears out any temporary files that are stored as system cache including corrupted residual data that might have ruined the phone's wireless network system.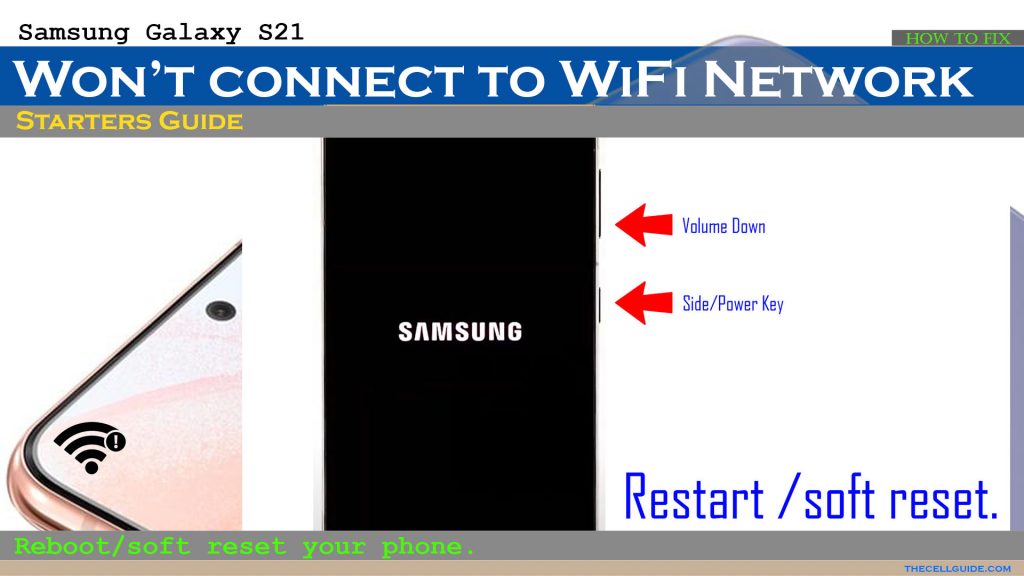 This process does not affect user data so you won't lose any important files. Just follow these steps if you haven't already:
Step 1: Simultaneously press and hold the Volume Down button and Side/Power key for a few seconds.
Step 2: Release both keys when the power options appear.
Step 3: To instigate a system reboot, tap on the Restart icon.
Wait for your phone to execute the normal reboot sequence and then load up to the Home screen.
Give it a few more seconds to re-establish wireless signals and then retry connecting to the Wi-Fi network to see if it works.
Solution #3: Disconnect then reconnect Wi-Fi.
The problem may continue if the current Wi-Fi connection is glitching. To rectify random Wi-Fi glitches, optimizing the phone's wireless internet functions by turning Wi-Fi off and on can help.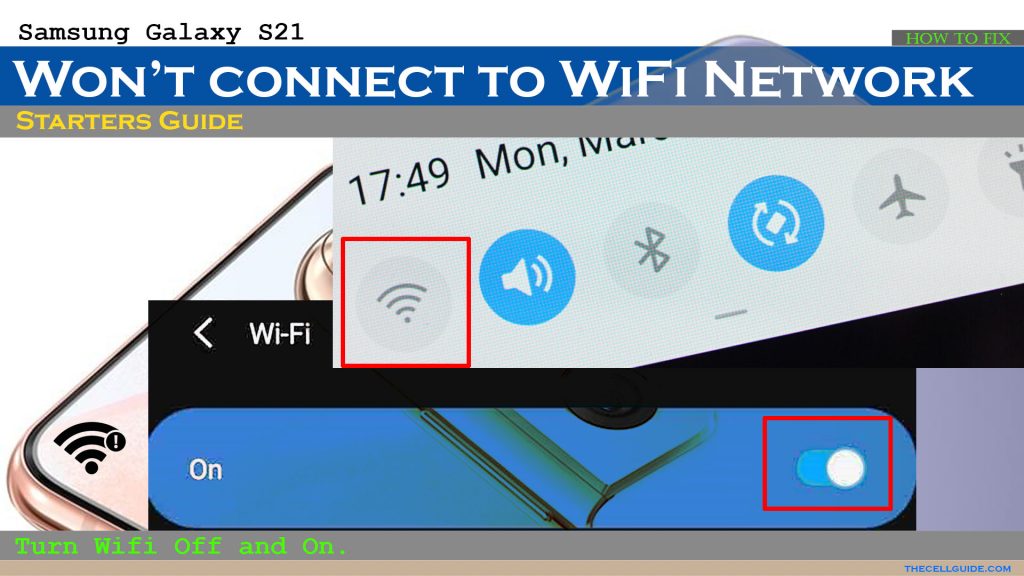 To do this, go to Settings-> Wi-Fi menu and then toggle the Wi-Fi switch to turn the feature off and on again.
Once the Wi-Fi network shows up on the list of available networks, retry joining and see if you can now connect. Also be sure to enter the correct network password.
Another effective solution to wireless connectivity issues on a smartphone is the so-called Airplane mode tweak. It works by giving a simultaneous restart and refresh to all wireless features on the phone.
Here's how it's done on the Galaxy S21:
Tap the Settings icon from the Home screen to launch the Settings app.
Next, tap Connections.
Then, toggle to turn the Airplane mode switch ON. All wireless features are then disabled simultaneously. This means you'll be disconnected from Wi-Fi and cellular data networks.
While Airplane mode is enabled, restart the phone.
As soon as it's finished rebooting, turn Airplane mode OFF again.
Wait for the phone to re-establish wireless signal and then retry connecting to your Wi-Fi network to see if it goes through this time.
Solution #4: Forget then re-add the Wi-Fi network.
For wireless internet problems attributed to a corrupted Wi-Fi network, deleting and re-adding the problematic WiFi network will potentially fix them. To do this, you will need to trigger an integrated Forget Wi-Fi command on your Galaxy S21.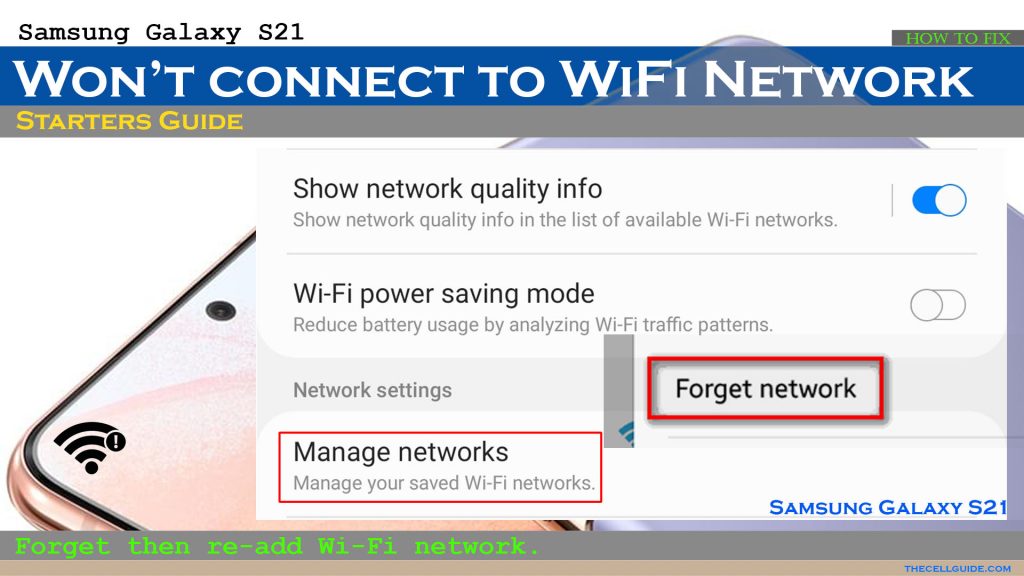 Here's how it's done:
Go to Settings.
Tap Wi-Fi.
On the Wi-Fi menu, tap the triple-dot icon (menu icon) on the upper-rightmost corner of the screen then tap Advanced.
Navigate to the Network settings section and then tap Manage networks.
On the succeeding window, tap to select the Wi-Fi network(s) that you want to forget.
After selecting the Wi-Fi network(s), tap Forget or Delete network at the bottom.
Enabling the option to delete suspicious networks is also recommended to prevent your device from connecting to random networks it detects.
After forgetting the network, restart your phone and then go to Settings-> Wi-Fi menu to set it up your Wi-Fi network as new.
Solution #5: Reset network settings.
Recurring internet issues including Wi-Fi drops and connection errors are often resolved by a network reset. This reset is usually regarded among the last options to deal with persistent network problems particularly those that are software-related.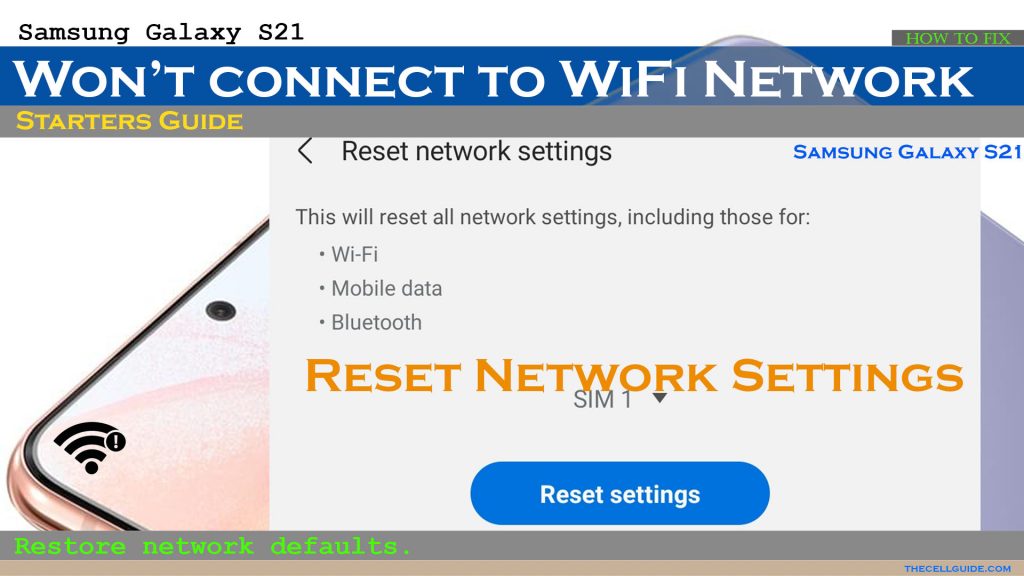 A network reset works by deleting all current network settings including saved Wi-Fi networks, Bluetooth connections, VPNs, APNs, and other relevant information. Any errors tied to invalid/incorrect network settings therefore be addressed.
This reset does not affect any saved information on the phone storage so you won't lose any critical data in the process.
Here's how to reset network settings on the Galaxy S21:
Tap Settings from the Home screen to launch the Settings app.
From the Settings app main screen, scroll down and tap General management.
On the next menu, tap Reset.
Then, tap Reset network settings from the given options.
Read the following information then tap Reset settings.
If prompted, enter your device PIN, pattern or password and then tap Reset settings to confirm.
The phone will then start carrying out a network settings reset and then reboots when finished. After it reboots, all network defaults are restored.
In order to reconnect to the internet, you will need to set up your Wi-Fi network and join like the first time.
Still cannot connect to the Wi-Fi network?
If your Galaxy S21 is still unable to connect to the Wi-Fi network and you've managed to set up multiple networks on your device, you can try switching to other Wi-Fi networks and see what happens. Doing so will help you determine whether or not the problem is isolated to the current network you're using.
Alternatively, you can try connecting to the internet via mobile data if you've got some extra credits to use.
If you can connect to the internet through other Wi-Fi networks or cellular data, then that's a clear indication that the current network is at fault. Perhaps, that network has been totally corrupted and therefore needs to be set up as new.
Seek More Help
Common wireless connectivity issues that are attributed to random software glitches or network errors are typically resolved with any of the aforementioned solutions unless the underlying cause is elusive. In cases like this, soliciting further assistance would be necessary. So here are your next options to consider.
Contact your Internet service provider
Perhaps your Wi-Fi network is currently affected by an outage or the main server is currently experiencing some technical difficulties. You can contact your internet service provider's technical hotline to verify this information and likewise to escalate the problem for further assistance and recommendations.
If you see some red indicator on your wireless modem/router, you can ask them to run some line test and/or re-provision the modem from their end.
Contact Samsung Support
For more advanced solutions to Wi-Fi connectivity issues on your Samsung Galaxy S21, you can contact Samsung Support. This is typically recommended if the problem started after installing a new update on your phone.
Repair Options
If the problem started after you accidentally dropped your phone or got it wet and it persists after performing all the applicable solutions, there's a higher chance that you're dealing with a hardware-related internet issue. Perhaps certain network-related components on the phone have obtained some physical or liquid damage from the previous incidents. Should this be the case, repair would be necessary.
You can take a trip to the nearest Samsung-authorized service center in your area and ask a technician to diagnose your phone for possible hardware damage indications.
Hope this helps!
Please check out our YouTube channel to view more tutorial and troubleshooting videos for popular iOS and Android devices.
You Might Also Want To Read: