In general, individual contact card is composed of the name of the person, the contact number, email address, home address, etc. And it can be a mess if you will have multiple entries for the same person. To rule this out, we can simply scroll through the contact lists to find duplicate iPhone contacts. Afterwards, we can delete or merge the entries to bring your iPhone contacts back in order.
In this post, we will teach you how to clutter your iPhone contacts manually. If your contact list isn't that much, doing it manually wouldn't take so much of your time. Check out the steps we have mapped out below.
How to Find Duplicate iPhone Contacts
When you scroll through your phone's contact list, duplicate contacts can be easily noticed as it shows double name entry for the same person. But if you haven't done this before, check out the steps below.
Time Needed : 10 minutes
From Home, tap the Phone icon.

This is the green telephone icon located on the lower-left corner of the screen.



Then tap Contacts.

This field is where your contacts are saved.



Scroll through your contact list to find duplicate iPhone contacts.

The duplicate contacts can be easily identified as the name will appear in order. You can scroll up and down to find the duplicate contacts.





Once you've already found the duplicate contacts, it is now for you to decide whether to delete the contacts or merge them. If you wish to keep both contact details, you can merge them using the steps provided below.
How To Merge Duplicate Contacts
1. You can get rid of the iPhone duplicate contacts by merging them. Here is how:Scroll to the duplicate contacts and tap one of the contacts that you will merge.
2. Tap Edit option located at the top-right corner of the screen.
3. Scroll down to the bottom and tap 'link contacts' option.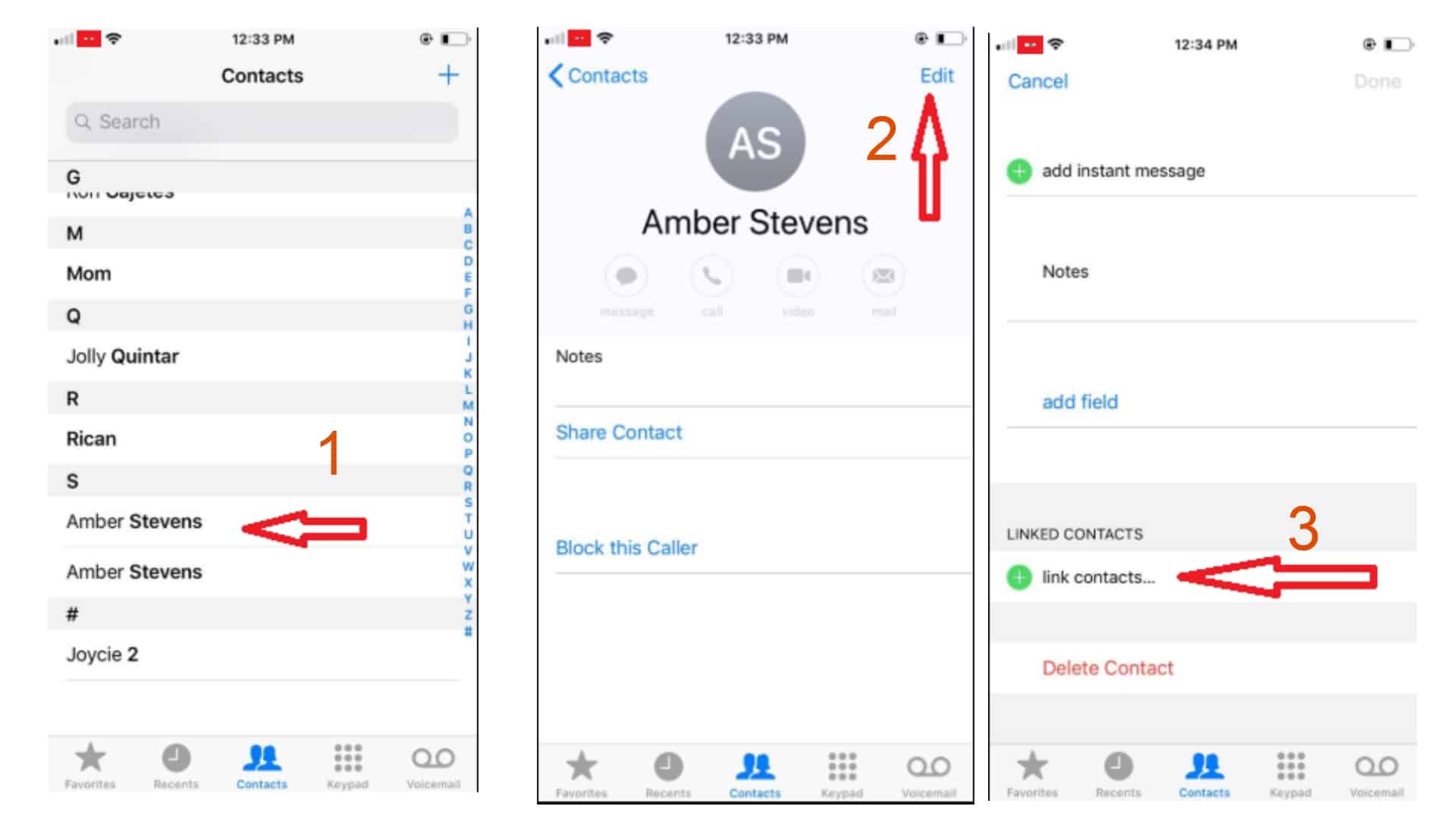 4. You will then be routed back to the contact list. Tap the name of the contact you want to merge with the currently edited contact.
5. Doing so will open the selected contact's card. Then tap the Link option on the top-right corner of the screen.
6. Select Done to confirm.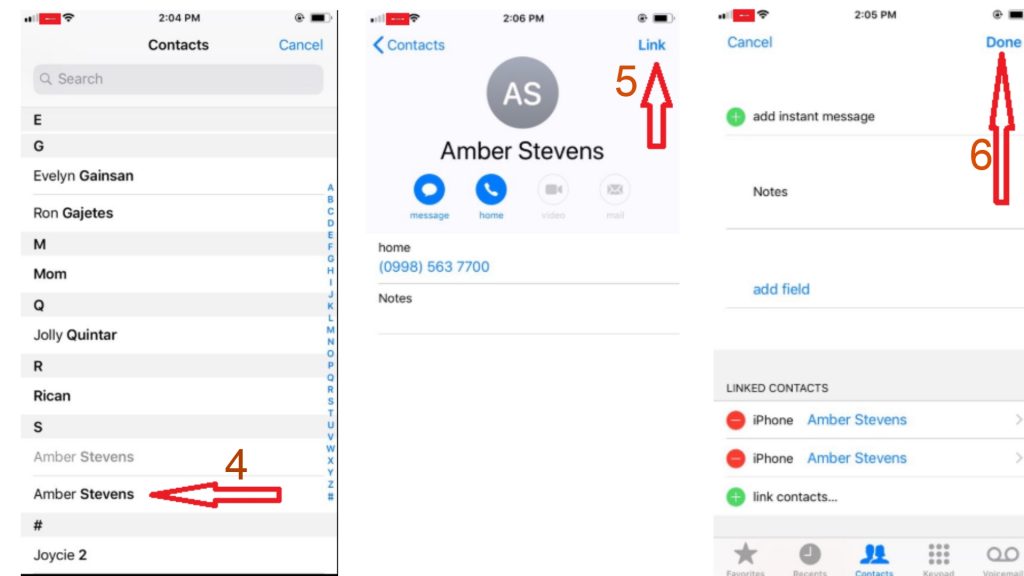 However, if the entries on the duplicate contacts are the same, you may just delete the other contact instead. Scroll down to see how.
How To Delete Duplicate Contacts
Shown below are the steps to delete duplicate iPhone contacts with redundant entries. Tap the Phone icon from Home, select Contact and choose the contact that you want to delete. Then follow these steps:
1. Tap Edit option located at the top-right corner of the screen.
2. Scroll down to and select Delete Contact option.
3. Tap Delete Contact to confirm.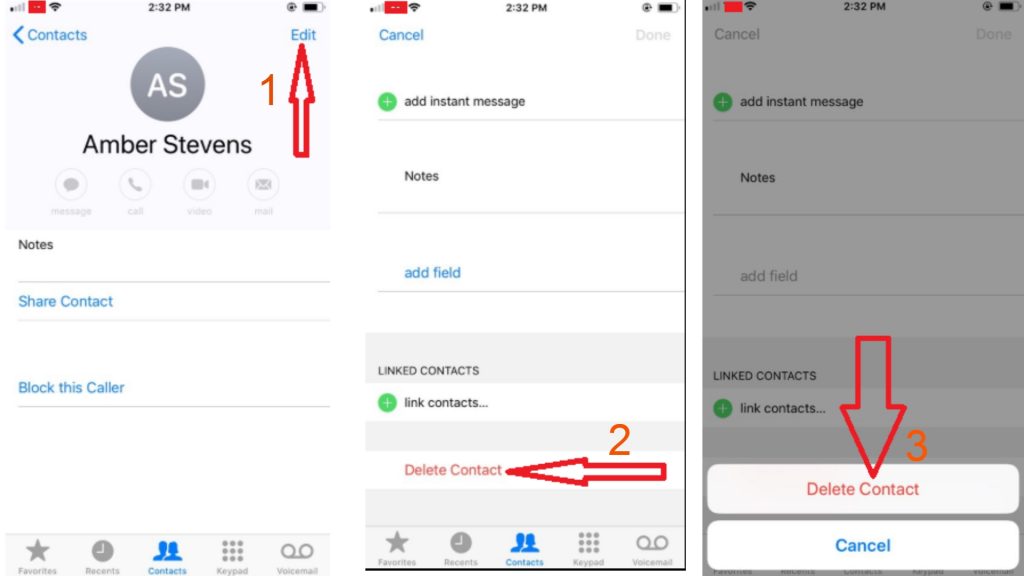 And these are the easy easy ways to find , delete, and merge duplicate entries on your iPhone contacts.
Meanwhile, if you have hundreds of saved contacts on your iPhone device, finding, deleting, and merging duplicate iPhone contacts manually is definitely exhausting. To address this problem, you can check out various third-party apps that can help you find, delete, or merge duplicate iPhone contacts.
Other Options
Smart Cleaner- Clean Storage, Contact+, Delete Contacts+, Cleanup Duplicate Contacts, Circle Back-Update Contacts, and Contact Clean Up are some of the best iPhone apps to remove duplicate contacts and can be downloaded from the App Store for free.
And there you go. I hope that this post had helped you one way or another. For more tutorial videos and troubleshooting guides for smartphones, feel free to visit our YouTube channel. Thank you for reading!