This post will walk you through performing a factory data reset and restore system defaults on the new Samsung Galaxy Z Flip device. Here's a quick guide to factory reset a Samsung Galaxy Z Flip4 smartphone through settings.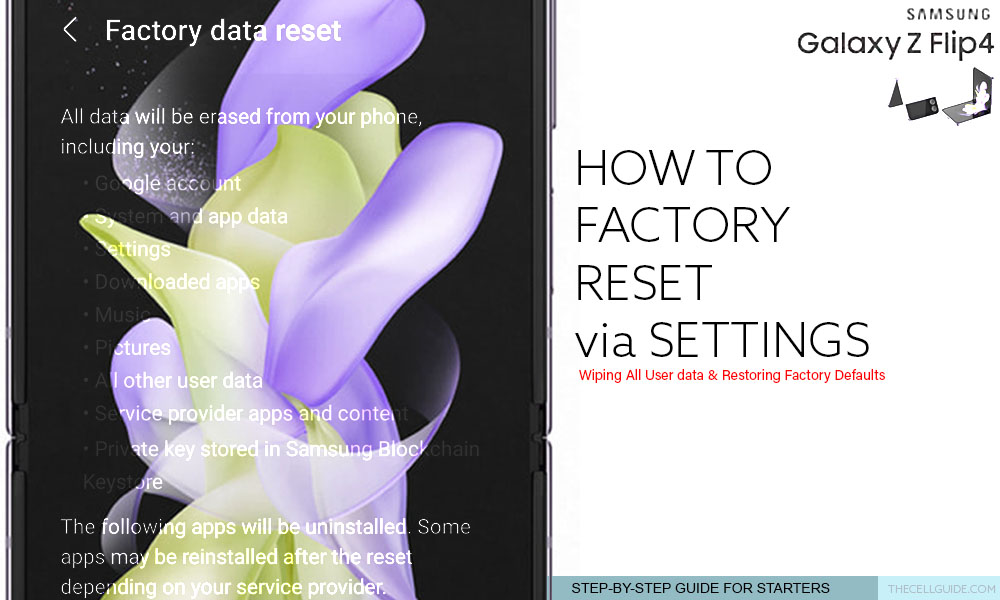 Galaxy Z Flip4 Master Reset
A factory reset or master reset is a type of system restore that works by erasing all of the information stored on the device and putting it back to its original system state. It's the same concept of reformatting a computer or storage drive. This reset is often done to fix complex system issues, particularly those that cannot be addressed by basic workarounds.
When it comes to rectifying system errors, a factory reset often yields a positive outcome. But its main downside is the deletion of user-related information.
In modern Samsung phones like the recently rolled Galaxy Z Flip device, the factory reset option is tagged among other reset commands under the Reset menu from General management. This is by far the easiest way to wipe user data and downloaded apps from a Samsung phone.
If you're new to this phone and need some input on how to factory reset your Galaxy Z Flip4 through settings, you can refer to these subsequent instructions.
Steps to Factory Reset Samsung Galaxy Z Flip4 thru Settings
Performing these subsequent steps will wipe everything from your device including downloaded apps, saved contacts, media files, documents, settings and other stored personal information. That said, back up all your important files beforehand if possible. You can back up files to your cloud storage or transfer them to a secure and reliable external storage media.
Once you've got all your files secured, you may go ahead and start resetting your phone with these outlined instructions.
Step 1: To get started, open the Settings app by tapping on the Settings/Gear icon from the Home screen or Apps screen. You can also access the Settings icon from the quick panel of your device.
Step 2: From the Settings app menu, scroll to find and then tap General management. Doing so will take you to the general management menu where you can see in-built system management features and functions.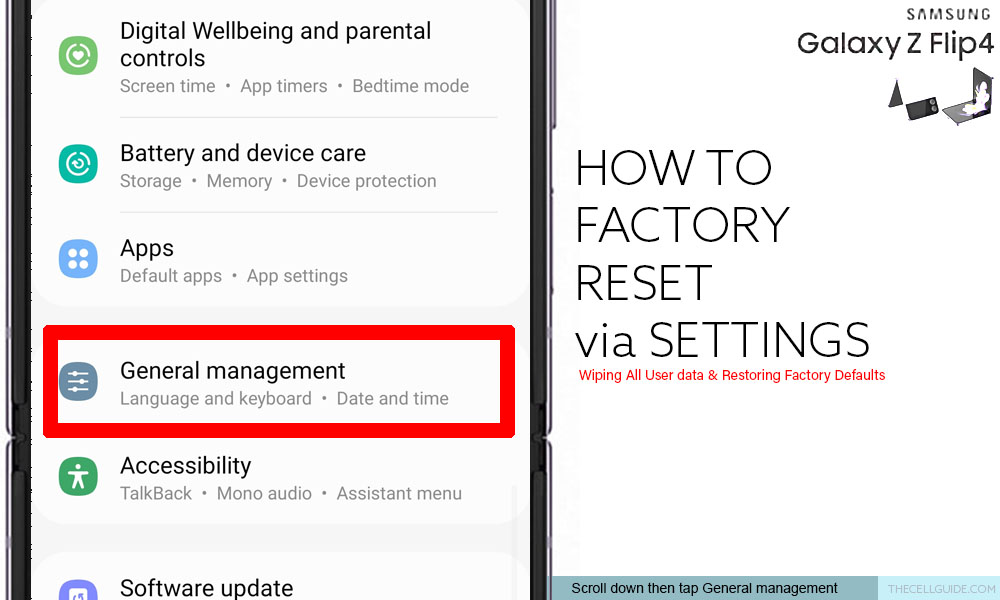 Step 3: Scroll down to the bottom section and then tap Reset to continue. Another window opens with a list of in-built reset options.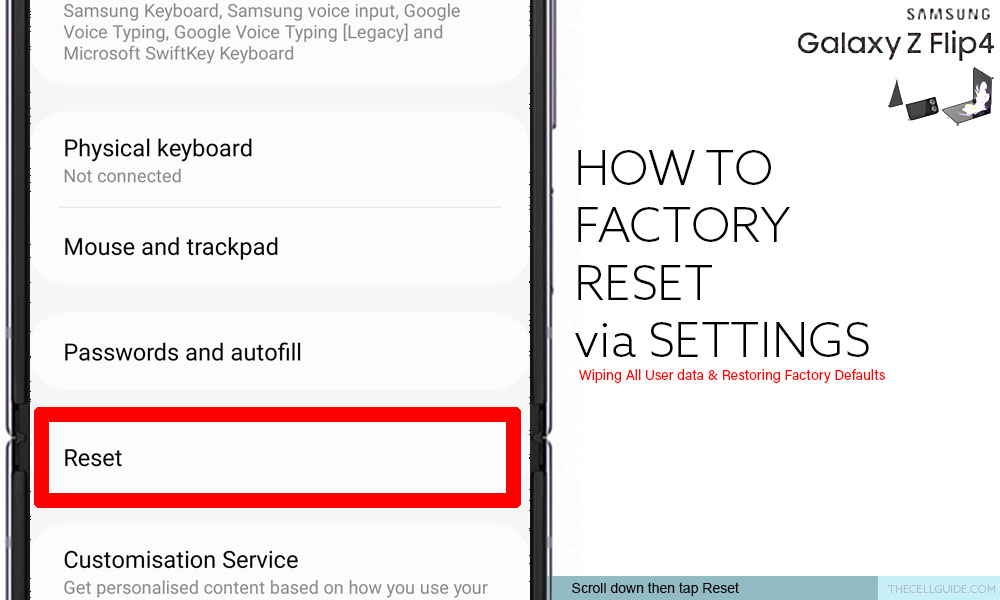 Step 4: Select Factory data reset from the given options to continue.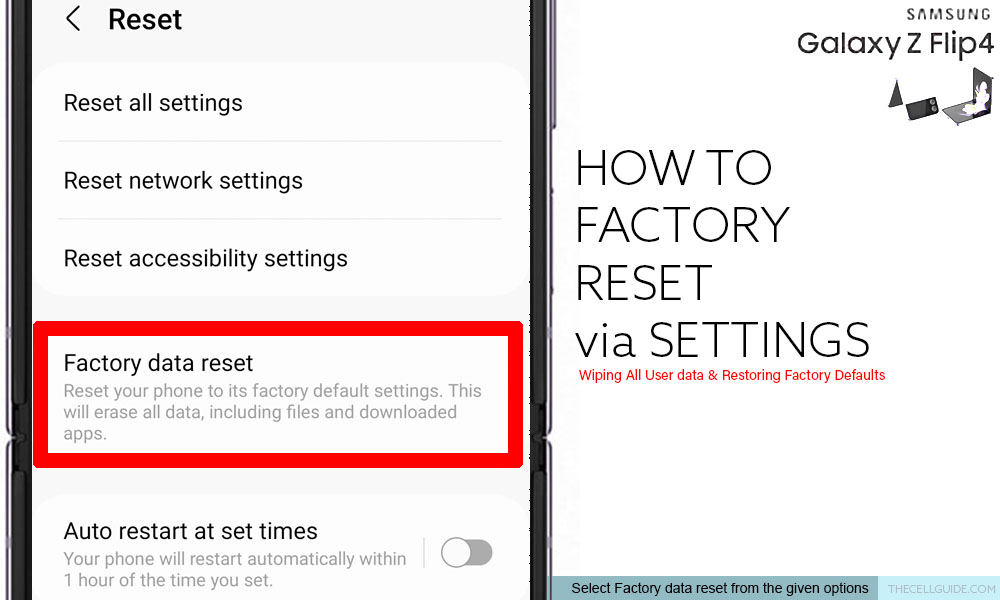 Step 5: Read the details on the next screen to know which type of data will be erased from your phone then tap Continue.
Step 6: If prompted, enter your device PIN, pattern or passcode then tap Delete all on the final warning prompt to confirm action.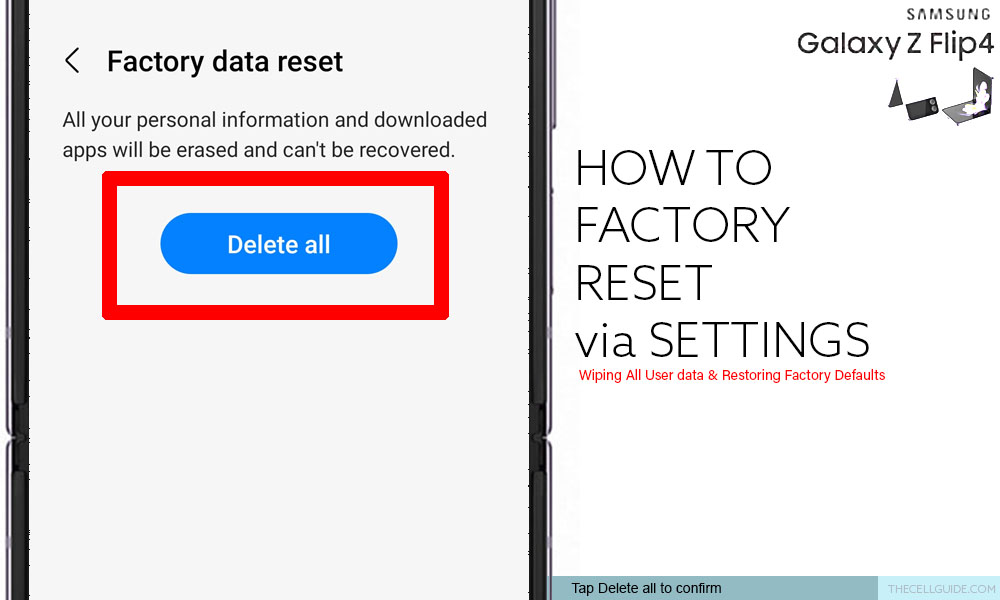 All your personal information and downloaded apps will then be erased and cannot be recovered.
After the reset, your phone will instigate an automatic system reboot to apply the recent changes.
By then, it should be back up and running as new.
Performing a master reset or factory data reset is usually regarded among the last options when dealing with complex system issues attributed to fatal system errors, corrupted apps and files, software bugs and malware. Post-update system flaws resulting in various types of performance-related issues can likewise be rectified with a factory data reset.
Hard Reset Samsung Galaxy Z Flip4 via Android Recovery
The above procedure is only applicable if your Samsung Galaxy Z Flip4 is responsive. If it is stuck or frozen, you will need to carry out the alternative master reset procedure through the Android recovery menu.
To factory reset Samsung Galaxy Z Flip4 via Android recovery, your phone must be turned off. When it's completely powered off, you can start pressing, holding and releasing the hardware keys to boot your device in Android recovery.
In order to access the Android recovery menu or recovery mode, you will need to utilize the hardware key combos.
We will outline a step-by-step guide on how to get this done on a separate walkthrough.
Hope this helps!
Please check out our YouTube channelto view more tutorial and troubleshooting videos for popular iOS and Android devices.
You Might Also Want To Read: