This post highlights a step-by-step guide to help you activate the preloaded camera app feature on the Galaxy S21 that will let you take a picture and record video clips using voice commands. Read on to learn how to enable voice commands on Samsung Galaxy S21 camera app for hands-free image and video capture.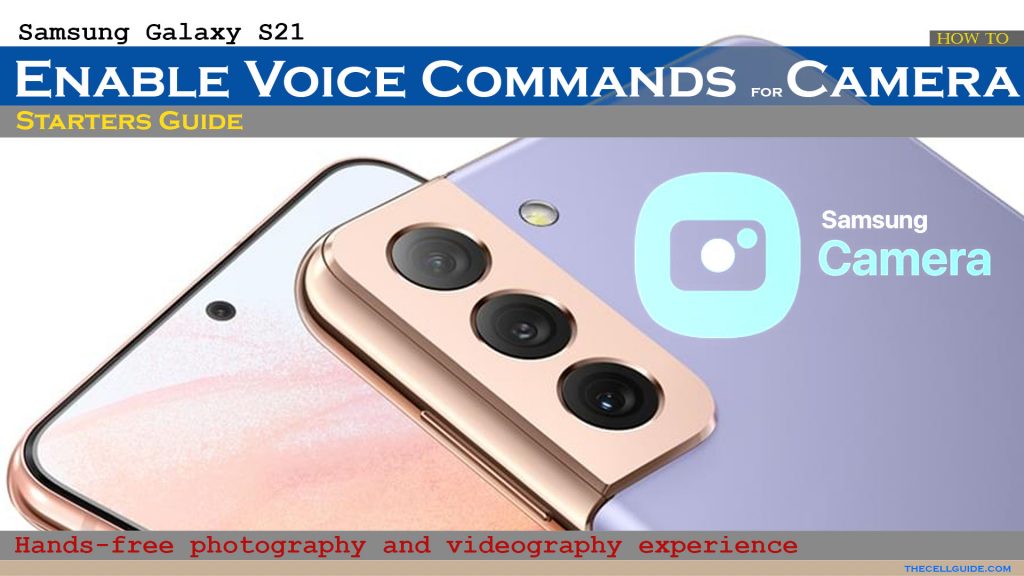 Galaxy S21 Camera App Smart Features
Newer Samsung Galaxy smartphones integrate more advanced smart features for better mobile experience.
Among these said advancements are the built-in camera app features and options that will let you experience top-notch mobile videography and photography.
As a matter of fact, superb outputs can be produced using the preloaded camera attributes including distinctive camera modes and effects as well as some newfangled shooting methods like voice control and show palm feature.
Hands-free Image and Video Capture Overview
Hands-free camera innovations are now becoming a trend in the smartphone market.
With such features, smartphone users can now become an instant photographer without exerting much effort as the majority of the recently rolled out smartphones already feature auto shutter, remote timers and hands-free camera shooting with full HD outputs.
Such features are also integrated in the new Samsung Galaxy devices including the S21 variants.
If you own this device, then you shouldn't miss utilizing the integrated hands-free image and video capture feature on the S21 camera app.
As the name implies, these features will let you take photos and record videos with the built-in camera without having to tap a screen icon. Just say the preset command and your camera will do the reset.
To make use of these features, all you have to do is to enable a certain camera app setting on your Samsung Galaxy S21 smartphone.
Easy Steps to Enable Voice Commands on Samsung Galaxy S21 Camera
The following steps are also applicable when activating voice commands to take photos and record videos on other newer Samsung Galaxy devices, particularly those that are running on the same Android or One UI version with that of the Galaxy S21.
Actual screens and menu options may slightly vary depending on the device model and carrier.
Just follow these steps whenever you're all set to configure your device.
Step 1: Tap on the Camera icon from the Home screen or Apps screen. Doing so launches the built-in camera application on your phone.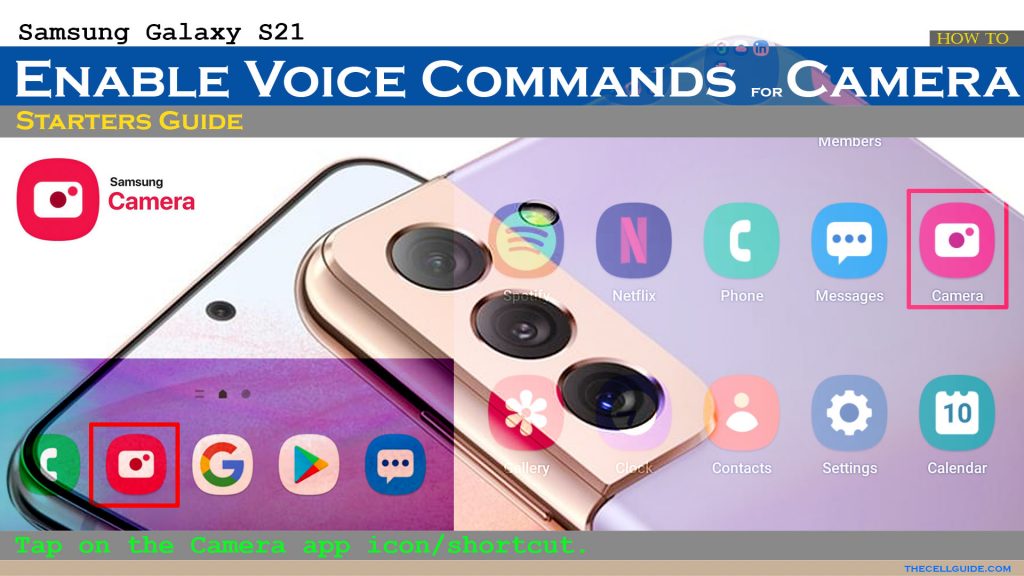 Step 2: While on the Camera app's main screen, tap on the Gear icon located on the top-left corner lined up among other main controls.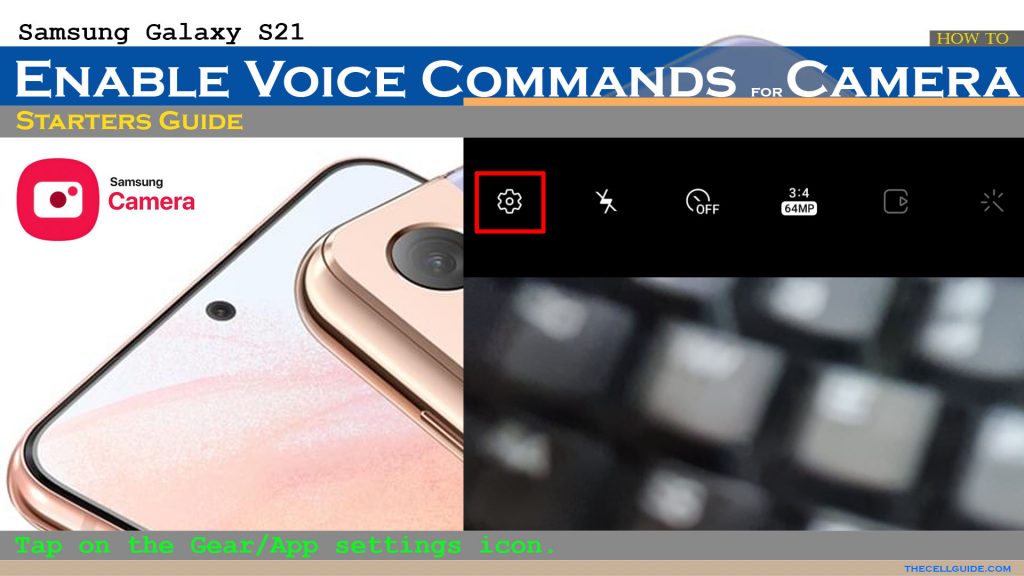 On the succeeding menu, you will see all the built-in features of the Galaxy S21 camera app. These would include the shot suggestions, selfies, scene optimizer and more.
Step 3: Scroll down to the lower section and then tap on Shooting methods. Another menu opens, highlighting a list of all shooting methods you can use.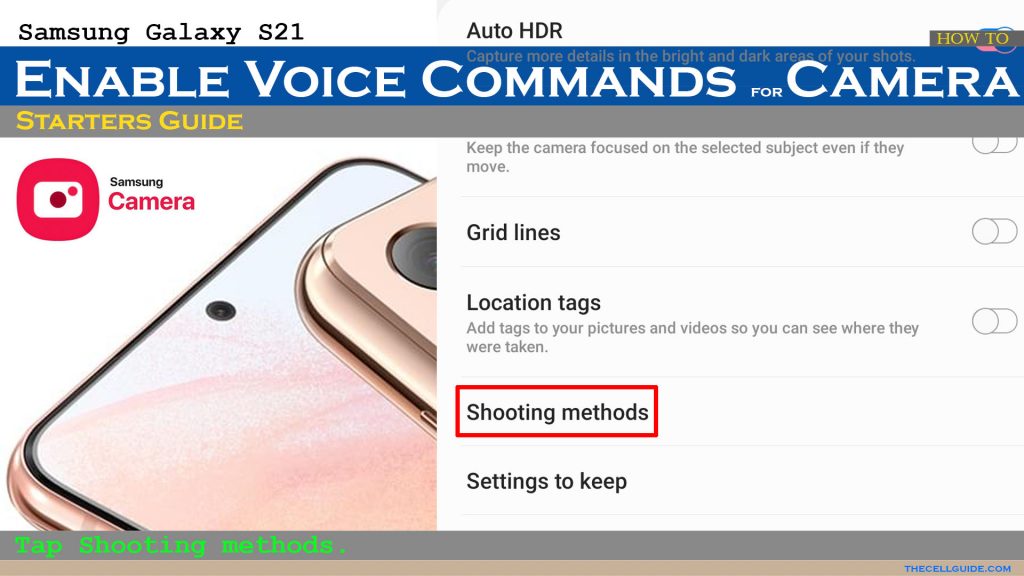 Step 4: To enable voice commands for the camera app, just tap to turn on the switch next to Voice Commands.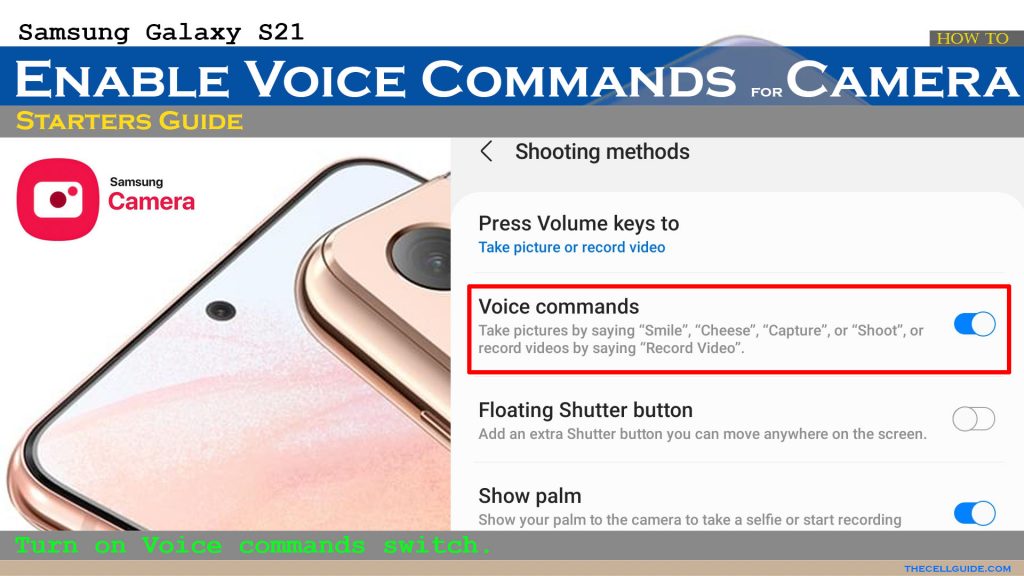 When enabled, you can use voice commands such as "cheese," "smile," "capture," or "shoot" to take a picture and "record video" to record a video clip with the built-in camera application.
Other Hands-free Camera Features on GS21
Other integrated shooting methods on the Galaxy S21 camera app include the Show palm switch. Turning this feature on will let you take a selfie by showing your palm to the camera.
Simply toggle to turn on the Show palm switch if you want to make use of this feature.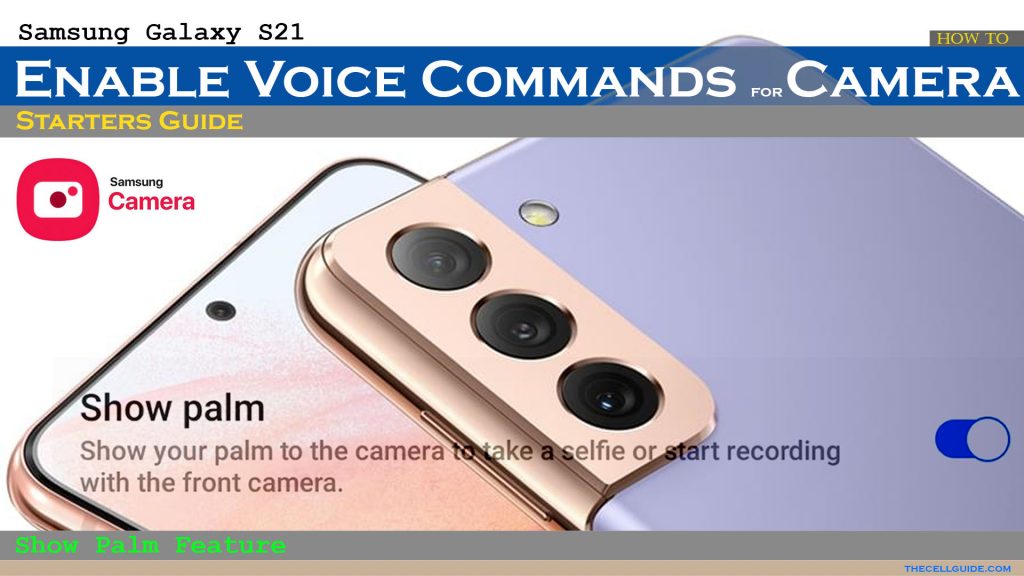 After making necessary changes to the camera app's shooting method, quit and then relaunch the app.
Once the app is ready, try saying any of the preset voice commands to take a picture or record a video.
Camera App's Voice Commands Not Working on GS21?
If your phone doesn't respond properly or the camera app doesn't execute the uttered command, give it another try and make sure that you clearly say the command for your phone to process and execute properly.
Other GS21 Camera Features You Should Try
Another amazing camera feature you shouldn't miss utilizing on your Galaxy S21 is the Director's view. This feature will let you produce videos with seamless transitions between multiple camera angles with dual record from both the rear and front cameras.
The Galaxy S21's director's view feature also allows you to enable multi-capture with picture-in-picture or split view.
Restore Default Camera Settings
There is no limit to experimenting every available camera feature on your Galaxy S21 smartphone given the fact that there's always a reset button for you to trigger whenever things go wrong following a series of settings alterations.
Should you wish or find the need to get back to the previous settings like use the default camera shooting methods, just head back to the Camera app settings and turn on the voice commands switch. Otherwise, trigger the reset camera settings command to clear out all custom settings and restore the camera app's default configuration.
And that's all about activating the Galaxy S21's preloaded voice command for hands-free image and video capture with the stock camera application.
Hope this helps!
Please check out our YouTube channel to view more tutorial and troubleshooting videos for popular iOS and Android devices.
You Might Also Want To Read: