Need to use your phone a little longer but it's already running low on battery and there's no available charger? Just put it on power saving mode. This post will walk you through preserving the Galaxy S21's battery life by putting it in power saving mode. Read on to learn how to enable power saving mode on Samsung Galaxy S21.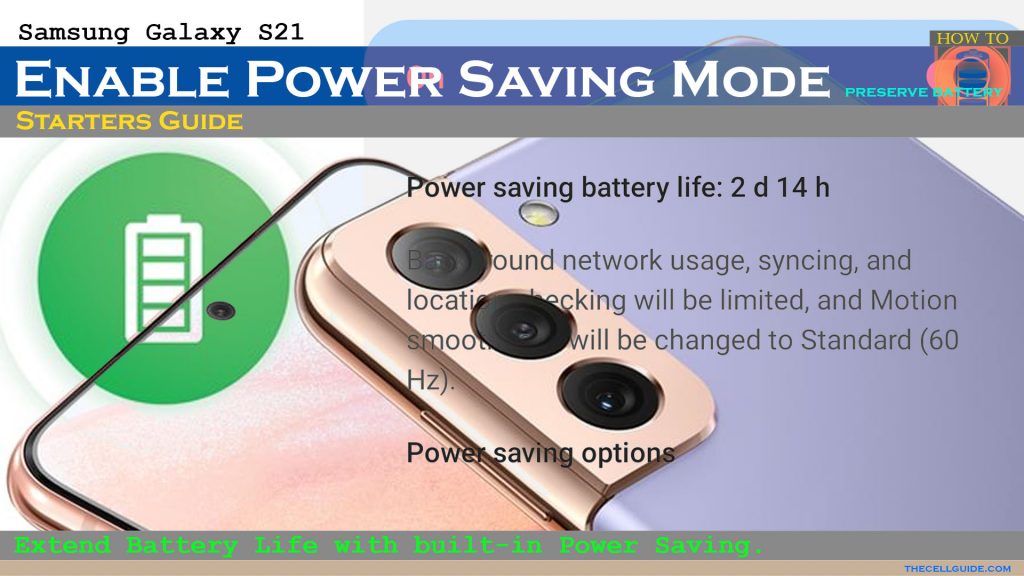 Samsung Galaxy S21 Power Saving Mode
Heavy phone usage typically results in massive power consumption and rapid battery drain. But with the availability of power saving features, modern smartphones are now capable of stretching the battery in order to last longer especially in critical instances.
Newer Samsung devices including the latest Galaxy S21 series do come with a battery saving feature that can be activated whenever needed. That feature is called power saving mode.
You can activate power saving mode whenever your Samsung Galaxy S21 is running low on power and you're far away from the charger. This typically comes in handy in situations wherein you need to stay connected at all times.
Easy Steps to Enable Power Saving Mode on Samsung Galaxy S21
The following steps are also applicable when turning on power saving mode on other Samsung Galaxy phones with the same Android or One UI version with the Samsung Galaxy S21 series. Actual screens and menu options may vary between device models and carriers.
Step 1: Tap the Settings icon from the Home or Apps screen to access the main Settings app menu.
Step 2: While on the Settings menu, scroll to find and then tap Battery and device care. Built-in system management and power options will load up on the next screen.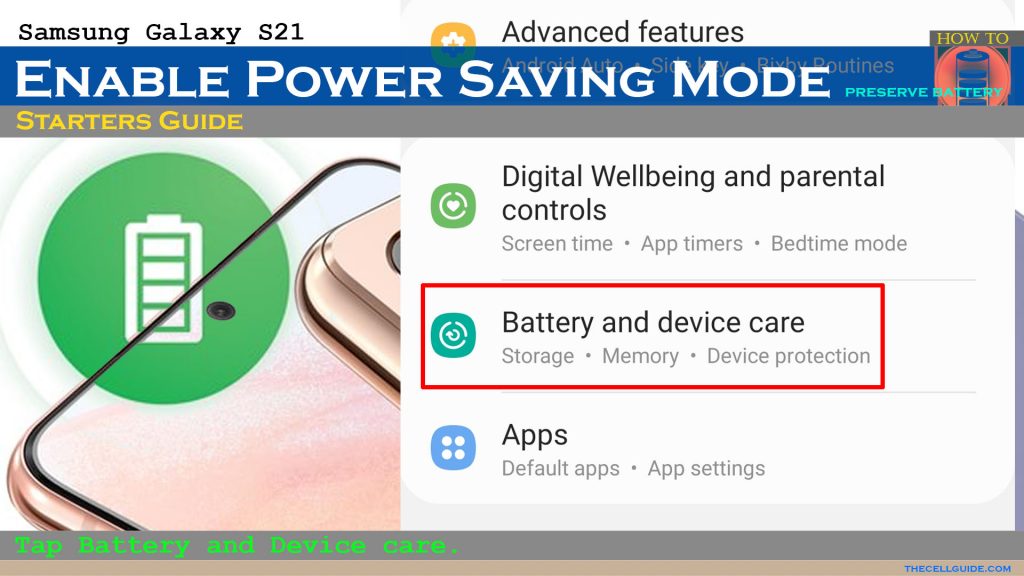 Step 3: Tap Battery to proceed. Another menu opens, displaying all preloaded battery features and settings.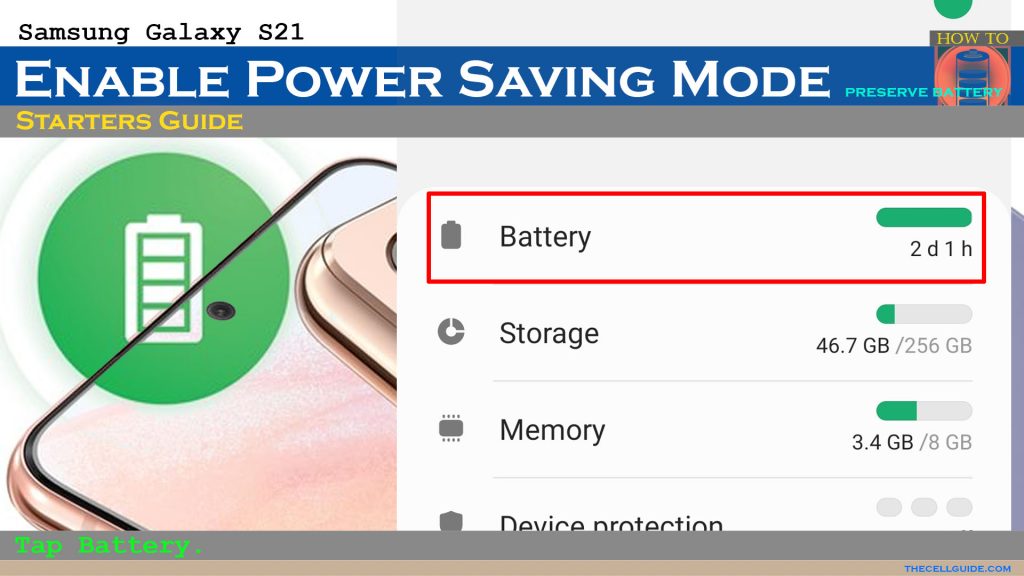 Step 4: Tap Power saving mode to access and manage power saving settings.
Step 5: Toggle to turn on the Power saving mode switch. Doing so enables the feature and puts the phone in power saving mode.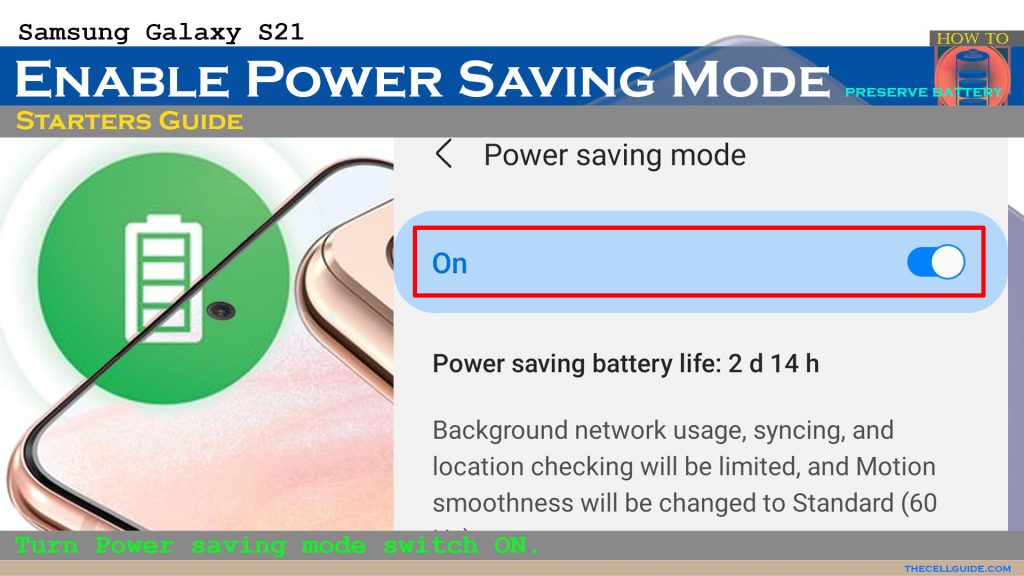 When enabled, Power saving mode reduces your phone's performance and limits certain functions such as vibration, location services and most background data to help preserve battery life.
If you wish not to enable Power saving mode, you can still preserve the battery by customizing power saving options accordingly. Among the integrated battery saving features you can use are as follows:
Limit CPU speed to 70%. When enabled, this feature reduces the phone's processing speed as well as its power usage.
Decrease brightness by 10%. This feature works by dimming the phone's screen by 10 percent. A dimmer display or screen brightness cuts means less power usage.
Turn off Always on Display. Turning this option on will disable the Always on Display feature of the phone and therefore puts the display to sleep when idle for a certain period of time.
Limit apps and Home screen. When enabled, this feature limits background activity by utilizing a simplified home screen, limiting available apps and disabling Edge panels. As a result, it gives your device maximum power saving.
You can put your phone in power saving mode if you want to stretch its power and use the device a little longer before the next recharge.
The above options will automatically be disabled when power saving mode is enabled. In order to turn them on, power saving mode must be disabled beforehand.
After you've made necessary changes to these options, you can put your phone back in power saving mode.
Other Ways to Preserve Battery Life
Putting unused apps to sleep can also help save battery power on your device. When enabled, this feature will automatically put all apps that you haven't used for a while to sleep.
This feature typically comes in handy if you're constantly switching between apps all day long. Turning this feature on will prevent your phone's battery from draining quickly.
To make use of this feature, just access and manage the Galaxy S21's sleeping apps settings from the Background usage limits menu.
Putting unused apps to sleep
Proper charging is also a factor. The use of Samsung (OEM) charger is highly recommended to ensure that the right voltage is rendered.
Leaving the phone connected to the charger overnight or for longer periods of time is also discouraged.
More Battery Saving Tips
To make your phone's battery last longer, be sure to disconnect the phone from the charger once the battery is fully charged.
Also be sure to keep all your apps and phone software updated. This is one way to ensure optimum performance on all your apps and system services and thereby reduces the chances of facing battery draining issues due to rogue apps.
Hope this helps!
Please check out our YouTube channel to view more tutorial and troubleshooting videos for popular iOS and Android devices.
You Might Also Want To Read: