This post will walk you through preserving the Galaxy Z Flip 4's battery life by activating its built-in power-saving function. Here's a quick guide to enable power-saving mode on Samsung Galaxy Z Flip4.
Estimate Cost : 0
Time Needed : 4 minutes
Like other Samsung Galaxy phones, the new Z Flip 4 variant also comes with power saving and maximum power saving options that you can activate whenever you need to extend your phone's battery life a little longer. 

To utilize this feature, you can either go to the Battery settings menu or trigger the quick settings panel of your Samsung flip smartphone.

If you're new to Android and wondering how to activate this feature on your Galaxy Z Flip 4 device, then feel free to refer to this guide.

To get started, open the Settings app by tapping on the Settings (gear) icon on the Home screen or Apps screen of your phone.




A list of all preloaded apps and services will load up on the settings menu.

While in the main settings menu, scroll to find then tap Battery and device care.




Another menu opens with system management features and options.

Tap Battery from the given options to proceed.




More details about the phone's battery usage will show up next.


Navigate to the bottom section of the screen and you should see the Power saving option.




If you want to activate the feature right away, just tap to turn the Power saving switch ON.

To access and manage power saving options, tap Power saving.




Doing so will take you to the Power-saving menu with all available power saving options.

To choose additional limits to save battery while in power saving mode, turn the ON switch OFF. Doing so activates the limit options including Turn off Always on Display, Limit CPU speed to 70%, and Turn off 5G.




You may opt to enable or disable any of the available power saving options. Just tap to select the option that you'd like to enable while on power saving. 


There is also an option for you to maximize power saving. To do this, simply tap to turn on the Limit apps and Home screen switch.




With this feature enabled, only selected apps are allowed while the phone is in power saving mode. It also limits all background activity, turns off Edge panels and changes the interface to a dark theme.

After setting additional limits, tap to turn the OFF switch back ON.




Doing so will prompt the system to switch to power saving mode with the additional limits you've set.
The phone will then switch to power saving mode. By then, the entire interface of your device changes. Background network usage, syncing, and location checking will be limited and Motion smoothness is changed to the 60 Hz standard.
Activate Power Saving via Quick Settings
A quicker way to enable or disable Power saving on the Galaxy Z Flip4 is through the quick settings panel. To access the panel, simply swipe your finger down from the top of the Home screen. In the quick panel, you will see different app shortcut icons or controls.
If necessary, swipe to find the Power saving icon then tap on it to turn the feature on or off.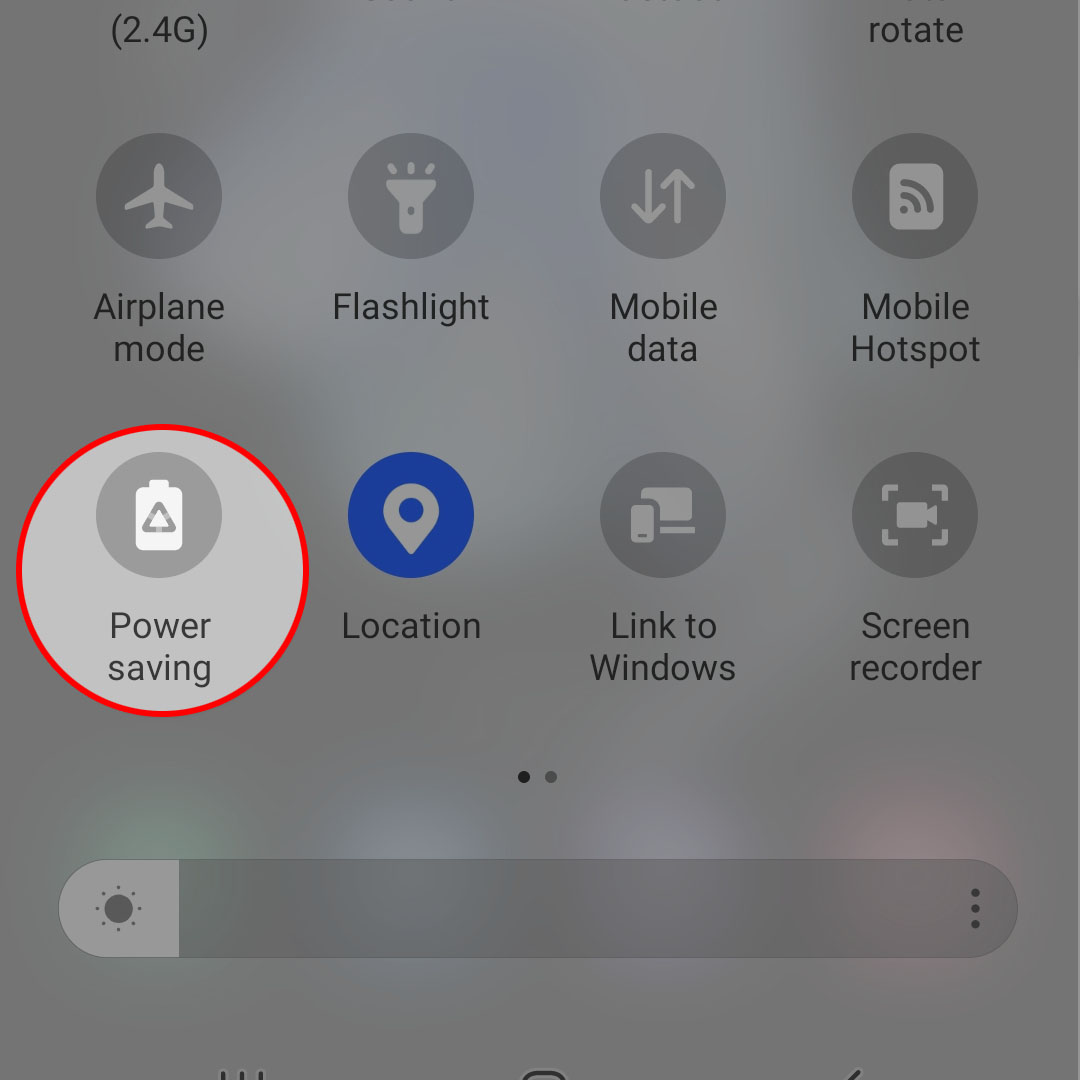 The Power saving menu can also be accessed straight from the quick panel.
To do so, simply long-press (touch and hold) on the Power saving icon and wait for the Power saving menu to launch.
There, you will see the same menu items as the ones described above when navigating through the Power saving menu via Settings.
And that's how you put your Samsung Galaxy Z Flip 4 in power-saving mode to limit power usage and keep it up and running until the next charge.