The integrated menus and options you see on your Android phone aren't actually just the ones it has to offer. In fact, every Android smartphone has a hidden feature that contains a number of advanced features. If you're wondering how to get to this secret menu on your new Samsung smartphone, this post will walk you through the entire process. Here's how to enable developer options on Samsung Galaxy S21 and other Samsung Galaxy phones with the same One UI or Android version.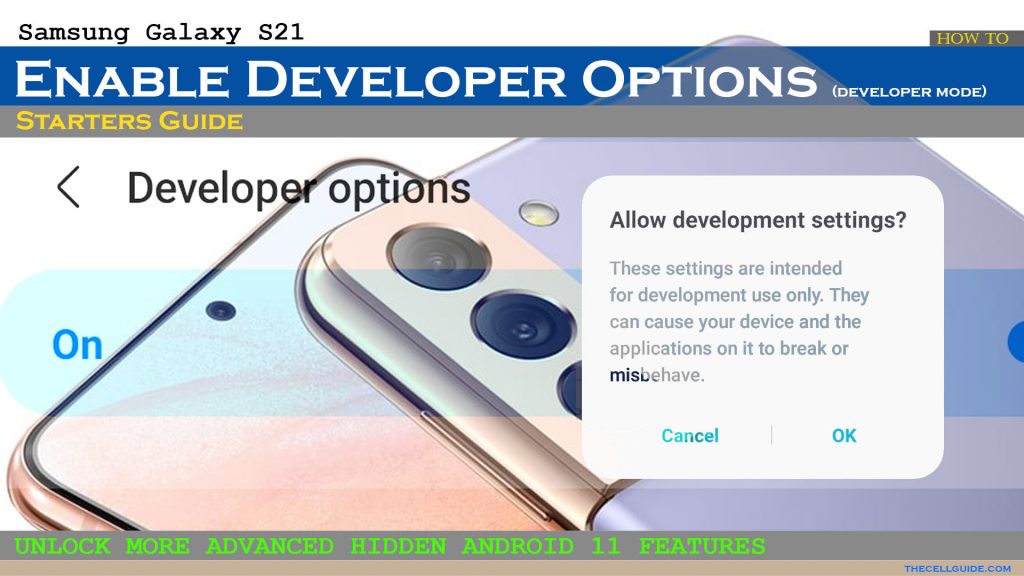 Android 11 Developer Options
Android devices do integrate a secret menu called Developer Options or Developer Mode.
Contained in this menu are a number of advanced features that are mainly designed to configure system behaviors, profile and debug app performance.
With Developer mode enabled, you can enable debugging over USB connection, capture bug report, activate visual feedback for taps, use GPU to render 2D graphics, flash window surfaces upon update, and more.
Debugging options also allows you to configure on-device debugging and establish communication between your phone and a computer.
More advanced network options are also available for you to configure Wi-Fi and DHCP settings when needed.
By default, the Developer options menu is hidden in every Android device. In order to access this menu, performing a special tweak is necessary.
The process of enabling Developer options or developer mode varies between Android devices. On the Galaxy S21, the Developer mode can be unlocked through the About phone menu.
If you're new to the Android platform and need some help in accessing this hidden menu on your Samsung Galaxy S21 smartphone, I've mapped out a step-by-step walkthrough as follows.
Easy Steps to Enable Developer Options on Samsung Galaxy S21
These steps are also applicable when unlocking developer options or enable developer mode on other Samsung Galaxy phones that are running on the same One UI or Android version with the S21 series.
Actual screens and menu items may still vary between devices so expect some slight differences on the interface.
Step 1: First, tap Settings from the Home screen or Apps viewer to launch the main settings menu.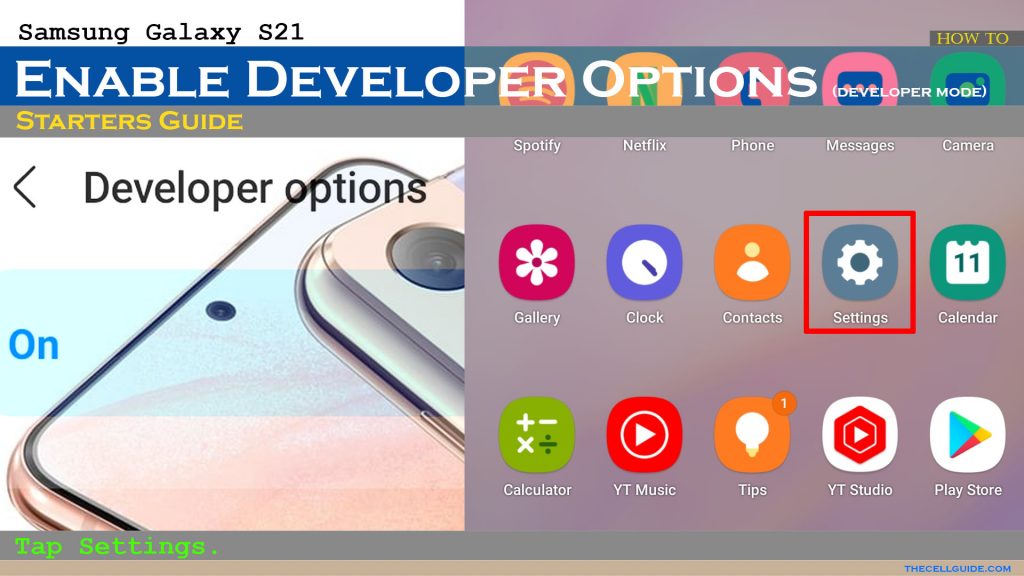 Step 2: On the main settings menu, scroll down and then tap About phone. Important details about the phone such as serial number, model number, device name, software information and others will show up on the next screen.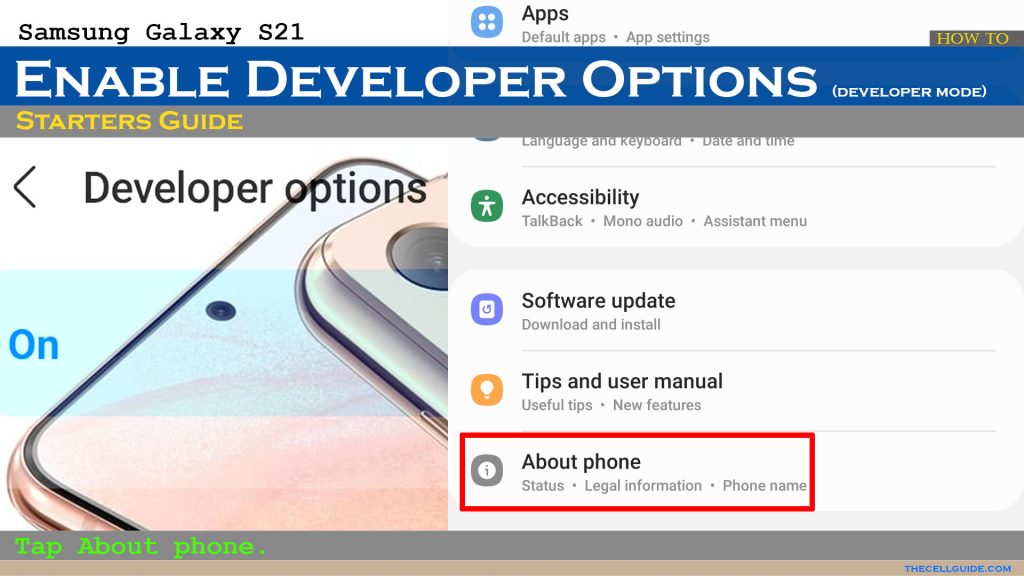 Step 3: Tap Software information to continue. Another menu opens with more details about the phone's software including the Android version, One IU version and the like.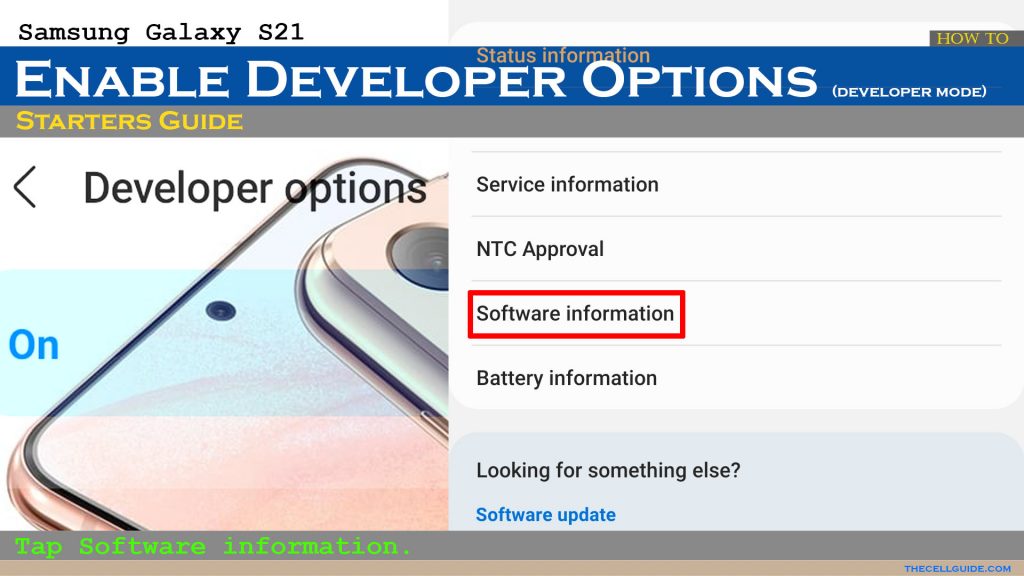 Step 4: To enter Developer mode, tap on Build number successively.
Step 5: If prompted, enter your device PIN or pattern to confirm.
After that you should see a quick prompt saying that Developer mode has been turned on or something similar.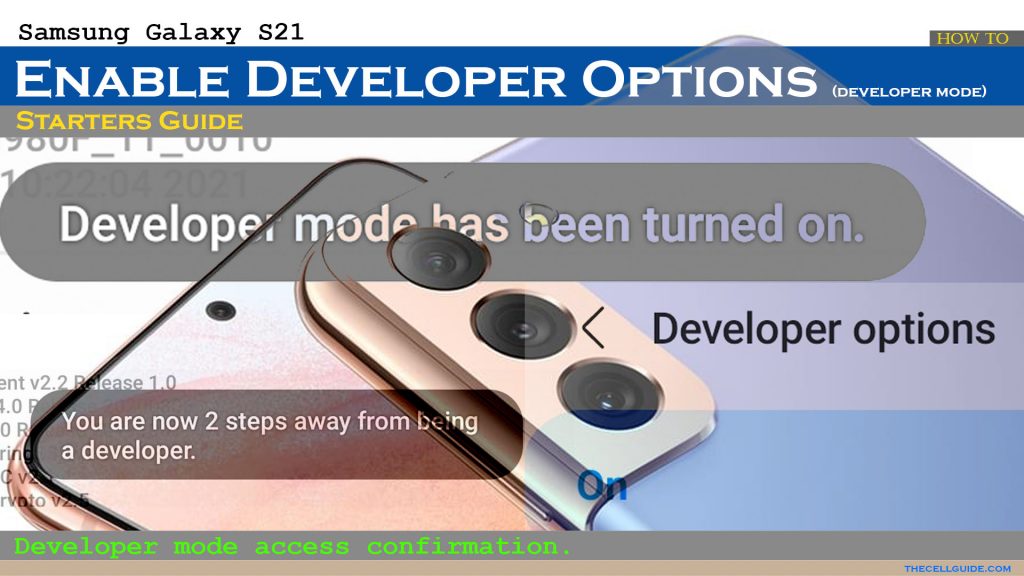 Step 6: To access the hidden features from the Developer Mode or Developer Options menu, tap the Back key twice until you get back to the main settings menu.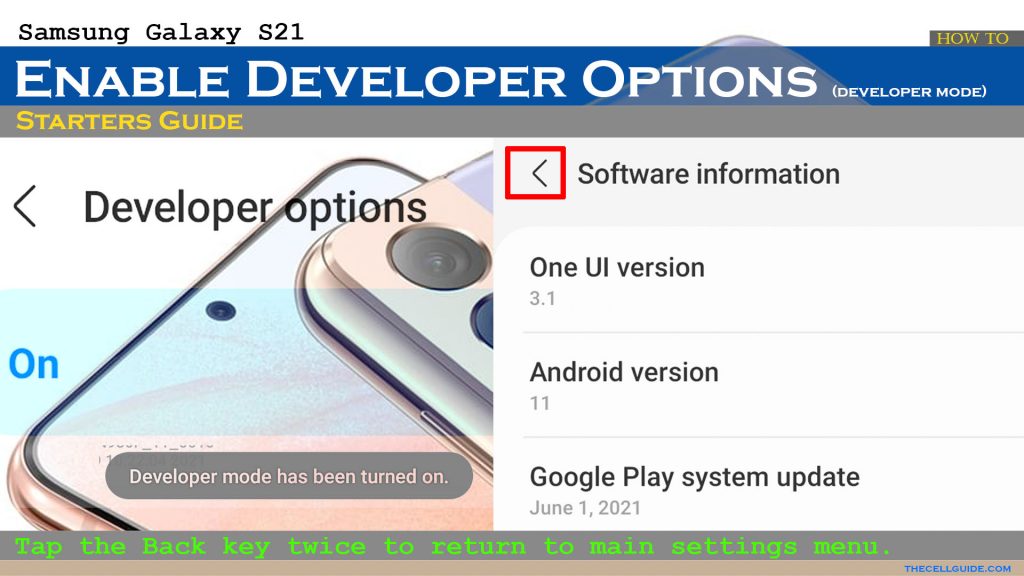 Step 7: While on the main settings menu, scroll down to the bottom of the screen and you should see Developer options added in the list of menu items. Just tap on it to access the Developer options menu.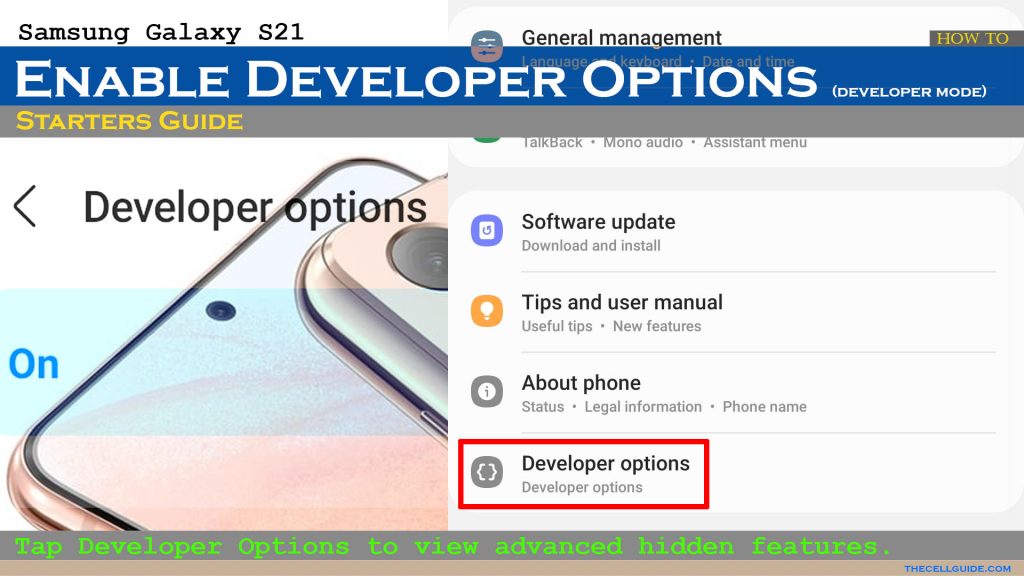 On the next screen, you should see a long list of advanced features hidden in the phone's secret directory.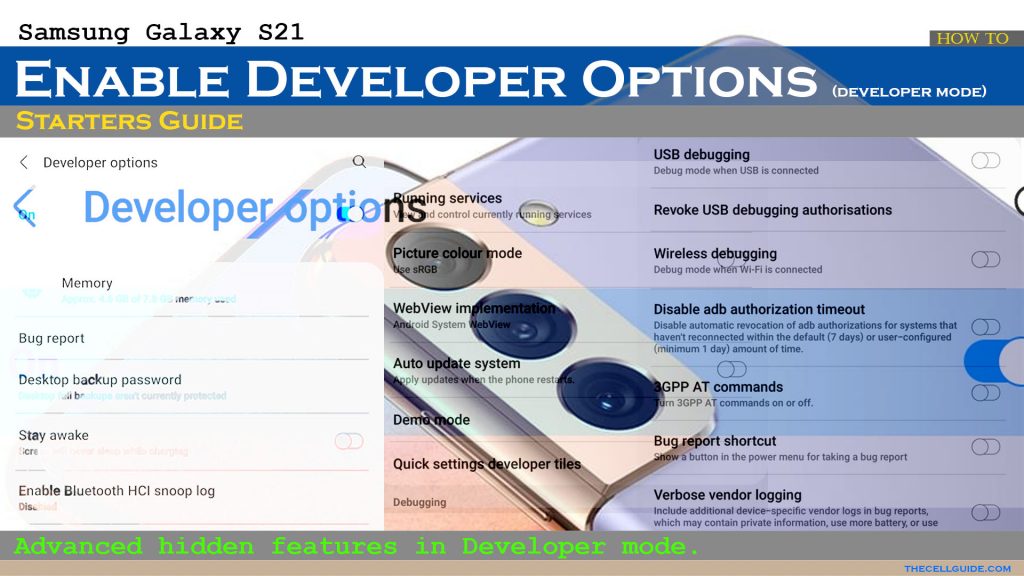 What's in the Developer Options menu?
The hidden features in the Developer Options menu are generally designed for use by advanced users like software developers to debug system apps and services. Advanced users also utilize this mode to install ROMs such as CyanogenMod, install more advanced applications like task automators and file undeleters.
Some of these features can also be used by common users for specific purposes such as performance optimization, advanced Bluetooth setup, file transfer and more.
How to re-Hide Developer Options on Galaxy S21?
Should you wish to hide the developer mode features, just turn the Developer Options switch OFF from your device settings.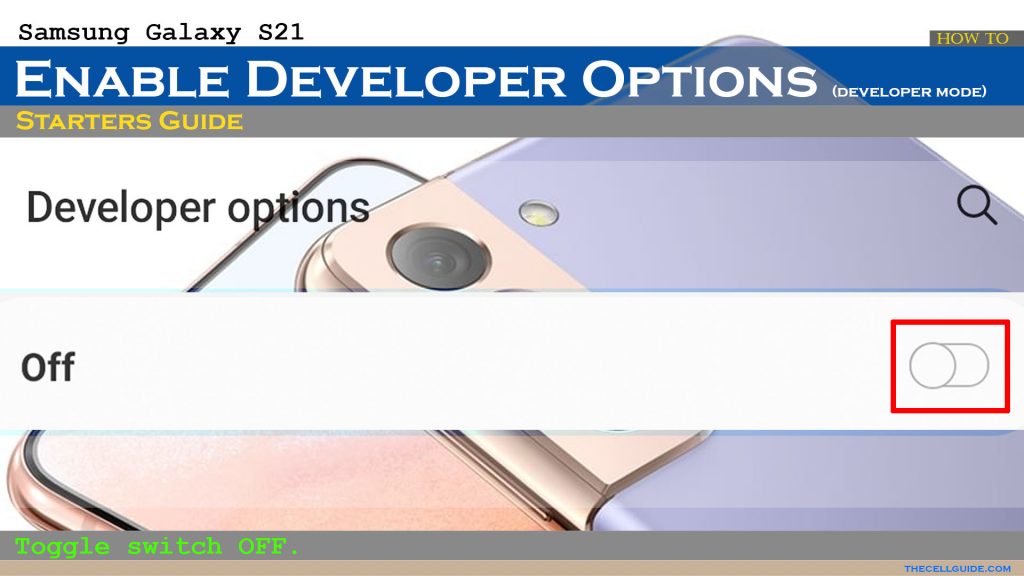 And that's all about accessing the Galaxy S21 developer options menu and enable developer mode.
Hope this helps!
Please check out our YouTube channel to view more tutorial and troubleshooting videos for popular iOS and Android devices.
You Might Also Want To Read: