This post will walk you through altering the default font style on the new Samsung Galaxy S21. Read on to learn how to download new fonts on Samsung Galaxy S21 from the Galaxy Store.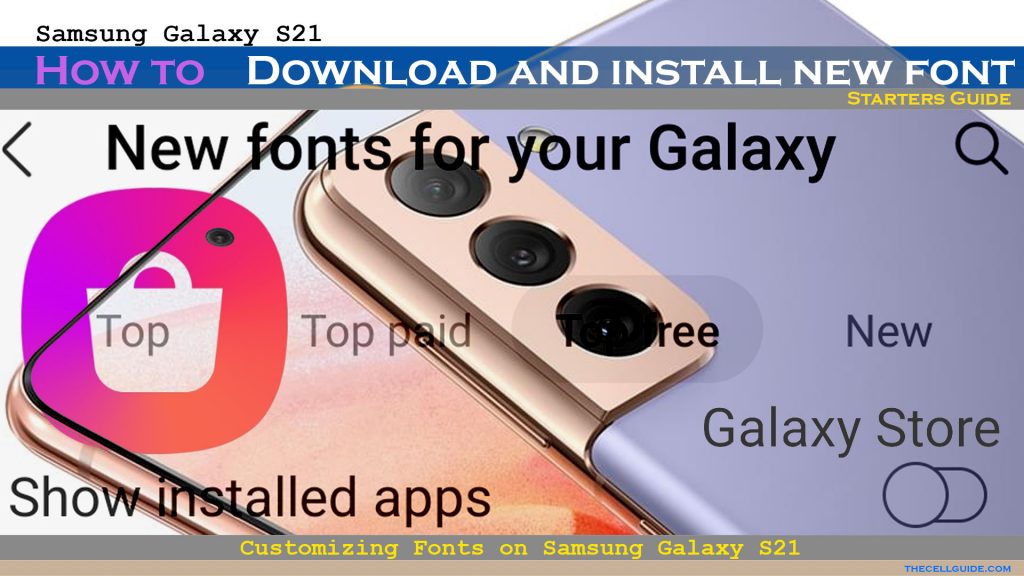 If you find the default font on your Galaxy S21 somehow monotonous, then you can mix things up a little and change it with a cooler font style instead.
There are actually plenty of other cool fonts available for download on the Galaxy Store that you can set to jazz up your Galaxy S21 display.
Samsung Font Style and Size
One of the customizable features in modern smartphones is the font style. This means that you can replace the default font to another font style you'd like for better text viewing.
The new Samsung Galaxy S21 series supports different font attributes that can be customized according to every user's preferences.
Among the built-in font attributes in the display settings include font style, font face and font size.
Depicted below is the actual process of altering font style on the Android 12 or One UI 4.0 platform.
Feel free to refer to this walkthrough if you need some input on how to access and manage the font settings and change the default font on your Galaxy S21.
Easy Steps to Download New Font on Samsung Galaxy S21
The following steps are also applicable when downloading and installing a new font for other Samsung Galaxy smartphones running on the same One UI or Android version with the Galaxy S21 series. 
There may be some slight difference on the actual interface given that screens and menu items vary between device models and carriers. Nonetheless, the entire process is very likely corresponding.
Prerequisites:
Before you begin, verify and ensure that your phone has a stable internet connection preferably via Wi-Fi network.
Otherwise, you might be having trouble downloading new fonts on your device.
Once everything is set, simply follow these steps to get started.
Step 1: Tap the Settings icon from the Home/Apps screen to launch the Settings app.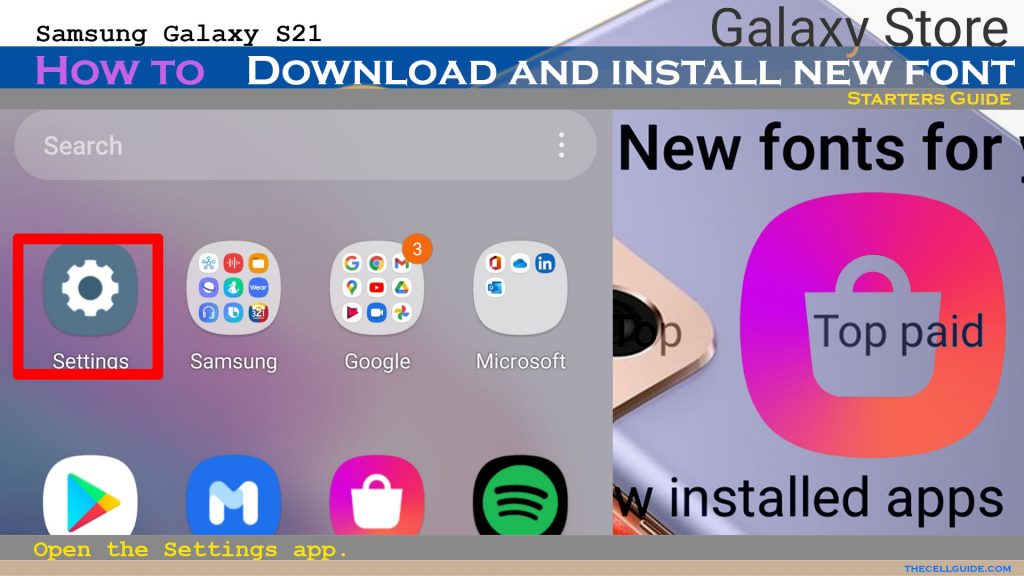 Step 2: While on the Settings menu, scroll down and then tap Display. Current display settings and relevant features will load up on the next menu.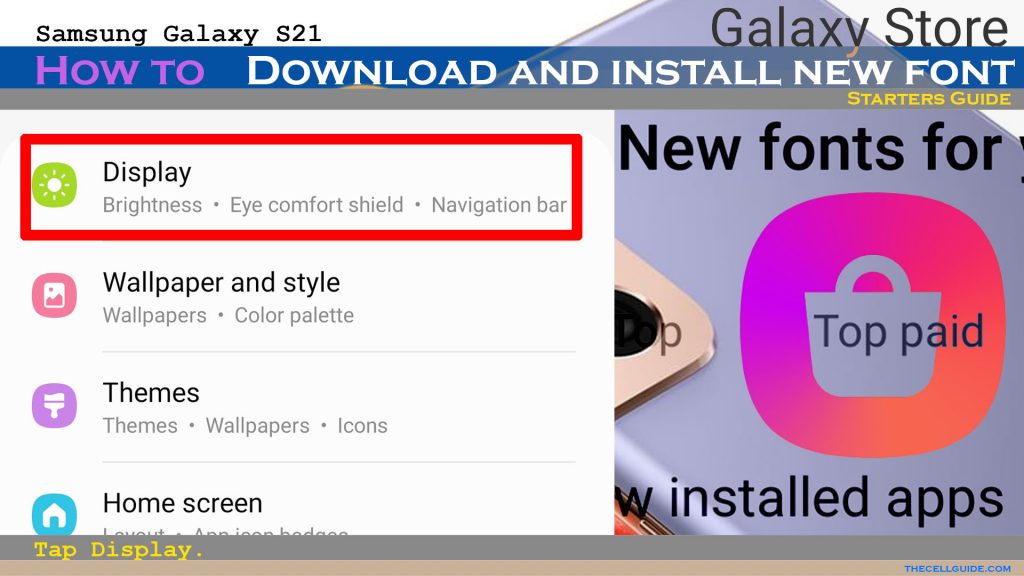 Step 3: Scroll down and then tap Font size and style. Another menu appears with the existing font attributes.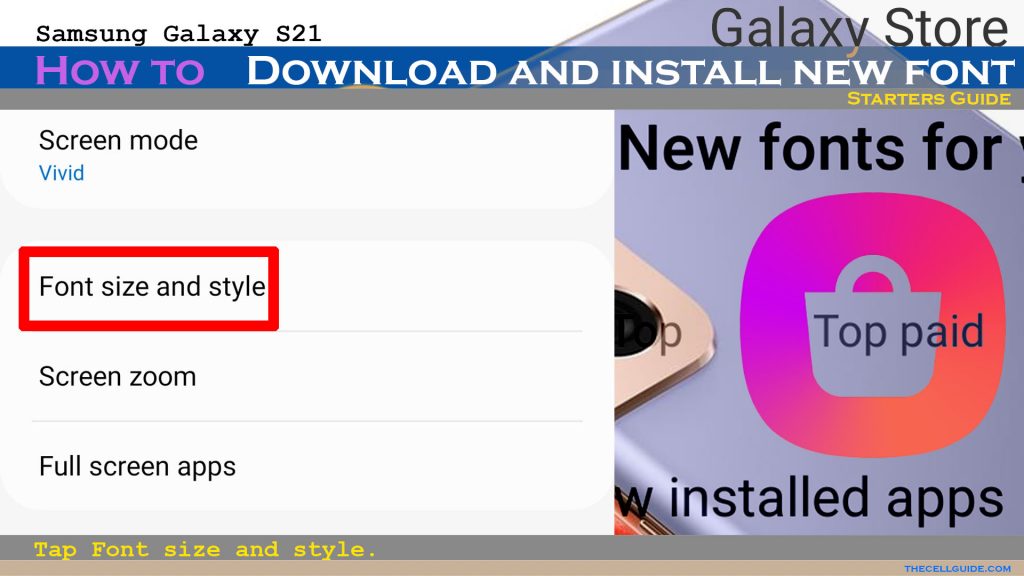 Step 4: Tap Font style to proceed. A list of all available fonts will show up on the next screen.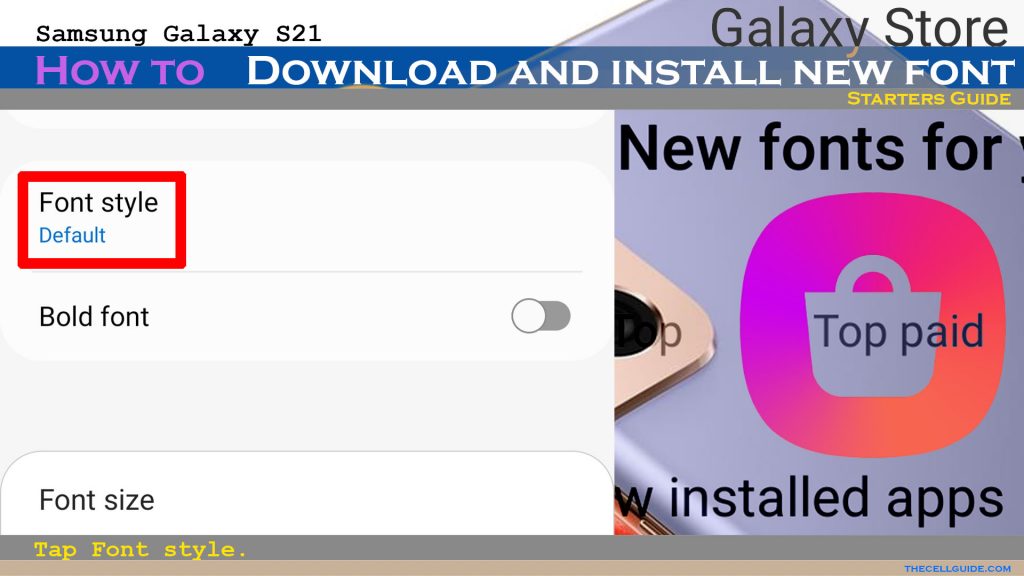 Step 5: Scroll down to the bottom of the list and then tap Download fonts. Doing so will route you straight to the Font section on the Galaxy Store app.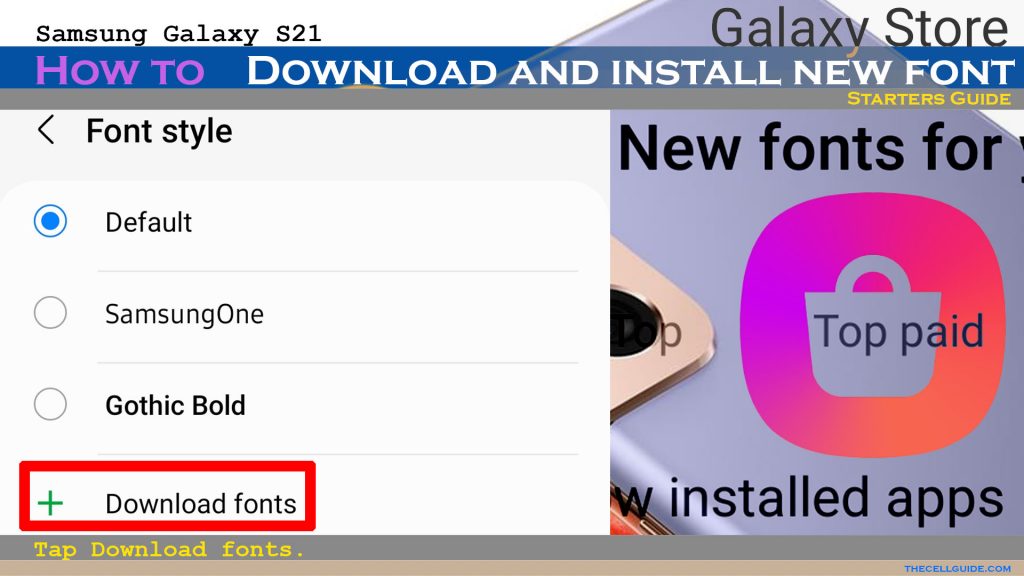 Here, you will see different fonts grouped in categories such as Top, Top paid, Top free and New.
Step 6: Tap to access your preferred font category. To continue with this guide, let's just go for Top free fonts so we'll go ahead and tap on the Top free tab. A list of all free fonts available will show up on the following window.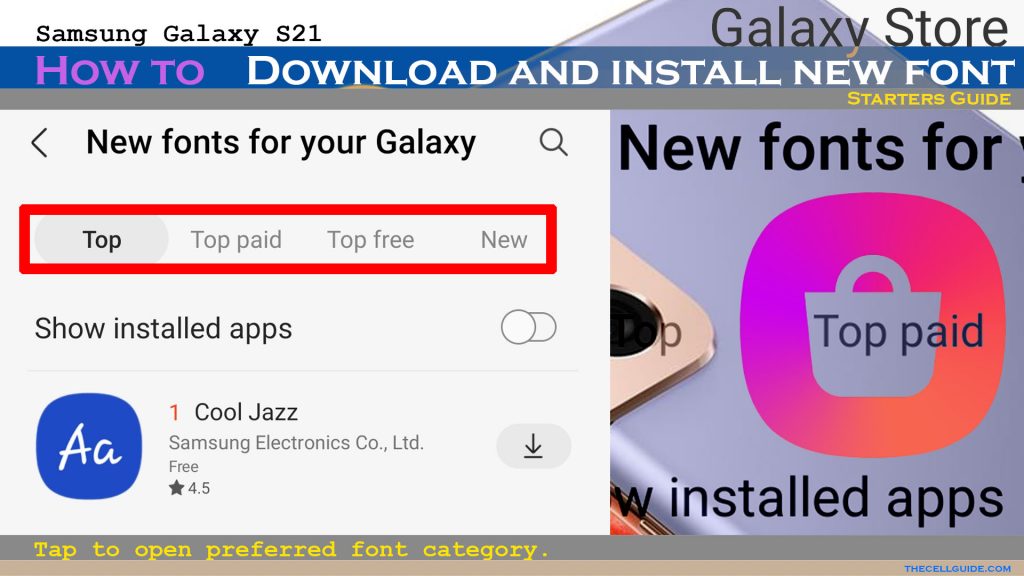 Step 7: Search for the desired font and then tap the Download icon (Arrow down) next to the name of the font. The selected font will then start downloading.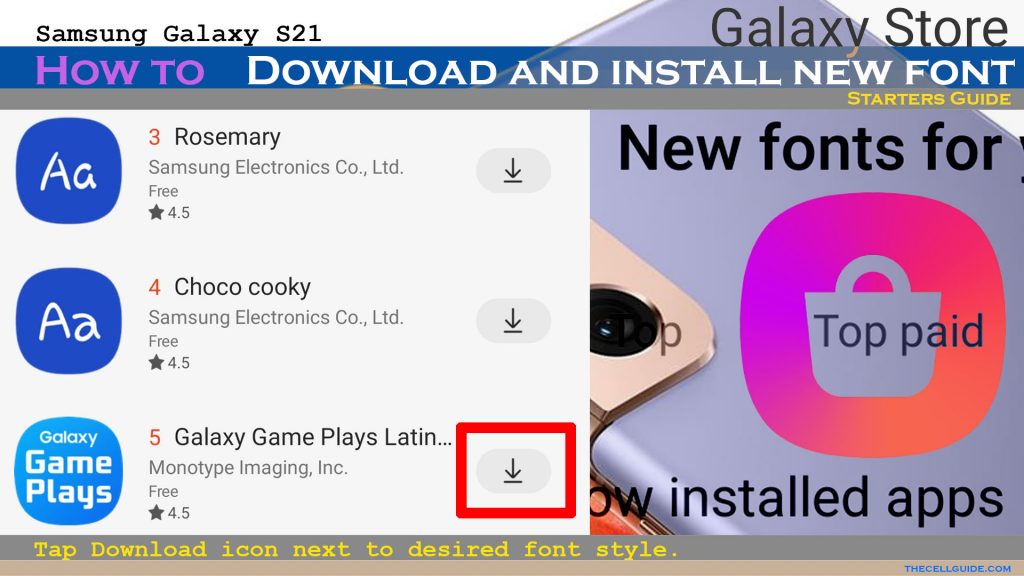 If you don't mind spending extra bucks, then you can always go for the more unique and premium font faces and styles.
Step 8: Wait for the font to finish downloading. You can refer to the progress bar beneath the font name for the download status.
As soon as the download is completed, the new font will automatically be installed and added to the existing list of font styles on your Galaxy S21.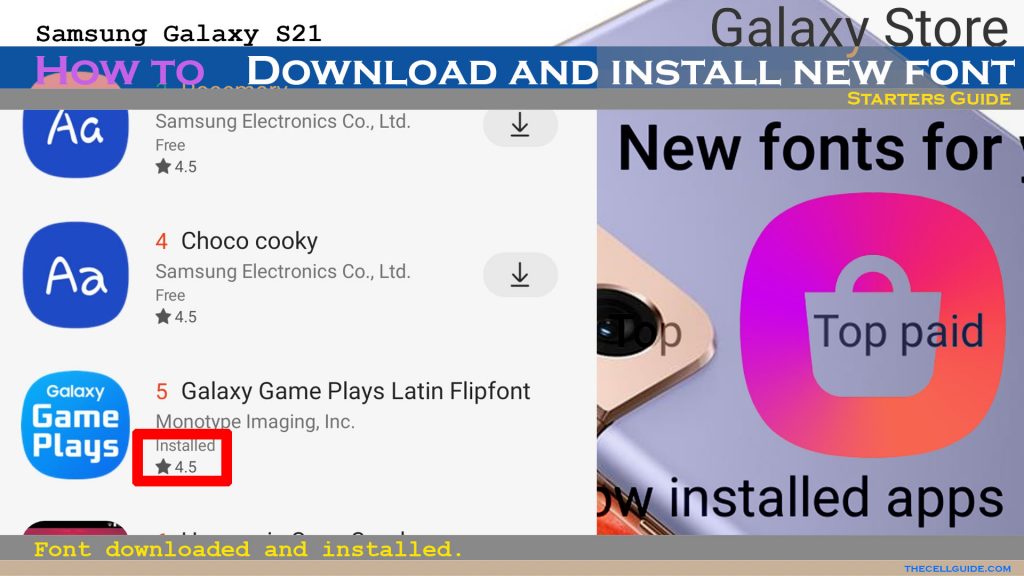 Step 9: Tap the Back key (Arrow left) on the upper-leftmost corner or at the bottom-rightmost corner until you get back to the Font style menu.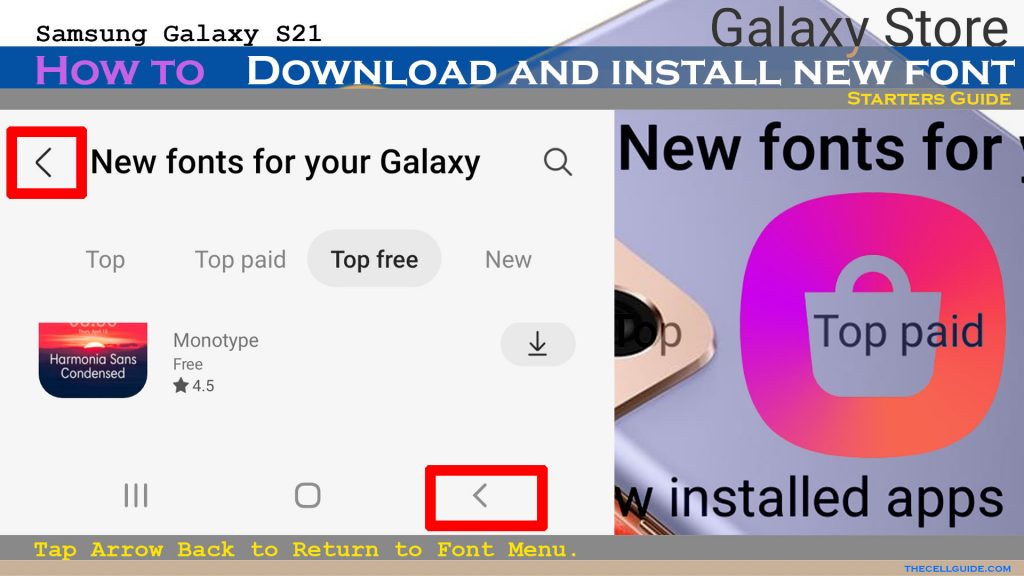 Step 10: While on the Font style menu, find the recently downloaded and installed font on the list. Select the recently downloaded font and then tap to mark it.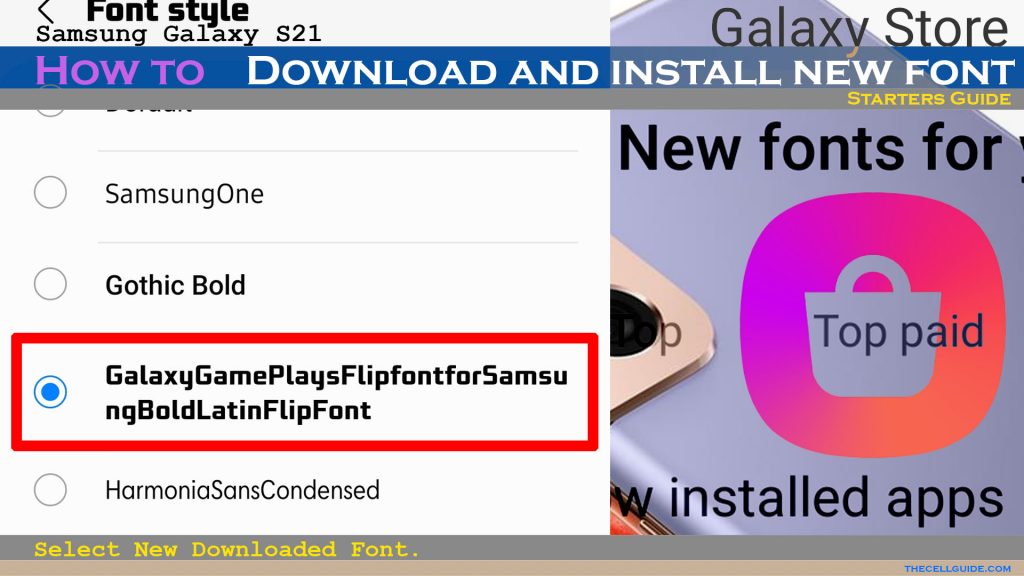 The default font style will then be replaced with the currently selected font. A preview of the new font will be displayed on the font and style menu.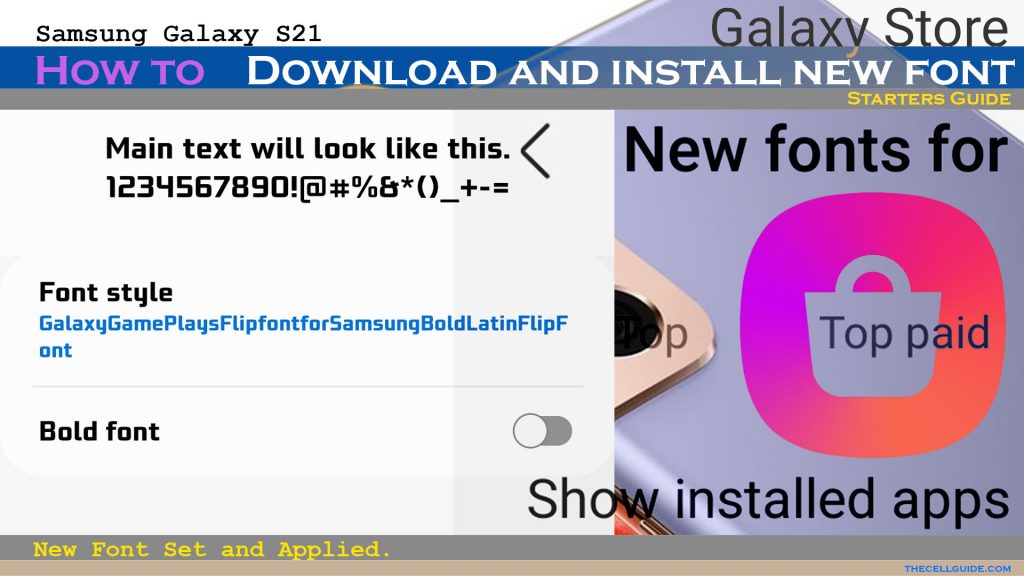 It's going to be a system-wide change so you should see that the new font style is already being applied in your apps and in the entire system.
New Font Style Doesn't Work?
If the new changes don't reflect on the actual interface, just reboot your phone or do a soft reset to refresh the system and to apply the recent changes to the font settings.
If that doesn't work either, then it's probably because the recently downloaded and installed font has been corrupted or just not supported on your Samsung Galaxy device.
In this case, you can try downloading a different font and see if that will work.
Please note though that some apps don't support huge fonts and therefore huge font size may not work in certain apps.
For example, if the app doesn't support huge font, the next supported font size like large will be applied and used instead.
Should you wish to replace it with a different font style, just repeat the same steps to download and install a new preferred font that you wish to apply.
You can always switch back to default if things turn out messy after altering font styles on your new Samsung Galaxy device.
And that's all about downloading and installing a new font on the Galaxy S21 through the Galaxy Store app fonts.
Hope this helps!
Please check out our YouTube channel to view more tutorial and troubleshooting videos for popular iOS and Android devices.
You Might Also Want To Read: